Are you looking for a Caldera Forms alternative?
Caldera Forms has been formally retired since April 5, 2022. All support and updates have stopped.
It makes sense to switch to a new form builder plugin so that you can access new features and support when you need it.
In this article, we'll show you the best alternatives to Caldera Forms. We'll also show you the pricing for each option so you can easily compare them.
Create Your WordPress Form Now
What's the Best Form Plugin for WordPress?
WPForms is the best form builder plugin for WordPress. It lets you easily create any type of WordPress form and embed it on your site.
In fact, you can easily embed your form in well under 5 minutes.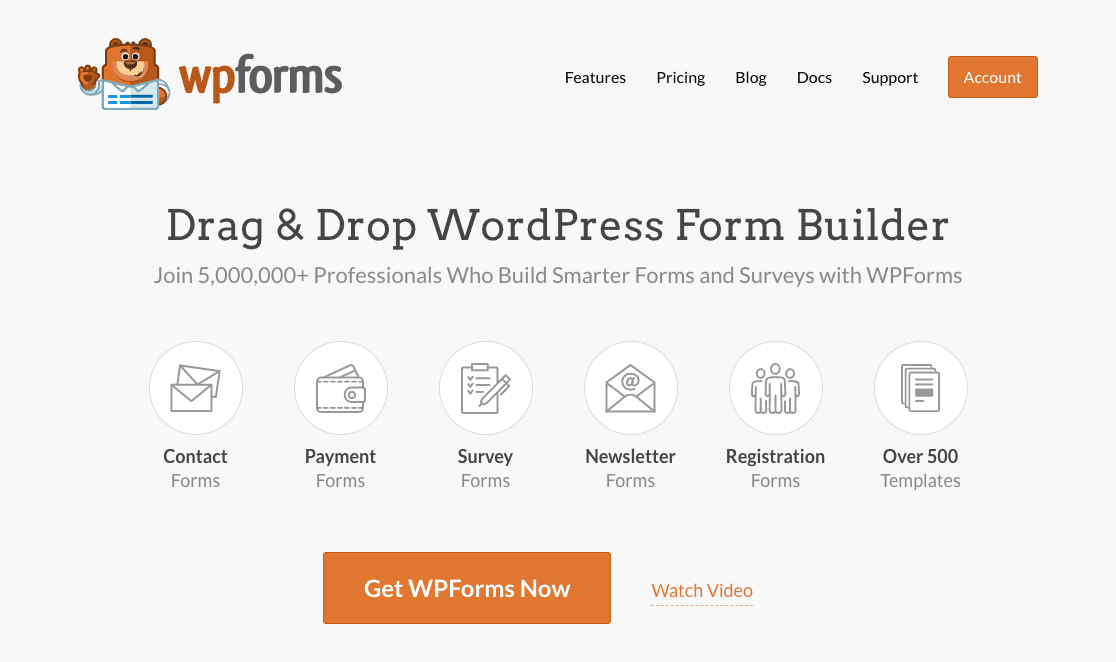 It's an awesome plugin for beginners or advanced users because:
The drag-and-drop interface makes WPForms easy to use, even if you've never built a form before.
You can get notifications by email with any version, so if you don't want to pay right now, you can still recreate your Caldera Forms in WPForms.
WPForms has the best addons and integrations of any form builder plugin. For example, the User Journey addon shows you visitor behavior without using Google Analytics.
Free and paid users can access support easily, so you'll never be stuck with a form that doesn't work.
Anyone can start out with the free version, so you can test drive it yourself without paying.
Let's move on and look at some more Caldera Forms alternatives to consider.
Best Caldera Forms Alternatives
So, which Caldera Forms alternative is going to be the best fit? Let's take a look at some of the top contenders.
If you're looking for the best Caldera Forms alternative, WPForms is our #1 recommendation.
WPForms Pro makes it easy to create any kind of form for your business or nonprofit, like:
And more! In fact, you can easily create custom layouts or build a form from one of our 500+ WordPress form templates.
Adding any field takes just a few seconds, and you can easily customize your fields without writing code.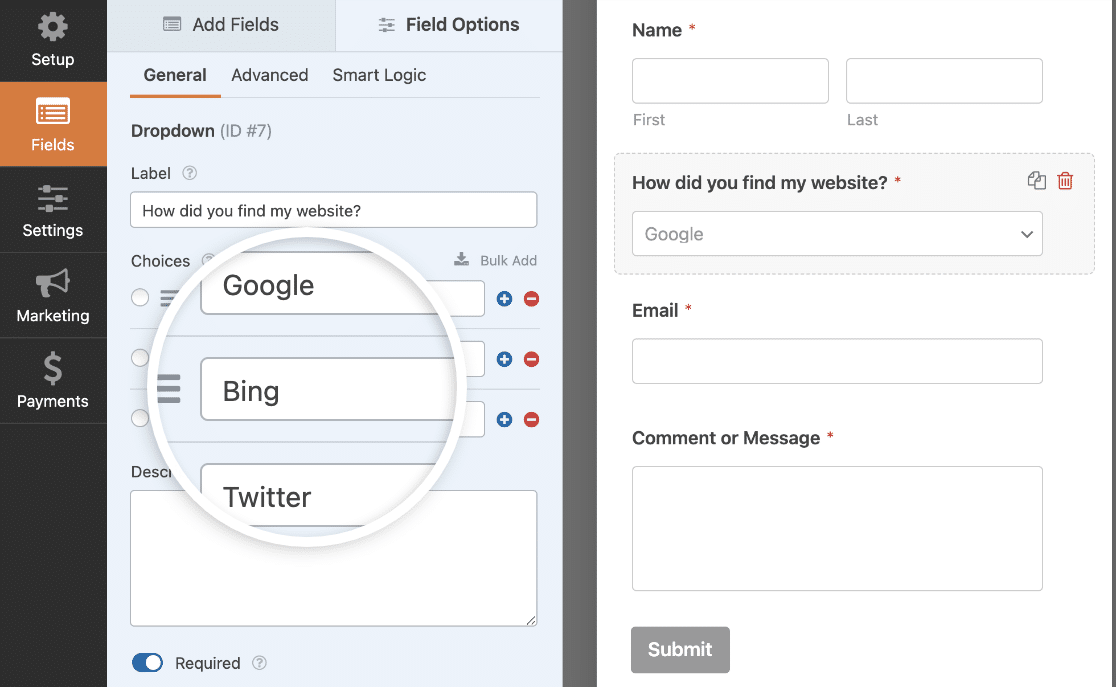 And because WPForms Pro stores your entries in the WordPress dashboard, you can keep your forms, responses, and reports all in 1 place.
It's easy to review and export entries in different ways.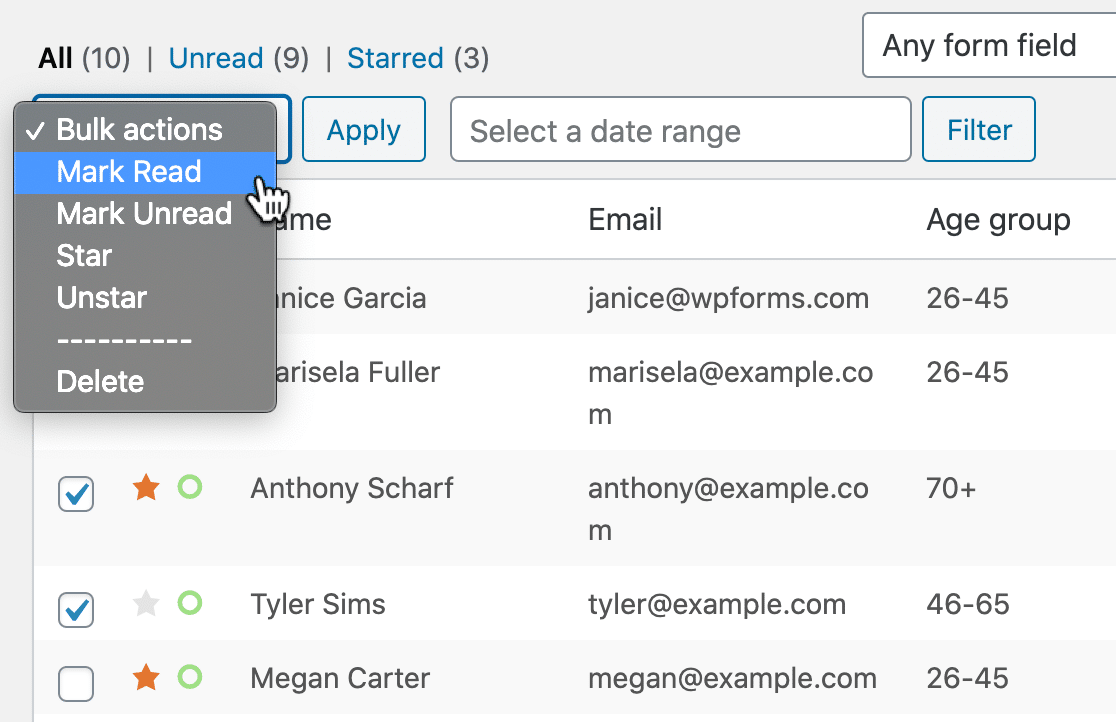 WPForms Pro comes with addons and integrations for:
Stripe, Square, and PayPal payments
Custom CAPTCHA to stop contact form spam
File uploads
Conditional logic
Offline forms
Entry management in the WordPress dashboard
Zapier integration
E-signatures
Email marketing integration
Blog post submission forms
And A LOT more!
Finally, did you know that WPForms has multiple embed options? That lets you publish your forms in different ways using:

You don't need to have any knowledge of WordPress to make forms, connect them to email marketing services, and add email recipients for the notifications.
For more info about all the powerful features in WPForms, check out this article: Is WPForms Worth It?
Pricing: WPForms Lite is free for unlimited forms and unlimited responses. You can store your entries for free using the Lite Connect feature to unlock them when you upgrade.
The paid version of WPForms is priced from $79/yr. For maximum features, get Pro or Elite.
Formidable Forms is a form builder aimed at developers and larger businesses. It lets you build advanced forms and code your own customizations.
With Formidable Forms, you can:
Turn entries into calendar events or directory listings
Perform calculations in your form
Make entries searchable on the frontend of your website
Build custom WooCommerce forms
Make your forms GDPR compliant
Store entries in WordPress for review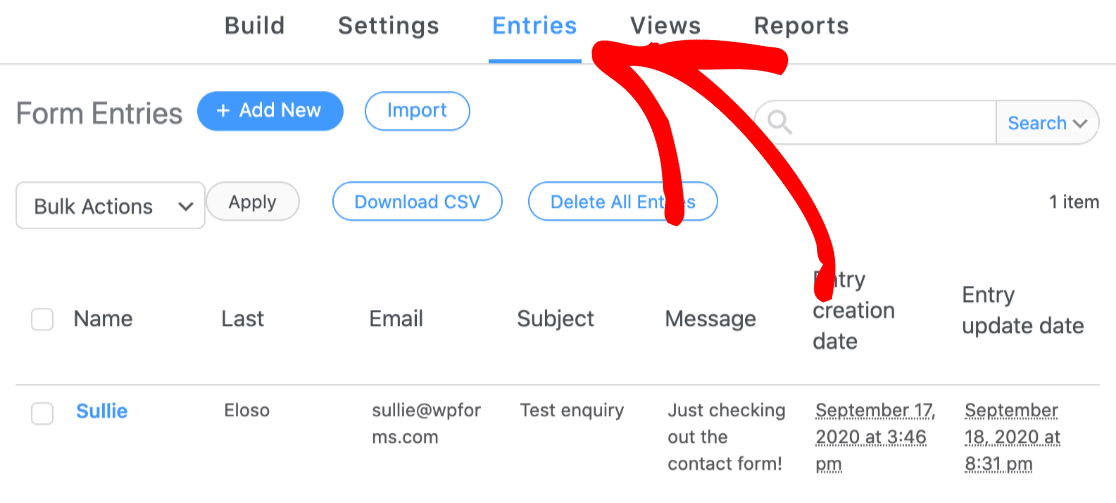 Like WPForms, Formidable Forms has no usage limits, so it's great for a growing business that has its own development team. It's also one of the few form builders that allows you to send file uploads as attachments.
If you have any difficulty receiving Formidable Forms attachments, check out this guide on how to fix Formidable Forms not sending email.
Pricing: Formidable Forms pricing starts from $99/yr. There's also a free version on the WordPress.org plugin repository.
As one of the most popular form builder plugins, Contact Form 7 can make a decent Caldera Forms alternative. It doesn't have a visual form builder, which is a drawback for a lot of users. However, it's completely free, so it can work if you're on a tight budget and just need a simple contact form.
Basically, you'll need to use HTML to build your form in Contact Form 7. The plugin helps you out a little bit, but it might seem confusing at first and takes a while to pick up.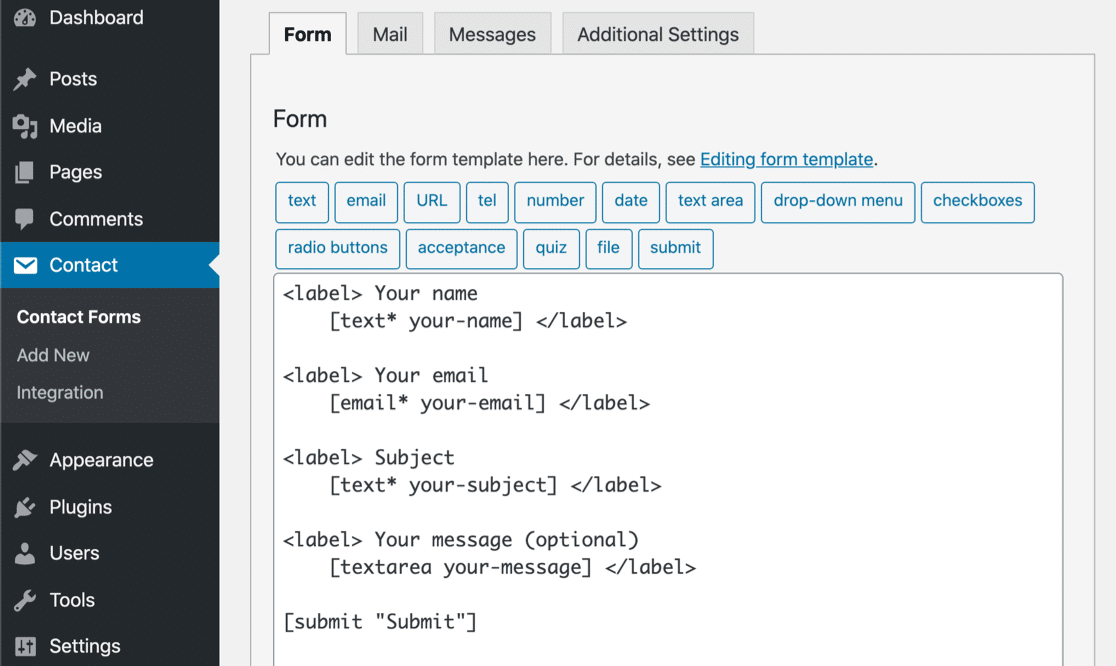 You can set Contact Form 7 up to send email notifications, and it has a couple of integrations for email (Sendinblue and Constant Contact) and payments (Stripe).
To learn more about how Contact Form 7 works, check out our WPForms vs Contact Form 7 comparison.
Pricing: Contact Form 7 is free.
Gravity Forms is a well-established contact form plugin for WordPress. It lets you build forms inside the WordPress dashboard and publish them on your site.
As you build your forms, you can also preview them in WordPress. This lets you see the structure of the form so you can tweak the layout.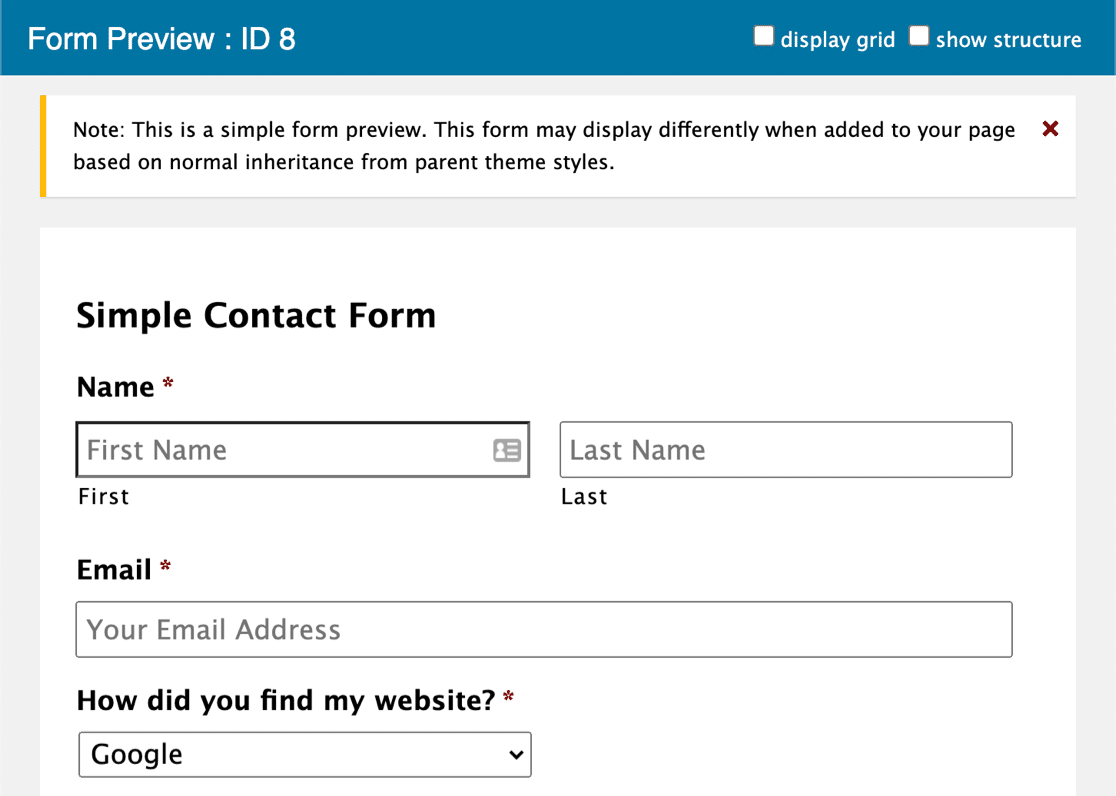 Gravity Forms has a large community of developers who have created their own addons for the main plugin.  There's no free version and no trial, but you can use the demo on the Gravity Forms website to see if it will work for your project.
Pricing: Gravity Forms is priced from $59 per year for 1 site. A license for unlimited sites costs $259/yr.
PS. Check out our full comparison of Gravity Forms vs Contact Form 7 vs WPForms.
If you need a basic form builder for a quick poll or survey, Google Forms might be the right Caldera Forms alternative for your project.
Google Forms is free for regular Gmail users. You can also access it through a Google Workspace plan. Both plans are identical except for the limits, but they are high enough that you probably won't need to worry about them.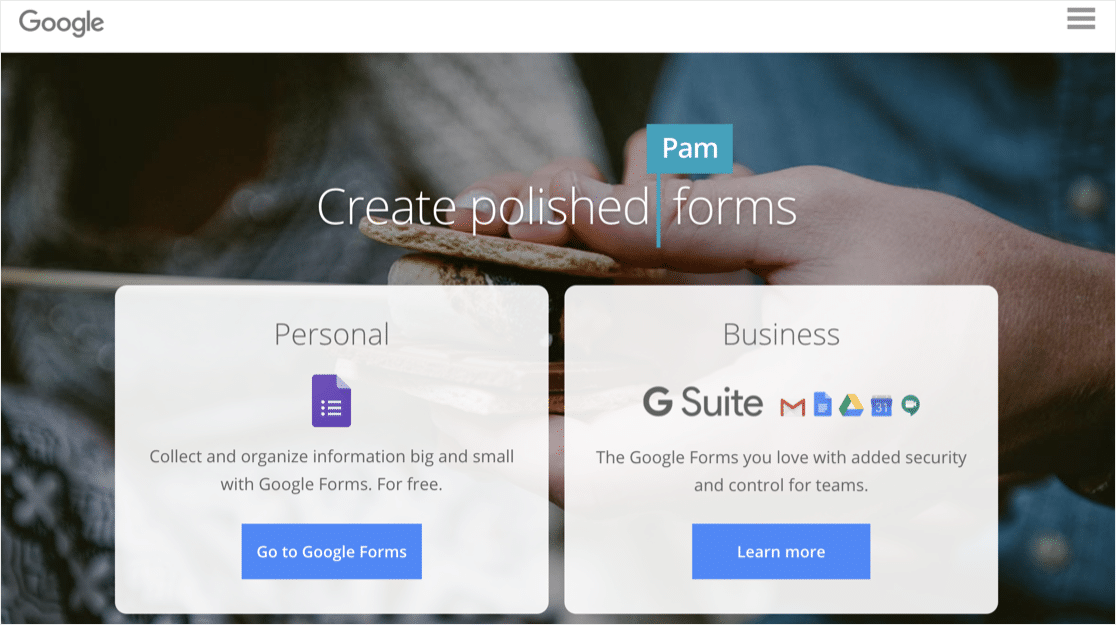 With Google Forms, you can get thousands of responses to each form you create and it's easy to collaborate with other members of your team. Files uploaded through your forms are saved in Google Drive.
Unfortunately, file uploads are super limited to just 10 MB per file, and you can't make payment forms. So it's not great for creating advanced, complex forms.
However, you can easily view each form submission on the form page, or in a spreadsheet. For those reasons, you might still like Google Forms to quickly create internal forms or surveys. Just keep in mind that customization options are extremely limited, and it's not that easy to embed forms in WordPress.
Pricing: Google Forms is available with a free Google account or a paid Google Workspace account.
Typeform lets you create forms that show 1 question at a time. This layout is pretty popular with companies that want to send short, snappy surveys.
Also, the layouts and templates look super modern. You can add different form fields and have the form automatically skip through them.
However, customization is very limited unless you pay for the most expensive plan.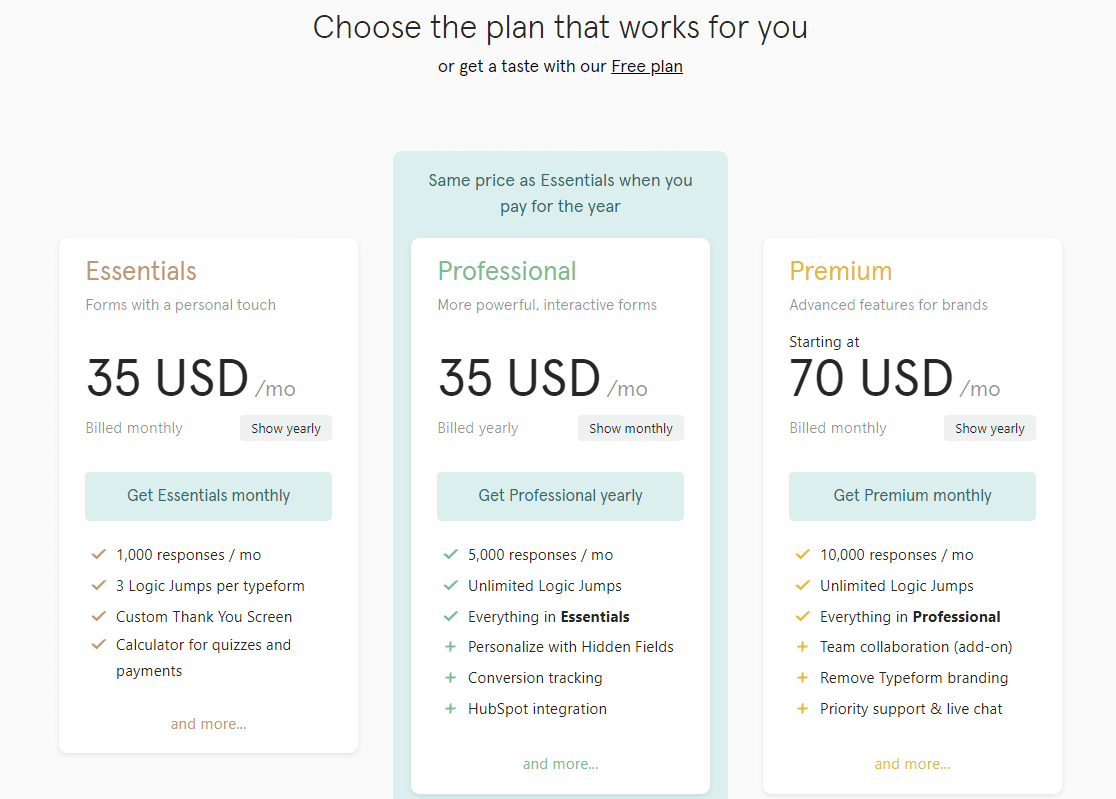 The main issue with Typeform is that it doesn't directly integrate with WordPress, so it's not that convenient if you're using WordPress to create the rest of your site. And unlocking useful features, like conditional logic, is pretty expensive.
Pricing: The free Typeform plan is limited to 3 forms, with a max 100 response limit for all of them. Paid plans start at $35/mo.
PS. If you have a WordPress site, WPForms Pro is a better Typeform alternative because it lets you turn a regular WordPress form into a Conversational Form. You can even use this feature on a basic form like this one: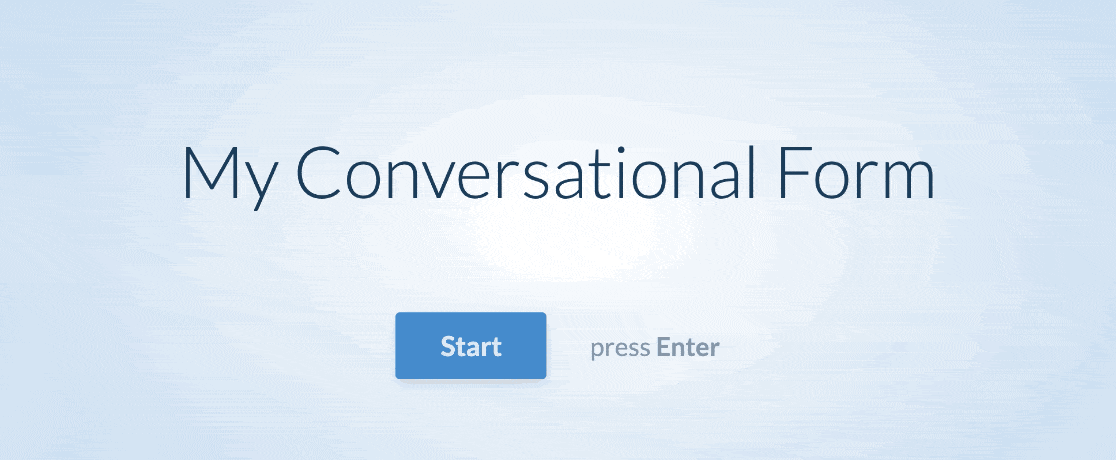 Ninja Forms is a WordPress form builder plugin. It lets you create different types of forms for your site and embed them using a shortcode.
If you used to be a Caldera Forms customer, you'll be aware of Ninja Forms already since there's some overlap in the development team and features.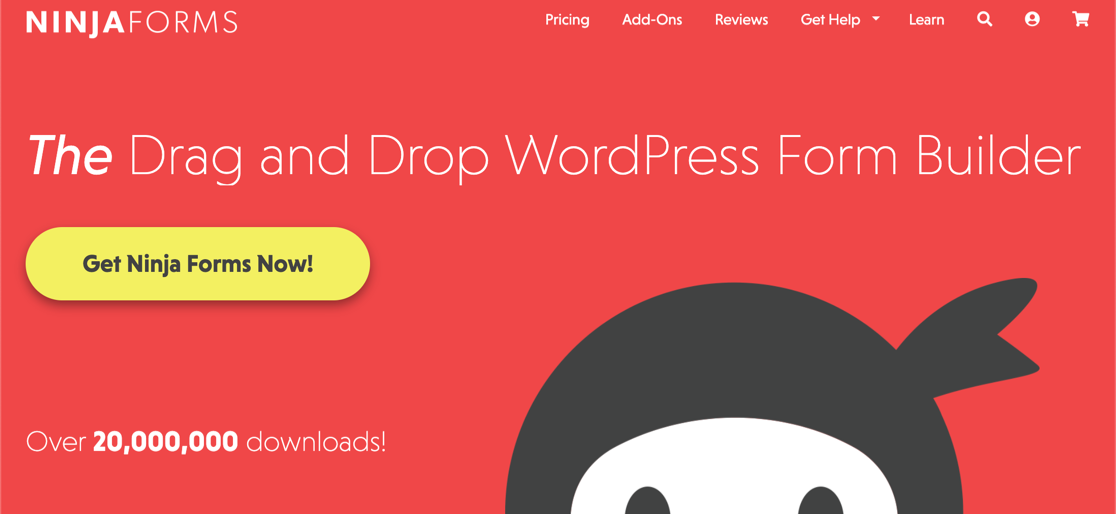 Ninja Forms has a lot of addons, and you can choose to buy these individually or in packs. There are also licenses that give you access to specific addons for a certain number of sites. It's lacking in pre-built form templates, though, and some of the addons are pricey.
Interested in learning more? Check out our WPForms vs Ninja Forms comparison.
Pricing: Ninja Forms pricing starts from $18 per addon, or $99 per site for 1 year and a basic addon bundle. There's also a free version on WordPress.org if you don't need addons.
So, What's the Best Caldera Forms Alternative?
If you're looking for a new home for your forms, WPForms is the best Caldera Forms alternative.
We think you'll love the intuitive drag-and-drop form builder. And there are multiple ways to publish forms easily on your site.
The free version, WPForms Lite, lets you create custom forms for your small business or nonprofit. With 5+ million active installs, it's one of the most popular WordPress plugins on WordPress.org, and it has more than 12,000 5-star ratings already:

All versions come with different CAPTCHA and spam prevention tools, including secret form tokens that block spam submissions.
For more advanced features, WPForms Pro has all the marketing service integrations you'll need to make interactive forms that are easy to manage.
The premium version builds on the core features in the free version. It lets you make surveys, user registration forms, landing pages, and more.
And conditional logic makes it easy to get your forms working exactly the way you want them to.

When you're ready to take your business to the next level, you'll be able to connect WPForms to thousands more marketing tools. WPForms makes it easy to send any form entry to a CRM using Zapier, Uncanny Automator, or our webhooks addon!
Create Your WordPress Form Now
Next, Try WPForms Free
Ready to build your form? WPForms Pro offers a 14-day money-back guarantee if it's not the right Caldera Forms alternative for your project.

You might also want to check our post on free form builder solutions you can use to quickly make beautiful forms for free! And here's our list of the best no-code WordPress form builders.
If this article helped you out, also check out this guide on Caldera Forms vs WPForms! And please follow us on Facebook and Twitter for more free WordPress tutorials and guides.