Do you need an easy and efficient way to get people's consent to use video footage that you've taken of them?
It's crucial you have people's permission to take and use video of them. So in this article, we'll show you how to create a video release form in WordPress.
Create Your WordPress Form Now
What Is a Video Release Form?
Video release and consent forms are forms that get permission to use someone's image, words, and audio in your production. This can be actors, models, interviewees, etc.
If you're a producer, it's in your best interest to always have anyone you film fill out a video release form. That way, you avoid any liability and have the freedom to do what you wish with your footage.
Here are some reasons why video release forms are so important:
Anyone who doesn't fill out a video consent form may later ask you to pull their likeness from your video.
If you videotape a minor and don't have a parental consent form, you could face legal trouble.
So the signer of the consent form can release their right to approve or disapprove of the finished product.
To let people know you're a professional and care about their rights.
To make sure people in your recording are not violating another contract they've signed, and to remove liability from yourself if they are.
Because it's a respectful thing to do, even if you're in a public place and don't technically need permission.
These considerations also apply to model release forms as well.
If you approach people in a friendly, professional way when videotaping at an event or activity, chances are they'll sign the form without a problem. And if they don't, it's better to discover they don't want to be recorded before you do it, rather than after.
So now, let's take a look at how to create a video release form in WordPress.
How to Make A Video Release Form
If you're still asking yourself how do I make a release form in WordPress, read ahead for the easiest solution.
Step 1: Open a Video Release Form Template
Using WPForms is the easiest way to create a standard video release form in WordPress. WPForms comes with a built-in Templates library that allows you to choose from 500+ pre-built templates for every niche and industry, including a video release form template.
The first thing you'll need to do is install and activate the WPForms plugin. For more details, see this step-by-step guide on how to install a plugin in WordPress.
Next, you'll need to create a new form.
To do this, go to WPForms » Add New, and name your form. Then, scroll down to the section labeled Select a Template and type "video release form" into the search bar.
Click on Use Template to select the Video Release Form template.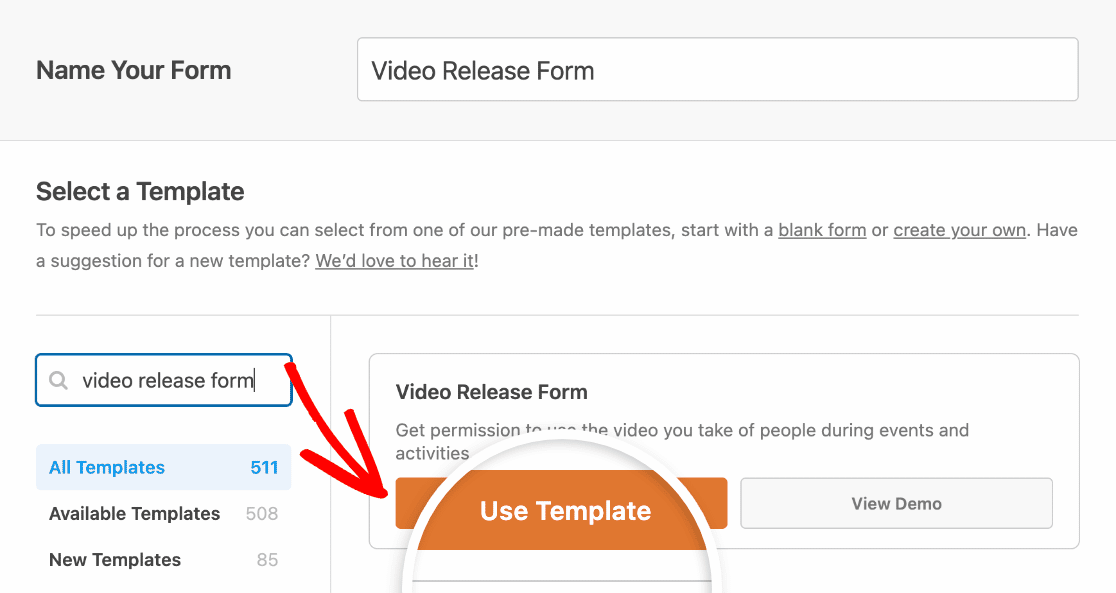 When the pre-built video release form template loads, most of the work is already done for you.
You'll see fields for the following:
Name of person in the video
Section Divider with terms and conditions
Date / Time
Agreement checkbox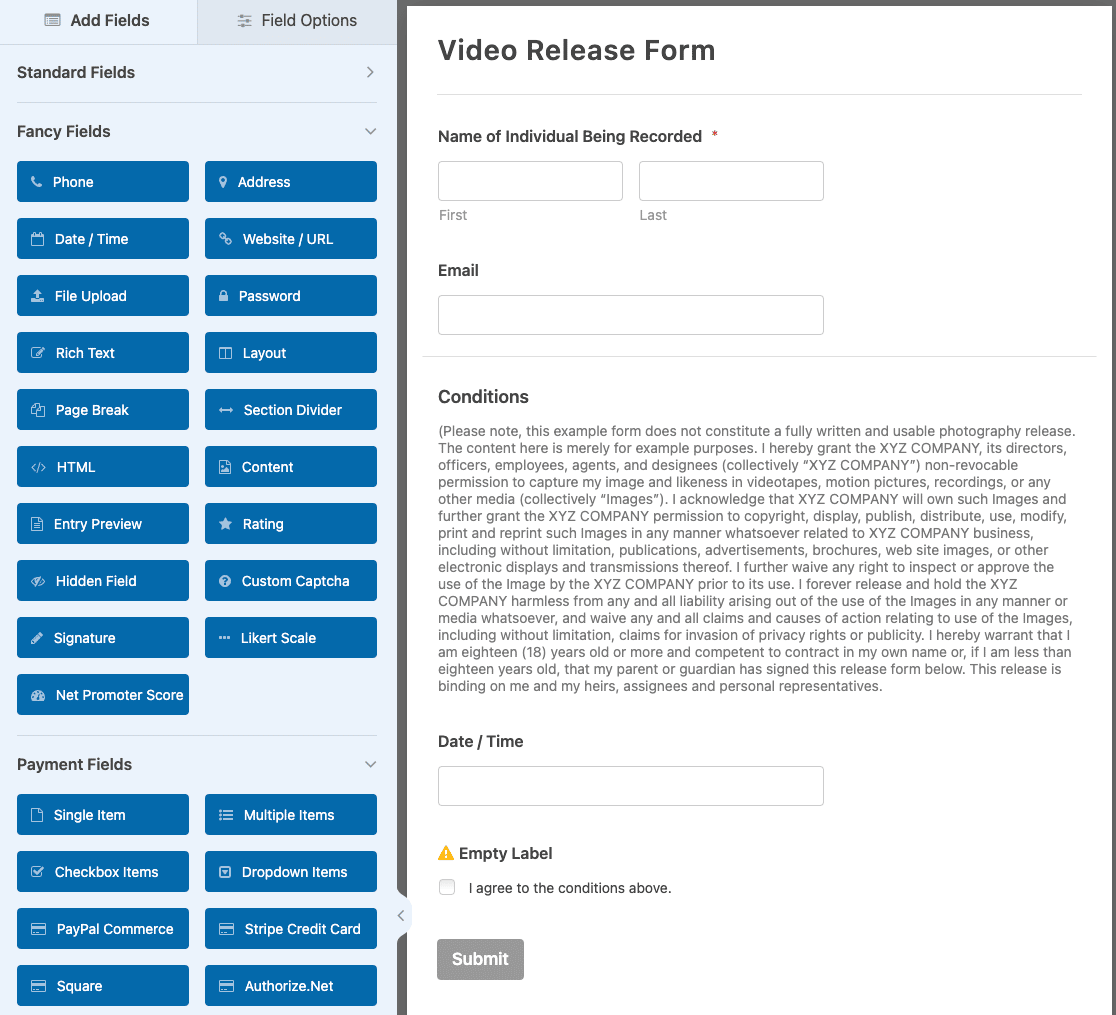 If you want to see the online video release form template in action, head over and check out our sample video release form demo.
You can add additional fields to your form by dragging them from the left hand panel to the right hand preview area.
Then, click on the field to make changes to it, such as editing its label and description or making it required. You can also click on a form field and drag it up or down in the preview area to rearrange the order of your video release form.
For example, if you want to require a parent or guardian signature on your forms because it's a video release form for minors, add the Signature form field to your video release form template.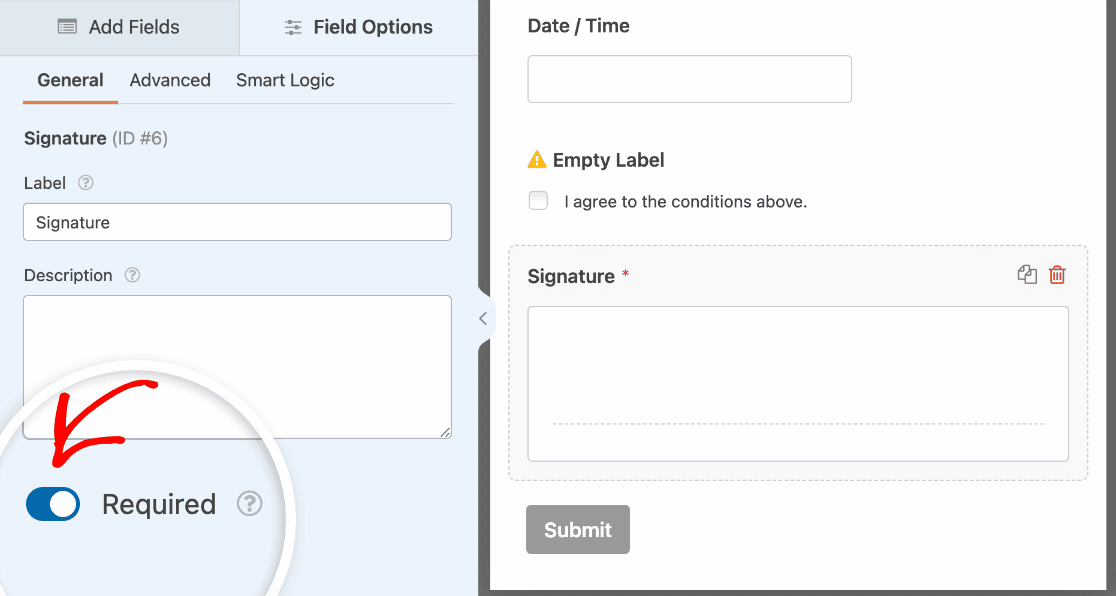 Just make sure to toggle on the Required option so parents or guardians can't submit their form without a signature.
You might also consider adding Name, Email, or Phone form fields to your video release form template so you can get in touch with people you've recorded later for any reason.
When your video release form looks the way you want it to, click Save.
Step 2: Configure Your Video Release Form Settings
To start, go to Settings » General.

Here you can configure the following:
Form Name — Change the name of your form here if you'd like.
Form Description — Give your form a description.
Tags — Organize your WordPress forms by adding tags.
Submit Button Text — Customize the copy on the submit button.
Submit Button Processing Text — Change the text that shows while your form is submitting.
In the Advanced section, you can also:
Add CSS Classes — Use custom CSS to style your for or submit button.
Enable Prefill by URL — Automatically fill some fields from one form to another using a custom URL.
Enable AJAX form submission — Enable AJAX settings with no page reload.
Disable storing entry information in WordPress — You can disable the storing of entry information and user details, such as IP addresses and user agents, in an effort to comply with GDPR requirements. Check out our step-by-step instructions on how to add a GDPR agreement field to your simple contact form.
Once you're finished with the general settings, move down to the Spam Protection and Security settings.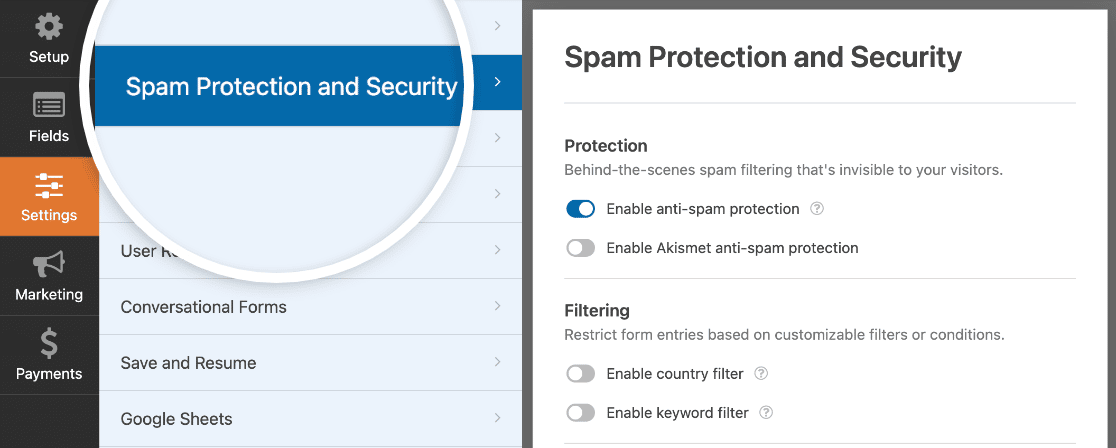 These include:
Enable anti-spam protection — Stop contact form spam with the WPForms anti-spam token. The anti-spam setting is automatically enabled on all new forms.
Enable Akismet anti-spam protection — If you use the Akismet plugin, you can connect it to your video release form to filter out spam submissions.
Enable country filter — Block entries from certain countries.
Enable keyword filter — Prevent submissions that include specified words or phrases.
You can also set up your preferred CAPTCHA. For more details, see our complete guide to stopping form spam.
Next, click Save.
Step 3: Configure Your Video Release Form Notifications
Notifications are a great way to send an email whenever someone submits a video release form on your website.

In fact, unless you disable this feature, whenever someone submits a form on your site, you'll get a notification about it.
If you use Smart Tags, you can also send a notification to people who fill out a video release form, letting them know you've received their form and will be in contact shortly if need be. This assures people their release form has gone through properly.
You can also add important information to the notification about their video release form and the footage that was taken of them. For instance, you can mention where they might be able to view their footage when it airs. You can also include information about when and where the footage was taken so there's no confusion later on.
For help with this step, check out our documentation on how to set up form notifications in WordPress.
You can send more than one notification when someone submits a video release form on your site. For example, you can send a notification to yourself. Plus, those that were filmed, and anyone on your production team that might need access to it.
For help doing this, check out our step by step tutorial on how to send multiple form notifications in WordPress.
Lastly, if you want to keep branding across your emails consistent, you can check out this guide on adding a custom header to your email template.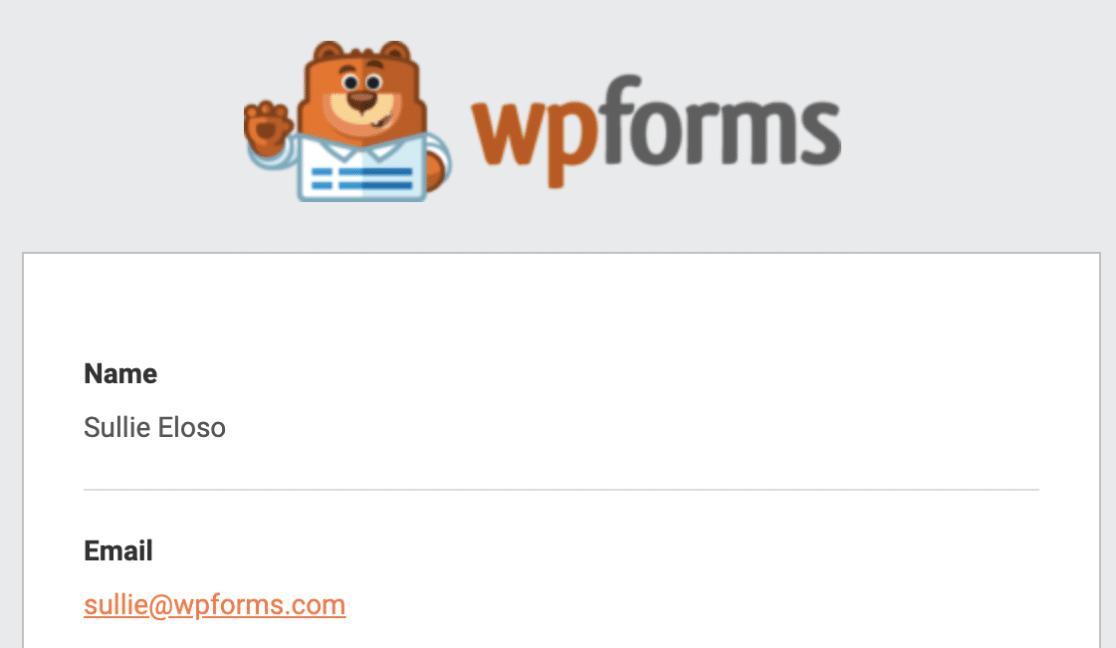 This will give your form a professional touch and make people filling it out feel more at ease when releasing their rights to the video footage.
Step 4: Configure Your Form Confirmations
Form confirmations are messages that display to people once they submit a form on your website. They let people know that their form has gone through and offer you the chance to let them know what the next steps are.
WPForms has 3 confirmation types:
Message. This is the default confirmation type in WPForms. When someone submits a video release form, a simple message confirmation will appear letting them know their form was received and is being processed.
Show Page. This confirmation type will take customers to a specific web page on your site thanking them. For help doing this, check out our tutorial on redirecting customers to a thank you page.
Go to URL (Redirect). This option is used when you want to send people to a different website.
Let's see how to set up a simple form confirmation in WPForms so you can customize the message people will see when they fill out a video release form on your website.
To start, click on the Confirmations tab under Settings.
Next, select the type of confirmation type you'd like to create. For this example, we'll select Message.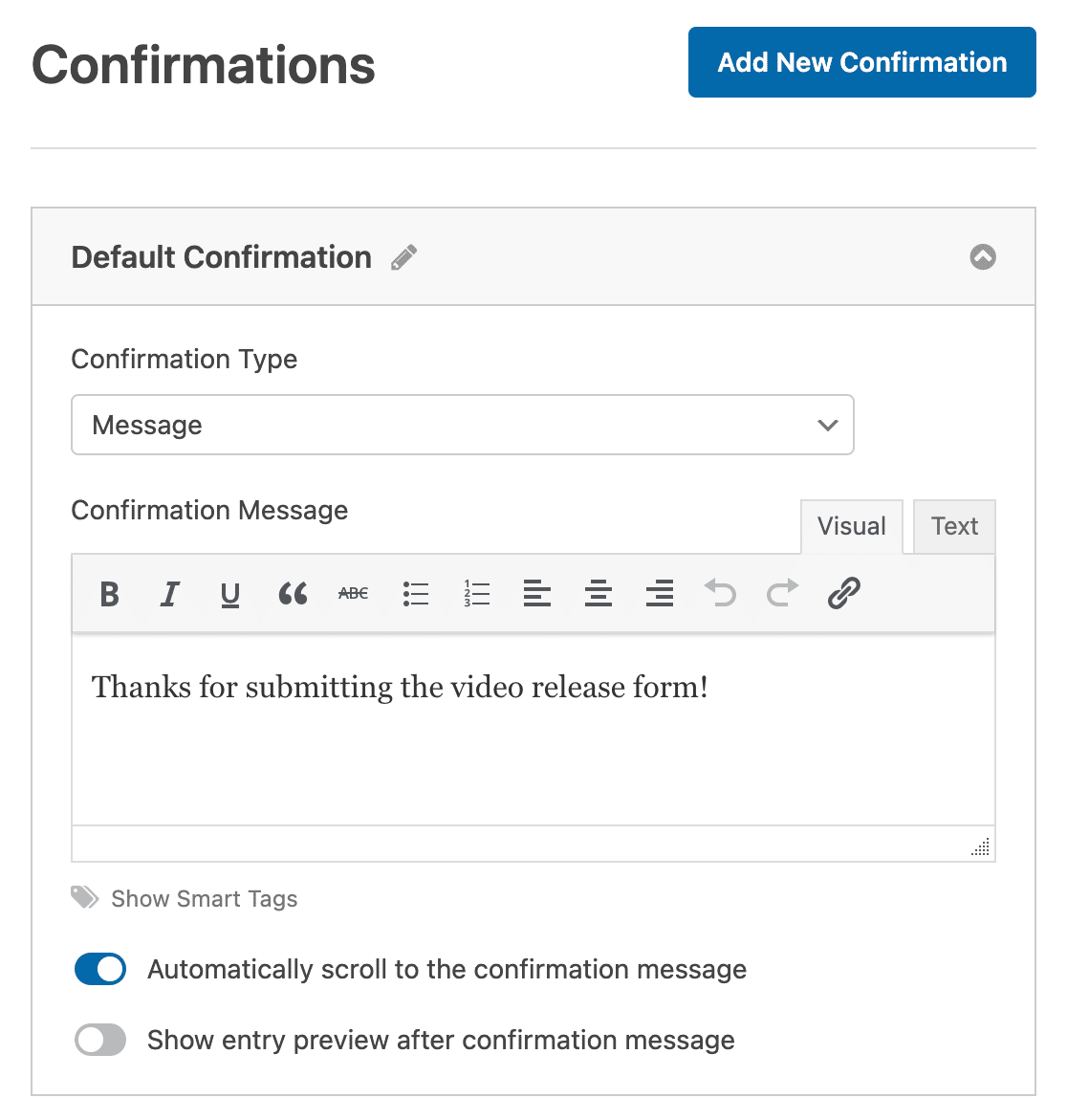 Then, customize the confirmation message to your liking and click Save.
Step 5: Publish Your Form to Your Website
Now that your video release form is all built, let's go ahead and publish it to the web.
Start by clicking the Embed button at the top of the form builder.

And then when this notification pops up, go ahead and click Create New Page.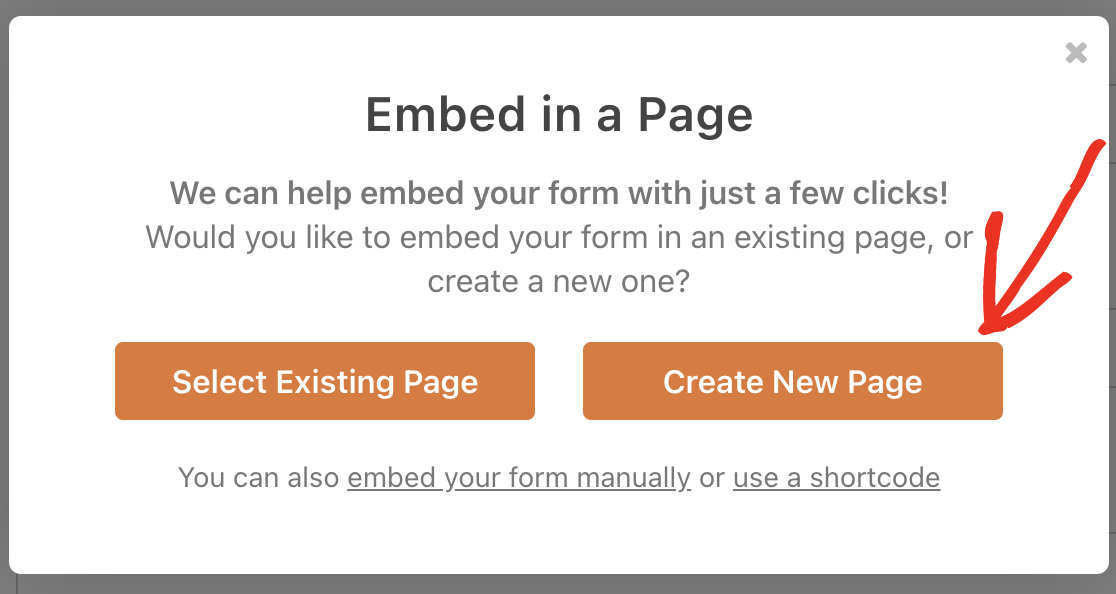 Next, WPForms will ask you to name your page. Type the title for the page into the box and click Let's Go!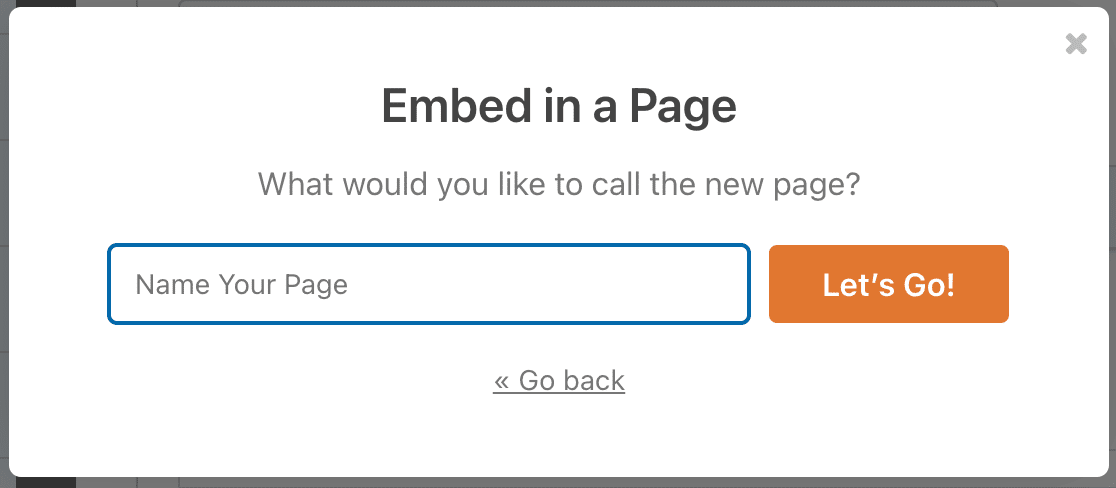 WPForms will open up a new page for your video release form.
Next, go ahead and click Publish at the top to publish the form on your site.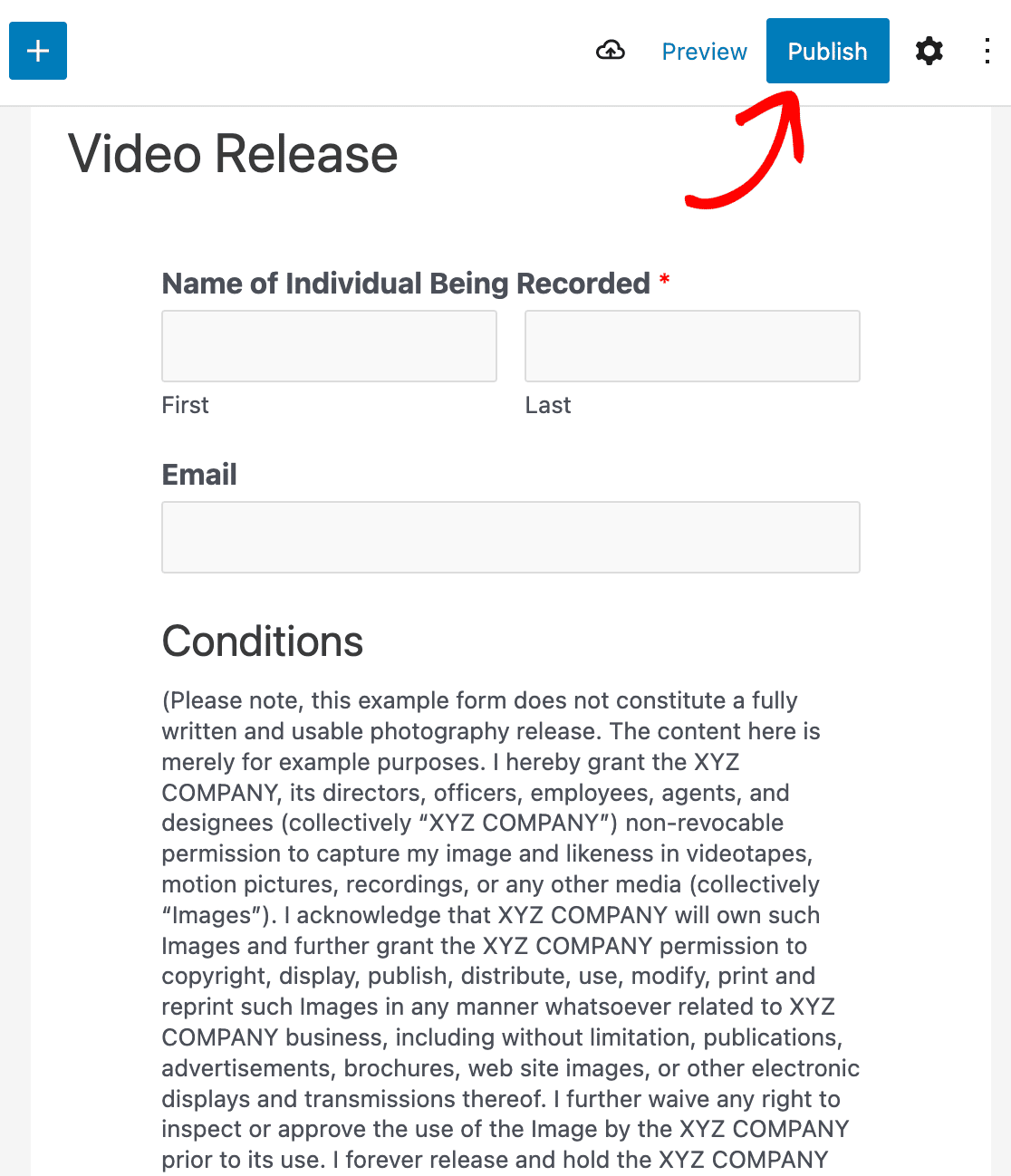 Great job. So now you can share the link to your form and start gathering consent forms. And here's what our finished form looks like.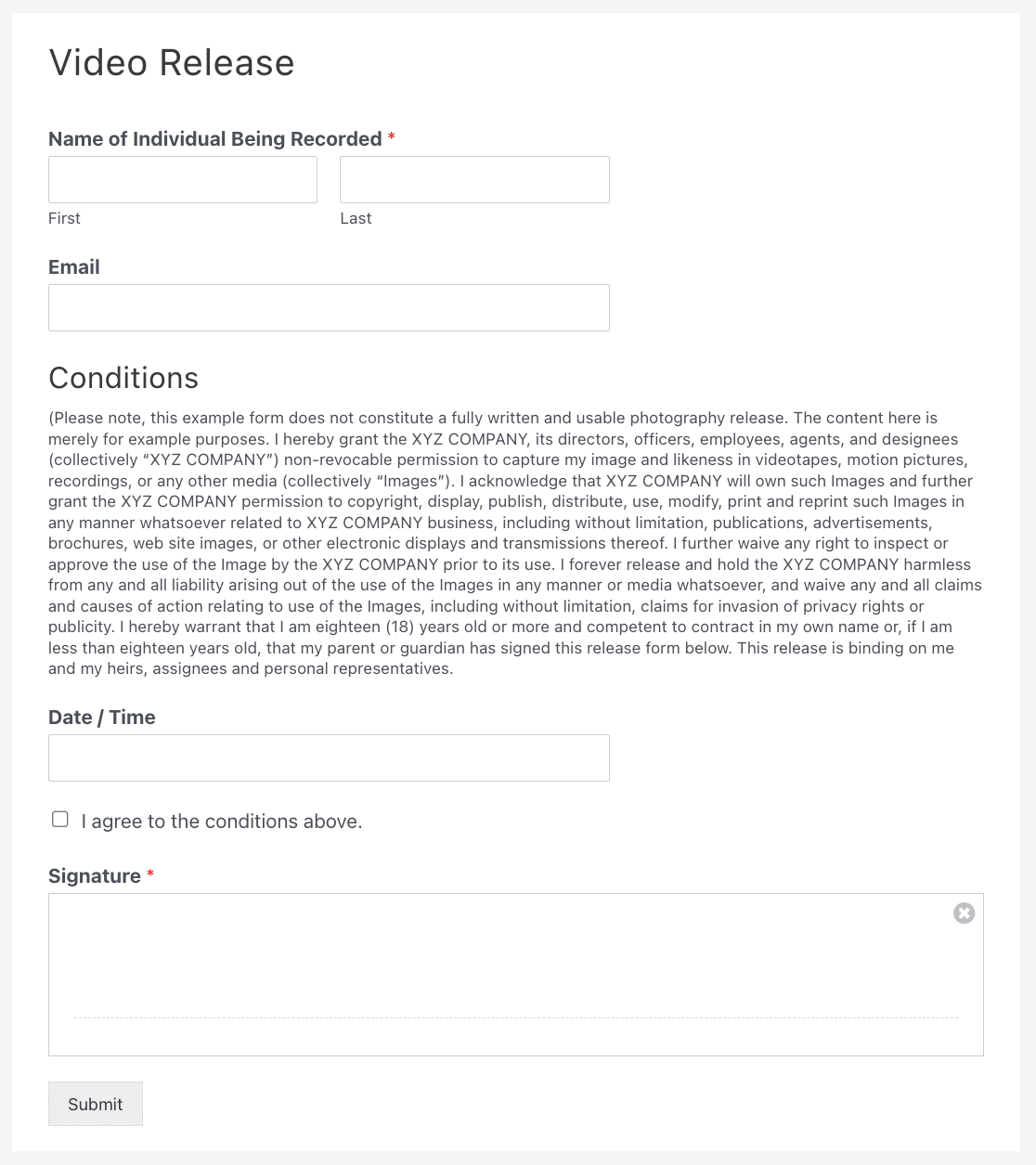 And there you have it! You now know how to create a video release form in WordPress. You can now start collecting consent from people before you film them.
Create Your WordPress Form Now
Next, Use WPForms to Grow Your Business
WPForms Pro is the best way to get professional forms on your WordPress website without needing to pay a web developer.
Not only does it come with a free video release form template, but it also includes a ton of other amazing features even non technical people can use to start getting more leads online.
It's the most beginner-friendly WordPress contact form plugin and uses a drag and drop builder to create any form you'll need
You can use a file upload form field to collect video files from people to add to your own content
It integrates with the most popular email marketing services
It's fully responsive and forms will look great on all devices
You can use features like Conversational forms to make your forms convert even better
Conditional logic helps you keep your forms clutter-free to keep visitors focused on completing the form
It lets you create a multi-page form to break the form into multiple pages and enhance the user experience
You get access to priority support from a friendly and knowledgeable team
Ready to build your video release form? Get started today with the easiest WordPress form builder plugin. WPForms Pro includes a free video release form template and offers a 14-day money-back guarantee.
If you're interested in using the video footage you've captured for promoting your business, be sure to check out this round up of online business stats and check out the video marketing section.
So, what are you waiting for? Get started with the most powerful WordPress forms plugin today.
And don't forget, if you like this article, then please follow us on Facebook and Twitter.