Are you trying to find the perfect Typeform alternative for your WordPress website?
Using a Typeform alternative like WPForms can help you save lots of money, give you better control over your web forms, and more.
Plus, you can get a 50% discount on WPForms right now. We'll cover why WPForms is the best Typeform alternative in this post, too.
Claim Your 50% Discount on WPForms 
What's the Best Typeform Alternative?
We've reviewed all the top form builders out there. And we can confidently say that WPForms is the best Typeform alternative for WordPress.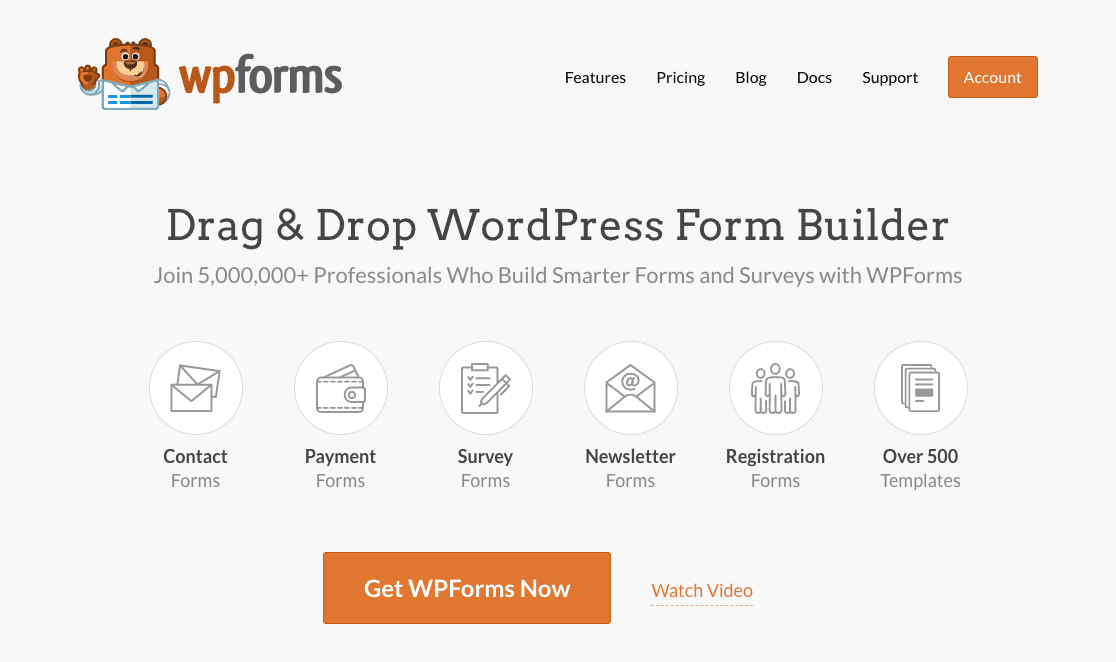 Not only is it the best Typeform alternative, it's also the best Google Forms alternative for collecting data online.
So let's go ahead and take a closer look at the Typeform software, plus how people use WPForms as a Typeform alternative.
What Is Typeform Used For?
Typeform is used to create forms on websites for data collection. There are a few big features that are popular with Typeform, so we've listed them below.
Online Survey Form Builder:
You can use Typeform as a survey form builder. But if you're looking for a different solution, WPForms is a great alternative.
If you're interested in data visualization, WPForms Pro boasts the very impressive Survey and Polls addon. One of the greatest things about this survey tool is that you get access to a beautiful reporting dashboard.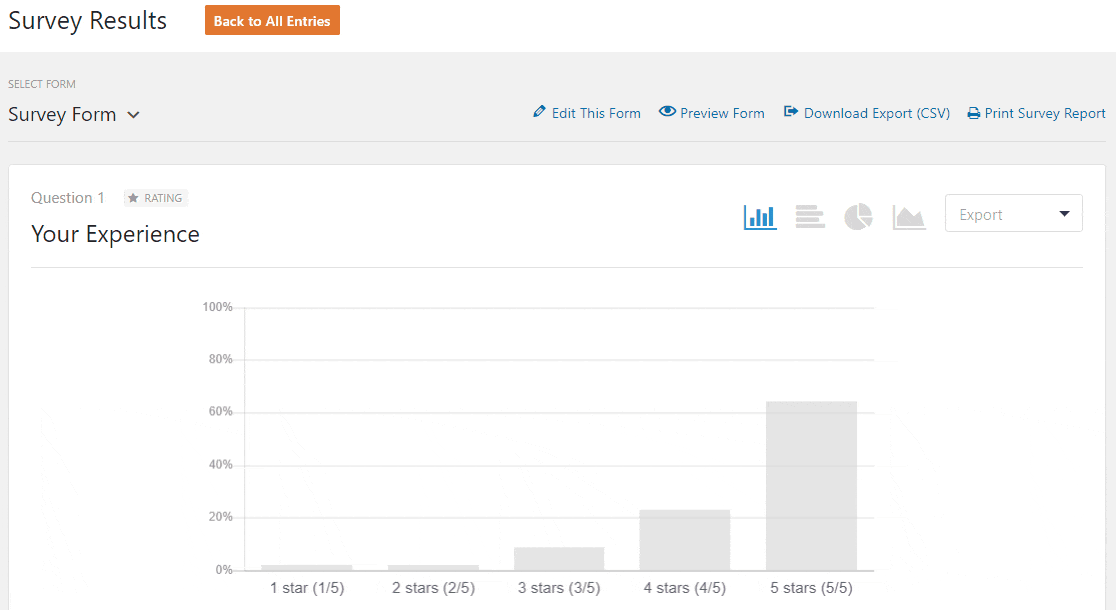 Conversational Marketing:
Conversational forms are beautiful and interactive, and act as a conversation between you and your visitors. Both WPForms and Typeform offer Conversational forms.
Typeform is known for having pretty looking forms, but since you'll have to pay a lot for them, there's a more affordable way to get Conversational forms on your WordPress site.
The Conversational Forms addon from WPForms lets you easily create beautiful, responsive forms as a Typeform alternative.
You can give your forms a human feel by asking one question at a time, so you can start tapping into the power of Conversational marketing on your website.
Ease of Use:
It should be easy to make a form on your website. In order to do this, your form builder needs to be beginner-friendly and require no coding skills.
Typeform has a visual builder that makes things easier. But beginners can be a little intimidated by the advanced ways you customize things with Typeform.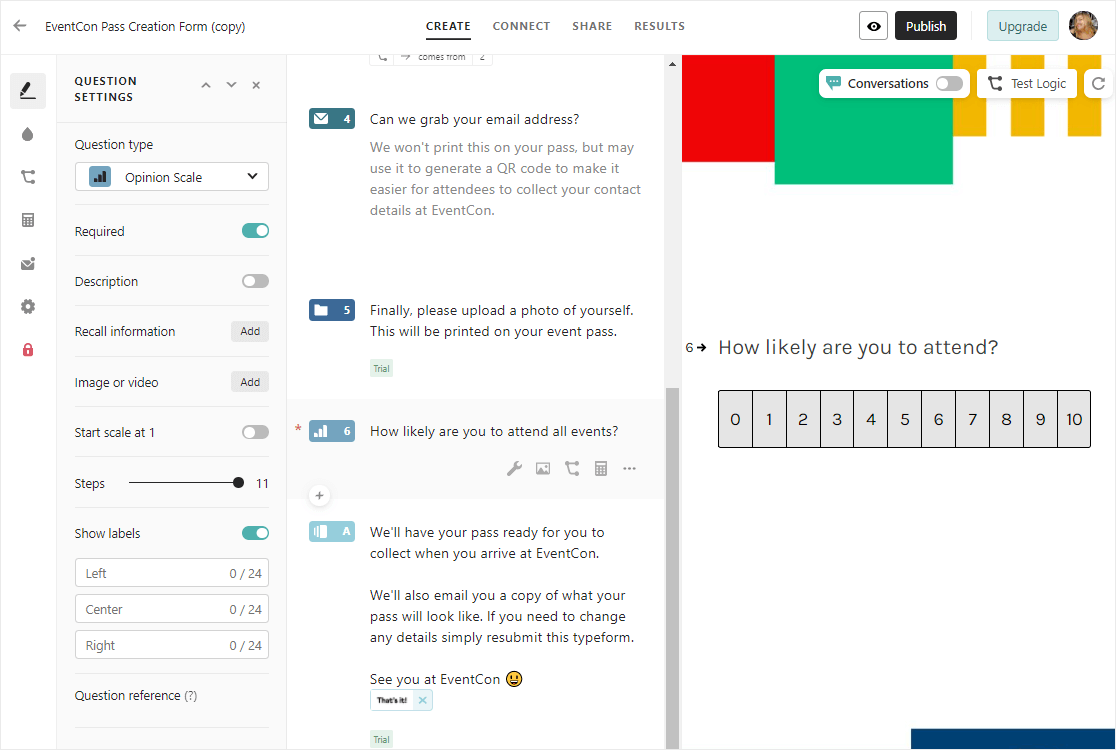 So one of the reasons WPForms is the best alternative to Typeform is because of it's easy-to-use interface. It's so straightforward to make forms in the visual form builder.
The WPForms drag and drop builder shows you your changes in real time, right in the form builder. So you can perfect your form design, even if you're a beginner. This is one of the reasons people love WPForms so much as an alternative to Typeform.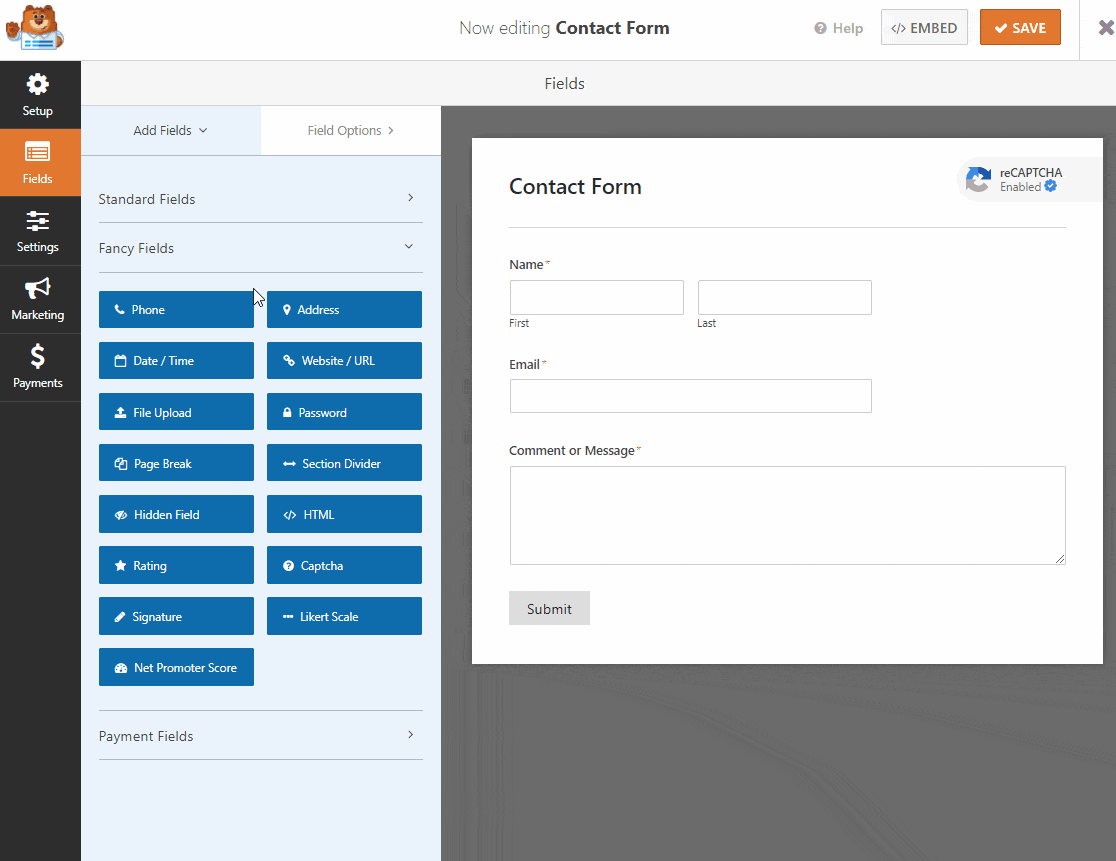 And adding custom fields to your forms is a breeze. Also, you can easily add your forms to pages, posts, sidebars, footers, or any other widget areas on your site.
Is Typeform Free?
Typeform offers no free trial. And, most of Typeform's features aren't included in their free plan.
So since the Typeform pricing model doesn't include many important features in their 'free' plan, that plan is best to use if you just want to see what the software looks like and its basic functions.
Here's what we mean. Typeform Free only offers a max of:
100 Responses per Month
3 Forms Total
10 Questions per Form
Yikes. There's not a whole lot you can do there.
You'll need a paid version of Typeform to access their most valuable tools. And because their paid plans are extremely expensive for small business owners, WPForms comes out as the clear winner of the best alternative to Typeform.
Typeform Professional costs $420/year.
WPForms Pro (with this 50% discount) costs only $199.50/year.
And with WPForms, you can also get a free trial of WPForms if you'd like to check it out as well.
Also, if you're looking for an open source alternative to Typeform, WPForms fits the bill. However if you want the most powerful features of the plugin, you'll want to get WPForms Pro.
Is Typeform GDPR Compliant?
Asking yourself is Typeform secure? That's a great question, so let's chat about GDPR and compliancy.
GDPR stands for the General Data Protection Regulation, and it's part of the European Union's commitment to improve privacy and data protection for EU citizens. Regardless of where your business is located, your forms should give you the option to comply with these standards.
Typeform claims to be GDPR-ready on their website, and offers a lot of protections for their customers.
And on the flip side, to make customers and their users feel comfortable, WPForms offers the ability to disable storing entry information in WordPress right in the form builder.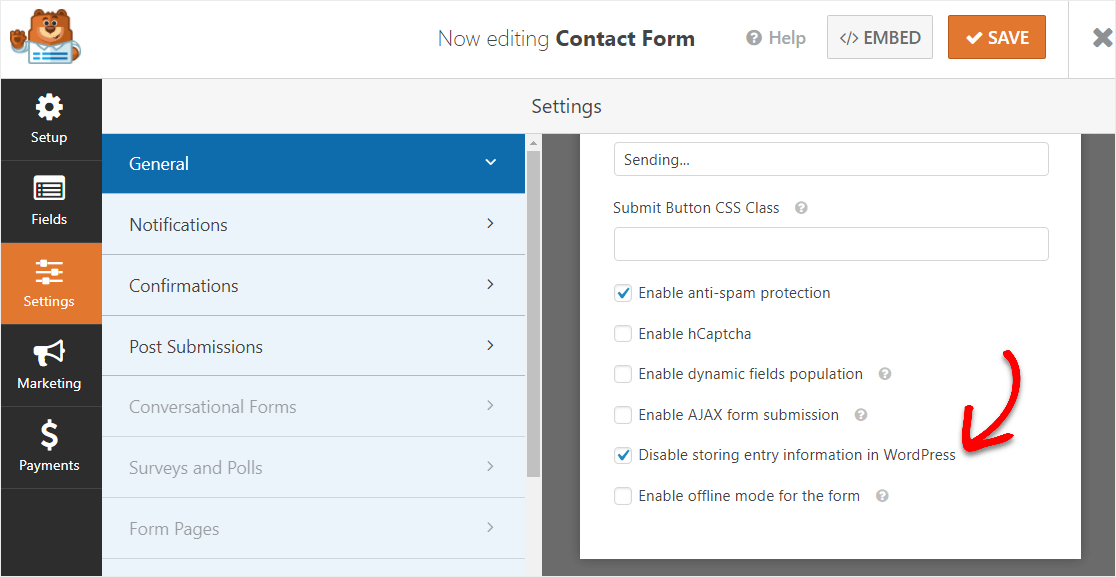 So if you're looking for secure forms that are GDPR-compliant, WPForms is a fantastic choice. There are lots of security features with WPForms to help keep your WordPress forms safe and spam-free.
Can You Embed Typeform?
Regardless of if you want to build an advanced form or create simple online forms, WPForms makes it super easy to embed your form onto your website.
With WPForms' Embed Wizard, you can easily embed your form into an existing or new page with just one click.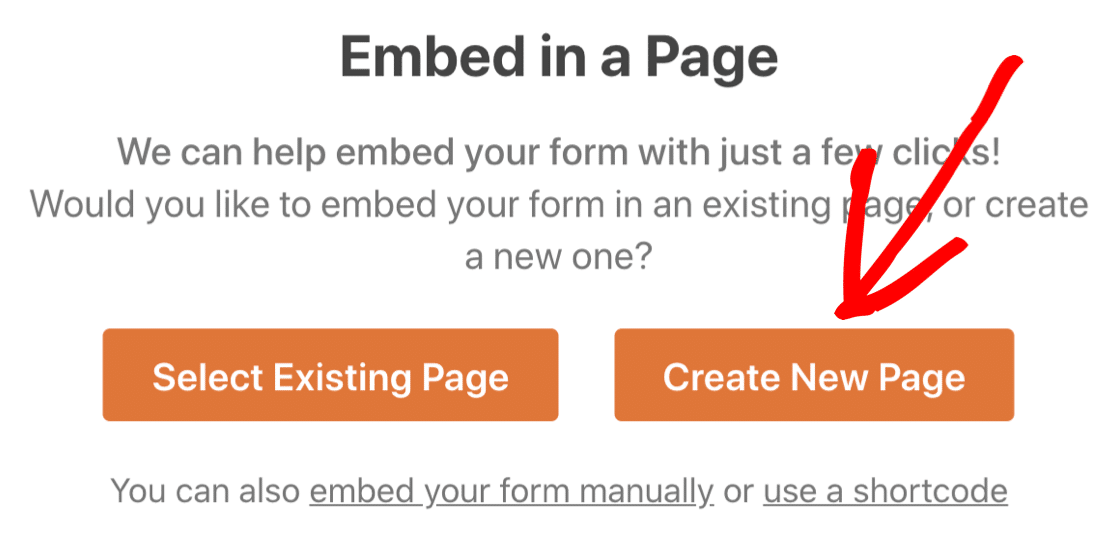 Not only can you easily embed your forms with WPForms, but you can also create your own WordPress landing pages with a plugin.
Unlike Typeform, you're not just limited to conversational marketing style forms with WPForms. You can also use the Form Pages addon to create effective, distraction-free landing pages.
Can You Use Typeform Offline?
Unlike WPForms, using Typeform offline isn't possible. It's designed to work only with an internet connection.
But with your Typeform alternative WPForms, you can easily enable the Offline Forms addon. This way you can let your users fill out forms while they have no internet connection.
The Offline Forms addon from WPForms makes web forms better for you and your form users.
How? Well, everything people enter into your forms gets saved in their browser, even if they close the tab or exit completely. And then when the user's internet connection comes back, they can easily restore their info and send it your way.
And best of all, offline mode for forms is super easy to turn on. All you have to do is check a box in the form's settings in the form builder.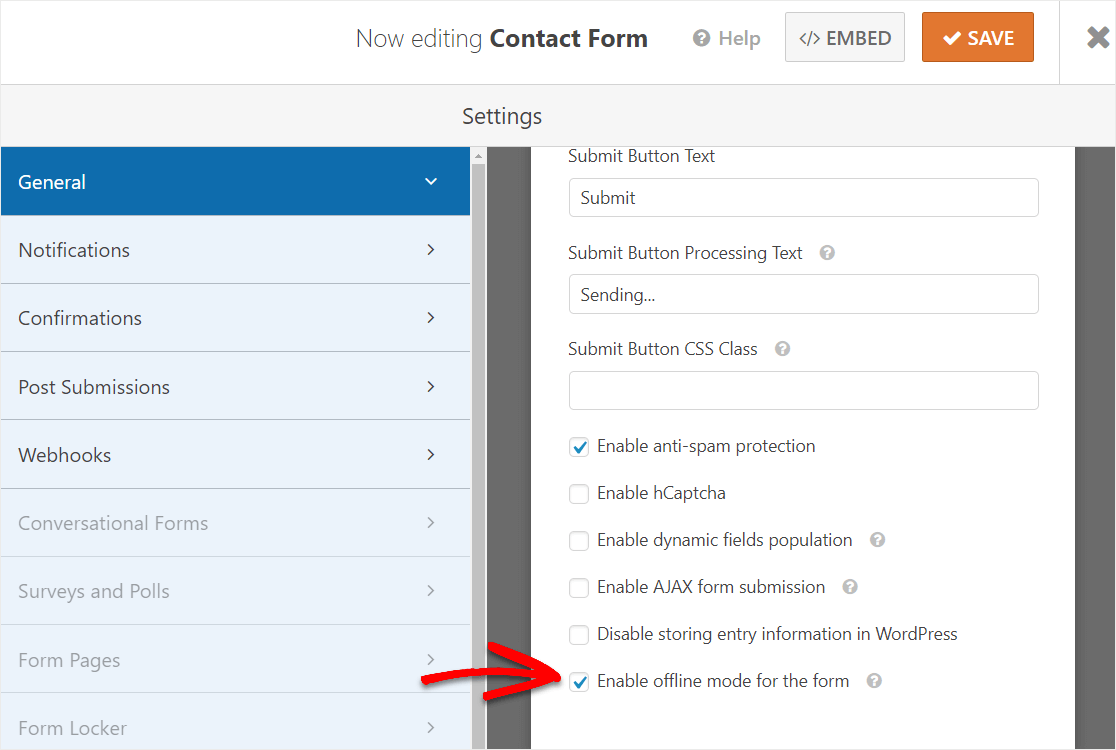 You want to make sure you don't lose leads on your website so you can continue to grow your email list.
And the fact that WPForms offers offline mode and Typeform doesn't, is just another reason why WPForms is such a perfect Typeform alternative.
Does Typeform Have Templates?
Typeform offers a lot of great-looking form templates that get your forms off on the right foot. They offer 100+ templates in their Template Library.
WPForms gives users access to 500+ customizable templates for every niche and industry, for any type of form you'd need on your website.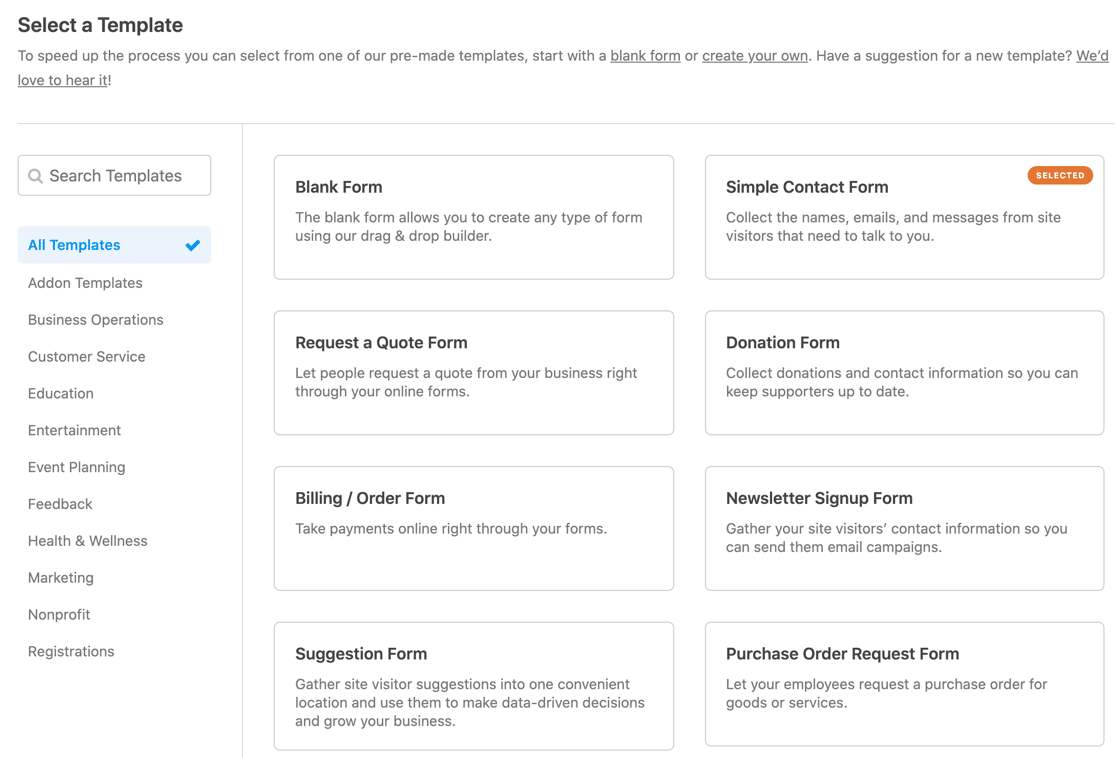 WPForms' pre-built templates can help save you tons of time and money, so you never have to start a form from scratch. They can also help give you some great ideas on forms you might want to try using on your site to lower your form abandonment rate.
So as you can see, all of these features show why WPForms Pro is the greatest Typeform alternative for WordPress websites.
Try the Best Typeform Alternative (50% OFF)
Tons of smart small business owners already know that WPForms Pro is the best Typeform alternative out there. The plugin works seamless with WordPress websites, and there's no coding skills required.
In fact, we're so confident in how much you'll love it too, we're currently offering you 50% off WPForms Pro to try it as a Typeform alternative.
Claim Your 50% Discount on WPForms 
So grab this discount on the best Typeform alternative while you can. From creating surveys to a simple contact form, WPForms Pro can help you with:
Using Gorgeous Survey Tools — Easily make things like polls, Likert Scales, and NPS surveys then see your collected data in a beautiful and useful dashboard that exports.
Building Modern Conversational Forms — Explode your conversion rate with interactive forms, the perfect Typeform alternative.
Customizing Form Fields — You can add or remove fields to your forms and then adjust the field's settings to do tons of different things.
Applying Smart Conditional Logic — Control the size of your form by only showing (or hiding) certain fields when previous questions are answered in a specific way.
Collecting Digital Signatures — Let people sign their form submissions right on the form by collecting signatures electronically.
Custom Captcha, hCaptcha, Cloudflare Turnstile, and Google reCAPTCHA — Integrations with multiple types of CAPTCHA services and tools helps you customize the security settings on your forms to your liking and preferences.
With it's affordability and easy-to-use visual builder, WPForms Pro is simply the best Typeform alternative out there.
For even more details on the differences between these two form builders, be sure to check out this post on  WPForms vs Typeform.
So what are you waiting for? Get started with the world's best form builder today.
And don't forget to please follow us on Twitter and Facebook to get updates from our blog.