Not sure if WPForms vs Typeform is the right form builder for you and your website?
WPForms and Typeform are both popular tools for adding forms and surveys to WordPress sites, but they're absolutely not the same. Actually, there are some huge differences between them, and picking the right one could lead to massive growth.
In this article, we'll compare WPForms vs Typeform so you can decide which one will work best for your needs.
WPForms vs Typeform – Quick Summary
Both WPForms and Typeform enable you to build conversational forms. But WPForms also lets you make standard forms with customized layouts, supports various spam filters, and has a no-code form embed wizard for WordPress. Typeform lacks all of these features, and it's still a lot more expensive than WPForms.
| | Typeform | WPForms |
| --- | --- | --- |
| Conversational forms | Yes | Yes |
| Free version limits | 10 submissions per month | Unlimited responses |
| Pricing | $300/yr | $49.50+/yr |
| Accessible from WordPress dashboard? | Embed block only | Form building, editing, responses, and embedding |
| Spam protection | None | Akismet, reCAPTCHA, hCaptcha, Turnstile, and more |
| Money-back guarantee | None | 14 days |
What Is WPForms?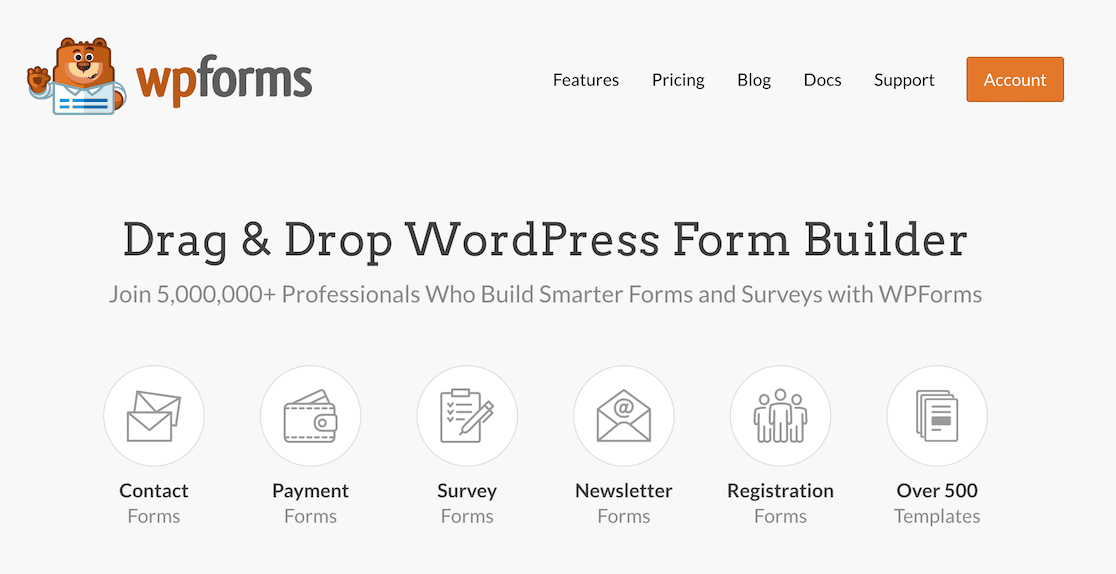 WPForms is the most beginner-friendly form builder on the market. It's the best WordPress form plugin because it's specially designed for sites powered by the WordPress CMS.
As a result, you have complete ownership of all the forms you create with WPForms and there's no risk of losing any form or entries even if the official WPForms suffers downtime for any reason.  On the other hand, users of SaaS form builders like Typeform risk having their forms and entries disappear if the Typeform website goes down.
Besides, WPForms lets you create forms easily with a drag-and-drop builder. Everything happens directly on your website. No coding needed!
With WPForms, you can create surveys, polls, contact forms, RSVPs, order forms, and much more. And WPForms Lite is 100% free.
The paid version of WPForms has 600+ pre-built form templates for your forms to meet your exact needs, or you can start one from scratch. You can use WPForms to build beautiful conversational contact forms and easily create contact forms in Elementor.
What Is Typeform?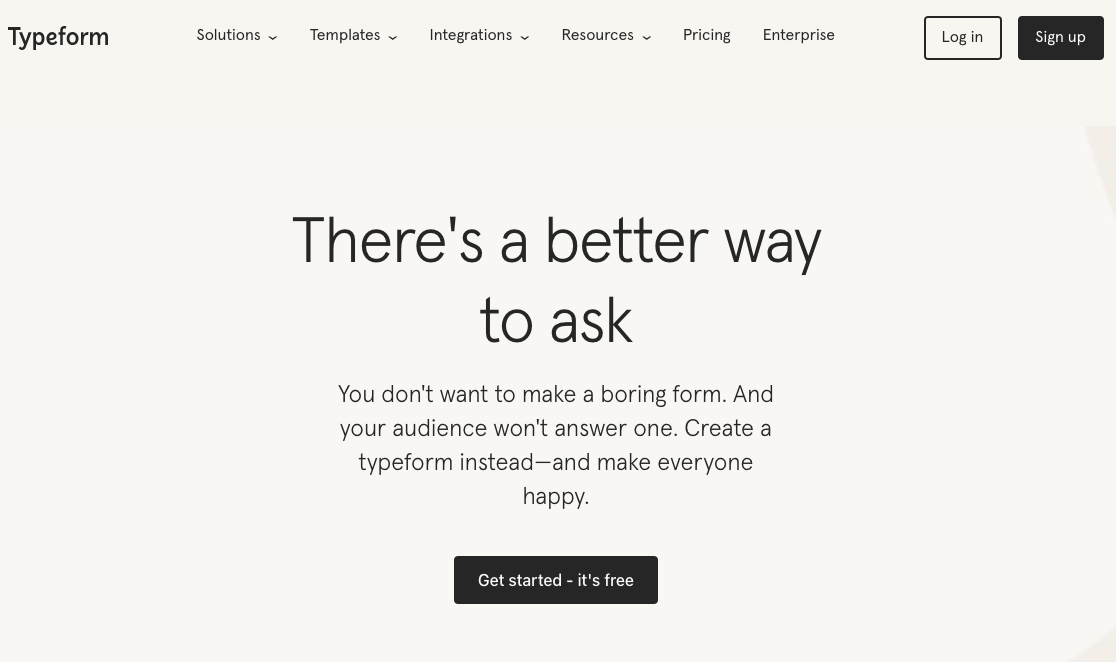 Typeform is a web-based form builder. To clarify, it's not a WordPress plugin.
In other words, it's a standalone tool that lets you build forms on its website. You need to log in to the site to create your forms. Then, you must copy/paste the code for the form into your WordPress site.
If you're not using WordPress, you can learn how to easily set up a WordPress site here.
Typeform is somewhat beginner-friendly.
Above all, it focuses on making slick-looking surveys that are fun and conversational for your audience. With Typeform, you can focus on gathering data by asking your customers questions in a very modern way.
And besides surveys, you can also use Typeform to build things like contact forms, quizzes, shopping carts, and feedback forms. Its form builder lets you choose from some good-looking templates to help you start creating a form quickly.
However, Typeform lacks a lot of the features that WPForms offers. Let's take a deeper look.
Ease of Use
Creating a form on your website should be easy. So, the process needs to be beginner-friendly. And you shouldn't have to use any code. Let's take a peek at how WPForms vs Typeform match up with ease of use.
WPForms
Beginners love WPForms for good reasons. One reason is that it's super user-friendly. You can easily make forms in minutes by using the drag and drop builder right in WordPress. Most importantly, WPForms lets you create the best conversational forms right within your WordPress site.
One of the places where WPForms really shines is how simple it is to add your form to your WordPress website using its direct embed functionality.
You don't need to use any code because the WPForms plugin handles this all for you. And you can choose to add your forms to pages, posts, sidebars, footers, or any other widget areas on your site.
With WPForms templates, you get access to 600+ pre-built form templates for a variety of needs. These templates are lifesavers because they save you tons of time building your forms.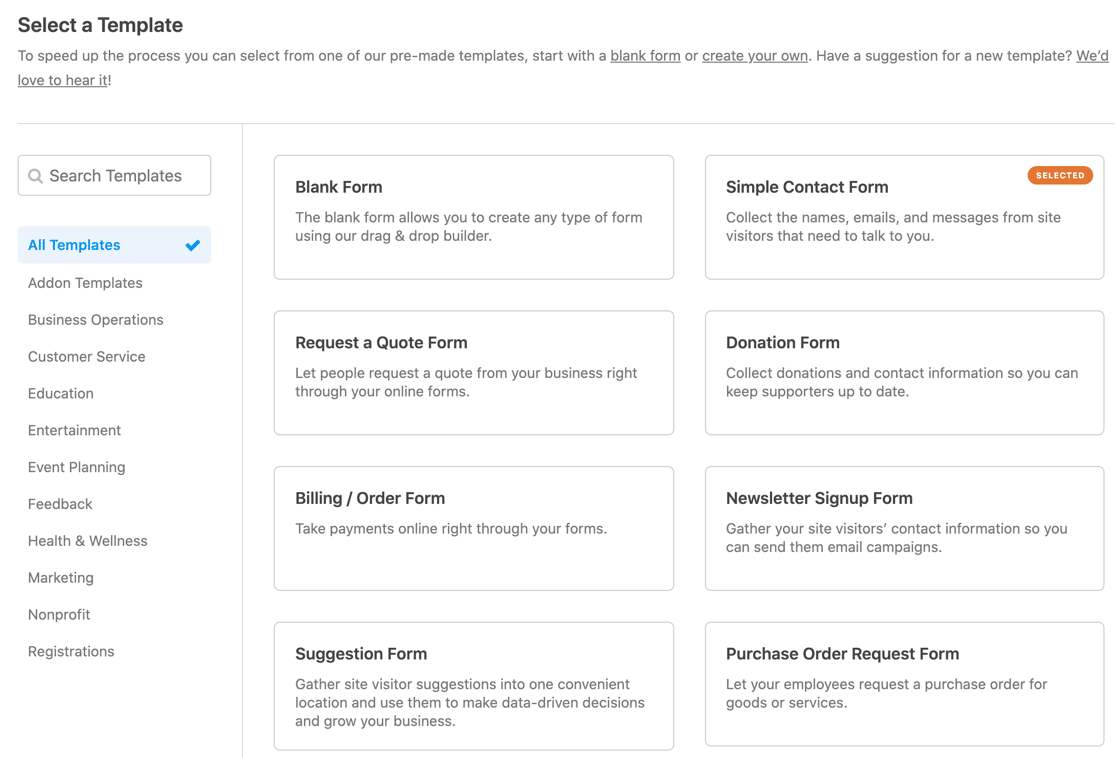 And you can easily add fields by dragging them from the left side to the right side. Likewise, deleting fields is as simple as 1 click.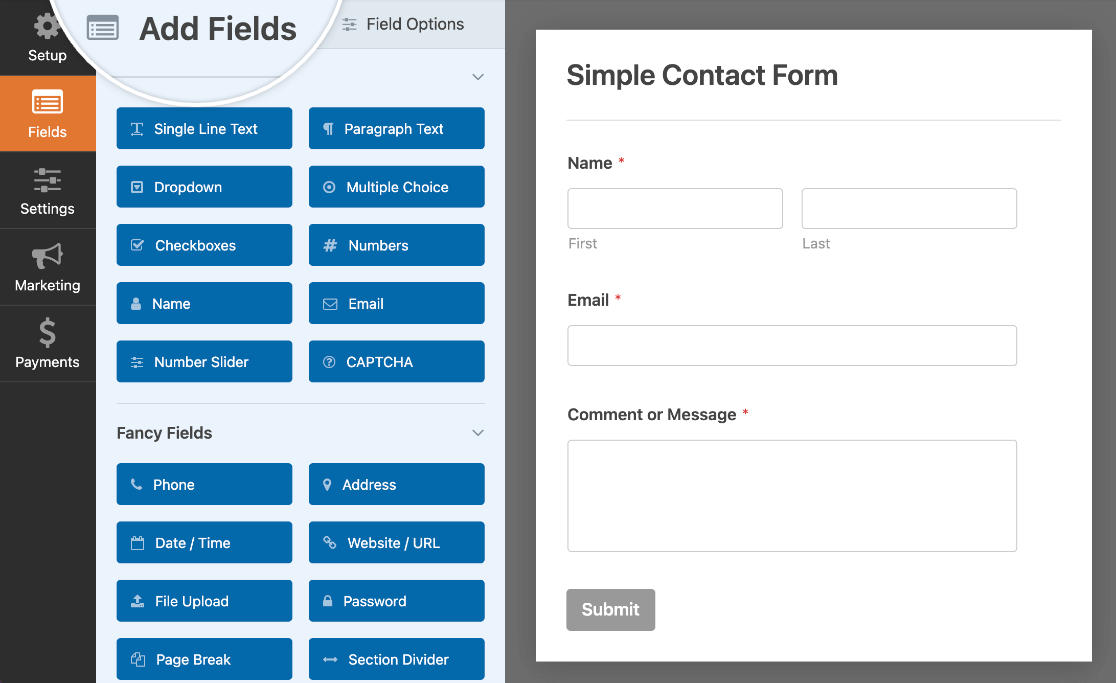 In addition, customizing your Conversational Forms is very simple with WPForms.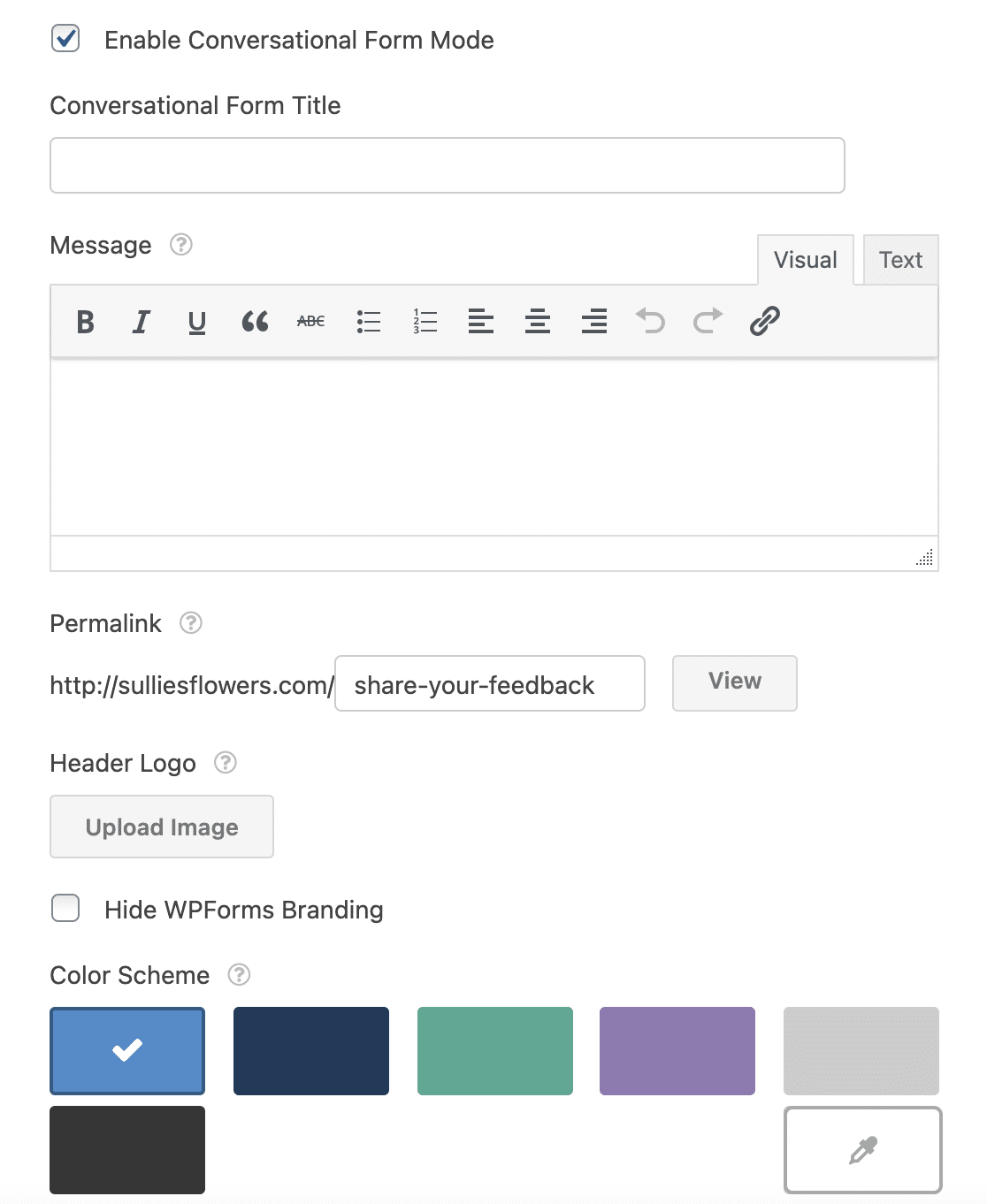 Typeform
Using Typeform might be a little difficult for some beginners.
So, although it's fairly easy to create a pretty survey form with Typeform, inserting the form into your site can be hard.
For instance, when you're ready to add the form you've built to your website, you need to go to your site's HTML text editor. Here, you'll insert the HTML code for your Typeform form exactly where you want it to show up on your website. This can be a difficult task for beginners.
The 90+ templates Typeform provides are designed for things like surveys, feedback, questionnaires, and more.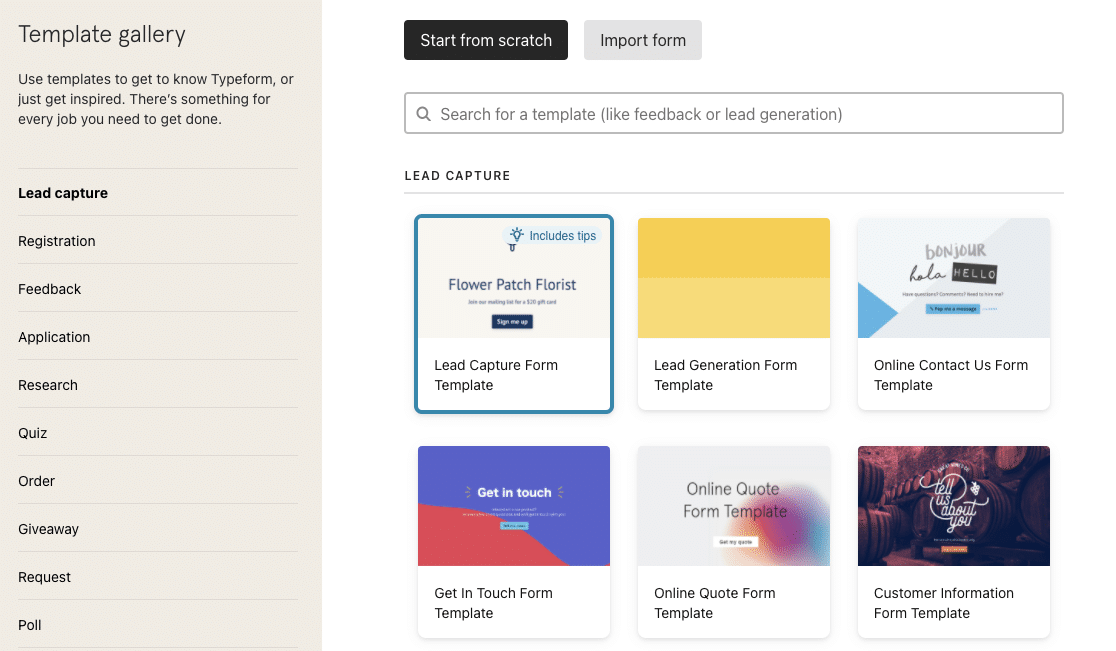 Beginners might also feel a little intimated by the advanced way you customize your forms with Typeform.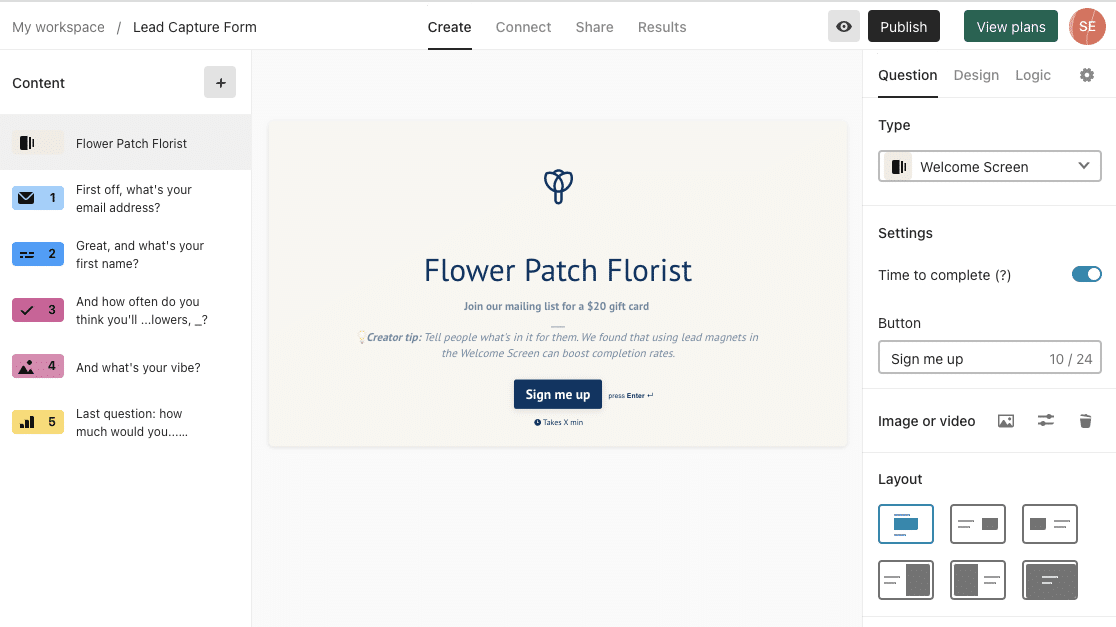 Conversational Forms
Conversational Forms are beautiful interactive forms. They act as a conversation between you and your visitors. Both WPForms and Typeform offer conversational web forms. Let's take a closer look.
WPForms
Conversational Forms is one of the most popular features included in WPForms. It's visually appealing and creates a distraction-free layout for your forms to maximize customer engagement.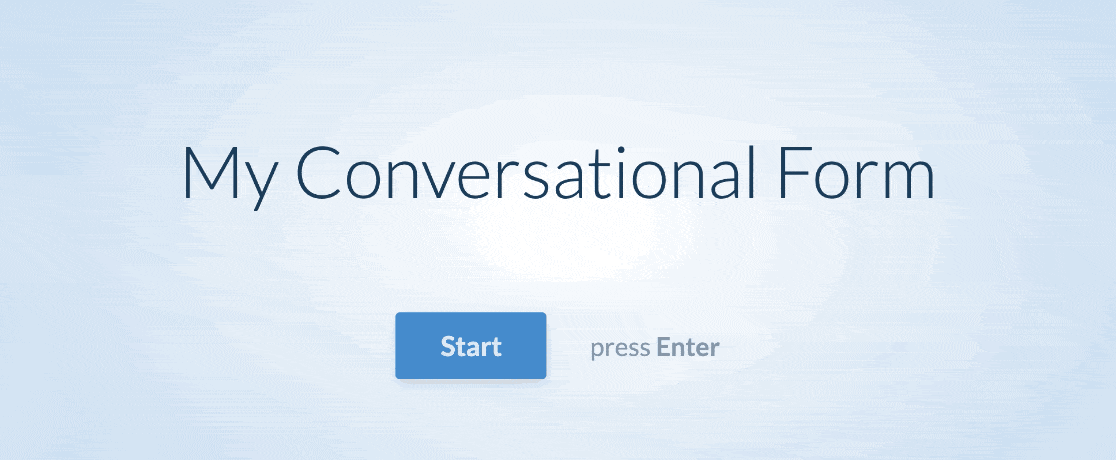 Most importantly, these interactive forms boost form completion and decrease form abandonment.
And WPForms lets you connect your Conversational Forms to all of the top email marketing services.
So, although Typeform also has beautiful full-page Conversational Forms, WPForms adds a ton of unique features to its forms like:
Signature Addon. Lets users sign your form electronically.
Geolocation Data. See where your users are on a map.
User Registration. Let users register for things like your forums, eCommerce, and membership sites.
Custom Captcha. Use custom or math questions to make sure your user is human.
Form Abandonment Addon. Get more leads by capturing partial entries.
Rich Text field. Let users write and style their own long-form content right in your form.
Save and resume. Give users the option to pause filling out their form and finish it later.
Few WordPress form plugins have Conversational Form features. Check out our Ninja Forms vs WPForms review if you'd like to see a more detailed comparison.
If you're confused between using a form vs a chatbot, using a conversational form with interactive elements like WPForms offers gives you the best balance between the two types of tools.
Typeform
Typeform focuses heavily on Conversational Forms. It has some hip-looking templates that help you build these interactive forms.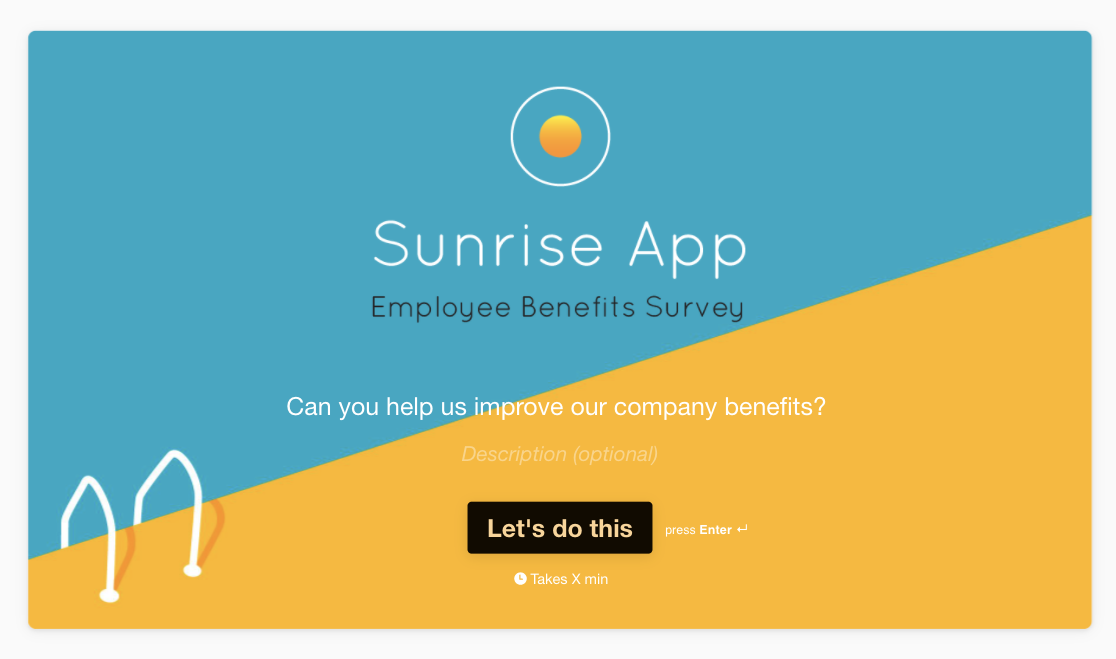 It uses the logic jump feature to ask different questions based on someone's answer to the last question.
You can build surveys, questionnaires, quizzes, polls, and more. All as Conversational Forms.
Customer Support
It's super important to have fast and helpful customer service when you have a question or need help with your forms.
You should be able to access and successfully complete simple tasks by following easy and clear instructions in your form builder's documentation hub. These docs need to be easily understood by everyone, even beginners.
So, let's check out how WPForms vs Typeform compare in this area.
WPForms
The support at WPForms is excellent. In fact, it's one of the best things about WPForms.
For example, you can open your own support ticket, and the team usually responds to requests within 24 hours on weekdays. It doesn't matter which license level you have, because you get direct help from a real person even with the WPForms basic plan.
Support staff is friendly, helpful, and they genuinely care about doing the right thing for their customers.
You can also visit their Documentation center and blog for step-by-step tutorials.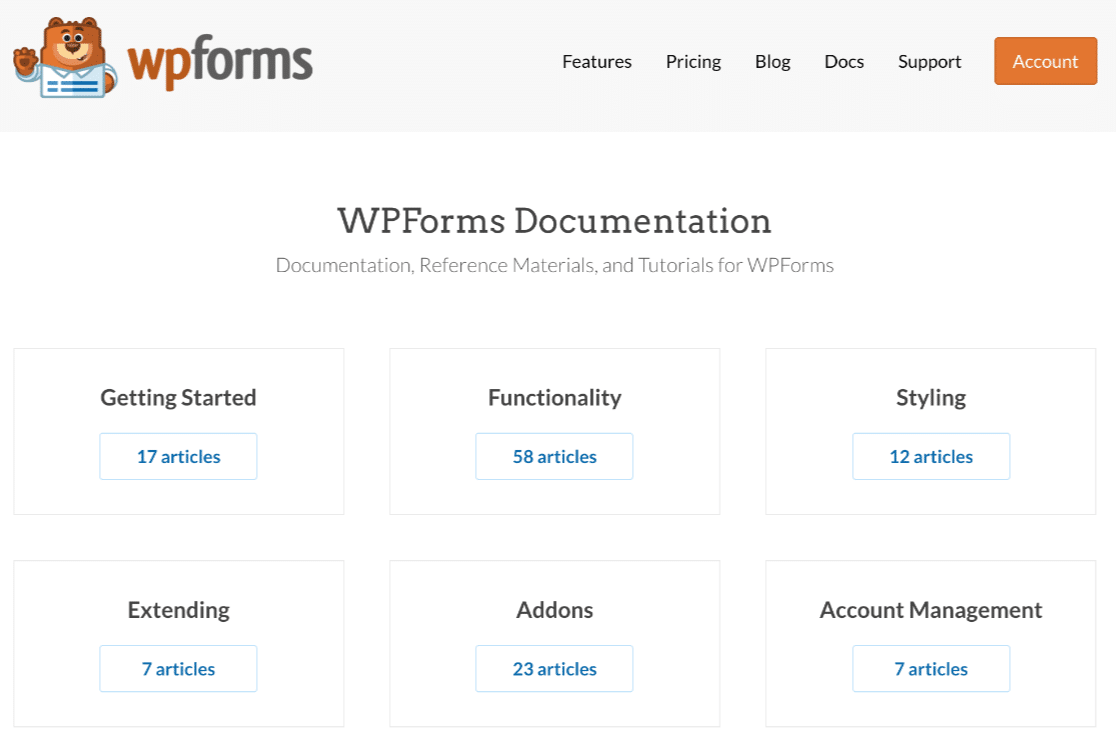 Typeform
Typeform has a mix of different ways to get help. They have a blog and a Help Center with documentation.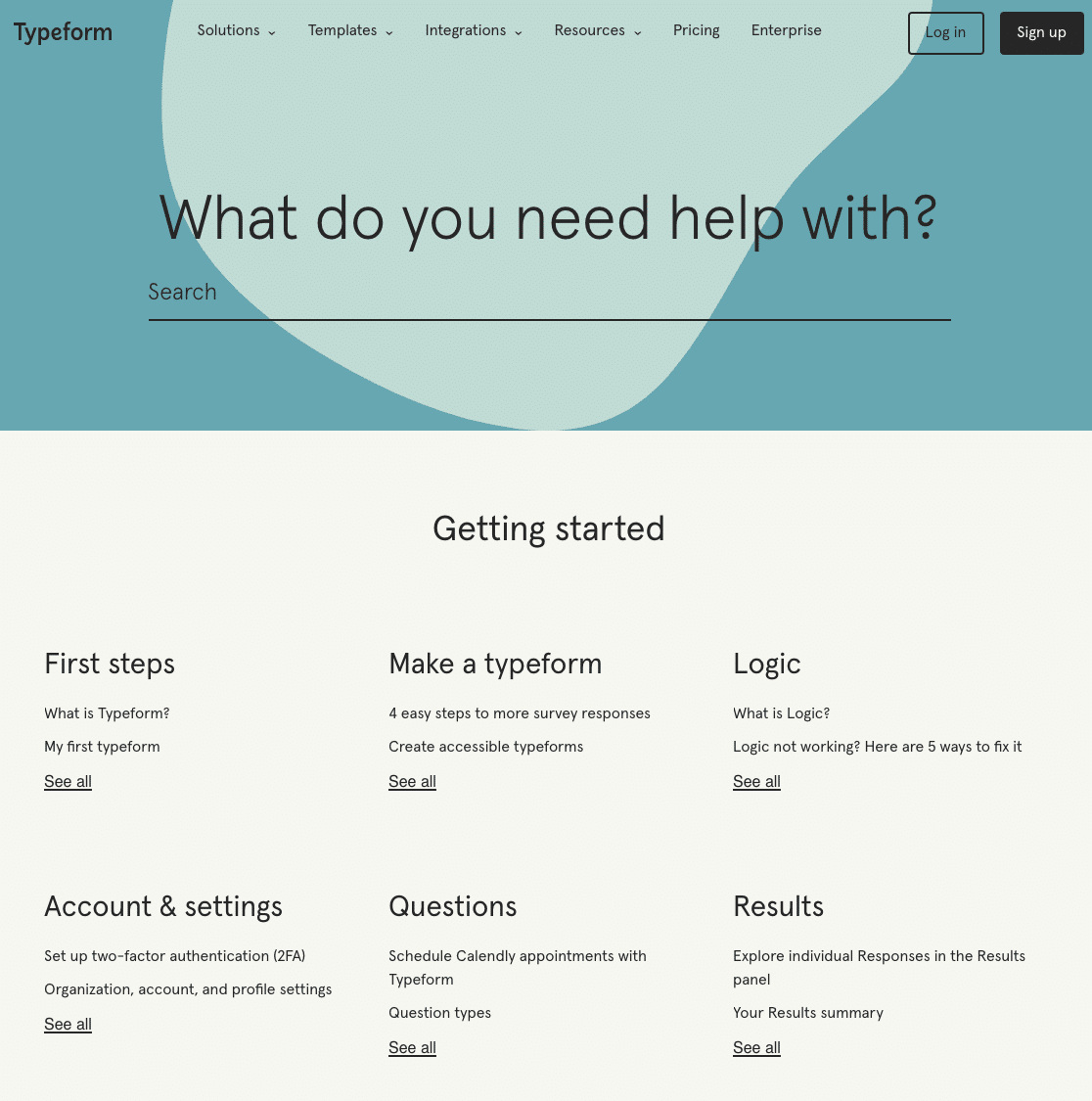 You can also join the community forum to ask other users for help. Or you can get direct support from the Typeform customer success team.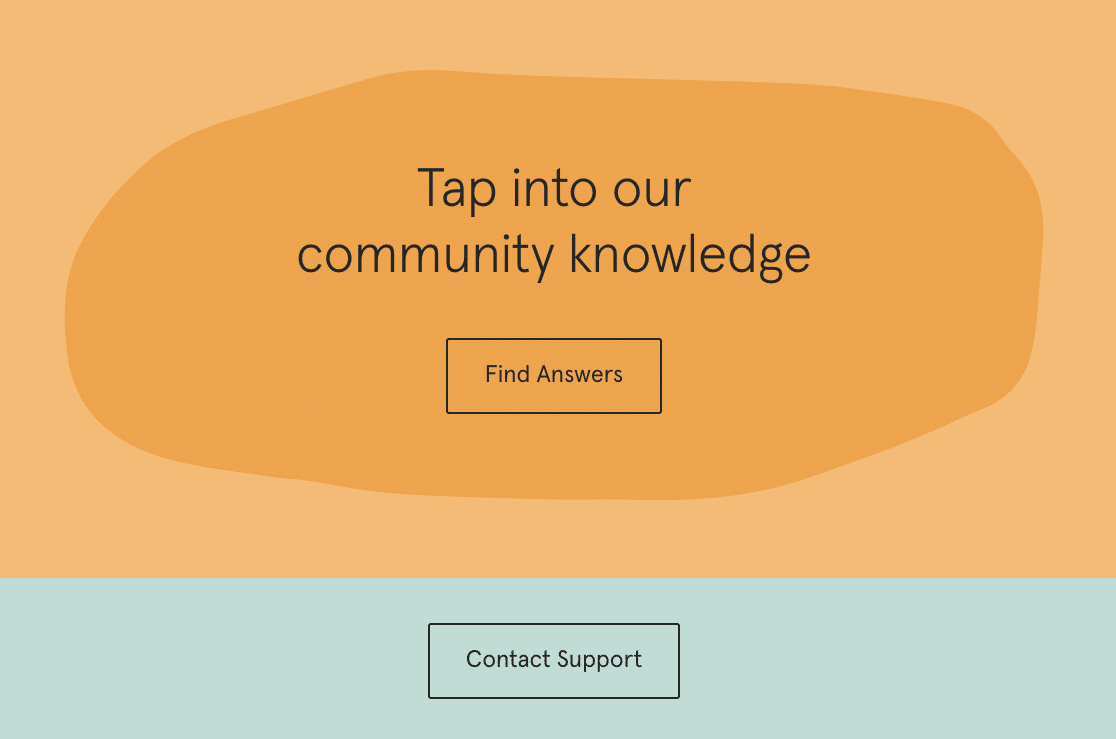 Integrations
Your online form builder should also have lots of integrations to help you manage all kinds of forms.
They should connect with tools like:
Of course, WPForms vs Typeform both have tons of integrations with fantastic tools including those listed above and others.
Pricing
Not everyone can afford a ton of money on form builders. So, the one you buy should have an inclusive pricing plan. Meaning, all of their services and features are affordable to use for everyone.
Let's check out how the costs of WPForms and Typeform add up.
WPForms
WPForms has 4 different pricing plans: Basic, Plus, Pro, and Elite. These plans start at $39.50 to $299.50 per year.
This pricing is great for small businesses and website owners looking for a simple tool with powerful features. As a result, you don't have to hire an expensive developer. You can stay within your budget to create different types of surveys or forms.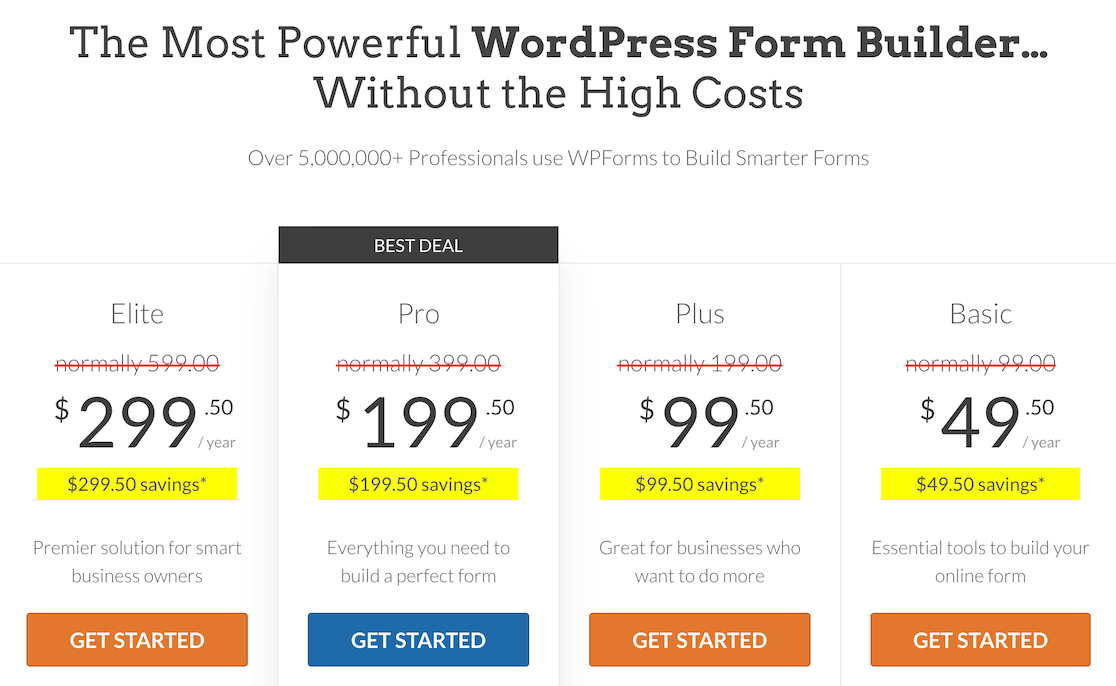 To access features like Conversational Forms and payment integration, you'll want to pick the Pro plan. This is the most popular WPForms plan.
Also, WPForms has a really great refund policy. If you buy a WPForms plan and change your mind for any reason in the next 14 days, they will refund 100% of your money.
Typeform
Typeform has 4 different plans to pick from: Free, Basic, Plus, and Business. For each plan, you can choose to pay monthly or annually. You can unlock slightly larger savings by opting for an annual subscription of your preferred plan.
Regardless of which type of pricing model you choose, Typeform is considerably expensive.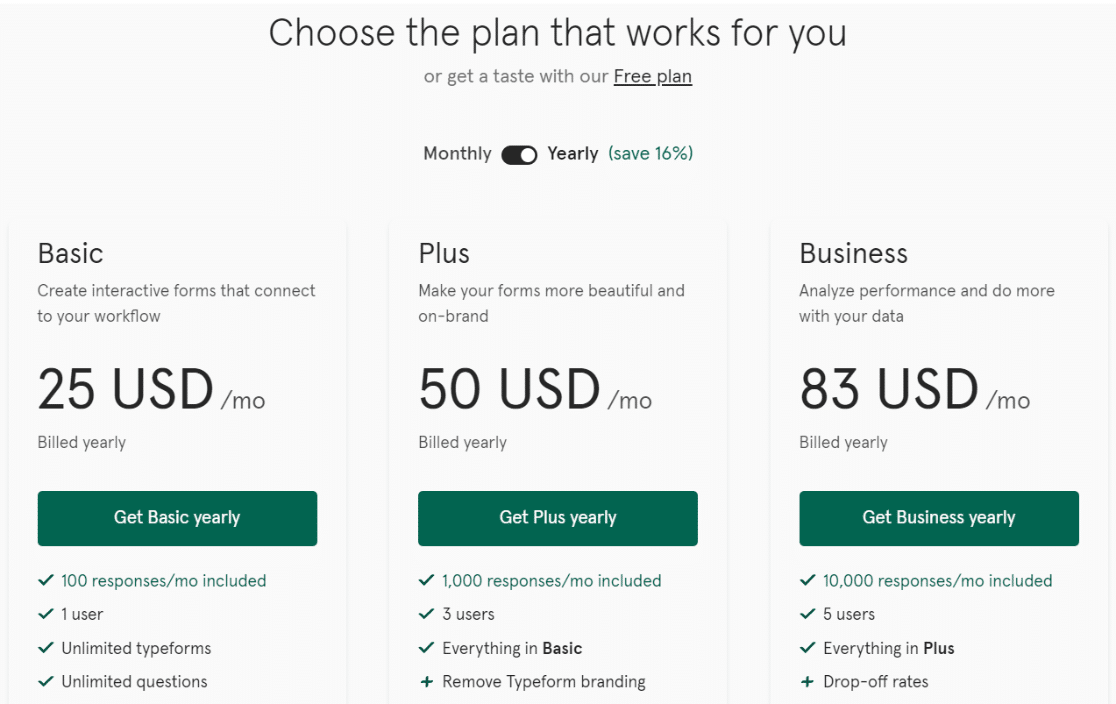 The Typeform Free plan has very few features and integrations:
Max 100 responses per month
Only 10 questions per form
No file uploads
No payment forms
So, it's best for trial runs because it only allows you to collect 100 responses to all of your forms. Also, it doesn't let you use logic jump (conditional logic), upload files, or take payments.
You can't get unlimited answers to your forms with any Typeform pricing plan.
Bottom Line: WPForms vs Typeform
So, which is better? WPForms vs Typeform?
In short, if you're still trying to decide which form builder is the right one for you, your best option is WPForms.
Create Your Conversational Form Now
Although Typeform has a trendy-looking website, WPForms is the most beloved and easy form builder plugin out there for a reason. It's the best Typeform alternative because WPForms offers nearly everything Typeform does and more.
In addition:
WPForms comes with a 100% no-risk money-back guarantee. The support team will help you get your refund without question.
WPForms is more affordable. The most expensive WPForms plan is $299.50 a year. On the other hand, with Typeform, you'll spend $800+ a year for a service that lets you create Conversational Forms only. Conversational Forms are an added feature to WPForms, which is one of the reasons why it's such a better value.
WPForms is a WordPress plugin. The form builder was created with WordPress users in mind, so it's more suitable if you're using WordPress.
WPForms is easier. No code required. WPForms is super user-friendly and is perfect for beginners.
Next, Grow Your Business With Online Forms
That's it! You now know a lot more about both WPForms and Typeform and can make an educated decision on which is better and what will work best for your website.
If you need some ideas to start using your forms, check out this article on how to use WPForms to grow your business.
We've also put together some questionnaire templates and examples if you need some inspiration with surveys.
So, what are you waiting for? Get started with the most powerful WordPress forms plugin today.
And don't forget, if you like this article, then please follow us on Facebook and Twitter.