Considering Gravity Forms vs Google Forms vs WPForms?
These 3 form builders are all popular choices. We're going to compare these form builders on features, security, pricing, and more so you can choose the right one for your project.
Create Your WordPress Form Now
What Are the Disadvantages of Google Forms?
Google Forms has 4 main disadvantages compared to other form builders:
It doesn't integrate well with other platforms, including WordPress
The form builder and entry storage are basic compared to other form builders
You can't take payments through Google Forms
Visitors may need to log in to use certain parts of your form.
Google Forms' entry storage is also geared towards polls rather than regular form data. That means reviewing your entries could be challenging, depending on what you want to use the form for.
We're going to look at Google Forms in more detail as we move through this review.
Gravity Forms vs Google Forms vs WPForms: Which Is Best?
We're going to look at several important parts of Gravity Forms vs Google Forms vs WPForms, including the setup process, building a form, and security.
At the end of the article, we'll take a look at how they compare on price. First, let's see how easy it is to set up each of these form builders.
Setup and Installation
When you're first starting out, Google Forms seems like the fastest way to get started. The platform runs in the cloud, which means you access it through our web browser.
The fact that Google's a hosted platform also means that it's fairly limited. For example, embedding forms or reviewing responses isn't quite so slick.
Another big factor is the data: you don't have full control over the data that's collected through your forms because it stays on Google's servers.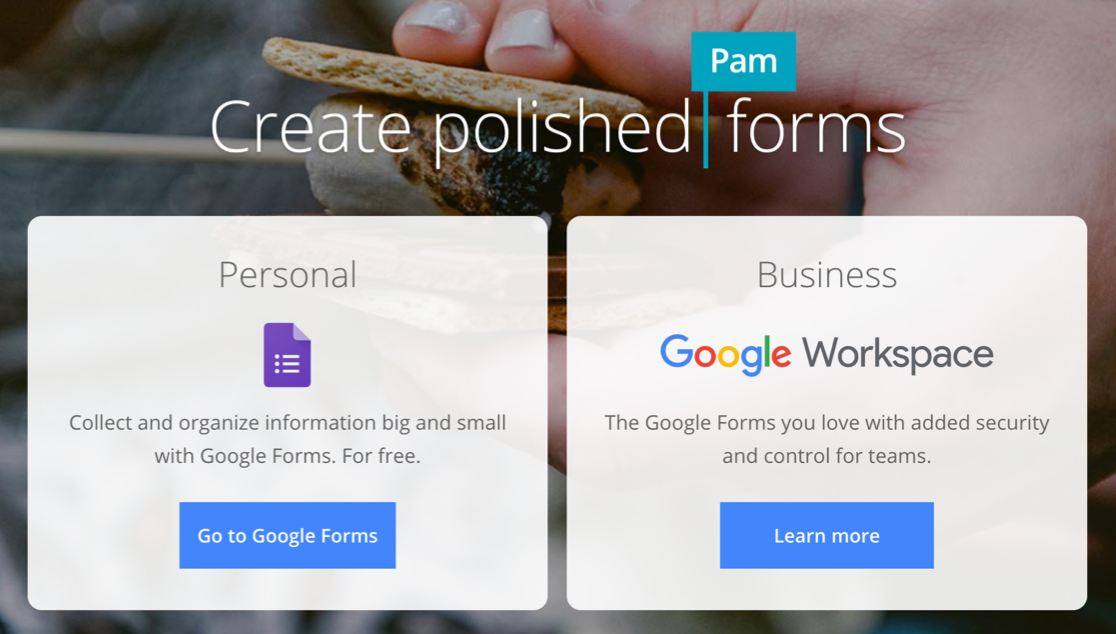 In contrast, Gravity Forms and WPForms both run on top of WordPress. That means you'll want to install WordPress first, then install the form plugin on top.
It sounds like a hassle compared to Google Forms, but installing WordPress is a lot easier than it used to be.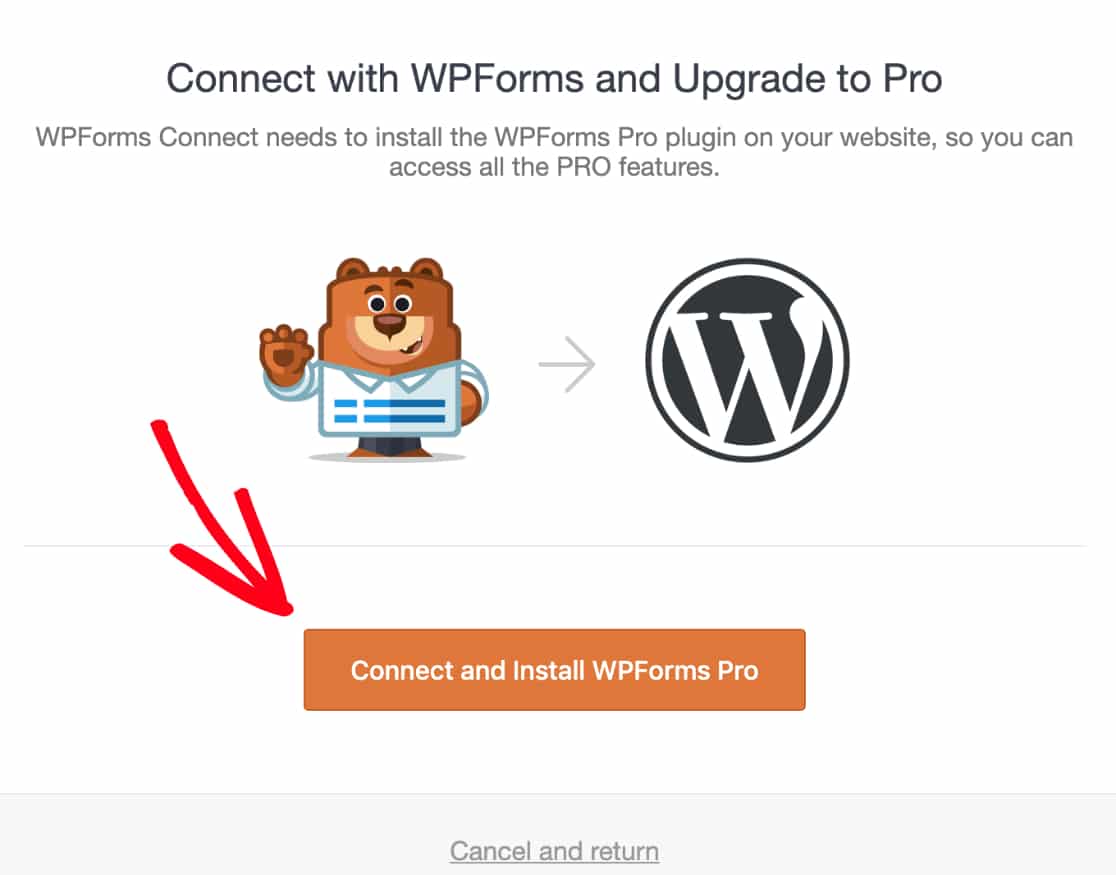 Why use WordPress? There are tons of benefits to using WordPress for your website, and investing a little more time to get set up could help you save time and frustration later. One of the biggest benefits is that everything is within your control so there are fewer compromises to be made with this approach.
With the right web host, setting up WordPress is easy and affordable. Bluehost lets you install WordPress with 1 click, and offers 24/7 support in case you need a hand getting things set up.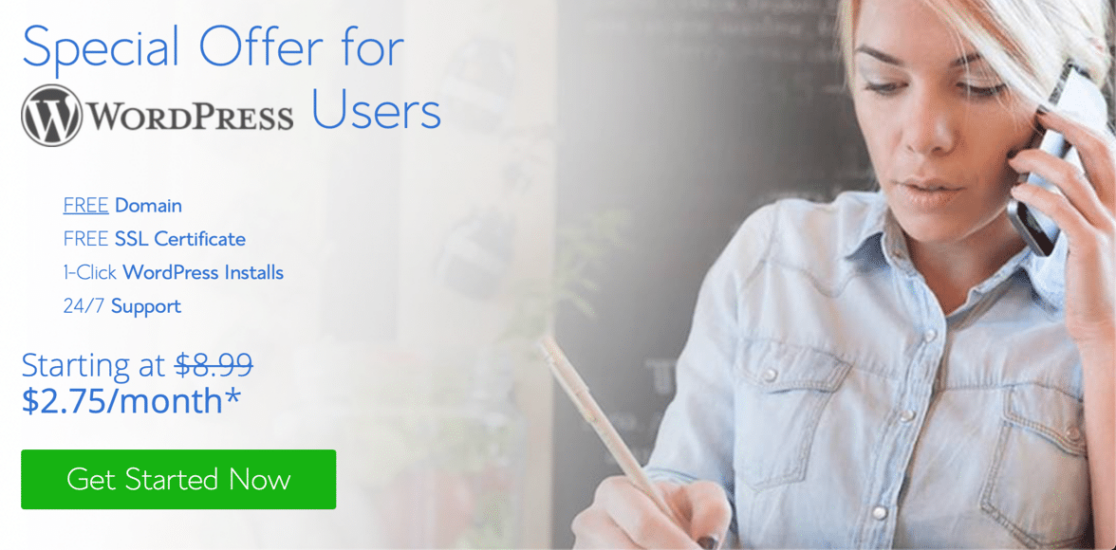 Bluehost also gives you a free domain and SSL certificate to make sure your forms are secure. So you don't need to buy anything else to start your own online store or business website.
Since Google Forms is hosted, you'll have limits on the number of responses you can receive. Admittedly, these limits are pretty high. But with Gravity Forms or WPForms, there are no limits on responses or storage space, other than the limits on your hosting plan. Most hosts offer unlimited plans these days, so this is rarely an issue.
Building Your Form
Google Forms, Gravity Forms, and WPForms all use slightly different form builders.
First up, let's look at Gravity Forms.
The most recent version of Gravity Forms is designed to look like the block editor in WordPress. It's an improvement on the older layout because the form builder is more compact.
The actual fields and workflow haven't changed, so the process of building and publishing the form is the same as the older version.
In Gravity Forms, you can hover over any field and click the Settings icon to open the field settings. The form field settings have moved in version 2.5 and now sit in a pane on the right, much like the WordPress block editor.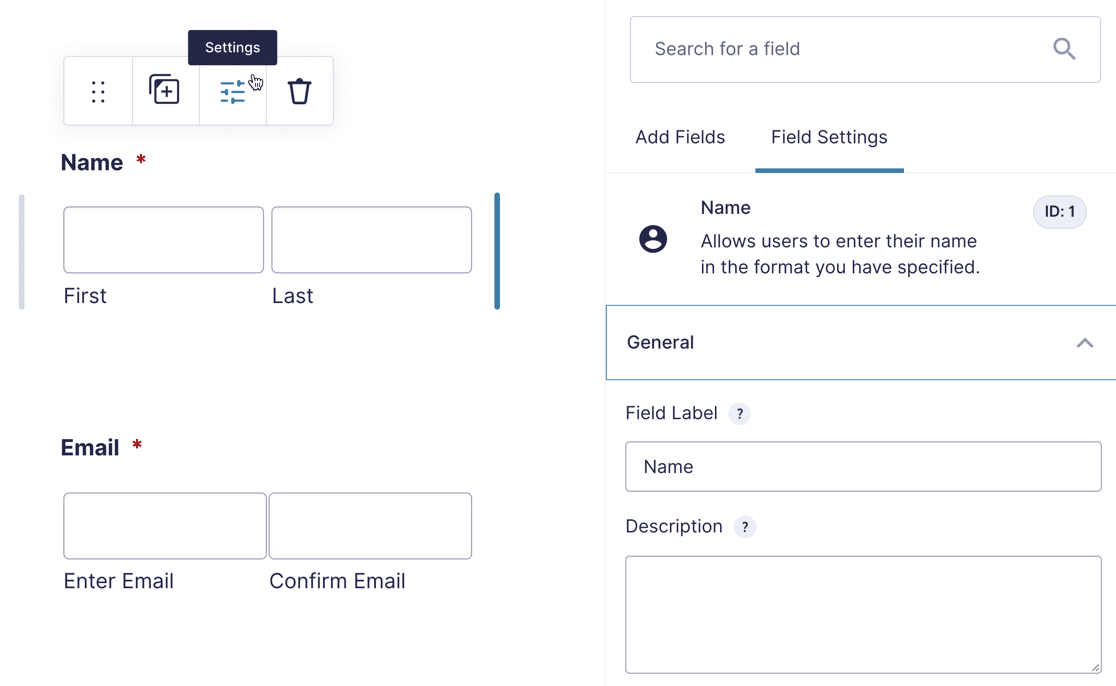 Google Forms has a very minimal interface. When you first start making a form, there isn't much text to guide you. If you're brand new to the platform, this form builder definitely takes a little getting used to.
In the form builder, you can click the plus icon on the right to add a field. The other icons let you add pages, text, images, and other field types.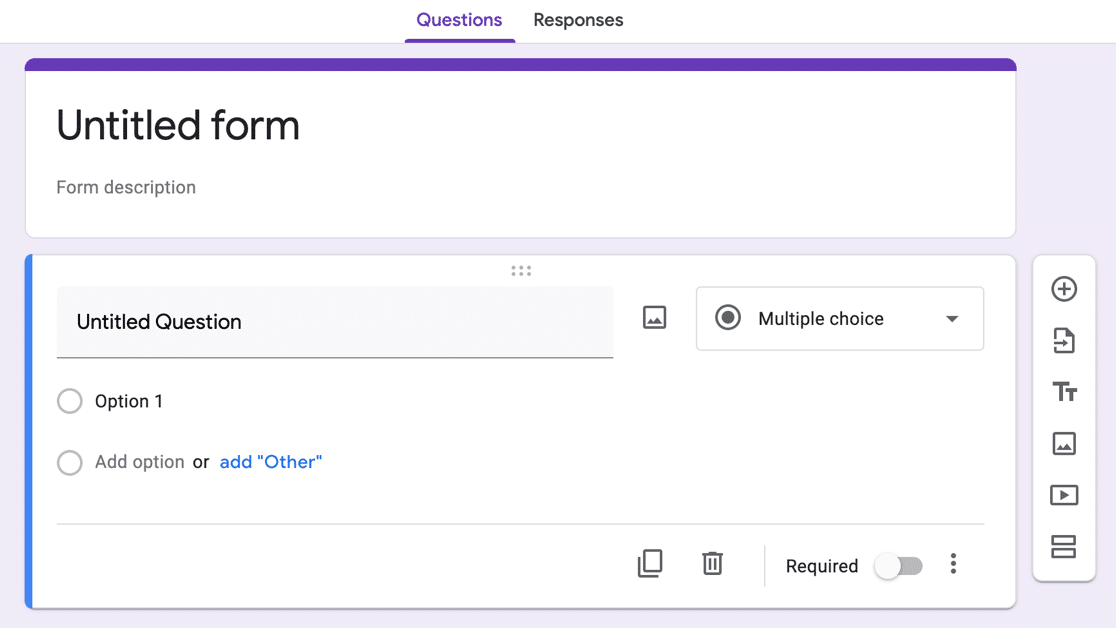 In contrast, WPForms has the best form builder interface. It combines an easy drag and drop layout with clear text labeling, so you don't have to waste time trying to figure out what everything does.
And unlike Gravity Forms, the entire form builder pops out of the WordPress dashboard. That's a big plus because you don't need to work around the WordPress navigation menu. It gives you more screen space to work with.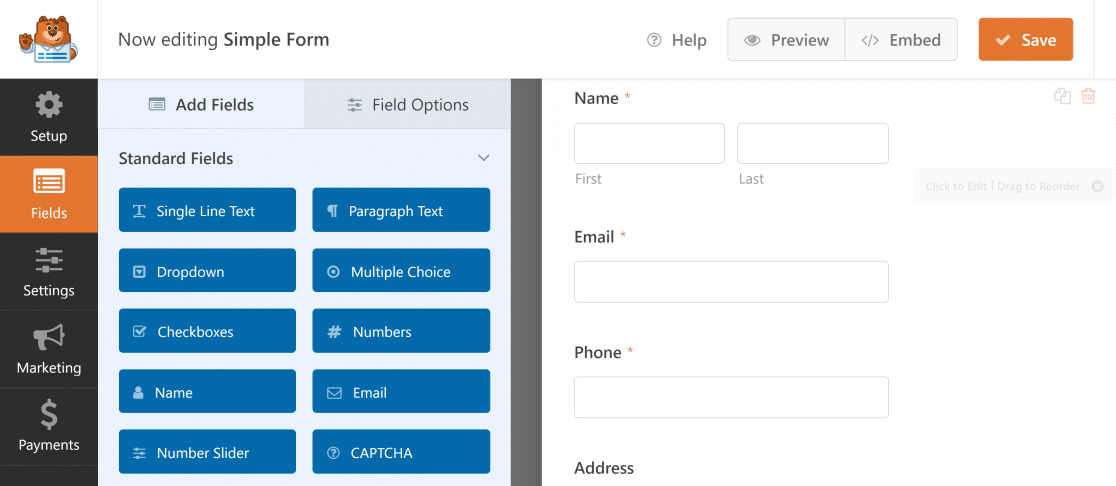 WPForms shows form fields on the left and a form preview on the right. To add a field, you can drag it from the left-hand side and drop it into place on the right.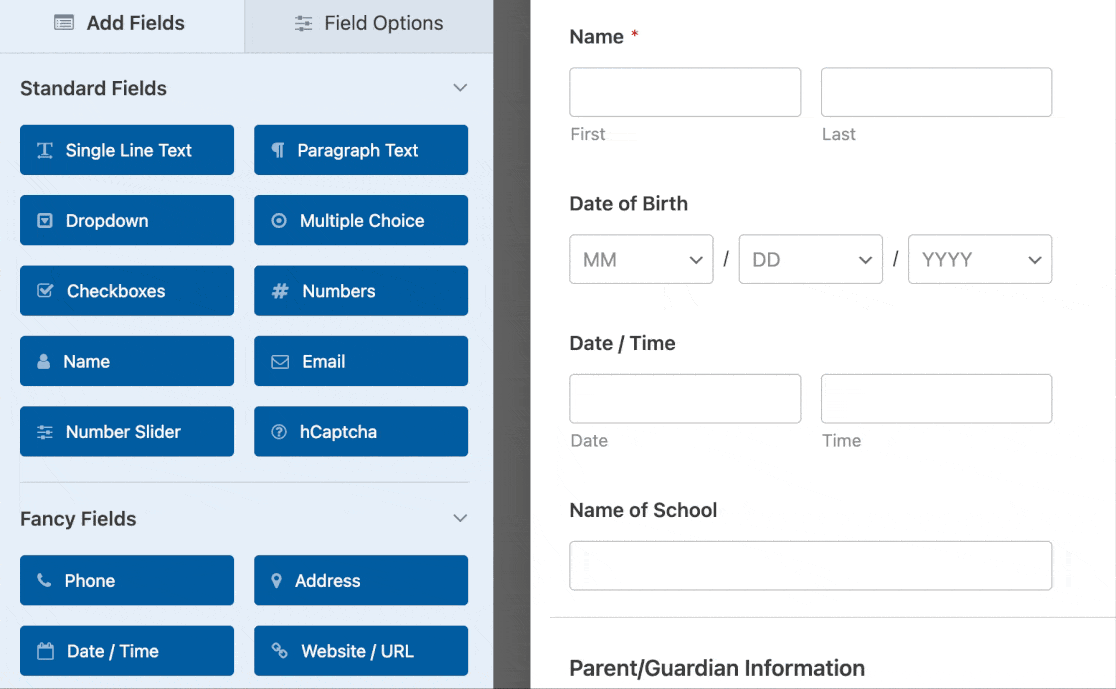 Once you've dropped the field into place, click on it to change the settings.
It's also super easy to create multi-column forms using the Layout field.
On the left, there are clearly labeled icons for your settings, marketing integrations, and payment providers. You can click any of these icons to edit the settings within the form builder, which is super convenient.
If you're working with a team, you can also keep track of all the changes other people make to your forms with the Form Revisions feature.
Form Builder Features
The features you can access in Gravity Forms and WPForms will depend on your license level. Each license level unlocks an increasing number of field types and addons.
Here's a quick summary of the addons you can use with WPForms. There are a lot more than this, but this gives you a flavor: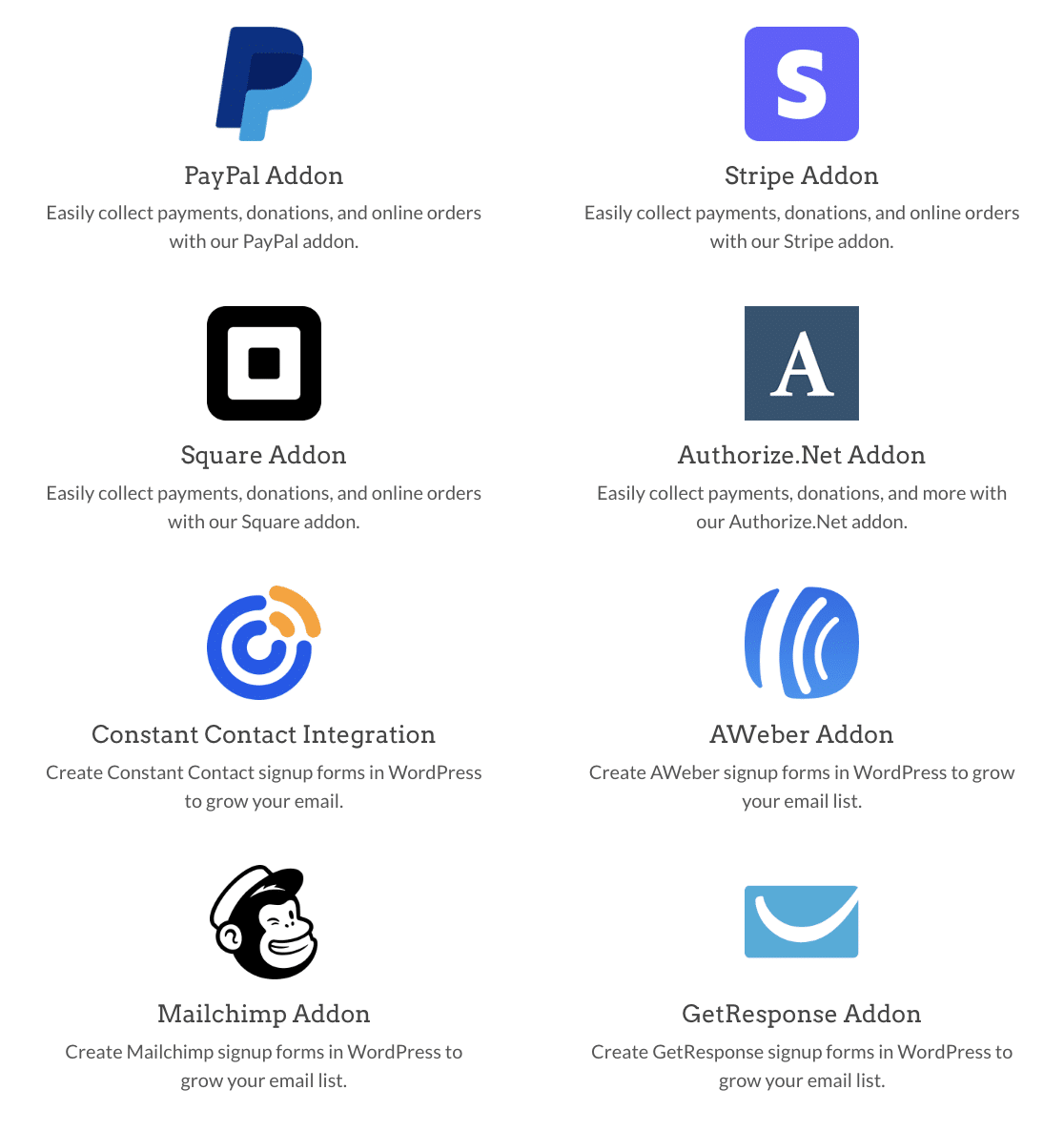 One major difference between WPForms vs Gravity Forms is the way addons work.
WPForms' customers can unlock all features and addons with the Elite license.
With Gravity Forms, you may have to pay for a license, then look for a separate 3rd party plugin to get the functionality you were hoping for. So with Gravity Forms, the total cost could potentially increase over time.
The Google Forms builder has the least features. There are no payment fields for example.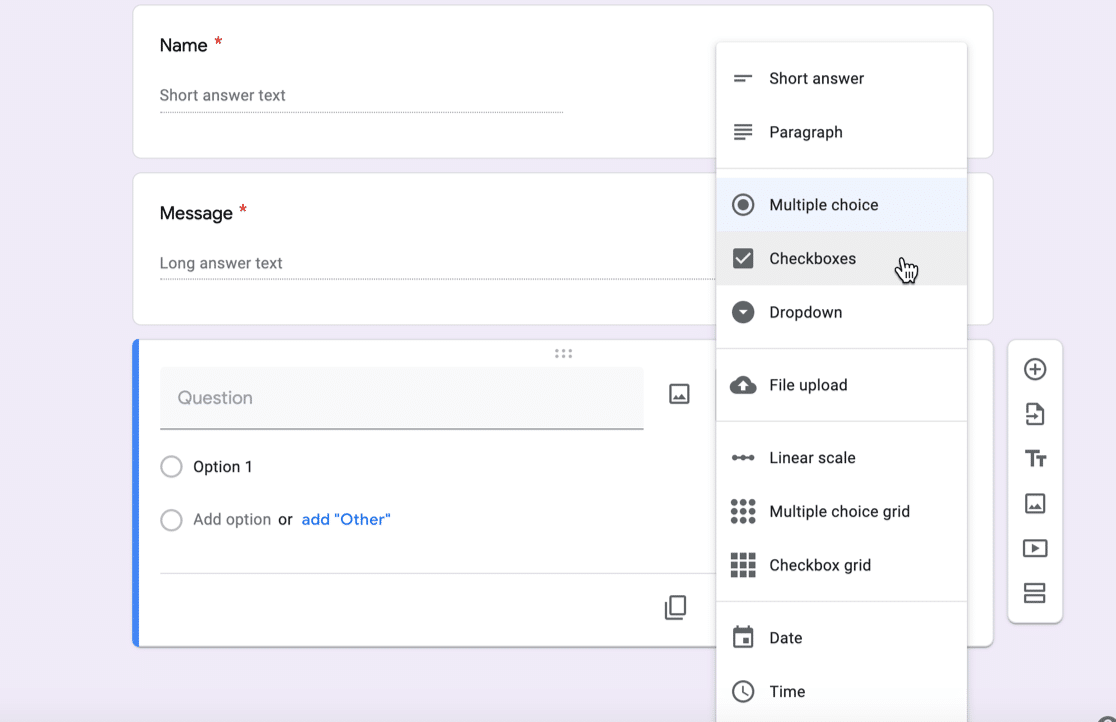 GDPR is another super important feature, and there are huge differences here too.
WPForms has its own dedicated GDPR field, and it has pre-defined text to help you add a GDPR checkbox to your forms quickly.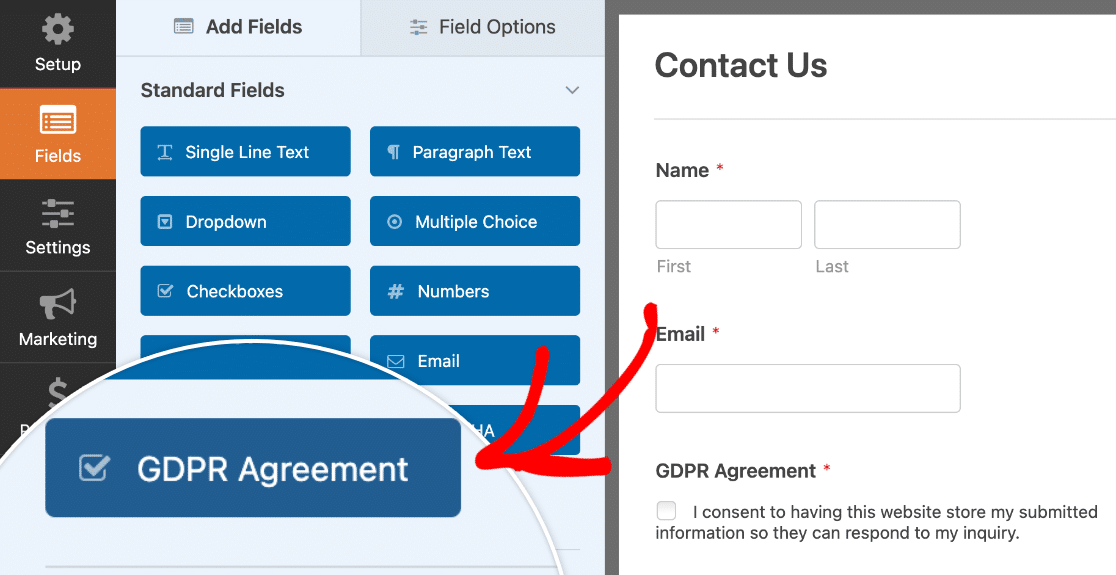 It also has advanced GDPR controls. For example, you can:
Turn off entry storage on any form if you don't want to store your visitors' personal data
Disable tracking cookies on your forms
Disable IP address and User Agent metadata from being saved.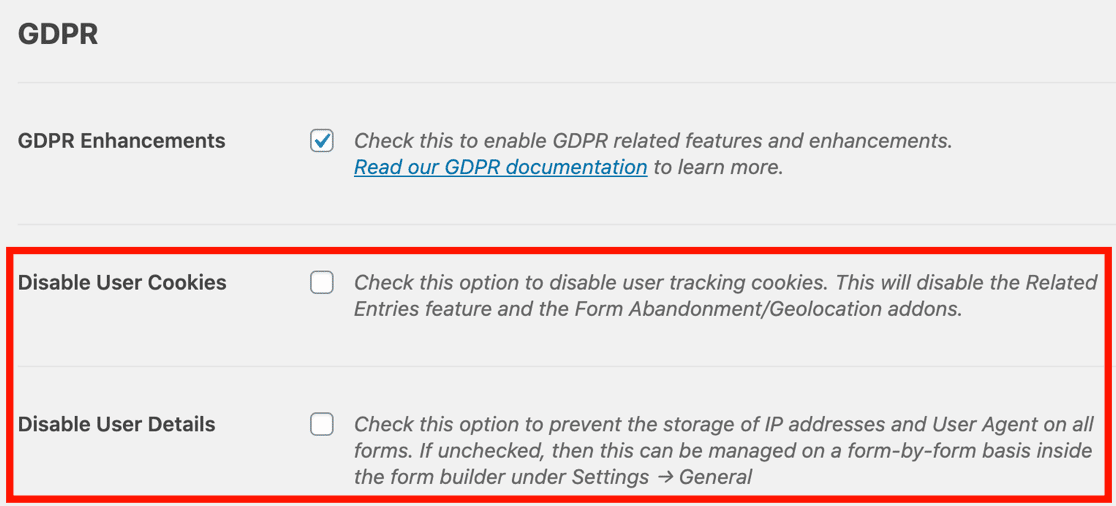 Gravity Forms has a similar Consent field. You can use this for GDPR or a privacy policy. This Consent field doesn't have any specific settings, so you can write your own wording here. It's a simple yes/ no checkbox that can be used for various types of agreements.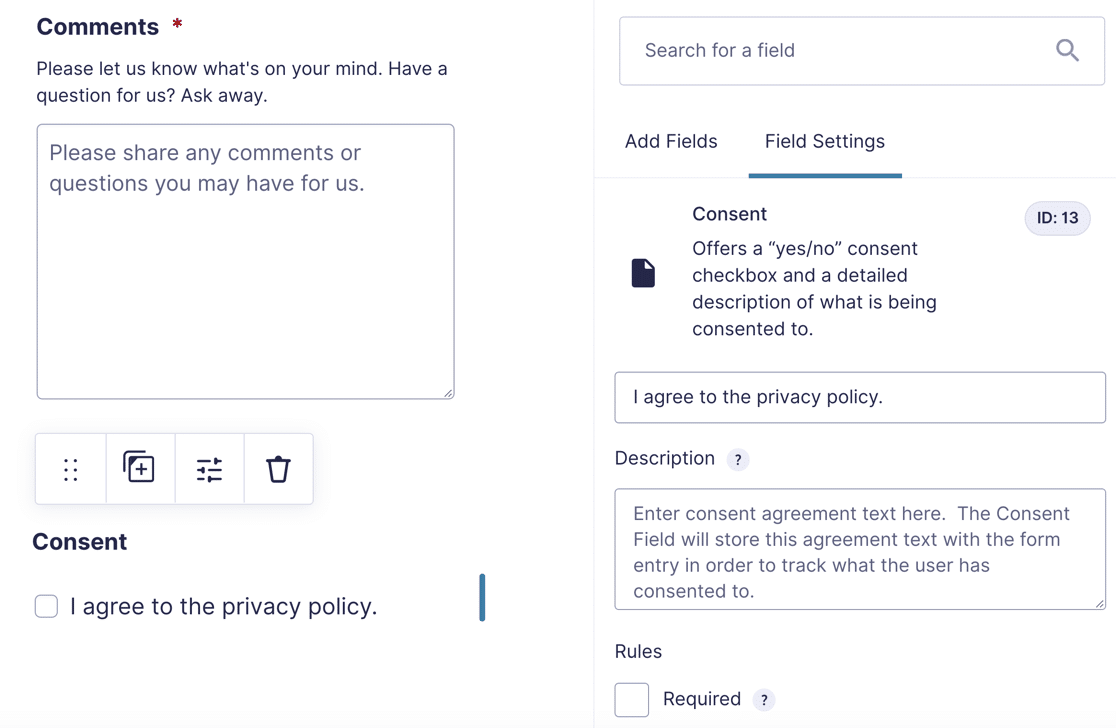 Finally, Google Forms doesn't have a consent or GDPR field. To get around this, you can add a checkbox field and make it 'required' so that it has to be checked for the form to be submitted. Again, this is basic: it's simply a yes/ no checkbox with no other advanced features.
Publishing Your Form
Google Forms lets you publish a form without embedding it. This is a convenient way to quickly publish a survey or an internal form for your business.
This is essentially the same as the landing page form layout in WPForms.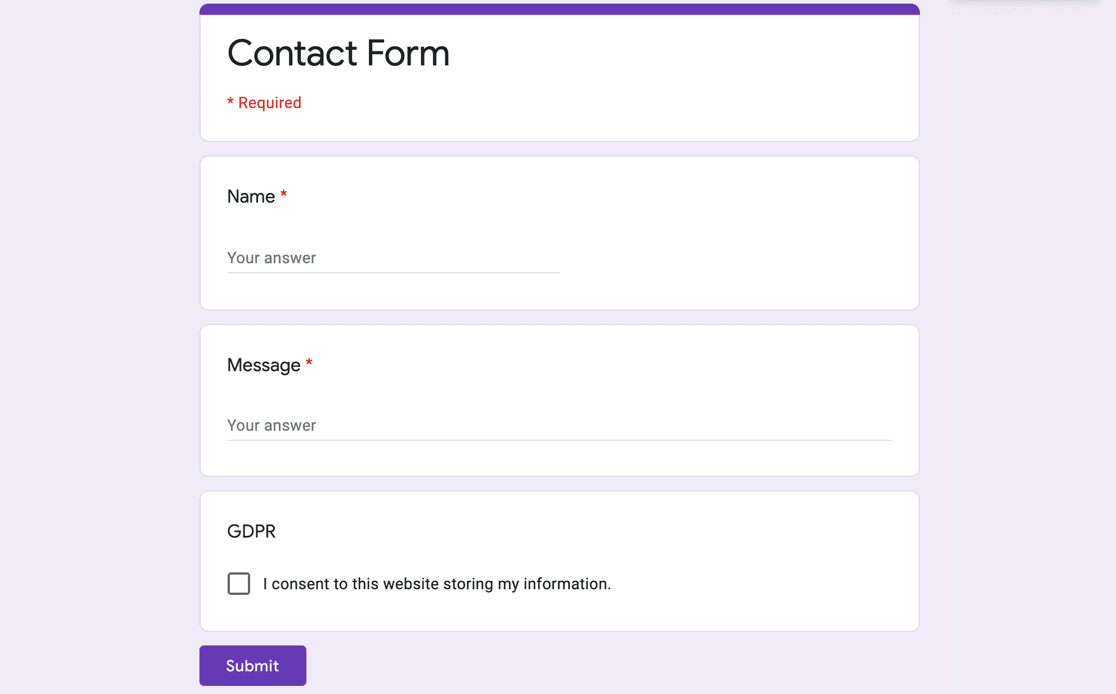 If you want to embed a Google Form in WordPress, you can grab the iframe code and paste it into an HTML block. The main limitation here is that you need to manually change the size in the code to try and get it to sit right within your page, which is pretty much impossible.

When your form is embedded, you could see a scroll bar along the right-hand side of the iframe. It's likely that you won't entirely get be able to eliminate this because your visitors will all have different screen sizes.
And another huge downside of embedding a Google Form in WordPress? You'll also see Google branding on your form when it's embedded.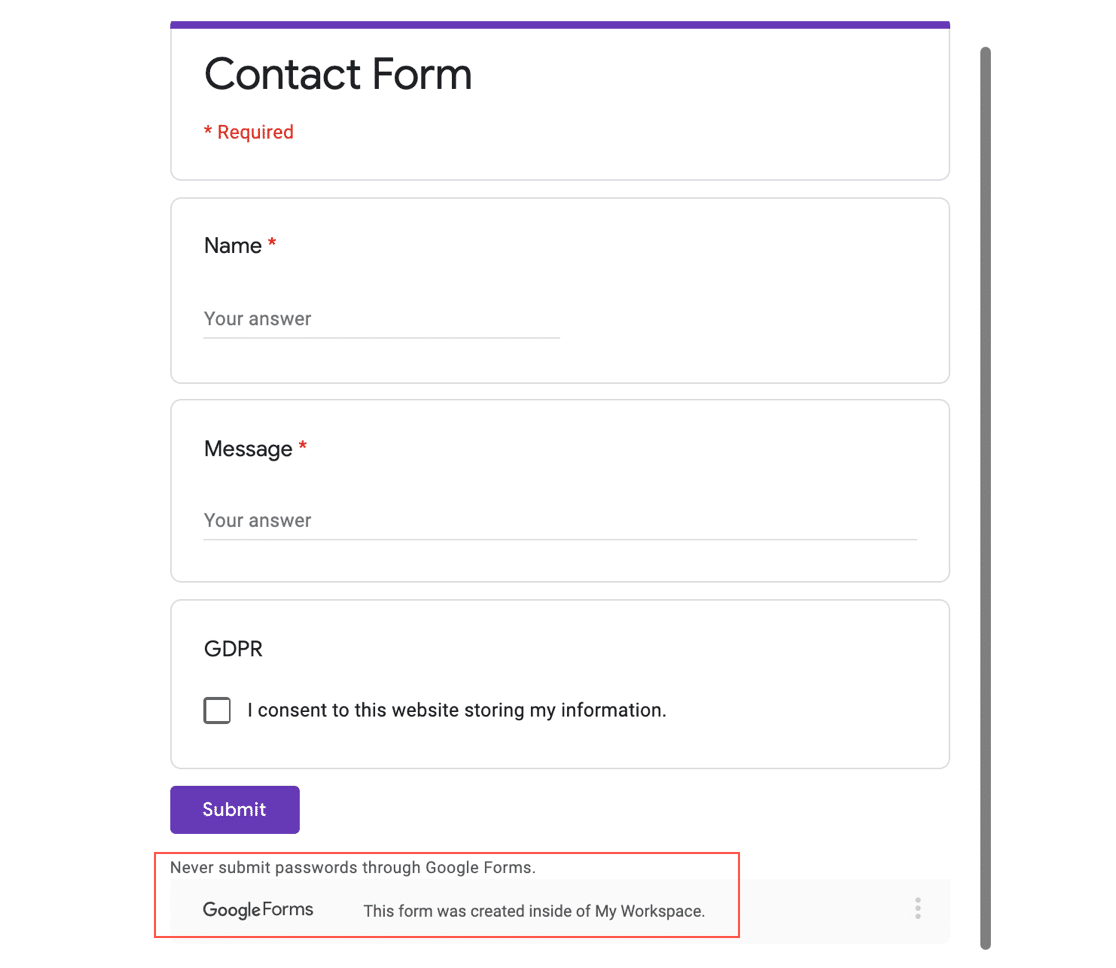 If you want to embed forms in WordPress more easily and without any 3rd party branding, Gravity Forms and WPForms are both better for that purpose.
First, Gravity Forms lets you preview your form.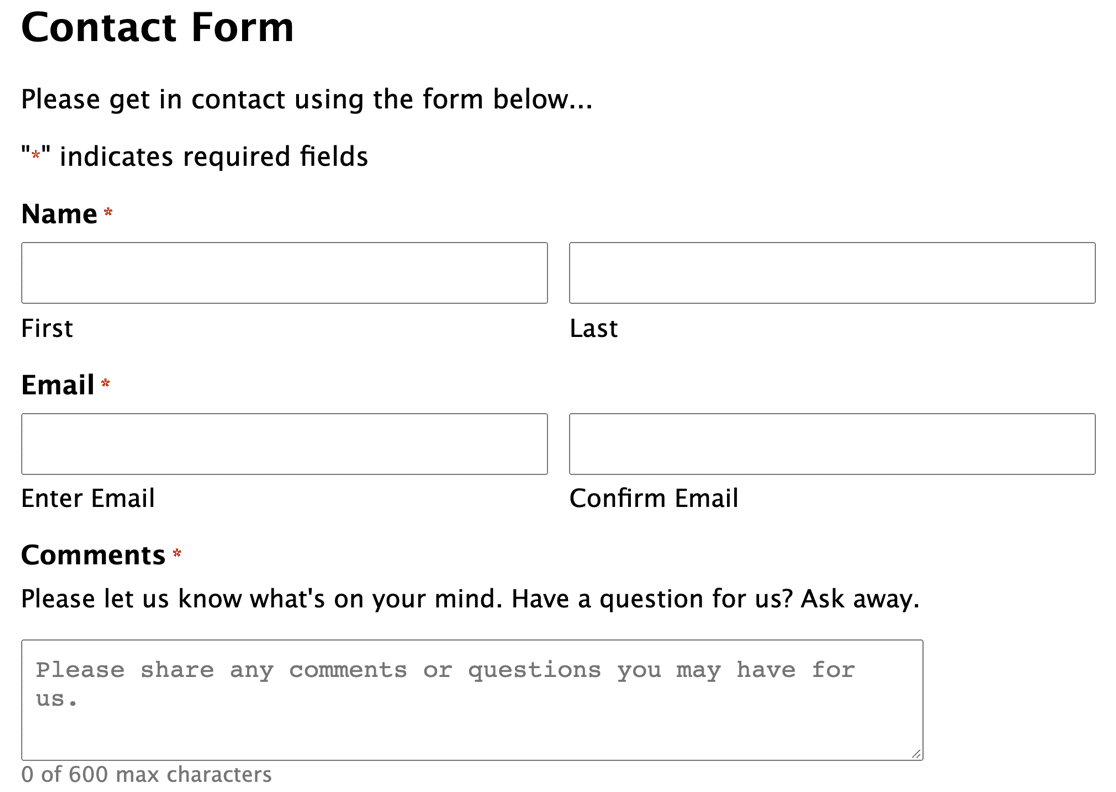 You can then embed it using a block in the block editor.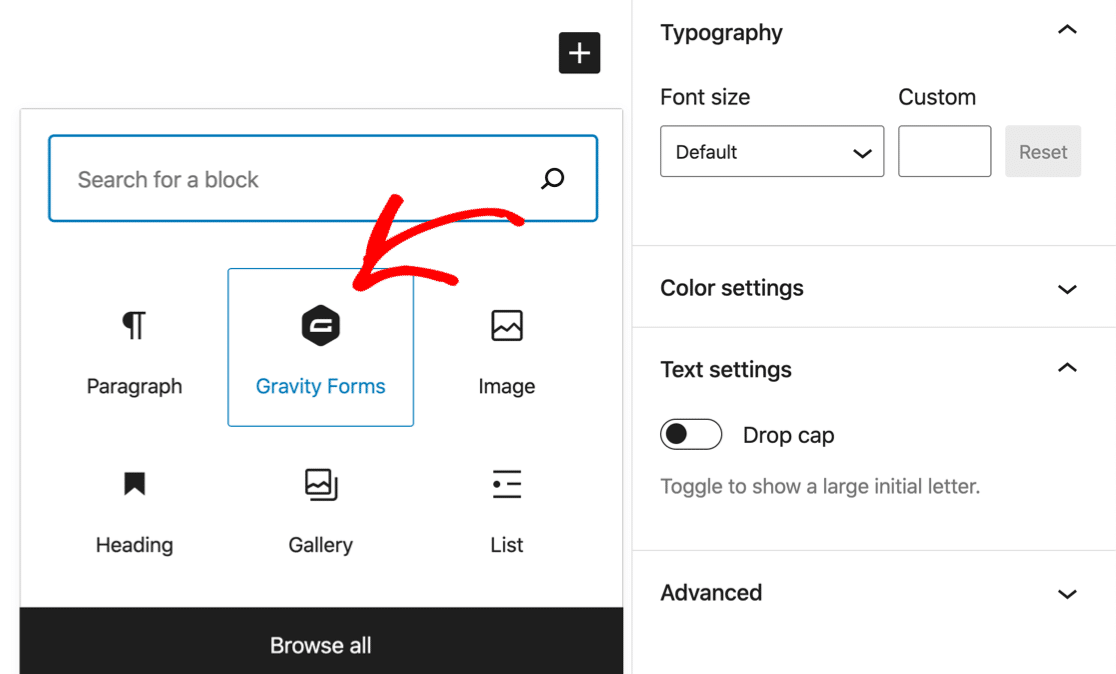 That's it for publishing in Gravity Forms. It's easy, but WPForms gives you more options.
First, in WPForms there's the easy Embed button at the top of the form builder.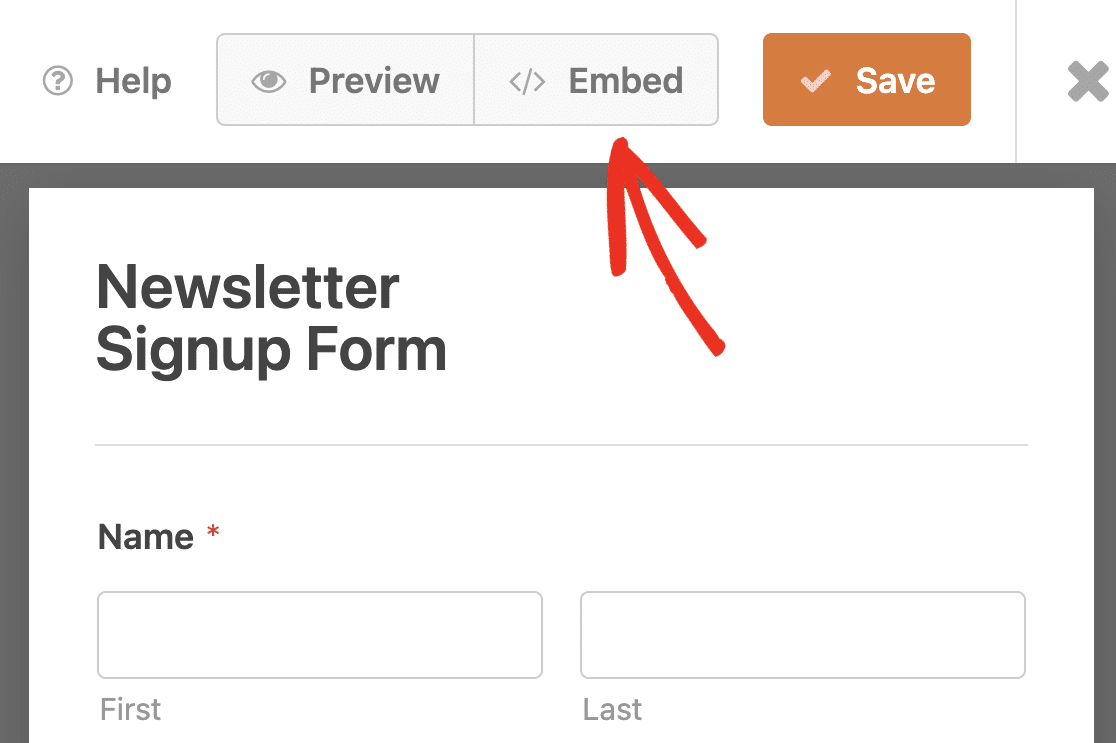 This lets you create a new page for your form automatically, or grab the shortcode if you'd like to position it yourself.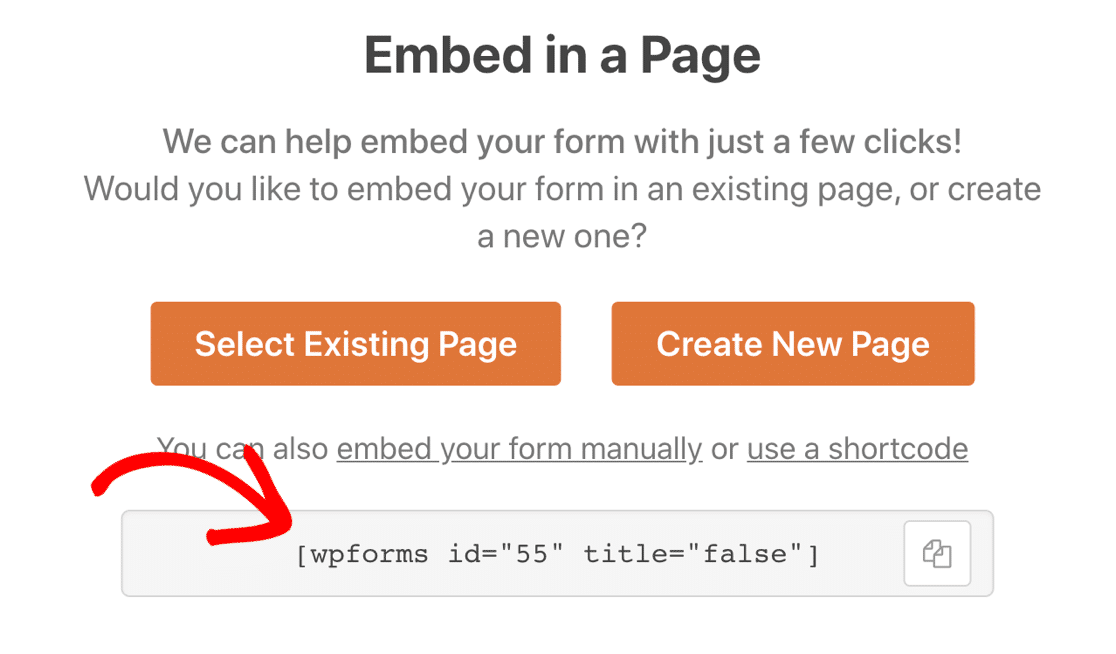 WPForms also has its own module for Elementor. So you can easily create an Elementor form without using shortcodes or using confusing plugins.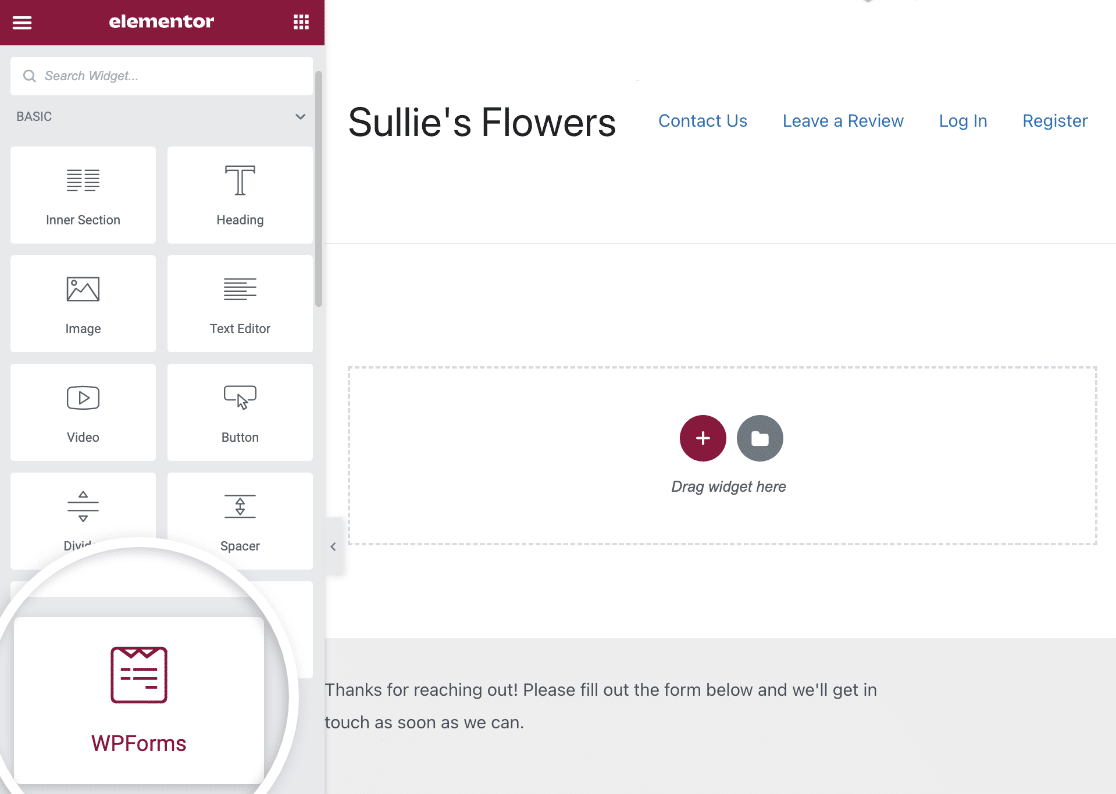 This integration with Elementor is available to everyone, including users of WPForms Lite.
And if you use Divi or SeedProd, WPForms integrates directly with those page builders too.
Just like Elementor, SeedProd has its own WPForms module and lets you embed forms by choosing them from a dropdown.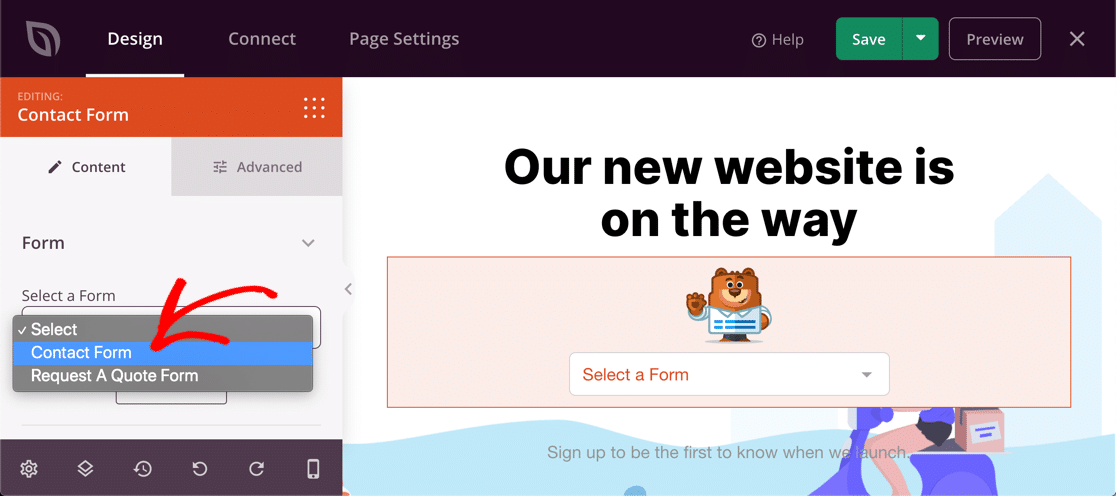 And there's more!
You can keep track of all the pages, sidebars, footers, and other locations you've embedded your forms right in your WordPress dashboard.

WPForms also lets you convert your forms into landing pages and conversational forms.
Conversational forms are dynamic forms that let your visitor fill them in without a mouse.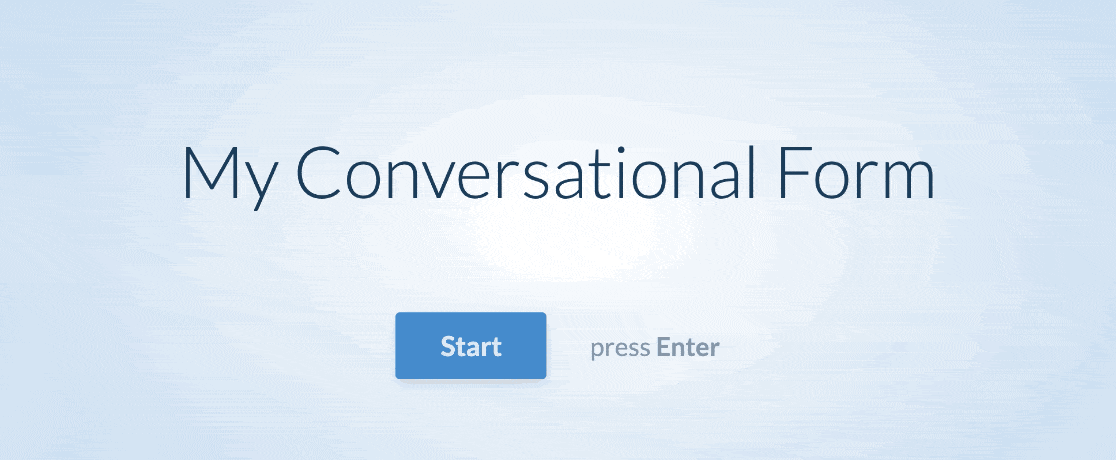 So WPForms isn't just a form builder. It's also an awesome Typeform alternative too!
Viewing Responses
When you've published your form, you'll want to check the responses. First up, let's see the options in Google Forms.
You can view form responses in a Google sheet, which is by far the most useful option in Google Forms.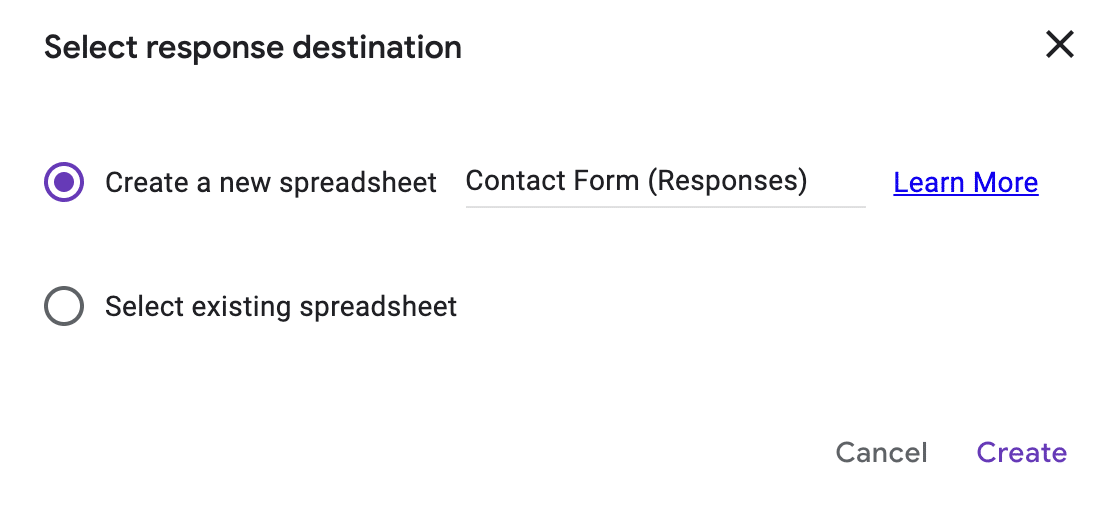 If you want to view messages in Google Forms itself, the options are less useful. You can group by message or question, but that's probably not very helpful or intuitive for something like a contact form. Again, these options are probably better for simple polls.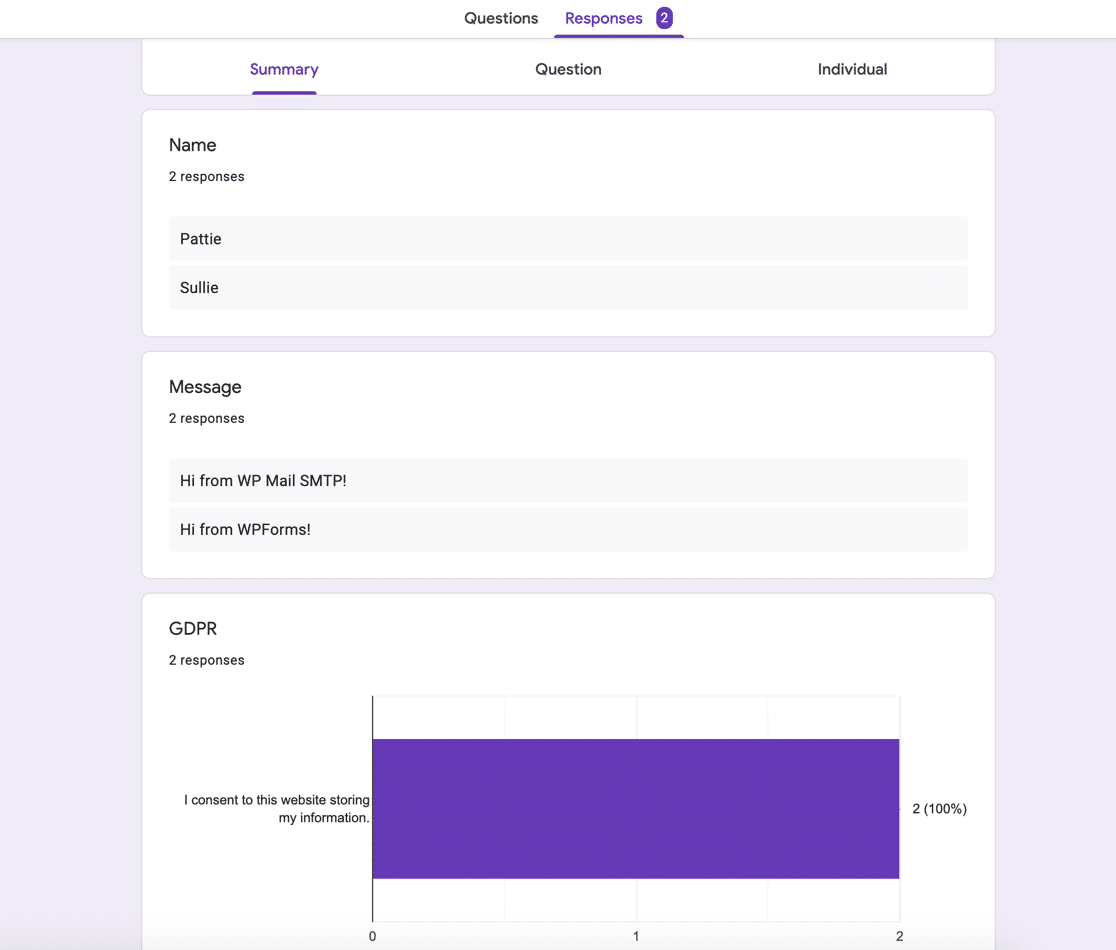 In Gravity Forms, entry storage in the new version remains largely unchanged, except for a few design tweaks.
This is how the entry storage looks when you view a list of entries from 1 form.

You can then click on an entry to see it in more detail.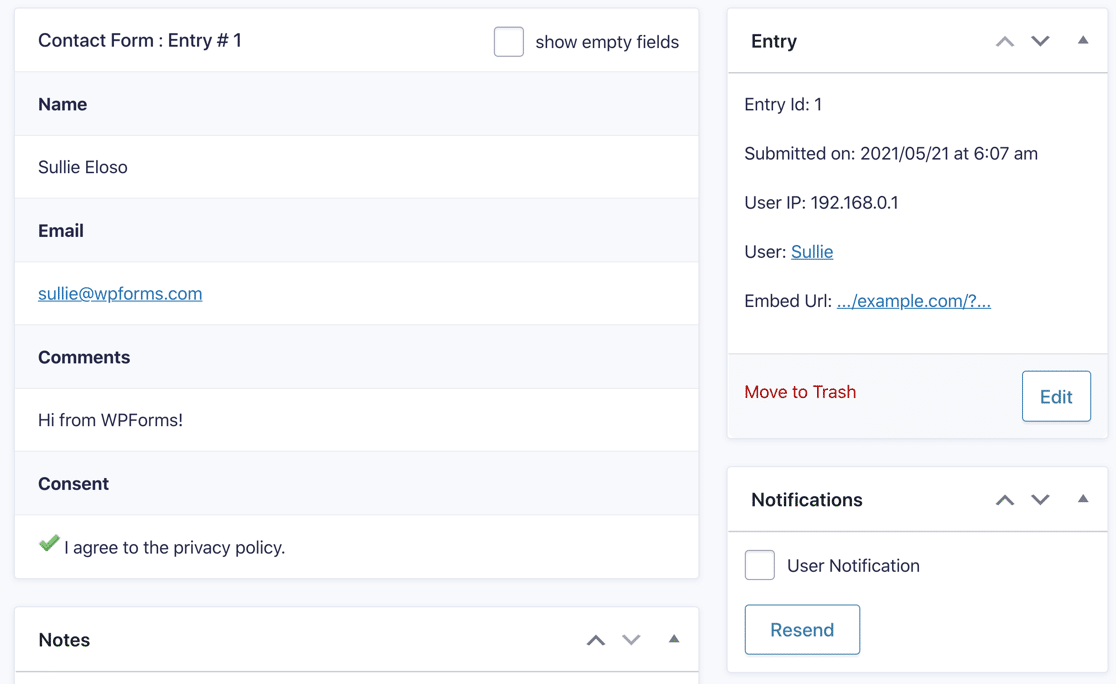 And now, let's look at the entry storage in WPForms.
The free version, WPForms Lite, sends email notifications that include all the information your users entered in your form. You can also turn on the Lite Connect feature to back up your entries so you can unlock them when you upgrade to the paid version of the plugin.
In WPForms Pro, you can store entries and view them in your WordPress dashboard. So WPForms Pro is worth it if you want to:
View entries
Mark them read
Star them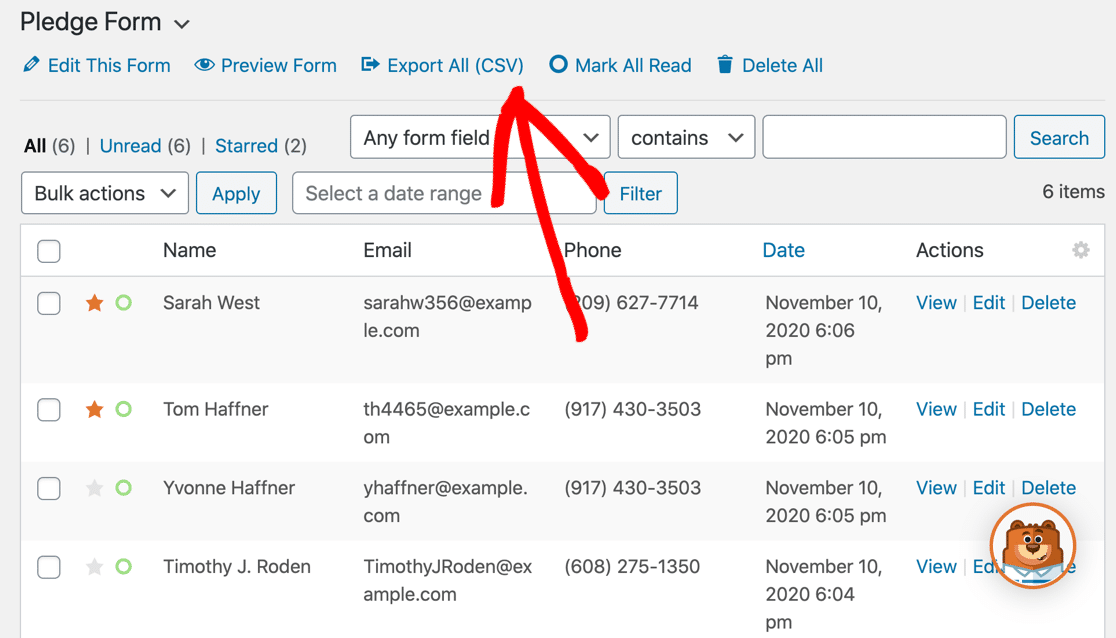 Clicking on an entry lets you see more details, including the option to print or export the entry.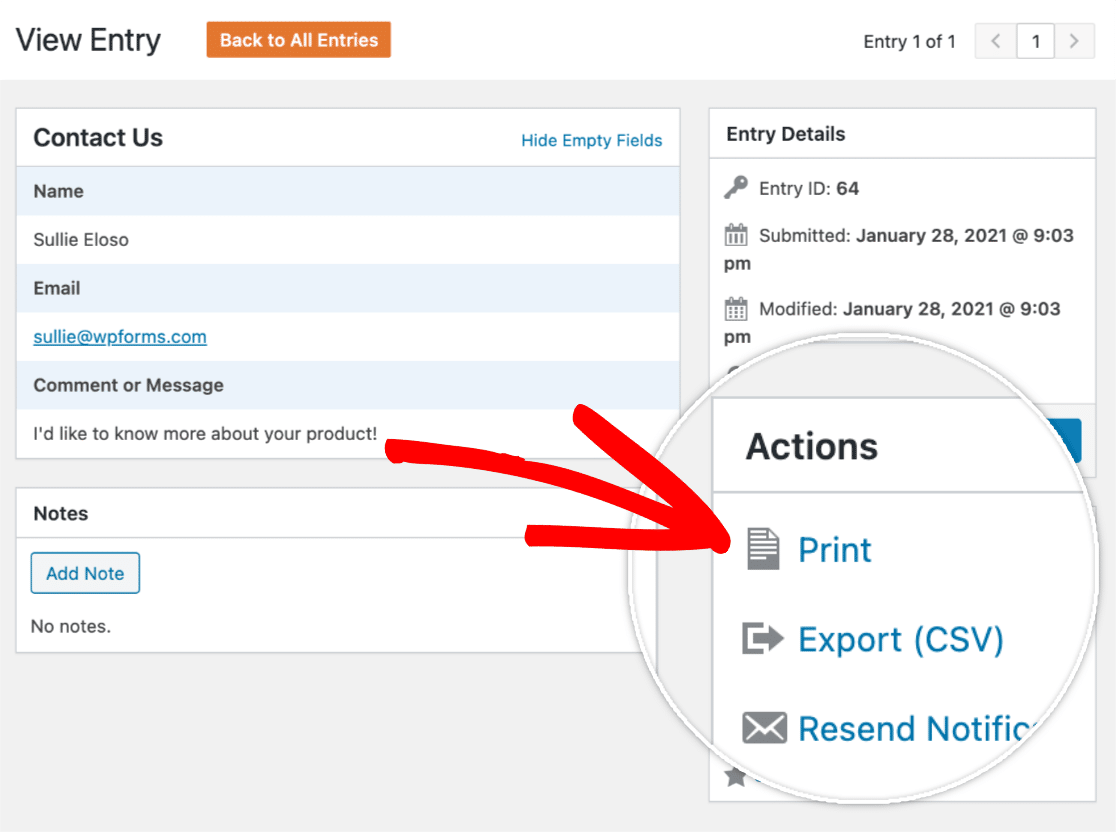 Check out this comparison of WPForms Lite vs Pro to see all the differences between the free and paid versions.
Entry storage in WPForms can be enhanced with addons too.
For example, if you're using the Geolocation Addon, you'll also see your visitor's location on a map.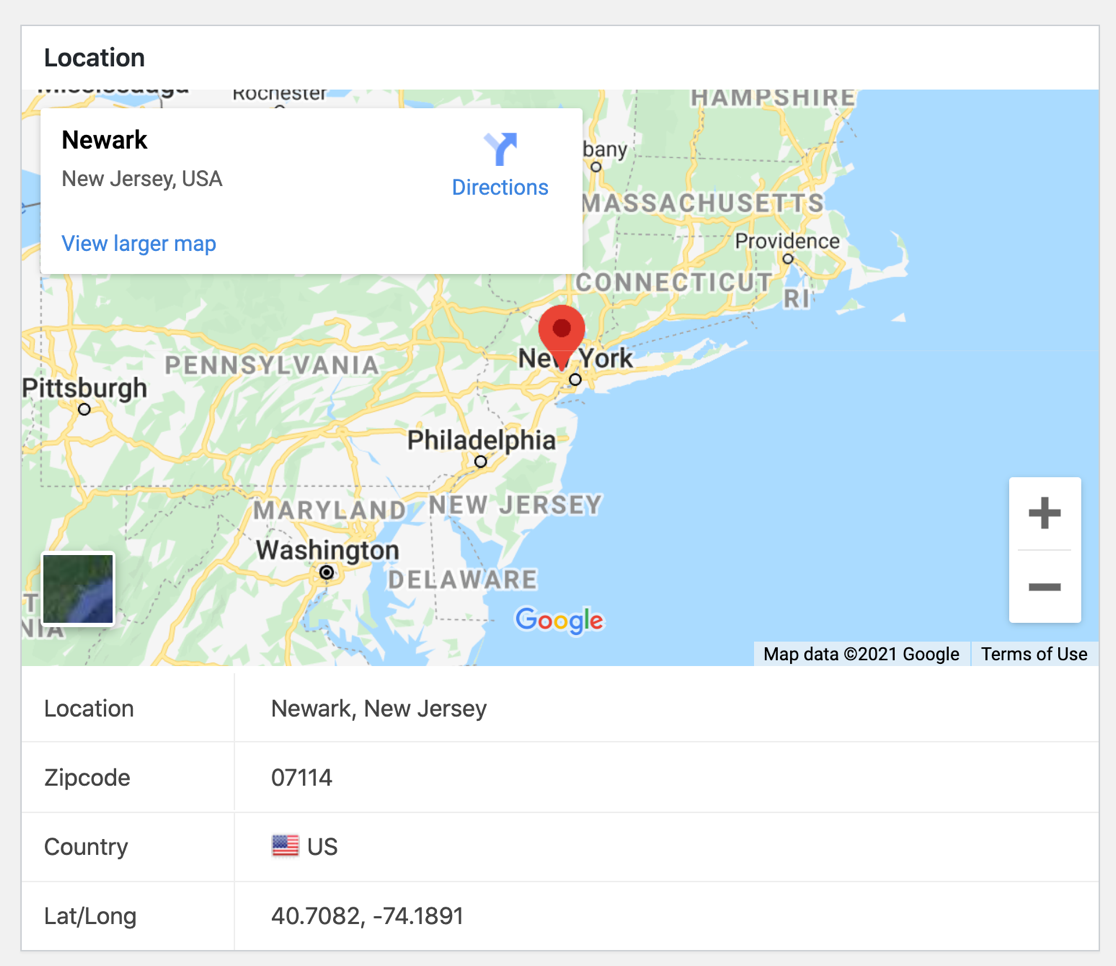 And if you use the User Journey addon, WPForms will tell you exactly how your visitor moved through your site before submitting your form.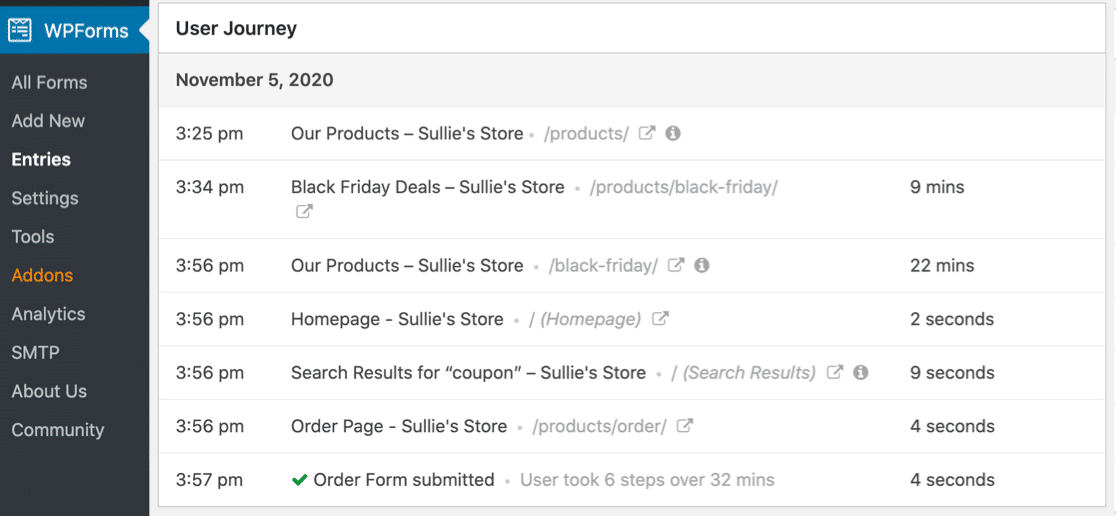 The best entry storage feature in WPForms is the Surveys and Polls addon. When this is activated, you can generate awesome charts from your survey results and export them.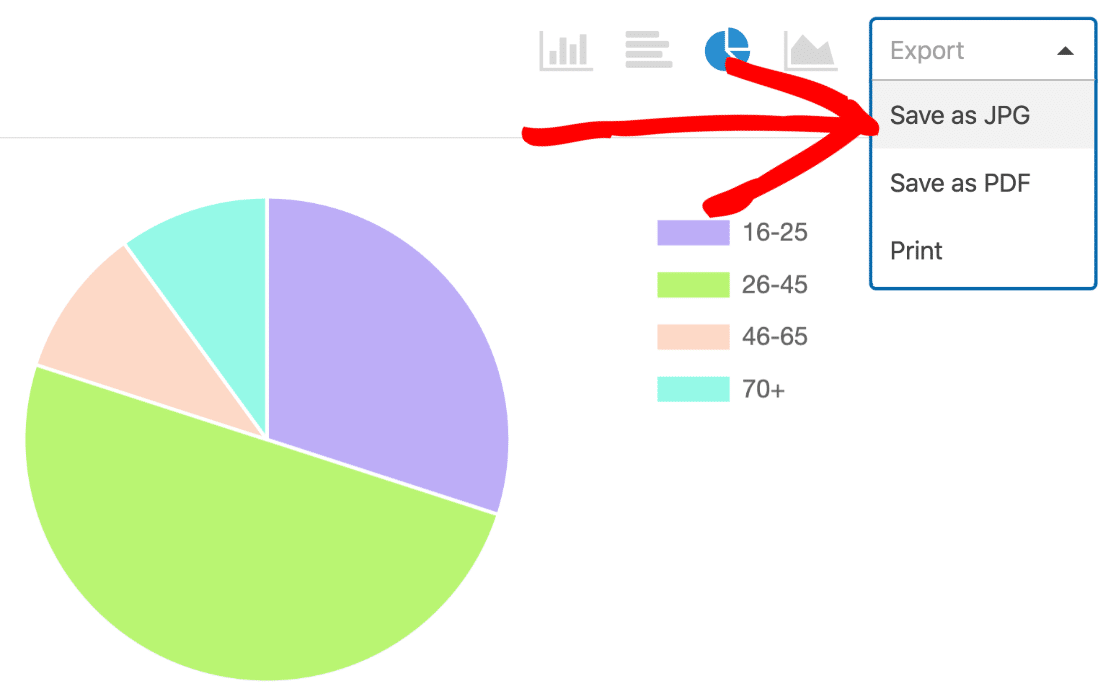 This turns WPForms into a full survey platform with custom reports, auto-generated charts, and PDF generation—something that the other form builders can't do.
Privacy and Security
Are you wondering: are WordPress forms secure?
If security is important to you, both WPForms and Gravity Forms have additional options that will help.
For example, WPForms has a Form Locker addon. You can use it to restrict access to your forms in different ways.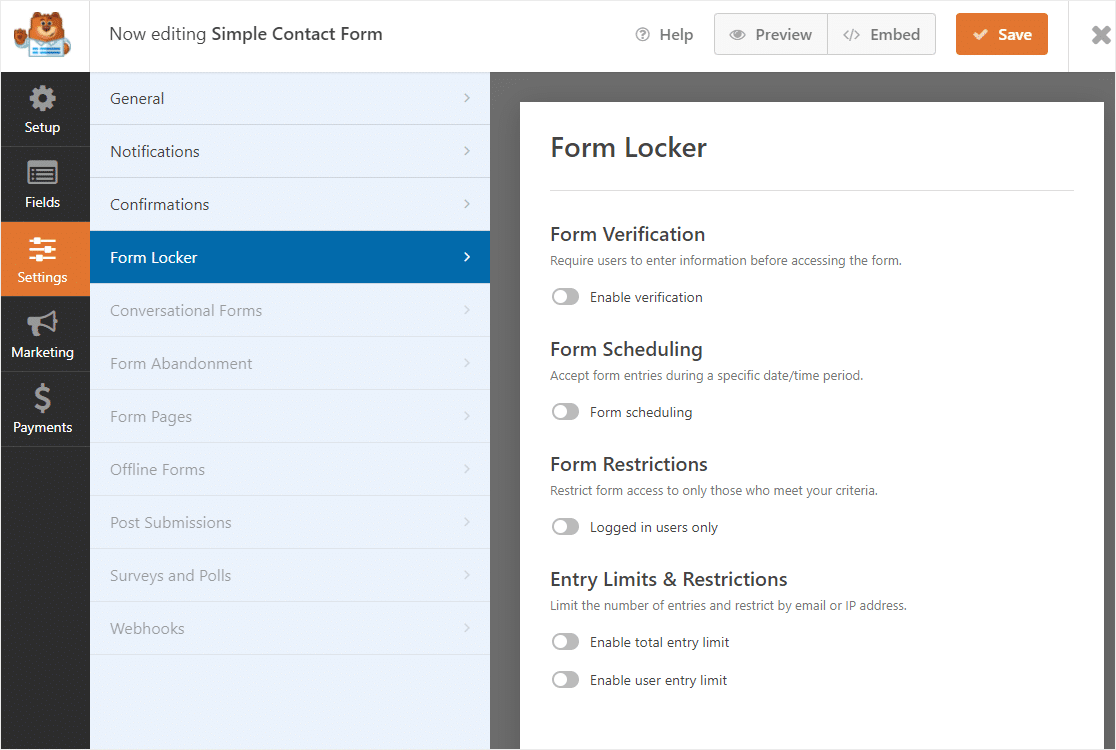 If you're a Google Workspace user, Google Forms lets you make a form private to your own team.

Google Forms also makes users log in to upload files. That's because the files that are uploaded will be saved in your Google Drive. So this is potentially a security risk, and it's best not to use Google Forms file uploads unless you trust the people who will be uploading those files.
On the plus side, Google Forms makes it easy to restrict access if you're using Google Workspace.

Pricing: Gravity Forms vs Google Forms vs WPForms
There's no free version of Gravity Forms, which will be the biggest barrier for a lot of users. If you want to try it out, you can use a demo. But it's often easier to download a free plugin to get a feel for how it works on your site. So this may be an issue for you.
Google Forms is available to anyone with a Google login. There are no major differences between the features on the free plan and the version you get with Google Workspace. With Workspace, the email sending limits are more generous and there are added collaboration features so you can work on forms as a team.
Finally, WPForms has a free version and 4 additional licensed versions.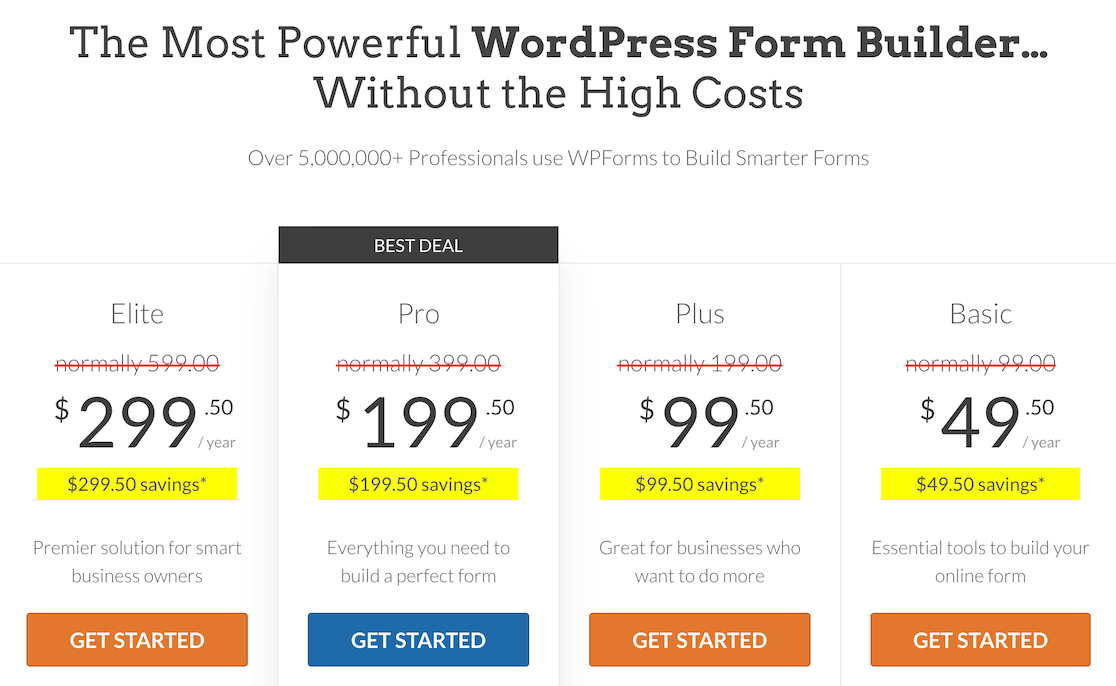 This screenshot was taken during a sale. Click here to see if our 50% off promotion is still running!
Which Is the Best Form Builder?
Now that we've looked under the hood and used all these form builders, you should have a good idea of the pros and cons.
For ease of use, functionality, and competitive pricing, WPForms is the clear winner.
WPForms is the only form builder that lets you start out for free, then upgrade your license as you need more features and addons.
It also gives you access to form templates and addons that will support your business and help you to make money from your blog, like:
Stripe, Square, PayPal, and Authorize.Net integration
Forms to accept user-submitted content in WordPress easily
Awesome survey and poll features
Save and Resume addon to let users save their progress  on a form and come back later to complete it
Zapier and Webhooks addons to make it easy to connect to services like Sendfox, Mautic, Toggl, Pardot, and Salesforce
Uncanny Automator integration to connect forms to tools like MemberPress, LearnDash, Zoom, Slack, and more
Direct integration with Google Sheets
Email marketing integration with Mailchimp, AWeber, MailerLite, Sendinblue, and more
Geolocation and address autocomplete with Google Places or Mapbox
And more!
That's why 5+ million people have already chosen WPForms!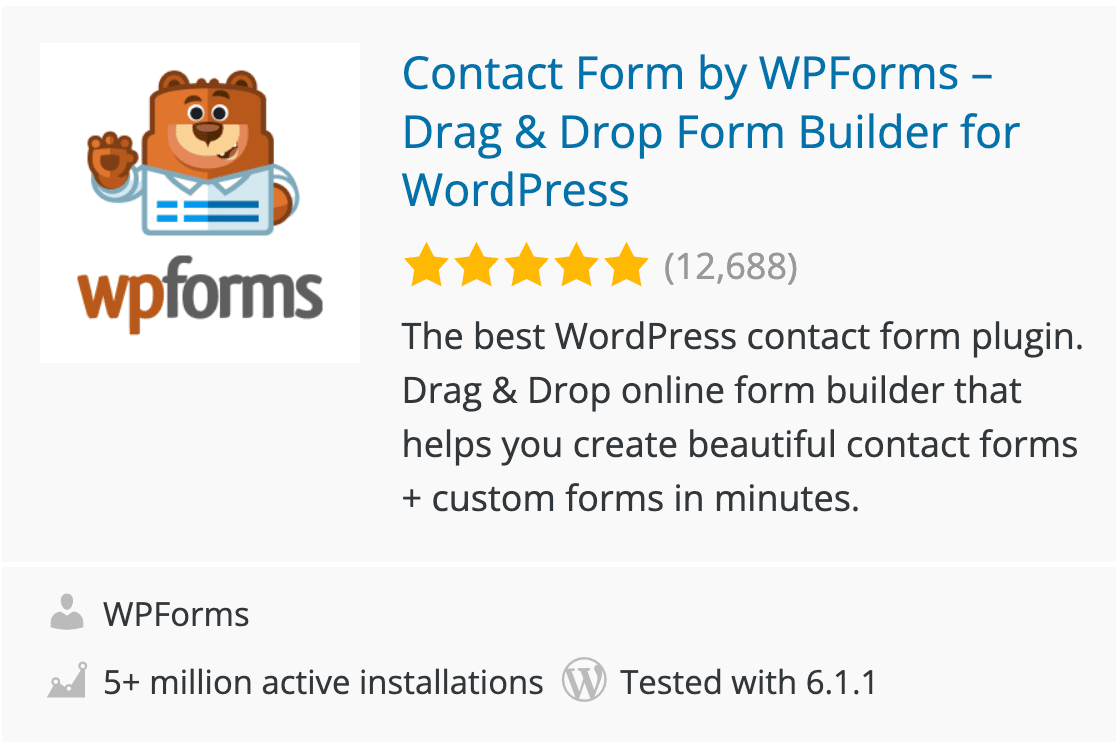 Create Your WordPress Form Now
Next, Learn How to Take Payments With WPForms
That's it! Now you know everything there is to know about Gravity Forms vs Google Forms vs WPForms.
If you want to build custom order forms for your WordPress site, make sure to check out our tutorial on how to create an order form. Plus, avoid these payment form mistakes to maximize your sales.
And if you'd like to go through more WordPress form plugin comparisons before you decide, here's our guide to Gravity Forms vs Typeform vs WPForms.
Ready to build your form? Get started today with the easiest WordPress form builder plugin. WPForms Pro includes lots of free templates and offers a 14-day money-back guarantee.
If this article helped you out, please follow us on Facebook and Twitter for more free WordPress tutorials and guides.