Looking for a plugin to create contact forms on your WordPress websites? Gravity Forms vs WPForms are two popular options available on the market.
Both of these are WordPress form builder plugins that let you create interactive forms on your sites.
Choosing the right form builder is important to build engaging forms and capture qualified leads. In this article, we'll compare Gravity Forms vs WPForms so you can decide which plugin is the best fit for your website goals.
Top 4 Qualities of a Great Form Builder Plugin
To create flawlessly working online forms, your form builder plugin must have the following qualities:
User-friendly: Your form builder tool should be easy to use and understand. The interface must not be complicated and loaded with many options. If it's easy to use, you'll quickly create online forms, save time, and work faster.
Flexible: A form builder should be flexible in terms of functionality and customizations. It must provide flexible options to create different types of WordPress forms.
Helpful Features: A form builder plugin can have plenty of features. But make sure it provides spam protection, email summaries, form notifications, conditional logic, and the GDPR agreement field.
Responsive: Ensure your form builder will create mobile-friendly forms that look good and work great on any device type.
Gravity Forms vs WPForms: Quick Overview
Gravity Forms and WPForms are both full-featured form builders for WordPress. WPForms offers better ease of use, includes over 600 form templates, supports various advanced spam filter options, and has a free version. Gravity Forms has only 15+ templates, lacks a free version, and its user interface is less intuitive.
Here's a quick comparison table highlight the similarities and differences between the two from plugins:
| | Gravity Forms | WPForms |
| --- | --- | --- |
| Free version available | No | Yes |
| Pre-built Form Templates | 15+ | 600+ |
| Form design (text and images) | Requires HTML | Supports a codeless Content field |
| Form import tool | Yes – Gravity Forms only | Yes – Ninja Forms, Pirate Forms, WPForms, Contact Form 7 |
| Starting price | $59+/yr | $49.50+/yr |
Now that you've seen an overview of the two form builders, let's dive into some of the key categories that will help you decide between Gravity Forms and WPForms.
Ease of Use
Gravity Forms and WPForms are both WordPress form builder plugins. So the plugin installation process is pretty similar.
WPForms comes with free and premium versions. On the contrary, Gravity Forms only includes premium services and doesn't offer any free version of its plugin.
WPForms Lite has 5+ million active downloads and more than 12,000 5-star reviews. You can download WPForms Lite and start making your custom forms today.
Gravity Forms' Form Builder Setup
Let's see the form setup process and check how beginner-friendly these plugins are.
Gravity Forms doesn't have a separate form builder setup. Its builder opens inside the WordPress dashboard. It also doesn't include pre-built form templates, so you'll need to start everything from scratch.
Gravity Forms has a drag and drop form interface. The gray area on the left is where you build the form, and the blue squares on the right are the form fields.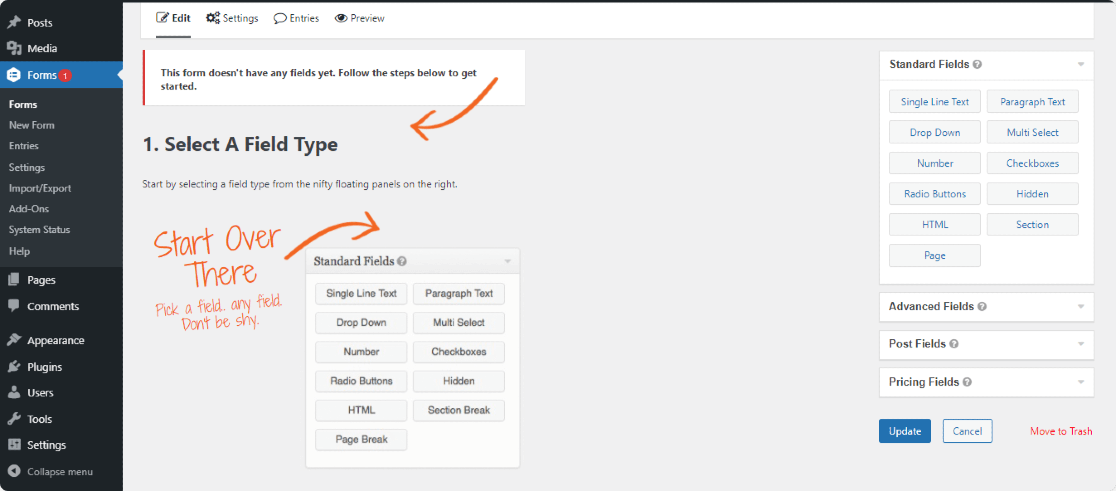 You can add more fields by dragging them over onto your form, and set each field's position by dragging it up and down.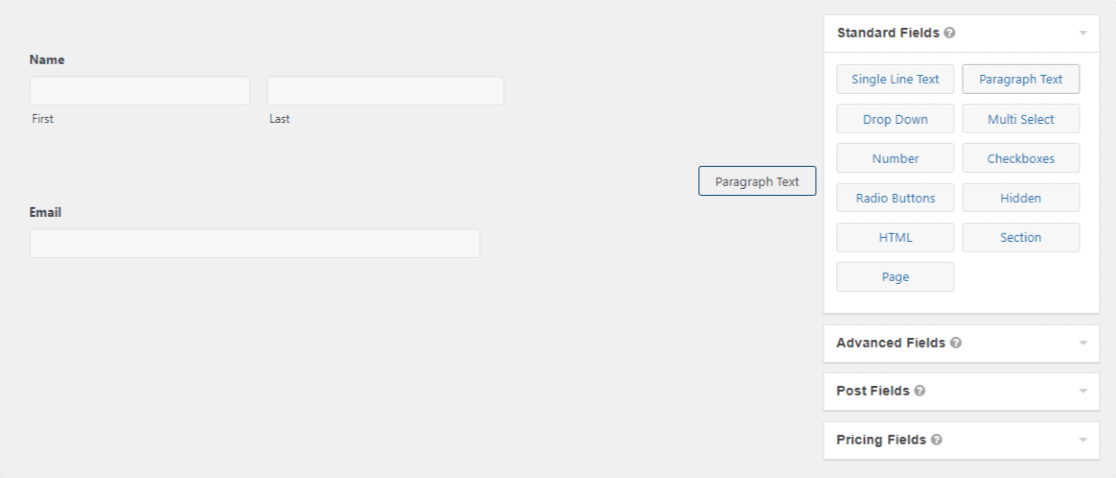 To edit any form field, you'll need to click on the tiny arrow at the top of the field. This will open a dropdown menu below the field. You'll need to scroll down the page to edit the settings and then click the arrow again to close the menu.
Gravity Forms' form builder is interactive but not beginner-friendly. Some options inside field settings can only be used by advanced users who already have experience in HTML code and custom CSS.
You can edit form settings, form confirmations, and notifications by clicking on the Settings tab above.

To preview how your form will look on the web page, click on the Preview button.
You'll notice that the form you've created inside the dashboard seems different from the previewed one. In the dashboard, the form looks clean and has a lot of padding around the fields.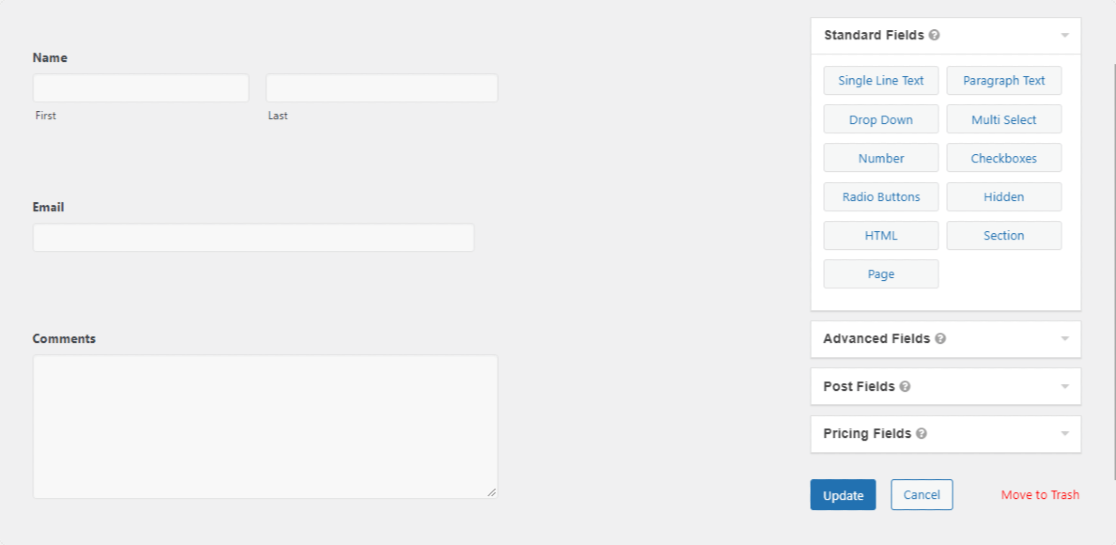 This is how Gravity Forms' form looks on the live site.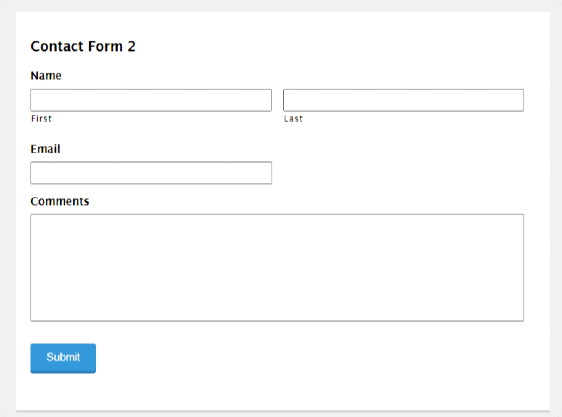 Now let's see WPForms' form builder setup.
WPForms' Form Builder Setup
After installing and activating WPForms, you'll see a page inside your WordPress dashboard. This guide contains a YouTube video and a quick summary of WPForms' Addons and Features.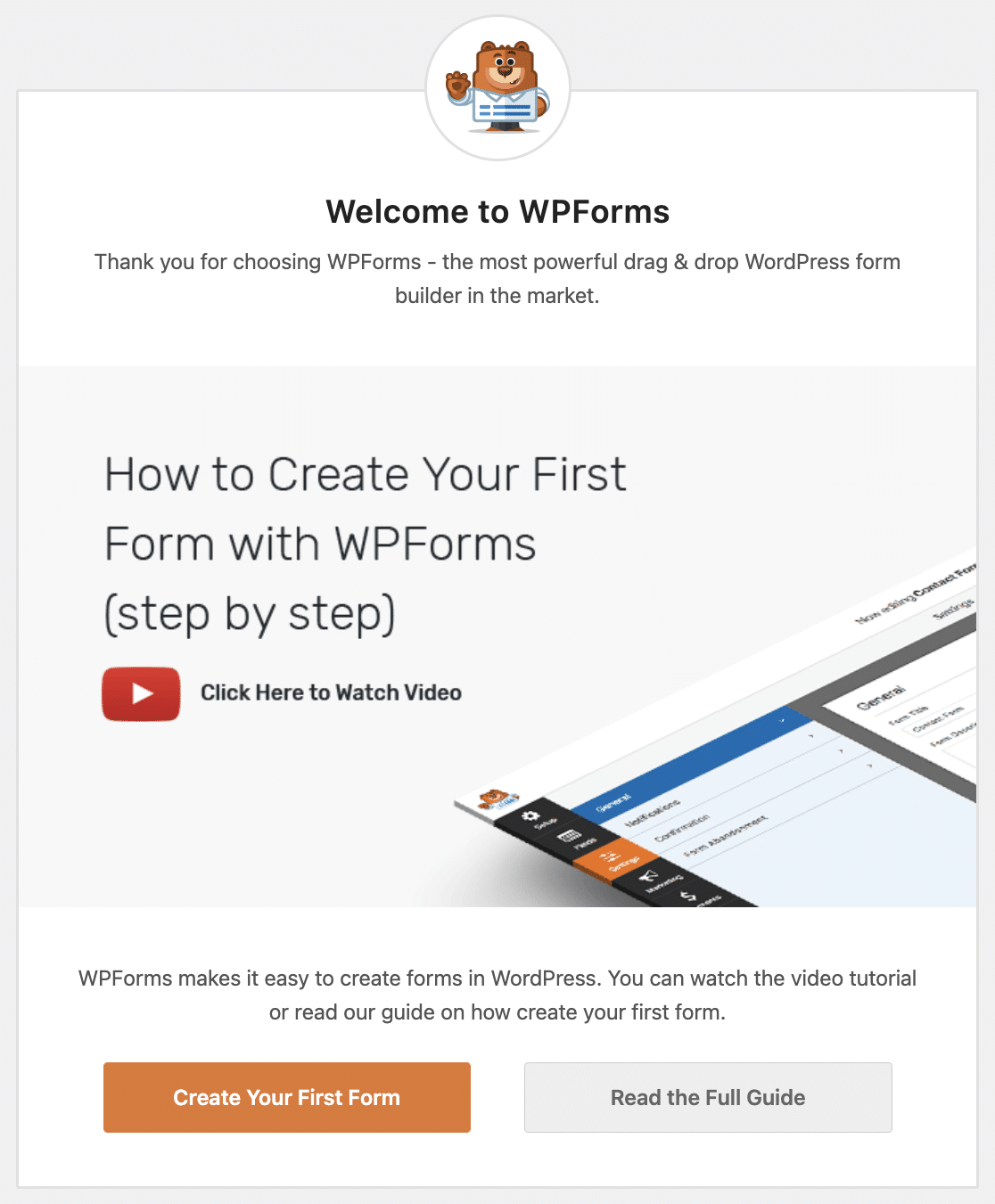 If you're a beginner, this guide will help you get started with the plugin effortlessly! Create your first contact form by clicking on the Create Your First Form button.
WPForms includes 500+ pre-built form templates, which makes your form building process much easier. You don't have to start from scratch. Select a template, use it as it is, or customize it the way you want.
WPForms literally allows you to create online forms in just 3 simple steps. Select, Customize, Publish, and you're done!
Below you can see the WPForms' Template Library.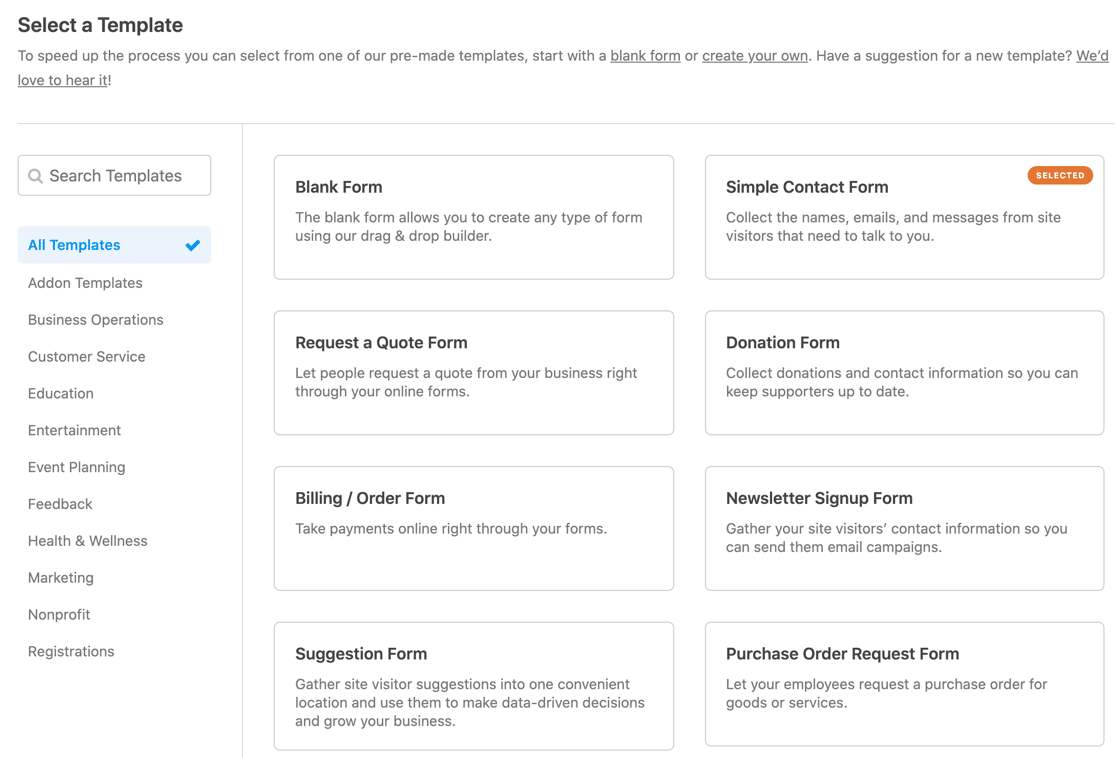 You can search for a form template from the search box on the left and click on the template to use it in the form builder.
After selecting your template, you'll be redirected to the form builder. WPForms includes a separate form builder setup, so you can build your form distraction-free.
This is what the WPForms form builder looks like: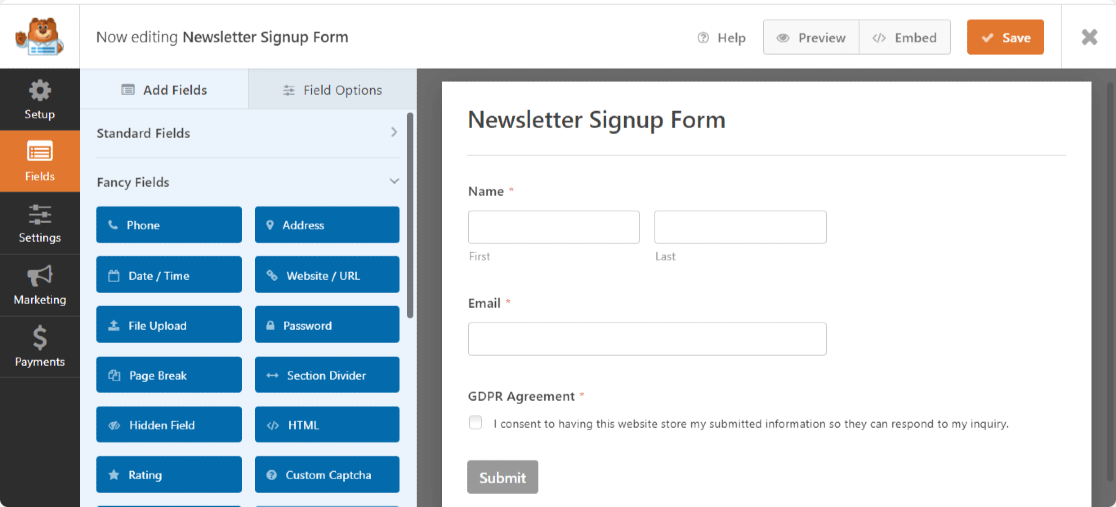 The form builder has a minimal yet interactive design. You can see your form on the right side and form fields on the left.
You can add more fields by dragging and dropping fields into the form. Adjust form fields by dragging them up and down. Edit fields by clicking on them and customizing the options on the left.

If you'd like to create a multi-column form to save space, you can easily do so using the Layout field.
On the left corner of the page, you'll see 5 tabs :
Setup
Fields
Settings
Marketing
Payments
These tabs include other additional settings and options that you can use in your online forms.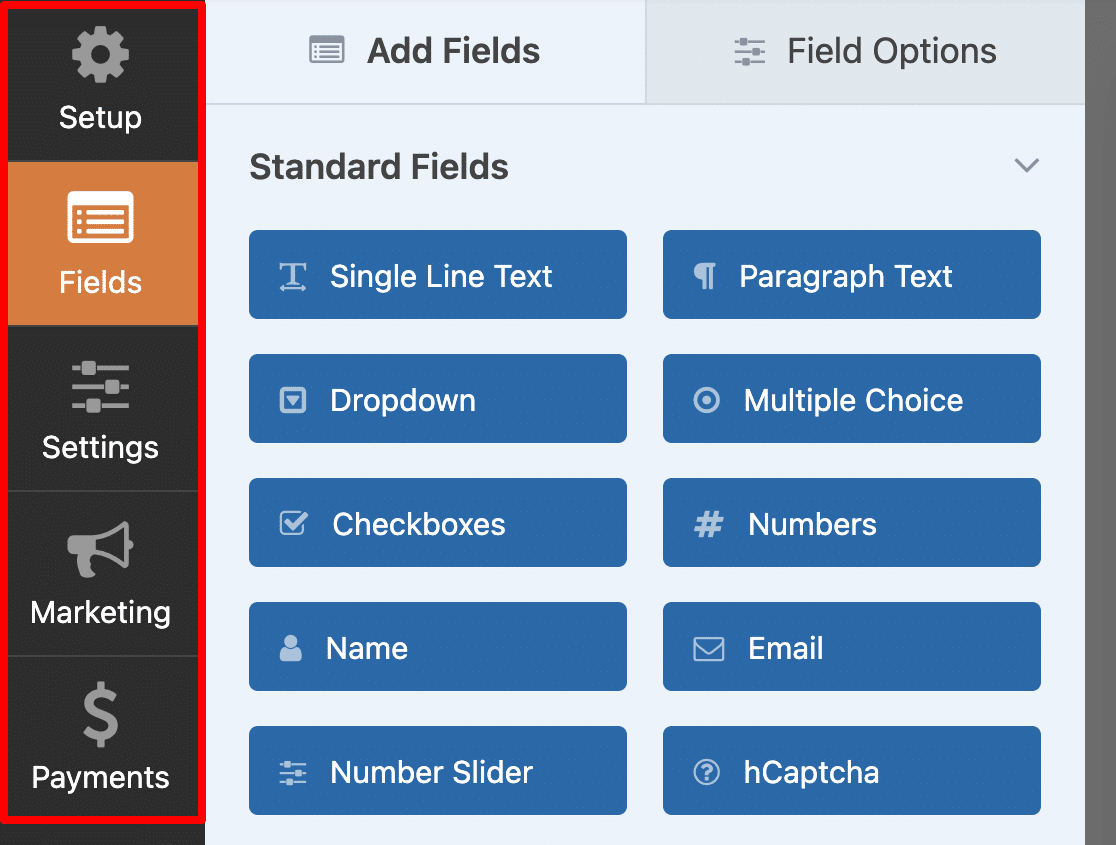 With WPForms, you can embed forms directly from the form builder. Use the Embed button to add forms to your website.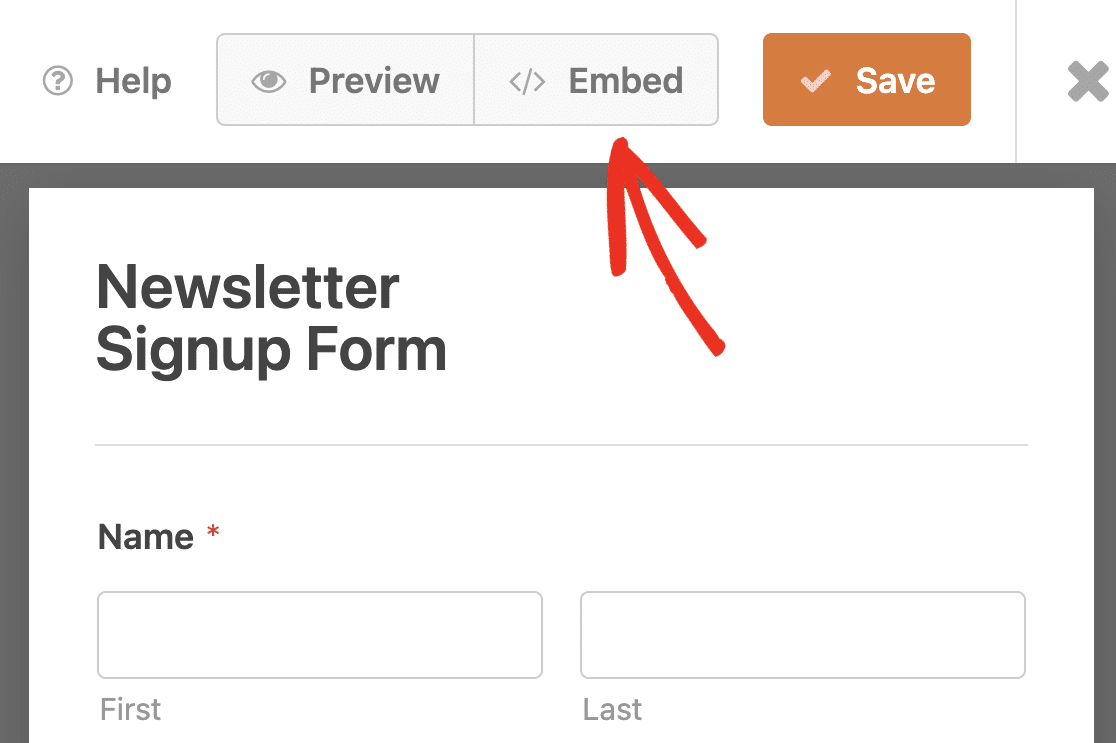 Before embedding, if you want to check how your form will look on the page, you can do that by clicking on the Preview button.
Features
Now let's see all the shiny form features you'll get with these form builders.
Lite (Free) Version
There's no free version available of Gravity Forms, but you can sign up for the Gravity Forms demo if you want to try it. But again, this is not a very user-friendly option.
WPForms comes with both lite and premium versions. With WPForms Lite, you get some basic form fields  and over 20 free form templates that you can use to create simple forms on your website.
Apart from field options, with the free version, you'll get features such as:
Drag and drop builder that you can use to add, remove, adjust form fields
hCaptcha, Cloudflare Turnstile, and reCAPTCHA integration
Beautiful mobile-responsive forms
Stripe integration for payment forms
If you want more awesome form features, you can upgrade your WPForms account from Lite to Pro anytime. With the WPForms Pro version, you can create:
Interactive Conversational Forms
Powerful Survey Forms
Booking and Event Registration Forms
More payment options with Square and PayPal in addition to Stripe
And more
Form Fields
Both Gravity Forms and WPForms include a wide range of form field options to create online forms that work great. These form fields include:
Single-line text
Paragraph text
Multiple-choice
File upload
CAPTCHA
….and many more
But the features that make WPForms work better than Gravity Forms are options to create Custom Captcha and add Rating Field to online forms.
Note: The form field options for both plugins might vary depending on which premium plan you choose.
Pre-built Form Templates
As mentioned above, WPForms includes 400+ form templates. These templates are created by marketing experts with all the required form field options.
If you don't want to build a form from a blank canvas, select your preferred template, and you're good to go.
You get a complete set of beautiful templates that includes:
Feedback Form Templates
Surveys and Polls
Order and Billing
Marketing
Non-Profit
and many more other form templates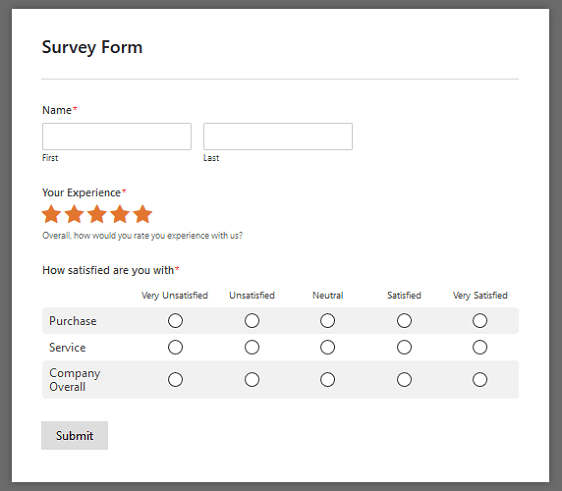 On the contrary, there are no built-in form templates in Gravity Forms. It provides some templates that you can download from its website, but you can't access them directly from your WordPress dashboard.
Form Submissions
Let's now see how you can view your form submissions in  Gravity Forms vs WPForms.
How to View Gravity Forms Entries
To view submissions in Gravity Forms, click on the Entries tab at the top of your form. This is how the entries area looks.

To get a more detailed view, click on your form entry name.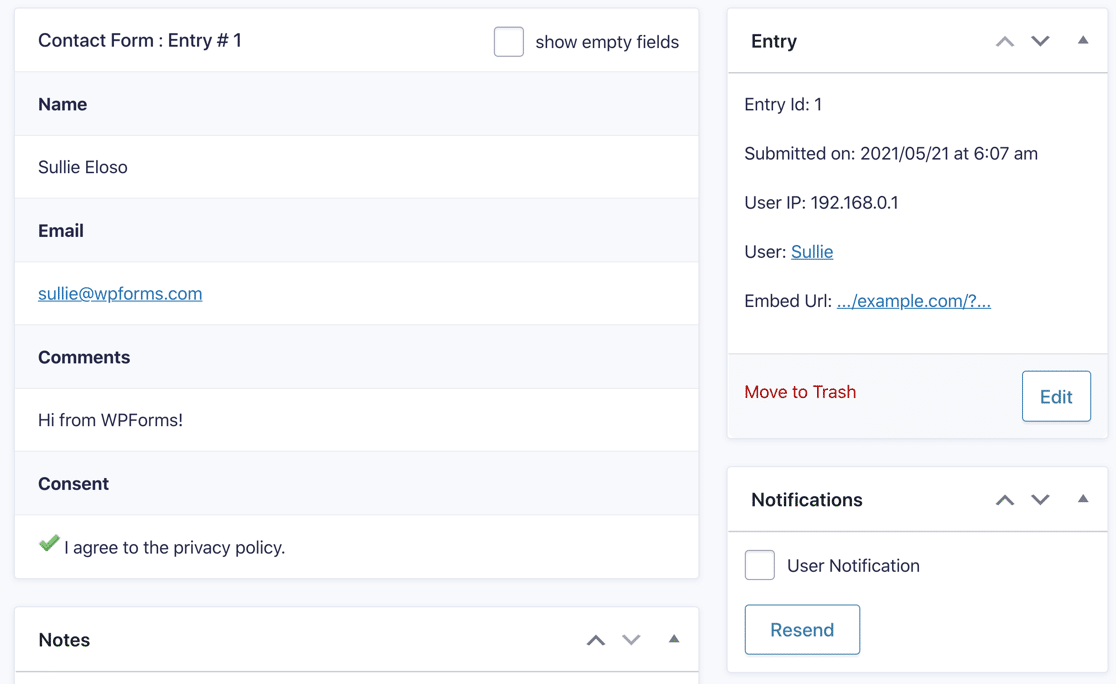 Exporting form entries in Gravity Forms is not a smooth process. You can't export entries directly from this screen.
Gravity Forms also sends entries by email.
How to View WPForms Entries
WPForms includes far better features for managing form submissions. Both Lite and Pro versions send entries by email.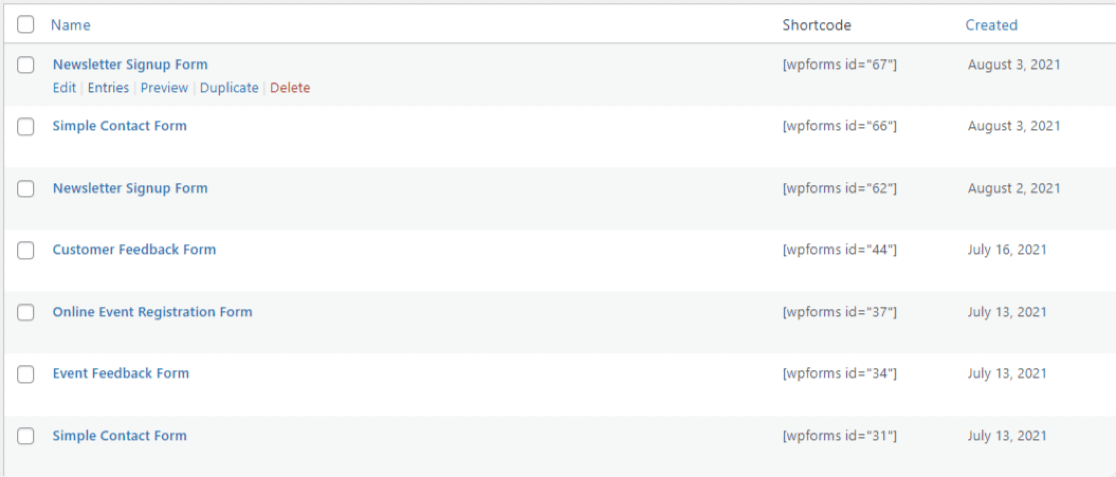 By turning on the Lite Connect feature, you can store your WPForms Lite form entries in the cloud. This will let you unlock them when you upgrade to WPForms Pro.
If you're using the paid version, WPForms stores entries in the WordPress dashboard, and you also get plenty of ways to manage your form submissions. You can:
Click on the View button to see all of the details.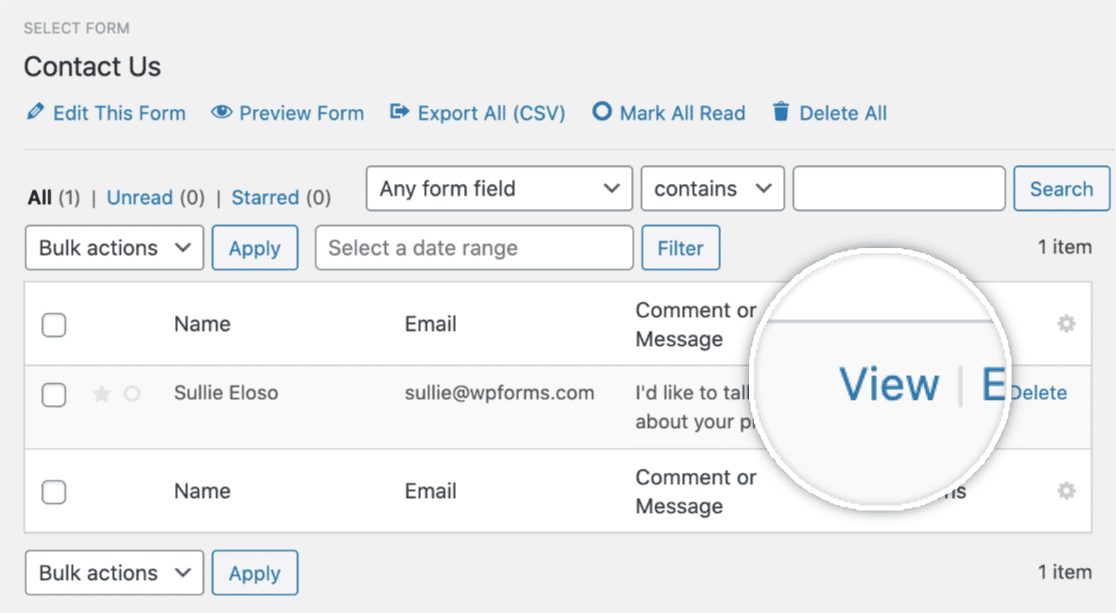 This is the entry page of a simple contact form.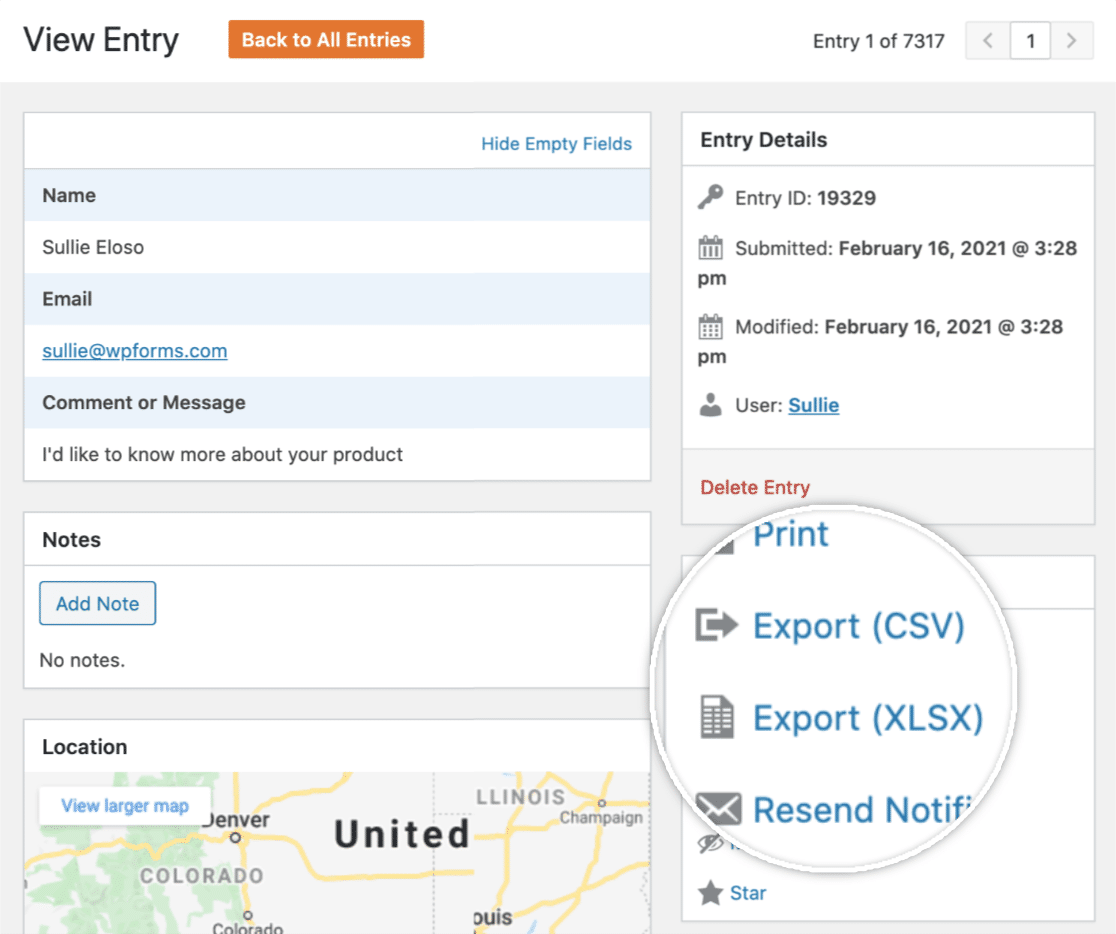 From here, you can perform the following actions:
If you've activated the WPForms Geolocation addon, you can also create autocomplete address form and view the map of your user's location.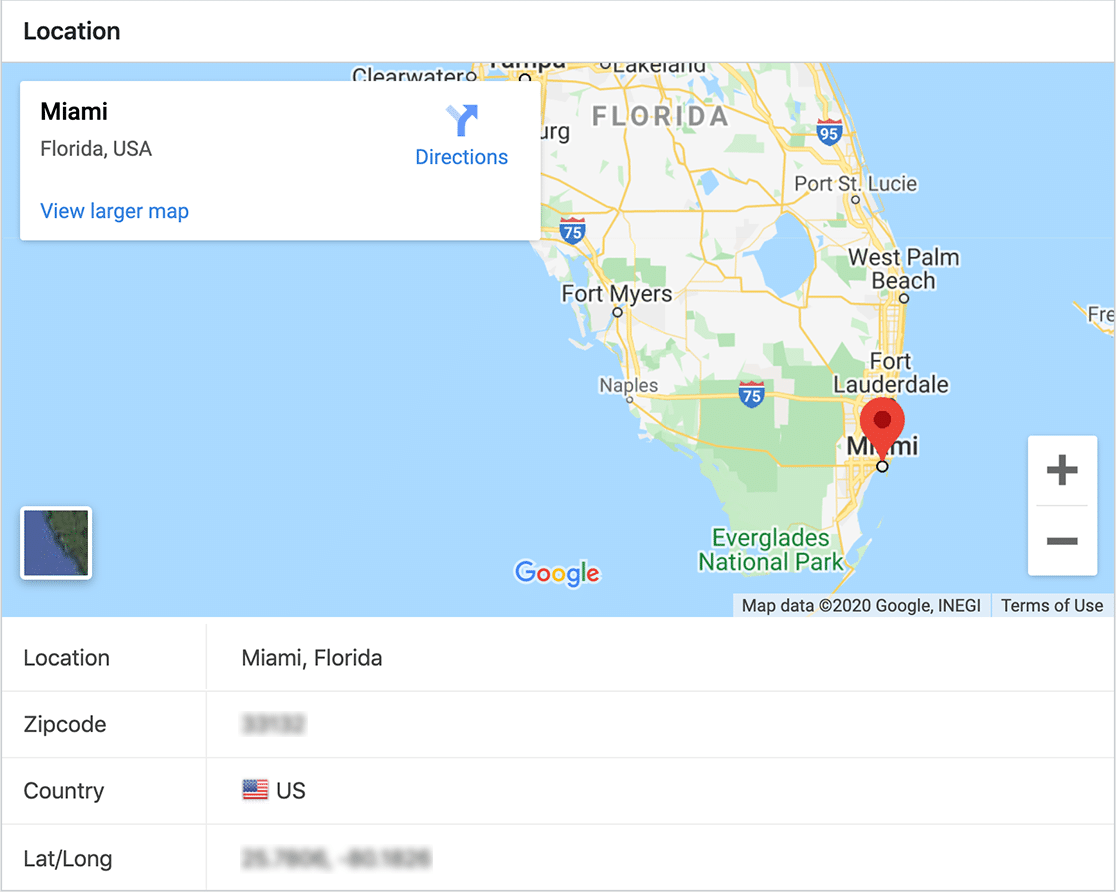 The Surveys and Polls addon of WPForms creates beautiful survey reports that you can view, export, and manage from your dashboard.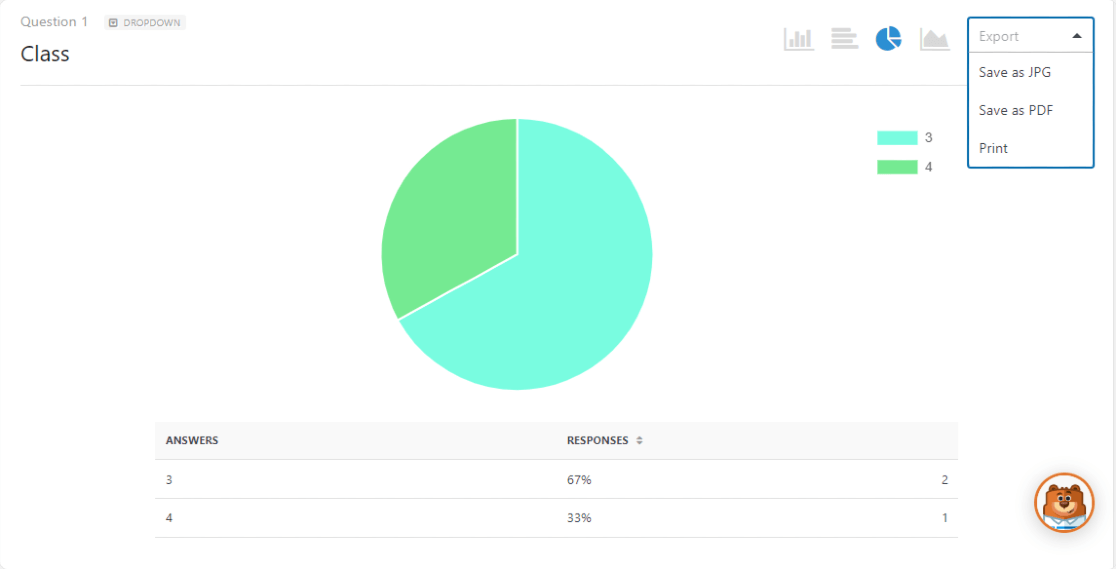 You can also view a detailed user report and track the lead source for your website using the User Journey addon.
With the Save and Resume addon, you can let your users save their partial entries while filling out long forms.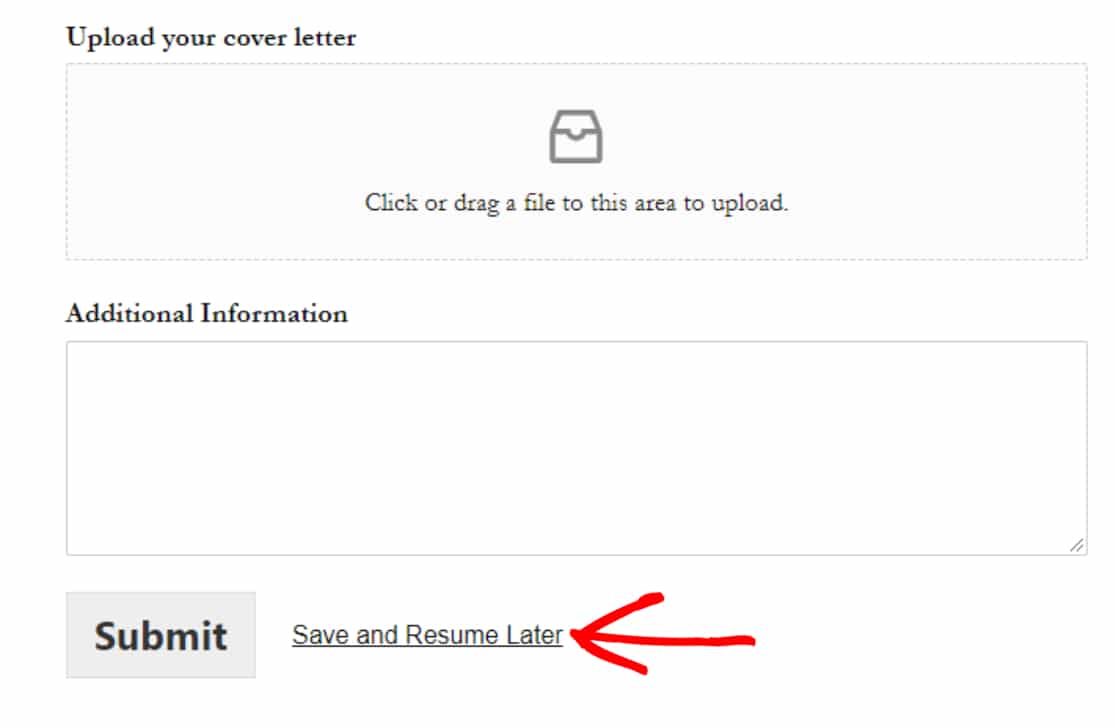 Customer Support
When considering online products, it's very important to check their customer support services.  Let's check the support options available in Gravity Forms and WPForms.
Gravity Forms Support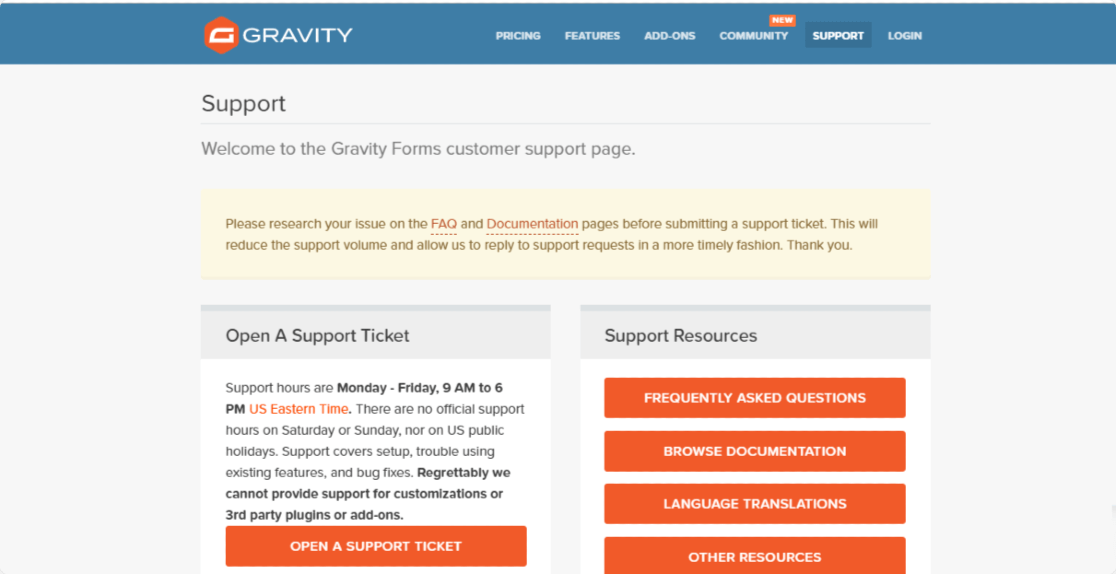 Gravity Forms includes FAQ and Documentation pages on its website for all features, fields, and addons.
It also provides support via email that is available Monday-Friday, 9 am to 6 pm EST.
Gravity Forms doesn't support 3rd party plugins or addons.
WPForms Support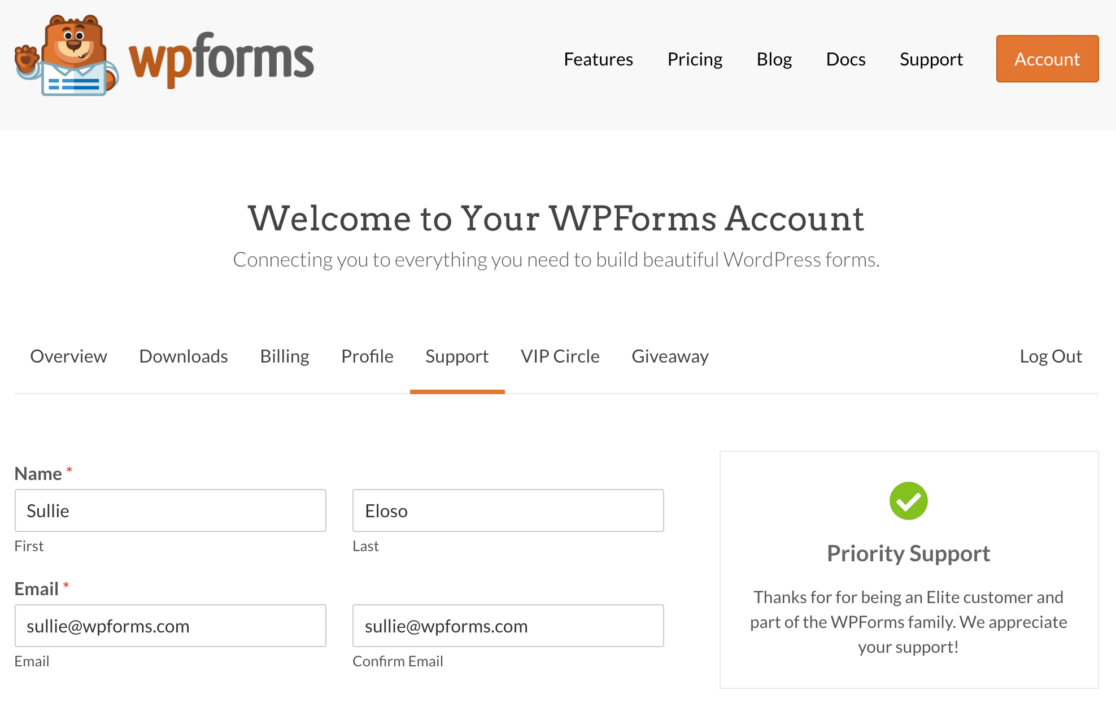 WPForms offers support for both Lite and Premium users.
Lite users WPForms get free support in the WPForms Lite forum.
Users with any paid version of WPForms can submit a ticket via an online form. The team usually answers all tickets within 24 hours.
Customers with Pro or Elite licenses get priority support.
WPForms also has an extensive library of documentation guides featuring its addons, features, and fields. It also has a dedicated blog page where you'll find tons of helpful tutorials and step-by-step guides.
Pricing & Plans
Now let's see the pricing packages of these two popular form builders.
Gravity Forms Pricing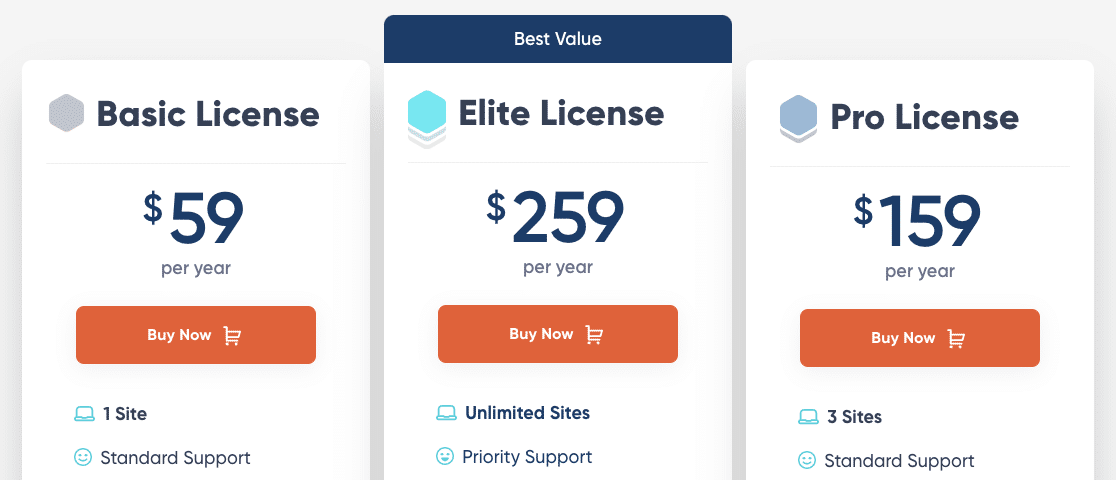 Gravity Forms is a premium service and includes three pricing plans: Basic, Pro, and Elite.
Basic: Supports 1 website and costs $59/ year. Includes some basic addons and advanced features like conditional logic and multistep forms.
Pro: Supports 3 websites and costs $159/ year. Includes CRM integrations and services like Zapier, Slack, and FreshBooks.
Elite: Supports unlimited websites and $259/ year. Includes surveys, polls, Stripe field, and user registration forms.
WPForms Pricing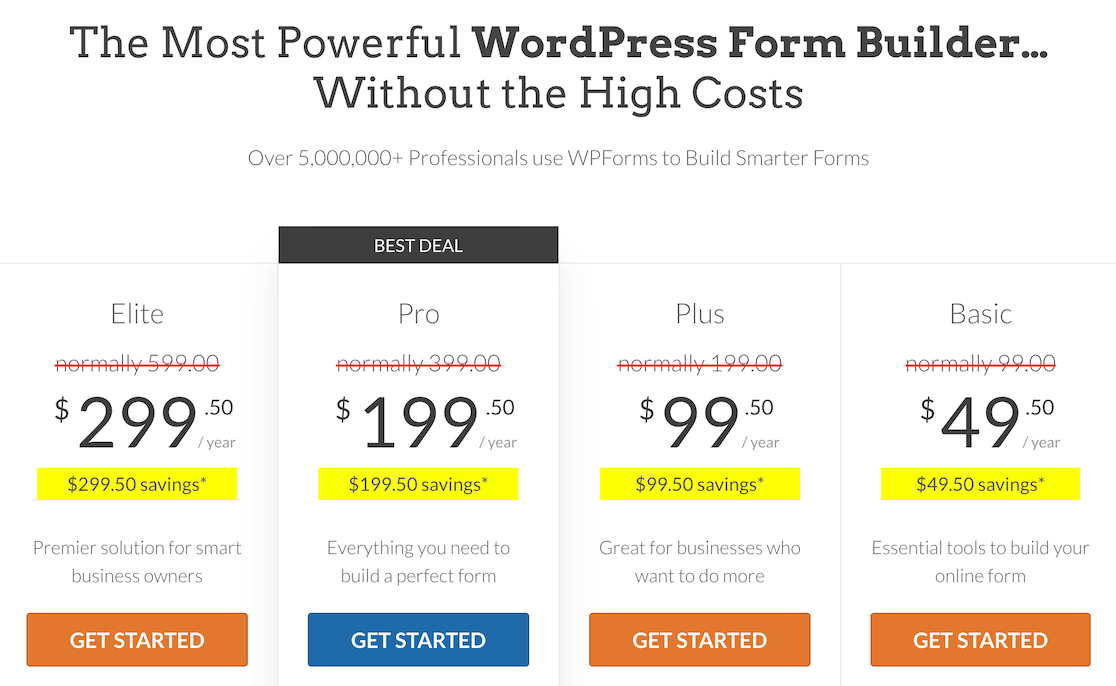 WPForms offers 4 premium plans Elite, Pro, Plus, and Basic.
Basic: $49.50/ year – includes templates, multi-page forms, file uploads, conditional logic, spam protection, and custom thank you pages.
Plus: $99.50/ year– adds support for popular mailing list providers like Mailchimp and MailerLite, plus more pre-built form templates
Pro: $199.50/ year – includes advanced features and addons to create surveys and polls, conversational forms.
Elite: $299.50/ year – premium integrations like Webhooks, Salesforce, and usage on unlimited sites.
To begin, you can try out WPForms Lite and later upgrade your license to the pro version for more features.
Also, WPForms offer a 14-day money-back guarantee so that you can use WPForms on your websites worry-free.

Gravity Forms vs WPForms: Which Is Best?
WPForms and Gravity Forms include pretty similar features. But considering ease of use, functionality, and pricing, WPForms is the winner.
Beginners can easily use it to create advanced functioning online forms without adding any code.
On the other hand, Gravity Forms is an advanced form builder, and to use it on your website, you need knowledge beyond the basics.
And that's it for our Gravity Forms vs WPForms review! If you found this comparison helpful, you might also be interested in taking a deep dive into Gravity Forms vs Typeform vs WPForms.
Create Your WordPress Form Now
Next, Track Your Lead Sources
After creating online forms, you might be looking for an easy way to track which source is bringing traffic and leads to the website. Check out our detailed article on how to track a lead source in WordPress.
For more inspiration, you can also look at beautiful contact form designs.
Ready to build your online form? Get started today with the easiest WordPress form builder plugin. WPForms Pro offers tons of features, functionalities, and addons.
Don't forget, if you liked this article, then please follow us on Facebook and Twitter.