If you're comparing Gravity Forms vs. Jotform, chances are that you're searching for the best form builder for your website. WPForms is a similar tool that gives you loads of functionality for your website and is also worth a look.
In this post, we'll look at Gravity Forms, Jotform, and WPForms to compare and contrast.
What Is WPForms?
WPForms is a WordPress plugin that gives you tons of options for creating forms and surveys, whether you need a contact form, registration form, or a place for newsletter signups. You can create a stunning, totally customized form or survey in minutes with WPForms' easy-to-use drag-and-drop form builder.
Gravity Forms vs. Jotform vs. WPForms: Which Is Best?
If you're ready to start using a form builder to create web forms but aren't sure which one,  we've got you covered. Let's look at how each of these 3 tools stacks up.
1. Gravity Forms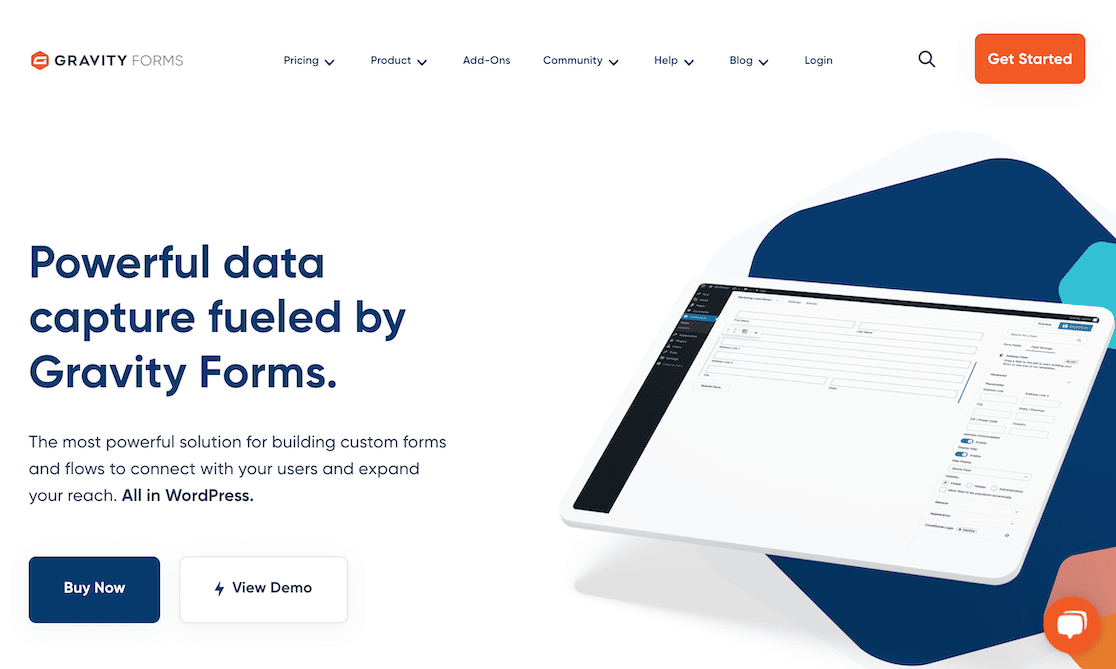 Gravity Forms is a drag-and-drop form builder for WordPress, and one of the best-known. We tested it out, looking at some key features to compare with Jotform and WPForms.
Price
If you're looking for a free plan, you won't find it here. Gravity Forms does offer a demo, however. You'll need to provide your name and email address to access it, but it will give you a feel for the plugin and its features.
Paid licenses start at $59.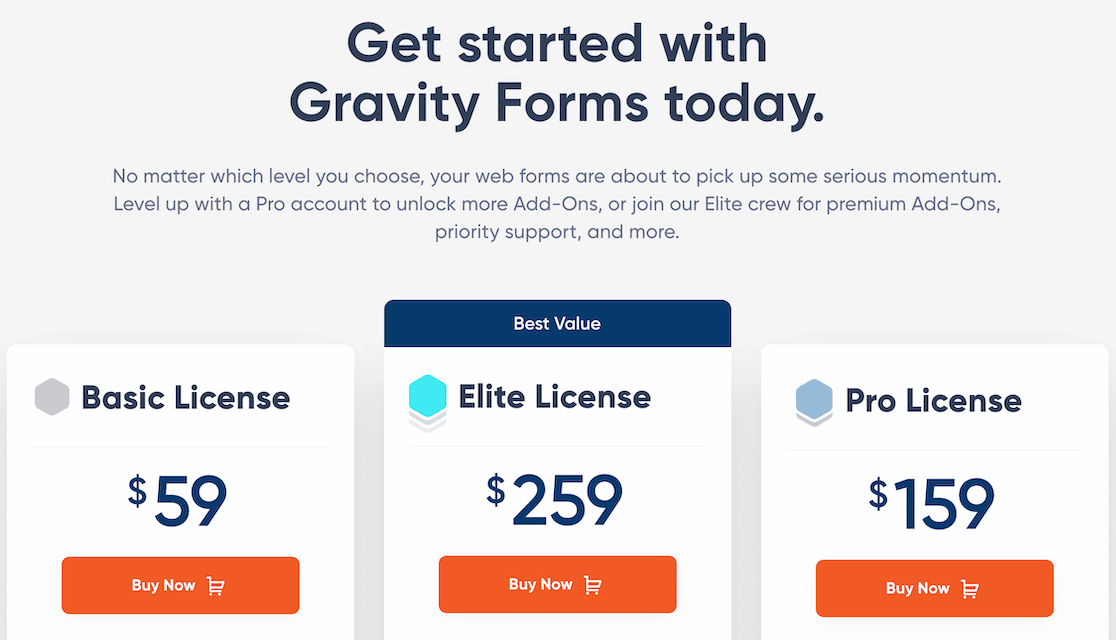 Gravity Forms offers a nonprofit discount; however, it doesn't note the percentage. You must reapply every year.
Templates
There are currently 14 templates offered to Gravity Forms customers. Users can access the templates to use or customize as they like.
The template library includes contact forms, application forms, checkout forms, donation forms, registrations, surveys, and more.
In addition to the templates, you can create your own form or survey from scratch using any of Gravity Forms' 30+ form field options.
Payment Gateways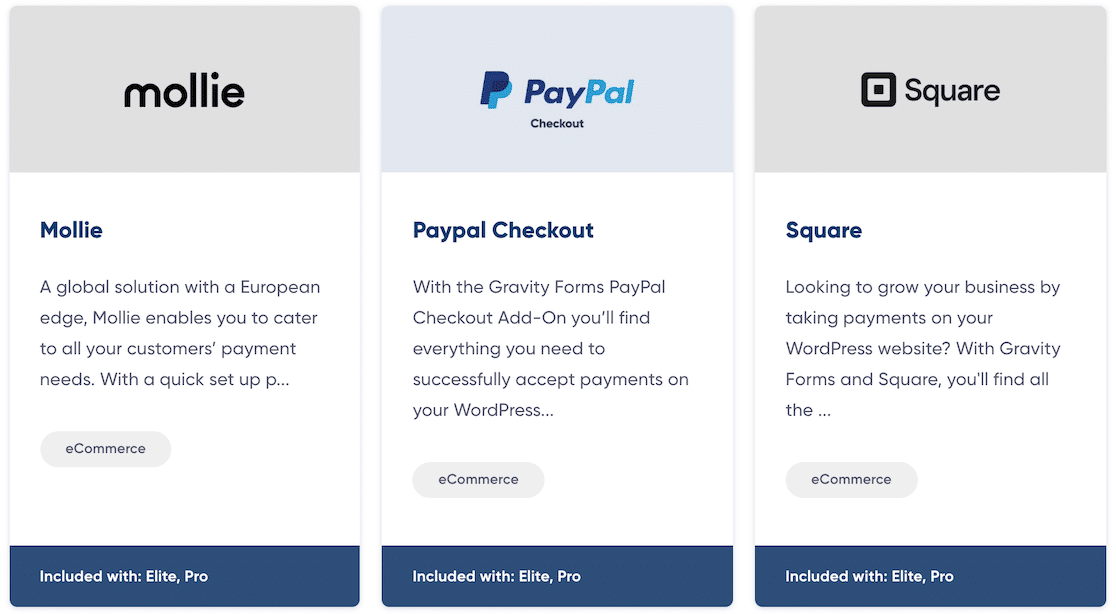 Gravity Forms connects with popular payment gateways, including:
PayPal
Square
Stripe
2Checkout
Authorize.net
Mollie
Integrations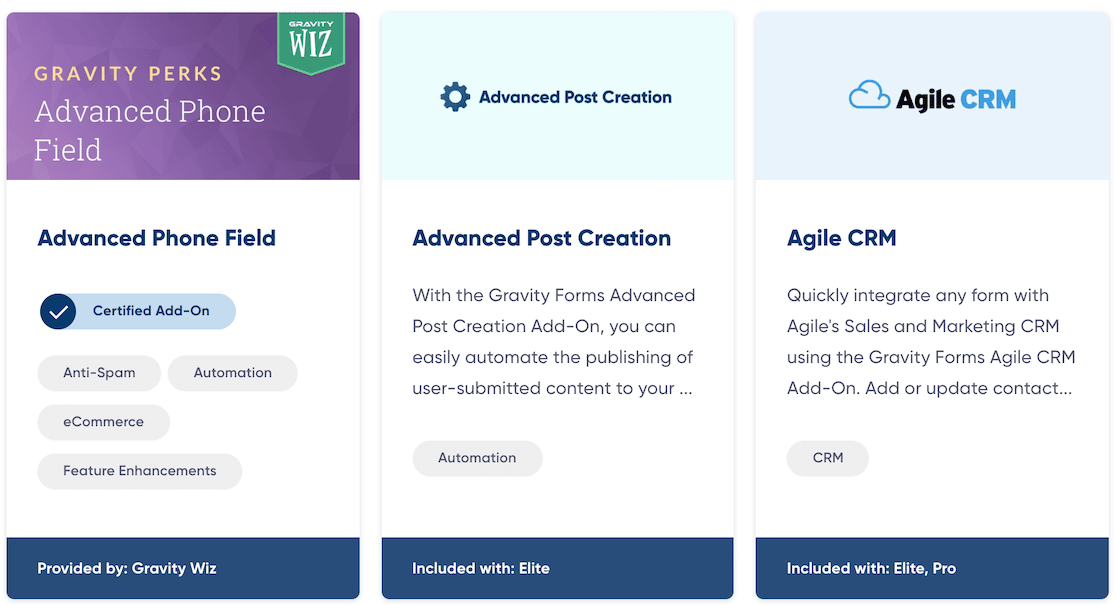 Gravity Forms takes an interesting approach to integrations with official, certified, and community addons.
Official addons integrate Gravity forms with popular tools. Certified addons add functionality. 3rd-party developers in the Gravity Forms community create the community addons.
All said, there are 115 official and certified addons, with hundreds more developed within the community.
Survey Results
You can look at survey results by entry, but Gravity Forms also creates a series of graphs and charts. These visuals compile the data from responses given on each survey question.
Though there isn't a way to customize these graphics, they can still be used as-is for presentations or just to make the data more easily digestible.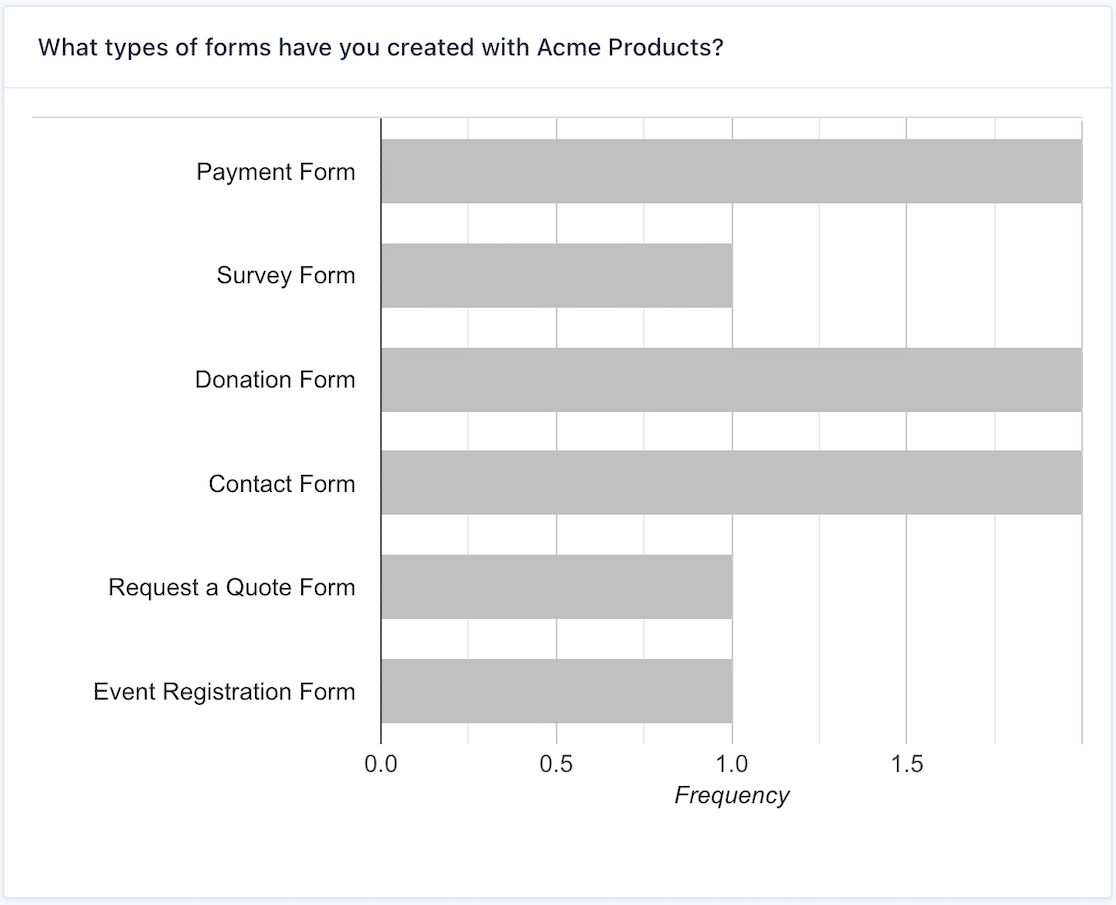 Anti-Spam Features
You can enable a built-in honeypot feature on every form you build with Gravity Forms. When you enable this feature, it adds a hidden field to your form that only bots can detect.

Based on your settings, if there's a value entered in that field in the form submission, Gravity Forms will know it's coming from a bot and won't save the response or send any notifications about it.
Additionally, you can use Google reCAPTCHA with Gravity Forms.
Overall Ease of Use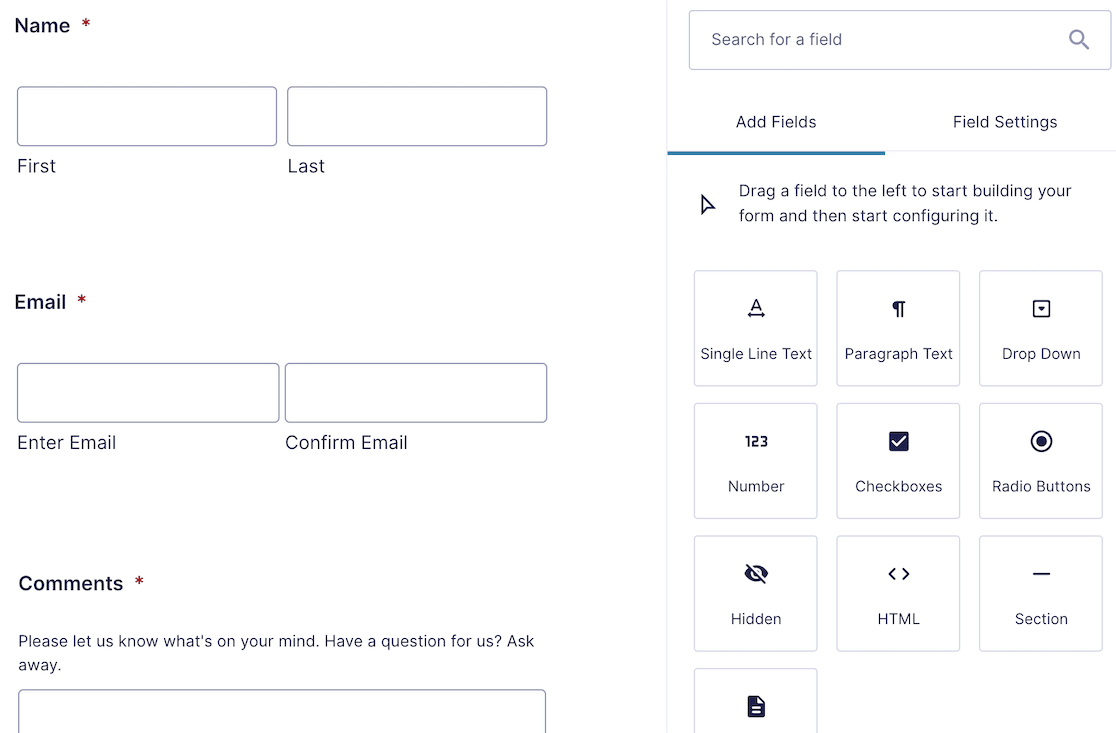 Gravity Forms is fairly easy to use, although there is a learning curve. We found that it wasn't always easy to find the settings or options we were looking for.
That said, once you get a feel for it, it's an easy way to create forms and surveys. The form builder lets you drag and drop your desired fields and adjust settings by form.
2. Jotform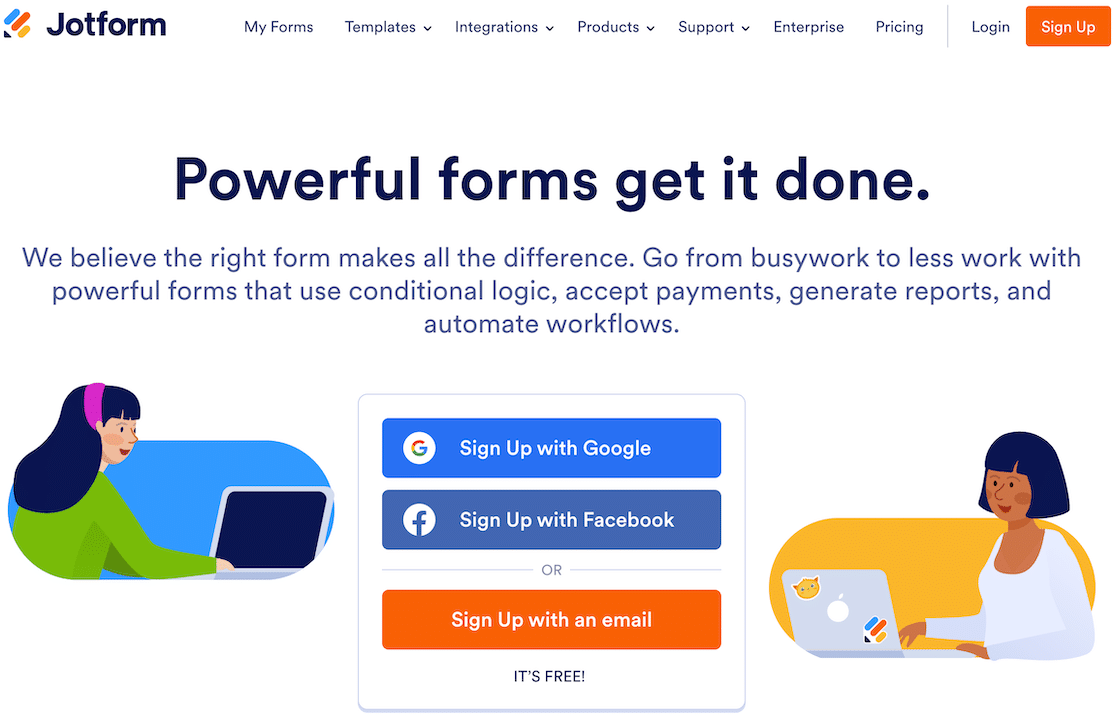 Jotform is a solid option if you're looking for an intuitive, web-based, drag-and-drop form builder that doesn't require WordPress.
We tested Jotform to see how it performed against Gravity Forms and WPForms.
Price
If you're looking to try Jotform, there is a limited free version available. It's limited in ways like how many forms you can create, but there are a lot of good features available to try.
You'll likely want to upgrade, though. Paid licenses start at $34 per month when billed annually.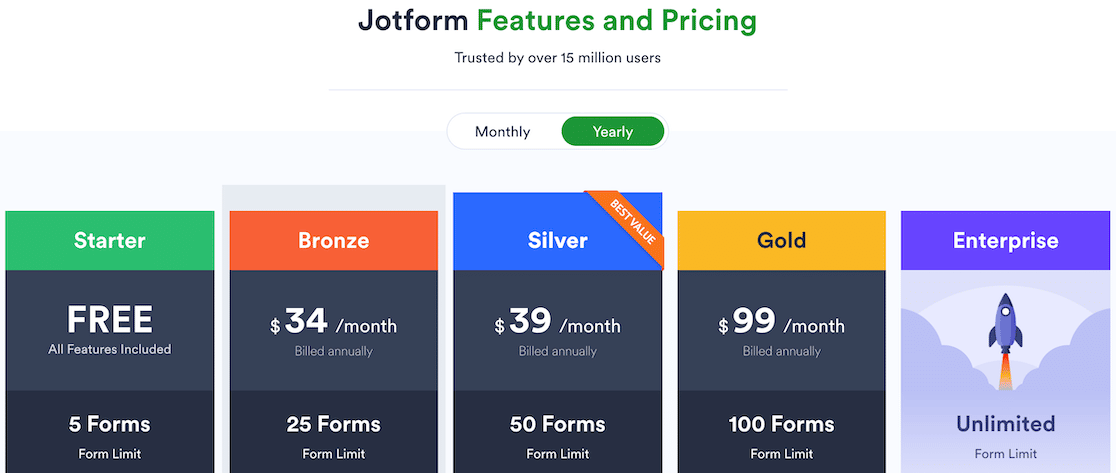 If you're planning to use Jotform for a nonprofit organization, they run a 50%-off nonprofit discount.
Templates
Jotforms boasts more than 10,000 templates that you can use or customize. The templates cover a wide range of industries and professions.
We found that there are some pros and cons to this.
The pro is that you're almost certain to find the kind of template you're looking for.
The con is that the sheer volume of choices could overwhelm some users and make it difficult for them to find what they want.
Payment Gateways

Jotform gives you the ability to choose from 40 different payment gateways.
Among those 40, you'll find:
PayPal
Square
Stripe
Authorize.net
Cash App Pay
Venmo
Apple Pay and Google Pay
There are plenty more on the list, so you have lots of options when it comes to payment gateways.
Integrations

Jotform has more than 150 integration options, which you can sort by category, industry, or platform. The most popular categories for Jotform integrations are data management, payment processors, emailing, and CRMs. You'll find quite a few integration options in these categories.
Survey Results
Jotform gives you several ways to create reports from your survey data. We found that it can be a little tricky to navigate at first because there are so many options and views. Once you start clicking through, however, it doesn't take long to get the hang of it.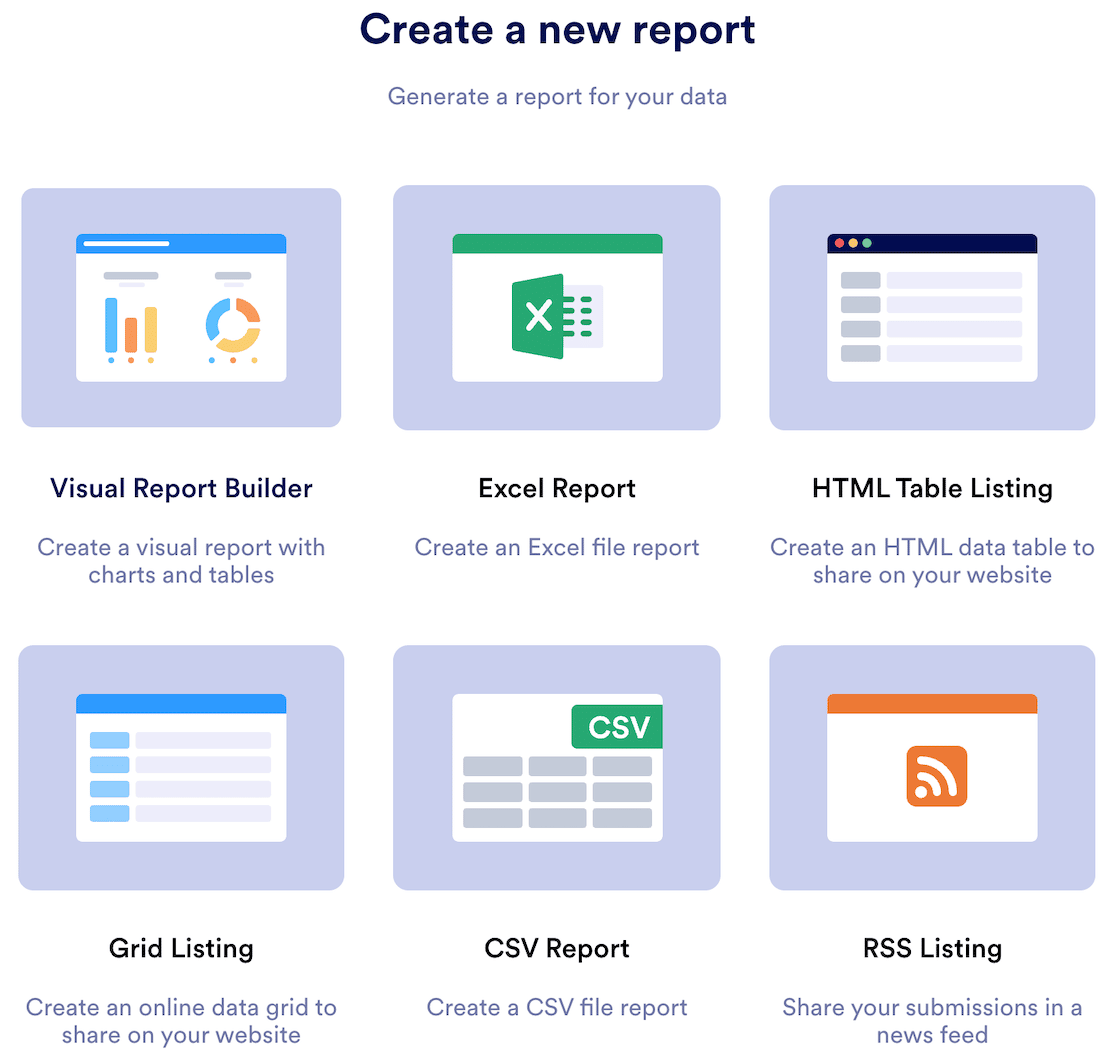 You can also access form analytics with Jotform, which is a neat feature if you like to keep track of conversion rates and average time on the form.
Anti-Spam Features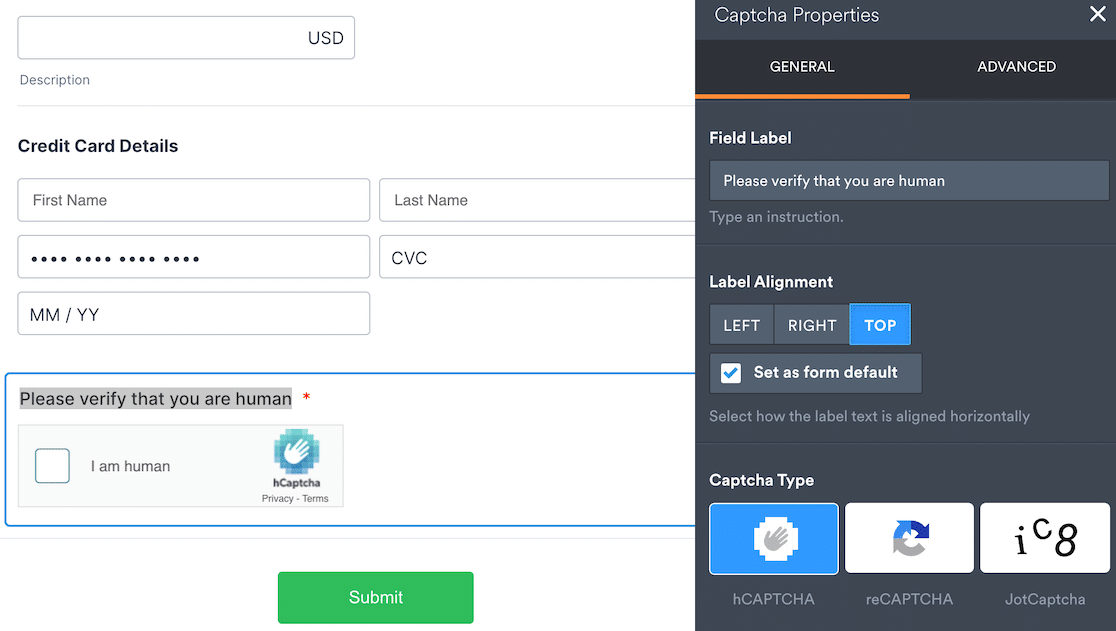 As you select your form fields in Jotform, you can choose to add a Captcha field. When you do, you can access the settings for that field and choose whether you want to use hCaptcha, reCAPTCHA, or their own JotCAPTCHA.
Overall Ease of Use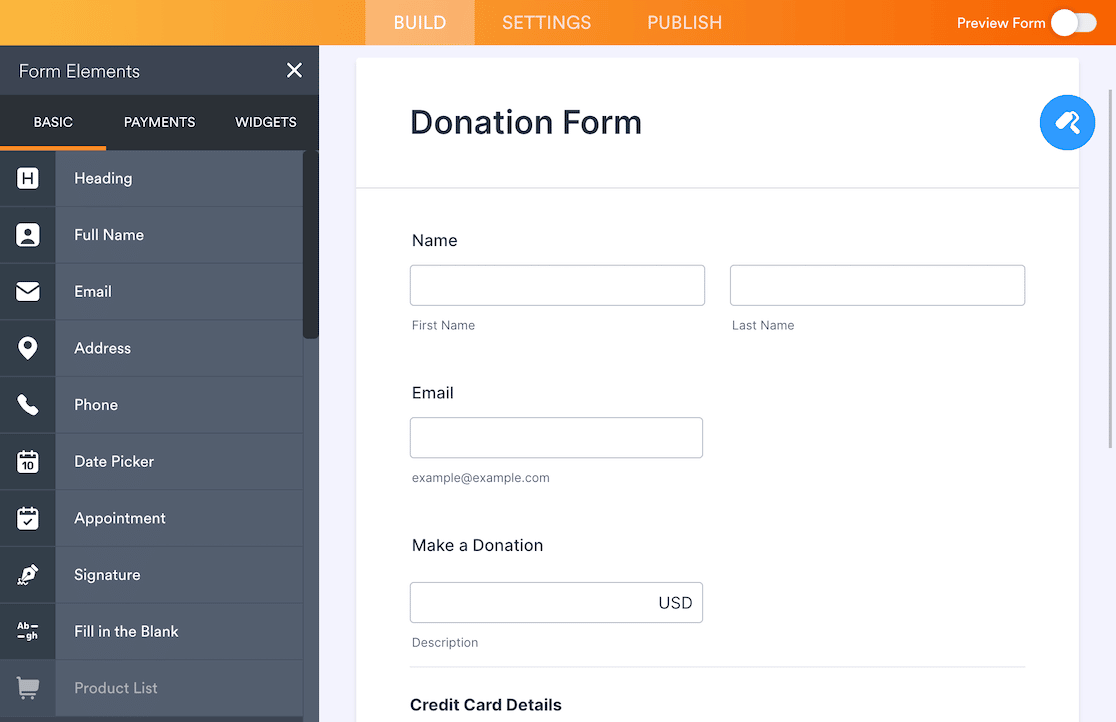 Jotform has many great features, and the platform is designed well. It doesn't take long to find your way around the online form builder to build visually appealing forms and surveys.
The number of options here, especially regarding templates and payment gateways, is a pro and a con at the same time. While it's fantastic to have so many options, it can also lead to some decision paralysis.
3. WPForms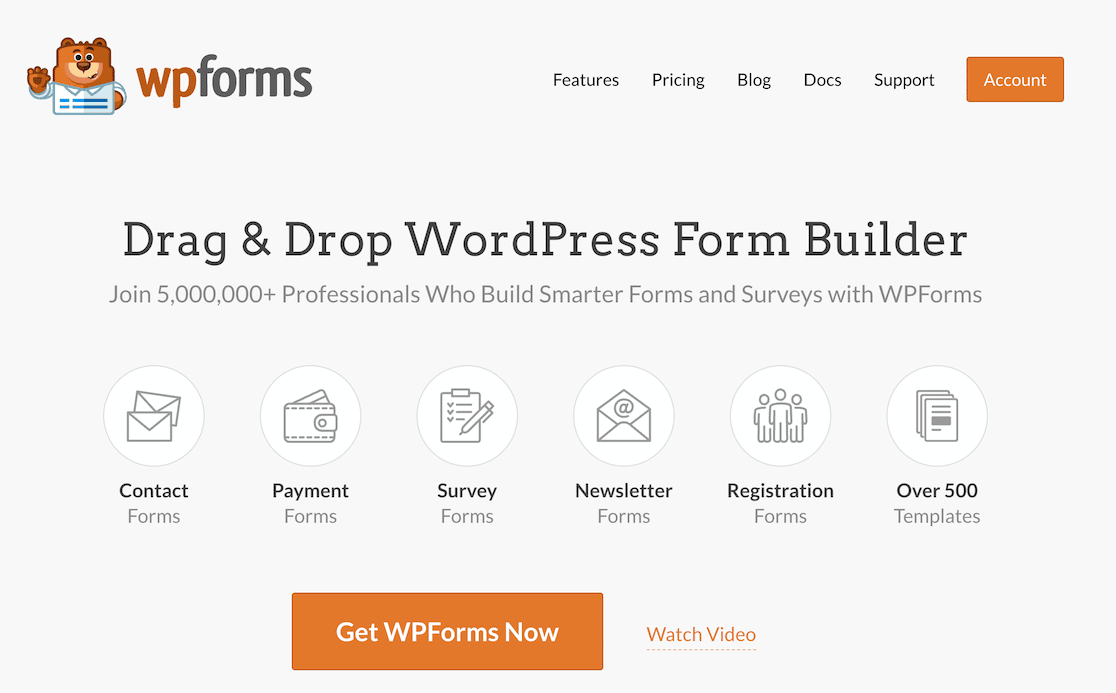 With more than 5 million active installs, WPForms is among the top 10 most popular WordPress plugins. It's an easy-to-use drag-and-drop form builder that lets you create the perfect form or survey within minutes.
So let's look at how it stacks up against Gravity Forms and Jotform.
Price
There is a free version of WPForms available. The available form fields and features are more limited on the free version, but you can make and use as many forms as you like.
Paid licenses start at $49.50/year, billed annually.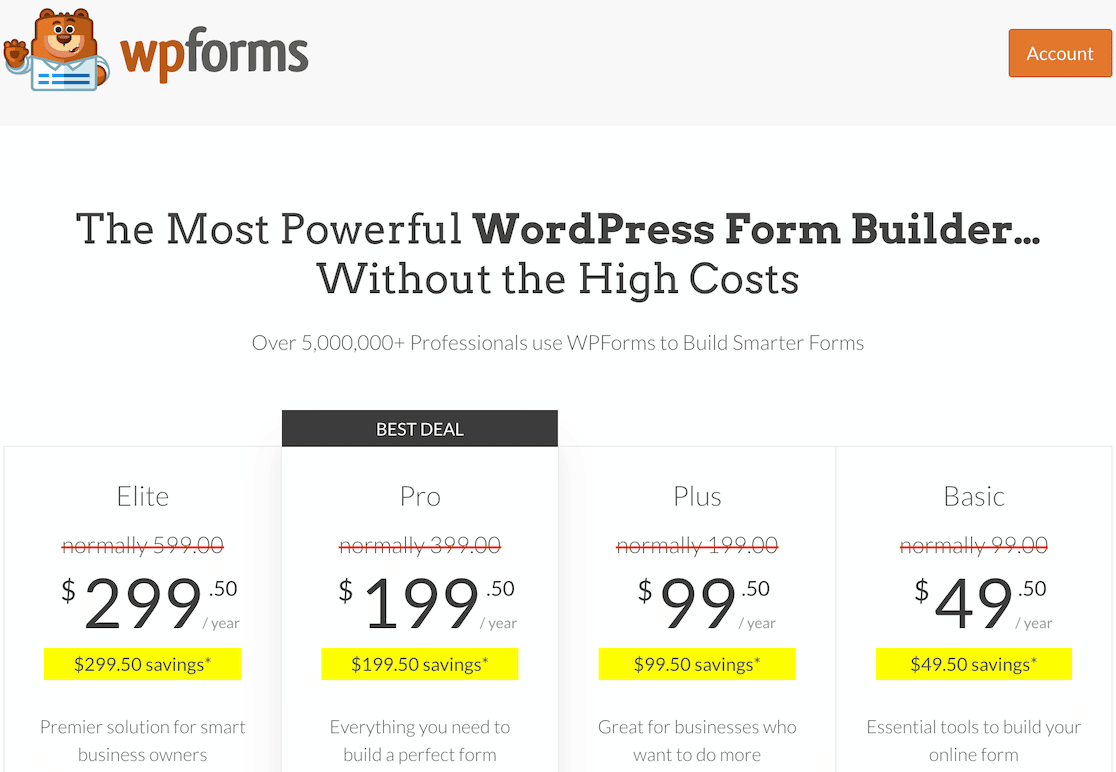 WPForms also offers a nonprofit discount of 66-75% off, depending on the plan you select.
Templates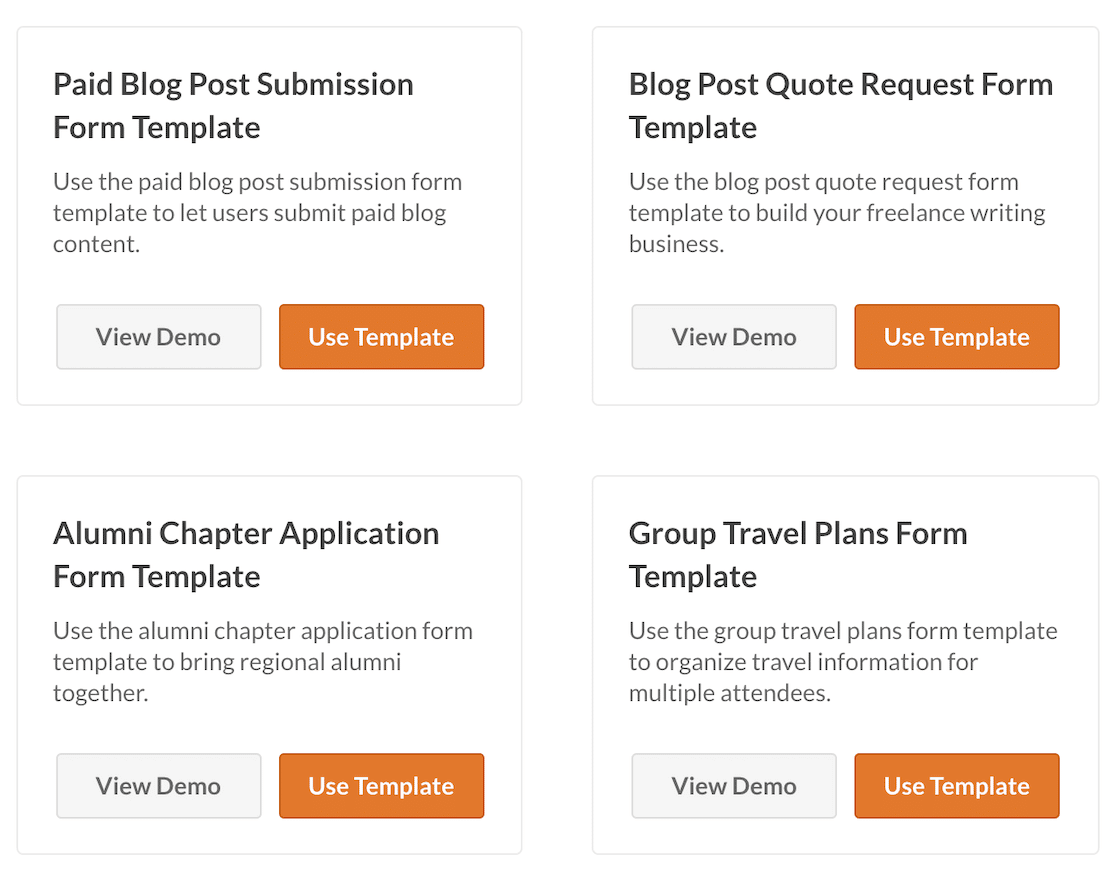 WPForms has over 600 templates available to use or customize on your site. It's a happy medium between Gravity Forms and Jotform. You can always find what you need, but the options aren't overwhelming.
Payment Gateways
You can use common payment gateways like PayPal, Square, Stripe, and Authorize.Net with WPForms.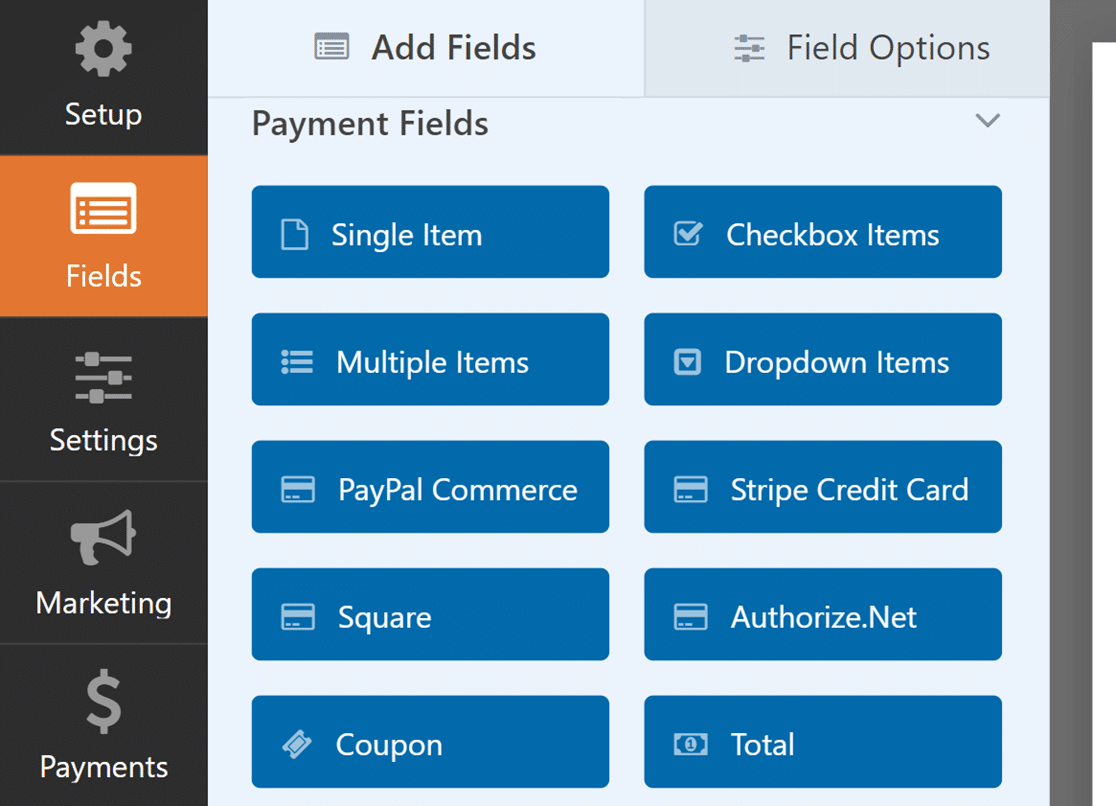 Notably, WPForms offers Stripe integration to all license levels, including free users. It also includes a handy Coupon field that lets you offer discounts on your order forms.
Use the drag-and-drop form builder to add items and the payment field to your form. As soon as you configure your payment settings, you're ready to collect payments and donations. Easy peasy.
Integrations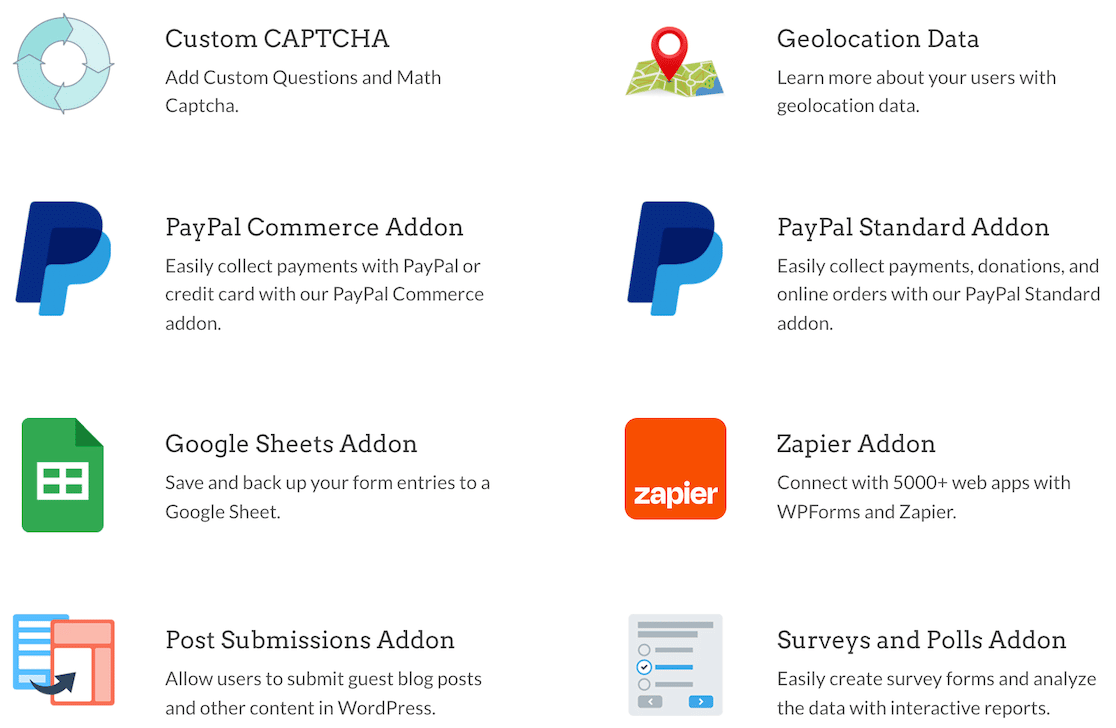 WPForms has more than 30 integrations available. However, if you use it with Uncanny Automater or Zapier, there are thousands of integrations possible.
Whether you're looking for a payment gateway, CRM, or email service provider, there's a ton of functionality and automation at your fingertips with WPForms.
Survey Results
There are a few ways you can view survey results in WPForms. If you view the form entries, a graphic summarizing the data for each question will be at the top.
If you view the survey results, you get a graph or chart to represent the response data for each survey question. You can change some of these graphs from vertical bar graphs to horizontal bar graphs, pie charts, or line graphs.
They make for nice visuals in presentations, as well.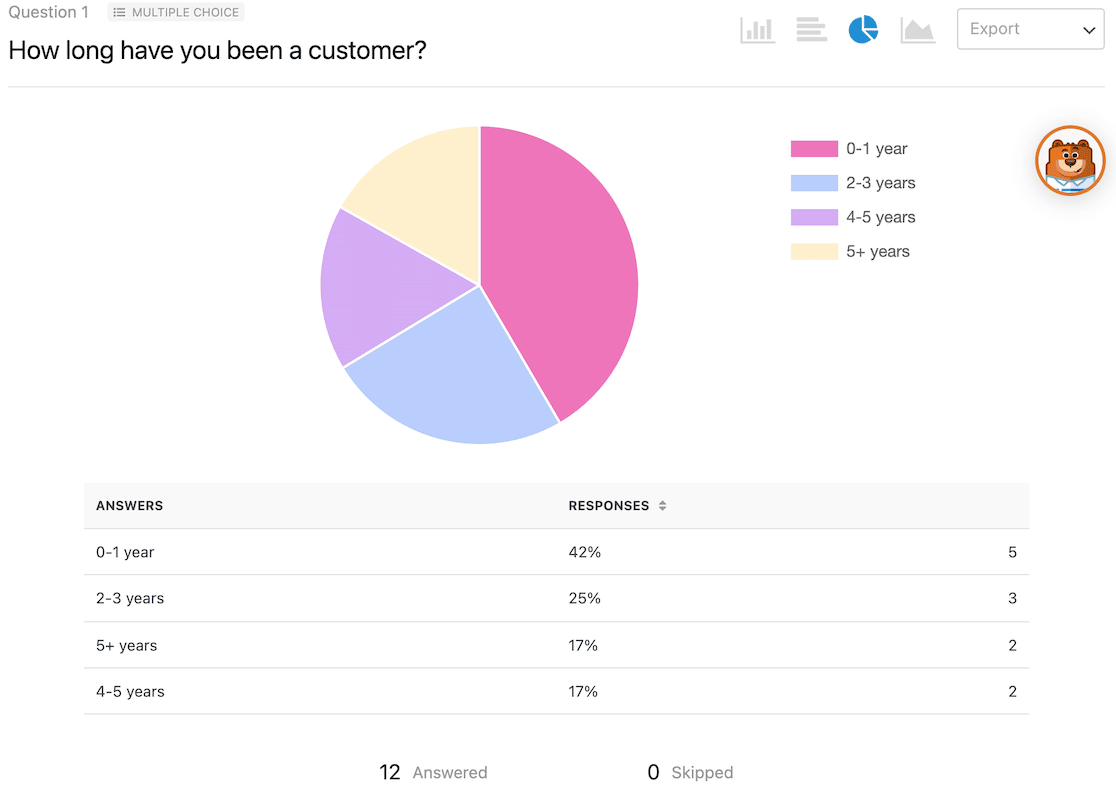 Another neat feature in WPForms is that you can create NPS surveys and find your Net Promoter Score without having to do any calculations.

WPForms does all the math for you, so all you have to do is check in on your survey results.
Anti-Spam Features
When it comes to protecting your forms from bots and spam, WPForms is top-notch.
There's built-in spam protection, plus the ability to enable Akismet on each form. You can also customize filters and conditions to restrict form entries that are likely spam.
But that's not all. In addition to those features, you can also enable hCaptcha, Google reCAPTCHA, Cloudflare Turnstile, or WPForms' own Custom Captcha. Plus, with WPForms, you're able to utilize your choice of alternative security features, too.
Overall Ease of Use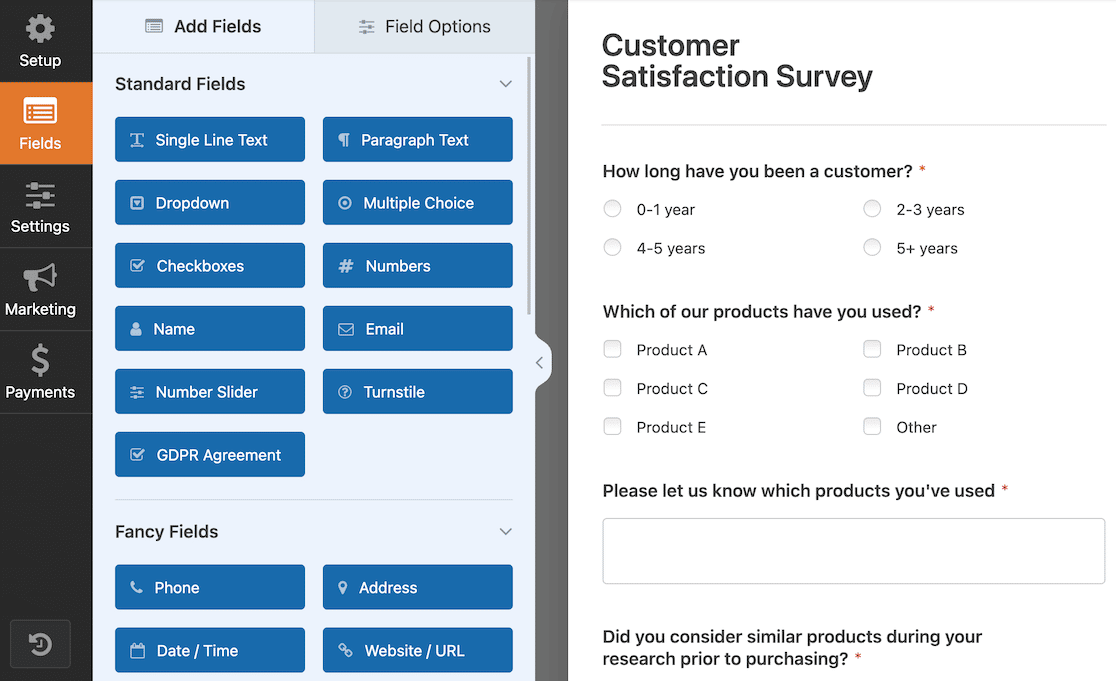 WPForms has a clean, intuitive design that makes it user-friendly. It takes very little time to learn your way around the drag-and-drop form builder, so it's great for beginners. At the same time, it has plenty of advanced features for those who need more functionality.
Form building is easy and forms are super simple to embed on your website with just the click of a button. It truly takes only minutes to make and publish a great-looking form on WPForms.
4. Which Form Builder Is the Best?
Before we determine the best form builder plugin, let's look at a summary of some key features in Gravity Forms, Jotform, and WPForms.
Gravity Forms
Jotform
WPForms
Free version?
No
Yes
Yes
Pricing
Starts at $59/month
Starts at $34/month
Starts at $49.50/month
Format
WordPress plugin
Web-based
WordPress plugin
Templates
14
10,000+
600+
Payments
PayPal
Square
Stripe
2Checkout
Authorize.net
Mollie
PayPal
Square
Stripe
Apple Pay & Google Pay
Cash App Pay
Venmo
…and more
PayPal
Square
Stripe
Authorize.Net
Integrations
115
Official & Certified
150
30
+1000s more with
Uncanny Automator and Zapier
Anti-spam
reCAPTCHA
hCaptcha
reCAPTCHA
JotCAPTCHA
Built-in anti-spam
hCaptcha
reCAPTCHA
Cloudflare Turnstile
Custom Captcha
Form limits
Unlimited
5 – unlimited
(depending on plan)
Unlimited
Conditional logic?
Yes
Yes
Yes
All 3 of these form builders are great, but when you compare the value of money to features and factor in ease of use, WPForms is the best choice.
WPForms is intuitive and easy to use, and there are endless ways to customize your forms and integrate your favorite 3rd-party tools. You can use addons to enhance the user experience and make your form more functional without the bloat.
It's easy enough for absolute beginners and powerful enough for advanced users, so everyone wins.
Next, Learn How To Use Conditional Logic
Conditional logic lets you create powerful, dynamic forms. It's a little bit of form wizardry. We've got tips for using conditional logic to create killer forms on your site.
If you're looking for ways to earn some extra income this year, find out how you can use WPForms to start your side hustle. And if you want to level up your existing small business, find out how contact forms can help.
Create Your WordPress Form Now
Ready to build your form? Get started today with the easiest WordPress form builder plugin. WPForms Pro includes lots of free templates and offers a 14-day money-back guarantee.
If this article helped you out, please follow us on Facebook and Twitter for more free WordPress tutorials and guides.