Are you ready to take the user data you've collected and build a survey results report with charts and graphs?
In order to use your survey responses to grow your business, you need to be able to visualize all that data.
In this tutorial, we'll show you exactly how to display survey results graphically in WPForms.
Create Your WordPress Form Now
Step 1: Find Your Survey Results
So, how do you read survey results quickly? Well, one of the easiest ways is to make a pie chart from a survey.
Let's take a look at how it's done in WPForms using the Survey and Polls addon.
First, head over to the WPForms settings in the left hand panel of your WordPress dashboard and click on All Forms to locate your survey form.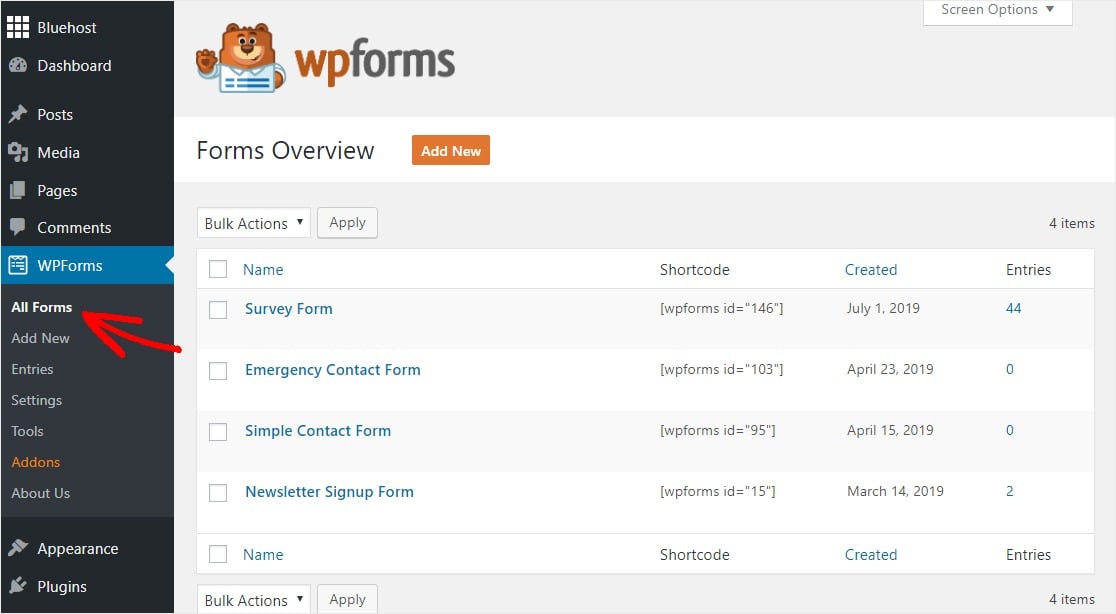 Next, hover your mouse over your survey form and click on Survey Results.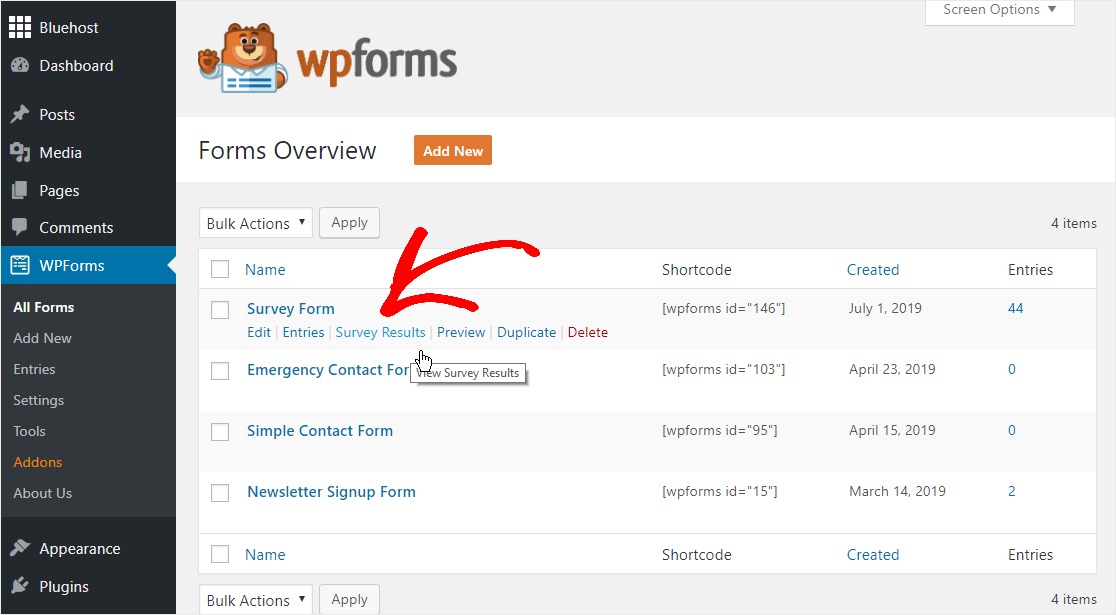 Step 2: Generate Your Pie Chart
Now, click on the pie chart icon on the upper right side of your survey results dashboard and your pie chart will be automatically generated.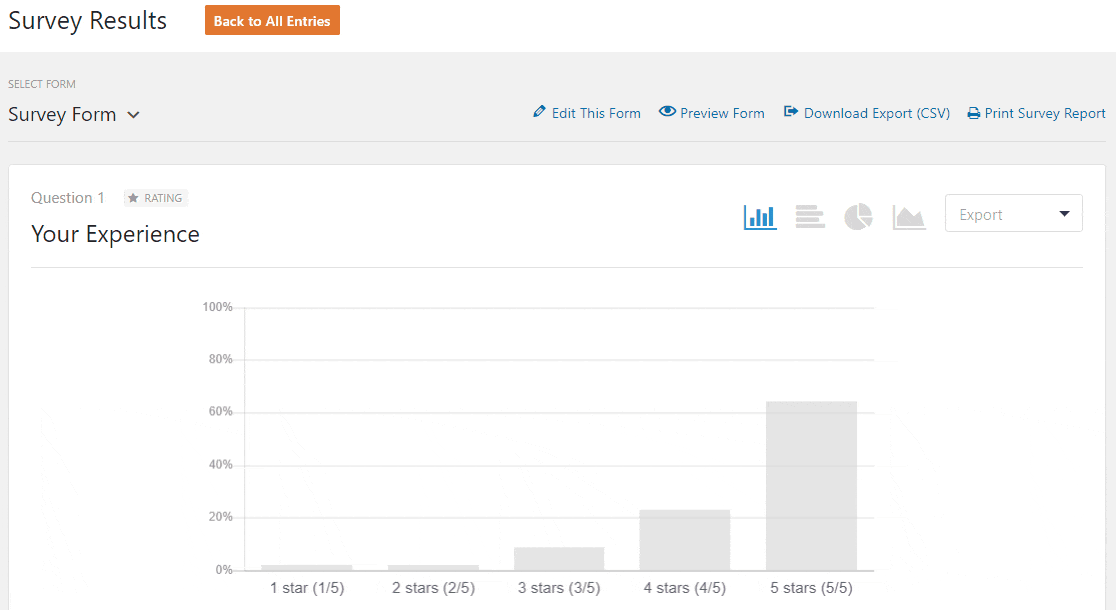 This works with Net Promoter Score (NPS) surveys as well. Read about how to create an NPS survey in WordPress to get started.
And check this out —
Want to regenerate the colors on your pie chart graph?
Simply click on any other chart icon then back to the pie chart icon to change the color of all the sections.

And there it is. These 2 simple steps get you a beautiful pie chart in just seconds.
Now that you've got the basics down and created your pie chart, let's learn more details about how to display survey results graphically (the easy way, of course).
How to Display Survey Results Graphically
So you're asking yourself how to graph survey results? Whether you're using a survey results infographic template or presentation software like PowerPoint, it's easy to display survey results graphically with WPForms.
Here's how:
Step 1: Generate Your Charts and Graphs
The steps above showed you how to make a pie chart and generate your graphs.
You can also follow those steps to create line charts and vertical or horizontal bar graphs by clicking on the icons for the different chart types.
With WPForms, your data is automatically generated into beautiful reports that are easy for the human brain to understand.

And you can also scroll down the page in this section to find Likert Scale survey responses.

For this tutorial, let's stay at the top of the page and move forward with exporting the pie chart.
Step 2: Export Your Charts and Graphs
Now, click on the dropdown in the top right corner that says Export.

Here, you can choose between saving as a JPG or a PDF, or to print the graph.
For this example, let's save the graph as a standard image file (JPG) so we can easily embed it into a survey report.

Repeat this step with each graph you'd like to use in your report.
Step 3: Embed Your Charts and Graphs
Now that you have generated JPGs of all of the charts you need to display your survey results, you can easily embed them into presentation software or a survey results infographic template.
This is especially helpful if you're on a team and you'd like to present the survey results to other people.
Google Slides is a great (and free!) place to start embedding your graphs and displaying your survey data graphically.
You can also write a summary of survey results and embed your charts right into the document.
That's it! You now know how to display survey results graphically. We hope this post helped show you how easy charting your site's survey data can be!
Create Your WordPress Form Now
Next, Export Your Raw Survey Data
Sometimes you'll want to export survey data so you can analyze the numbers in a spreadsheet. WPForms makes that easy. Check out this guide to exporting survey data to Google Sheets.
Ready to build your form? Get started today with the easiest WordPress form builder plugin. WPForms Pro includes lots of free templates and offers a 14-day money-back guarantee.
If this article helped you out, please follow us on Facebook and Twitter for more free WordPress tutorials and guides.