Are you looking for essential business form templates for WordPress?
Our templates have been carefully created so you can have any type of business form within just a few clicks and have it fully functional on your website in minutes.
Each WPForms template is fully customizable too. Our drag and drop form builder makes it easy to adapt any template to fits your business' needs.
We have hand-picked a small selection of the most popular business form templates below.
How Do You Create a Business Form?
You can create a business form easily using the WPForms plugin. WPForms is the best form builder plugin for WordPress because it allows you to import templates, customize them, and embed them into your website in a flash.
With WPForms, you can easily:
Import any template with one click
Add or remove fields
Customize notification settings
Choose the email confirmation message
Publish your form without writing code
Change the field labels
Choose the email address for notifications
Customize the Submit button
9 Business Form Templates for WordPress
1. Simple Contact Form Template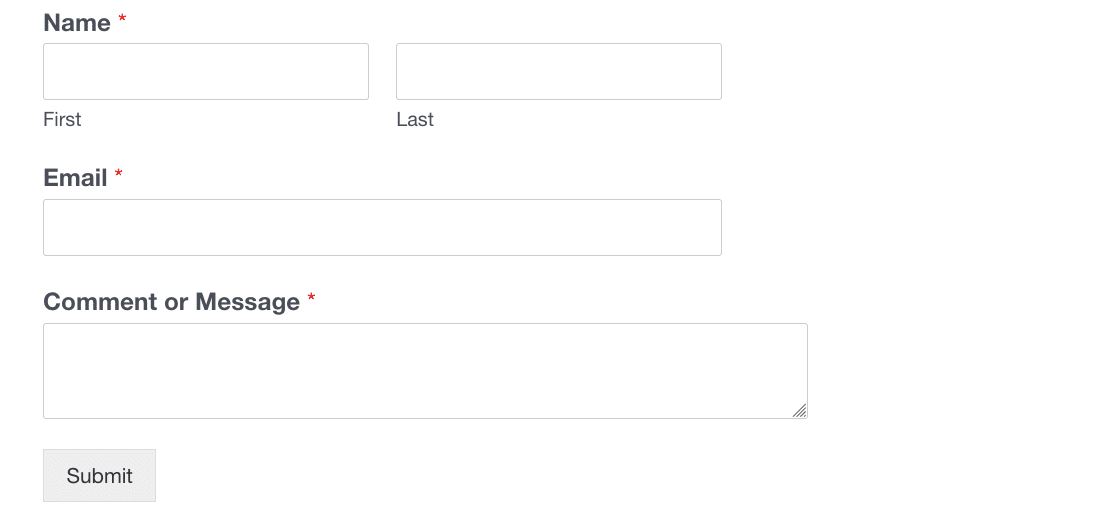 This business form template is simple: name, email, and the message box. It allows your website guests to quickly and easily get in touch with any questions or concerns, and it doesn't need to be more complicated than that.
Take your contact form to the next level and add a checkbox to allow visitors to sign up for future marketing emails. You could also add a file upload field so guests can share screenshots or documents when they send their questions or comments.
Finally, protect your contact form against spam submissions and add a reCAPTCHA field or any of these great reCAPTCHA alternatives to stop spambots.
Click here to use the simple contact form template.
2. Simple Employment Application Form Template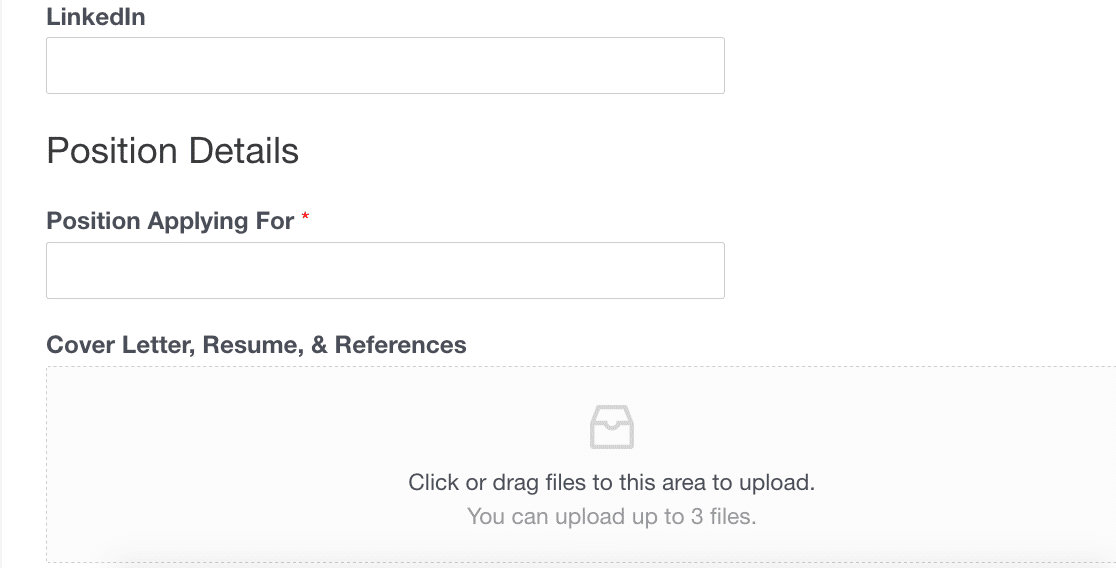 This template is designed to let users submit their applications to your open job position quickly and easily. We've included a personal information section, a LinkedIn URL box, and an upload CV and cover letter field to get you started. Consider expanding your form template to include:
Work experience
Education history
References
More social links (personal website, GitHub, Pinterest)
Activities/interests
Click here to use the simple employment application form template.
3. Newsletter Signup Form Template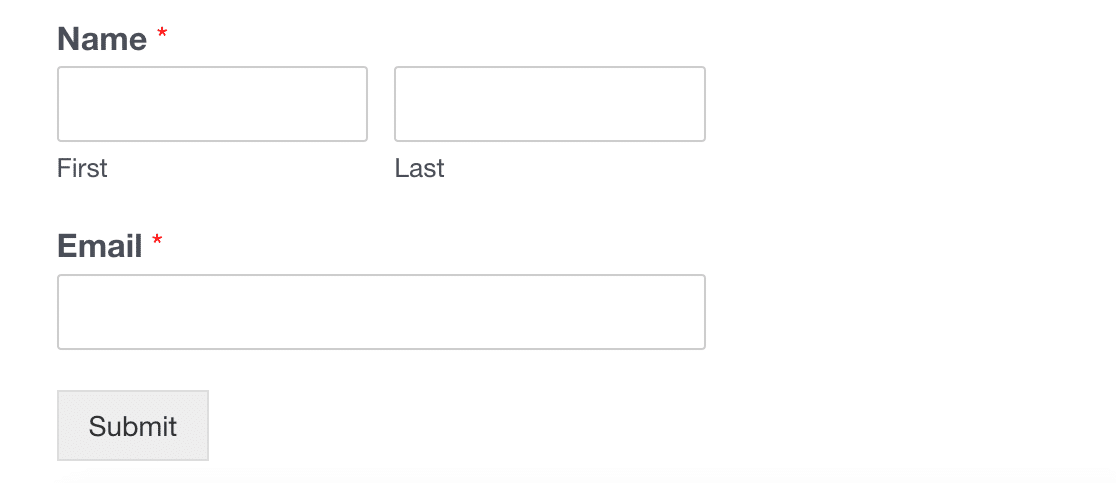 Build your email marketing list by using the newsletter signup form template. Collect website visitors' names and email addresses to send them future marketing campaigns.
Building an email subscribers list helps establish long-lasting relationships with current customers, find new ones, and make more sales. With WPForms, you can integrate your newsletter signup template with one of eight reliable email service providers: Campaign Monitor, HubSpot, Mailchimp, AWeber, Drip, Salesforce, Constant Contact, MailerLite, or GetResponse.
Finally, by using smart conditional logic, you can build segmented email lists and target the right people with the right content at the right time to boost engagement and increase conversions.
Click here to use the newsletter signup form template.
4. Billing/Order Form Template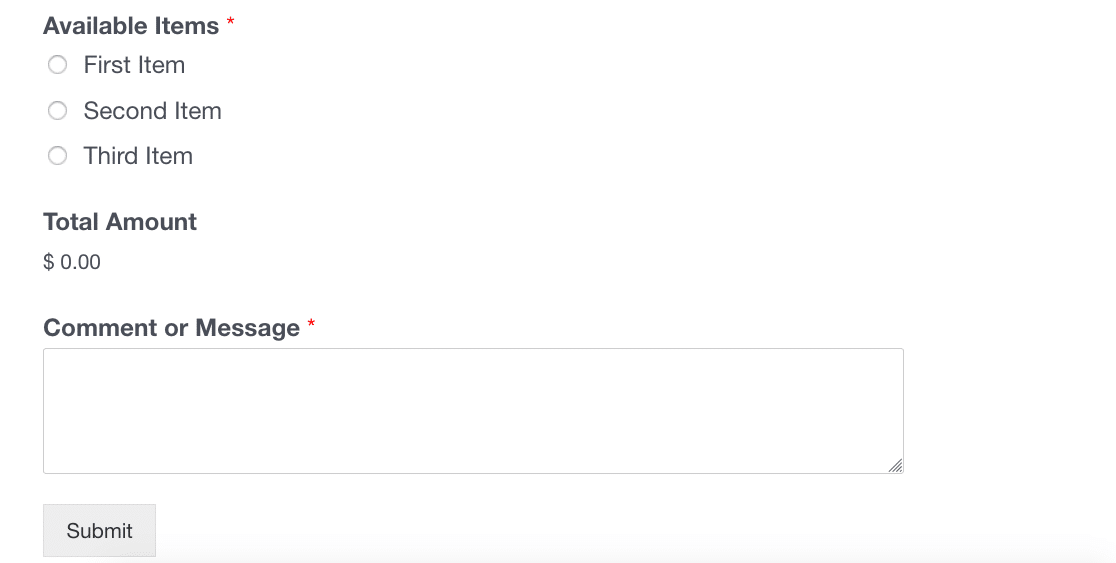 Use this business form template to let your customers purchase your services or products directly from your website. The template is fully customizable, and fields can be added or removed to fit your needs. Alongside adding photos of your products to the form, you can integrate PayPal, Authorize.Net, Square, or Stripe to process your payments.
If you need an order form with credit card payment options on license levels below WPForms Pro (including Lite), you can use our Stripe Payment Form template.
Click here to use the billing/order form template.
5. Request a Quote Form Template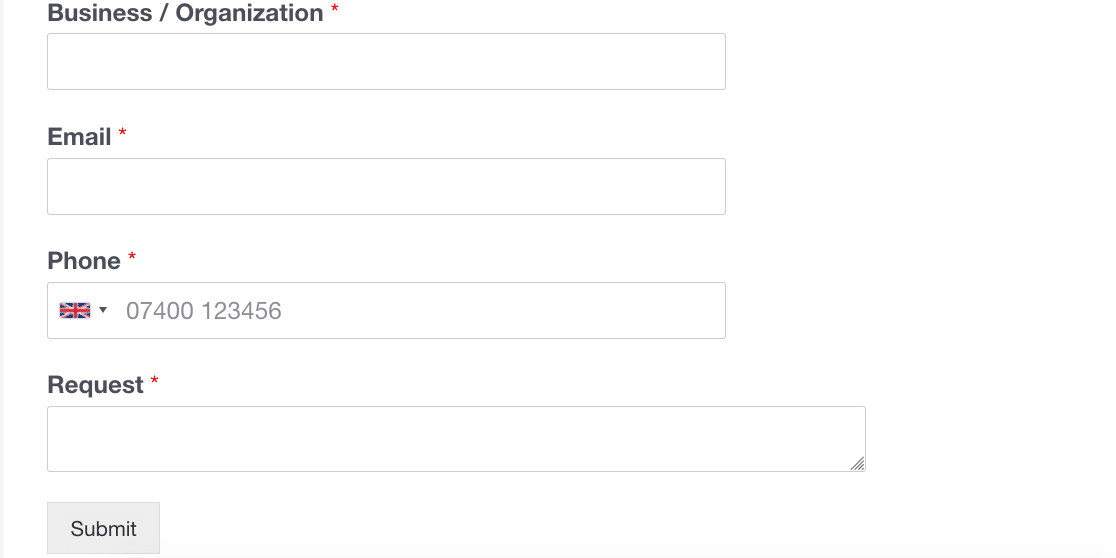 Let customers request a quote for your services and save yourself valuable time using this business form template. Suitable for small-medium businesses, this form lets you receive the customer's contact information and service request.
Add a Multiple Choice field, Checkboxes, or Dropdown to your request a quote form template so people can select which services of yours they're interested in. You can also add a Single Item form field to determine the customer's approximate budget for their project. You could also add a document upload field so people can attach more information to their requests, making life easier for you.
Click here to use the request a quote form template.
6. Conference Registration Form Template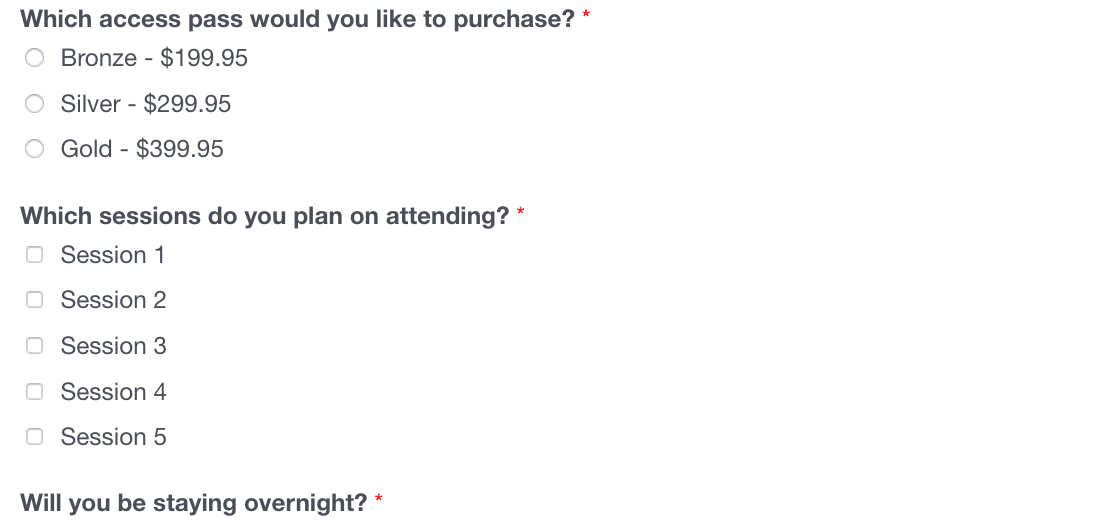 Organize conference attendees with this business form template. By ensuring you have the correct number of conference participants, you can plan ahead so everything runs smoothly.
On our template, we've included: Name, Email, Multiple Choice to find out which pass attendees want and if they're staying overnight, Checkboxes to know which sessions they're going to, and a Paragraph Text field for any comments or questions to get you started.
However, there are various ways to customize this conference registration form to maximize its use. Add a Date/Time field to find out exactly when attendees will arrive, plan your catering in advance and ask what people want to eat from a multiple-choice selector, and add a field for any dietary requirements.
You can also collect registration fees directly from your form by adding a payment option. WPForms integrates with PayPal, Authorize.Net, Square, or Stripe.
Click here to use the conference registration form template.
7. Job Application Upload Form Template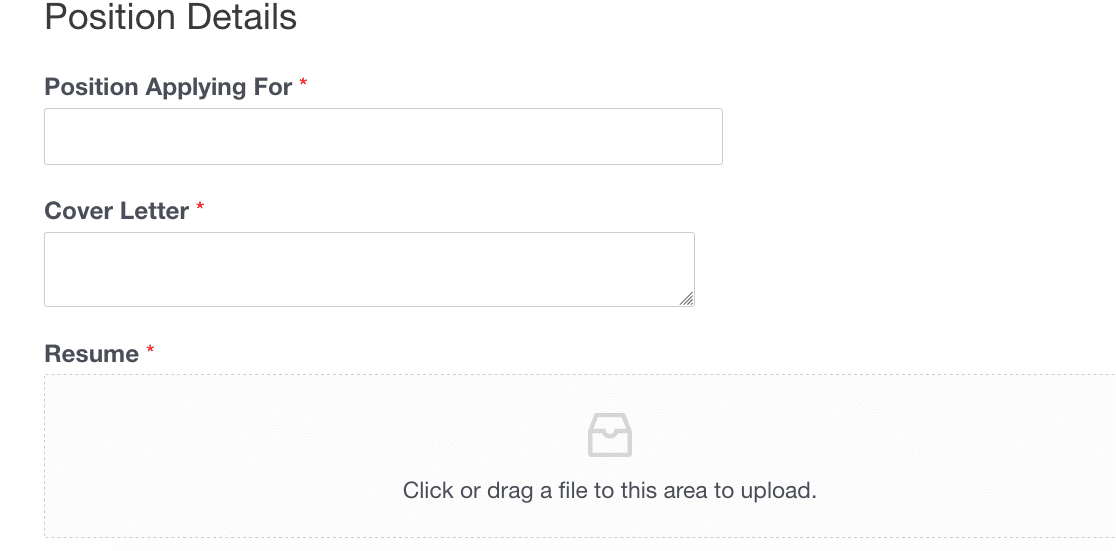 Find the perfect candidate for the open position with this business form template. This template starts with the candidate's personal information with Name, Email, and Address fields. It finishes with a questionnaire to find out where they heard of the position and two file upload fields so that candidates can attach their resume and cover letter.
This template is designed for you to process applications in an organized fashion. We know each job is different and that's why our forms are very easily customizable, add or remove any fields you like!
Click here to use the job application upload form template. 
8. Feature Request Form Template
Use the feature request form template to gather user ideas on your products or services. This template lets customers specify a product and describe their new feature idea, a number of new features, or an improvement on something existing.
This type of customer interaction enables you to strengthen customer relationships while receiving potentially helpful feedback. We've got you started with the important fields:
Personal information
A product selection dropdown menu
A description field to allow customers to detail their idea.
You could add fields like asking them how long they've been with you, add a document attachment field so they can detail their idea further, or add a star rating to hear how customers like interacting with and using your products or services.
Click here to use the feature request form template.
9. Call Back Form Template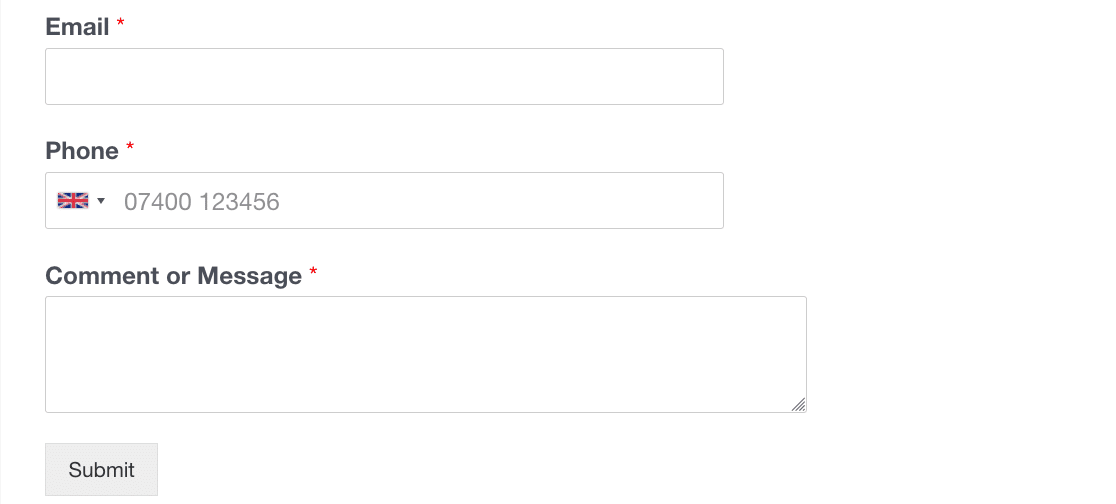 Last but not least on our list of business form templates is the call back form. Its use is straightforward, it gathers client contact information so you can call them back.
The beauty of this type of form is that customers are happy they'll be hearing from you, and your customer service team isn't pressured into answering them right away. Remember to customize the email notification message to ensure your customer knows their submission was received and will be hearing from you soon.
Click here to use the call back form template.
And that's it for this guide to WPForms business form templates!  We've got over 400 form templates, so there are other business form templates to consider. For example, You might find these evaluation form examples useful.
Next, Audit Your Form Links
It's important to run a link audit from time to time to make sure your main forms have sufficient links from different pages. It's really easy to do that as we show in our guide on auditing WordPress forms.
Taking over a WordPress site? It's easy to forget some important things during the takeover. Check out tips for taking over a WordPress site for a checklist that you can use.
Take full advantage of our extensive template gallery and its features by signing up for WPForms and start using our templates today! We also offer all new customers a 14-day money-back guarantee.
If this article helped you out, please follow us on Facebook and Twitter for more free WordPress tutorials and guides.