Are you looking for the right calculator plugin to use on your WordPress website? A plugin is a necessary tool if you want to offer calculators on the pages you display on your site.
Calculators simplify complex tasks like financial planning, pricing estimation, or data analysis, which can enhance your overall user experience and keep visitors on your site longer. You might operate an eCommerce website, for example, and would benefit from providing a shipping cost calculator to reduce cart abandonment rates.
But which calculator plugin is the right one for your site? Keep reading to explore your options. In this article, we're sharing our picks for the best calculator plugins for WordPress.
What Should I Look For In a Calculator Plugin?
When searching for the right calculator plugin for WordPress, there are several important features to consider to ensure it meets your needs. Here are 3 main features to look for:
Customization and Form Building: The plugin should allow you to create custom calculation forms easily. Look for a drag-and-drop interface or a user-friendly form builder that lets you design forms according to your specific requirements. This includes the ability to add input fields, labels, dropdowns, checkboxes, and more.
Mathematical Functions: Ensure that the plugin supports a wide range of mathematical functions and operators. This is crucial for creating complex calculations. Look for features like addition, subtraction, multiplication, division, percentages, and conditional statements.
Integration and Data Handling: Consider whether the plugin integrates with other WordPress plugins and third-party tools. It should be able to handle data efficiently, including the ability to store and export user-submitted data, integrate with email marketing services, or connect with payment gateways if necessary.
Create Your Calculations Form Now
13 Best Calculator Plugins for WordPress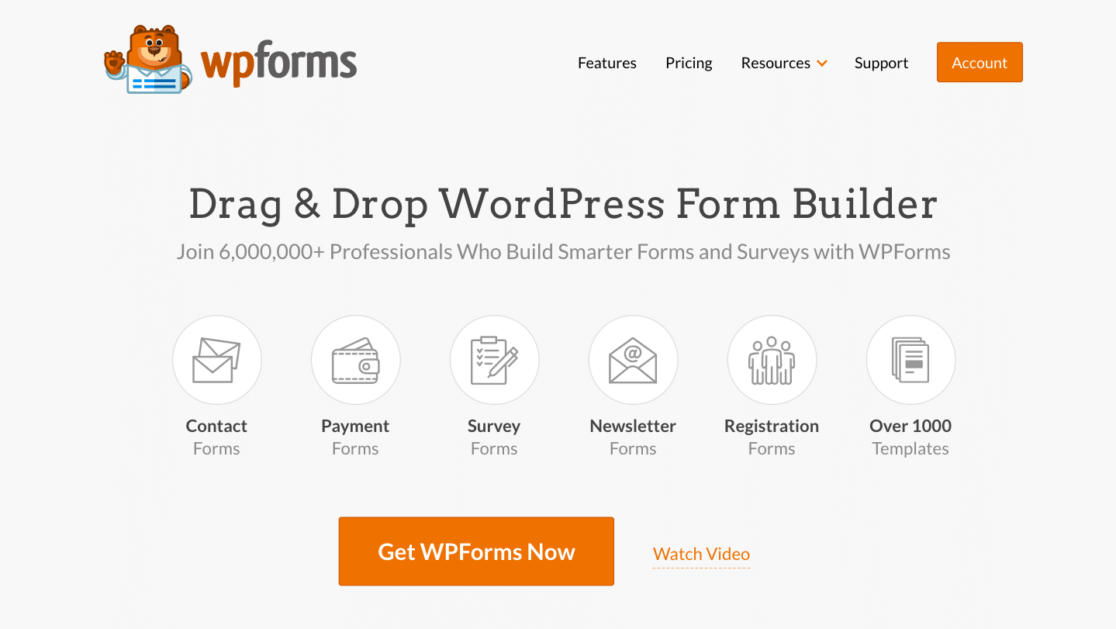 WPForms easily secures the top spot on our list of best calculator plugins. It boasts each of the key features, plus many more, that you want in a calculator plugin for your WordPress website.
The incredibly intuitive drag-and-drop form builder coupled with the Calculations addon allows you to create virtually any type of calculation form you may need.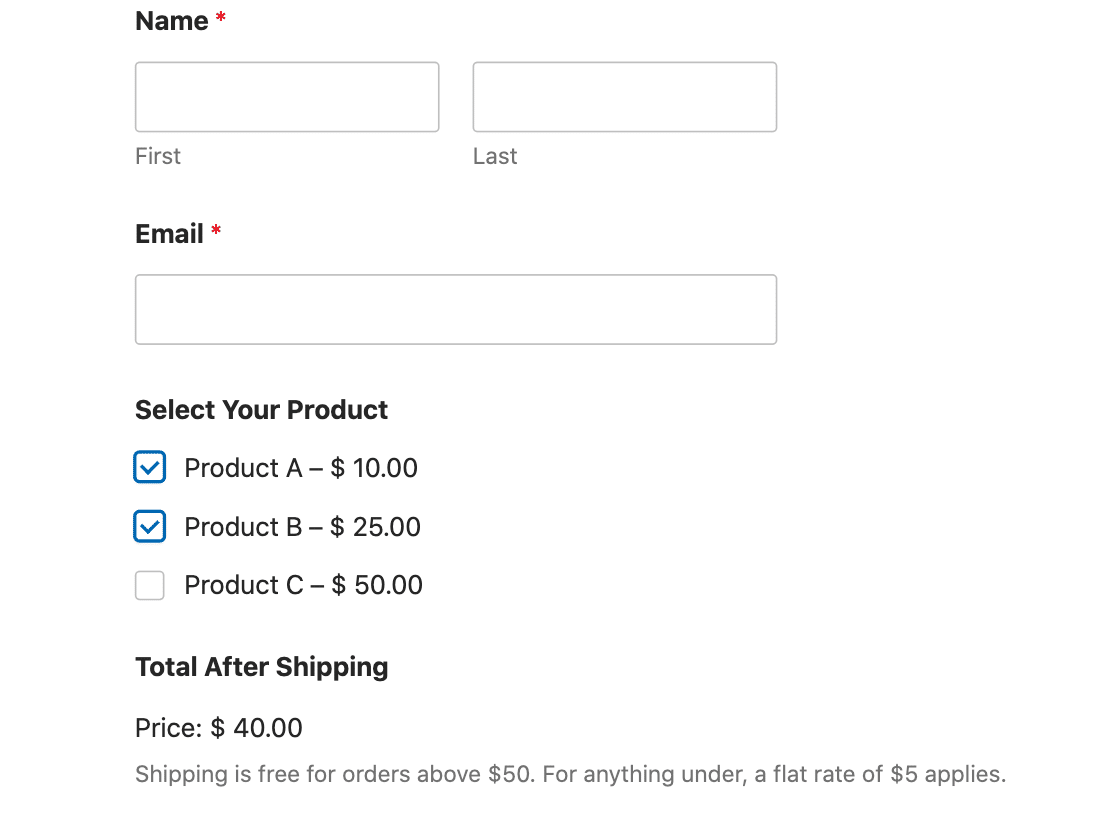 Various tools and fields allow you to create all kinds of formats and layouts on your form, and the advanced mathematical functions enable you to make complex calculations.
You can allow users to enter their information into text box fields to calculate their answers, or users can input data with sliders and other functions.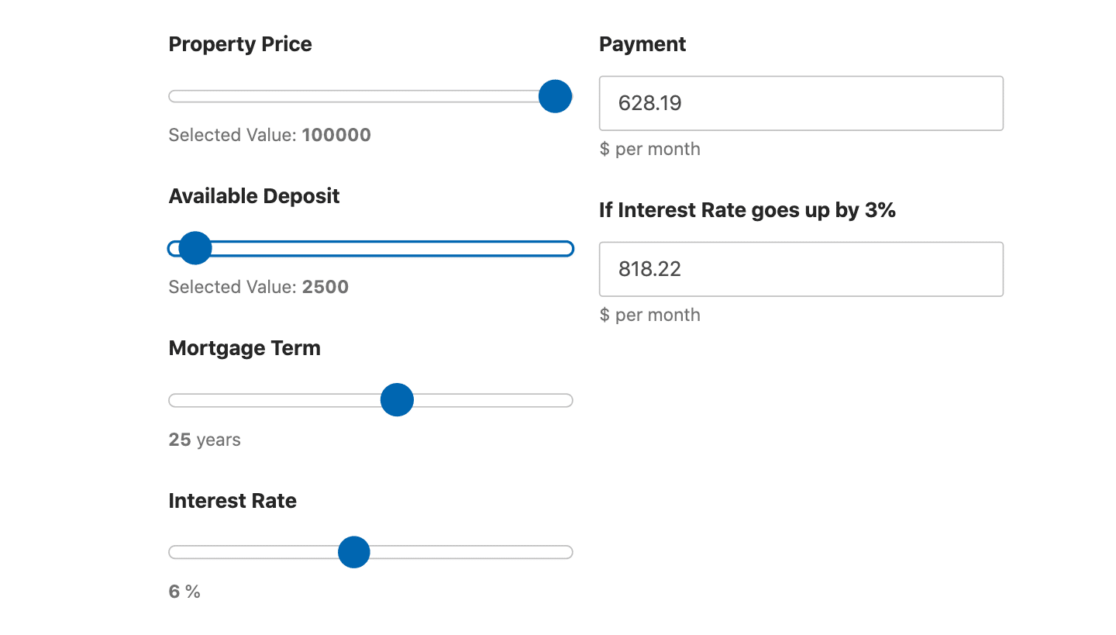 It's easier than ever to create and customize these calculation forms, or you can pick from a selection of ready-made templates that have the calculations already on the form.
The WPForms template gallery has thousands of form templates, including calculation templates like the ones above, that are ready for customization or immediate use. You'll find templates for mortgage calculators, life insurance calculators, shipping cost calculators, and more. You can customize these templates however you want like adjusting the layout or removing the submit button altogether.
And, since these are forms created with the WPForms plugin, you can be sure that they support multiple payment gateways and will also work well with other plugins on your site.
Plans and Pricing: The WPForms plugin comes with a free version, while upgraded licenses start at $49.50 per year. The Calculations addon requires the Pro plan, which starts at $199.50 per year.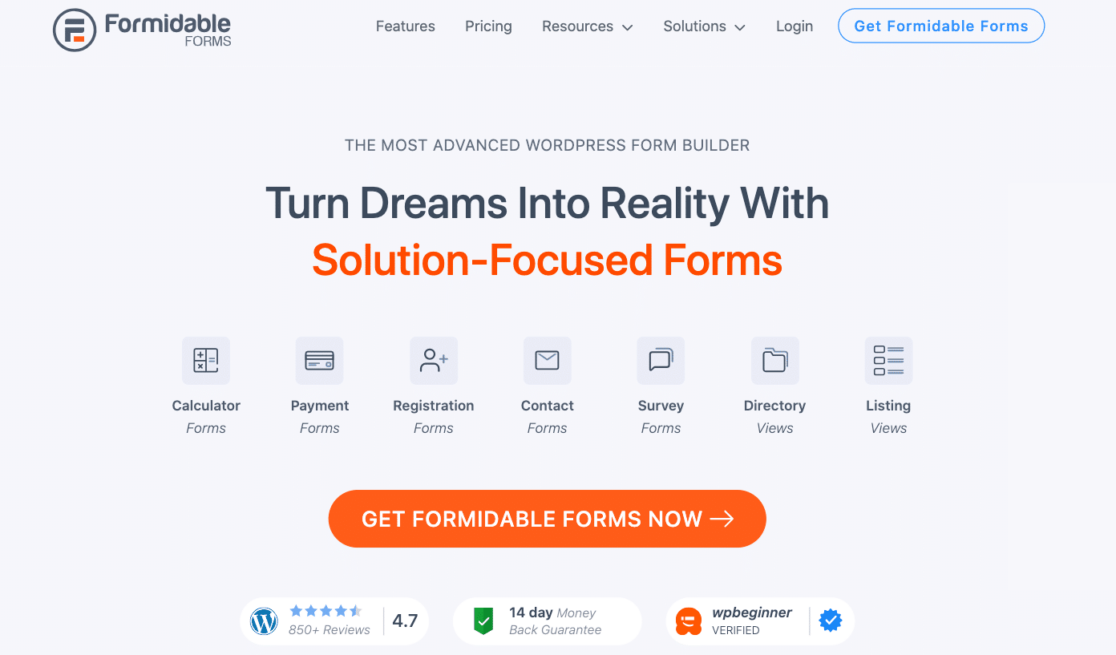 Formidable Forms stands out as another great drag-and-drop form-building tool equipped with an extensive collection of ready-made calculator templates.
You know we like plugins that utilize form builders, and like WPForms, Formidable Forms offers a builder that allows you to create custom calculators in a matter of minutes.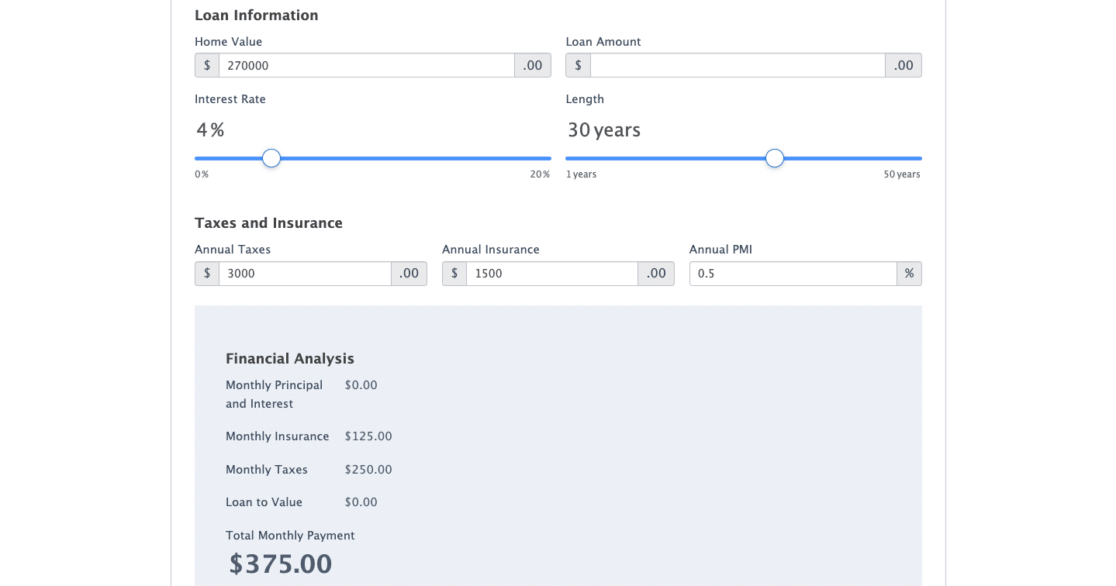 We love having the ability to make your own type of calculations with the form builder, or the flexibility that comes with using a template. You can display these calculators anywhere on your site, which can generate more leads and higher revenue for you.
If you need calculators for finance, insurance, real estate, software, fitness, and more, Formidable Forms is a great option.
Plans and Pricing: Paid plans for this plugin start at $79 per year.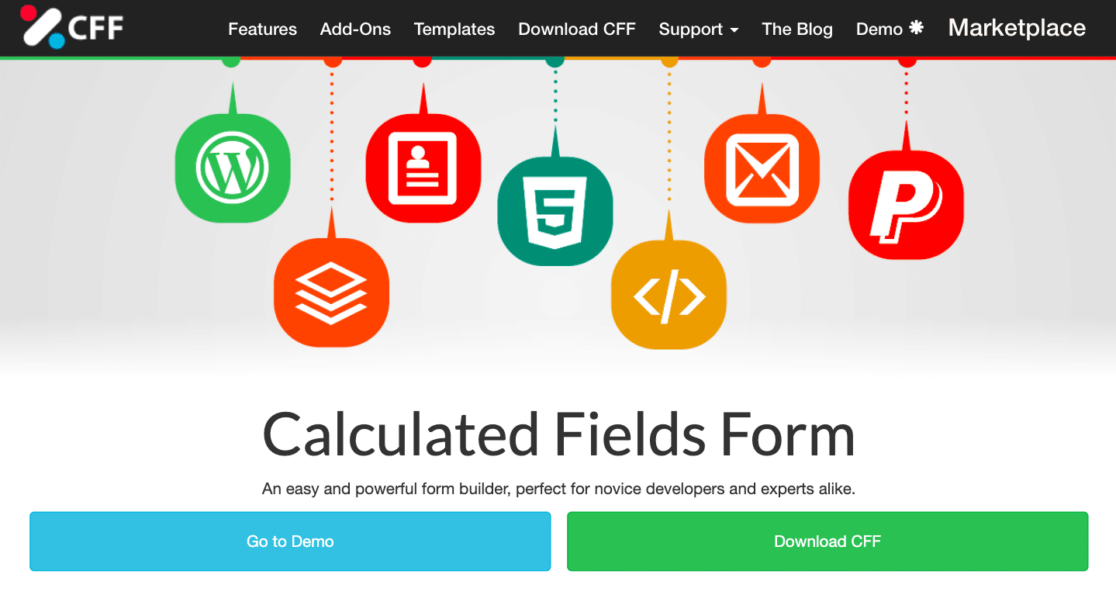 Calculated Fields Form stands as another popular tool for crafting calculators within WordPress. This plugin boasts a versatile form builder equipped with an array of field types, such as:
Text fields
Numeric fields
Slider controls
Checkboxes/radio buttons
This versatility ensures that you have numerous choices at your disposal when creating calculator forms for your WordPress website.
We think that the plugin's main advantage comes with its calculated fields feature. This flexible field empowers you to compute product and service prices, determine distances between addresses, calculate areas, weights, time intervals, and much more.
Plans and Pricing: Paid plans come in at €49.99 per site.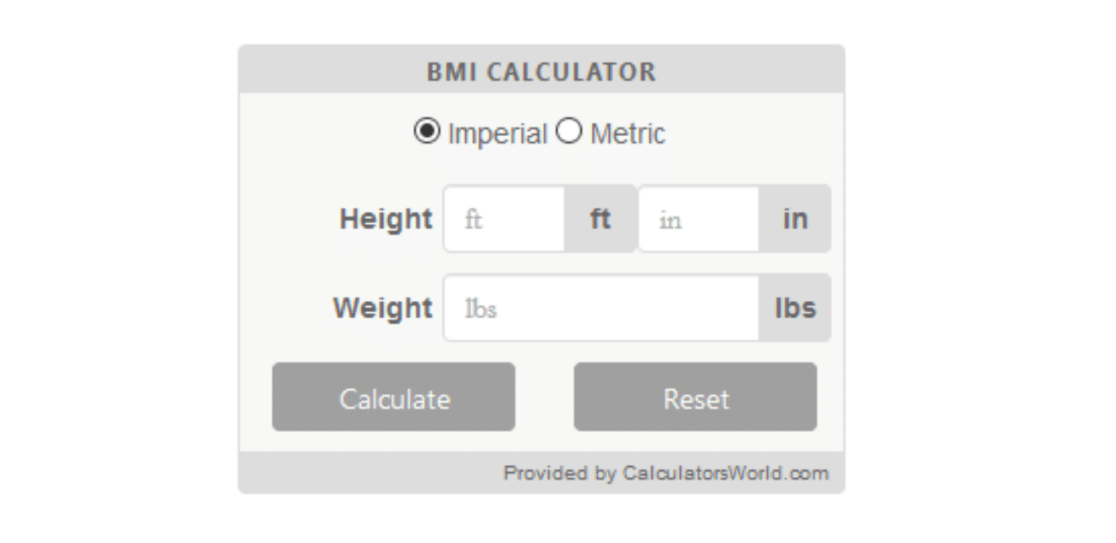 Next on our list, the CC BMI Calculator serves as a simple and straightforward plugin designed for health and fitness users. This tool enables users to input their height and weight data in order to obtain their body mass index (BMI) score, which helps determine whether their weight aligns with a healthy range or not.
The calculator itself is easily customizable, and allows you to change the color of the background, borders, and text to match your website's theme. You can also change the widget title, and set a preferred default unit (imperial or metric).
While this plugin doesn't offer the intuitive form-building capabilities like some other plugins on our list, it can be easily placed on the sidebar as a widget or incorporated into a post or page using a shortcode.
Plans and Pricing: The CC BMI Calculator is free to download!

Forminator stands out as another robust and adaptable WordPress form plugin that is worthy of an entry on our list. Like WPForms, it provides an intuitive drag-and-drop builder and a wealth of calculator templates.
However, its user-friendliness doesn't equate to being too simple.
Thanks to its advanced calculation capabilities, Forminator excels in crafting various online calculators. Whether your goal is to create a mortgage calculator, BMI calculator, or ROI calculator, Forminator is up to the task.
Plans and Pricing: This plugin is free but offers additional paid commercial upgrades or support.

The Responsive Mortgage Calculator is an ideal choice for real estate website operators seeking to enhance client experience, and we think it's the best cost-free online calculator builder available.
Simply enter a few variables, and the plugin will generate a concise summary accompanied by an aesthetically pleasing chart. The mortgage calculator allows your website visitors to estimate their mortgage payments by inputting:
the total cost of the home
a down payment amount
an interest rate (fixed rate)
the amortization period (mortgage term)
Users can also select a payment period, either monthly, bi-weekly, or weekly, prompting a popup summary with a chart and amortization schedule.
An added advantage of this plugin is its unique calculator widget for WordPress, which is a feature seldom found in other plugins.
Plans and Pricing: This plugin is free to download.

This aptly-named plugin for WooCommerce performs exactly as it advertises. By leveraging WooCommerce's geolocation capability, it intelligently determines the customer's location and presents pricing in the corresponding local currency.
With this plugin, you have two ways to set a product's price for each country. You can calculate the price by applying the exchange rate, or set the price manually. When the country changes on the checkout page, the cart, the order preview, and all shops are updated to display the correct currency and pricing.
We like that the plugin supports multiple currencies and even allows customers to change their country location from the front end of your website.  You can also apply currency conversion to flat and international flat-rate shipping.
Plans and Pricing: This plugin comes free to download, with upgrades to a Pro version available.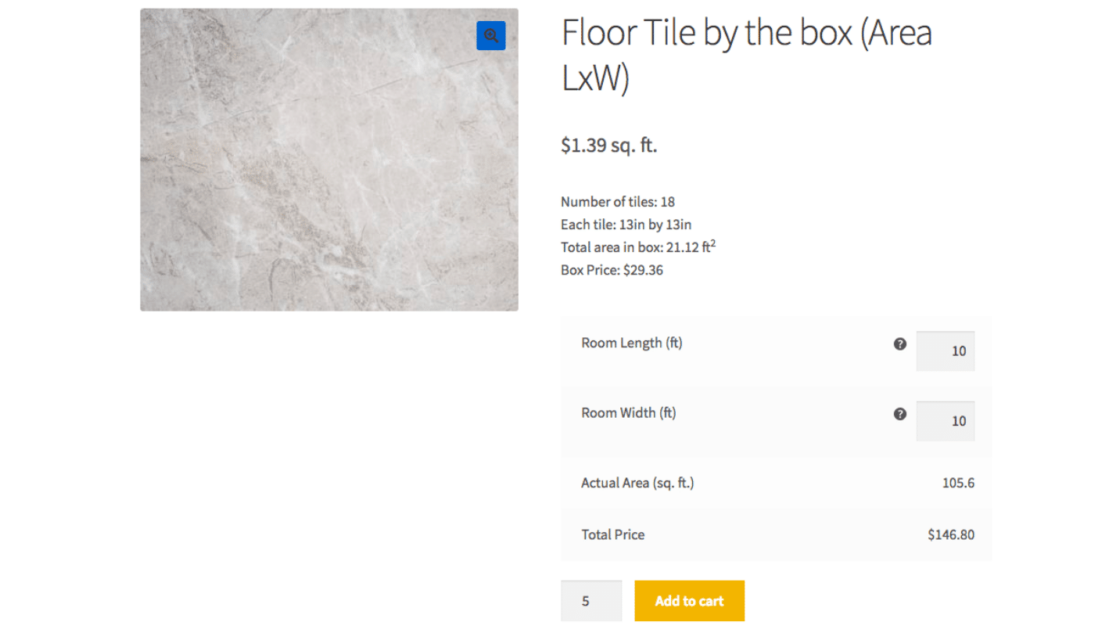 Next up, the Measurement Price Calculator is an excellent choice for managing a WooCommerce online store specializing in products of varying sizes. This tool empowers you to establish item pricing that corresponds to the measurements chosen by your customers.
With two distinct measurement calculation methods at your disposal, you can opt for the one that best aligns with your product offerings. You can provide unit pricing based on predetermined quantities (e.g., a box of tiles), or you can enable users to input dimensions and purchase precisely the amount they need, whether it's based on length, area, or volume.
For accurate measurement calculations, the Measurement Price Calculator is the way to go.
Plans and Pricing: This calculator plugin costs $12.42 per month to use.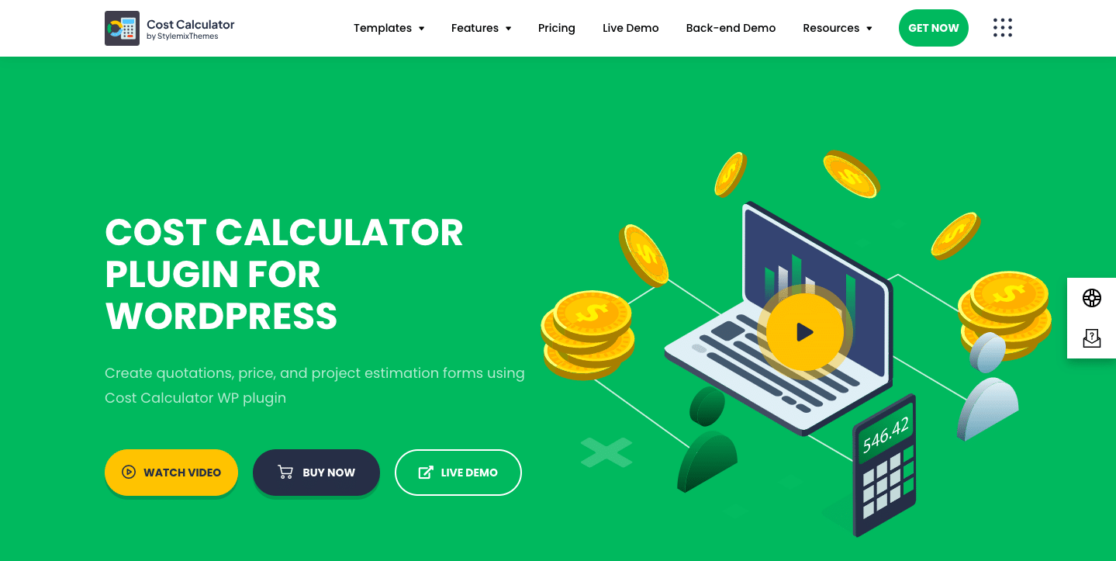 The Cost Calculator Builder plugin is another ideal choice for users seeking a simple, streamlined cost calculator.
Among its capabilities is the ability to generate price estimation forms, which enables service providers to design forms that provide customers with cost estimates for their services, making it versatile for creating quotes across various sectors. You can even utilize it as a loan calculator.
Despite being a fairly basic plugin, the Cost Calculator Builder features these important elements:
Input Text Box
Total / Subtotal
Quantity Box
Dropdown Box
Toggle Button
Radio Button
Checkbox
Range Slider
HTML Code
While it does have some limitations compared to some of the other plugins on our list, the Cost Calculator Builder remains one of the top-tier WordPress calculator plugins available.
Plans and Pricing: A free version of the plugin is offered, while upgraded options start at $39.

The Mortgage Calculator represents yet another valuable plugin designed for mortgage calculations.
For mortgage loan officers and real estate agents seeking to enhance their offerings with attractive, functional, and informative mortgage content, this plugin is an excellent choice. The implementation of this mortgage calculator is impressive, featuring seamless sidebar integration, visually appealing modal window results, and AJAX-based graphs.
It's a compact yet powerful loan application that efficiently delivers substantial mortgage-related value in a user-friendly and skillfully executed manner.
Plans and Pricing: The Mortgage Calculator comes free but is supported by ads.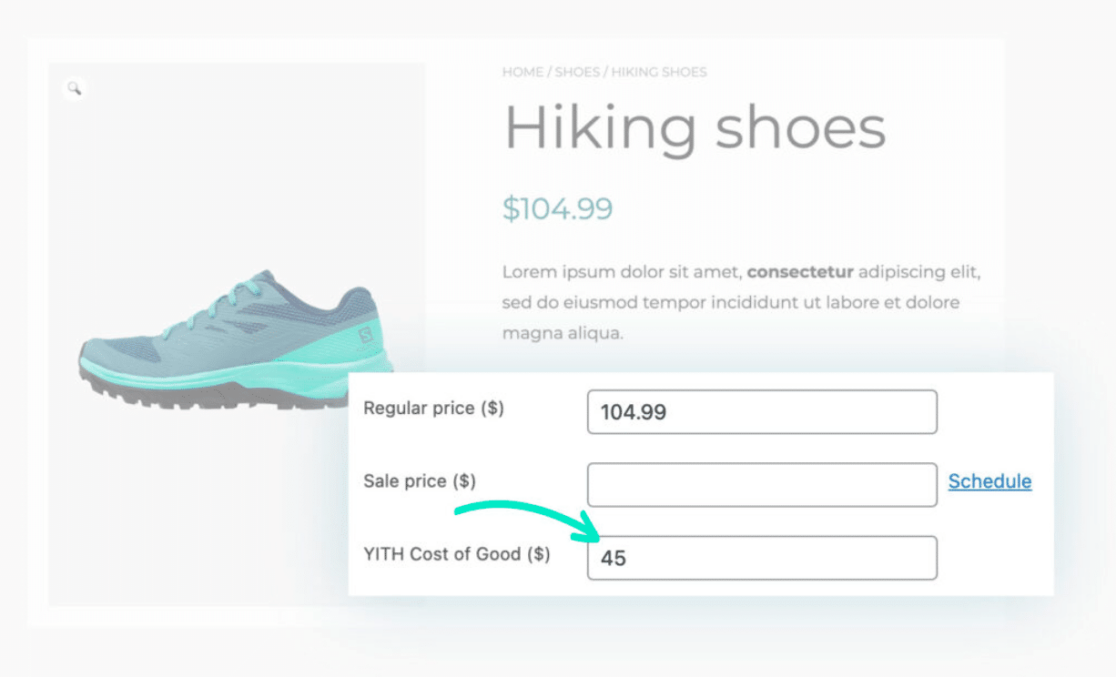 The YITH WooCommerce Cost of Goods plugin is next on our list, and proves to be an invaluable tool for eCommerce sites. This plugin enables you to incorporate cost details and subsequently compute profit margins within your WooCommerce reports.
You have the flexibility to input product costs, shipping expenses, and payment processing fees for individual products.
Then, the plugin performs the calculations and presents your profit margin within WooCommerce reports, featured as a distinct column. This functionality gives you the ability to swiftly assess your business performance and strategize for increased sales.
Plans and Pricing: This plugin comes in at $ 79.99 per year.

Another great plugin, the Stylish Cost Calculator offers an excellent solution for delivering personalized, on-the-spot price quotes to prospective customers and clients.
To kickstart the process swiftly, you have access to seven pre-designed templates.
The calculator possesses the capability to seamlessly handle currency conversions by automatically detecting the user's location and displaying the appropriate currency. Customization options abound, allowing you to tailor the cost calculator to your preferences. This includes the ability to add or remove choices, modify color schemes, and more.
Additionally, you can establish bulk discounts, generate branded invoices, and explore other advanced features. In the Pro version, you have the ability to create coupons and even integrate with PayPal and Stripe for convenient payment processing.
Plans and Pricing: Premium plans come in at $129 per year.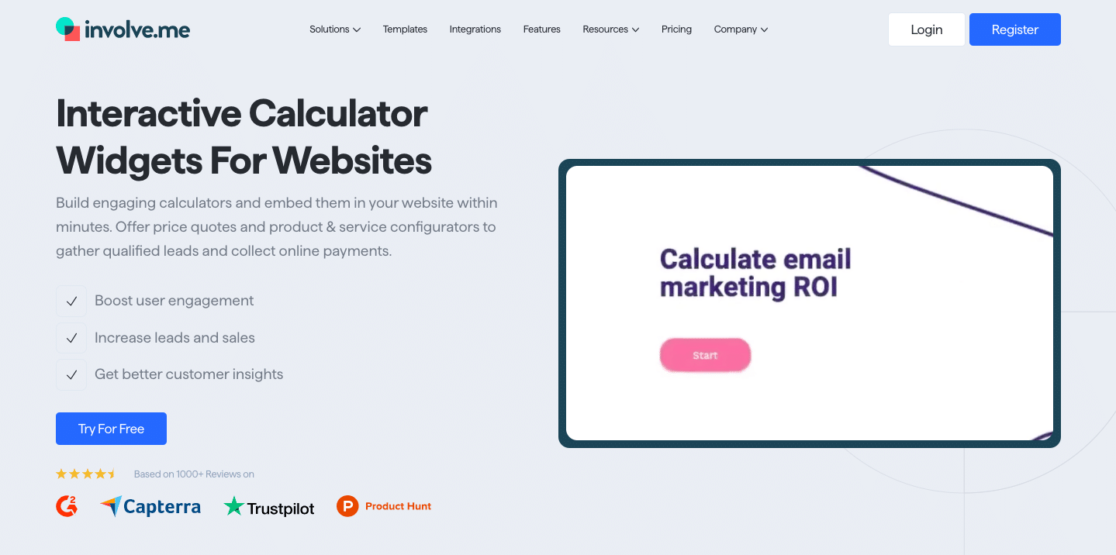 The last entry on our list, involve.me serves as an internet-based platform designed to craft dynamic and engaging content components. With it, you can captivate your audience by crafting interactive quizzes, calculators, surveys, landing pages, and a variety of other content forms.
We love using no-code tools, and this platform operates entirely without the need for coding knowledge. You can effortlessly personalize your projects using the drag-and-drop editor. With the formula builder, you can utilize various operators to create complex calculations.
The interactive calculator widgets offered by involve.me can be used for price quote calculators to provide custom pricing, key metric calculators to figure returns on investments and more, and personal finance calculators for things like loan payments and retirement saving projections.
Plans and Pricing: Monthly plans for this platform start at $25.
FAQs About Calculator Plugins
At WPForms, we're often asked about plugins. And we're more than happy to provide answers, guidance, and support! Here are some of our most frequently asked questions about calculator plugins:
What types of calculations can I perform with calculator plugins?
Calculator plugins offer versatility in the types of calculations you can perform.
They typically support basic arithmetic operations like addition, subtraction, multiplication, and division, making them suitable for simple calculations such as mortgage payments, BMI calculations, or currency conversions.
More advanced calculator plugins can handle complex mathematical equations and formulas, ideal for scientific or engineering applications.
Additionally, some plugins are tailored for specific purposes, like financial calculators for loan amortization or tax estimations, allowing you to create highly specialized calculation tools to meet your website's unique needs.
What level of technical expertise is required to set up and use calculator plugins effectively?
The level of technical expertise required to set up and use calculator plugins effectively varies depending on the complexity of the plugin and your specific needs.
Many calculator plugins are designed to be user-friendly and offer intuitive interfaces, making them accessible to users with basic WordPress skills.
These plugins often provide pre-built templates and drag-and-drop functionality for creating calculators without the need for coding knowledge.
Plus, most plugins offer resources, tutorials, and support communities available to help users at all skill levels.
What security measures are in place to protect user data collected through calculator plugins?
The security measures in place to protect user data collected through calculator plugins can vary depending on the specific plugin and how it's configured. However, here are common security considerations:
Data Encryption: Many calculator plugins use encryption protocols (e.g., SSL/TLS) to ensure that data entered into the calculator forms is securely transmitted between the user's browser and your website.
User Data Handling: These plugins often provide options for storing user data securely. You can choose to store data on your server following best practices for data security, including access control and encryption of stored data.
User Consent and Compliance: Good plugins implement clear privacy policies and consent mechanisms to inform users about how their data will be used and ensure compliance with data protection regulations like GDPR or CCPA, depending on user base and location.
Create Your Calculations Form Now
Next, Check Out These Helpful Tools
Now that you're all set with a plugin to offer calculations on your WordPress website, consider utilizing these other tools and plugins to elevate your site:
Ready to build your form? Get started today with the easiest WordPress form builder plugin. WPForms Pro includes lots of free templates and offers a 14-day money-back guarantee.
If this article helped you out, please follow us on Facebook and Twitter for more free WordPress tutorials and guides.