Looking for a simple and straightforward solution to add a WordPress mortgage calculator to your real estate website?
By integrating a mortgage calculator, you can simplify the complex calculations related to home loans for users. But, choosing the right one can be difficult.
To assist you, we've shortlisted the best mortgage calculator plugins for WordPress that stand out for their reliability and ease of use.
What Are the Features of a Mortgage Calculator?
To allow users to receive accurate home-buying calculations, a mortgage calculator should have some basic features, such as:
Loan Amount Input: Users should be able to enter the amount they wish to borrow with ease.
Interest Rate Field: This feature allows users to input the expected loan interest rate, a crucial part of their calculation.
Mortgage Period Selector: The calculator should let users choose the length of time over which they will repay the loan.
Tax and Insurance Inclusion: For a comprehensive breakdown, the ability to include property taxes and insurance is a must.
Monthly Payment Display: Perhaps the most anticipated figure – what users will owe each month.
A good WordPress mortgage calculator will not only boast these features but will add to them while ensuring user-friendliness.
What Are the Benefits of a Mortgage Calculator?
A mortgage calculator is a great tool for real estate websites that helps users in their home-buying journey while offering other benefits, such as:
Simplifying Complex Calculations: No need to complicated calculations, a mortgage calculator crunches numbers for visitors.
Budget Planning: It lays out what potential clients can afford, helping to align their home dreams with their wallet's reality.
Saves time: Instead of manual computations, it provides instant results to your visitors on various mortgage scenarios.
Lead Generator: By requiring an email address in a mortgage calculator form, you can get a lead that may even become a future customer.
It's clear that a mortgage calculator offers several benefits. Let's now dive into the best WordPress mortgage calculators to serve your real estate needs.
Quick Overview: Best WordPress Calculator Plugins
Before we get started, here is a list of the top WordPress calculator plguins that we'll be discussing in this article:
| Plugin | WordPress.org Rating | Active Installs | Price |
| --- | --- | --- | --- |
| WPForms | 4.9 out of 5 stars | 5+ million | $199.50/year |
| Formidable Forms | 4.7 out of 5 stars | 300,000+ | $199.50/year |
| Responsive Mortgage Calculator | 4.6 out of 5 stars | 10,000+ | Free |
| Calculated Fields Form | 4.9 out of 5 stars | 60,000+ | Free |
| Simple Mortgage Calculator | 4.9 out of 5 stars | 2,000+ | Free |
| Mortgage Calculator/Loan Calculator | 3.9 out of 5 stars | 2,000+ | Free |
| Mortgage Calculators WP | 4.7 out of 5 stars | 2,000+ | Free |
The Best Mortgage Calculator Plugins for WordPress
The best choice for selecting a WordPress calculator plugin will vary based on your individual needs and preferences.
Some plugins, however, are popular options for many website owners. We've provided a comprehensive review of them below: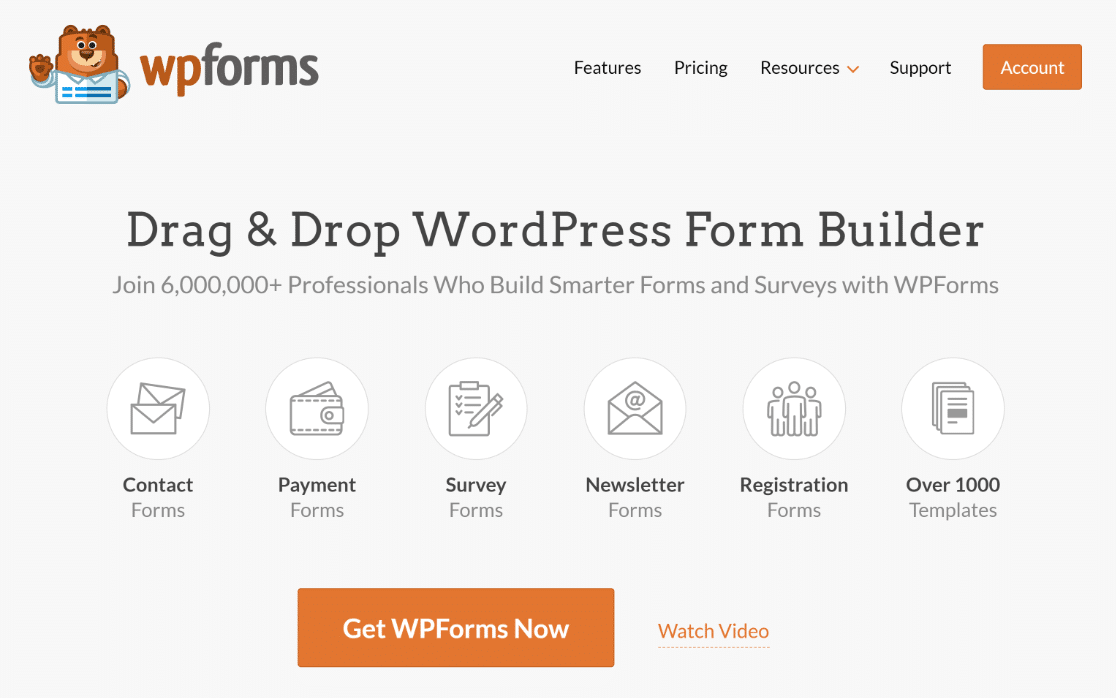 WPForms is the best form builder plugin for WordPress that doubles as an advanced calculator builder for building all types of custom calculators.
Through the Calculations Addon, WPForms can enable custom calculations for various scenarios, including mortgage calculations.
Building a custom mortgage calculator is not only possible but also surprisingly straightforward, thanks to the availability of 1,200+ pre-made form templates.
Our Experience
Creating a custom mortgage calculator with WPForms is incredibly easy and doesn't require coding or CSS knowledge.
We appreciated the real-time preview feature, which allowed us to see our mortgage calculator form come to life as we built it.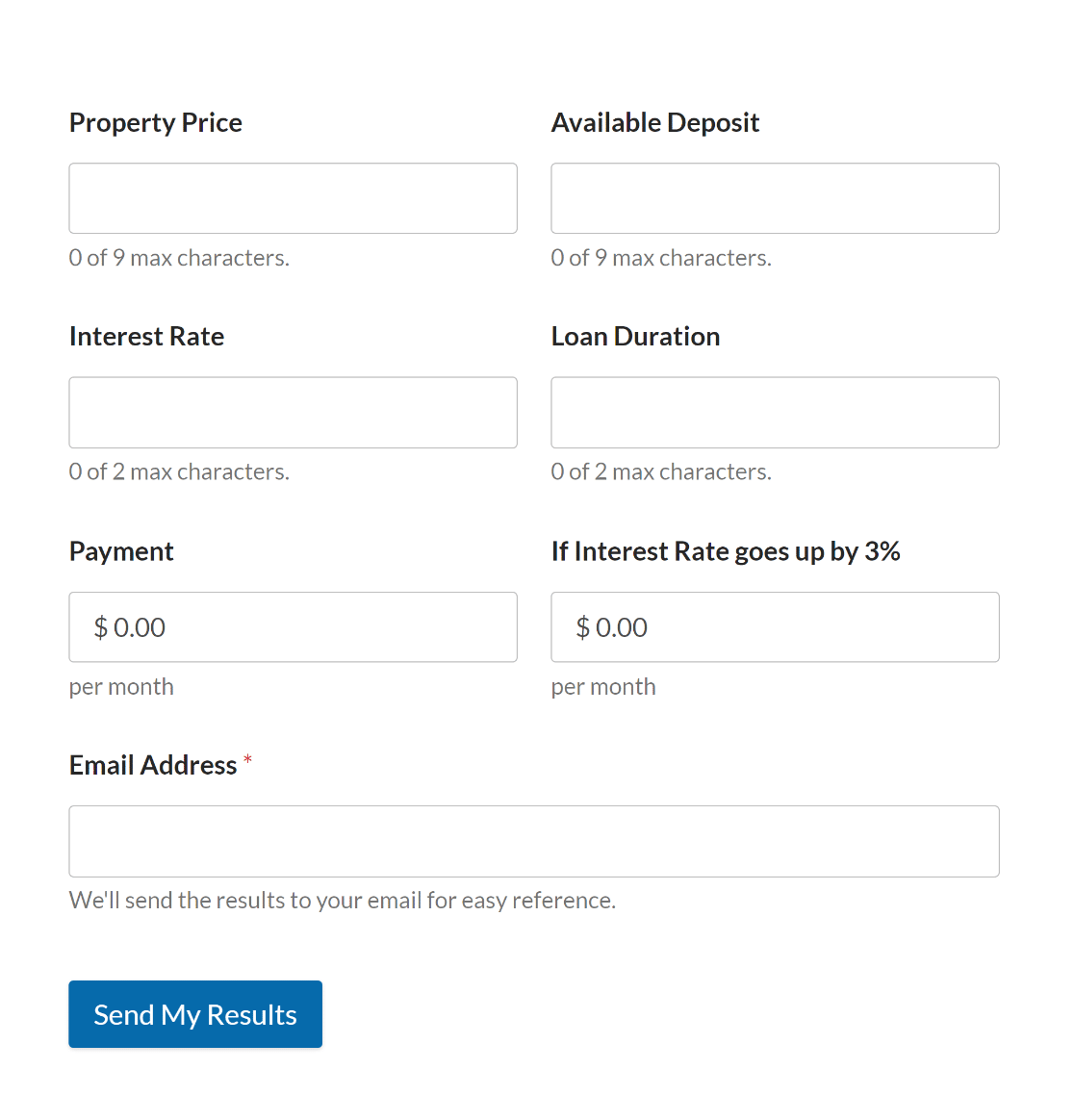 The Calculations Addon impressed us the most. It enabled us to construct custom formulas that could easily handle the variables involved in mortgage calculations, ensuring accuracy and flexibility for financial forms.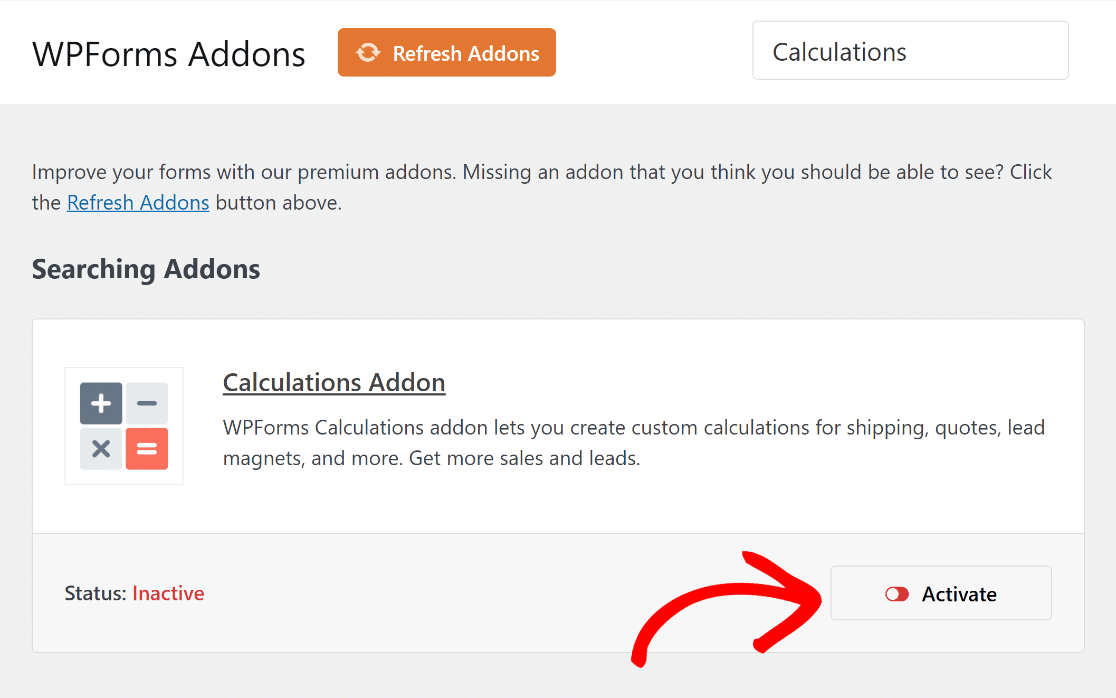 We also loved the pre-made calculation templates. The range of options meant we didn't always have to start from scratch. This convenience, along with the ability to customize templates fully, makes WPForms a great option overall!
Speaking of the pre-made calculator form templates, users will also find great diversity in the options available for creating different types of mortgage calculators. The templates available with WPForms Pro, include the following:
Mortgage Calculator Form Template: An advanced mortgage calculator that uses number sliders and calculates monthly payment amount, annual payment amount, total interest paid, and total mortgage amount.
Simple Mortgage Calculator Form Template: A more straightforward mortgage calculator that displays your payment based on a set interest rate, in addition to a payment if the interest rate goes up by 3%.
Mortgage Lead Generator Form Template: A mortgage form template that doubles as a lead capture tool and utilizes the Lead Forms addon to guide potential homeowners through their mortgage journey.
WPForms even provides its users with a calculations formula cheatsheet to better understand how to create different calculations through rules, arithmetic operators, field variables, conditional statements, and more!
Features Breakdown
Drag-and-Drop Form Builder: This helps users quickly create forms of all types and collect email addresses for lead generation.
Calculations Addon: Requires the WPForms Pro license that enables users to create custom calculations and calculators.
Email Marketing Integration: Seamless integration with popular services like Mailchimp, MailerLite, MailPoet, and more.
Smart Conditional Logic: This enables you to customize your calculator forms according to user behaviors.
Supports Double Opt-In Forms: Creating multi-step and opt-in mortgage calculator forms is a breeze with WPForms.
Payment Integrations: The form builder allows you to add payment options to your forms like PayPal, Square, Authorize.net, and Stripe.
Pricing and Plans
To enable calculations on your forms and create a mortgage calculator, you will require the WPForms Pro license, which costs around $199.50 per year and provides access to many advanced features, addons, and functionalities.
Verdict
Overall, WPForms is a standout choice for creating custom calculators on WordPress, especially for mortgage-related computations. Its blend of power and simplicity caters to a wide audience, making it our top recommendation.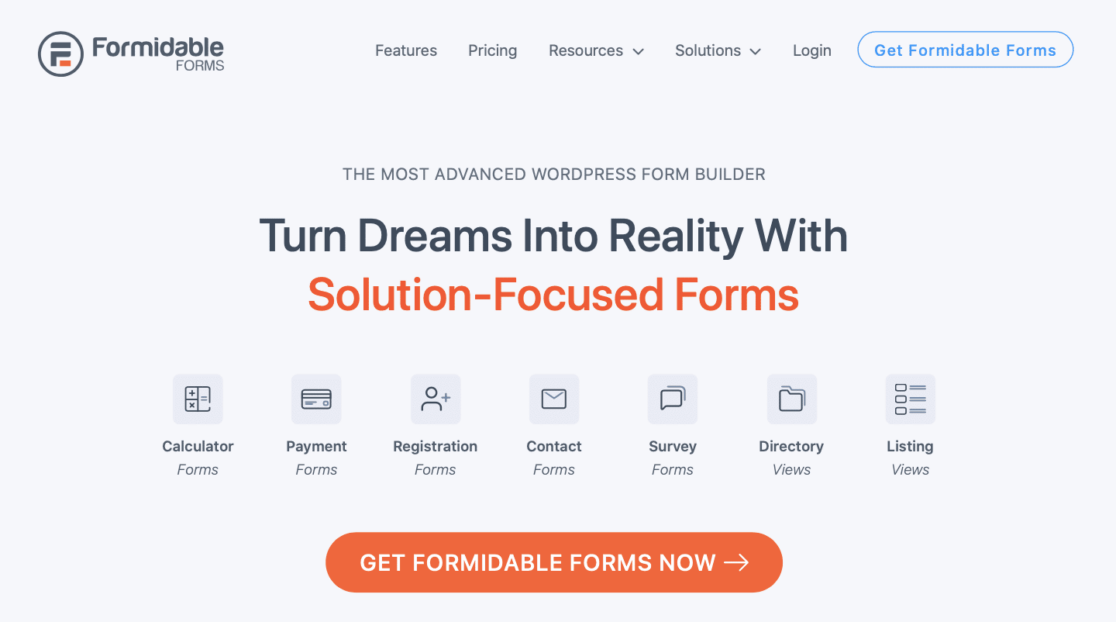 Formidable Forms is an exceptional solution for WordPress sites that require powerful calculator functions.
Its intuitive drag-and-drop interface simplifies the process of creating complex calculators, including those needed for mortgage calculations.
With a focus on power and user-friendliness, it's an excellent choice for both novices and experienced webmasters.
Our Experience
We found the plugin incredibly easy to use, allowing us to create a range of calculators, from simple math ones to complex mortgage estimators.
The user interface was clean and easy to navigate, which made the setup process of creating a mortgage calculator quick and efficient.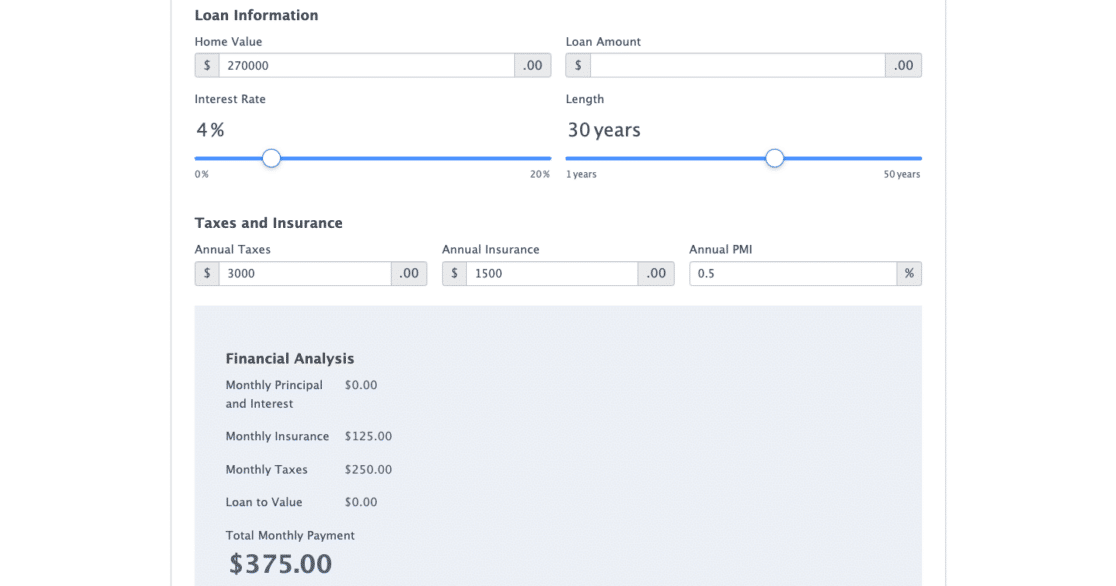 Whether tweaking the layout or adjusting the formulas, we completely controlled our calculator's design and functionality.
Even with no experience in coding, we could leverage Formidable Forms' advanced features to implement sophisticated calculation logic.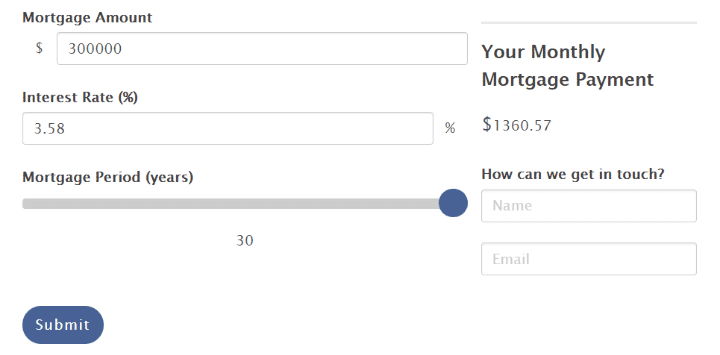 Features Breakdown
Drag-and-Drop Builder: Simplifies form creation with an easy-to-use visual interface.
Advanced Calculations: Handles complex formulas necessary for mortgage and financial computations.
Responsive Design: Ensures calculators look great on all devices, from desktops to smartphones.
Customizable Layouts: Offers a range of design options to match your website's style.
Integration Capabilities: Connects with various APIs and web services for enhanced functionality.
Data Management: Stores and organizes submitted information for easy access and analysis.
Pricing and Plans
Formidable Forms provides a tiered pricing structure to accommodate different needs and budgets. The business plan is required for creating calculators, costing around $199.50 per year, similar to WPForms.
Verdict
Formidable Forms is a great option for all your mortgage calculator needs, providing accurate and instant financial computations. It also offers extensive documentation and responsive support for guidance.
The Responsive Mortgage Calculator is a great option for real estate website operators who want to improve the client experience.
We believe it is another good choice for a free online calculator builder that you can easily add to your WordPress website in no time.
Our Experience
By inputting a few variables, the plugin will generate a concise summary along with a visually appealing chart.
The mortgage calculator on your website enables visitors to estimate their mortgage payments by entering the necessary information.
The total cost of the home
A down payment amount
An interest rate (fixed rate)
The mortgage term)
Users can choose a payment period, such as monthly, bi-weekly, or weekly. This selection will trigger a popup summary that includes a chart and an amortization schedule.
Features Breakdown
Compatibility: Works seamlessly with any WordPress theme.
Responsive: Fully responsive design for a consistent user experience across all devices.
Customizability: Options to match the calculator's look and feel to your site's aesthetic.
Ease of Use: Intuitive for both site owners and visitors, with no complex configurations required.
Accuracy: Provides precise mortgage estimates for a variety of scenarios and delivers fast calculations.
Support: Backed by a responsive and helpful support team which is quite handy for newbies.
Pricing and Plans
The Responsive Mortgage Calculator is a completely free WordPress plugin that you can use for creating mortgage calculators.
Verdict
The plugin delivers on what it promises and although it doesn't have many advanced features of paid solutions like WPForms, it's calculations are satisfactory.
The Calculated Fields Form is a simple plugin that allows you to create online forms with calculations based on other fields in the web form.
It integrates smoothly with WordPress, offering a drag-and-drop interface that simplifies the mortgage calculator form creation process.
Our Experience
The Calculated Fields Form plugin and its responsive design ensure your mortgage calculators look great on any device, enhancing the user experience.
The plugin also supports various field types, which you can easily tweak to match specific data input requirements, ensuring precise mortgage calculations every time.
We were quickly able to design a calculator that not only looked professional but also provided accurate, real-time financial computations.
Features Breakdown
Drag-and-Drop Form Builder: Easily create and customize forms.
Responsive Design: Looks great on all devices, from desktop to mobile.
Variety of Field Types: Customize inputs for precise data entry.
Real-Time Calculations: Immediate feedback on financial figures.
Extensive Customization: Match your brand's style with adaptable design options.
Comprehensive Support: Accessible documentation and responsive support.
Performance Optimization: Ensures smooth operation without any hiccups.
Pricing and Plans
Calculated Fields Form offers a free version, which is good enough to create basic calculators for mortgage assessments and several premium plans for advanced features—the investment scales with the complexity of your needs.
Verdict
Although this plugin does require a little bit of technical knowledge, the learning curve through its easy-to-use interface is quick. Being a free option, it's not bad at all for creating a custom mortgage calculator.
The Simple Mortgage Calculator is a straightforward WordPress plugin with the primary focus of attaching a mortgage calculator to your site.
This tool is specifically designed for individuals who require fast and straightforward mortgage calculations without any unnecessary extras.
Our Experience
The Simple Mortgage Calculator plugin is incredibly lightweight and easy to use. It doesn't overcomplicate stuff for users.
Users will appreciate the clear layout and the easy-to-follow instructions that come with it to create a mortgage calculator.
Moreover, it's incredibly quick to set up, meaning you can have a functioning calculator on your site in no time.
Features Breakdown
Easy installation and setup
User-friendly interface for all skill levels
Accurate and instant mortgage calculations
Responsive design for mobile and desktop compatibility
Minimal impact on website loading speeds
Straightforward customization options
Active support from the plugin developers
Pricing and Plans
The Simple Mortgage Calculator is a cost-effective solution that is entirely free and comes with all the essential features to create a simple mortgage calculator and add it to your WordPress site in a few minutes.
Verdict
The Simple Mortgage Calculator delivers exactly what it promises. It offers simplicity and accuracy, which users seeking uncomplicated solutions for creating mortgage calculators will appreciate.
The Mortgage Calculator / Loan Calculator plugin  is another its user-friendly plugin that provides accurate financial computations.
It's designed to simplify the process of calculating mortgage payments for users and website visitors.
Our Experience
Setting up the plugin was a breeze, and we were quickly able to create comprehensive mortgage calculators.
The plugin catered to all our mortgage computation needs without requiring any complex configuration.
The support team on the WordPress plugin repository was also commendable for their quick assistance and in-depth knowledge.
Features Breakdown
Easy-to-use interface for swift setup and navigation
Accurate calculation engine for reliable financial data
Flexible to accommodate various loan terms and conditions
Responsive design for mobile-friendly use
Customizable appearance to match website branding
Detailed documentation and support for ease of use
Advanced options for tax and insurance estimates
Pricing and Plans
Similar to other plugins in this list, the Mortgage Calculator/Loan Calculator is completely free and can be downloaded from WordPress.org.
Verdict
After extensive testing, we recommend the Mortgage Calculator / Loan Calculator plugin for anyone needing a free tool to create basic mortgage calculators.
Mortgage Calculators WP quickly creates detailed mortgage calculations, presenting a clear picture of financing options on WordPress.
Its functionality extends beyond basic calculations, offering a suite of options to cater to various financial scenarios.
Our Experience
Its responsive design meant we could test different mortgage scenarios with ease, providing our team with quick insights.
The precision of the calculations gave us confidence, and the adaptability allowed us to cater to a range of clients with diverse financial profiles.
From installation to execution, Mortgage Calculators WP stands as a great option, especially considering its completely free.
Features Breakdown
User-friendly design that simplifies navigation and use
Accurate amortization schedules for detailed payment planning
Adjustable parameters for rates, terms, and down payments
Interactive charts for visual representation of data
Multi-currency and language support for international usability
Shortcodes for easy integration into any page or post
Pricing and Plans
The Mortgage Calculators WP is a free, low-cost option with all the tools you need to quickly make a mortgage calculator and add it to your WordPress site.
Verdict
Whether you're a real estate agent or a future homeowner, you can tailor the experience to your specific needs, making the plugin a great option.
More Questions about WordPress Mortgage Calculators
Mortgage and other calculators for WordPress are a popular topic among our readers. Here are answers to some common queries about them.
How do I add a mortgage calculator to WordPress?
To add a mortgage calculator to WordPress, you can use a plugin like WPForms Pro, which offers a Calculations Addon. Install WPForms, create a new form, and use the addon to add and configure calculator fields.
Can you build a calculator in WordPress?
Yes, you can build a calculator in WordPress using WPForms. With its drag-and-drop builder and Calculations Addon, you can create custom calculators for various purposes, including mortgages.
How to easily calculate mortgage payments?
To easily calculate mortgage payments, use the Calculations Addon in WPForms Pro. It allows you to input the loan amount, interest rate, and loan term to compute monthly payments automatically.
How to do calculations in WordPress?
Calculations in WordPress can be performed by using plugins like WPForms Pro with the Calculations Addon. It lets you create forms with fields that can calculate costs, quotes, and more instantaneously.
How do I create a cost calculator in WordPress?
To create a cost calculator in WordPress, choose a plugin like WPForms Pro and its Calculations Addon. This combination lets you set up fields for input values and formulas for calculating costs directly within your forms.
Next, Learn How to Make a Custom Online Calculator
Calculators can increase engagement because they attract users to stay on your website longer and reply to any questions they may have. Check out this guide on how to make a  custom calculator in WordPress for the unique needs of your website.
Create Your Mortgage Calculator Now
Ready to build your form? Get started today with the easiest WordPress form builder plugin. WPForms Pro includes lots of free templates and offers a 14-day money-back guarantee.
If this article helped you out, please follow us on Facebook and Twitter for more free WordPress tutorials and guides.