Need a web analytics tool to measure performance and make informed decisions for your site?
It's vital to monitor the right data in order to get a clear picture of how your website is performing and spot areas that can be improved.
While there are various analytics tools that track your site stats, not all of them are equally useful.
We've tested a bunch of popular solutions and compiled a list of the best web analytics to monitor crucial site metrics.
What Are Web Analytics Tools?
Web analytics tools are software that measure various aspects of website activity. These tools can track and generate insightful reports based on metrics like site traffic, clickthrough rates, conversions, user engagement, and more. Using website analytics tools, you can track customer behavior to identify areas of improvement and make data-based decisions to optimize your site for growth.
Best Web Analytics Tools
Use the quick links below to jump to a specific section concerning our favorite web analytics platforms.

Google Analytics is the most popular web analytics tool used by all kinds of websites across the globe. It's free and gives you a complete breakdown of your site analytics.
The home screen of your Google Analytics tool includes real-time analytics, which reports how many people are currently on your site. It also reports your website traffic sources and traffic breakdown by device, location, time, and more.
Google Analytics is excellent not only for visualization of your overall site stats but also for measuring metrics like pageviews for your individual blog posts and landing pages. We really like that this tool allows you to dig as deep as you like or keep things simple with just surface-level data for your site.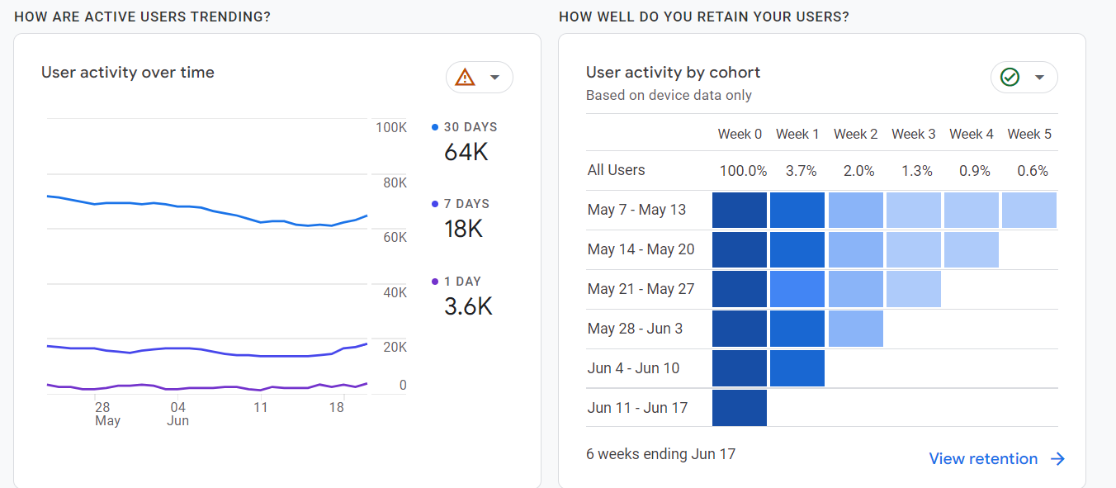 You can see the bounce rate for your individual posts or your site as a whole to get an idea of your visitor's engagement levels. You can also set goals and track conversions against those goals to collect revenue and transaction data. It even lets you track your paid marketing campaigns.
All of this is incredibly valuable for identifying where your website is excelling and where you may be lacking.
But the level of detail you get with Google Analytics can also be a drawback. If you're not comfortable with data analysis, it can be slightly daunting to see all of this information in front of you.
Regardless, Google Analytics enables you to create custom reports where you're free to include only as much data as you find helpful to learn about your website's performance and make informed decisions for improvements.
Overall, we recommend Google Analytics as a must-have web analytics tool whether you're a small business or a giant eCommerce platform. For a free tool, it doesn't get any better than this.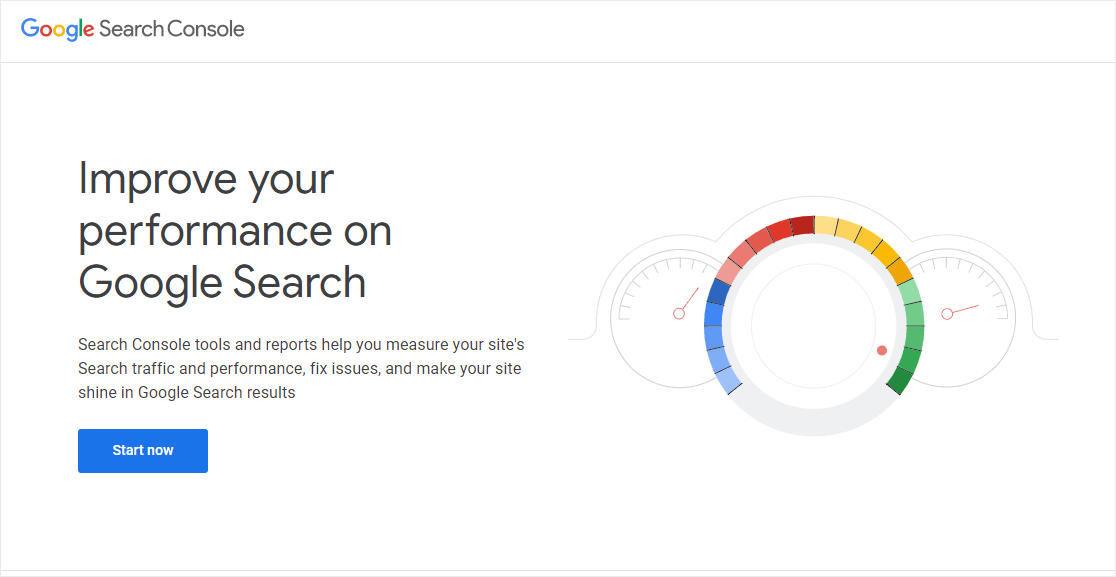 The Search Console is another super valuable tool by Google for measuring your site performance.
Particularly, Search Console is very useful for checking out your organic marketing stats. This helps you optimize your site for Google search and boost organic web traffic.
The main metrics in Search Console you'll likely be checking a lot are clicks, impressions, clickthrough rates, and average position. You can see these stats for your website as whole or specific blog posts and pages as well.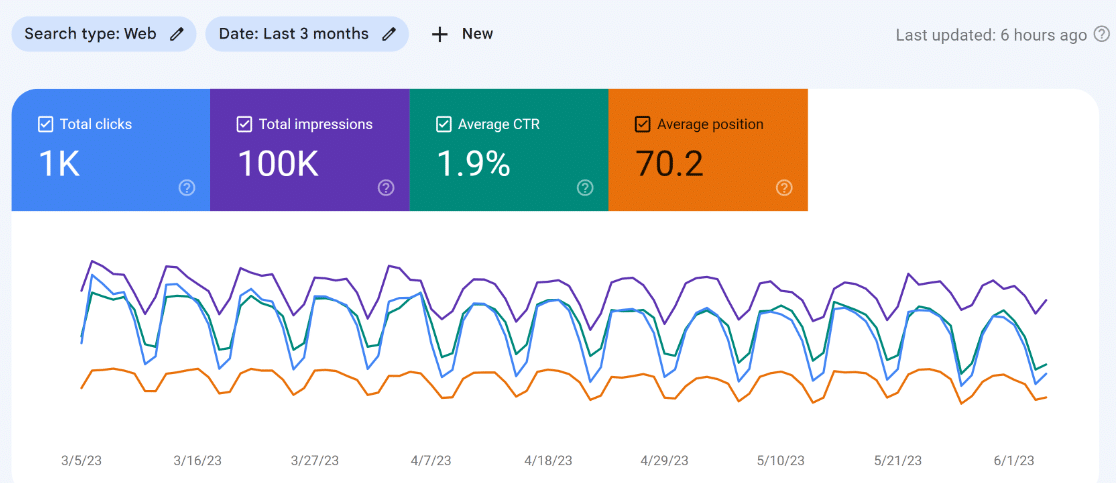 So if you want to see which queries people are using to discover your content and the average position of those search terms, Google Search Console is a fantastic tool.
We regularly use Google Search Console for the WPForms blog. It helps us understand how website visitors are discovering our content, allowing us to write posts that are easy for crawlers to consume and helpful for our readers.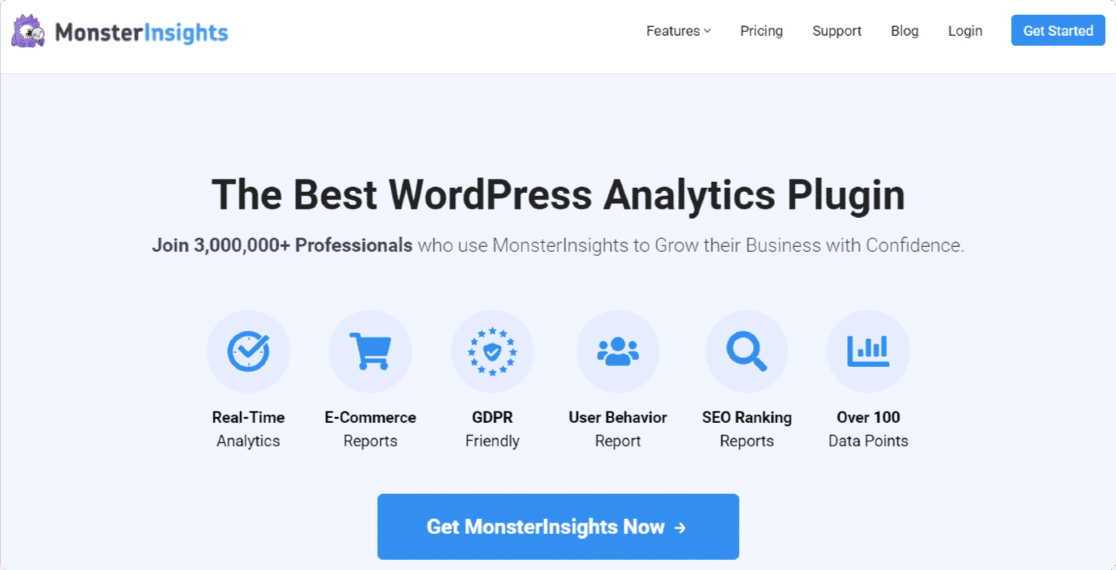 MonsterInsights is the best web analytics tool for WordPress. It's a plugin that you can easily install on your WordPress site. Once installed, MonsterInsights brings you Google Analytics data right inside your website dashboard.
What we love the most about MonsterInsights is that it removes the challenge of data analysis, making it easy for even beginners to understand their site analytics. It brings only the important bits from Google Analytics so that you don't get overwhelmed with unnecessary information.
For example, you can see real-time data on user activity, top performing pages, traffic and engagement metrics, and eCommerce stats like conversion rate, revenue, transactions, average order value, and more.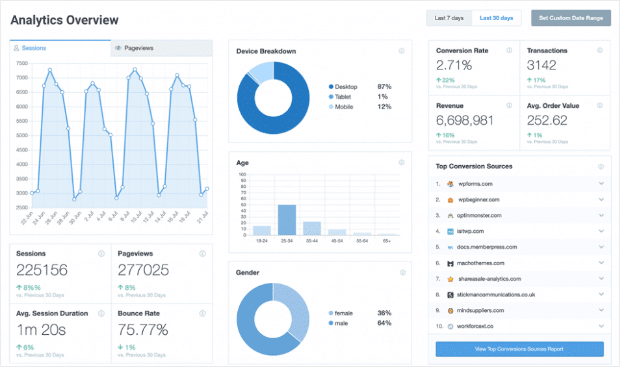 On top of that, MonsterInsights also enables enhanced tracking by integrating with different parts of your website. If you have web forms, you can track form submission stats.
Similarly, you can track referrals from your dashboard if you're running an affiliate program. You can also track other important events without needing to leave your website.
Overall, we strongly recommend MonsterInsights for website analytics and tracking if you want to access Google Analytics data from your WordPress site.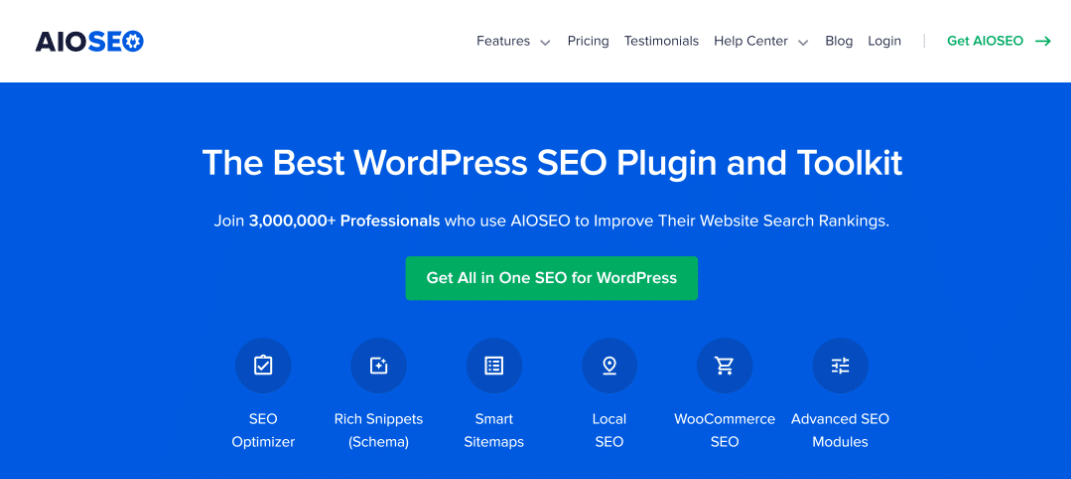 All in One SEO (AIOSEO) is a comprehensive SEO plugin for WordPress. While this plugin is mainly used for assistance with on-page optimization, site audits, schema generation, and site audits, it's also excellent for tracking your search statistics.
AIOSEO integrates with Google Search Console, allowing you to track your keyword rankings on-site from your WordPress dashboard.
We use AIOSEO on WPForms for writing SEO-optimized articles and also for tracking our keyword positions and search presence trends.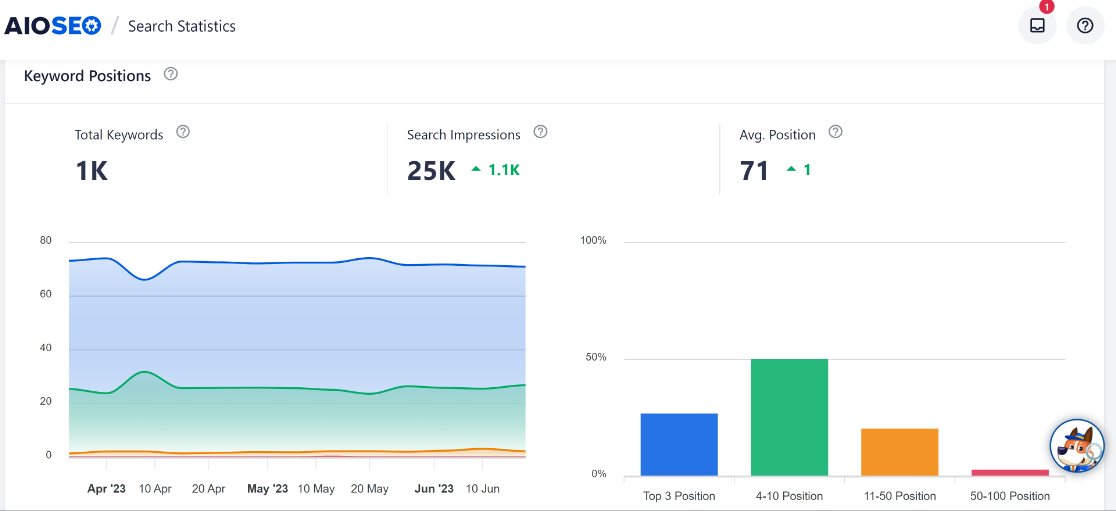 We're also big fans of the Content Performance feature because it makes it easy to identify optimization opportunities and spot posts that aren't doing so well on search engine results.
AIOSEO also shows your outgoing and incoming link stats, which is an important SEO metric. Internal links not only help your readers navigate your site better but can also boost positions for competitive keywords.
It also goes the extra mile into AI territory by integrating with ChatGPT to bring you AI generated titles and meta descriptions in your WordPress post editor screen. This is a fantastic AI SEO feature that can improve the quality of your SEO titles and reduce the time it takes to create the perfect headline manually.
Overall, AIOSEO is a fantastic plugin that brings crucial search performance data to your site with an easy-to-setup Google Search Console integration.
If SEO is an important part of your marketing strategy (as it should), AIOSEO works wonders as both an SEO plugin and a web analytics tool.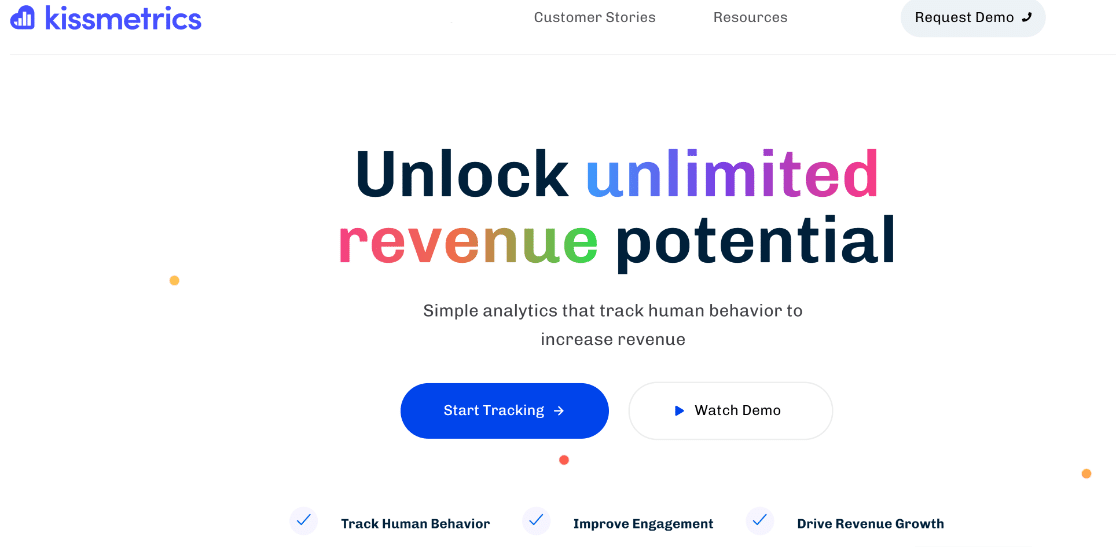 Kissmetrics is an advanced behavior tracking tool that offers highly actionable based on user interactions with your website.
This tool takes a slightly different approach than Google Analytics. Kissmetrics is a user-centric analysis tool focusing on the customer journey, while Google Analytics is a session-oriented tool.
With Kissmetrics, you can get much deeper insights about each user on your site and learn how they behave through your entire funnel or sales lifecycle to improve retention.
Because Kissmetrics tracks individual users, you can get a much clearer picture of how each person interacts with your site at every stage of the funnel. This is one of the features that stood out for us when reviewing Kissmetrics.
You can also measure the results of your A/B tests with Kissmetrics. The tool makes A/B test reporting really simple, indicating whether a test is significant or f you need to continue running it longer to draw meaningful conclusions.
Studying funnels is a lot harder in Google Analytics because it tracks sessions rather than individual users, which complicates funnel analytics considerably.
Kissmetrics also has a friendlier user interface. We found it easier to use with a smaller learning curve than Google Analytics which has a confusing user interface, especially for beginners.
The only drawback of Kissmetrics is that it's a paid tool and it's not cheap. But if you can afford it, Kissmetrics can be a great asset to your web analytics capabilities.
Alternatives: Mixpanel and Matomo are decent web analytics software alternatives to Kissmetrics with many common features.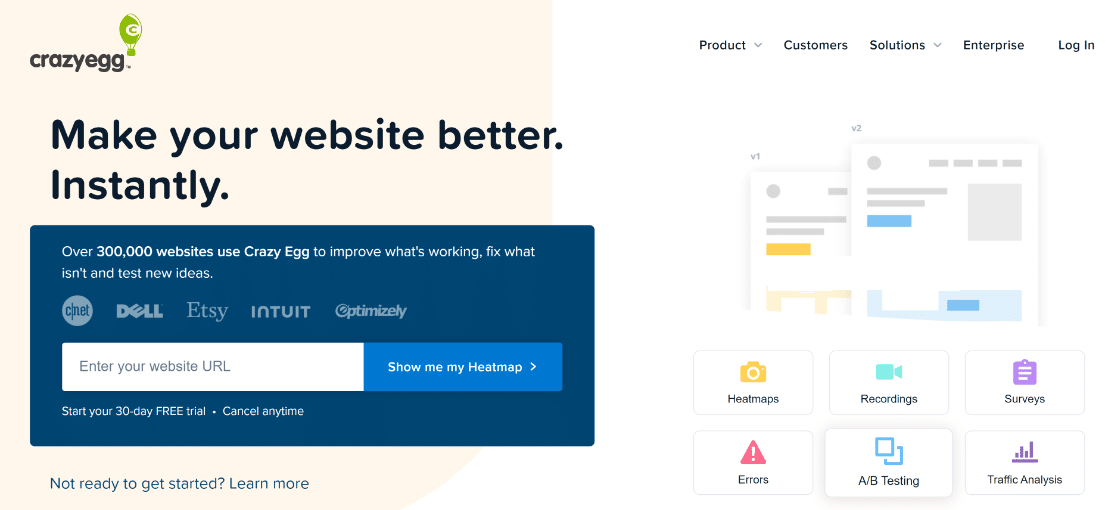 CrazyEgg is another behavior analytics solution that gives you a direct glimpse into your website visitors and tracks user interactions with your website.
The tool is popular for its heatmaps and session recordings. While tools like Google Analytics and Kissmetrics report numbers, CrazyEgg gives you a visual of each user session on your site.
You can see where a user clicked, which section of your page they spent the most time on, and how they scrolled through your content. Armed with this knowledge, you can make data-driven decisions to optimize the user experience and boost conversion rates.
We think using CrazyEgg along with MonsterInsights is an excellent combination because you get the best of both worlds – behavior tracking with CrazyEgg and revenue and traffic analysis with MonsterInsights.
So if you want to analyze user behavior and improve customer experience, CrazyEgg is one of the best website analytics tools you can have.
Alternatives: Mouseflow and Hotjar are excellent alternatives to CrazyEgg for user behavior tracking.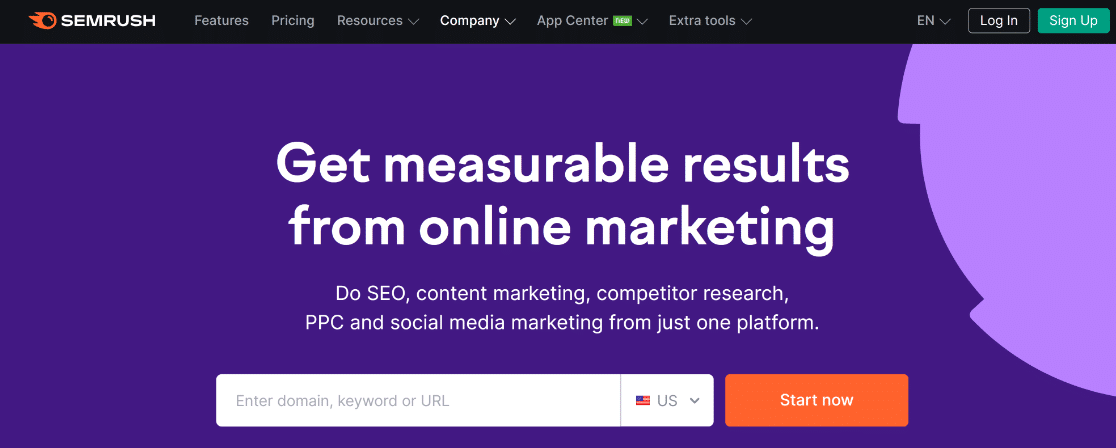 SEMRush is one of the most popular SEO tools on the market. It's incredibly comprehensive and can be used to perform domain analysis to estimate the traffic of any website – including your competitors.
Unlike other web analytics tools on this list, SEMRush is very useful for competitor analysis.
You can check the backlinks generated by your competitors, estimate their domain or page-level traffic, and discover precisely the keywords they're drawing the most traffic from.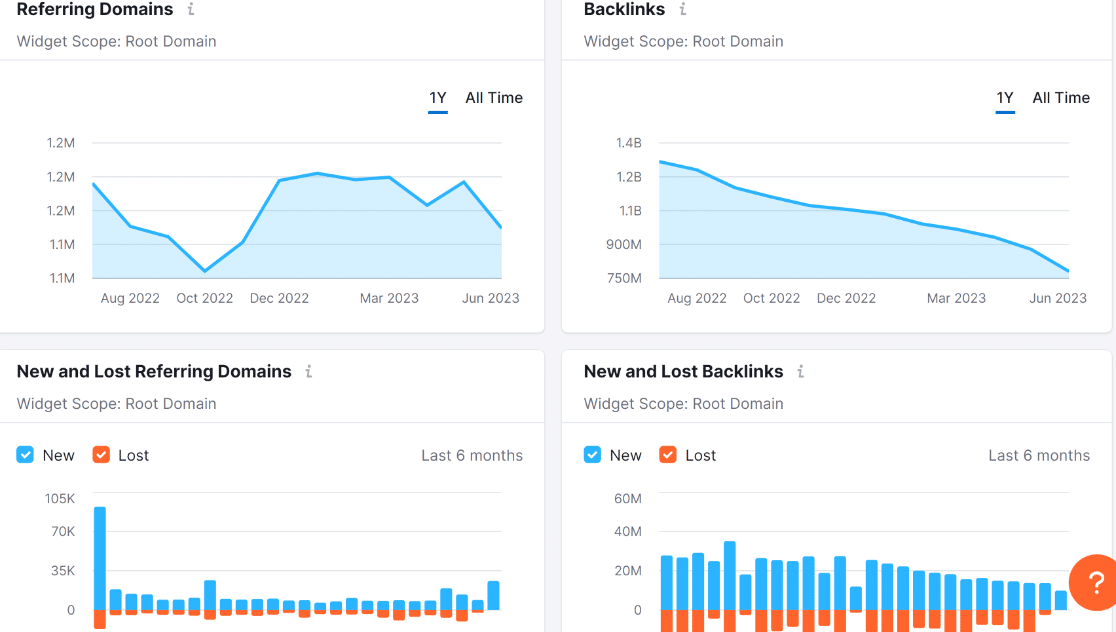 All this is incredibly helpful data that offers insights into crafting a sound SEO strategy for your own websites.
We regularly use SEMRush's keyword research tool to discover valuable keywords to target.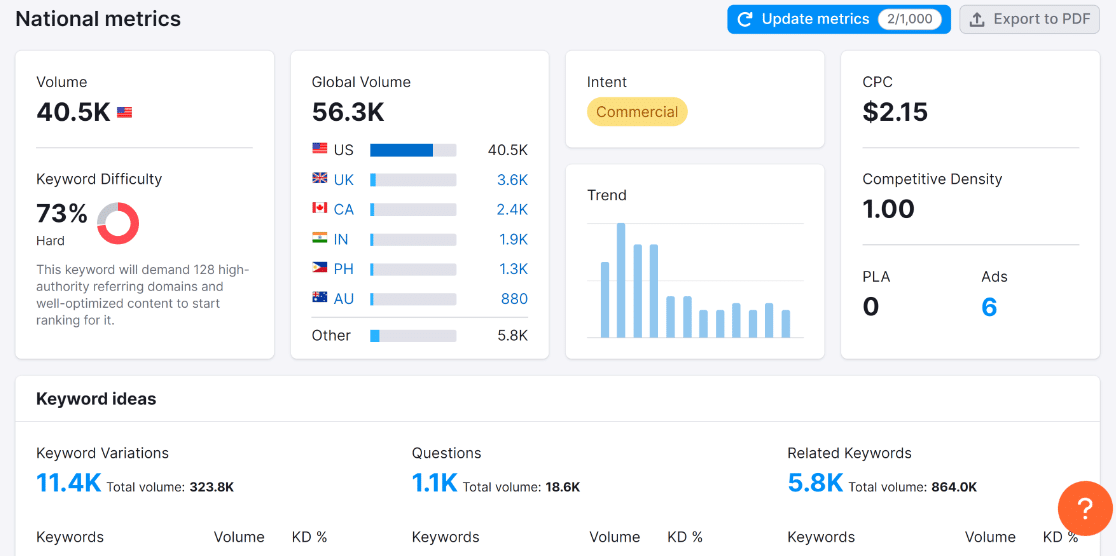 We also use its other functions to find backlinking opportunities and perform a domain-level site audit to identify any SEO issues.
Although pricing can be a bit of a drawback for smaller businesses, SEMRush is a worthwhile investment for any website operating in a competitive SEO ecosystem.
Which Web Analytics Tools Should You Use?
If you want a comprehensive web analytics tool for your WordPress site, we strongly recommend MonsterInsights.
MonsterInsights makes data analysis user-friendly and simple. It compiles all your essential site metrics in a single place, so you never have to leave your WordPress dashboard to monitor your website performance.
Of course, getting MonsterInsights means you must first already have Google Analytics set up in order to fetch data from it.
While MonsterInsights is great for traffic and conversion tracking, you may also want to use AIOSEO to see your internal linking stats and measure content performance. This can be hugely beneficial for your SEO strategy.
CrazyEgg is another good option if you want to track user behavior and see heatmaps and screen recordings of user activity.
Ultimately, it depends on your preferences and business needs.
FAQs
There are a few common questions on web analytics tools that we frequently hear from our readers. Here are some of them:
Is Google Analytics for Websites Free?
Yes, Google Analytics is a free analytics tool for websites. There's a single, fully free version of Google Analytics, and there are no pricing plans. This is one of the reasons why Google Analytics is so widely used by websites for tracking traffic, conversions, and revenue.
Can I Use Google Analytics to Check Any Website?
No, you can only track your own website with Google Analytics. In order to analyze another website with Google Analytics, you'll first need permission from that website owner.
However, you can use tools with competitor research features to analyze other domains. SEMRush is a great tool for this purpose because it enables you to get a domain overview of your competitors with a reasonably good estimate of their organic traffic, top ranking pages, keywords, and backlinks.
But you can't get full site analytics and eCommerce data with these competitor research tools.
Next, Leverage Additional Business Growth Tools
Web analytics is only one component of your digital marketing strategy. If you really want to fuel business growth in a comprehensive manner, we recommend checking out our other guides discussing our favorite tools for growing different aspects of your business:
Create Your WordPress Form Now
Ready to build your form? Get started today with the easiest WordPress form builder plugin. WPForms Pro includes lots of free templates and offers a 14-day money-back guarantee.
If this article helped you out, please follow us on Facebook and Twitter for more free WordPress tutorials and guides.