Trying to simplify your online store's checkout process? Have you ever wondered which is the best checkout plugin for WordPress?
The checkout process on your eCommerce site can be considerably improved with the proper plugin, leading to a better user experience and more purchases.
In this article, we've done the research and narrowed down the very best WordPress checkout plugins and tools for you.
How to Choose the Best Checkout Plugins for WordPress
It's important to know what to take into account before you dive into the sea of WordPress checkout plugins. The suggestions below will make it easier for you to select the plugin that best meets your requirements.
Simplicity — Any checkout plugin must have a simple, user-friendly interface. The user experience is greater, cart abandonment rates are lower, and your sales are increased the more simplified the checkout process is.
Security — A crucial component of e-commerce is ensuring secure transactions. The plugin you choose must include strong security features, including data encryption and adherence to Payment Card Industry (PCI) standards.
Customizability — A plugin that enables you to modify your checkout procedure so that it adheres to your brand's aesthetic is priceless. Look for choices that allow you to add your logo, alter the color scheme, and change the layout, among other customization possibilities.
Compatibility — Your current WordPress theme and other plugins should work with the best checkout plugin for you. Incompatibility can result in unforeseen problems, which could delay your checkout.
Support — The plugin developer's level of customer assistance should also be taken into account. If you run into problems, quick and efficient help can really make a difference.
Each WordPress site is unique, and the best checkout plugin for one might not be ideal for another. But that's why we're here! This guide will introduce you to some of the best checkout plugins for WordPress.
Best Checkout Plugins for WordPress
We looked at a few WordPress checkout plugins to see how their features compared to our standards. Let's dive in to discover the results.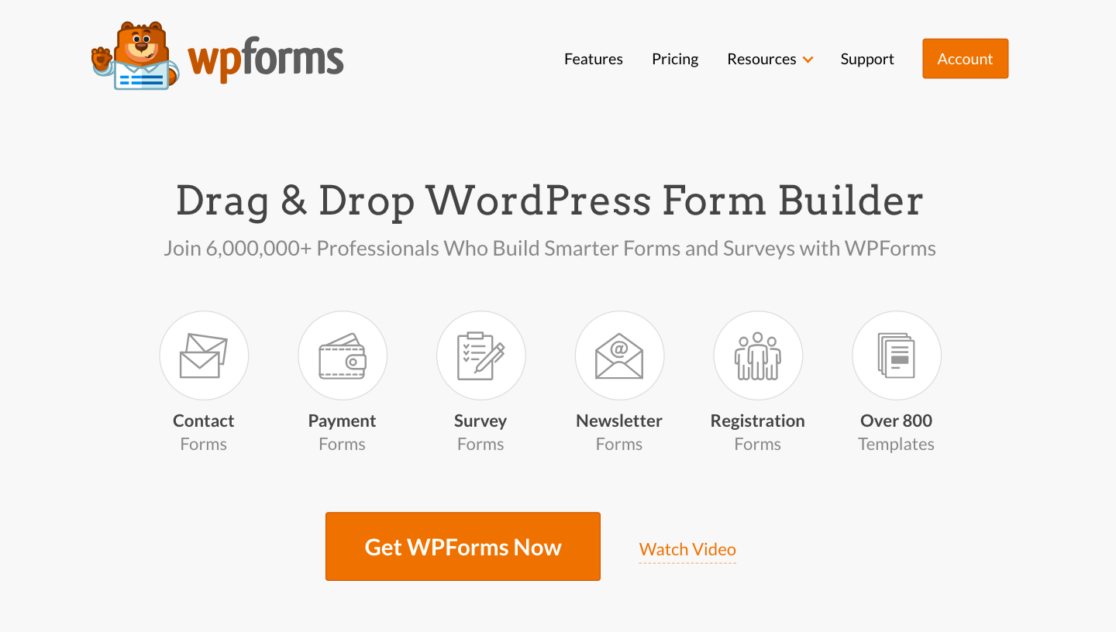 Since you're reading this blog on WPForms, you undoubtedly already know that this plugin belongs to us. But we have good reasons to recommend it!
WPForms is the best option for building web forms. With a user-friendly interface, this plugin enables you to construct a number of forms, including checkout forms complete with promotional coupons, payment gateways, and more.
It makes it simple to create a checkout experience that is consistent with your brand's aesthetic by providing a variety of customizable form templates.
Our Experience
We've built WPForms for ease of use and versatility, so that you can create a checkout form within minutes.
The pre-built templates help our customers save even more time, and the drag-and-drop form builder makes it simple to design a checkout form.
Our plugin has all that you might want in a form builder, including conditional logic, payment integrations, multi-page forms, and two-column fields.
Feature Breakdown
Drag-and-Drop Form Builder — A user-friendly interface that makes creating checkout forms easier.
Pre-built Form Templates — Makes checkout forms easily customizable.
Spam Protection — Assists in preventing unauthorized spam submissions.
Responsive — Ensures your forms look good on all devices.
Instant Notifications —Keeps you promptly informed of any new orders.
Easy to Embed — Makes it simple to incorporate forms into your website.
Conditional Logic — Create dynamic forms that respond to user activities.
Pricing and Plans
Unlimited forms, submissions, and users for one site start at $49.50 per year. There's also a free version of WPForms you can use to get started.
Why We Chose WPForms?
We selected WPForms because of its versatility and user-friendliness. You don't often come across a plugin that is both effective and easy to use when it comes to creating an excellent checkout experience for customers!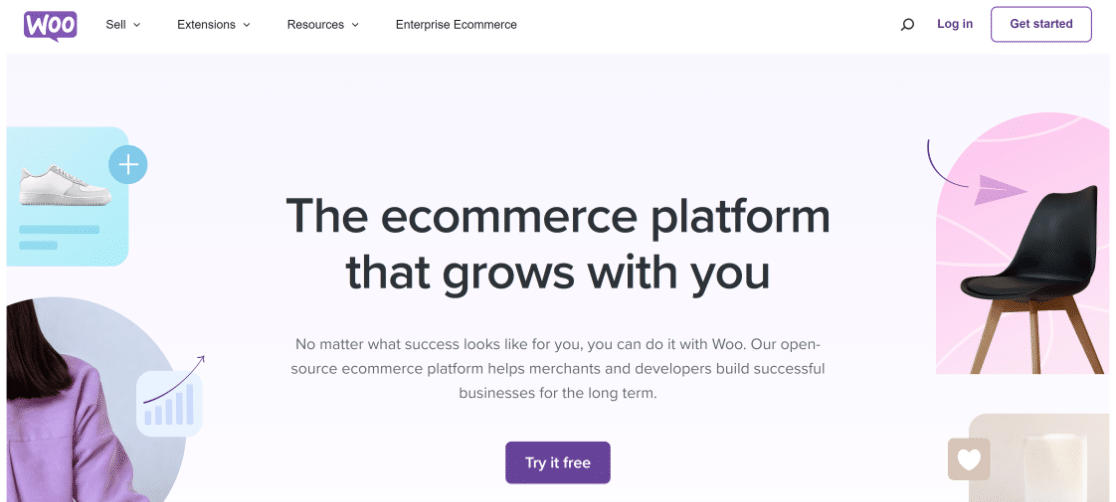 Many online stores are powered by WooCommerce, making it one of the biggest players in the eCommerce industry.
WooCommerce's feature-rich checkout system, which supports a range of businesses, is what really sets it apart.
The plugin is also designed with simplicity in mind. It offers a seamless user experience that makes creating an online store simple and quick.
Our Experience
Even for a plugin as feature-rich as this one, setting up a WooCommerce store was surprisingly simple.
The plugin's functionality, which includes guest checkout options, multiple payment gateways, and simple tax and shipping settings, really impressed us.
We also loved the fact that there are hundreds of extensions and themes available, allowing you to design your store exactly the way you want.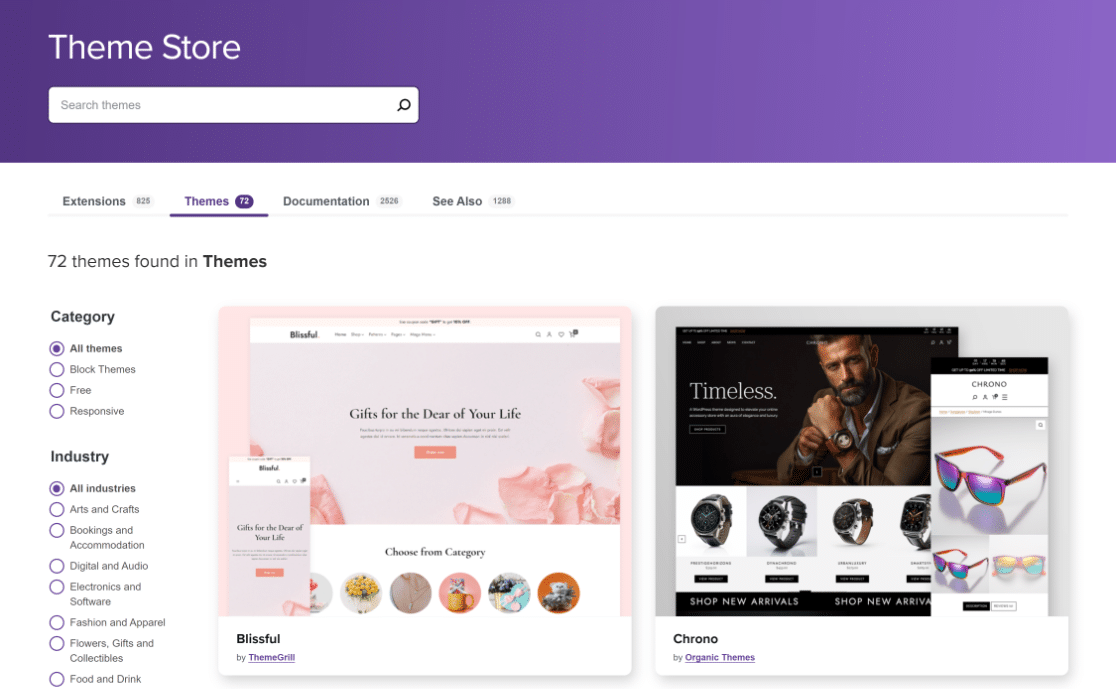 Feature Breakdown
Guest Checkout — This feature allows customers to make purchases without creating an account, making the process quicker.
Custom Checkout Fields — Add, remove, or rearrange fields, tailoring the cart page to your specific business needs.
Multiple Payment Gateways — Offers numerous payment options, giving customers the freedom to pay through their preferred method.
One-Page Checkout — Helps reduce cart abandonment by simplifying the checkout process into a single step.
Geolocation Support — Automatically calculates taxes and shipping costs based on the customer's location.
Secure Payments — Adheres to PCI Compliance, ensuring transactions are secure.
Integration: Seamlessly integrates with WordPress themes and various shipping & payment platforms.
Pricing and Plans
Although WooCommerce is primarily a free plugin, it does provide premium extensions for more advanced features. You can choose from a variety of extensions depending on your needs and budget, thanks to the vast pricing range.
Why We Chose WooCommerce?
WooCommerce is a powerful solution that can cater to virtually any online store's needs. We were able to completely customize our checkout process thanks to its extensive feature, providing a great customer experience.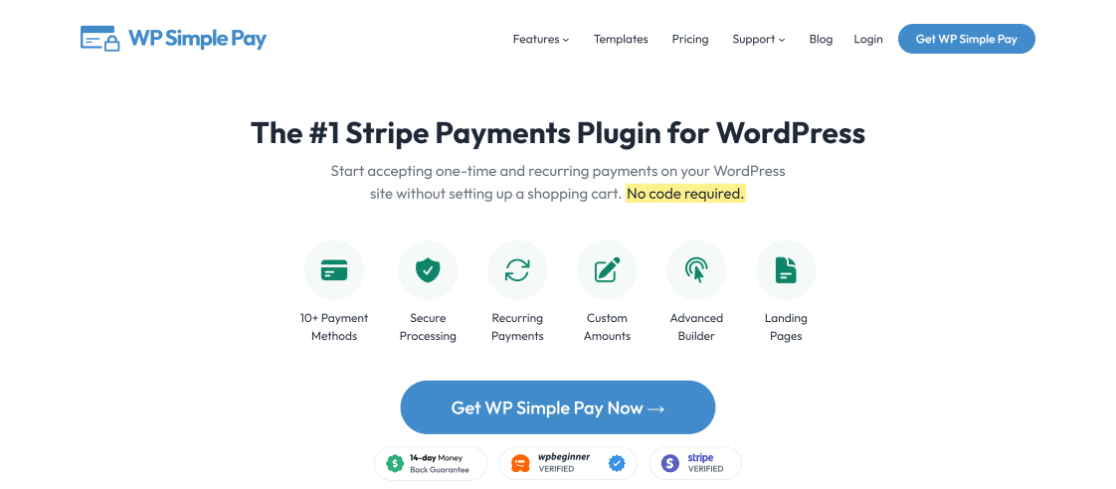 In the field of WordPress checkout plugins, WP Simple Pay establishes itself as a force to be reckoned with.
It goes beyond being just a simple payment collection tool, transforming your site into a convenient platform for users to conduct secure transactions.
WP Simple Pay makes it easy to integrate your Stripe account with your WordPress site and start taking payments right away.
Our Experience
The ability to accept payments without requiring complex shop configuration is one of WP Simple Pay's best advantages.
Adding a checkout form that integrates with a service like Stripe or PayPal makes accepting credit card payments on your online store a breeze.
WP Simple Pay is also compatible with a broad range of page builders, including Elementor and Divi, and can be simply integrated with AffiliateWP.
Thanks to a payment dashboard, managing your payments and subscriptions from checkout forms with WP Simple Pay is also pretty simple.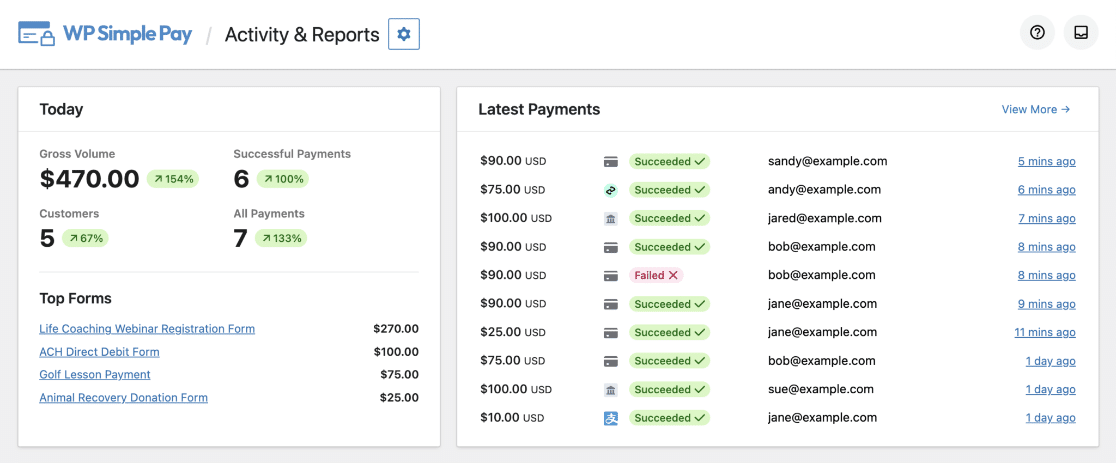 Feature Breakdown
Simple Integration — With WP Simple Pay, integrating with Stripe is a hassle-free experience.
User-friendly Design — Its drag-and-drop functionality ensures ease of use.
Versatility — WP Simple Pay is adaptable, fitting into any WordPress theme without issues.
One-Page Checkout — It simplifies the checkout process, reducing cart abandonment rates.
Customizable Checkout Page — Adjust the aesthetics to align with your brand.
Secure Transactions — WP Simple Pay offers robust security features for safe online transactions.
Responsive Support — If you ever encounter any issues, the support team is quick and helpful.
Pricing and Plans
Starts at $49.50 a year for a single site and gives you all the tools you need to make optimized and secure checkout forms.
Why We Chose WP Simple Pay?
WP Simple Pay is a fantastic option for any WordPress site wishing to improve their checkout experience due to the convenience and security it offers, as well as the top-notch customer service.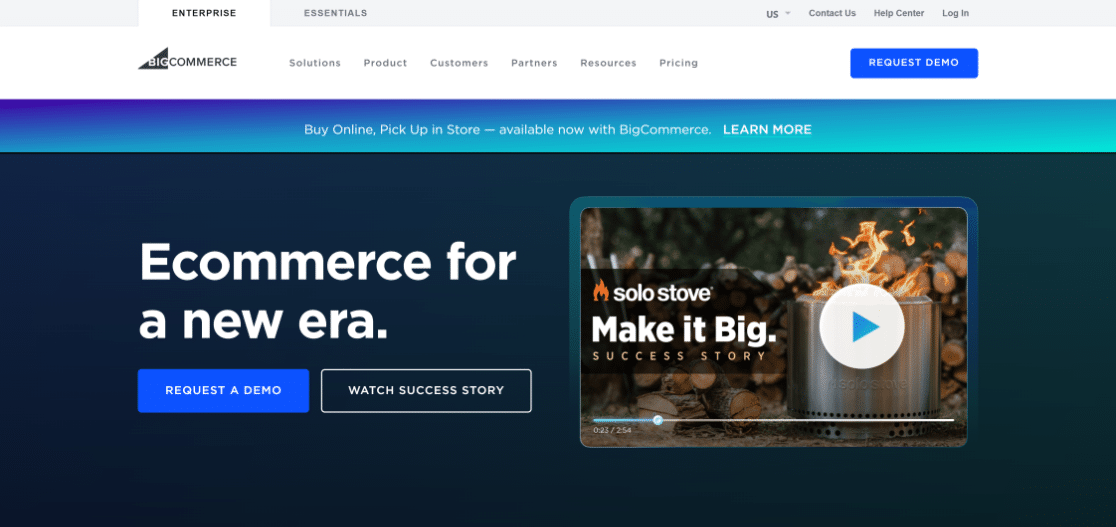 BigCommerce, a prominent player in the eCommerce world, has a powerful checkout tool for WordPress.
It is renowned for its scalability, performance, and easy WordPress integration, providing you with a quick checkout process.
Our Experience
We adore BigCommerce's capacity for platform and store integration. You can advertise and sell things on Facebook, Instagram, and Amazon.
Additionally, it supports over 65 payment gateways, so customers don't have to be concerned about using an obscure payment method.
Through a variety of sophisticated options for product pages, cart & checkout, gift certificates, currency, and more, it also takes out a lot of the tedious work.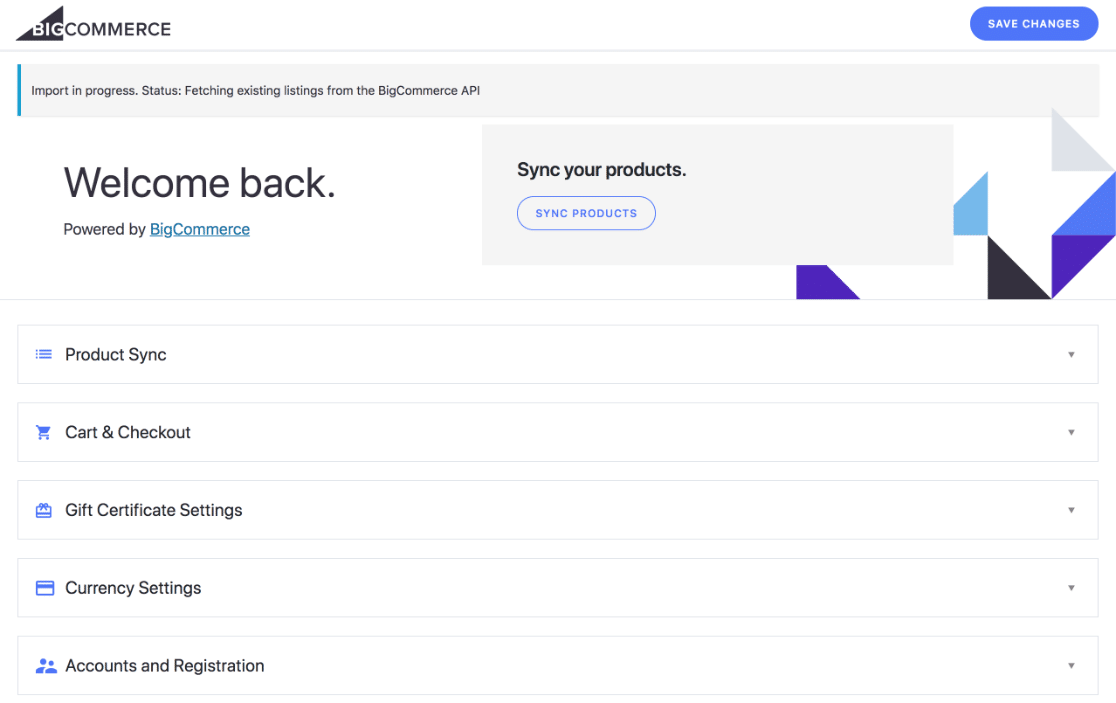 Feature Breakdown
Multi-Catalog Support — BigCommerce makes it simple to handle complex catalogs and multi-step checkout.
Speed Optimisation — The plugin improves the functionality and speed of the website to guarantee a smooth checkout process.
Seamless Integration — It interacts with WordPress without difficulty, ensuring a hassle-free user experience and minimal setup requirements.
Secure Transactions — Provides dependable security protection for transactions, upholding client confidence.
Scalability — It is an excellent long-term solution because it quickly adapts to enterprises of all sizes.
Variety of Payment Options — Supports 65+ payment gateways, accommodating various consumer choices.
Pricing and Plans
BigCommerce offers a 15-day free trial so you can try out the platform before committing for the long run. There are numerous pricing tiers available after the trial, with the lowest starting at $29/year.
Why We Chose BigCommerce?
Thanks to its blend of user-friendliness, cutting-edge functionality, and excellent support, BigCommerce stands as an effective and dependable checkout solution. That's why we recommend it.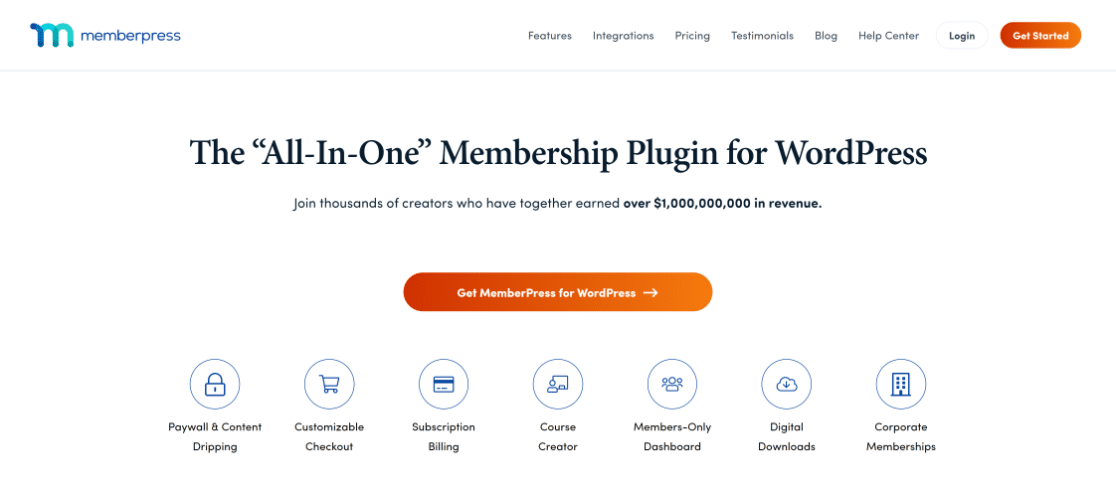 MemberPress is a complete membership solution rather that doubles as a reliable and dependable checkout tool.
The plugin's robust checkout capabilities make selling digital goods and more incredibly simple for business owners.
Our Experience
With a neat, simple checkout process, MemberPress excels in terms of user experience. It makes it simple to customize checkout forms.
It has a one-click checkout option, which lowers cart abandonment and facilitates the user experience.
We also liked the controls that allow you to set content restrictions and paywall content that is accessible only to paying members.

Feature Breakdown
One-Click Checkout — Reduces cart abandonment with a one-click checkout experience that is quick and easy.
Detailed Reporting — Gain useful insights into your membership and sales figures with detailed reporting.
Coupon Creation — The ability to design and administer discount codes that encourage purchasing.
Content Dripping — Allows for the slow distribution of content to maintain users' interest over time.
Secure Payment Gateways — Integrates with well-known, reliable payment gateways for secure transactions.
Customizable Checkout Forms —Modify forms to match your branding and enhance user experience.
Pricing and Plans
MemberPress does not offer a free subscription or trial, but the Basic plan starts at $179.50/year. Considering all of the powerful capabilities of this plugin besides checkout features, the price is very fair.
Why We Chose MemberPress?
MemberPress stood out because of the abundance of features it offered without sacrificing ease of use. The intuitive checkout process, the ability to design our own forms, and the high level of security it provides make it a great option!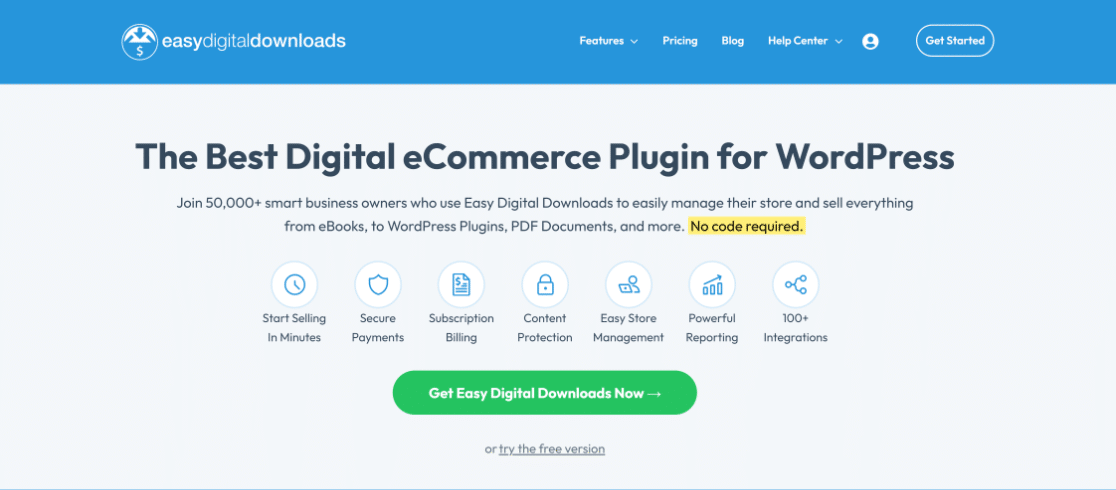 Easy Digital Downloads (EDD) is a comprehensive WordPress plugin designed for seamless digital product sales.
Whether you're selling eBooks, audio files, or digital art, EDD ensures a streamlined checkout process, helping to facilitate quick and easy purchases.
Our Experience
We were able to swiftly launch our digital store thanks to its simple settings and complete control over our checkout process.
Not to mention, EDD has many built-in themes that allow us to design and customize our eCommerce store as per our preferences.
It also offers a sensible and intuitive earnings report from the WordPress dashboard to view your total earnings over a specified period.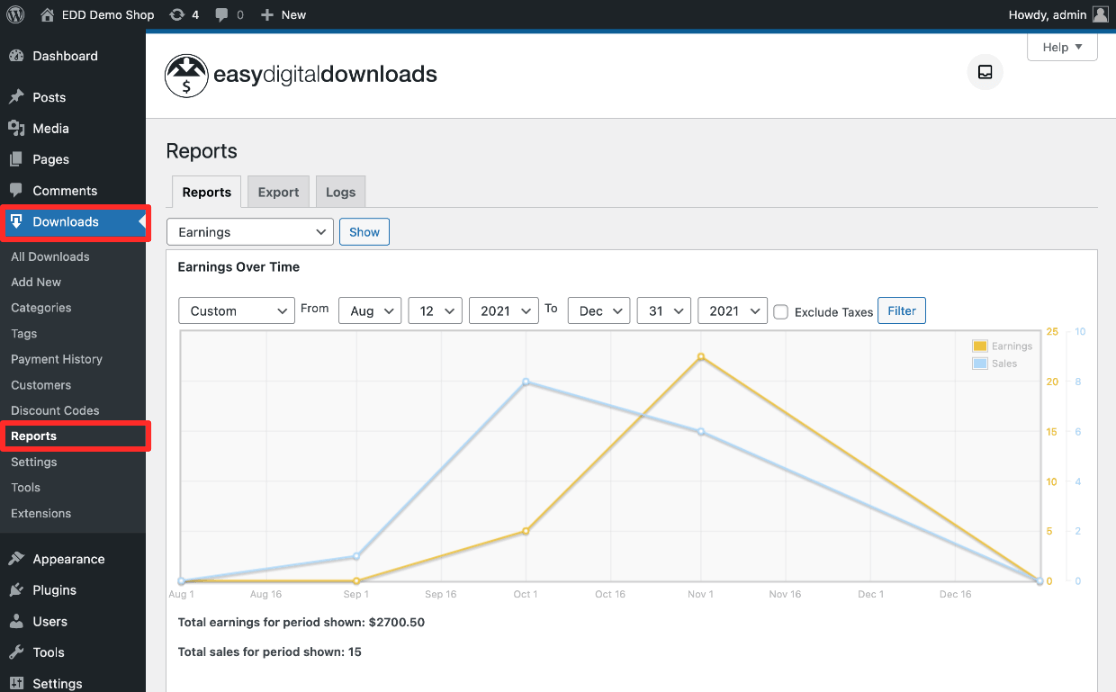 Feature Breakdown
Customer Management — It simplifies customer data tracking and management.
Checkout Fields Editor — Customizable checkout fields cater to various business needs.
Shopping Cart — A minimalistic, easy-to-use shopping cart enhances user experience.
Discount Codes — It allows for easy discount code creation and management.
Payment Gateways — Supports popular payment gateways like PayPal and Stripe.
File Access Control — The plugin effectively manages the access and restrictions of your digital files.
Pricing and Plans
Easy Digital Downloads offers a free plan perfect for small eCommerce businesses and stores. For more advanced checkout and eCommerce features, it offers premium versions starting from $99.50/year.
Why We Chose Easy Digital Downloads?
Because it strikes a good mix between ease of use, security, and the capacity to be customized, EDD is a great choice for a checkout plugin for any online digital store that runs on WordPress.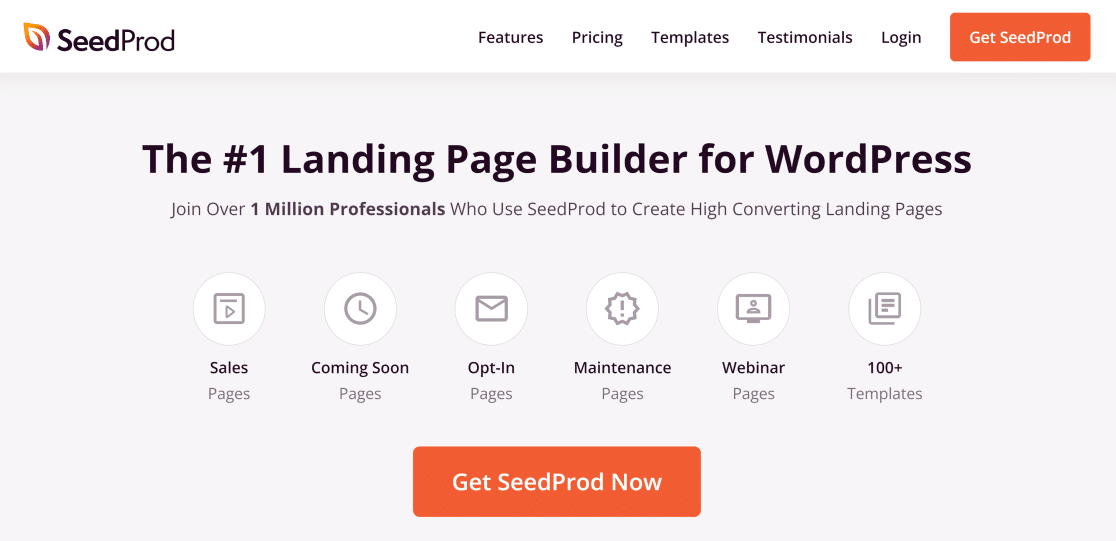 SeedProd is a drag-and-drop page builder that allows you to create highly effective and engaging checkout pages.
It enables website owners to maximize sales by reducing the time spent on the checkout procedure.
Our Experience
Although we've tried a lot of drag-and-drop website builders, none of them compare to SeedProd's simplicity of use.
We were able to make a checkout page that matched our brand precisely with the simple editing tools.
The effortless incorporation of payment gateways further expanded the number of safe payment methods available to our consumers.
Feature Breakdown
Optimized Checkout Process — Streamlines checkout, reducing the likelihood of cart abandonment.
Secure Payment Integration — Integrates with popular payment gateways like PayPal and Stripe.
Conversion Tracking — Includes built-in tools to monitor and improve your conversion rates.
User-friendly interface — Offers a clean, intuitive design that enhances user experience.
Customization options — Allows you to tailor the checkout process to match your brand.
Pricing and Plans
SeedProd offers a variety of packages to meet the varying demands of businesses of varying sizes, starting at a cost of $31.60/year for 50 PRO templates, 90+ PRO page blocks, subscriber management, and more!
Why We Chose SeedProd?
Overall, we found SeedProd a trustworthy and powerful checkout plugin since it fully satisfied our requirements for creating an engaging, high-converting checkout page that reduces cart abandonment.
FAQs About the Best Checkout Plugin for WordPress
Checkout plugins are a popular topic of interest among our readers. Here are some quick answers to a few of the most commonly asked questions:
What is the best checkout plugin for WordPress?
According to our analysis, the top three WordPress checkout plugins are WPForms, WooCommerce, and WP Simple Pay.
How do I customize my checkout page in WordPress?
If you want to customize your checkout page in WordPress, you can use SeedProd with over 200 pre-built templates that boost conversion rates and user engagement.
How do I add a shopping cart to my WordPress site for free?
If you want to add a shopping cart to your WordPress site for free, you can use WPForms Lite to create a checkout form with Stripe integration.
Next, Check Out Other Best WordPress Plugin Guides
We trust that this list will help you choose a WordPress checkout plugin that satisfies your particular needs. See the posts below for more of our suggested WordPress plugins.
Ready to build your form? Get started today with the easiest WordPress form builder plugin. WPForms Pro includes lots of free templates and offers a 14-day money-back guarantee.
If this article helped you out, please follow us on Facebook and Twitter for more free WordPress tutorials and guides.