Are you looking for holiday promo code ideas to share on your website?
Offering promo codes creates a sense of exclusivity and urgency among your website visitors, driving immediate sales and encouraging repeat visits. So, we're sharing some crafty promo code ideas that you can use on your website throughout the holiday season.
Whether you're an eCommerce store, a local business, or an online service, these creative promo code suggestions will inspire your holiday marketing efforts and drive growth during this special time of the year.
How Do I Make a Good Promo Code?
A good promo code for your website involves a few key elements. For starters, make it memorable and easy to type by using a simple combination of letters and numbers. Consider using a related keyword or number to make it more relevant.
Then, provide a clear and enticing discount, such as a percentage off or a fixed dollar amount off of the purchase. Don't forget to share the promo code strategically through email marketing, social media, and your website to maximize its visibility and impact.
Create Your WordPress Coupon Form Now
50+ Holiday Promo Code Ideas for 2023
First, Create the Promo Code
Before we get to the promo code ideas, let's quickly review how to create a promo code with WPForms.
First, create the coupon and its corresponding code in your WordPress dashboard. Navigate to the WPForms tab, then Payments. Here, you'll add a new coupon and set the discount amount for the promo code. This can be a percentage discount or a fixed discount.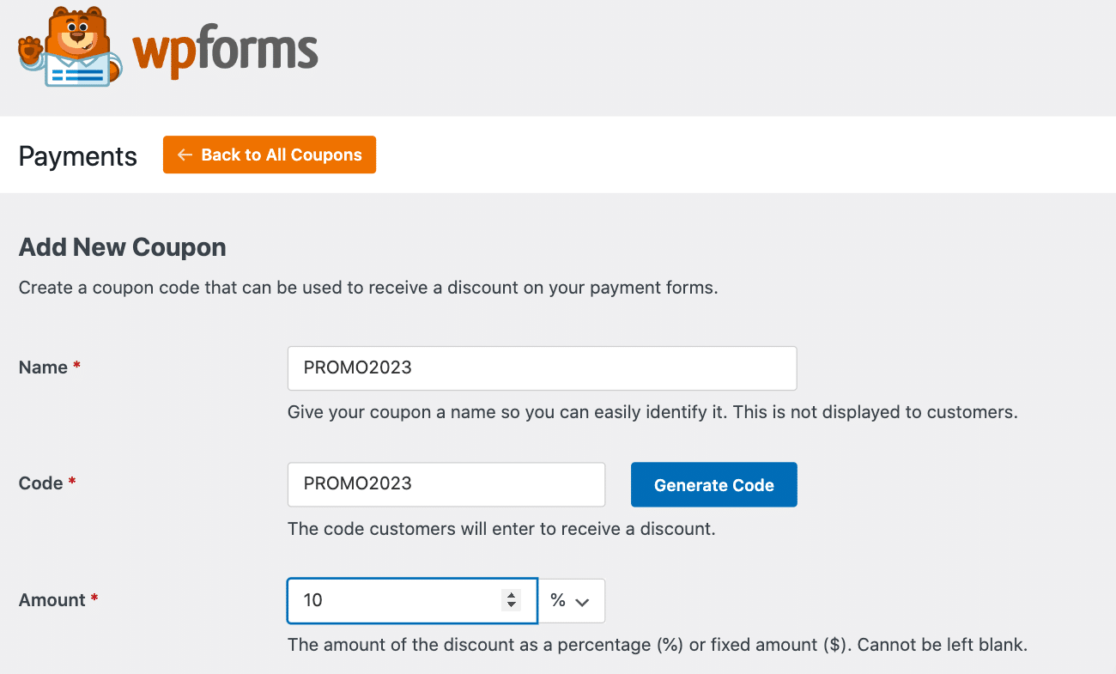 You can also set an automatic coupon expiry on specific dates, or limit the coupon to a certain amount of uses.

Then, you can access this coupon from the WPForms form builder, so that you can apply it to all kinds of forms on your website.
With the form builder settings, you can also customize how you present your coupon and promo code, with various options to help you match your holiday theme or branding.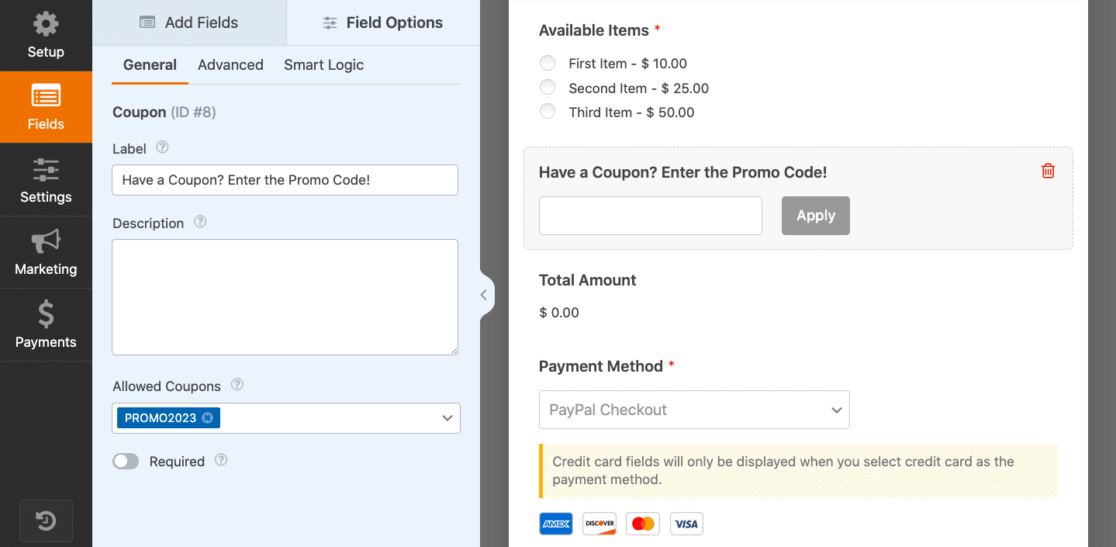 Be sure to take a look at our full tutorial on using a coupon field on your form for complete directions.
Halloween
Halloween is a fun holiday to celebrate during the autumn season, and it's a great theme to use for coupons and promo codes.

Halloween is celebrated on October 31st of every year, so you could create coupons that automatically expire when the date has passed. Then, you might use variations of the words Halloween and October for related promo codes that are easy to remember.
Consider using some key numbers in your promo code, too, representing the date of the sale or discount offered. We also like "DAYS" in the promo code as a way to indicate a limited time for the offer.
Here are some holiday promo code ideas for Halloween:
HALLOWEEN70
DRACULADAYS
SCARYSAVINGS
SPOOKYDEALS
WITCHYWINS
FREAKYFREE
TREAT23
Want to use a template that has a discount offered directly on the form? Check out the Coupon Order Form Template to see how you can use it with your favorite promo codes.
Thanksgiving
Thanksgiving is a U.S. holiday that is also celebrated in autumn and that you might base a sale or promotion around.

Thanksgiving is always observed on the last Thursday of November, so you might consider running a limited-time sale that ends that day. Then, you can offer another promotion for Black Friday (which we'll get to next).
As for your promo codes, you might utilize the words Autumn or Thanksgiving so that it's on theme. You could also use variations of the word "GIFT" to offer fixed or percentage discounts, or include "FREE" in your promo code to provide free shipping.
Check out these holiday promo code ideas for Thanksgiving:
AUTUMN2023
GOBBLEGIFT
FESTIVEFREE
TURKEYDEALS
STUFFEDSAVINGS
THANKS23
Black Friday
Black Friday is a popular retail event following Thanksgiving Day. It's known as a big day for offering sales, and is a key date for online promotions.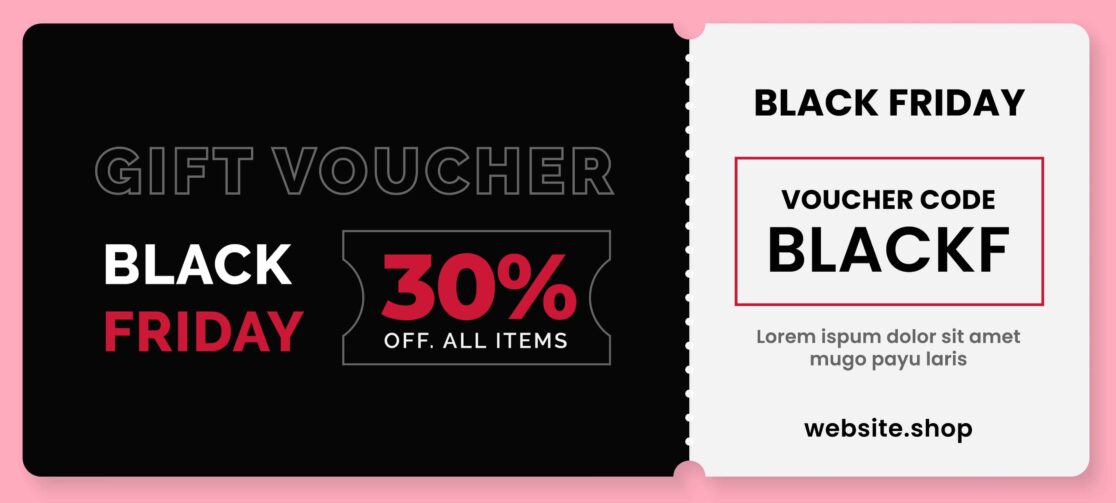 We've actually devoted a full article to Black Friday coupon code ideas, so give it a look if you're considering running a sale!
In the meantime, here are a few catchy Black Friday promo code ideas:
BLACKF
BFRIDAY
BLACKFRIDAY
FREEFRIDAY
FRIDAYONLY
BFRIDAY23
BF2023
Hanukkah
Hanukkah is a winter holiday that kicks off the month of December, and is another great seasonal celebration to incorporate with your coupon promo codes.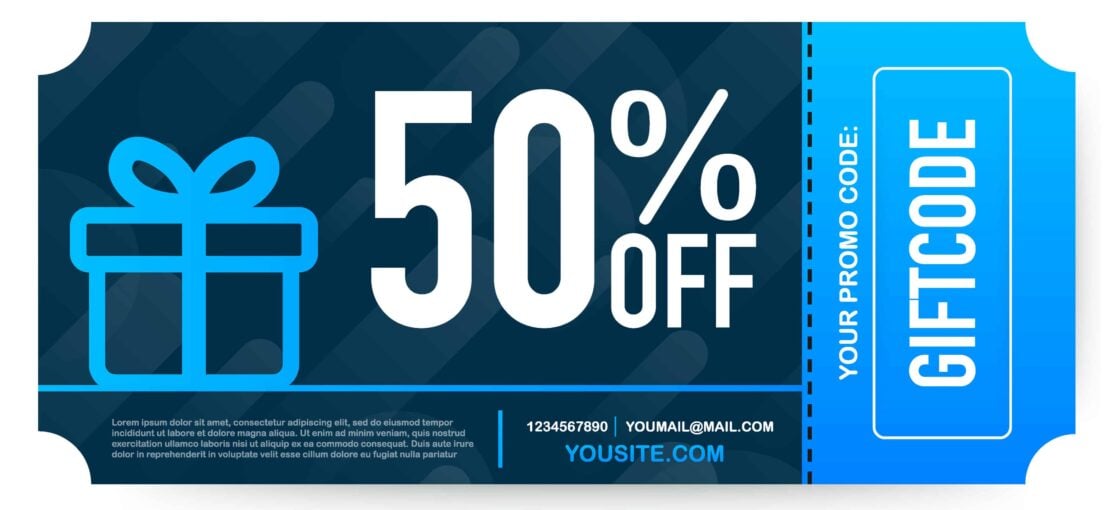 Hanukkah is celebrated for 8 days of the year, and in 2023, it begins the evening of Thursday, December 7th.
For your promo codes, get creative with the "8DAY" type codes to utilize automatic coupon expiry on specific dates of your choice, perhaps lasting 8 days to relate to Hanukkah. Or, you might incorporate 8 by offering 80% off clearance items throughout the month of December.
Here are some holiday promo code ideas for Hanukkah:
GIFTCODE2023
8DAYDEALS
DREIDELDISCOUNT
PRESENTSPROMO
CANDLES4YOU
HANUKKAH23
Christmas
Christmas Eve and Christmas Day are very popular winter holidays, observed by millions of people around the world. So, these couple of days present many themed possibilities for fun promo codes.

Christmas Eve is celebrated on December 24th every year, and is treated just as important as Christmas Day on December 25th.
If you're running a sale based on the Christmas season, you might consider including the number "25" in your promo codes, as it can represent both December 25th and 25% off. Don't forget that you can also apply automatic coupon expiry on specific dates, which you may indicate in your promo code with the use of numbers, "DAYS", or any mix you like.
These are some of our favorite holiday promo code ideas for Christmas:
XMASGIFT25
REINDEERDAYS
SANTASAVINGS
ELFEXTRAS
TINSELTREATS
CHRISTMAS23
Boxing Day
Boxing Day is a popular U.K. holiday known for big clearance events, and presents another opportunity to share holiday promo codes on your website.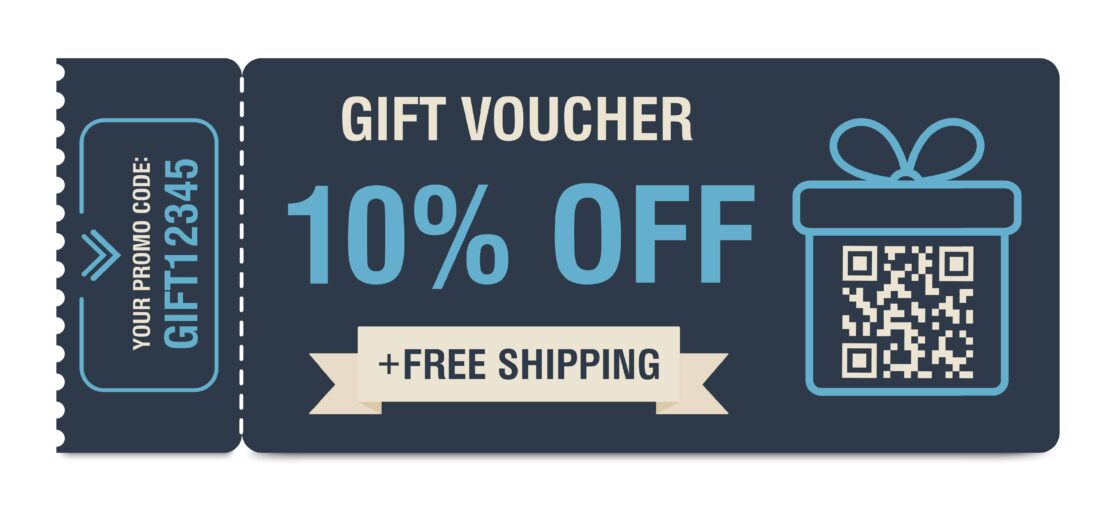 Boxing Day falls on the day after Christmas, so December 26th each year. Thanks to the memorable name of the holiday itself, you can play up the premise of boxes and gifts with your promo codes.
You might also consider keeping it simple, relevant, and easy to remember by including just the holiday and year with a promo code like "BOXINGDAY23."
Check out these holiday promo code ideas for Boxing Day:
GIFT2023
BOXINGDEALS
BIGBOXSALE
UNBOXSAVINGS
BIGTIMEBOXING
BOXINGDAY23
New Year's Eve & Day
Celebrating New Year's Eve is a worldwide event, with the countdown to midnight on December 31st being the highlight of the holiday. So, you have lots of fun and creative options for creating promo codes.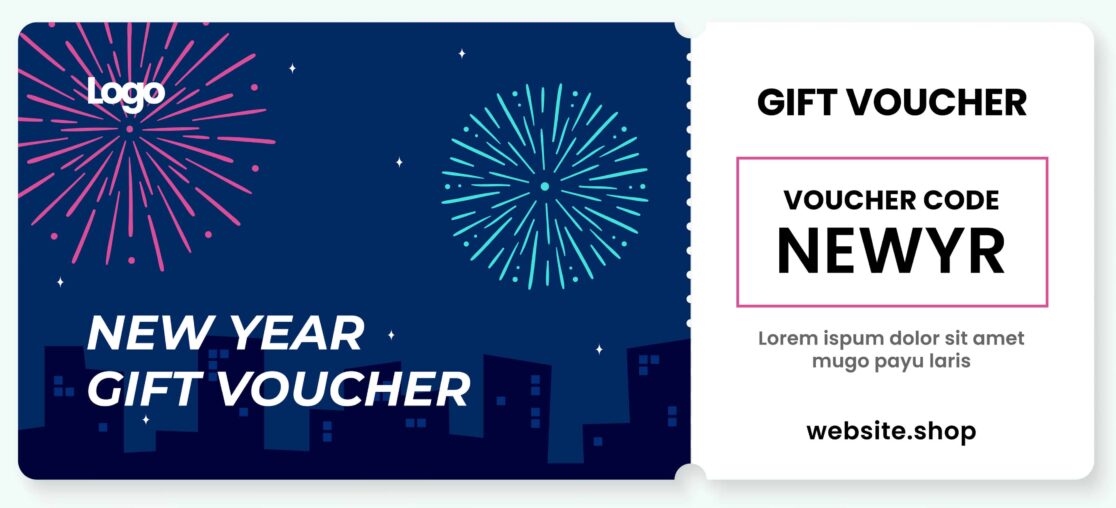 Get creative with the use of numbers, including "10" in the promo code to represent the countdown to midnight, for example, and use it to offer options like $10 or 10% off a purchase.
You might also include words like "GOODBYE" in promo codes for clearance items, and "HELLO" for promo codes that go into effect on January 1st of the new year. And, of course, you may want to incorporate some variations of "NEW" and "YEAR" in your promo codes.
Here are some fun holiday promo code ideas for New Year's Eve:
COUNTDOWN10
GOODBYE23
HELLO24
NYEDEALS
DAZZLINGDISCOUNT
NEWYEARNEWDEAL
End of Season Sales
Celebrating the "end of a season" is really just a good excuse to run sales multiple times a year. In fact, you could probably justify running an end of season sale whenever you want.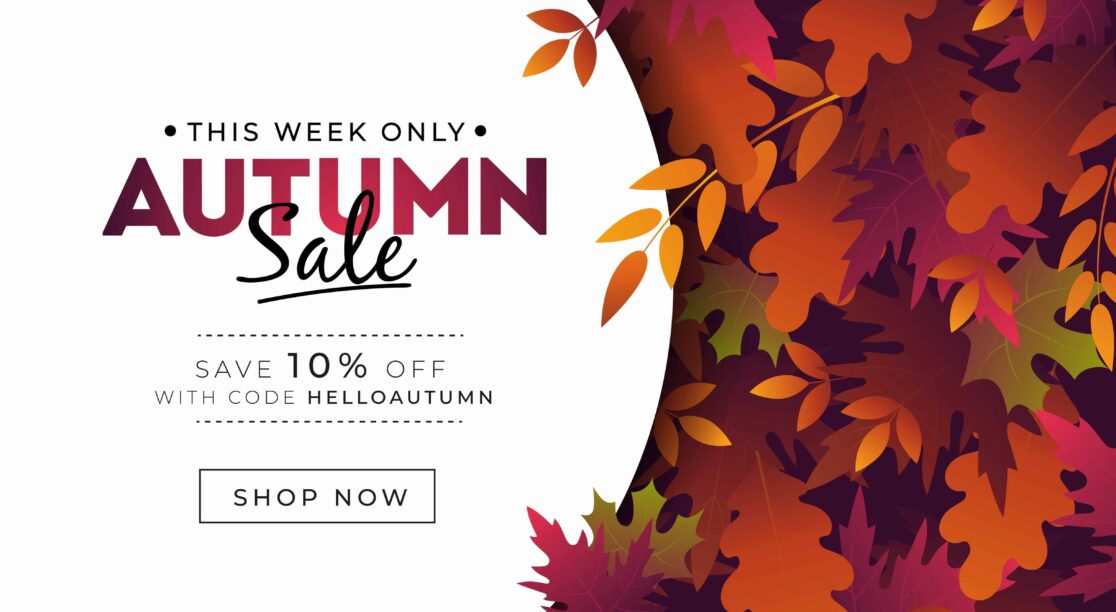 You might follow the traditional seasons of the year, and offer promo codes for sales at the end of spring, summer, autumn, and winter.
Or you may feel generous with your definition of "season" and apply it to a whole range of meanings including fashion, sports, astrological signs, and more.
Thse are some of our favorite promo code ideas for end of season sales:
HELLOAUTUMN
GOODBYESUMMER
ENDOFSEASON
CRAVINGCLEARANCE
SEASONSAVINGS
CHEERANDCLEAR
ALLGOODTHINGS
Looking for another "excuse" to offer promo codes for discounts on your website? Get our Signup Coupon Form Template and start giving out discounts to users just for signing up to your site.
Create Your WordPress Coupon Form Now
Next, Create Your Promotional Calendar
Now that you're ready to run time-sensitive promotions on your website, you need a way to keep all of your sales events organized.
Take a look at our helpful tutorial on how to create a promotional calendar so you can make the most of the upcoming holiday season.
Ready to build your form? Get started today with the easiest WordPress form builder plugin. WPForms Pro includes lots of free templates and offers a 14-day money-back guarantee.
If this article helped you out, please follow us on Facebook and Twitter for more free WordPress tutorials and guides.