Are you trying to create a promotional calendar for your next sales event and beyond?
A promotional calendar is an effective marketing tool that many successful businesses use to plan, organize, and execute campaigns tailored to a specific event, such as the 4th of July or Black Friday sales.
In this post, we'll share valuable tips for helping you create your own promotional calendar so you can make the most of the upcoming sales season.
What Is a Promotional Calendar?
Simply put, a promotional calendar outlines your promotional campaigns and important marketable events throughout a month, quarter, or whole year.
With promotional calendars, companies can ensure that they don't miss out on marketing opportunities for their business and plan for key dates beforehand.
In a typical promotional calendar, some of the most common dates include Valentine's Day, New Year, Black Friday, Christmas, and more.
Now that you know what a promotional calendar is, let's go over how you can create one for your online business.
How to Create a Promotional Calendar
Creating a promotional calendar is actually quite simple once you get familiar with the process. Here's how to plan yours successfully, plus some tools to help you along the way:
Step 1: Determine Important Events and Holidays
To start with, you need to determine all the important dates that it makes marketing sense to run promotions for. This is different for every business.
For instance, running a Mother's Day campaign wouldn't make much sense if you're a B2B technology company. But it would be perfectly relevant to launch Cyber Monday sales.
So when you're finding the dates in a calendar for which you should create promotional campaigns, make sure there's strong alignment between your business and target audience.
Generally, you may want to consider the following kinds of events for your promotions:
Holidays: Promotional campaigns focused on relevant holidays almost always guarantee better sales
Product releases: Every time you release a new product is an opportunity to grab more customers
Company milestones and anniversaries: Offering special discounts when you achieve a key milestone or celebrate the company anniversary is an excellent strategy
Industry events: Depending on your industry, you may have notable events to center your promotions around.
Find the dates for the events that make sense to you and simply add them to your calendar.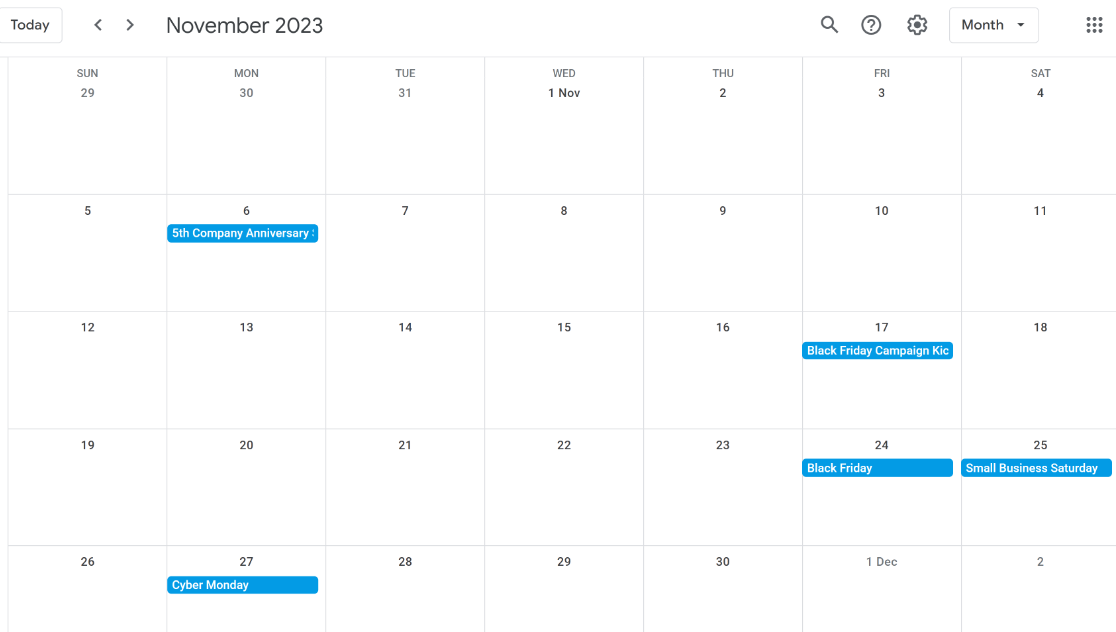 There are lots of software tools you can use to create your calendar, including Google Sheets or Google Calendar. You can also use more advanced project management tools like Asana or Monday to create your marketing calendar.
Step 2: Set Your Goals and Objectives
After identifying the dates you're targeting for promotions, the next important step is to set your goals for each promotion.
A promotion doesn't necessarily have to be a discount offer. Some of the common promotional goals include:
Sales: Holidays are an excellent time to drive more sales and grow your business
Growing email list: Get more subscribers for your newsletter
Expanding social networks: Increase your follower count for social media profiles
You can have different goals for different quarters of the year or focus consistently on a single goal the entire year. Your promotional strategy will depend on the goals that you've set.
Step 3: Prepare Promotional Campaigns for Important Dates
For each date in your calendar, you need a promotional campaign tailored to that specific event. For instance, if it's a holiday sale, then your messaging and designs should be relevant to the holiday.
With the right tools, you can easily design customized campaigns optimized for the goals you've set out to achieve.
We'll discuss some promotional strategies and the tools you can use to easily execute those strategies on your WordPress site.
Boost Sales With Coupon Codes – WPForms
WPForms is a powerful form builder plugin for WordPress, having over 12523 5-star reviews on WordPress.org.
You can use WPForms to create order forms that customers can use to place product or service orders from your business.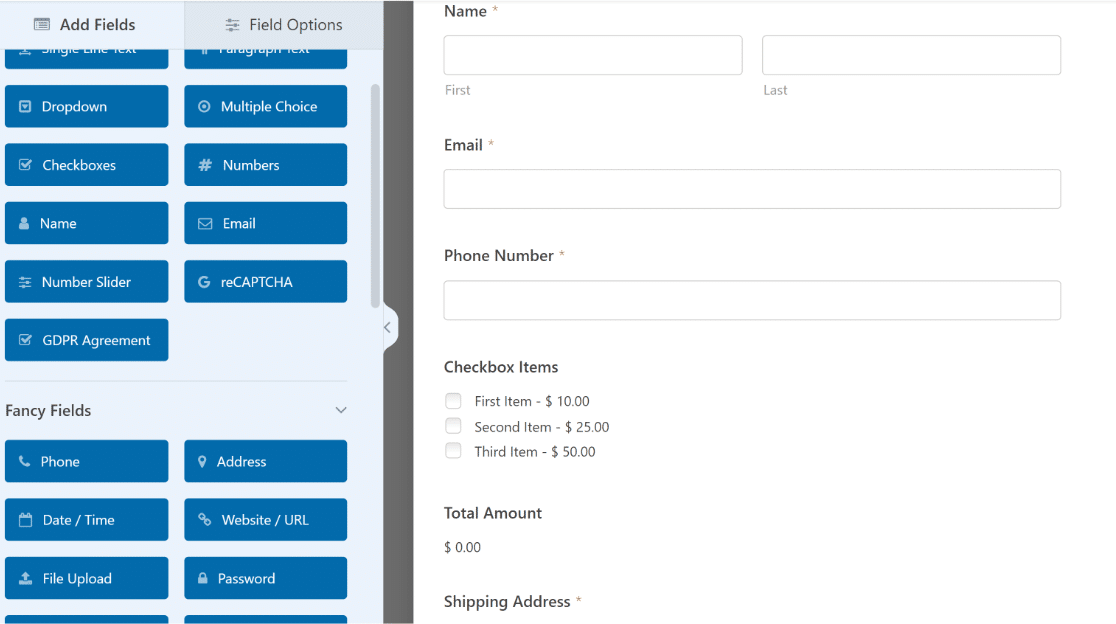 WPForms integrates with popular payment gateways like Stripe, PayPal, Square, and Authorize.Net so you can securely collect online payments against any orders.
But what makes WPForms particularly useful for promotions is its Coupons addon. By using this addon, you can create coupon codes that customers can use to get discounts on your products and services.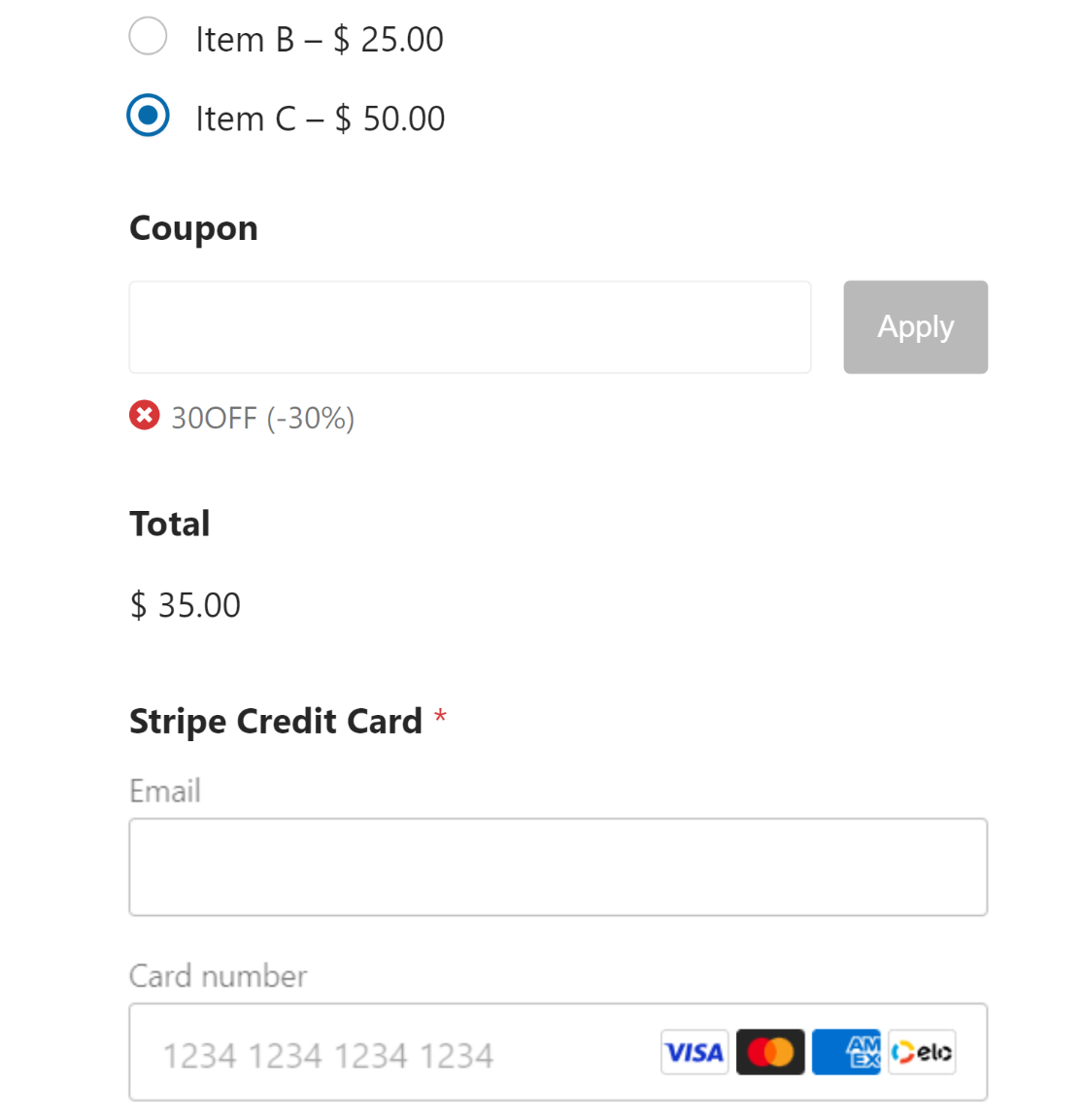 The coupon settings give you a lot of flexibility in that you can set a validity period and maximum usage for each coupon. So if you're offering a seasonal discount, you can set your coupon code to automatically start and expire on specific dates.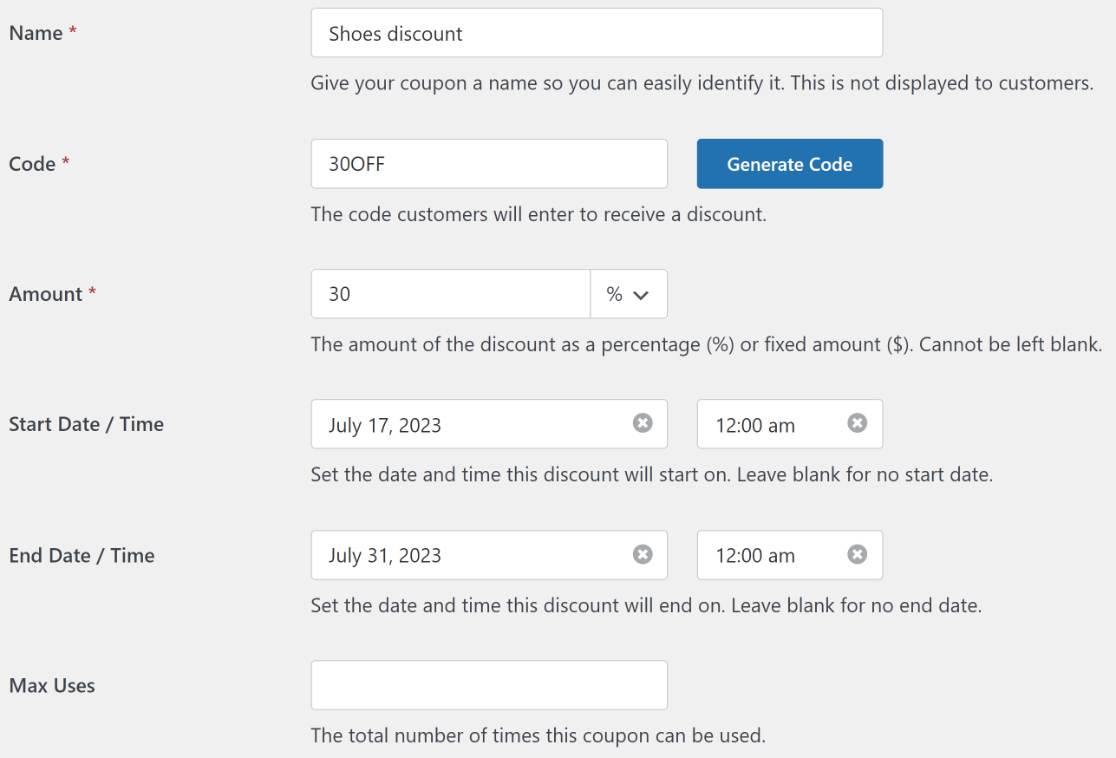 It's the perfect set-and-forget system for businesses that like to create their coupons in advance for all upcoming promotions in a quarter or a year.
You can leverage coupons on order forms built with WPForms to offer enticing deals including:
Free shipping: Create coupon codes that remove the standard shipping cost
Limited deals: Run flash sales with a small number of coupons to drive more revenue in a short period of time
Holiday sales: Set coupons that remain valid throughout the holiday season and expire when it ends.
Using WPForms for coupons is ideal if you're a small business that doesn't require a complete shopping cart solution like an eCommerce store would.
OptinMonster is a lead generation tool that allows you to design different kinds of campaigns for your site.
If your goal is to build your email list during a holiday season or event rather than boost sales, you can use a dedicated landing page or a popup campaign that requests a visitor's email address in exchange for an attractive offer like a free download or discount code.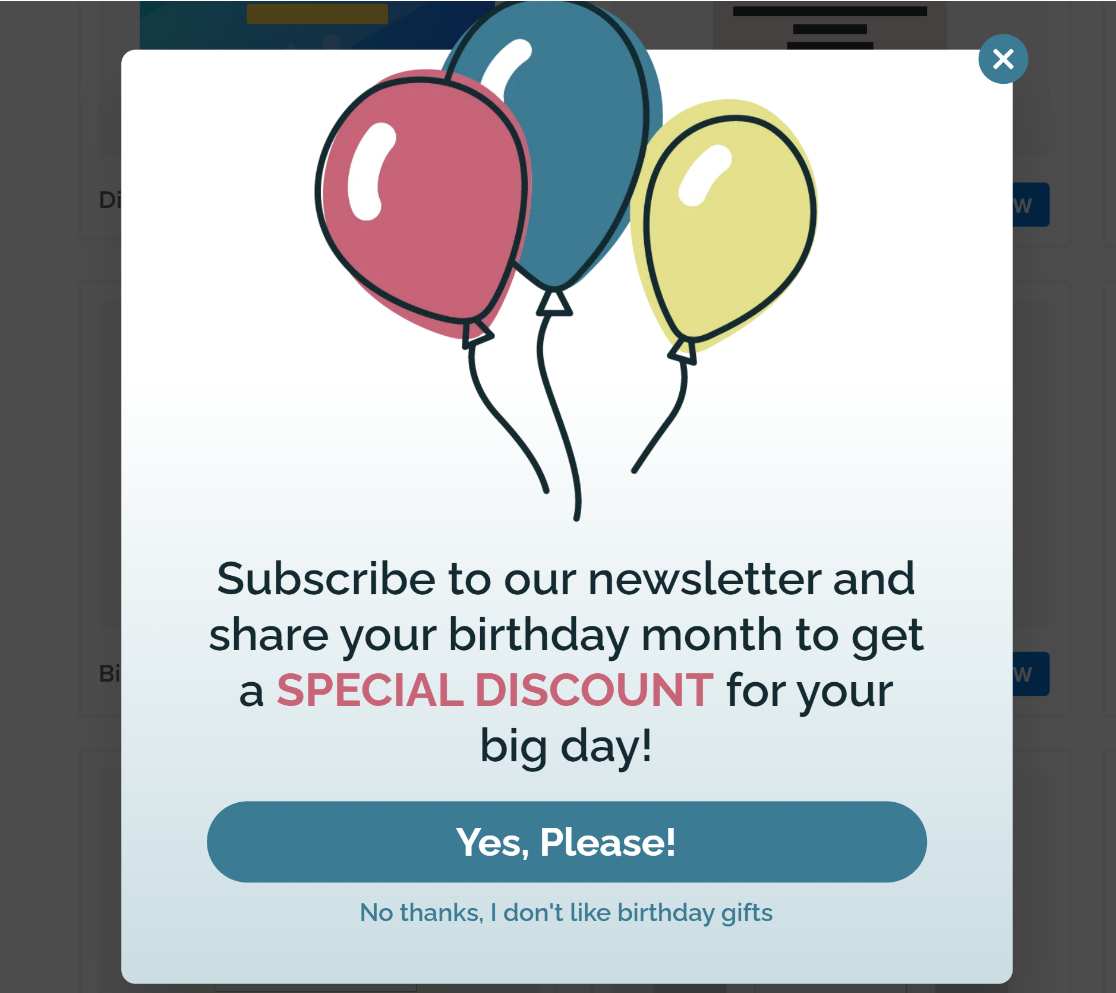 Once you start capturing emails to grow your list, you can then send those visitors a coupon code valid for an order form generated using WPForms. This is a powerful way to combine WPForms with OptinMosnter, as it allows you to build your email list and boost sales in a single stroke.
No matter your goals, OptinMonster can greatly support your promotional activities for important dates in your calendar.
Increase Social Following With Giveaways – RafflePress
Company milestones, anniversaries, and holiday seasons provide excellent opportunities to host giveaways. If your goal is to get more followers for your Facebook, Instagram, Twitter, or YouTube channel, you should consider running a giveaway campaign.
RafflePress is a super user-friendly WordPress plugin for creating giveaways and contests.
It allows you to add tons of different ways for your visitors to register their entries, including asking users to visit your Facebook page, follow you on Twitter, share a tweet, and more.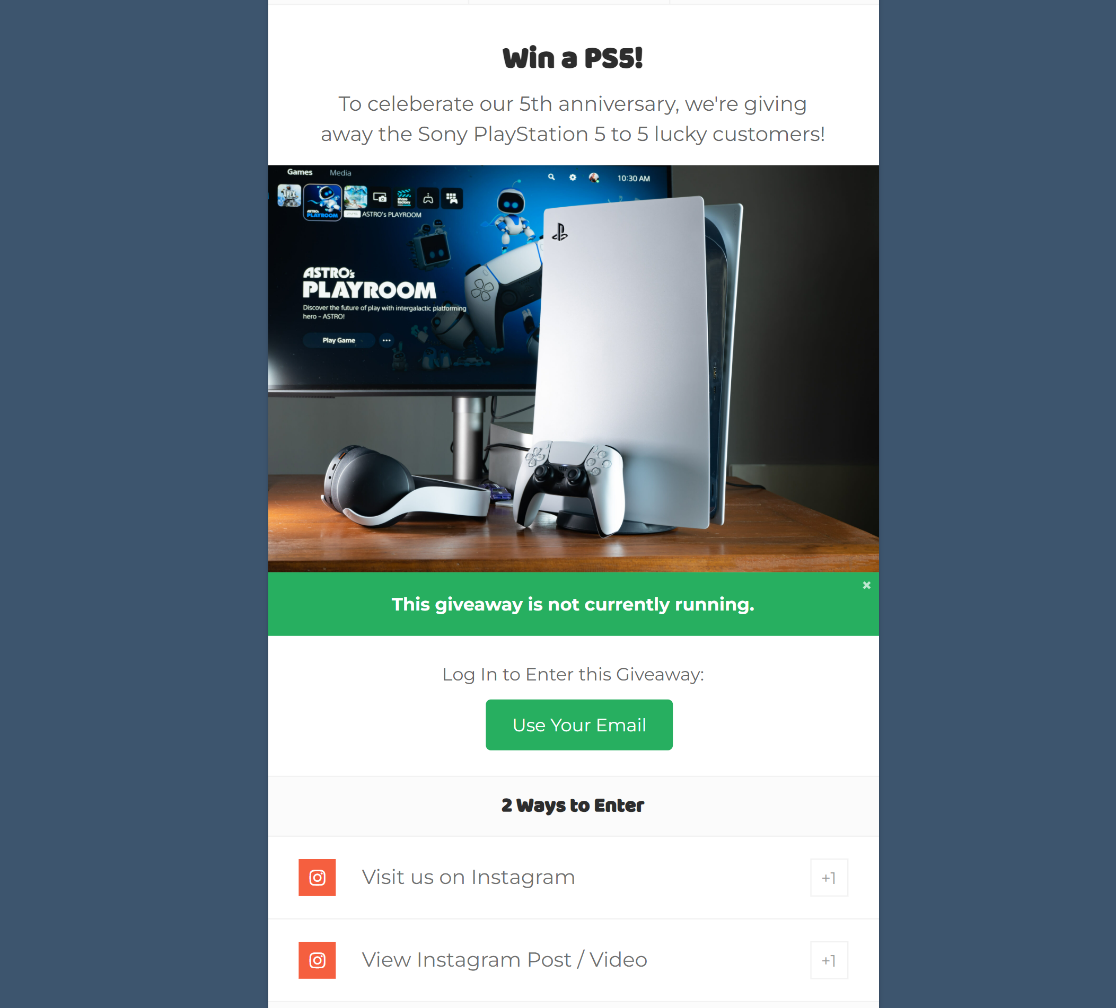 The plugin also allows you to pick a random winner for your contest to make things even easier for you.
Recover Lost Sales With Push Notifications – PushEngage
There will always be some percentage of visitors that will abandon their cart and exit your site before making a purchase.
Sending coupon codes to abandoning visitors is a highly effective way to recover lost sales.
Thankfully, this is really easy to do with PushEngage.
With PushEngage, you can set up automated push notifications that visitors will receive if they abandon their cart or form.

Once again, WPForms can come in handy here because you can use it to create a special discount code for users abandoning their purchases and use PushEngage to send that code.
In fact, PushEngage isn't just good for cart abandonment push notifications. You can also use it to promote coupon codes for first-time users during your next seasonal sale.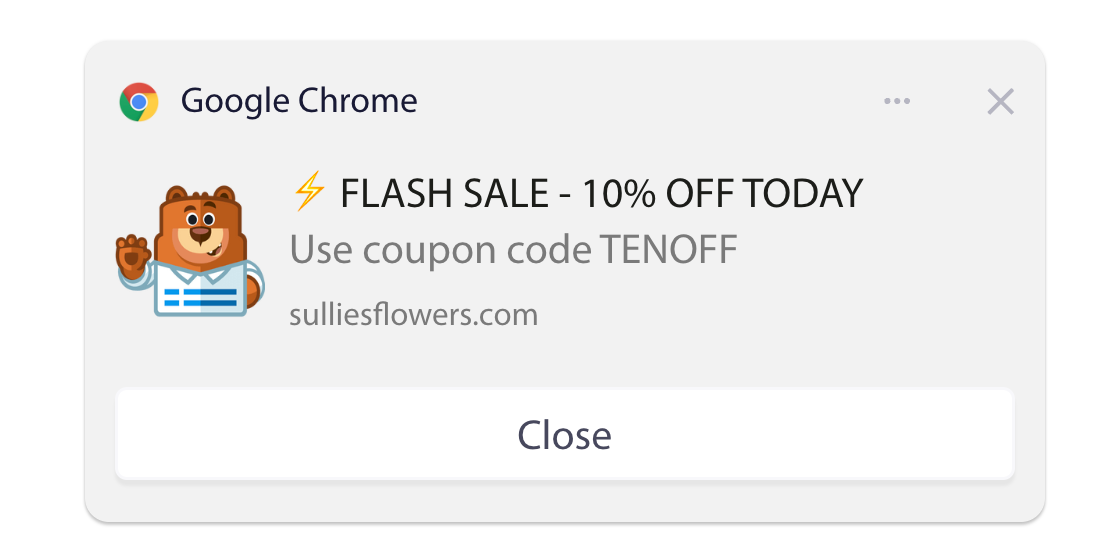 Make sure you're generating coupon codes from the same plugin you'll be using to build the checkout page with. For instance, if you want a coupon code for an order form built with WPForms, you'll need to create the coupon code using WPForms as well.
If you're a WooCommerce store and offering coupon codes that work with the shopping cart, you'll need to create the coupon code using WooCommerce and so on.
Step 4: Measure Results
It's vital to measure results during every promotional campaign you run throughout the calendar. These results will paint a true picture of how effective your campaigns are.
You'll likely notice that the promotional campaigns you ran for some dates brought better results than others.
This is an incredibly important lesson that you can apply in the future to focus more of your efforts on sales dates that resonate more with your particular audience.
The good news is that it's really easy to measure results in WordPress even if you're not a pro at using data. You just need MonsterInsights, which is a plugin that brings only the most useful reports from Google Analytics to your WordPress dashboard.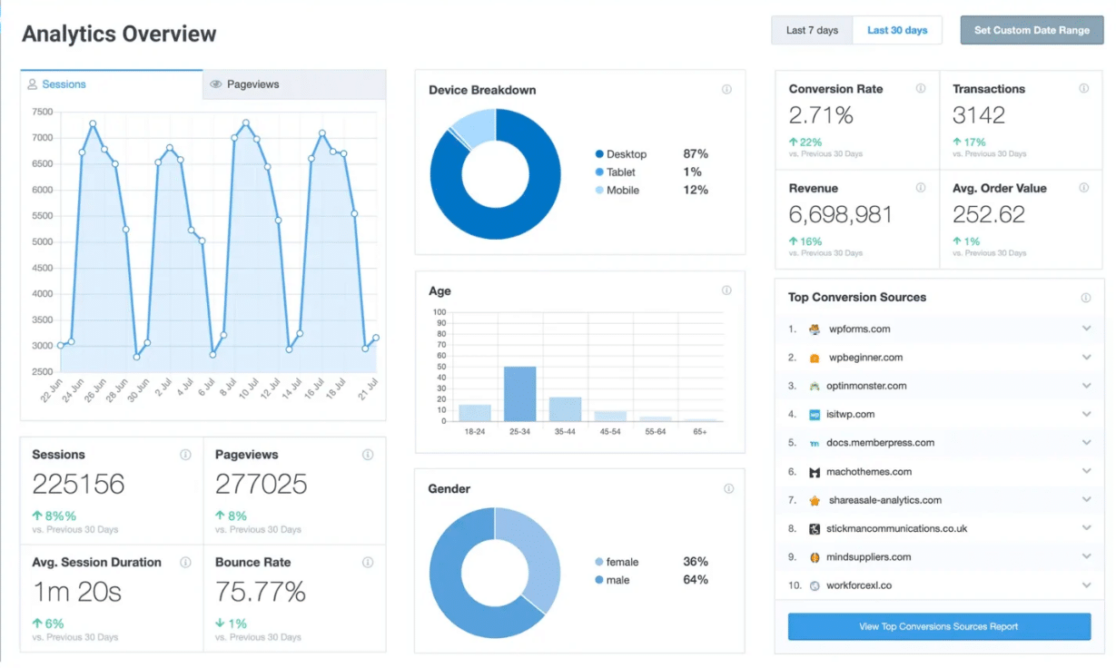 To measure each campaign precisely, you can annotate your analytics using the site notes feature. So if you launched a campaign on a specific date, you can just leave a label on your traffic and revenue charts to indicate the start and end of the campaign.
That will make it easy for you to clearly see an increase or decrease in your important site metrics.
And that's a wrap!
We hope this article helped you learn what a promotional calendar is and how you can create one for your online business with ease.
Next, Create Personalized One-Time Coupons
Coupons are an incredibly versatile marketing tool. You can use one-time coupons to reward customer loyalty, welcome new customers, or create a sense of urgency for a boost in sales.
If you'd like to create one, here's our detailed guide on creating personalized one-time coupons in WordPress.
You may also want to read about our favorite coupon code plugins for WordPress and why we rate them so highly.
Create Your WordPress Form Now
Ready to build your form? Get started today with the easiest WordPress form builder plugin. WPForms Pro includes lots of free templates and offers a 14-day money-back guarantee.
If this article helped you out, please follow us on Facebook and Twitter for more free WordPress tutorials and guides.