Do you want to create a coupon popup in WordPress? Coupon popups are an excellent way to advertise your sales and deals when customers land on your page.
In this post, we'll walk you step-by-step through the easiest way to add a coupon popup to your WordPress site.
How to Create a Coupon Popup in WordPress
Creating a discount coupon popup in WordPress is super easy. You don't even need sites like WooCommerce or Shopify. Just follow these steps.
Setup
Before we get started, there are 2 plugins you'll need to install and activate to follow along with this tutorial. If you need some help with that process, check out this guide on how to install WordPress plugins.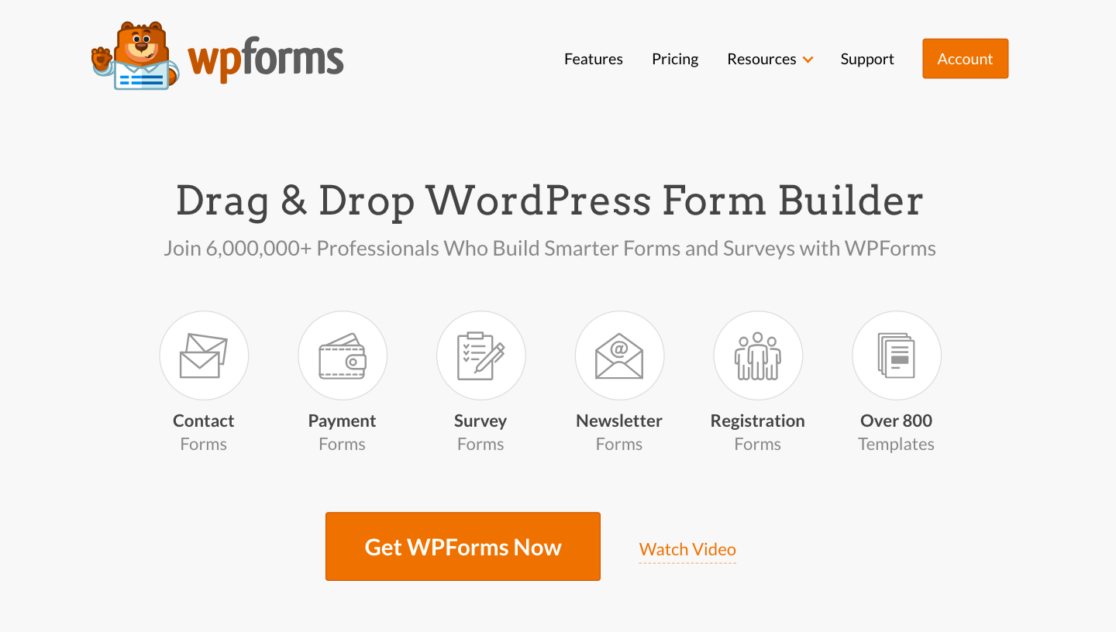 First, you will need WPForms. This is what you will use to create order forms, payment forms, and coupon codes. Note that you will need either a Pro or Elite license to access the Coupons addon, which you will use to create your coupon codes.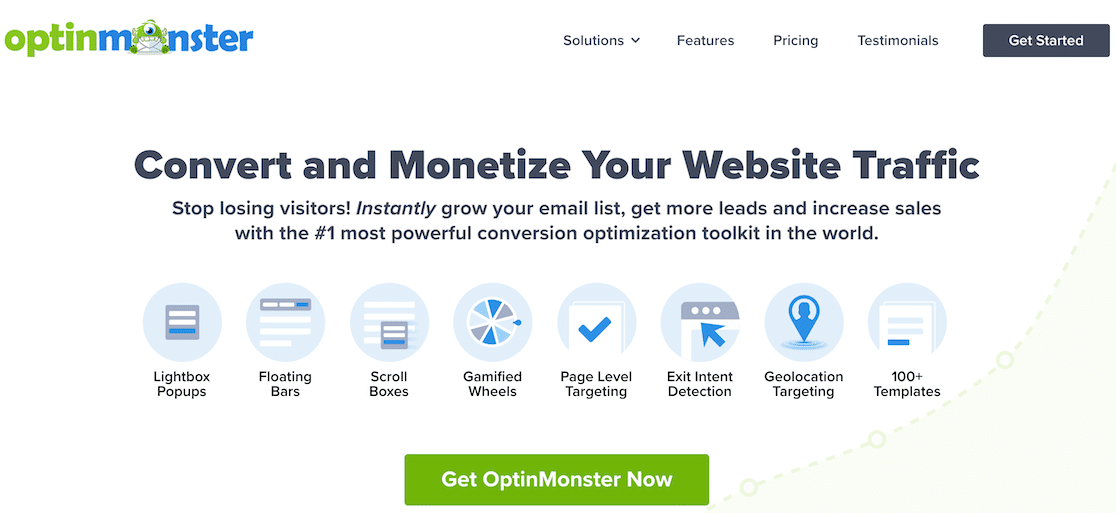 You will also need OptinMonster. You'll use this plugin to create your popup campaigns.
Once you've installed those, you're ready to jump in!
Step 1: Create a Coupon Code in WPForms
To start, we'll create a coupon code in WPForms using the Coupons addon.
Navigate to WPForms » Payments.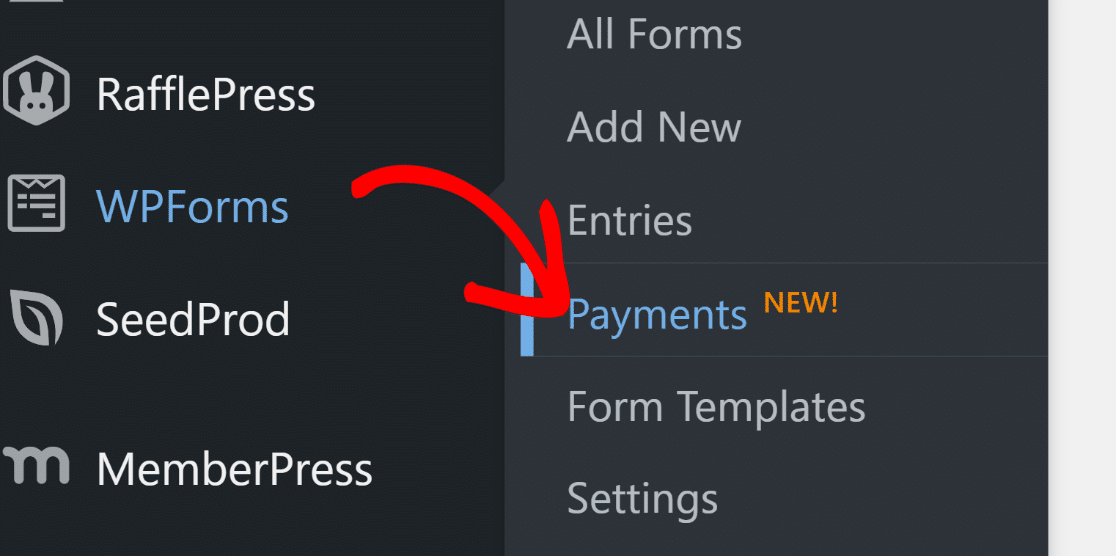 That will take you to a page with 2 tabs at the top: Overview and Coupons.
Click the Coupons tab.

Next, you can click Add Coupon to create your coupon code.
From there, you can fill in the details about the coupon you wish to create.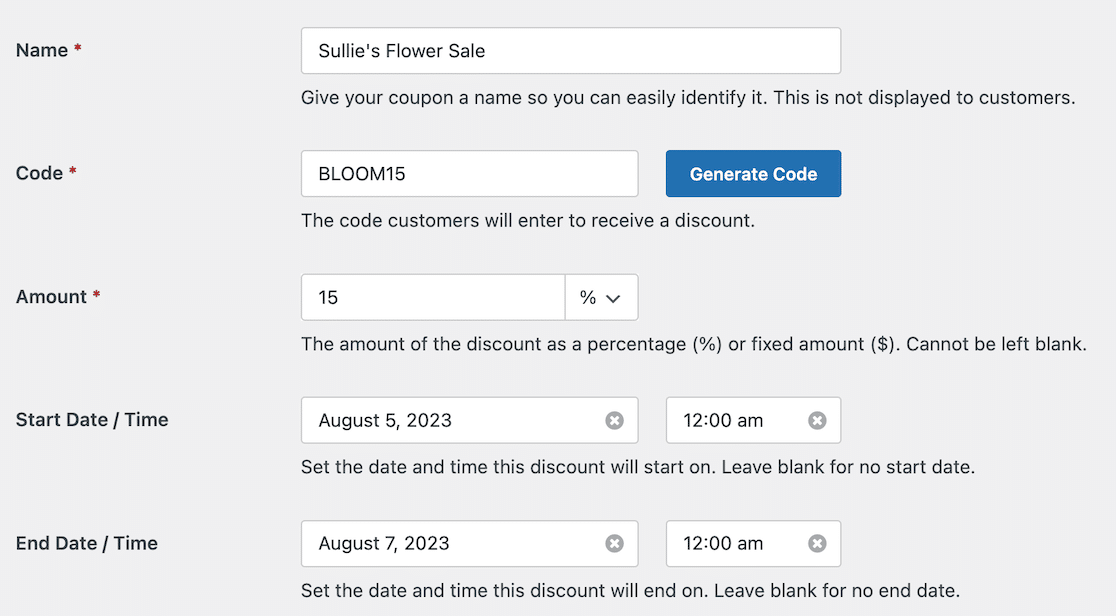 After you configure your coupon settings, you'll find a list of all the forms on your site. Select the forms where you want to allow users to apply the coupon code. You enable all forms or specific forms individually based on your site needs.
Remember that you can always come back to this later and update it if you need to. However, coupon codes won't work unless you enable specific forms to accept them.
Once you've done this, take note of your coupon code, and save your work.
Step 2: Add a Coupon Field to Your Forms
If you haven't already, make sure you add a coupon field to all the forms that will accept the code you just created.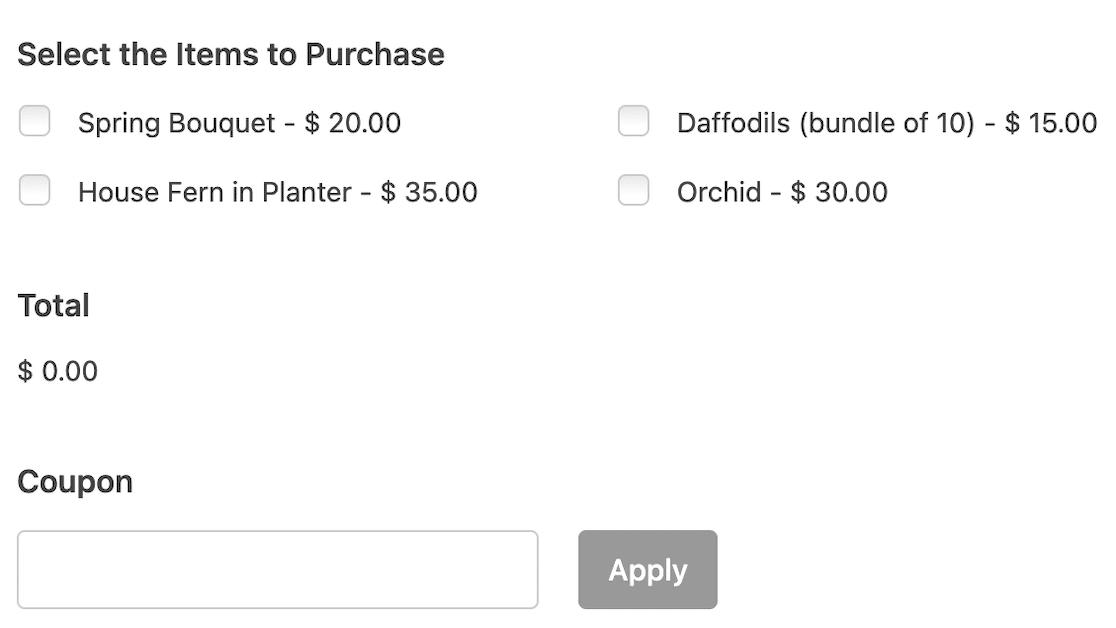 Whether you're creating a new form or updating an existing one, the process is the same. Start by opening the form builder. If you're starting from scratch, add the fields you need for your form first. If you use templates, they're all customizable so you can add what you need.
Next, scroll down to the payment field options. Drag and drop the coupons field into place where you want it to appear. This is typically somewhere near the total or payment field.
When you finish, you can save or publish your form.
Step 3: Create Your Popup in OptinMonster
For this next step, we're switching over to the OptinMonster plugin. From the left sidebar menu, navigate to OptinMonster » Campaigns. 
From here, you can click Add New to create a new campaign.

A modal window will open and give you options. Select Templates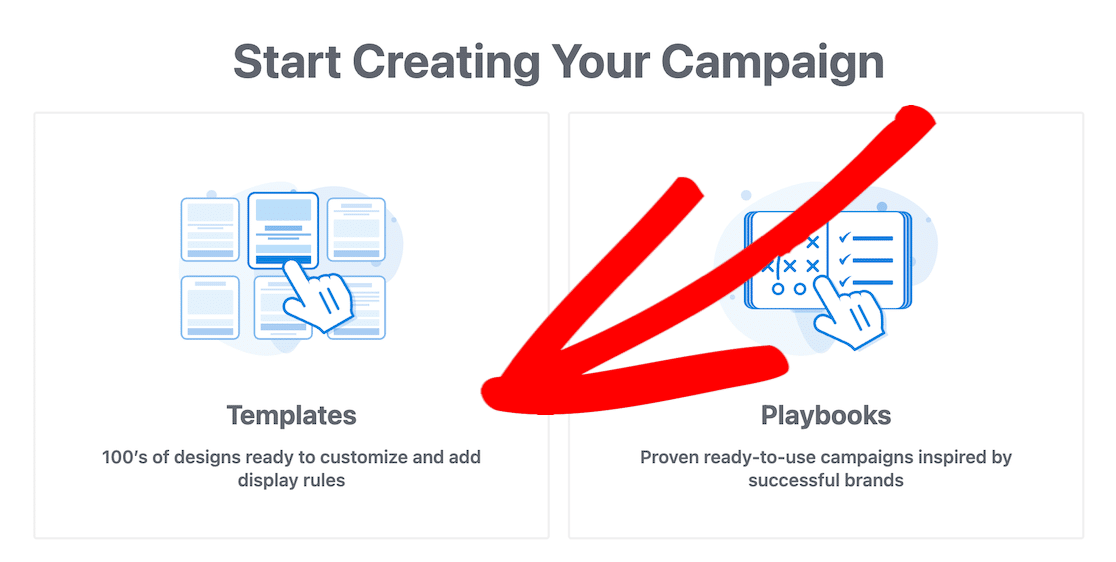 After selecting the Templates option, you'll land on the templates page in the OptinMonster builder. The first thing you do is choose your type of campaign. This is where you want to select Popup.

You'll see popup templates below the campaign type. You can search for specific kinds of popups. We searched for a coupon template to use and selected it. At this point, it prompts you to choose a name for the campaign.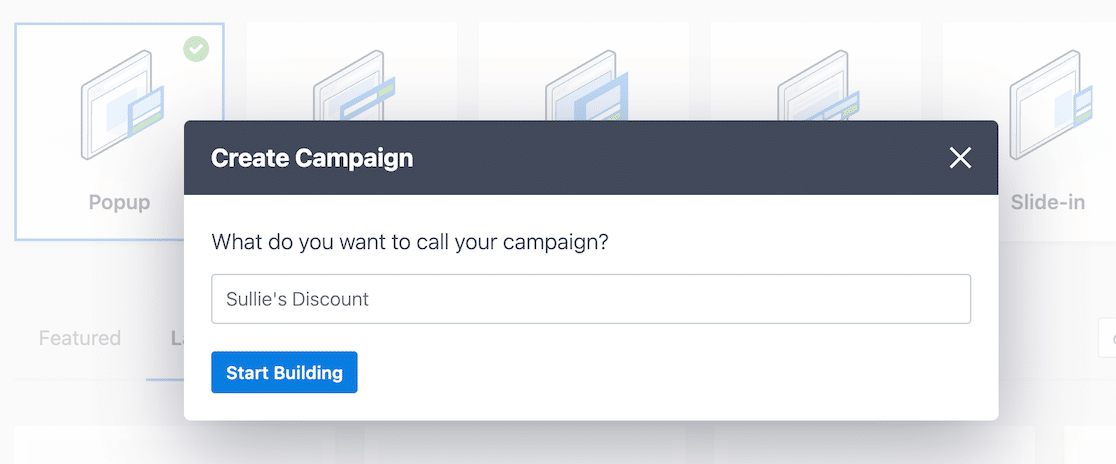 Once you've named the campaign, click the Start Building button, and the template will open in the builder.

Inside the builder, you can click on different blocks within the popup to customize them. Drag and drop different blocks onto the popup to create exactly what you want. We decided to keep the countdown timer block in our example.
Don't forget to add the coupon code that you created in WPForms! If you're offering coupons, you must be sure the advertised coupon matches what you created. As you saw in Step 1, ours was BLOOM15, so we'll update the text to show that code.
When you're satisfied with the look of your coupon popup, go ahead and click Publish. 

This will take you to a screen with some options for publishing your popup. Among these options, you can decide whether you want to publish immediately or save as a draft, and determine a schedule for when your popup will run.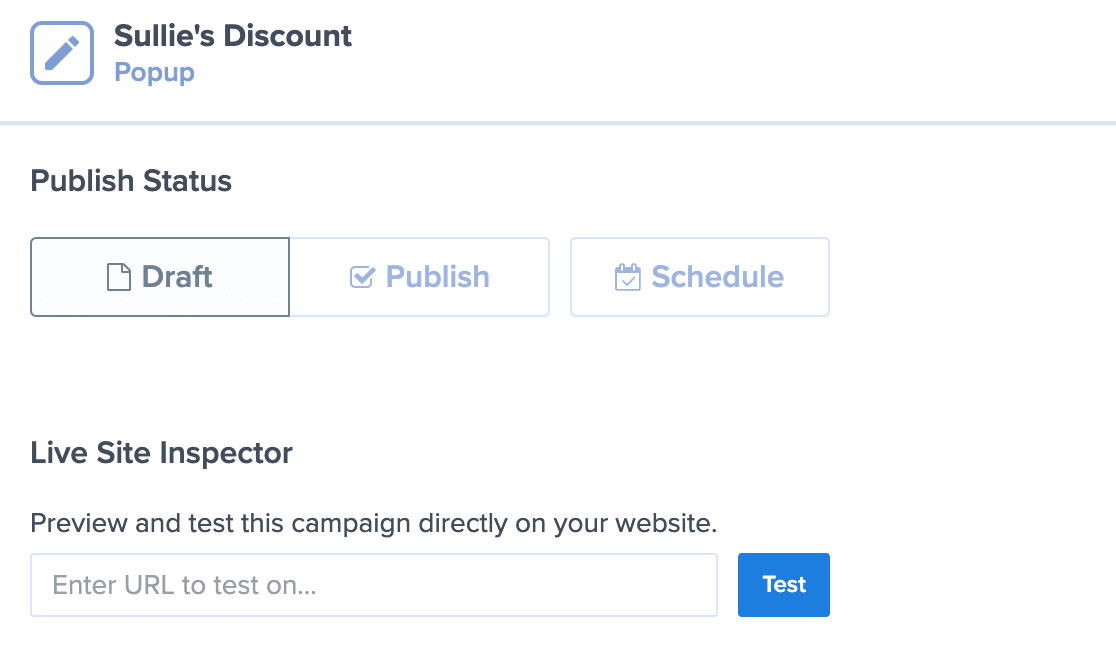 Another neat feature is that you can enter a URL on your website and see how the campaign will look.
As long as your OptinMonster account is connected to your WordPress, your campaigns will immediately begin showing when you make the popup live.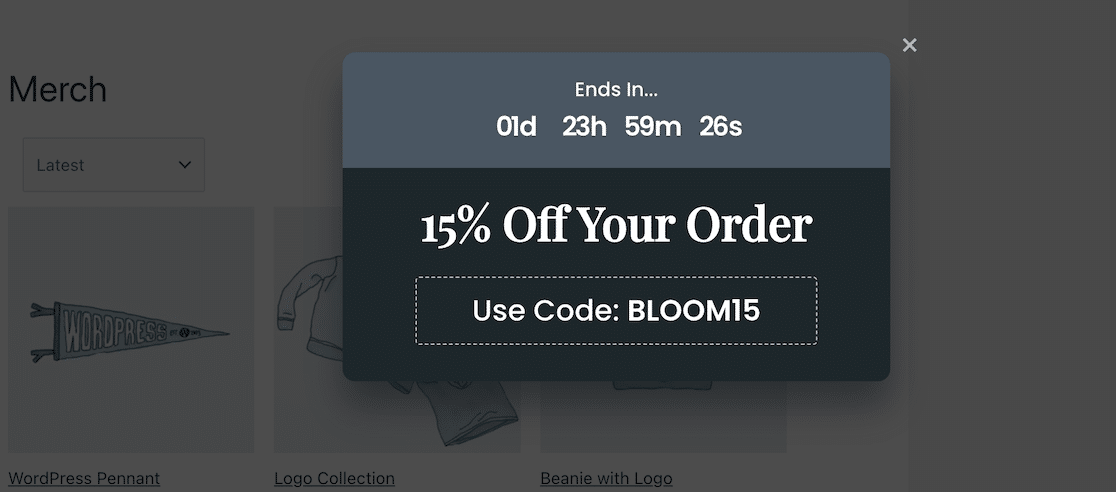 After your campaign is live, you can view and monitor analytics from within the OptinMonster plugin.

And that's really all there is to it! When people see the popup, they'll know what coupon code to use at checkout. Because you set up your payment form in WPForms so it will accept that coupon code, you're golden.
Depending on your campaigns, you can have a coupon code popup set up in as little as 5 minutes. While it might seem daunting to switch between plugins, the process is quite simple and straightforward. Both plugins are user-friendly.
Next, Boost Your Site's Functionality With More WordPress Plugins
Check out the plugins in these posts to boost your WordPress website's functionality.
FAQs
Why Should I Use Coupon Popups On My Site?
Display coupon popups to let your website visitors know about sales or deals that you're running. It's a simple format, giving them only the discount code, but it works wonders to boost sales and conversion rates.
Can I Show Coupon Popups Only On Certain Pages?
Yes, you can set rules and conditions in your popup plugin to determine where and when to display your popups. This will help you show your popups to the most relevant audience on your site.
Will Coupon Popups Work on Mobile Devices?
Yes, most coupon popup plugins will work across devices, including mobile phones and tablets. It's always a good idea to research coupon plugins before you use them and check the plugin documentation to be sure before you install it.
Will Popups Affect My Site Speed?
If you have too many popups and they load large files, it can definitely slow your site down. To avoid this problem, research plugin options to ensure they're lightweight. You can also limit your popup use so they only display on the most important pages on your site.
What Makes Coupon Popups Effective?
To create an effective popup, keep the copy short and sweet, and use easy-to-read fonts. Use contrasting colors that stand out while still matching your site's look. Most importantly, make sure you're targeting the right audience and A/B test popups so you know how to reach them.
Ready to build your form? Get started today with the easiest WordPress form builder plugin. WPForms Pro includes lots of free templates and offers a 14-day money-back guarantee.
If this article helped you out, please follow us on Facebook and Twitter for more free WordPress tutorials and guides.