Trying to come up with some new Black Friday coupon code ideas this year? Coupons are a great tactic to use in your overall Black Friday marketing strategy, and there are lots of ways you can use them to make an impact.
In this post, we'll take a look at 11 easy ways you can use coupons to boost conversion rates this Black Friday.
How Do You Make a Good Coupon Code?
The best way to make a good coupon code is to customize it. Instead of a random string of numbers and letters, use a word or phrase that ties to your business. Just remember to keep the code relatively short. You want it to be easy for visitors to use!
Black Friday Coupon Code Ideas
Whether you're a small business or a larger corporation, there are lots of ways to use coupon codes in your Black Friday marketing campaign.
WPForms recently introduced a Coupons addon, which makes it incredibly easy to offer discounts. Retailers can sell items right from their websites without the hassle of WooCommerce, Shopify,  or similar eCommerce store platforms.
Let's take a look at how to use the WPForms Coupons addon to create high-conversion coupons for Black Friday. You'll be coming up with new Black Friday marketing ideas in no time!
Setup

To use the Coupons addon, you will need to install WPForms and activate the addon. Please note that the Coupons addon is only available to those on the Pro and Elite plans.
After you've activated the Coupons addon, you can access it by going to WPForms » Payments and then clicking on the Coupons tab.
1. Single-Use Coupon
Single-use coupons are a popular setup for Black Friday. Customers can only use the coupon once, encouraging them to purchase more to get the best deal.
Setting up a single-use coupon is easy in WPForms. After filling out all the details for your coupon, the last setting is for max uses. This is the number of times each customer can redeem the coupon. To create a single-use coupon, simply set that number to 1.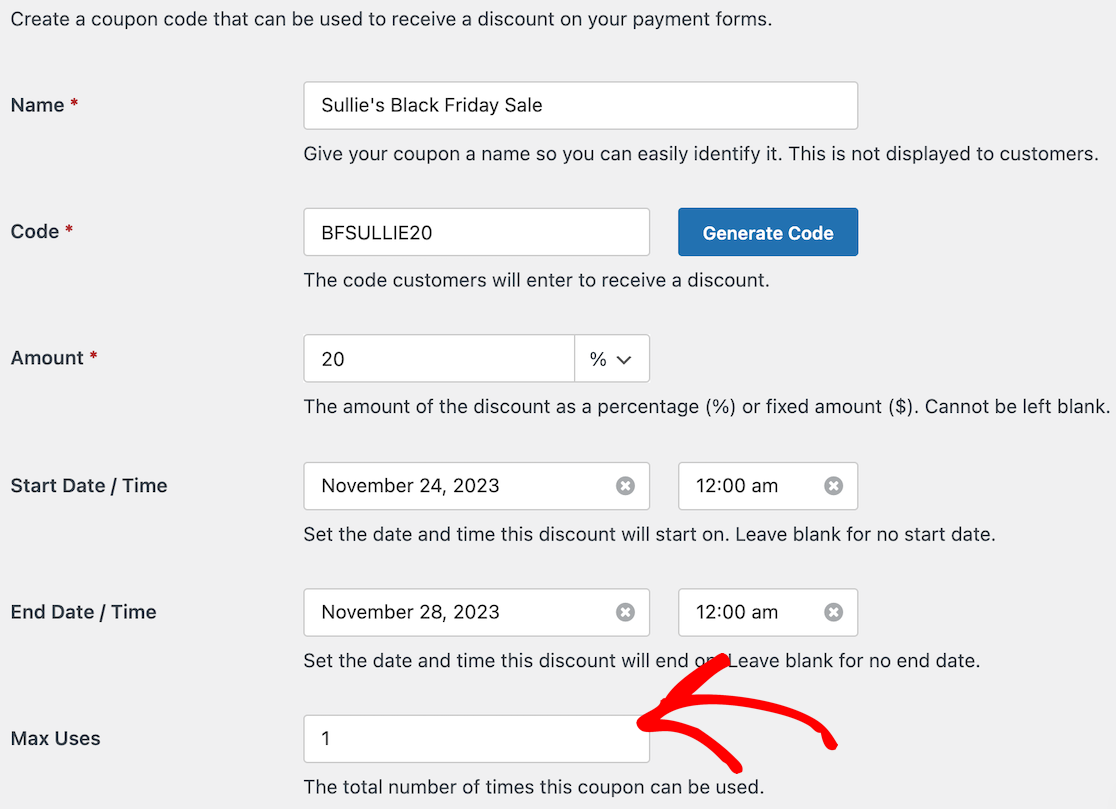 Customers want to get the most bang for their buck. Knowing that they can only use a coupon once encourages them to spend more to save more, which is why this kind of coupon works so well for Black Friday.
2. Percentage Discount
Percentage discounts are among the most popular types of coupon deals. They're also stupid simple to set up.
When you're creating your coupon in WPForms, all you need to do is make sure the amount field is changed to a percentage instead. Then you can set your percentage rate.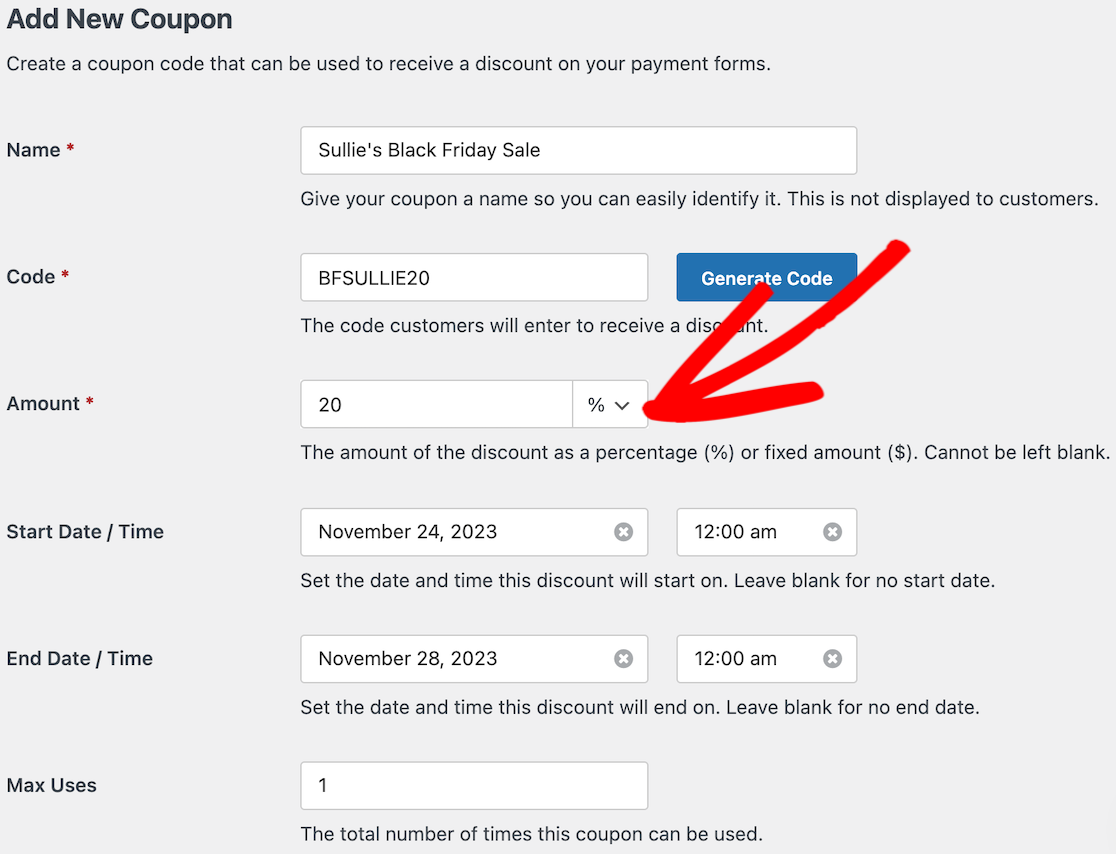 That's all there is to it!
3. Flat Rate Discount
A flat rate discount is one that gives you a specific dollar amount off of your purchase. Instead of a variable rate like you get with percentage discounts, a flat rate discount will always be the same for everyone who takes advantage of the offer.
Flat rate discount codes are also incredibly easy to set up in WPForms.

The process is almost identical to setting up the percentage discount. However, you want to make sure the dropdown menu in the Amount field indicates that you're dealing with a flat rate for cash instead of a percentage. Update that and don't forget to enter the number!
In our example above, it's set to give users $15 off whenever they use the code BFSULLIE15.
Flat rate discounts are good to offer when customers have hit a certain minimum. For example, you might advertise $15 off your purchase of $75 or more this Black Friday. In fact,or different holiday sales throughout your promotional calendar.
4. Affiliate Coupon
If you have a referral program, it's easy to create codes for your affiliates right in WPForms. They can share those codes and point people back to the products on your site.
It's a good way to get new customers, as well, because you're reaching a new target audience. It's also a good way to get the word out about new products.
When customers fill out the order form, they would use the code the affiliate gave them. This is usually some combination of the affiliate's name or business and the discount.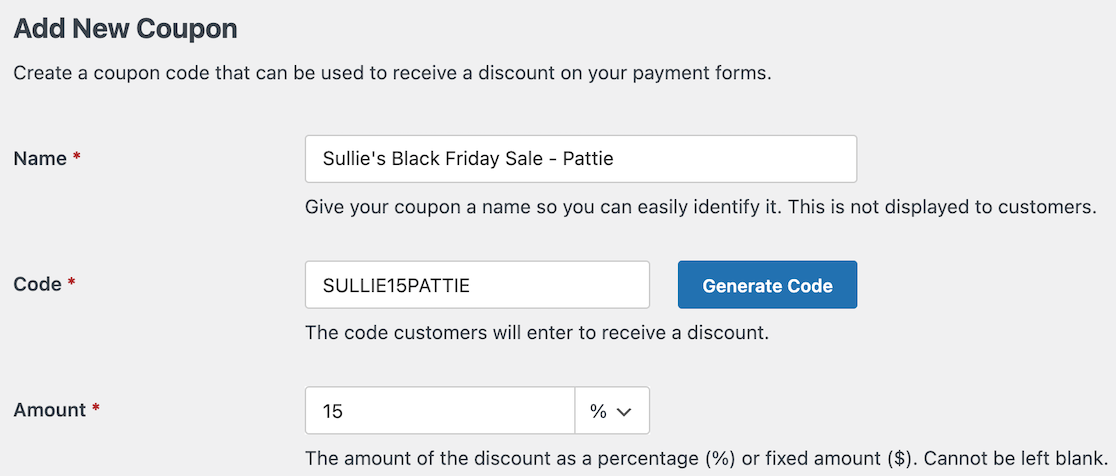 In this example, Pattie shares her code and every time someone uses it, they save 15% on their order. You can set this up as a single-use coupon, as well, so they save on their first order only if you like.
Through order reports and tracking, which you can even automate to Google Sheets to organize, you can track how many times each affiliate's coupon has been used. Then you can make payouts.
5. Seasonal Sales
If you're setting up a limited-time Black Friday sale, you want to make sure you set specific start and end times to correspond with Black Friday itself or with the entire Black Friday weekend if you choose.
In your WPForms Coupons addon settings, all you need to do is adjust the start and end times during coupon setup.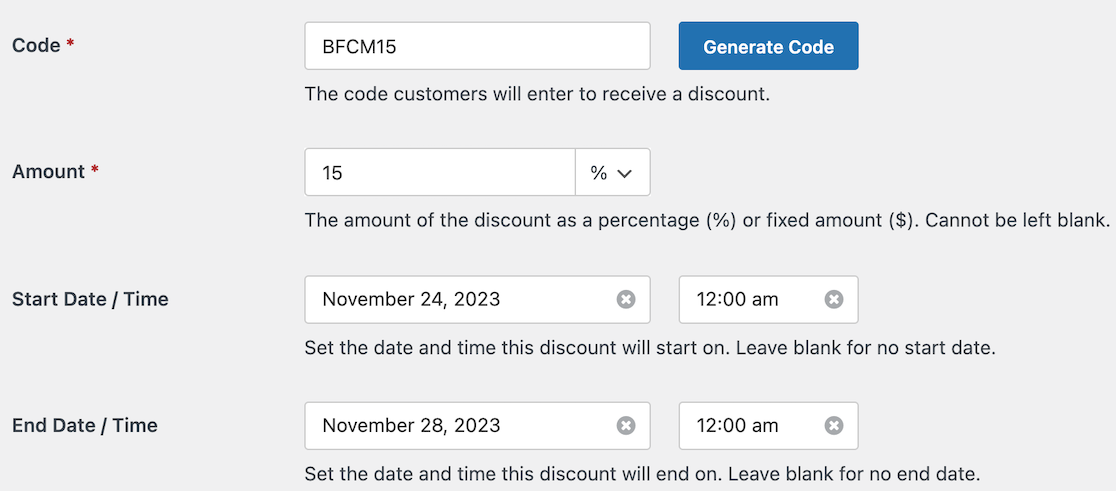 November 24, 2023, is Black Friday, so we set our coupon to start right at midnight. Because Black Friday shopping has become an entire multi-day event, we set the coupon to expire after Cyber Monday ends. You can also set it to have separate Cyber Monday deals or special offers if you like.
6. Free Shipping
You can use the flat rate discount technique from above to set up a free shipping offer.

To do this, create a flat rate offer that will cover the shipping cost. Holiday shoppers will appreciate it!
7. Flash Sales
Flash sales are super common during holiday season shopping periods. You might see businesses offering a different deal every hour or simply just advertising popup sales.
These are also easy to set up in the WPForms Coupons addon.
The process is very similar to the timely seasonal sales we set up earlier. This time, however, you're going to set the start and end times much closer together.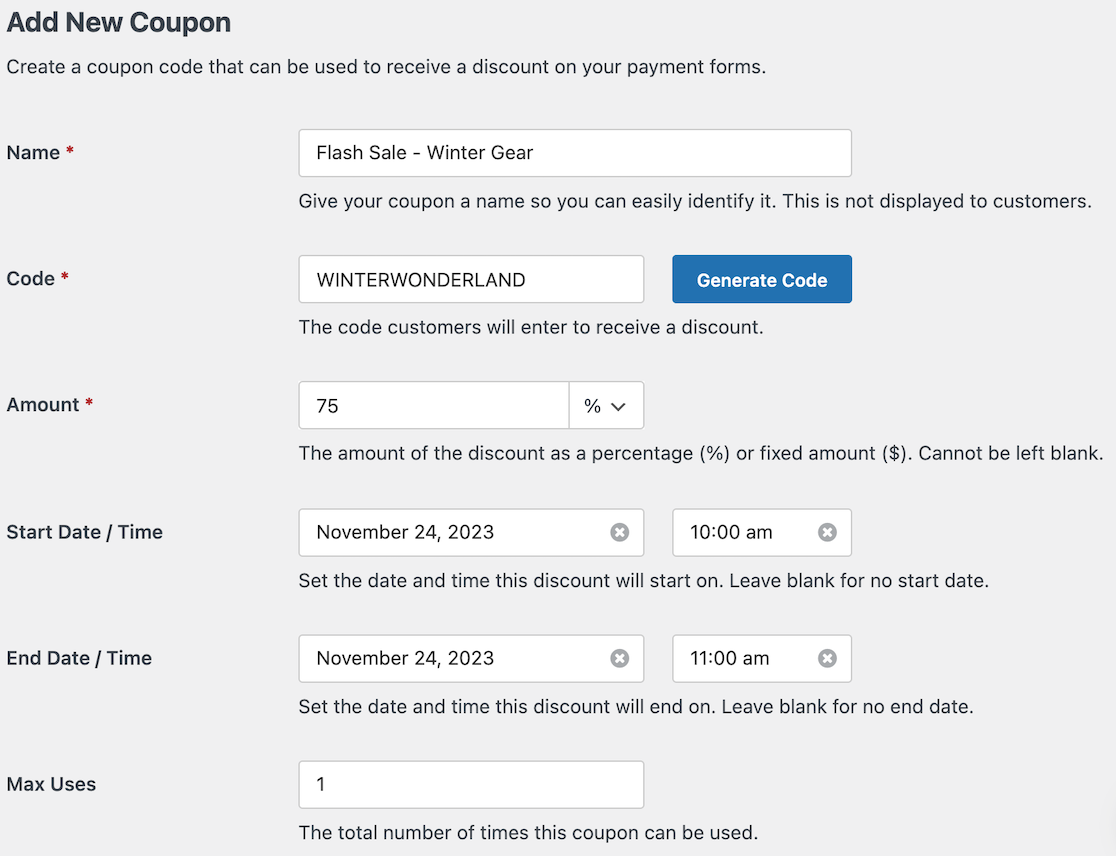 As you can see in this example, the flash sale requires a coupon code that will only work for an hour, from 10 a.m. until 11 a.m.
For this kind of sale to be successful, you need to make sure you advertise it well. Make sure shoppers are ready to jump on your site and start buying right when the sale starts.
8. Sitewide Discount
A sitewide discount means that everything on your site is discounted. This is a nice gesture toward your customers to welcome in the holiday shopping season. Combine it with other marketing tactics on this list, such as a flash sale or single-use coupon.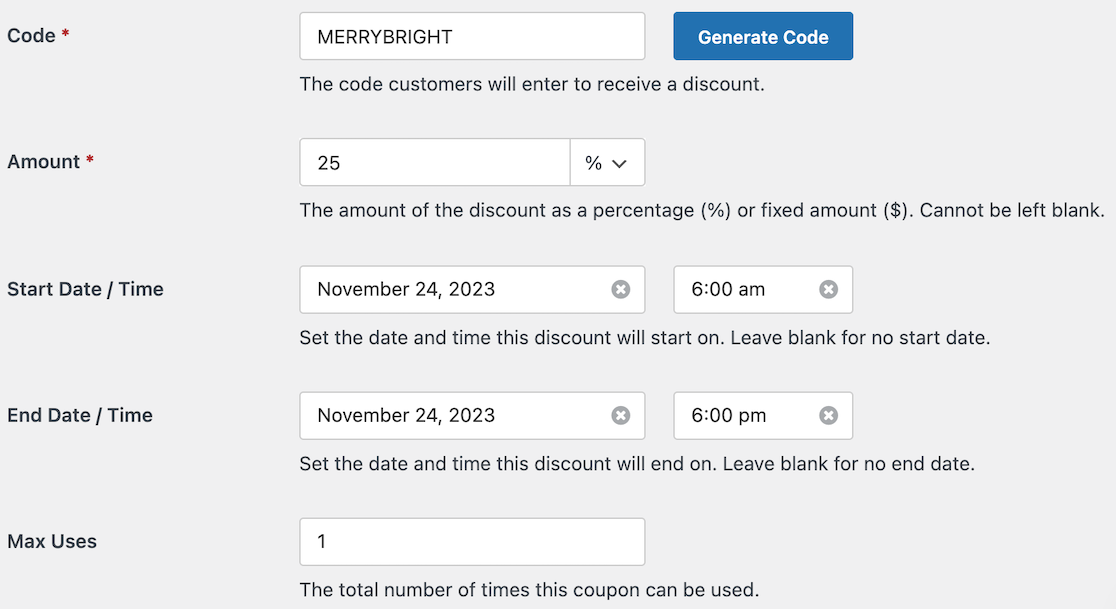 In this example, our sitewide sale will last for 12 hours on Black Friday, but the coupon code for 25% off your order can only be used once.
Coupon popups are a great way to advertise this kind of sale on your site.
To boost sales this Black Friday, make sure your brand is discoverable. After creating your coupon codes in WPForms, share them on social media to expand your reach.
Loyal customers will see that sales are happening and can easily share those sales with friends. Word of mouth is a powerful thing and can help potential customers become new customers in no time.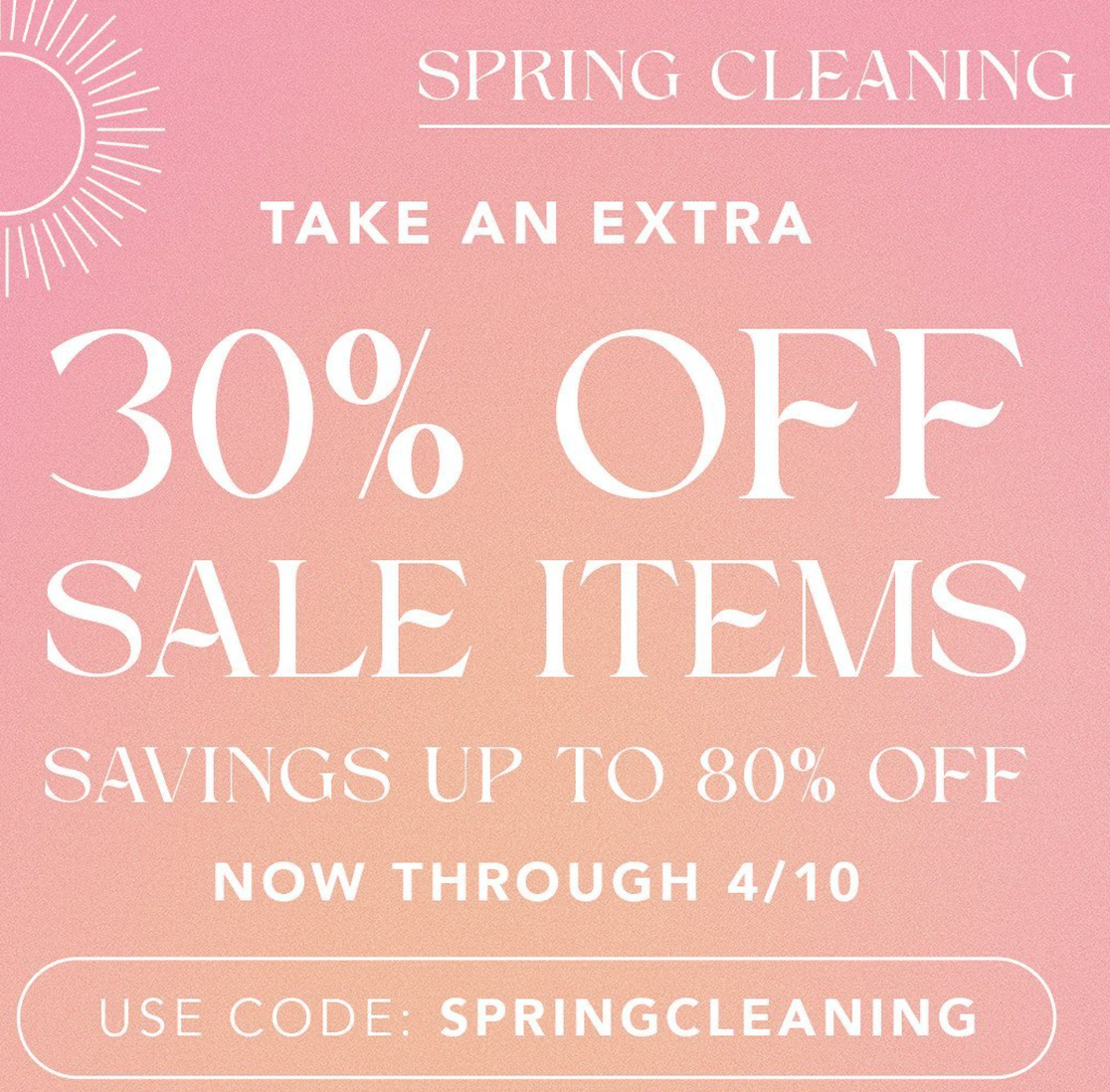 Clothing brand Lotus and Luna shared this graphic on their social media to promote a coupon code. This kind of design works great because it's simple but eye-catching. You notice the larger text announcing the sale and the button-style callout for the coupon code itself.
If it makes sense on the platform you're using, you can use a few high-traffic hashtags to get more customers back to your online business, as well.
10. Category Deals
If you want to offer a coupon only for certain categories of items in your online store, it's easy to set up in WPForms.
When you're creating your coupon code and it comes time to select the forms to which the coupon code will apply, simply select only the categories you want to include in the sale.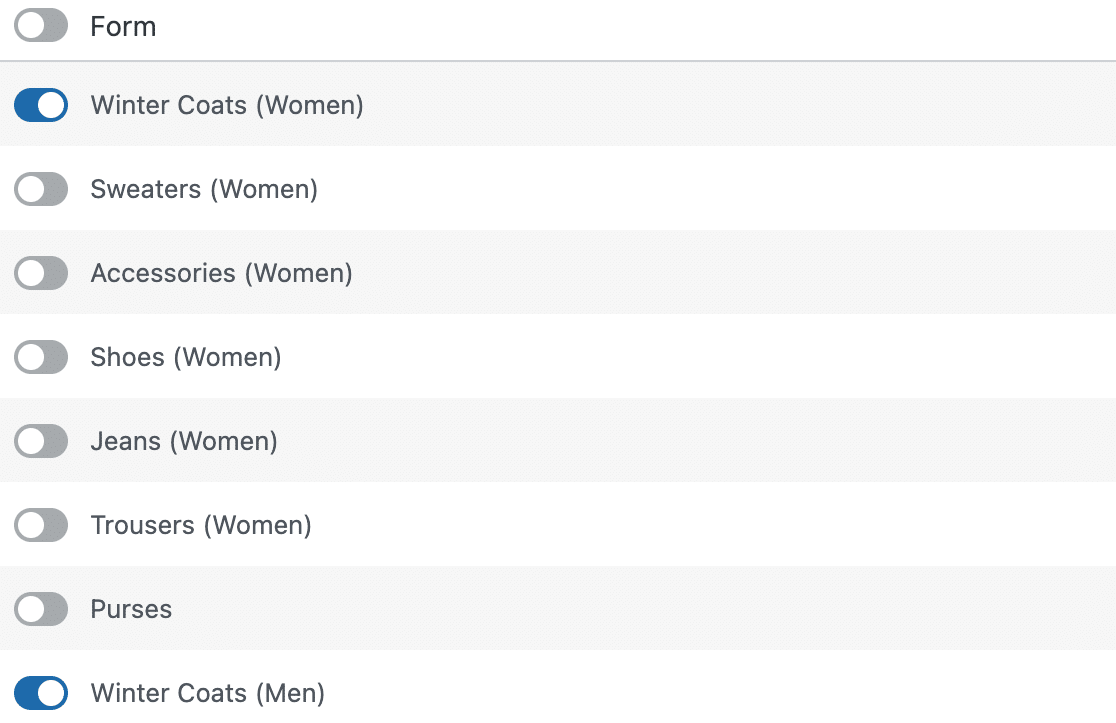 In this example, we've chosen to discount only winter coats.
These types of sales double up well as flash sales, too.
11. Email Your Coupon Code
Email marketing can help boost your conversion rates quite a bit. Like sharing your coupon code on social media, sending it to your email list is a good way to let them know about your deals this Black Friday.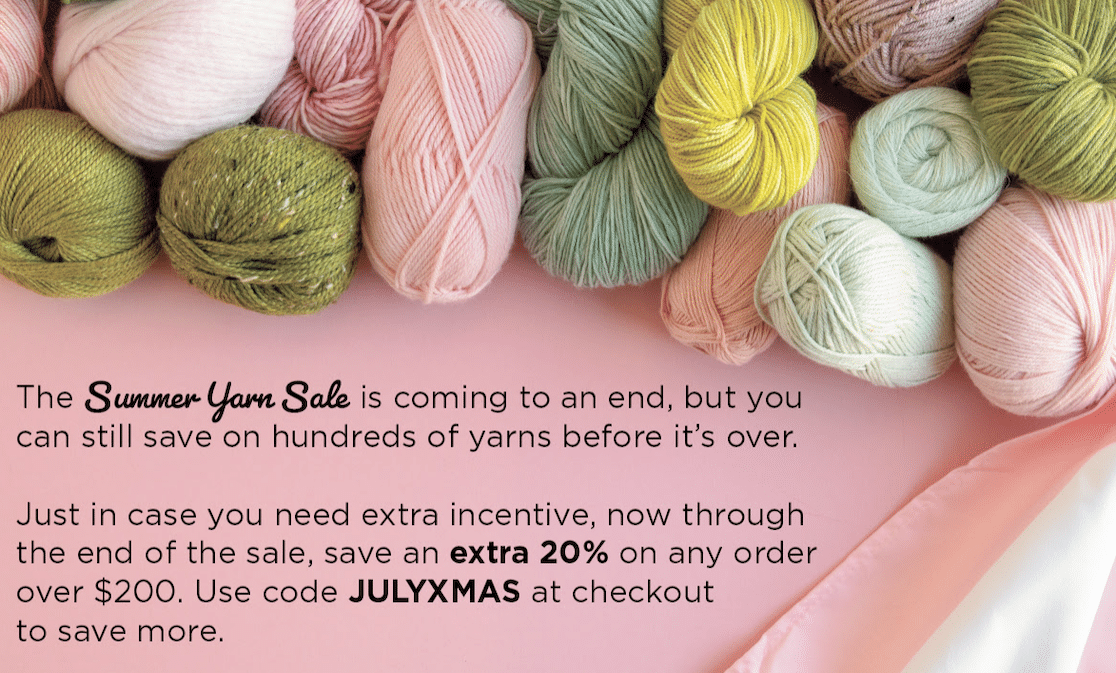 This email graphic from Knit Picks is clean and calls out the important details in bold.
As an alternative to sending an email coupon to your whole list, you can also send it to new subscribers as a way to thank them for subscribing.
For added convenience, you can share a link that auto-applies the coupon code when your subscribers click on it. It's a great way to entice customers to go through with a purchase because they'll see the discount already applied when they visit your payment form.
However you decide to do it, be sure you come up with a catchy subject line to increase the open rate.
Next, Advertise Your Coupon Codes With a Web Banner
Place your Black Friday deals front and center with a floating bar, popup, modal window, slider, or other web banner promotion. Check out our list of the best web banner plugins for WordPress.
And don't forget to check out some of our other WordPress plugin guides!
FAQs
When Should I Start Planning My Black Friday Coupons and Promotions?
You should begin planning your Black Friday offers and coupons at least 2-3 months ahead of time. Remember that multiple teams will likely need to collaborate on successfully executing your Black Friday promotions and deals, so leave enough time for all of them to coordinate plans.
Is It Better to Offer Site-wide Promotions or Coupon Codes for Specific Products?
Site-wide coupon codes and specific product codes are both effective in different ways. For larger average order sizes, go with site-wide coupons. If you want to manage your margins and move very specific products, it's better to focus just on those. Both are useful and good for building customer loyalty.
How Should I Promote My Black Friday Coupon Codes?
Distribute through email campaigns and social media
Create retargeting ad campaigns
Enlist the help of influencers
Work with affiliate marketing programs
Display on your website
How Do I Improve Coupon Code Redemption Rates?
To improve coupon redemption, make sure the promo codes themselves are easy to find and use. Avoid any complicated words or phrases. Set expiration dates and make sure you follow up to let people know time is running out. Single-use coupon codes will create a sense of urgency.
How Often Should I Share My Coupon Codes?
Depending on how long your deals run, 2-4 coupon code emails should be adequate. If you send too many emails, you risk annoying shoppers with too many messages. This is another reason it's good to vary your distribution techniques.
Create Your WordPress Form Now
Ready to build your form? Get started today with the easiest WordPress form builder plugin. WPForms Pro includes lots of free templates and offers a 14-day money-back guarantee.
If this article helped you out, please follow us on Facebook and Twitter for more free WordPress tutorials and guides.