Are you looking for ways to gauge employee satisfaction and improve your business?
One of the best ways to make positive internal changes is to conduct an employee satisfaction survey.
In this article, we'll discuss some of the top questions to include in your employee survey.
Why Conduct Employee Satisfaction Surveys?
There's no denying that employees that are happy working for you are more engaged and committed to working for your company.
One way to find out just how happy your employees are is to conduct an annual employee survey so people can express what they like and dislike about working for your company.
Here are some additional benefits to conducting an employee satisfaction survey:
Improve Your Business: Identifying areas for improvement and ways to manage your business more effectively is easy when you listen to the people that deal with management on a daily basis. Your employees will have a different perspective and can highlight obstacles you didn't know existed.
Boost Employee Satisfaction: Discover what motivates your employees, what brings their morale down, and what they wish you would do differently by analyzing employee survey results. The more satisfied your employees, the more productive they'll be, which is a win-win for you and them.
Better Data Collection: When you conduct a survey on your website using a reliable survey solution such as WPForms, you can collect data in one convenient location. Plus, you can write a summary of your survey results, access survey answers, and export specific questions for each department so improvements can begin right away.
Of course, there are other reasons why you should find out what is on your employees' minds. For instance, you can improve communication, change the workplace climate, solve issues before someone leaves, and gather new business ideas from those that are most involved with the day to day operations of your business.
If you want to create an employee satisfaction survey on your WordPress site, check out this helpful tutorial on how to create a survey form in WordPress.
Now let's take a look at some of the most important employee survey questions you should be asking everyone that works for you.
The Best Employee Satisfaction Survey Questions
There are many areas you can explore when it comes to your employee surveys.
For example, you might want to ask employee survey questions related to:
Compensation – find out whether you're paying people what they think they're worth.
Benefits – determine whether the health insurance, retirement plans, paid vacation time, and more are satisfactory.
Career Development – do employees feel there is room to grow within your business? Are you challenging them enough? Find out whether you're investing enough time and effort in training people to move up within your company.
Management Performance – your employees are only as good as their leaders. Learn what those that work for you think about their supervisor, whether that be you or another hired manager within the company.
Work Environment – inclusiveness, diversity, and work culture play a role in how satisfied your employees are.
Team Performance – find out how your employees feel the teams they're on are performing and what areas can be improved.
Knowing what categories to touch on in your employee surveys is just half the battle. Take a look at some specific questions to help you get your employee survey forms started.
1. How Happy Are You at Work?
If you want to gauge employee satisfaction, and find out whether they're happy working for you, ask them. This is a direct question that anyone can answer and gives you a serious look into company morale.
The easiest way to set up a question like this is to use a Likert Scale form field on your employee survey form and have employees answer on a scale of 1 to 7 how happy they are working for you.
2. I Would Recommend My Company as a Great Place to Work

Using a Net Promoter Score survey (NPS survey) form field, you can easily determine whether your employees would recommend your business as a great place to work or not.

Though this employee survey question doesn't give you the whole story, it's a great starting place. After all, some people may be planning to leave your company soon, but might still recommend it to others.
That said, a consistent NPS from employees shows you that you're doing something right. To get started, read how to create an NPS survey form in WordPress. You can easily adapt this for different types of surveys.
3. Do You Have a Clear Understanding of Your Path to Promotion?

A study by Gallup found that those that are given the opportunity to develop within a company are twice as likely to stay with a company.
Make sure your employees understand what their growth opportunities are and what it takes to get promoted from within.
If you find that people are unsure about how to grow alongside your business, begin offering more training sessions to develop employees' skills and prevent them from finding work elsewhere.
4. Do You Have the Tools and Resources Needed to Perform Your Job Well?

You may not realize that your employees are not reaching their full potential because of a lack of resources or tools.
Luckily, this is an easy fix that will show employees you care about their ability to do their job well. It will also improve your business too.
You can ask a simple "Yes" or "No" multiple choice question on your employee satisfaction survey form.
Then, using WPForms' smart conditional logic, display an additional form field for those that answer "No" to find out what tool and resources they're lacking so you can look into providing them.
5. Do You Feel Valued at Work?
Only 21% of employees feel strongly valued at work.
In addition, another 79% of people claim that "lack of appreciation" is the reason for leaving an otherwise good job.
The truth is, people will work harder for you if they feel valued, appreciated, and like they mean something to the company.
You may think you are appreciating those that make your business a success, but your employees may have other feelings. Don't let your employees leave because of your lack of appreciation.
Adding to this, you might want to ask your employees how they feel their supervisors do when it comes to recognition. This can be done using a Dropdown or Multiple Choice form field to make answering simple on your employees.

Without enough recognition, morale and work engagement will begin to drop. You might even notice a loss in productivity.
The old rule, critique once, recognize twice is always a good motto for you and your managers to follow. But first, find out just how your employees feel by asking them.
6. How Satisfied Are You with the Company's Benefits Package?

This is best set up as a Likert Scale listing all the benefits you offer employees.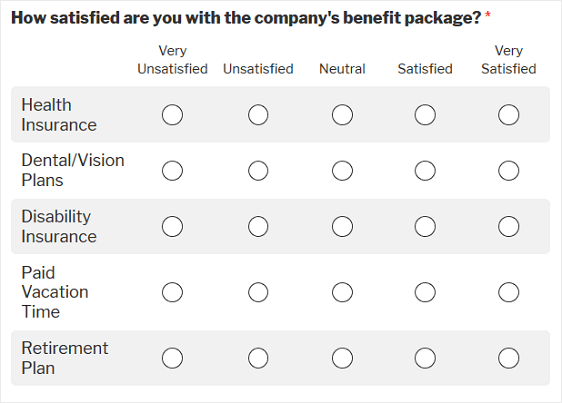 The benefits package you offer employees can be used to retain current employees and attract new ones to your company. Finding out where you might be missing a vital benefit is crucial to the success of your business since this plays into employee satisfaction.
7. Do You Feel Your Supervisors Take Your Feedback Seriously?
Part of growing with a company is feeling like you have a voice. No one wants to work for a company that doesn't listen to their feedback or take their suggestions seriously.
Find out how comfortable your employees are with speaking up when they have ideas or even concerns. Plus, find out whether they feel those in charge of making decisions value what they have to say.
The more involved your employees feel, the more productive and successful your business will be in the long run.
8. Do You Feel You Understand Our Organization's Values?
It's not enough to have your company's vision, mission, and cultural values laid out in a document for employees to read. The last thing you want is to find out that people are working for you without any real understanding of how they're actually contributing to the company.
Want to add another question that will shed light on how your employees feel about your company's culture? Ask them to write three words that describe your organization's culture. With these results you can find ways to improve your business' culture to fit the needs of your employees.
And there you have it! You now know some vital questions to ask on an employee satisfaction survey.
If you're still not sure whether WPForms is the very best WordPress form builder around, make sure to see what our happy customers have to say. Don't forget to check out our survey form demo too, so you can see just how easy it is to create an employee satisfaction survey.
In Conclusion
Now you have some survey questions in mind, you can look at these questionnaire examples and templates to see how other people created similar surveys.
Next up, you could try creating an incident report form to track damage, illness, or accidents at work. That way, you can prevent further incidents that might harm employee satisfaction.
So, what are you waiting for? Get started with the most powerful WordPress forms plugin today.
And don't forget, if you like this article, then please follow us on Facebook and Twitter.