Want to learn how to write effective survey questions for your WordPress forms? Though you can actually add any questions you like to your survey forms, following some survey question best practices will help ensure you get the most form conversions possible.
In this article, we'll show you how to write actionable and engaging survey questions to ensure people will want to fill out your forms.
1. Make It Simple
When writing good survey questions, avoid using jargon, even if it relates to your industry. This way people will understand what you're asking and be able to answer the best they can.
For instance, don't ask a question like this:

Instead, make it simpler to understand, like this:

The key is to write questions as though you're talking to a non-techie friend or relative. In addition, make the questions conversational and casual.
And most importantly, make sure the questions are direct and to the point. Vague or poorly worded questions will confuse site visitors.
As a result, they may abandon your form or answer in a way they wouldn't normally had they understood the question in the first place.
2. Keep It Short
If your survey form is too long, you run the risk of site visitors abandoning it before finishing. You also run the risk of collecting answers that were answered too quickly in an effort to finish faster because form fatigue set in.
The best type of survey questions have a specific purpose, do not stray from that one purpose, and follow a logical order.
Survey forms are also short so people will want to fill them out.
Your site visitors will want to see the point of taking your survey right away, and don't want to get halfway through and begin questioning that purpose.
If your survey form has to be long, make sure you do some of the following:
 Make it available only to those that show real interest in taking it, such as employees or those being paid to take the survey
Create a multi-part form to combat form fatigue
Be upfront about how long your survey is and how long it should take to finish
Enable conditional logic so questions can show or hide based on a user's answers
People tend to like to take surveys that take five minutes or less. This equates to about 15 questions.
Keep in mind if you add an open-ended question at the end of the survey so people can expand on some of their answers, that this will count towards the length of time it takes to finish the survey.
3. Limit the Number of Options
Adding a Likert scale on your survey form is one of the best ways to set up a survey form. It's simple to fill out and gives you an easy way collect feedback from site visitors.
Plus, it prevents you from offering binary responses, such as true/false or yes/no choices. These answers are too extreme for most people and don't help you make data-driven decisions.
The great thing is, when you use WPForms plugin to create your survey form, adding a Likert scale to your WordPress forms is very easy to do.
But one thing to be careful of is how many options you give site visitors to choose from. Give too few and you risk not getting accurate feedback, or forcing people to make a decision they aren't comfortable with.

On the other hand, as seen in the example below, give too many and you risk overwhelming the survey taker.

Most surveys using Likert scales keep the number of choices to about five to increase response rates.
This allows users enough choice to answer honestly since it covers the whole range of possible answers. Plus, it gives people a midpoint to base their opinions off of.
4. Randomize Your Survey Questions
Studies have shown that people tend to pick the first choice available when answers are narrowed down to two, no matter how they might really feel about the question, or their answer.
To avoid this, make sure to randomize any multiple choice survey questions you have on your form.

This way any time someone visits your site, the answers they can choose from will appear in a different order. This reduces any bias and gives you more accurate data to work with.
5. Ask One Question at a Time
If you want to get accurate answers, don't combine two or more survey questions into one, like the example below.

Instead, separate the question into two separate ones so people can answer each individually.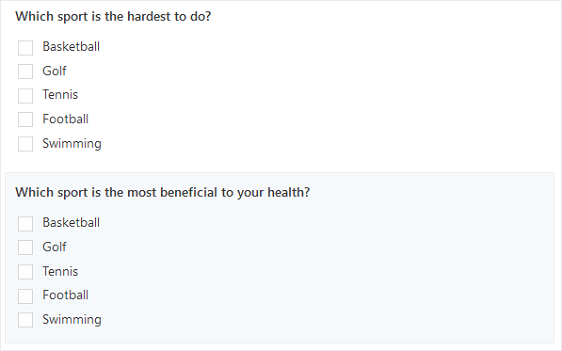 This will reduce confusion and form abandonment. It'll also give the best possible answers so you can make real improvements to your business and increase customer satisfaction.
And there you have it! Five of the best survey question best practices for boosting form conversions.
If you want to know how to get those on the go to finish your survey forms, check out our simple tricks for boosting mobile form conversions. And if you're looking for ways to boost your contact form conversions, see how lead magnets can help increase subscribers and build your email list.
So, what are you waiting for? Get started with the most powerful WordPress forms plugin today.
And don't forget, if you like this article, then please follow us on Facebook and Twitter.