Are you looking for survey best practices to put into place so more people will complete your surveys? Following these guidelines will get you more survey conversions and better data.
In this article, we'll reveal the most important survey best practices to follow so people will actually want to fill out your survey forms.
Effective Survey Design Best Practices
Here's a table of contents if you'd like to jump ahead:
Understanding and using survey design best practices is the key factor to making an effective survey.
Here are some of the top survey tips and techniques to try:
1. Make Your Questions Clear
When writing good survey questions, avoid using jargon, even if it relates to your industry. This way people will understand what you're asking and be able to answer quickly.
For instance, don't ask a long-winded question like this:

Instead, make it simpler to understand, like this:

The key is to make the questions conversational and casual.
And most importantly, make sure the questions are direct and to the point. Vague or poorly worded questions will confuse site visitors.
As a result, they may abandon your form or answer in a way they wouldn't normally if they had truly understood the question.
2. Keep Survey Length Short and Sweet
Just like your questions, try to keep your survey short and get straight to the point.
Survey length best practices tell us that people get tired of surveys at around 5 minutes or 15 questions.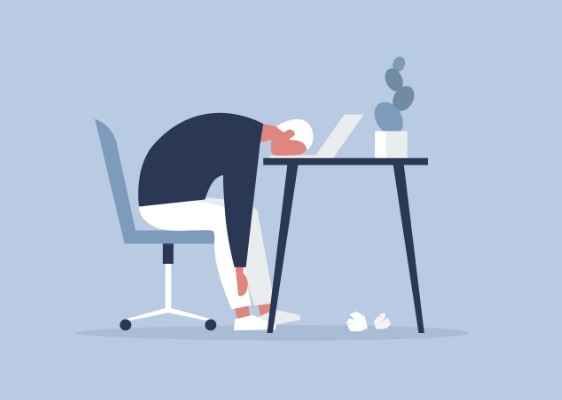 If you're trying to improve your contact form conversions, don't expect respondents to answer insanely long surveys the same way they would a short survey.  People start to spend less time on each question the longer the survey length.
For example, if you have 5 questions on your survey, respondents will give each question more focus than if you have 30 questions. If you're following survey best practices, number of questions is an important factor to pay attention to.
3. Be Mindful of Survey Fatigue
Survey fatigue is a problem that occurs when survey respondents become annoyed, bored, or uninterested in the survey and start to answer the questions more carelessly.
If your survey form has to be long, make sure you do some of the following:
Password protect your form and make it available only to those that show a real interest in taking it, such as employees or those being paid to take the survey
Create a multi-step form in WordPress to reduce form fatigue
Be upfront about how long your survey is and how long it should take to finish
Keep matrix questions short so users aren't tempted to give the same answer in every row
Enable conditional logic so questions can show or hide based on a user's answers
4. Start With an Outline
Create an outline of your survey structure first.
From a scientific standpoint, Survey Design Methodology tells you to craft your survey logically.
That includes putting some thought into the overall structure, the number of questions, the order you ask them, and the flow of the topics.
It's a good idea to avoid jumping all over the place with your questions and to stick with a survey design that flows well.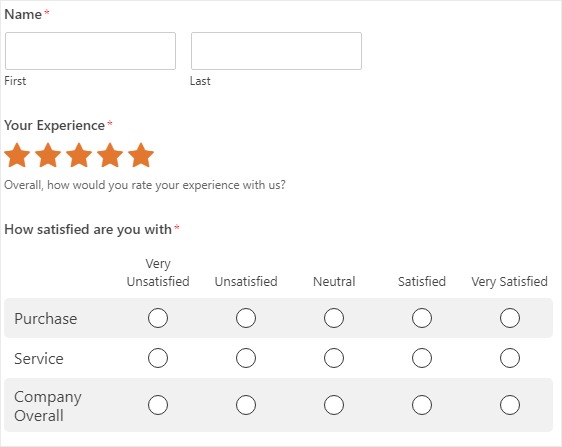 For example, if you're creating a Patient Satisfaction Survey for a medical practice, start your survey from the beginning of the respondent's experience (booking appointments) and then follow that journey with the questions.
These principles are also useful for making an impactful survey results report.
5. Limit the Number of Options
The best survey questions are closed-ended questions, where the answer choices are pre-populated for the respondent with things like checkboxes, multiple choice, and rating scales.
Not only will this streamline the quality of your data and make it easier to read, you'll get more completions because a survey with closed-ended questions is easier to fill out!
And when you use the WPForms plugin to create your survey form, adding a Likert scale to your WordPress forms is easy to do.
But one thing to be careful of is how many options you give site visitors to choose from. Give too few and you risk not getting accurate feedback, or forcing people to make a decision they aren't comfortable with:

On the other hand give too many and you risk overwhelming the survey taker:

Market research on survey best practices length reminds us that sticking to shorter surveys helps boost conversions, so most surveys using Likert scales keep the number of choices to a 5 point scale to increase response rates.
6. Randomize Your Survey Questions
Studies have shown that people tend to pick the first choice available when answers are narrowed down to 2, no matter how they might really feel.
To avoid this order bias, make sure to randomize any multiple choice survey questions you have on your form.

This way, any time someone visits your site the answers they can choose from will appear in a different order. This reduces any bias and gives you more accurate data to work with.
7. Save Open-Ended Questions for the End
Since text boxes asking for someone's thoughts are typically harder for the user to fill out, limit these to just a couple and keep them at the end.
However, survey creation best practices tell us you can make an exception for conditional questions here.
Keep in mind if you do add an open-ended question at the end of the survey so people can expand on some of their answers, this will count toward the length of time it takes to finish the survey.
8. Ask Personal Questions Later
One of the best practices writing survey questions is to treat your surveys like a conversation. Ease into asking personal questions and demographic questions and do them at the end of your survey. A great way many people have had success with conversational style survey forms is by using Conversational Forms to create a conversational contact form.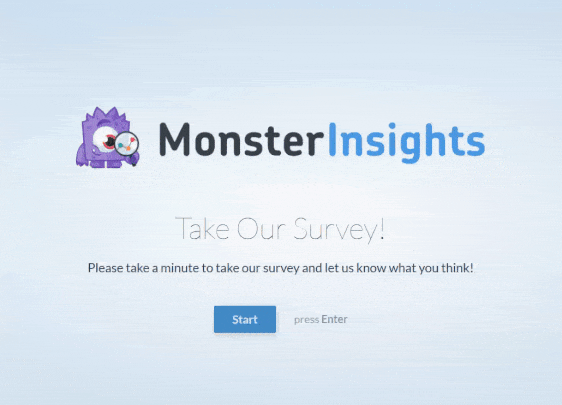 9. Don't Ask Double-Barreled Questions
Double-barreled questions are when you write a survey question that's asking for feedback on 2 things at once.
For instance, "How would you rate the customer service of our in-person team and our phone support?" is a double-barreled question.
When building your survey, always keep in mind that survey writing best practices tell you to avoid double-barreled questions.
It's for good reason, too — people tend to skip these confusing questions or can be prompted to leave your survey altogether.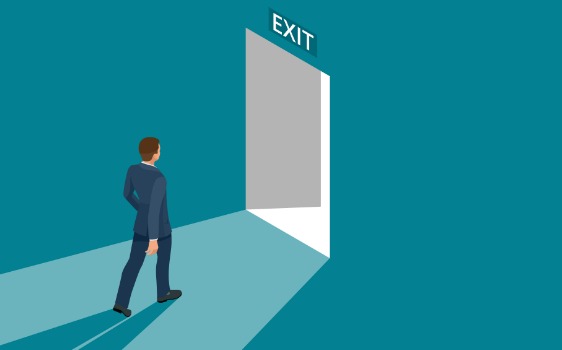 The easiest way to fix double-barreled questions is to remove one option and create a separate question. Just make sure you're still following best practices for survey length.
10. Have Mutually Exclusive Answers
Always make sure your response options are mutually exclusive. Meaning, a respondent couldn't have 2 answers to your question. For example, this multiple choice question is not mutually exclusive:
See how the survey answers aren't mutually exclusive? A respondent could own all 3 pets, so they wouldn't be able to answer your question accurately.
Here's an example of a mutually exclusive multiple choice question: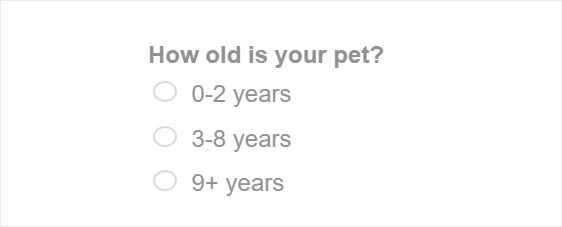 See how only one answer is possible? That's a mutually exclusive multiple choice question! And mutually exclusive questions are the only multiple choice questions you should be asking, or you risk losing your respondent completely.
In cases where the user may not have an answer, you'll want to include a N/A or Other answer option as well.
11. Offer an Incentive
A smart way to get more people to complete your survey is to offer something in return.
For example, you could add a poll or survey to a giveaway with a plugin like RafflePress.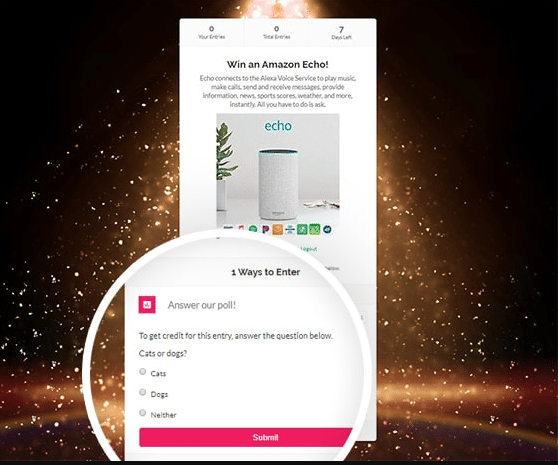 You can add this to any RafflePRess giveaway. You just type in your question and add the answers. Then, you can customize the giveaway to give people more entries for filling out your survey.
12. Tell Respondents It's for Them
If you choose to invite your participants via email, one of the best practices for survey emails is to use that email to emphasize that you're collecting the data for the benefit of the respondents. This will give them an incentive to click on the link to your survey.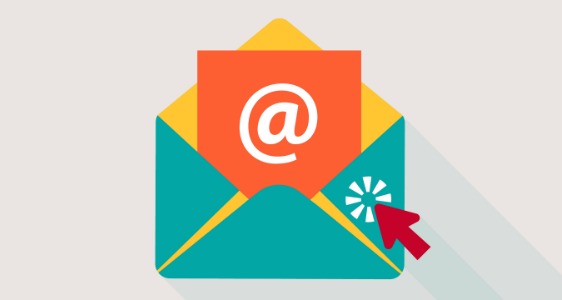 Another one of the best practices for survey emails is to send a follow-up thank you to respondents via email. This can be used for anyone who completes your survey, not just people who were invited through email. Check out how to send confirmation emails to users after a form submission to learn more.
Don't have a big subscriber list to send your survey to yet? Check out our sibling website's article on super effective lead magnets to grow your email list.
13. Preview Your Survey
Editing sounds like an obvious survey best practice, but can you imagine if you sent out your survey and noticed a typo or a missed question?
You'd surely end up frustrated and the data might come back incorrect. So, before you send out your survey, make sure you get multiple eyes on it.
Preview it yourself and send it to others to test. Make sure you ask for their feedback, too.
Best Way to Conduct a Survey
Picking the right online survey tool is important when creating a survey that lets you follow survey best practices and gets you those much needed survey completions.
The WPForms Surveys and Polls Addon makes it easy to create a customizable survey that fits your needs and gives you valuable insight into what your respondents are thinking.
Check out our step by step guide on how to create a survey form to get your survey up and running in no time.
And it's super easy to follow survey analysis best practices with WPForms. Viewing your survey data is simple and beautiful with the built-in visual dashboard.

In Conclusion
That's it! We hope this list of survey best practices helped you learn how to design a survey that will skyrocket your conversions.
If you're using surveys to find out the overall image of your brand, you'll wan to check out our post on how to create a Net Promoter Score (NPS) survey.
So, what are you waiting for? Get started with the most powerful WordPress forms plugin today.
And don't forget, if you like this article, then please follow us on Facebook and Twitter.