Are you looking for the best AI SEO tools for your WordPress site?
The application of Artificial Intelligence (AI) to search engine optimization (SEO) tools isn't new. Many tools have been relying on AI to assist users with on-page SEO.
However, the emergence of AI tools like ChatGPT has opened up a whole new world of possibilities, making SEO software more powerful than ever before.
In this post, we'll share our favorite AI SEO tools for WordPress that you can use to write high-quality content and grab better keyword rankings.
Best AI SEO Tools for WordPress
We've compiled the following list of AI SEO tools based on our impressions after testing them extensively.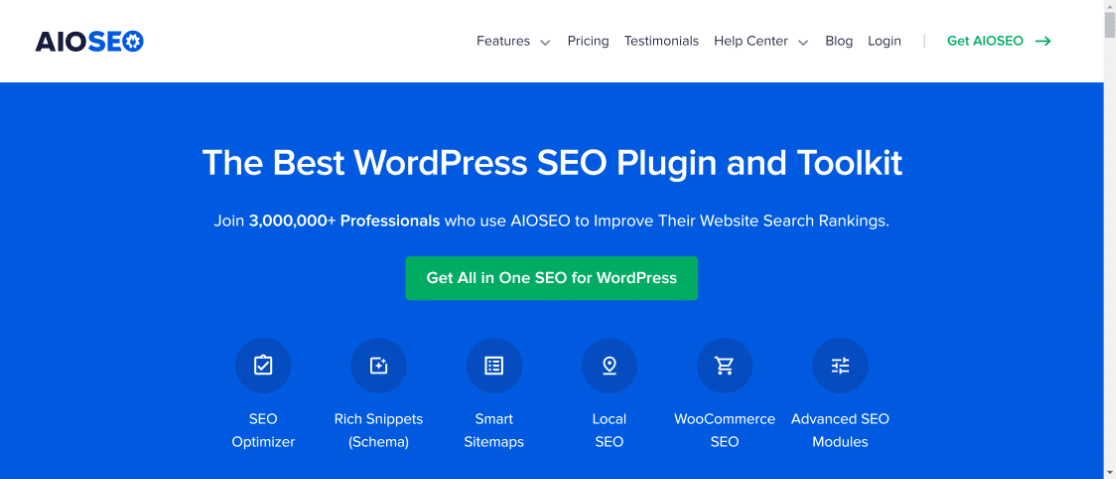 All in One SEO (AIOSEO) is the best tool for WordPress if you're looking for an AI SEO plugin.
It's an incredibly feature-rich plugin that offers tools for on-page optimization, internal linking, schema generation, search statistics, and more.
But our favorite features in AIOSEO leverage AI capabilities to make some SEO tasks quicker and simpler.
For instance, AIOSEO includes an AI title and meta description generation. This tool is built right into your WordPress editor so you can instantly generate quality titles and descriptions for your post without having to leave your site.
The AI title generator tool integrates directly with ChatGPT. You just need to connect AIOSEO with your OpenAI ChatGPT account to access AI-generated title suggestions inside the WordPress block editor to speed up content writing.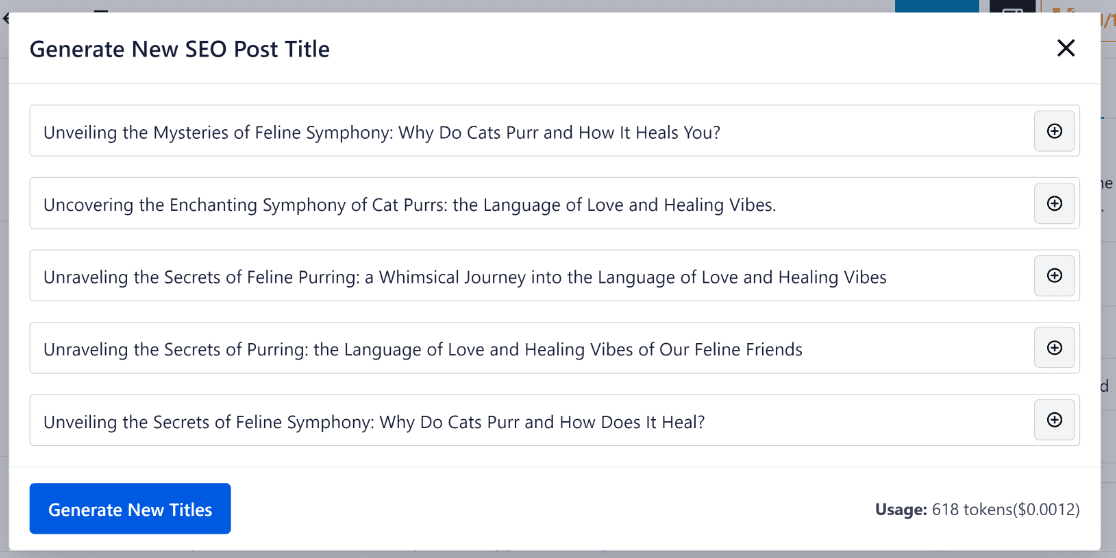 We routinely use this tool on our blog to get ideas for headlines. And while ChatGPT doesn't always give the perfect suggestions, it's still really good for inspiring ideas for the ideal title.
The other handy AI-powered feature in AIOSEO is the Link Assistant. Out of all the WordPress SEO plugins that we've tested, AIOSEO has the most comprehensive internal linking tool.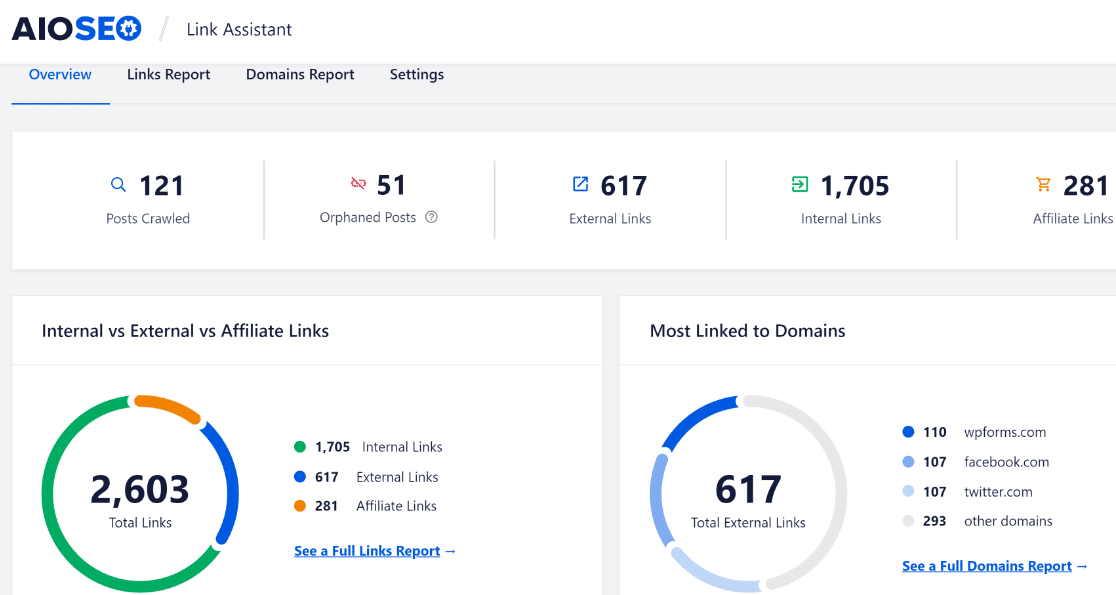 Not does it provide highly detailed internal linking statistics for your site with a breakdown of your links by type, but it can also be used to identify orphaned posts with no links.
That's not all. It also provides automated link suggestions so you can build links on the go on appropriate phrases.
Overall, AIOSEO is our favorite SEO tool with AI capabilities for WordPress with fairly competitive pricing for small businesses.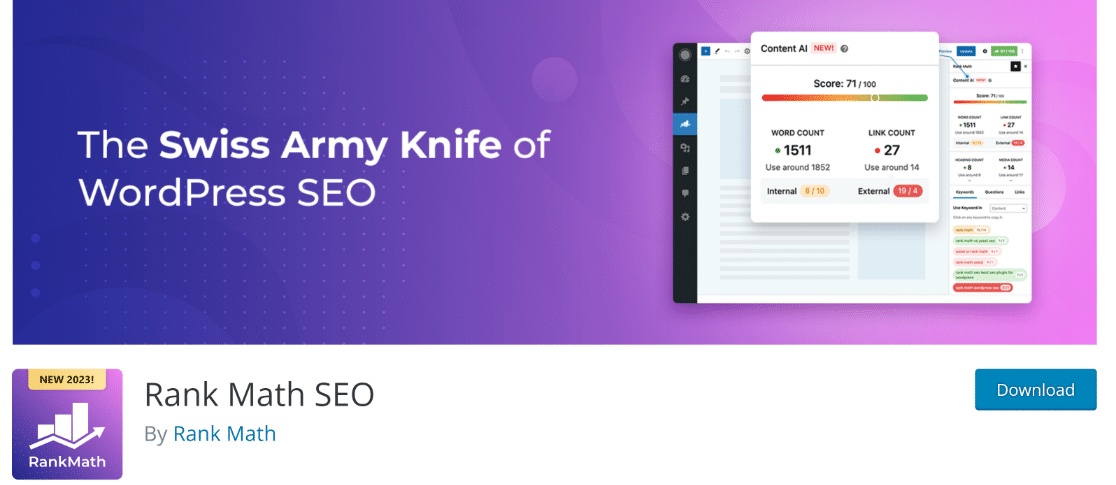 Rank Math is an SEO plugin for WordPress that offers some fascinating AI tools to help you write SEO-friendly content.
During our testing, we were highly impressed with its Content AI feature. It uses AI and natural language processing (NLP) algorithms to generate keyword suggestions based on an intelligent analysis of competitors.
As you write your content in WordPress, RankMath keeps updating your content score based on its AI's suggested parameters. It considers factors such as word count, heading count, link count, and media count, along with your keyword coverage of important terms to evaluate the quality of your content.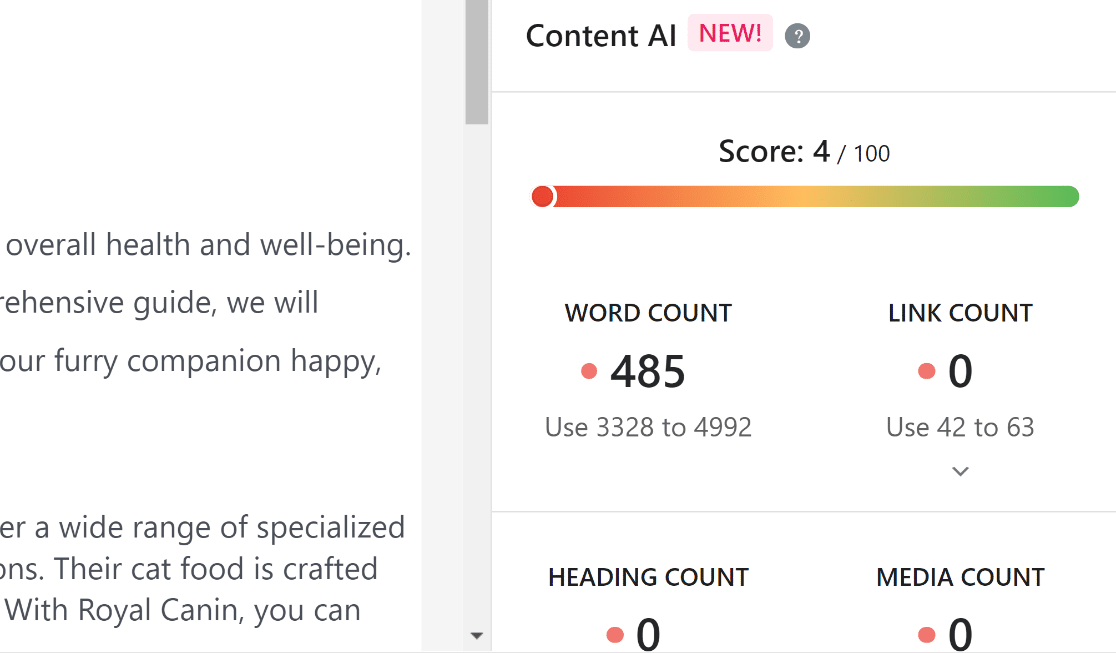 We really liked that it gives you different keyword suggestions based on the exact structural element of your content where you'd like to include keywords.
For instance, you'll get slightly different keyword suggestions for content versus your headings, titles, and meta description.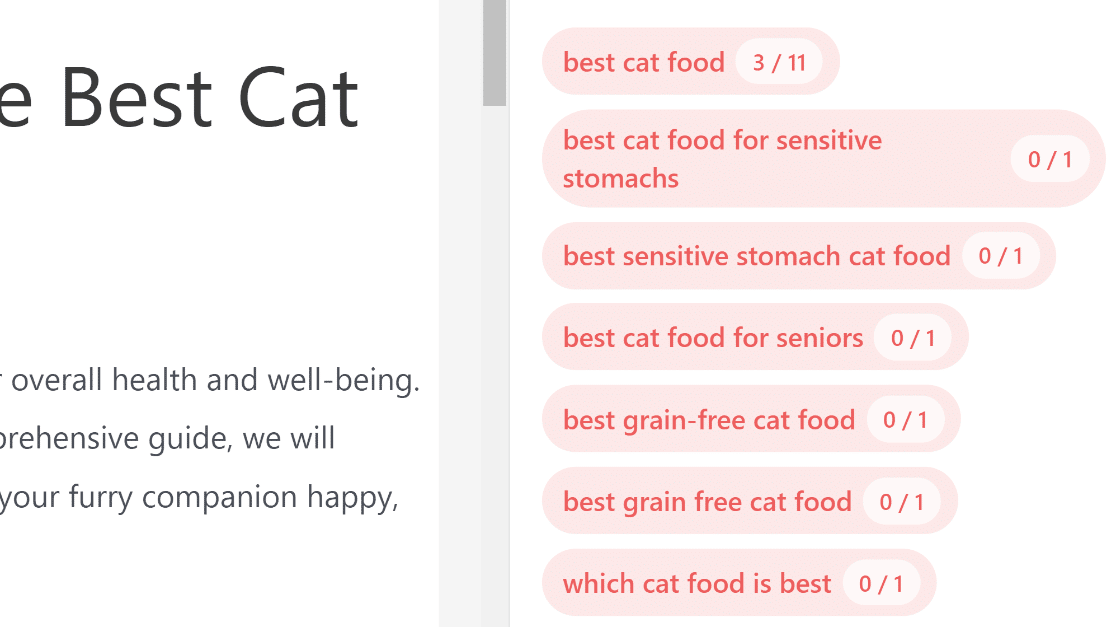 We thought that the Content AI tool was quite similar to SaaS SEO software like Frase and Clearscope, but Rank Math offers outstanding convenience because its content suggestions appear in your WordPress editor sidebar as you write a post.
Overall, RankMath is one of the most powerful AI SEO tools that can simplify content creation and effectively improve your SEO content quality for better SERP (search engine result page) performance.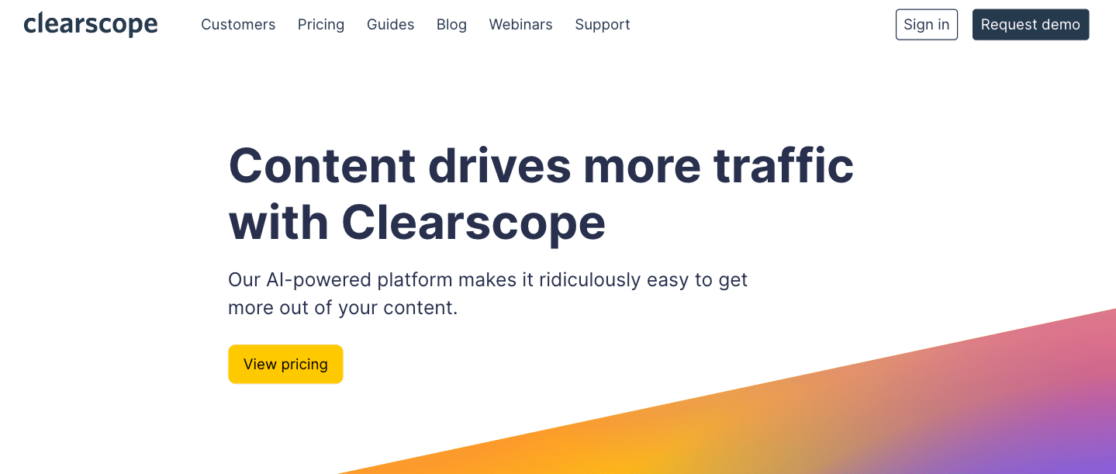 Clearscope is one of the most user-friendly AI-powered SEO tools for on-page optimization. Similar to RankMath's Content AI, Clearscope analyzes SERP patterns with AI to generate suggestions for important terms to include based on your target keyword.
As you add the suggested terms to your content, Clearscope grades your content by measuring the comprehensiveness of your post based on your keyword coverage. So, the more terms you add, the higher your score will be.
Clearscope also displays an outline of other articles on the web published on the same topic. This is great for planning the structure and outline of your own article with the outlines of all other top-ranking posts available conveniently in your sidebar.
The cool thing is that you can also use Clearscope for keyword research. The keyword discovery tool finds keywords for your topic and shows you very easy to understand metrics like average monthly searches (search volume), cost per click, and competition.
Interestingly, it can also show trending keywords if you want to spot new blog topic opportunities when they're still growing in popularity.
And for every feature, Clearscope has a beautifully clean and uncluttered interface so bloggers can focus on producing high-quality content without distractions. It keeps things simple by only showing you the data that non-experts can understand, so it's perfect for small businesses.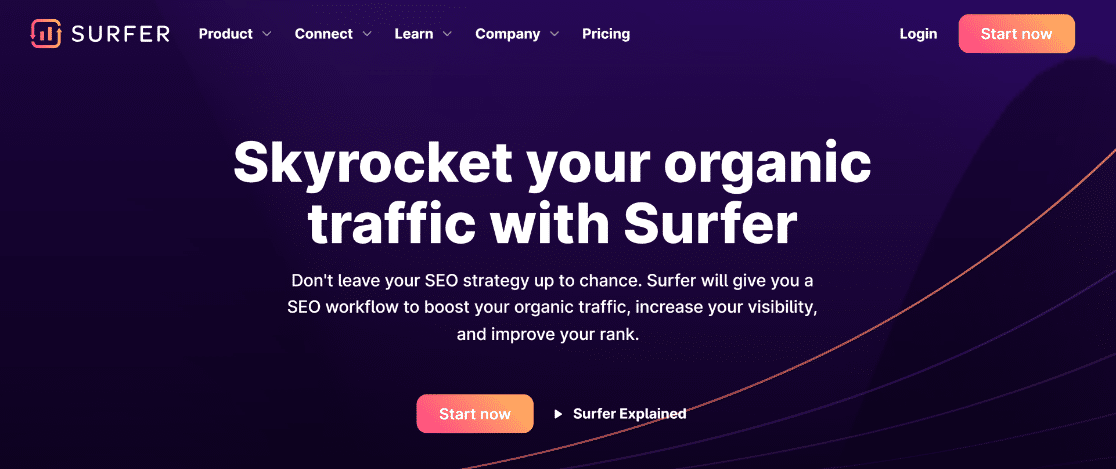 Surfer SEO is an SEO tool that offers similar AI features as Clearscope. It lets you write well-optimized content by suggesting relevant keywords to include. Your content score improves the more terms you include in your content.
It also has a really good keyword research tool that's effective for discovering topic clusters related to your keyword. This is especially useful for new blogs that are still planning their content SEO strategy and need ideas centered on relevant topic groups. The tool offers search volume and keyword difficulty data as well.
Surfer SEO doesn't just generate content suggestions for you. It also has the capability to write an AI-generated article for you with its GPT-4 32K AI engine.
We like that you can set various parameters – you can give it the keyword to optimize for, suggest a writing tone, review and edit the content brief, and so on. The AI will then generate a complete article based on your chosen parameters.
The articles it generates are pretty good, but they're often too generic and require human supervision and expertise. Nonetheless, you can still get a headstart with this tool and create some top-quality posts with the combination of AI technology and your own experience.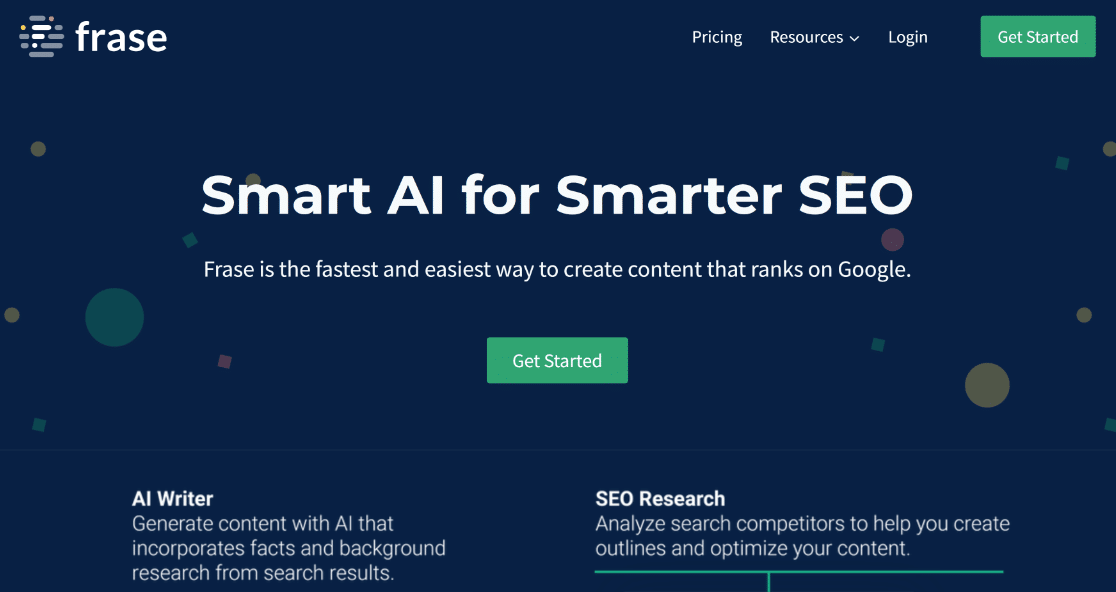 Frase is another very useful AI SEO tool with an impressive set of features. Mainly, Frase is a tool of the same category as SurferSEO and Clearscope.
We really enjoyed the competitive research feature offered by Frase. When you're researching a topic, Frase shows you other article outlines from the SERP.
In fact, you can expand each individual heading in the outline to display the full content right from within Frase research panel. That's an amazing convenience versus manually clicking and scrolling through every header for each page ranking on the first page of Google SERPs.
You can even copy any snippet of text from your competitor's content as processed by this tool and add it inside your Frase editor with just a single click. This is helpful when you want to paraphrase a snippet from your competitor and improve it so you can outrank them.
Besides, Frase also has the capability to generate a content draft for you based on your given instructions. While generating a full article with AI isn't guaranteed to be a good idea, you can definitely make your content creation and research process less time-consuming with Frase's powerful AI writer.
Overall, we're really fond of Frase because it takes the pain out of competitor analysis and offers an excellent user experience.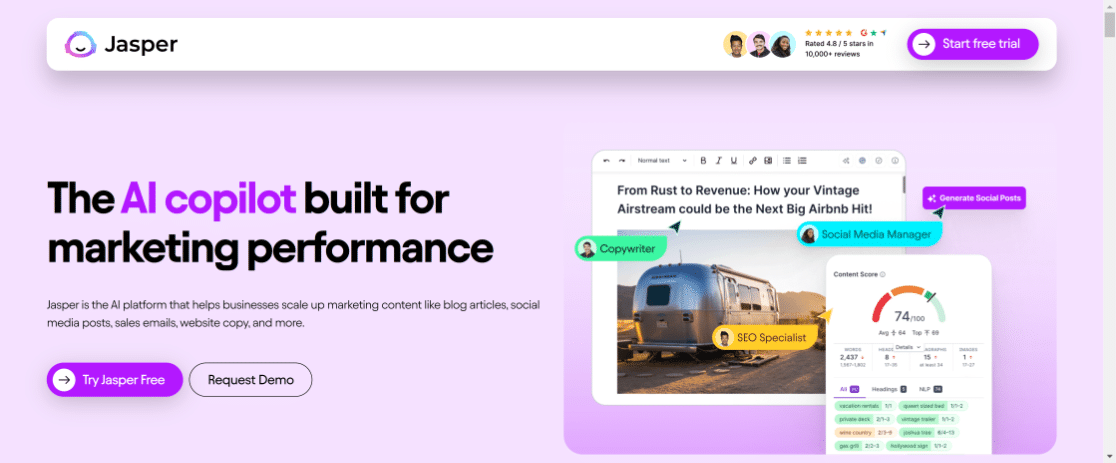 Jasper is a very versatile AI tool that can help you with a lot more than just SEO. It offers a collection of various templates for task-specific content generation.
For instance, you get a dedicated tool for writing introductions to blog posts, a separate one for post conclusions, various tools for social media and Google ad writing, a product description generator, and so on.
We like that Jasper can learn each brand's "voice" when generating content for you. This is great for making your AI-generated content feel natural and less bot-like.
It can even be used to generate images for your blog posts, social media campaigns, email newsletters, and more.
Overall, Jasper is a great tool to have if you're seeking content marketing or copywriting assistance.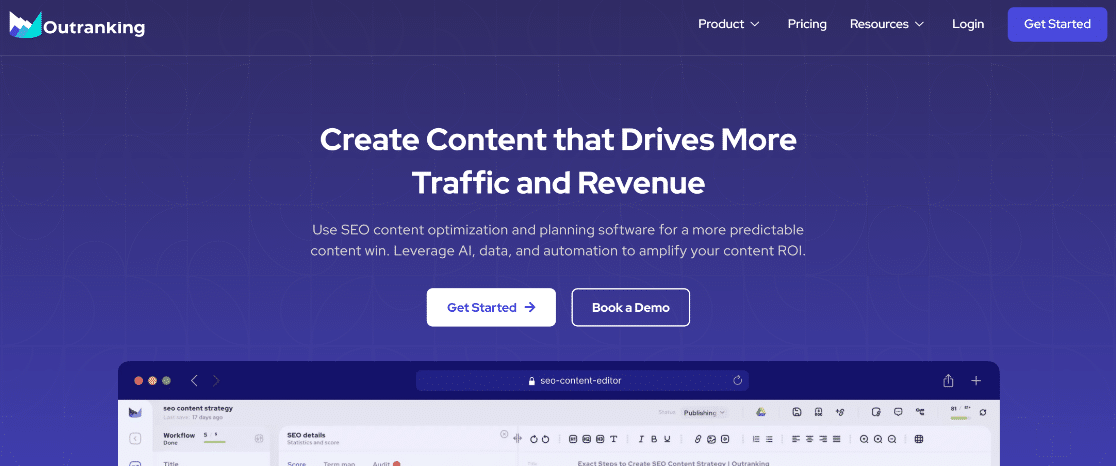 Outranking is slightly less well-known on our list, but it's got some fantastic AI SEO features that stood out in your testing.
This tool is based on the GPT-4 32 model and puts a lot of emphasis on producing factually correct content. It processes over 50 different sources to generate a draft, taking great pains to ensure that it's free of actual errors. This is a great feature because factual accuracy is a common problem even with advanced AI algorithms.
And like all AI tools, Outranking's AI isn't perfect either, and there can always be factual errors in the content that it produces.
The great thing is that it also provides you the links to the sources it used to research a topic and produce the content. That way, you can always manually confirm the accuracy of Outranking's content.
Another notable feature that we liked in Outranking is its auto-link insertion so that your AI generated content is produced with relevant links already placed. Plus, it's capable of learning and maintaining your brand voice.
Besides, it includes a plagiarism checker and can even fix plagiarism for you. We also used this capability to enhance specific sentences, though the results weren't always great.
It's a comprehensive SEO tool that nonexperts can use to great effect for content optimization.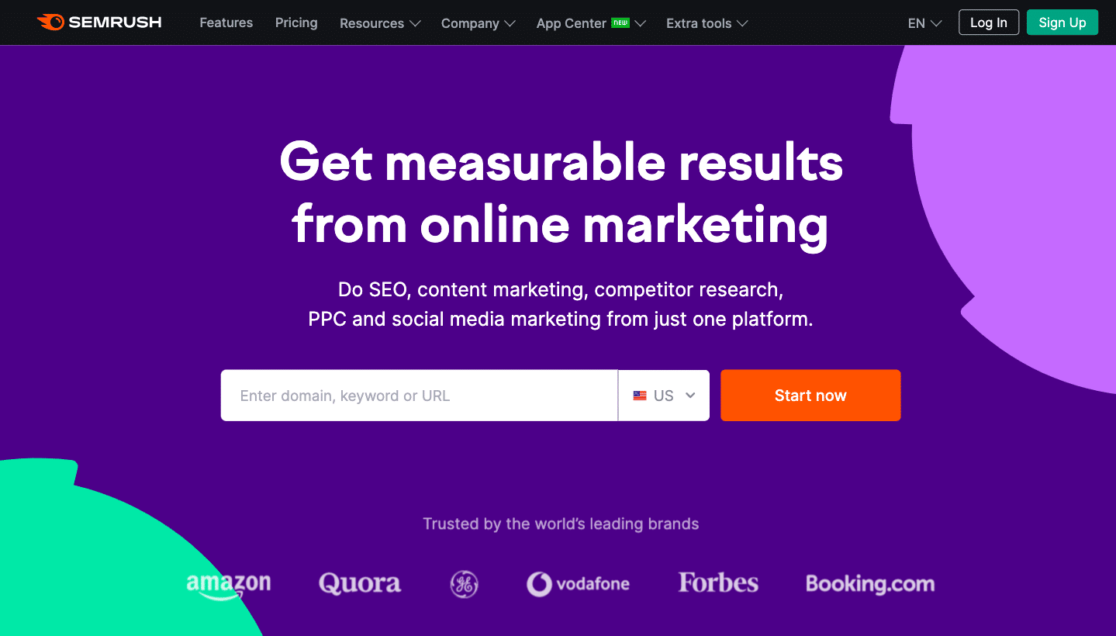 SEMRush is one of the most popular SEO tools on the market. While it's mainly known for its backlink analysis and keyword research capabilities, SEMRush also offers a handy AI writing tool.
Essentially, the AI writing tool is similar Clearscope. You start with a keyword you're optimizing a blog post for, and the Writing Assistant will generate suggested terms that you should include in your post.
The tool also analyzes your readability along with your content quality and gives you a rating out of 10 based on that.
Over time, SEMRush has added new generative automation features. For instance, you can get more information about your topic by putting forward questions to the AI.
It will then generate a response for you in the content editor, and you can use the response as-is in your content or make any changes if you need to.
Apart from that, SEMRush is the go-to tool for many websites when it comes to planning for link building and creating a content strategy. Its keyword research tool is one of the best and offers helpful context by telling you about its likely search intent so you know what's your target audience.
However, the amount of features and the depth of data offered by SEMRush can be daunting for beginners.
Best AI SEO Tools FAQs
If you still have more questions about AI SEO tools, take a look at some of the most commonly asked questions on this topic:
Can AI SEO Tools Help Boost Organic Traffic?
Yes, good AI SEO tools provide helpful suggestions that are likely to help you boost organic traffic and website rankings. However, SEO requires a lot more than just tools. It's a long-term process of applying best practices and also experimenting strategically to grab top search engine rankings and get recurring organic traffic.
What's the Benefit of Using AI for SEO?
The main benefit of using AI tools is that they reduce the amount of SEO efforts needed to accomplish many tasks. From content planning, site audit, and SERP analysis, the top-quality AI tools like AIOSEO, Clearscope, and SEMRush can make it easier to perform SEO activities so you can focus on execution rather than collecting data manually.
How Do AI SEO Software Perform SEO?
AI tools use various machine learning algorithms like Natural Language Processing to identify common patterns in top-ranking web pages on SERPs. Some content optimization tools can also write complete posts using language models like GPT-3 and GPT-4 by incorporating the common terms and other elements discovered in competing articles on the web. On top of that, many tools can help your SEO by fixing issues like plagiarism and helping you write well-optimized titles and descriptions for important website content.
Next, Keep Growing Traffic and Sales
Once you start drawing organic traffic to your site with SEO, you shouldn't stop. The most successful sites use a comprehensive marketing strategy incorporating SEO and other channels to generate more leads and boost sales.
To help you grow your business further, here are a few of our roundups talking about different useful plugins:
Ready to build your form? Get started today with the easiest WordPress form builder plugin. WPForms Pro includes lots of free templates and offers a 14-day money-back guarantee.
If this article helped you out, please follow us on Facebook and Twitter for more free WordPress tutorials and guides.