Do you want to display a cookie message on your WordPress website to gain consent from your users? If so, then you need the right plugin.
A cookie consent plugin will help you manage and display notifications that ask your site users for their consent to store or access cookies on their devices. These plugins help your website comply with data privacy laws by providing users with clear information about cookies, including options to accept or reject them.
However, with many plugin options offered for WordPress, it can be difficult to choose one.
In this article, we're exploring the best cookie consent plugins to consider using on your site. So, keep reading to find out which plugins make our list of top picks, and how they can work for you.
Create Your WordPress Consent Form Now
Do I Need Cookie Consent on My WordPress Website?
In a nutshell, yes, you do need cookie consent on your website.
Cookie consent is essential for legal compliance, and it helps you adhere to data privacy regulations like GDPR and CCPA. It builds trust with your users by demonstrating transparency and respect for their privacy, which can lead to increased engagement and satisfaction.
Plus, displaying cookie consent allows you to provide a better user experience by giving visitors control over their cookie preferences, ensuring a more personalized interaction with your website.
7 Best Cookie Consent Plugins for WordPress
We've rounded up our favorite cookie consent plugins and listed the best ones here.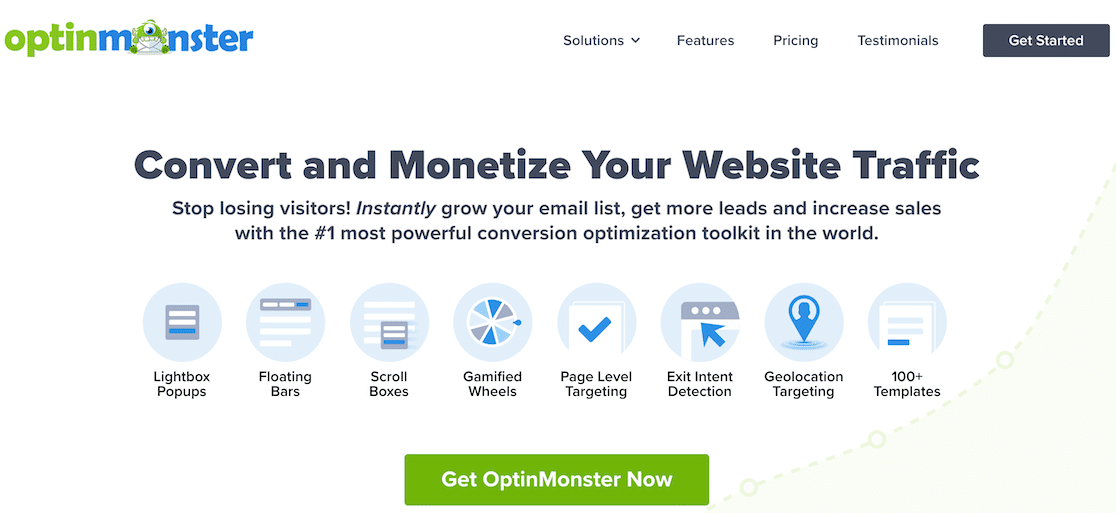 The first choice on our list of best cookie notice plugins, OptinMonster is a popular tool for creating and managing various types of opt-in forms on your website.
With this plugin, you can create cookie consent pop-ups and banners to display on your site, including all the messaging, disclaimers, and other details customized by you. You can even create targeted cookie consents based on how visitors interact with your site.

Key Features: With a range of options including customization choices and support with compliance, OptinMonster comes with many key features you'd want in a cookie consent plugin.
User-friendly design: OptinMonster offers an easy-to-use interface for creating customized cookie consent pop-ups or bars.
Advanced targeting: Precise targeting options are provided to display consent forms based on user behavior, pages, and timing.
Mobile responsiveness: Cookie consent forms created with OptinMonster are mobile-friendly.
Compliance assistance: OptinMonster aids in compliance with privacy regulations like GDPR, allowing customization of consent messages and linking to privacy policies.
Analytics and support: OptinMonster offers analytics, A/B testing, and customer support for monitoring and optimizing consent form performance.
For a full list of features, check out our OptinMonster review.
Price: While a free version of the plugin is offered, paid licenses start at $9 per month.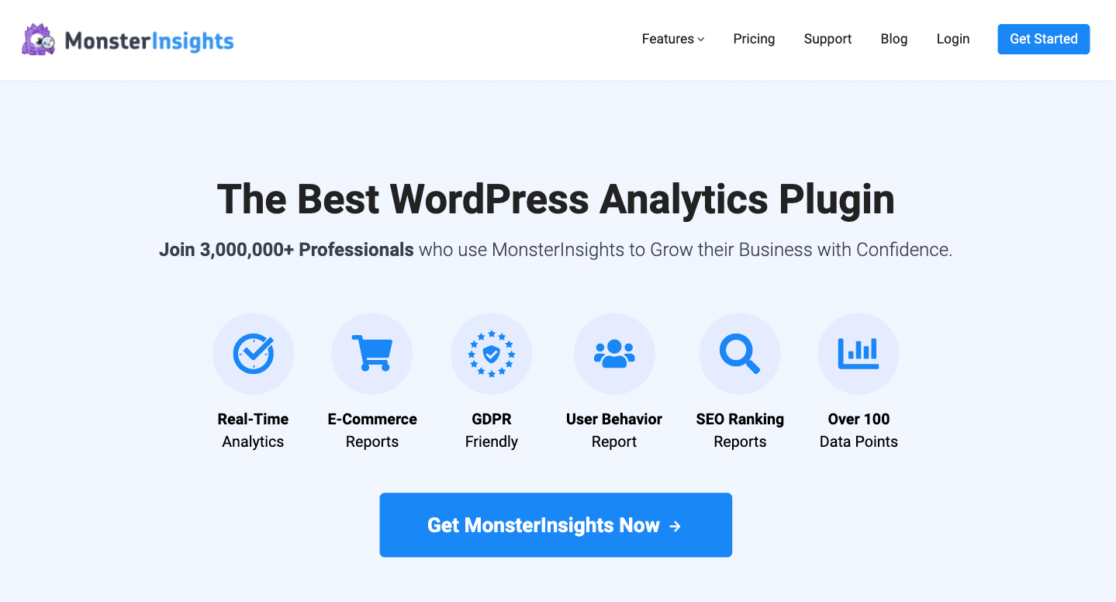 While MonsterInsights is most commonly used as a Google Analytics plugin for WordPress, its addon capabilities and integration features land it on our list of best cookie consent plugins.
With its EU Compliance addon, for example, you can make your use of Google Analytics compliant with GDPR.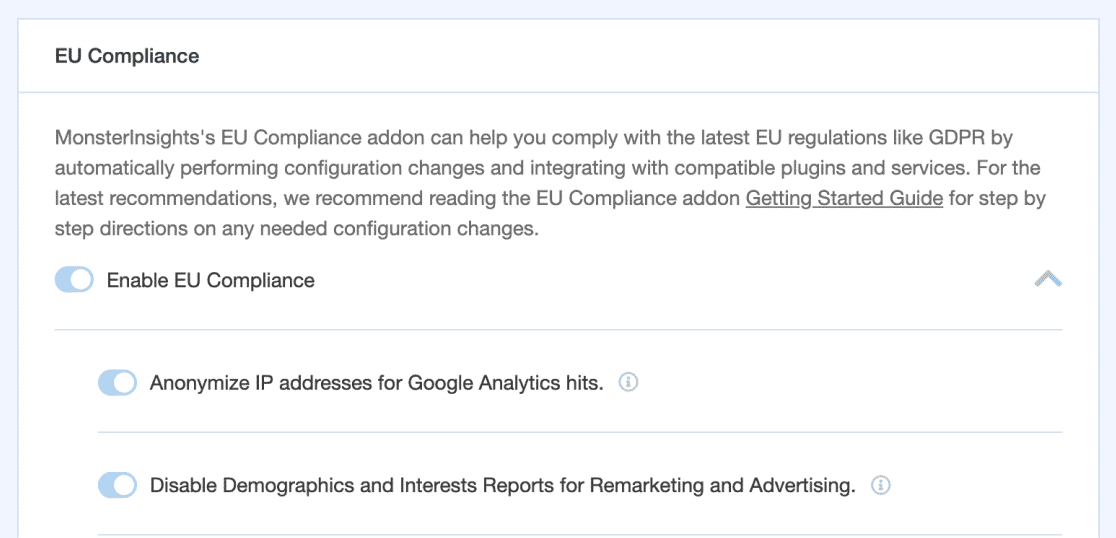 And, thanks to its ability to integrate with popular WordPress cookie compliance plugins, MonsterInsights proves to be an excellent option for gaining cookie consent on your website.
MonsterInsights integrates with CookieYes, Cookiebot, Complianz, and Cookie Notice — all of which we'll cover here. So, just pick an additional cookie plugin from the next four listed in this article, and MonsterInsights will work with it!
Key Features: The flexibility of this plugin allows its popular features to shine.
EU Compliance addon: MonsterInsights is known for its seamless integration with Google Analytics. If you're already using it to track user behavior on your website, this addon allows you to manage cookie consents within the same plugin.
Opt-out options: This plugin is compatible with Google's opt-out analytics cookie.
Integration: MonsterInsights seamlessly integrates with additional cookie consent plugins.
To learn more about how this plugin can provide valuable insight into your website, take a look at our full review of MonsterInsights.
Price: The cost of paid licenses starts at $99.50 per year.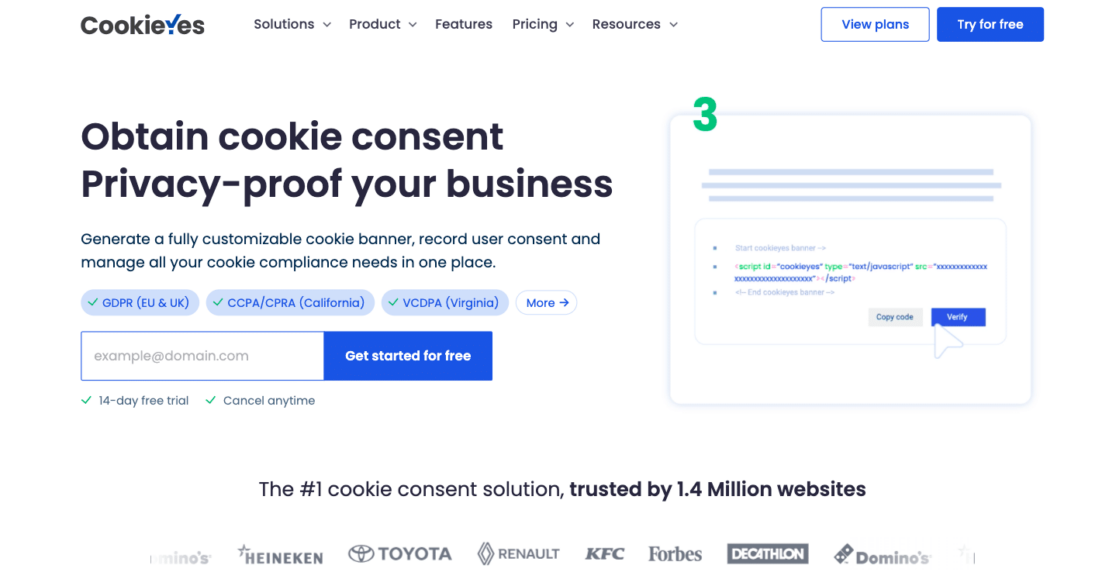 CookieYes is our next choice for one of the best cookie consent plugins to consider for your WordPress website.
This plugin provides customizable consent banners for user data protection and consent collection, while also offering cookie scanning and automatic blocking of third-party scripts. It also facilitates the generation of privacy and cookie policies to further assist in your compliance efforts.
In fact, we find the privacy and cookie policy generators to be a couple of the plugin's most helpful tools. These generators will create custom policies for you to use with your consent banner, taking the guesswork and writing tasks off your plate.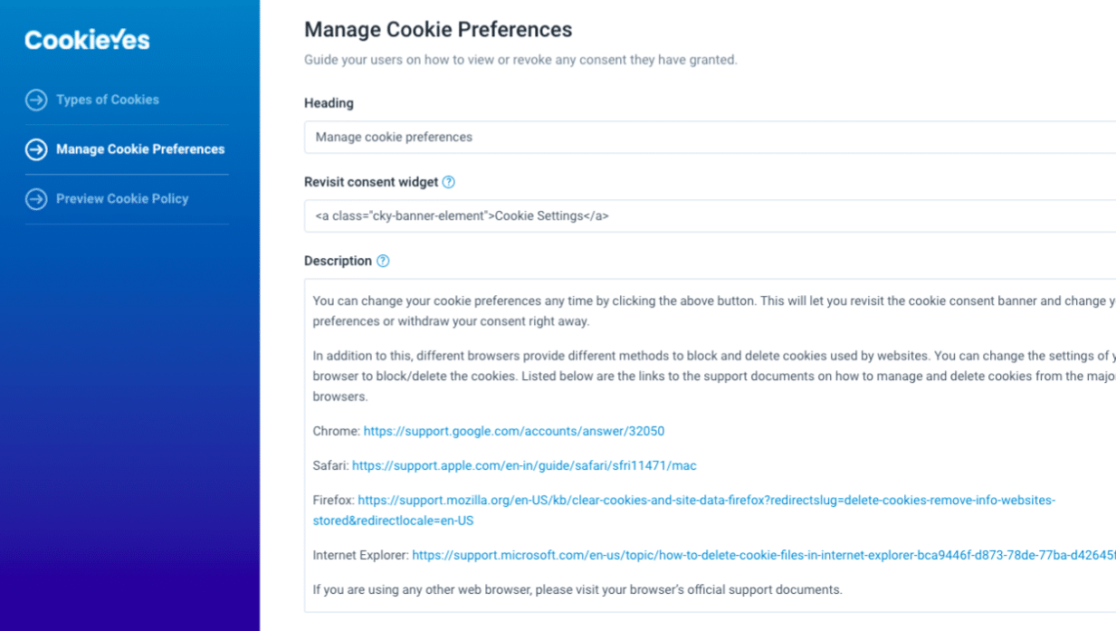 Key Features: CookieYes comes with a slew of advanced features, making it one of the best WordPress cookie consent plugins available.
Deep cookie scanning: Plugin comes with a database of 100,000+ pre-categorized cookies, and has the ability to scan behind login to provide accurate reports for hidden cookies.
Customization: Customizable cookie banner layout, content, behavior, and branding to match your website's design.
Cookie auto-blocking: CookieYes automatically scans and blocks third-party scripts until user consent is given.
Consent logging: This plugin records and stores user cookie consent of personal data for compliance proof, including anonymized IP addresses, country, consent status, and timestamps.
Privacy policy generation: CookieYes allows you to create custom privacy policies compliant with privacy regulations and generates policies based on preset questions, with HTML or plain text formats.
Cookie Policy Generator: The plugin develops exclusive cookie policies for your website, auto-updated with each scan. It also links the cookie policy in the consent banner for informed consent.
Price: This plugin offers a free plan, with paid plans starting at $10 per month.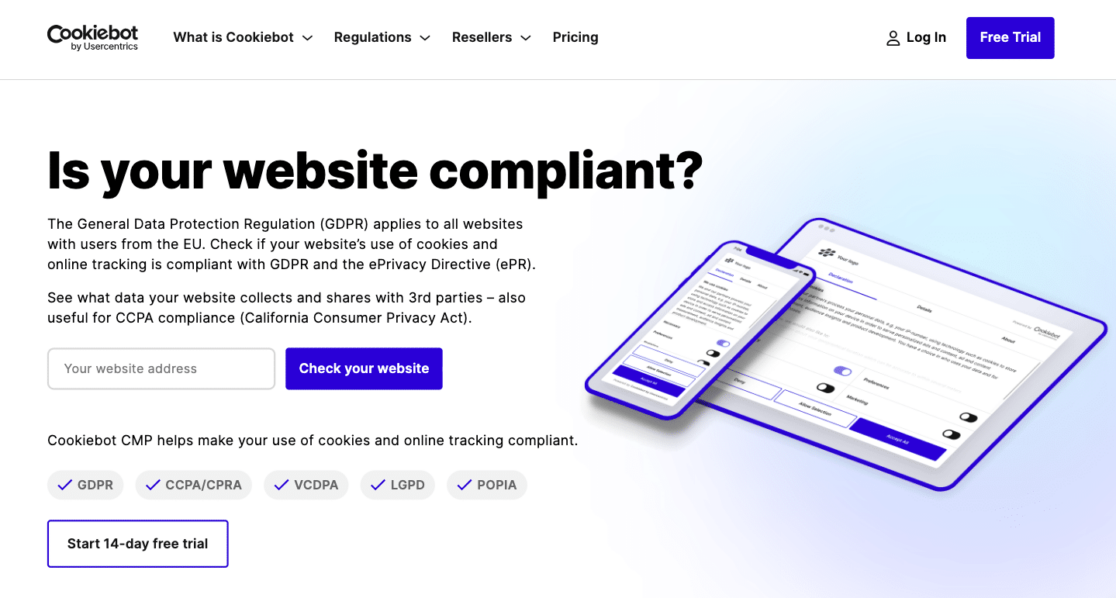 Cookiebot is a popular choice for managing cookie consent on WordPress websites and is an easy choice for our list of top plugins.
This plugin enables users to obtain informed and voluntary consent for cookies in compliance with data privacy regulations like GDPR, while also allowing the management of these essential cookies.
Plus, we like how Cookiebot allows you to tailor consent options based on your website visitor's location.
Key Features: Overall, this plugin comes with the features you need in a reliable cookie consent tool.
Regulatory compliance: Cookiebot helps you adhere to data privacy regulations like GDPR and CCPA.
User-friendly consent banner: It offers a customizable, multilingual consent banner.
Granular consent management: Cookiebot provides users with control over cookie categories.
Cookie scanner: Automatically scans and generates a comprehensive cookie notification.
Consent records: The plugin maintains records of user consent for compliance evidence.
Price: A free plan for the plugin is available, followed by upgraded plans starting at $13 per month.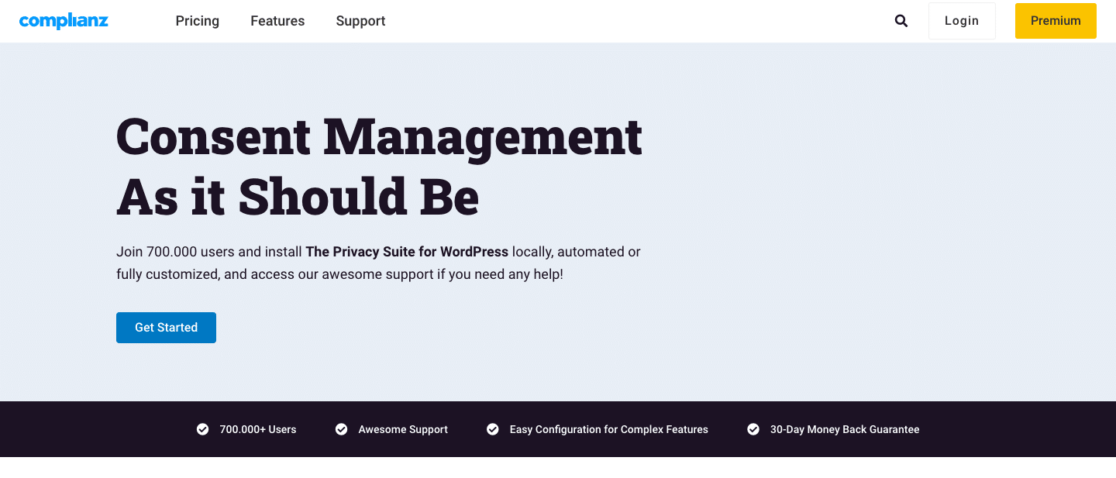 The Privacy Suite for WordPress, offered by Complianz, is a comprehensive privacy and consent management solution designed for WordPress users.
Complianz is another plugin with geolocation capabilities that can automatically detect your visitors' location, which means that your users receive the right messaging. And, this plugin has an additional automatic cookie scan, which will detect the other plugins on a site.
Key Features: This plugin boasts a range of features, extensive support, and customization options, which is why it makes our list of the best.
Cookie management: Includes extensive cookie scanning and management.
Statistics: Allows tracking of consent statistics on the Complianz Dashboard anonymously and locally.
Customization: Extensive customization options for consent banners.
Templates: Provides templates for various consent-related content.
Optimization: Developed for lightweight performance, including SEO optimization.
Price: Plans start at $49 for a website.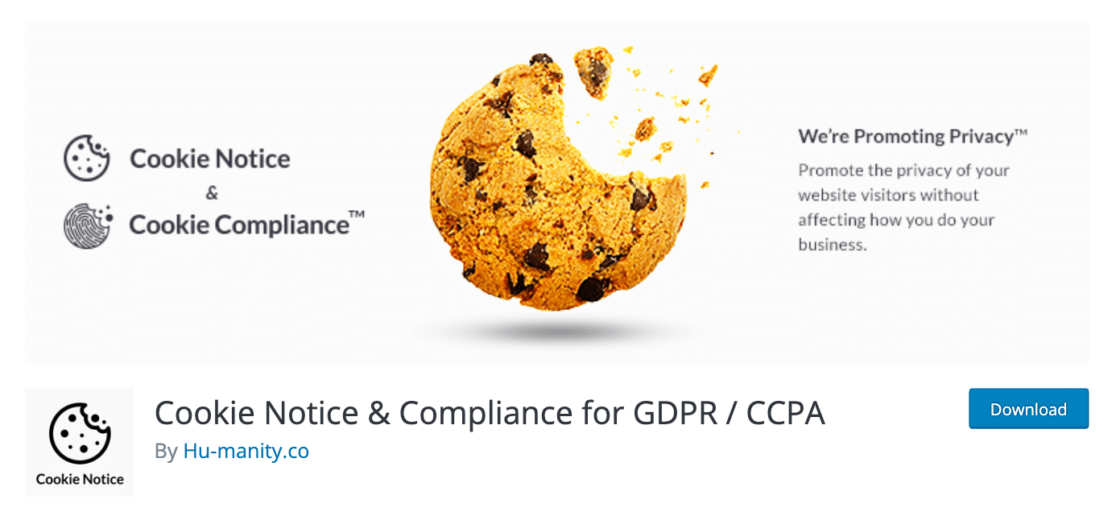 Cookie Notice is another valuable plugin for cookie consent on your WordPress website.
This cookie consent plugin makes our list thanks to its simplicity, customizability, and seamless integration with Cookie Compliance — an additional useful tool for ensuring compliance.
We like how this plugin integrates with the default WordPress Privacy Policy page, which allows flexibility to choose whether the cookie consent bar should vanish upon page scrolling or visitor clicks.
It also gives you complete control over the design and arrangement of buttons and links, so you can align them with the overall aesthetics of your WordPress site.
Key Features: Harnessing the tools of this plugin coupled with Cookie Compliance puts you in a great place consent-wise.
Cookie notice: Provides a simple, customizable website banner, which aids in compliance with EU GDPR cookie law and CCPA regulations. Also offers seamless integration with Cookie Compliance for compliance updates.
Customization: Offers customizable notice messages with
consent options on click, scroll, or close, and multiple cookie expiry options.
Consent analytics: Dashboard provided with event data and trust score.
Price: This is a free plugin!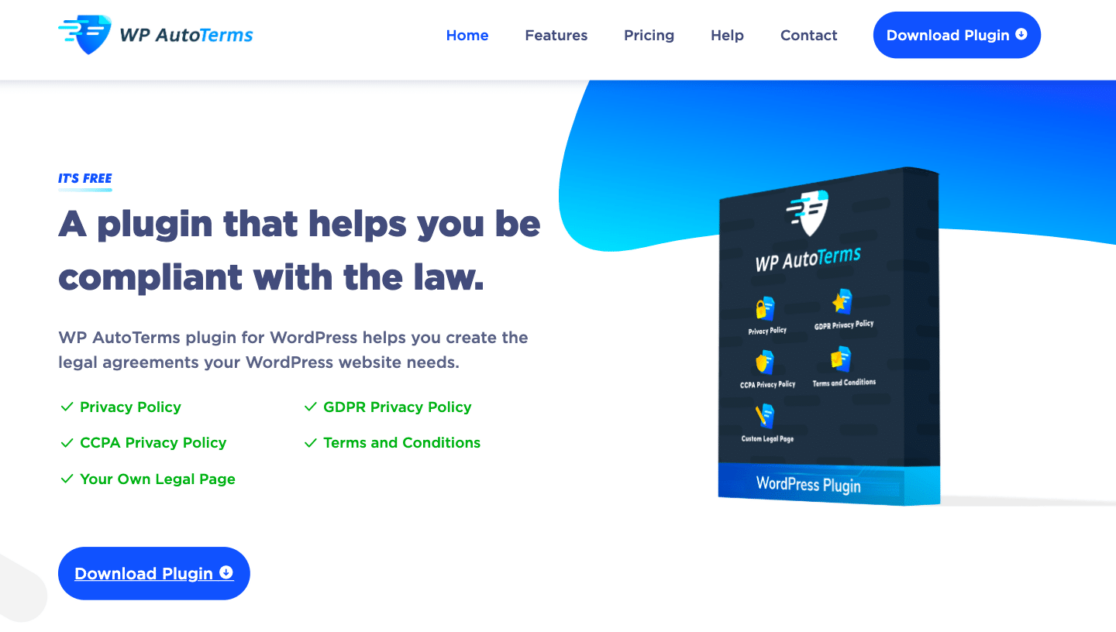 WP AutoTerms is a popular plugin for handling various legal pages on WordPress websites, including cookie consent, and is the final entry on our list.
With this plugin, it's simple to create various consent pages tailored to your specific needs. You have the flexibility to personalize them with your unique CSS styles, fonts, and background hues. Then, WP AutoTerms integrates these policies into your website footer.
Key Features: WP AutoTerms comes with many key features you should consider in your cookie consent plugin.
Ease of use: This plugin offers an easy-to-use interface that integrates seamlessly with your WordPress site.
Compliance: Helps website owners comply with various legal requirements, including GDPR (General Data Protection Regulation) and CCPA (California Consumer Privacy Act), by providing pre-configured templates for privacy policies, terms and conditions, and cookie consent banners.
Customization: The plugin allows for the customization of cookie consent banners to match the design and branding of your website. This helps maintain a consistent user experience.
Cookie control: Users can control which cookies are set and provide options for visitors to opt in or opt out of non-essential cookies, ensuring compliance with regulations.
Consent logs: Includes features to log user consent, which can be useful for demonstrating compliance in case of audits.
Price: While a free version of the plugin is offered, premium versions start at $19.
Create Your WordPress Consent Form Now
FAQs About Cookie Consent Plugins
We get asked a lot about using cookie consent plugins on WordPress websites, and we're happy to provide guidance. Here are some of the most common questions that arise:
What is a cookie plugin, and why do I need one for my WordPress website?
A cookie plugin is a tool that helps manage and display cookie consent banners on your website.
It's essential to inform visitors about the use of cookies and obtain their consent to comply with privacy regulations like GDPR and provide a better user experience.
How do I choose the right cookie plugin for my WordPress site?
When choosing a cookie consent plugin for your site, it's important to consider factors like compliance with privacy laws, ease of use, performance impact, and customization options.
Start by evaluating your specific needs, including compliance requirements and user experience preferences.
Ultimately, the ideal cookie plugin should align with your site's goals, legal obligations, and user preferences while minimizing any adverse impact on performance.
What are the essential features I should look for in a WordPress cookie plugin?
When searching for a WordPress cookie plugin, look for robust consent management capabilities, allowing you to obtain and record user consent for cookies, along with options for users to easily change their preferences.
Also, customization features, such as the ability to tailor the design and content of cookie consent banners, are crucial for aligning with your website's aesthetics.
Finally, consider analytics and reporting functionalities to track user consent preferences and cookie usage, facilitating compliance reporting and ongoing adjustments to meet privacy regulations.
What are the legal implications of using a cookie plugin, and how can I ensure compliance with privacy laws?
Using a cookie plugin on your website carries legal implications related to user data privacy.
To comply with privacy laws like GDPR and CCPA, it's crucial to obtain informed consent from users through a clear and detailed cookie consent banner. Additionally, provide users with options to easily opt out of non-essential cookies, and maintain records of user consent as required by regulations.
You should also regularly update your cookie policy and the plugin itself to stay in compliance with evolving privacy laws.
Do cookie plugins affect website speed and SEO performance?
Yes, cookie plugins can impact website speed and SEO performance.
When a user visits a website, the browser must process cookies, which can add a slight delay to page loading times. In terms of SEO, Google's algorithm considers page loading speed as a ranking factor, so a poorly optimized cookie plugin could indirectly affect your SEO.
So, it's advisable to select a cookie plugin that is designed for minimal performance impact and regularly monitor your website's speed to ensure it meets SEO standards.
Next, Check Out These Additional WordPress Plugins
You're all set with a cookie consent plugin and are well on your way to elevating your site for your visitors. Now, take a look at our other roundups to discover additional tools to use on your WordPress website.
Ready to build your form? Get started today with the easiest WordPress form builder plugin. WPForms Pro includes lots of free templates and offers a 14-day money-back guarantee.
If this article helped you out, please follow us on Facebook and Twitter for more free WordPress tutorials and guides.