Are you trying to decide between Stripe vs PayPal to collect payments or donations on your website?
Because Stripe and PayPal are the most popular online payment solutions, your decision on picking a payment provider for your site probably comes down to these two.
This article will compare the pros and cons of both payment gateways, so you can decide if Stripe vs PayPal works better for you to accept online payments for your business.
Accept Stripe + PayPal On Your Site's Forms Now
Stripe vs PayPal Compared
Stripe and PayPal are two of the most well-known payment solutions that let you collect money online. To collect funds from your site visitors through your website, your business needs a payment provider. If you want to know the differences between Stripe vs PayPal, you have to look at the pros and cons of both.
What Exactly Does Stripe Do?
Stripe is an online payment service that lets people accept and send money over the internet, and its popularity is growing in the eCommerce world. Stripe is especially liked by code-savvy people or teams with in-house programmers because of its customizable development tools. It's a popular pick for small businesses but is also used by companies like Pinterest, Lyft, Blue Apron, and TaskRabbit.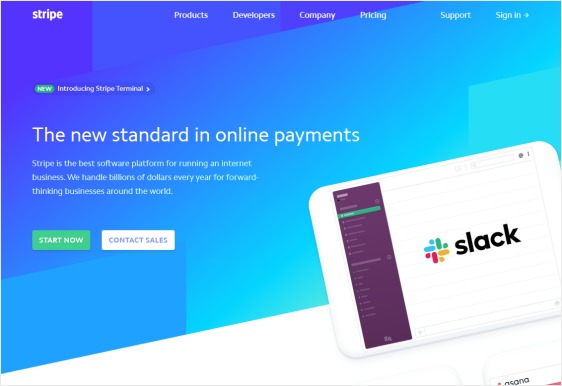 Read our article on how to accept payments with Stripe if you'd like to set that up.
What Exactly Does PayPal Do?
PayPal is a payment solution that lets users make and receive payments online, and it's very well-known. PayPal claims to have over 267 million customer accounts, including over 21 million merchants. Nearly everyone has a PayPal account these days and it's easily one of the most recognizable names in the eCommerce payments industry.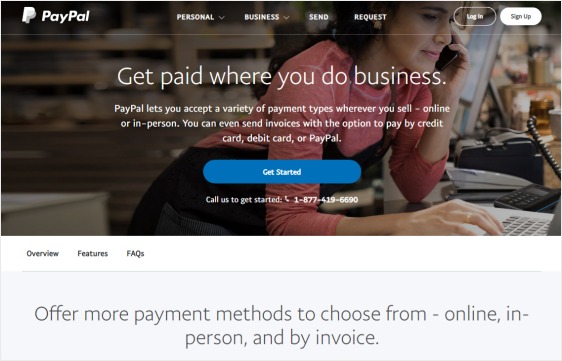 Who Uses Stripe and PayPal?
Collecting payments on your website is easy with WPForms for many types of businesses, including:
Freelancers
Brick-and-mortar shops who want to also sell online
Nonprofits collecting donations
eCommerce companies
Agencies
Online marketplaces
Entrepreneurs
And more
To get started creating a simple order form right away, read our tutorial on how to create a simple order form in WordPress.
Stripe vs PayPal at a Glance
It's a smart idea to compare payment gateway services for your business. So, let's compare the basics.
WPForms integrates with Stripe, Authorize.Net, Square, and PayPal for accepting payments, but you'll still want to research the differences between the all of them. Here, let's take a look at a summary snapshot of Stripe vs PayPal.
Service
Stripe
PayPal Standard
Fee per Transaction*
2.9% + 30¢
2.9% + 30¢
Nonprofit Discount*
2.2% + 35¢**
2.2% + 30¢
Setup Costs or Monthly Fees
No
No
Contract Required
No
No
Micropayments (<$10)
5% + 10¢**
5% + .05¢
Recurring Billing
0.5%+
No
Chargeback Fee
$15
$20
Refunds
No Fees Returned
No Fees Returned
Customer Support
Email, Help Center, 24/7 Phone & Chat
Email, Help Center, Phone & Chat
Ease of Use
Easy
Easy
Ease of Setup
Moderate
Easy
PCI Compliance
Yes
Yes
Countries Available
32+
200+
Access to Funds Times
2 Days (Average)
Immediate
Data Portability
Yes
No
Online Invoicing
Free for your first $1M in sales
Free
In-Person Card Readers
Paid
Free & Paid
Payments Handled 100% on Your Site
Yes
No
*US-based only. Fees vary by country.

**Includes RADAR fee. See below for more info.
Important Considerations When Choosing Stripe vs PayPal
There are some important things to compare when choosing Stripe vs PayPal:
Since this is a lengthy article, we've added a table of contents for easy navigation.
Let's take a deeper look at each factor:
Cost – Stripe Fees vs PayPal Fees
Both Stripe and PayPal are very transparent about their fees, which is one of the reasons why they're leaders in the online payments industry. Both Stripe and PayPal's US fees per transaction are 2.9% + 30¢ and both offer plans with no setup costs, basic monthly fees, or contracts.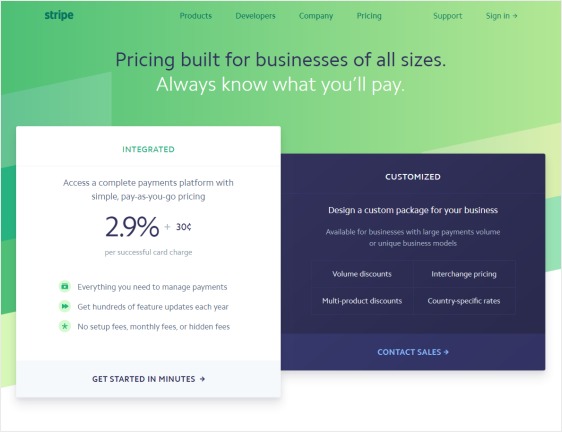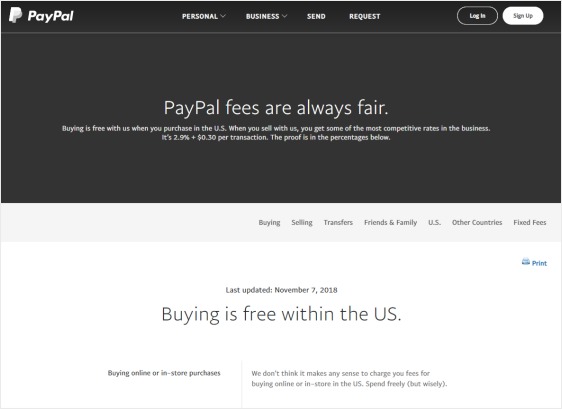 So, with both Stripe and PayPal, your business is eligible for lower pricing if you hit a certain number in monthly sales. Stripe fees get lower at $80,000 per month and for PayPal it happens at a much lower sales volume of $3,000 per month.
Both companies offer nonprofit discounts at 2.2% + 30¢ for US fees, which makes them a great choice if you're trying to build nonprofit donation forms for WordPress.
Stripe RADAR Fees
Stripe also charges a RADAR fee of .05¢ for every transaction attempted. The RADAR fee will be charged even if the payment fails.
For example, if a user enters the wrong expiry date, you will be charged a RADAR fee for that attempt. If they then try again, you'll be charged a second RADAR fee, and so on.
This fee is waived on Standard accounts. But if you are a nonprofit, you will be charged RADAR fees.
Micropayments
If you're processing transactions of less than $10, you'll be charged a different rate.
PayPal's micropayment rates are 5% + .05¢ per transaction.
At Stripe, you will be charged the micropayment rate of 5% + .05¢, plus a .05¢ RADAR fee per attempt on top.
Chargebacks/Refunds
A chargeback is a charge reversal that happens when somebody contacts their bank and reports a transaction on their card that they don't agree with or think is fraud. They exist to protect cardholders, but are sometimes over-utilized which can be frustrating since your business will pay a fee for each chargeback that happens.
Stripe has a chargeback fee of $15, while PayPal's chargeback fee is $20.
Also, if your customer gets a refund, you won't get your processing fees back from Stripe or PayPal.
Customer Support
Stripe has several ways to get in touch when you have questions including a help center, social media, and chat support channels (with support reps or developers), plus phone and email support.
PayPal has multiple ways to get answers to your questions from their customer support team like a community forum, a help center, and social media, plus email, live chat and phone support.
Even with all these ways to get your questions answered, users still say that the quality of customer service from both Stripe and PayPal can vary from good to poor and is frustrating at times. However, Stripe recently added 24/7 access to both phone and chat support while PayPal's support still goes dark at some hours of the day.
Stripe has also added an option for paid Premium Support with extra features: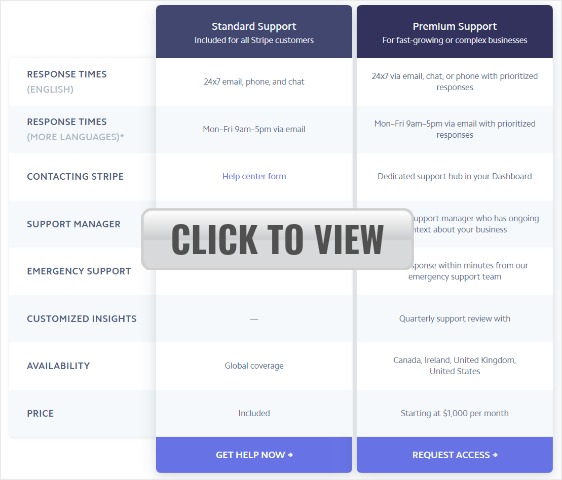 Ease of Use
Both Stripe and PayPal are known for being super easy to use. Both companies have made it really simple for customers to pay online.
Ease of Setup
Stripe is more customizable over PayPal. However,  to embed a feature like a Pay With Card button on your site, Stripe requires a bit more development knowledge and can sometimes be tricky for non-technical users.  WPForms is the best Stripe plugin for WordPress, so integrating with Stripe and PayPal is a breeze since they're both available in our pre-built form templates with the Stripe and PayPal Standard Addons.
Security
Both Stripe and PayPal's services are PCI Complaint. In other words, they meet the strict standards of the Payment Card Industry and your cardholder data is stored securely.
Availability
PayPal is available is many more countries than Stripe. Currently, PayPal is offered in 200+ countries while Stripe has just 32+ countries (and growing).
Access to Funds Time
Stripe will automatically deposit your funds into your bank account with a 2-day average payout time. On the other hand, your funds are available immediately in your PayPal account with PayPal Standard. However, PayPal averages a 2-4 day payout time when moving your funds from your PayPal account into your bank account.
Compatibility
You can use both Stripe and PayPal with WordPress, and both products are integrated with WPForms. Check out our list of PayPal integrations for more information.
Data Portability
At some point, you may want to move all your data to another payment processor that is not Stripe or PayPal. This is known as Data Portability.
Stripe values Data Portability, so they'll help you move your credit card data in a PCI Compliant way.
PayPal won't give you this data if you try to switch processors, which can be a headache. For some people, it's important to have the choice to be able to move their payment data if they want.
Online Invoicing
Stripe and PayPal both have customizable online invoicing. This is free with PayPal, and free with Stripe until you bill over $1 million. You may be surprised how quickly your sales add up. If your online store is doing poorly in sales, check out this guide to eCommerce optimization on our sister site that can help boost your revenue.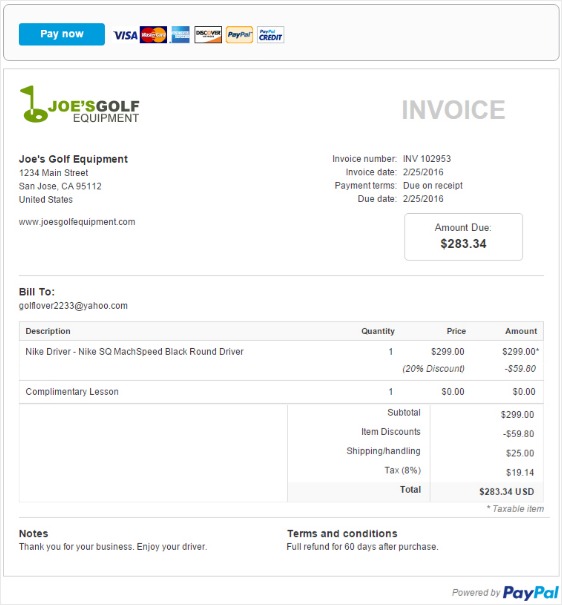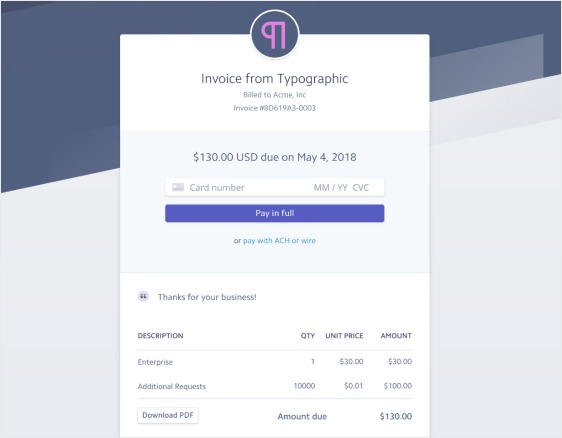 Card Readers
If you're a brick-and-mortar store adding an online presence and want to use the same payment processor for your storefront and your website, you can do just that with both Stripe and PayPal.
PayPal has integrations into many popular Point of Sale systems, and both Stripe and PayPal offer their own physical card readers. PayPal will give you free card readers and also has paid card readers you can buy, while Stripe only offers paid card readers.
Where Payments Are Handled
It's important to note that Stripe lets people pay you without ever leaving your website. PayPal requires people to exit your website to sign in to a PayPal account before being redirected back to your site, which may be undesirable for you if you want to keep your branding consistent from start to finish during your customer's buying process.
On the other hand, this step may not bother some business owners as this is a fairly familiar process for many customers, but it's a factor to consider.
Stripe Pros
Here are some of the benefits of using Stripe to collect money online:
Flat, predictable rates
Easy for your customers to use
Keep and move your customer data
Customers never leave your site during the buying cycle
Nonprofit discounts
No contract required
Lower chargeback fee ($15)
24/7 support
Multiple support options (help center, phone, live chat, and email)
Developer live chat support for complex issues
PCI Compliant
Stripe Cons
This solution might not be a perfect fit for everyone:
Isn't as user-friendly to set up (The WPForms support team has you covered with this guide on how to install the Stripe Addon)
Not as well-known or a household name like PayPal
Takes longer to access your money (2-day average)
No fees returned with refunds
Inconsistent support quality
Available in fewer countries than PayPal
Online invoicing only free until $1M in sales
PayPal Standard Pros
Let's check out some benefits of using PayPal Standard for accepting payments on your website:
Flat, predictable rates
Easy to setup an account
Easy for your customers to use
Integrations with some POS systems if you want to sell in person
Customers are familiar with and trust PayPal
Funds are available immediately in your PayPal account
Nonprofit discounts
No contract required
Multiple support options (help center, phone, live chat and email)
PCI Compliant
Available in 200+ countries
Free online invoicing
Free card readers for your storefront
PayPal Standard Cons
Like most things, there are a few downsides to using PayPal Standard to collect payments on your website. Let's take a look:
Can't move all your customer data to another payment processor
No Recurring Billing
Redirects customers away from your website during the checkout process
Higher chargeback fee ($20)
Inconsistent support quality
No fees returned with refunds
Stripe vs PayPal – Which One Is Better?
So which online payment gateway should you use?
The answer depends on your business' individual needs including your industry, the type of customers you have, and what you're selling. One type of merchant may prefer to go with one payment solution over another.
It's also important to note that with WPForms, you don't have to select just one payment solution to accept payments on your website.
You Can Use Both
To use both Stripe and PayPal, you'll need to setup accounts with each company. This way, you can allow your visitors to select which one they want to use. Head over to our guide on how to allow users to choose a payment method to learn more.
If you do this, keep in mind that your funds will be deposited to your bank account separately, which could cause extra administrative work. You'll be spending more time dealing with both Stripe and PayPal if you're using the two, so weigh all your options before deciding if this is the best route for you.
With the simplicity of WPForms, even non-technical people can create beautiful order forms that accept payments or donations right on their WordPress site with our pre-built donation and order form templates. You can easily let users choose if they want to pay through either Stripe or PayPal in your forms.
Accept Stripe + PayPal On Your Site's Forms Now
Final Thoughts
Both Stripe and PayPal offer great features and major flexibility. Ultimately, which payment gateway you choose depends on your business' specific needs.
Accepting payments in WordPress is super simple with WPForms. With our addons for Stripe, Square, and PayPal, you can easily collect payments and donations through the most popular online payment gateways directly on your website.
And there you have it! You can now make an educated decision about whether Stripe vs PayPal will be a better fit for your business to collect payments or donations online, based on their individual pros and cons.
Ready to create a form that accepts payments? Head over to our tutorial on how to create a simple order form in WordPress.
So, what are you waiting for? Get started with the most powerful WordPress forms plugin today.
And don't forget, if you like this article, then please follow us on Facebook and Twitter.