Are you looking for a detailed All in One SEO review?
Thinking of switching SEO plugins and wondering: is AIOSEO worth it?
If you're looking for the perfect WordPress SEO plugin to get your site ranking in search results, look no further. We'll show you all of the features to help you decide if AIOSEO is the right fit for your site.
Is All in One SEO Free?
Yes, there's a free version of All in One SEO! For a hobby site, the free version will work just fine.
If you need advanced features, like local SEO, it's well worth upgrading to the paid version of All in One SEO. There are 4 paid licenses with extra features that are super valuable on top of basic optimization.
Here's a quick overview of the Basic and Pro licenses to give you an idea of how the licenses work:
| Feature | AIOSEO Basic | AIOSEO Pro |
| --- | --- | --- |
| Pricing | $99/yr | $399/yr |
| Sites | 1 | 10 |
| Keywords | Unlimited | Unlimited |
| WooCommerce SEO | ✅ | ✅ |
| Powerful Sitemaps | ✅ | ✅ |
| Social Media Integration | ✅ | ✅ |
| TruSEO Analysis | ✅ | ✅ |
| Smart Schema Markup | | ✅ |
| Local SEO Module | | ✅ |
| Image SEO Module | | ✅ |
| Redirection Manager | | ✅ |
So as you can see, although there's a jump in price from Basic to Pro, you get tons more power and control with the extra addons.
Now we've had a sneak peek at some All in One SEO features, let's get on to our main All in One SEO review.
All in One SEO Review: Is AIOSEO Worth It?
All in One SEO is the best SEO plugin for WordPress and one of the most well-established.
It was completely rewritten in 2020 to improve its features and performance.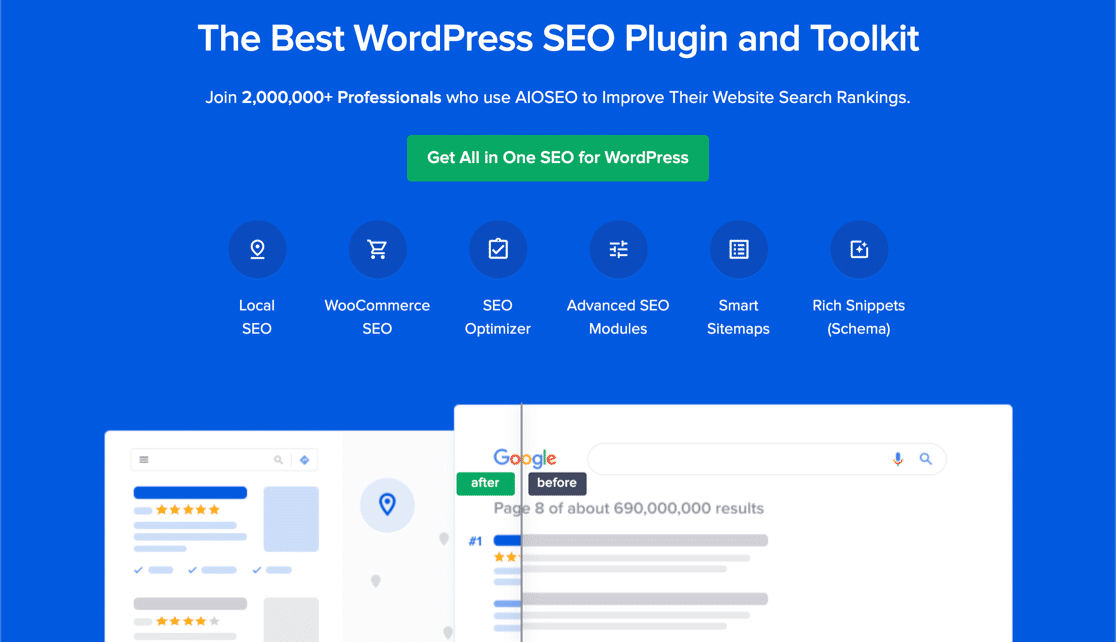 So if you've tried AIOSEO in the past, but since switched to a different SEO plugin, you're likely missing out on some awsome new features. This All in One SEO review will give you a quick overview of what the plugin looks like now.
First, let's install All in One SEO and set it up.
Getting Started With All in One SEO
To get started, you'll want to download and install the All in One SEO plugin from your account page. When you activate the plugin, you'll see the Setup Wizard open up.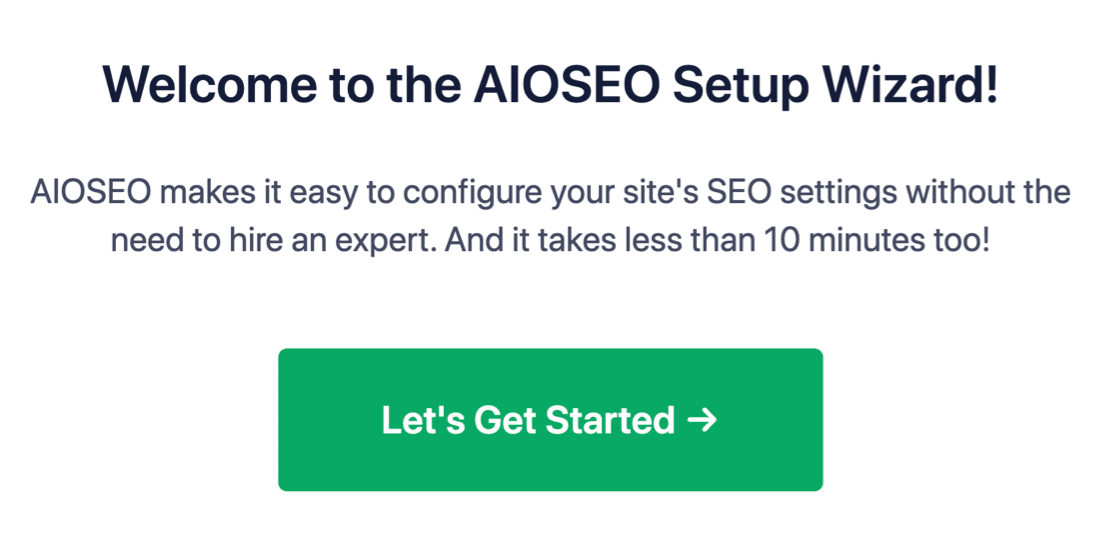 The Setup Wizard is designed to walk you through the general settings for your site in 10 minutes or less.
Migrating From Another SEO Plugin
Thinking of switching from a different SEO plugin?
All in One SEO makes it easy to migrate from another SEO plugin. If it detects another SEO plugin during the Setup Wizard, it'll offer to copy over the basic settings for you.
This is optional, so you can check the box here to enable the data import if you want to use it: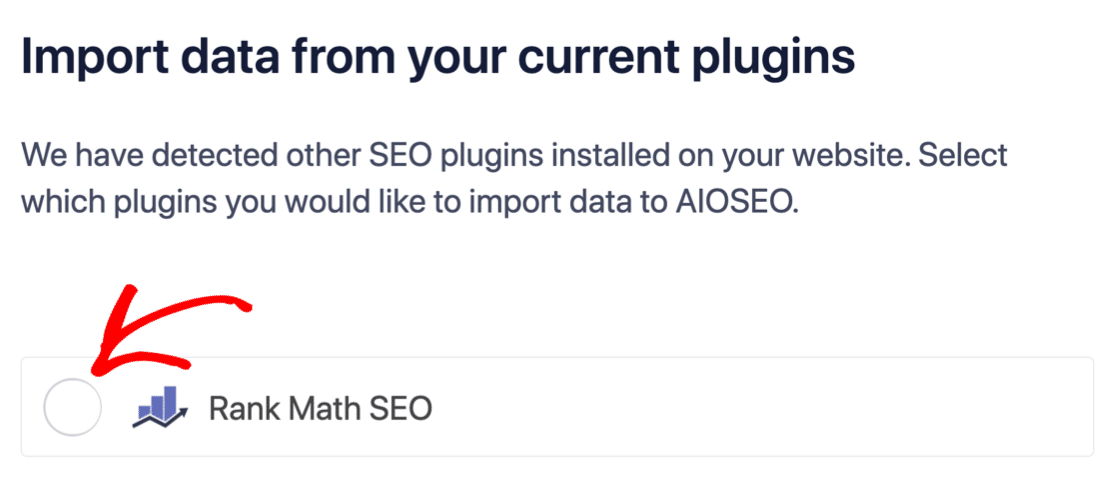 Keep in mind that each SEO plugin has its own way of handling SEO, so the import may not copy over everything you had in the old plugin. But that's OK – AIOSEO makes it easy to check your entire SEO set-up to make sure everything's set up the way you want it.
At the end of the Setup Wizard, AIOSEO will remind you to deactivate your old SEO plugin. This is important because having 2 SEO plugins active can cause a conflict.
Clicking the Fix Now button will deactivate the other SEO plugin on your site.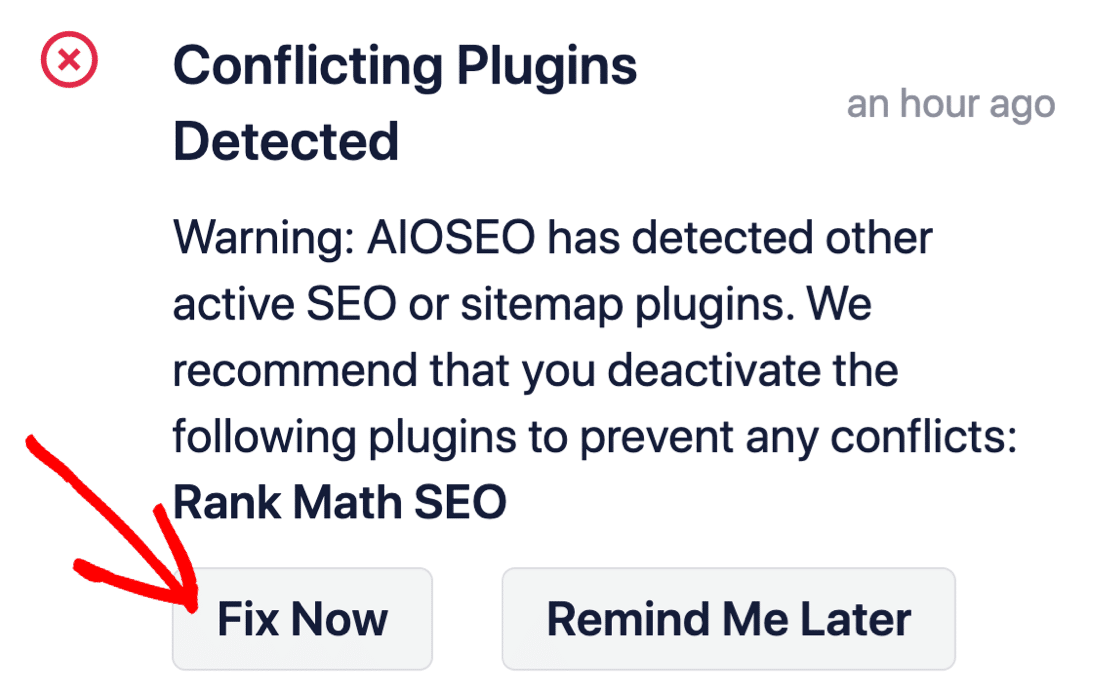 This won't delete the data from your old SEO plugin. But it's a good idea to deactivate the old one right away to avoid any conflicts.
Now let's take a look at the settings and features in All in One SEO.
All in One SEO Features
All in One SEO has tons of functionality, and a lot of it is controlled in the plugin settings.
It's worth spending a bit of time working through these settings. Once you've run through the various addons and set them up, you can pretty much forget about them.
Of course, you can also go into individual posts and pages to work on the SEO for those. We'll talk about that at the end of the review.
With the Pro version, you can also turn addons on and off at any time in the Feature Manager.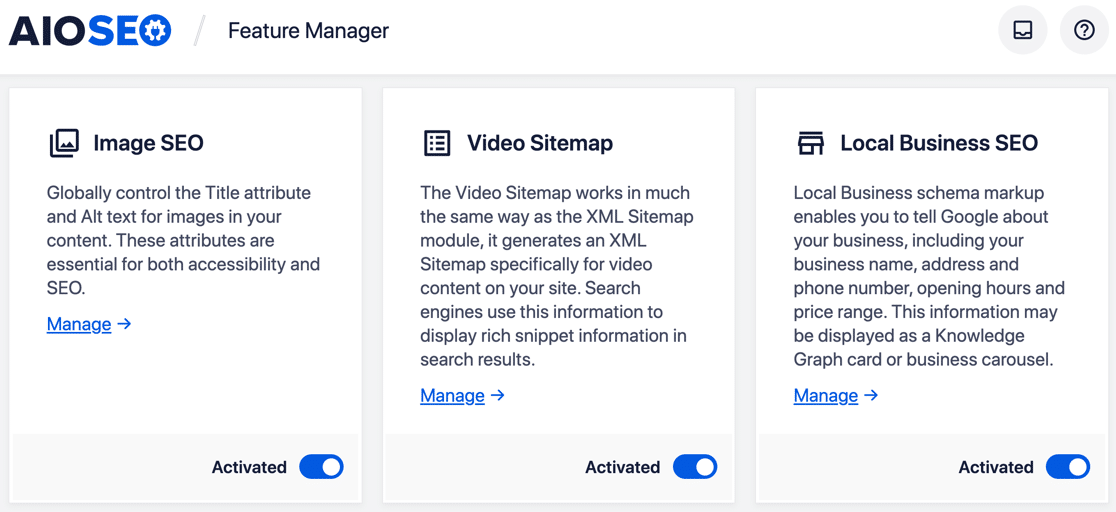 Site Audit Checklist
The Site Audit section of All in One SEO lets you check the SEO health across your entire website. After scanning your site, it'll score your site automatically based on its findings.
This is an awesome way to get an overview of your SEO and see any issues that might negatively affect your rankings.
You'll want to aim for a score of 60-80 points in the Site Audit for the best possible chance of ranking well.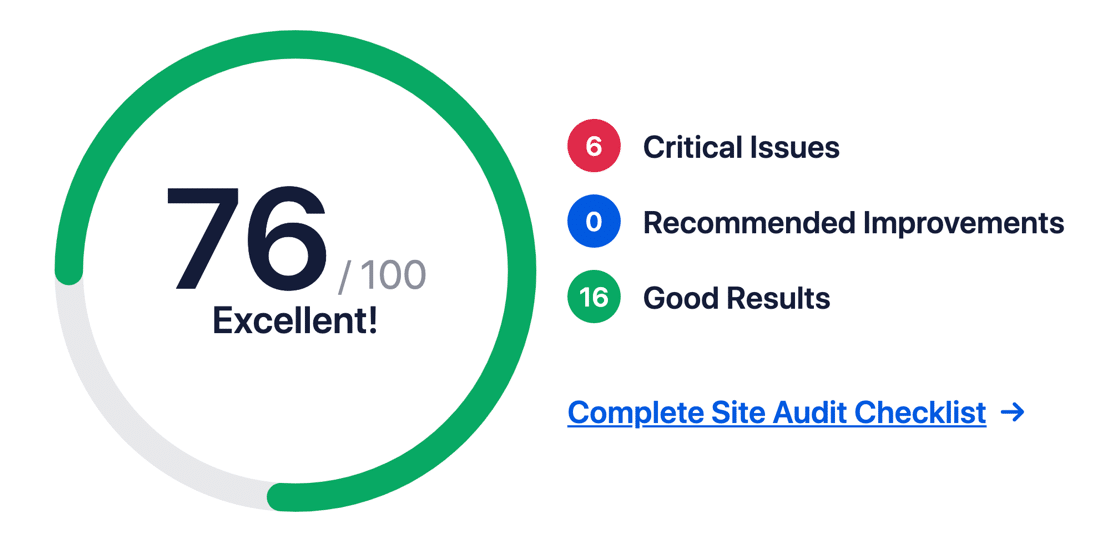 Underneath the score, there's a breakdown of the components that the plugin checked. You'll want to pay attention to Critical Issues, since those are the things that could be harming your rankings already.
Clicking the arrow to the right expands the section so you can read about the issue in more detail.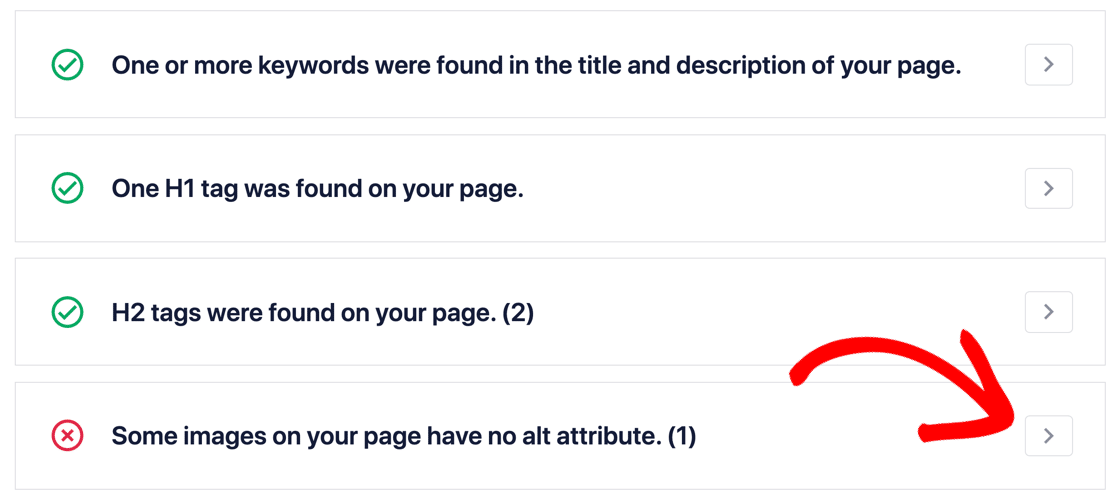 As a bonus, you can also use the Site Audit to score a competitor's site if you want to compare their score with yours.
Search Appearance
The Search Appearance settings are super important. If you have limited time, this is the 1 section you'll want to focus on.
The main Search Appearance screen lets you preview your site's information as it appears in search results.
From here, you can also set up your Knowledge Graph information, which is essentially metadata about your business. This makes it easier for Google to find this information and display it in results.
For example, All in One allows you to set:
Your name, or the name of your website
Logo
Opening hours.

In the Content Types tab, you can set up meta templates and placeholders that will be used for posts, pages, and other content types in WordPress.
But this isn't just a basic template.
The awesome thing about All in One SEO is that it lets you set dynamic placeholders, called tags.
For example, you can automatically show a year in your blog post title without manually typing it in. So you don't have to spend New Year's Day going through all of your posts and changing the year!

We love how AIOSEO lets you do this in 2 ways. You can:
Display the year that the post or page was created, or
Always display the current year.
This is a super flexible way to always show a date in your post title. And it lets you adapt the placeholder in a way that makes sense for your readers and your content.
For example, you might not want every single post on your site to automatically update to the most recent year if it wouldn't match the content.
In addition to these templates, you can also set separate templates and schemas for different post types and taxonomies, for example:
Image SEO: Automatically assign keywords to your images to help them rank, and redirect attachments in the best way
Author SEO: Control the way your author archive pages are shown in search.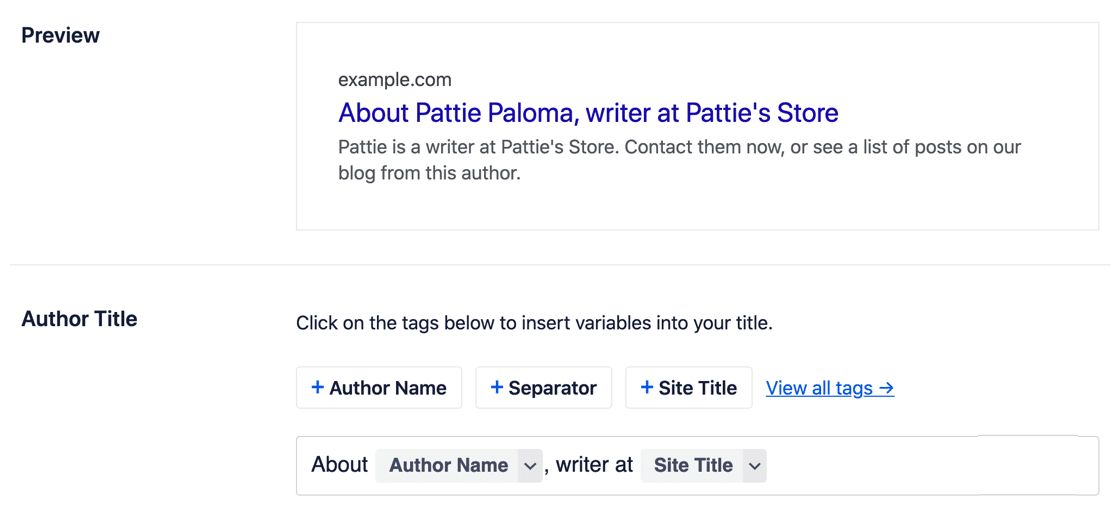 Social Networks
The Social Networks settings page allows you to control how your posts show up on the social networks you're using.
You can set the default Post Type and image for each network, or simply duplicate the settings so that your social media channels are consistent.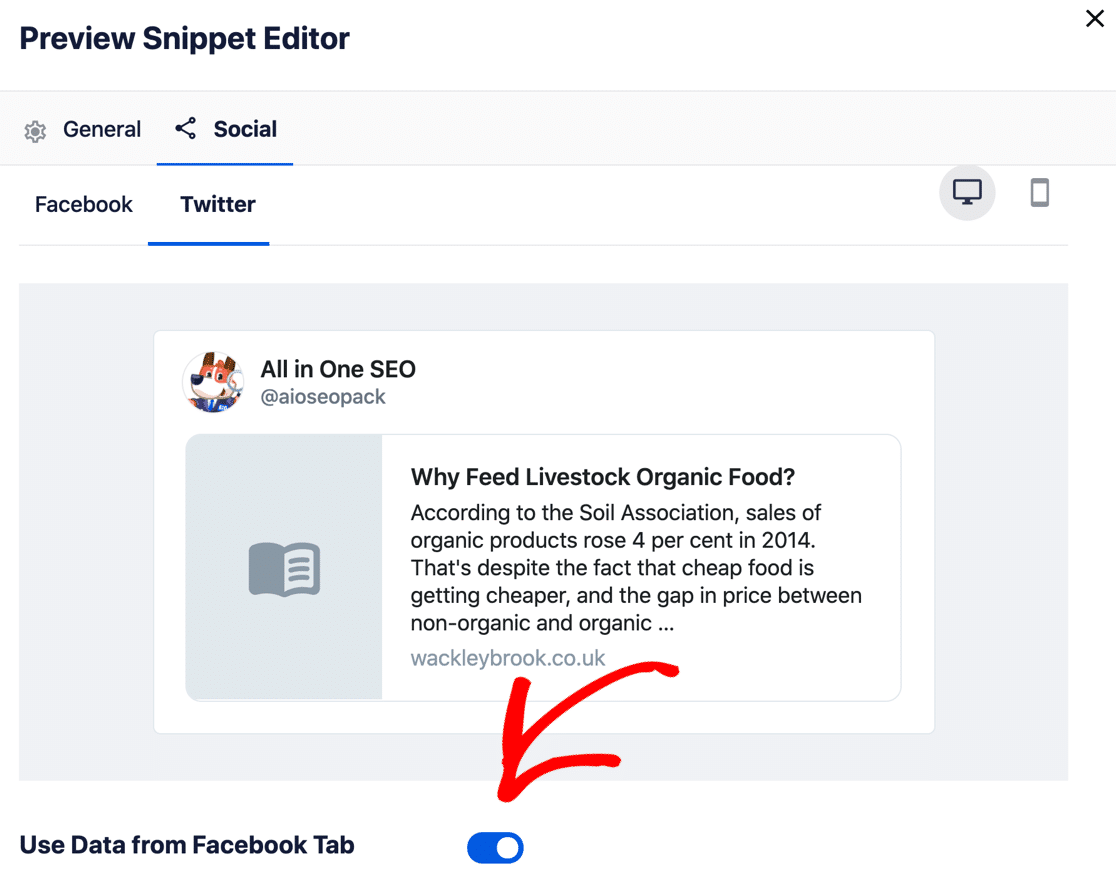 Sitemaps
Sitemaps are an important part of your site's optimization. They tell search engines where your content's located so that it's easy to discover.
All in One SEO lets you create 4 different types of sitemap:
General
Video
Google News
RSS
You don't have to enable all of these sitemap types, but you'll definitely want to use the General sitemap so you can control the post types that Google discovers.
In this example, we want Google to index posts and pages. We don't want it to try and index our MailPoet newsletters, so we unchecked that box.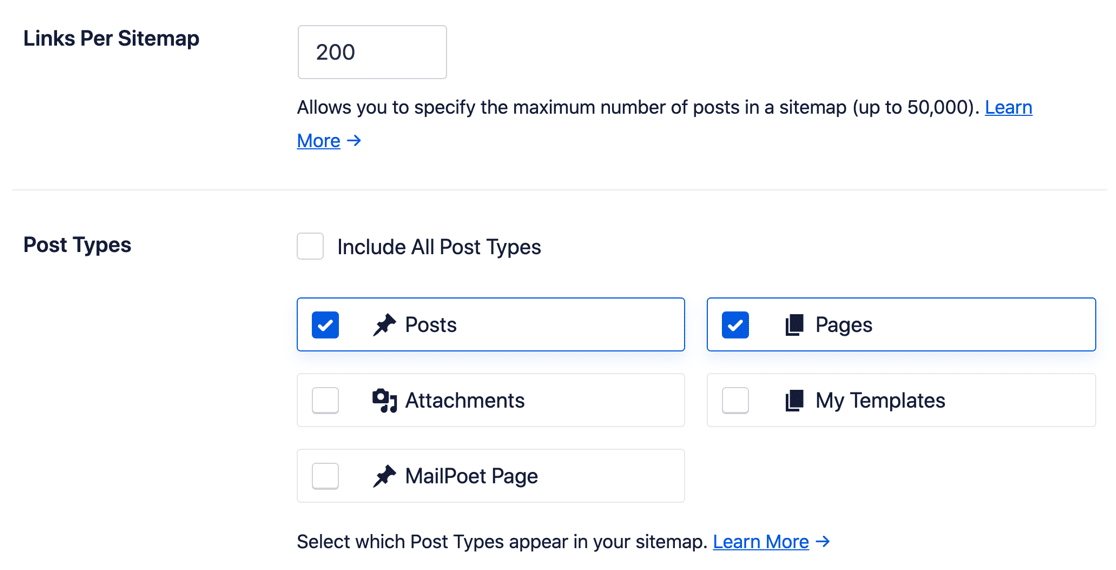 You can also include specific URLs in your sitemap, which means you can:
Control the priority of each URL
Set an update frequency
Manually set the Last Modified date
And using the advanced settings, AIOSEO lets you customize your sitemaps by:
Excluding specific posts, pages, or keywords from your sitemap
Manually setting a priority and frequency for post types
Including or excluding images from your sitemap.
To learn more, see our in-depth guide on how to create WordPress sitemaps.
Redirects
Redirects are super important for SEO. If you remove a post, or republish it with a different URL, you should always have a direct in place to make sure you don't lose rankings.
All in One SEO has its own Redirects screen that makes this easy.
We like to look at the 404 errors in All in One SEO to see if there's anything we can redirect to a new page or post. From here, you can manually add a 301 or 307 redirect, essentially getting rid of that 404 error.

All in One SEO can also create automatic redirects. For example, if you delete a blog post, it'll step in and ask you to create a redirect from the old URL to a different one.
Local SEO
Local SEO is one of the main addons for All in One SEO, and it's a major plus point for any business or organization that operates in a defined geographical area. The plugin is super flexible and supports SEO for single or multiple locations.
Since All in One SEO collects this data in the Knowledge Graph format, it's easy for Google to find and display all of the local information it's looking for, like:
Business address
Contact information
Tax or VAT ID
Payment methods
Price range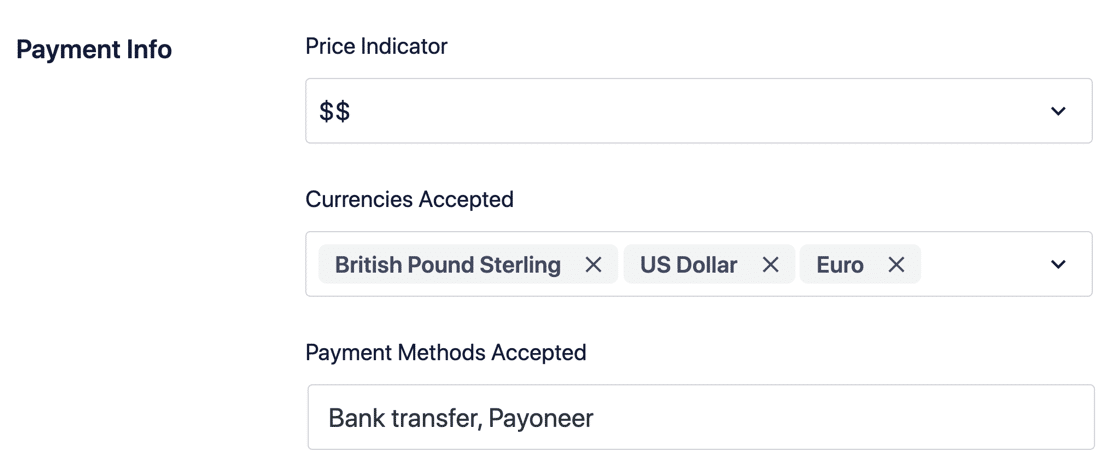 This information is super important because Google sometimes uses it to develop 'cards' on search results. So by setting it up in All in One SEO, you can have a say in exactly how your business or website is presented.
Link Assistant
AIOSEO comes with a super useful Link Assistant tool, which can show you the number of internal and external links to your posts at a glance. Links are one of the most important ranking factors, so utilizing Link Assistant can really take your on-page and off-page optimization to the next level.
The Link Assistant also displays suggestions for related posts that you can link to while you're editing a post in WordPress. This is an awesome feature that saves you a lot of time because it means you don't have to manually search for relevant posts to link.
On-Page Optimization
Once the setup is complete, All in One SEO pretty much runs your SEO for you.
That's why we devoted so much time to the settings in our AIOSEO review.
When it's time to write your content, or optimize the content you already have on your site, there's a super important tool in AIOSEO that you'll want to know about.
How to Use TruSEO
TruSEO is an awesome AIOSEO feature that automatically scans your content as you compose it.
This is a little like having an SEO adviser sitting on your shoulder as you write. If you've under-optimized or over-optimized a post, All in One SEO will alert you and tell you how to fix it.
By default, TruSEO is disabled. You'll want to turn it on in the plugin's General Settings page.

Now TruSEO is active, open up any blog post or page to see the suggestions.
Here's how it looks in the block editor. This panel opens up on the right-hand side and shows you how your content is scoring on:
Keyword relevancy
Basic SEO
Title Optimization
Readability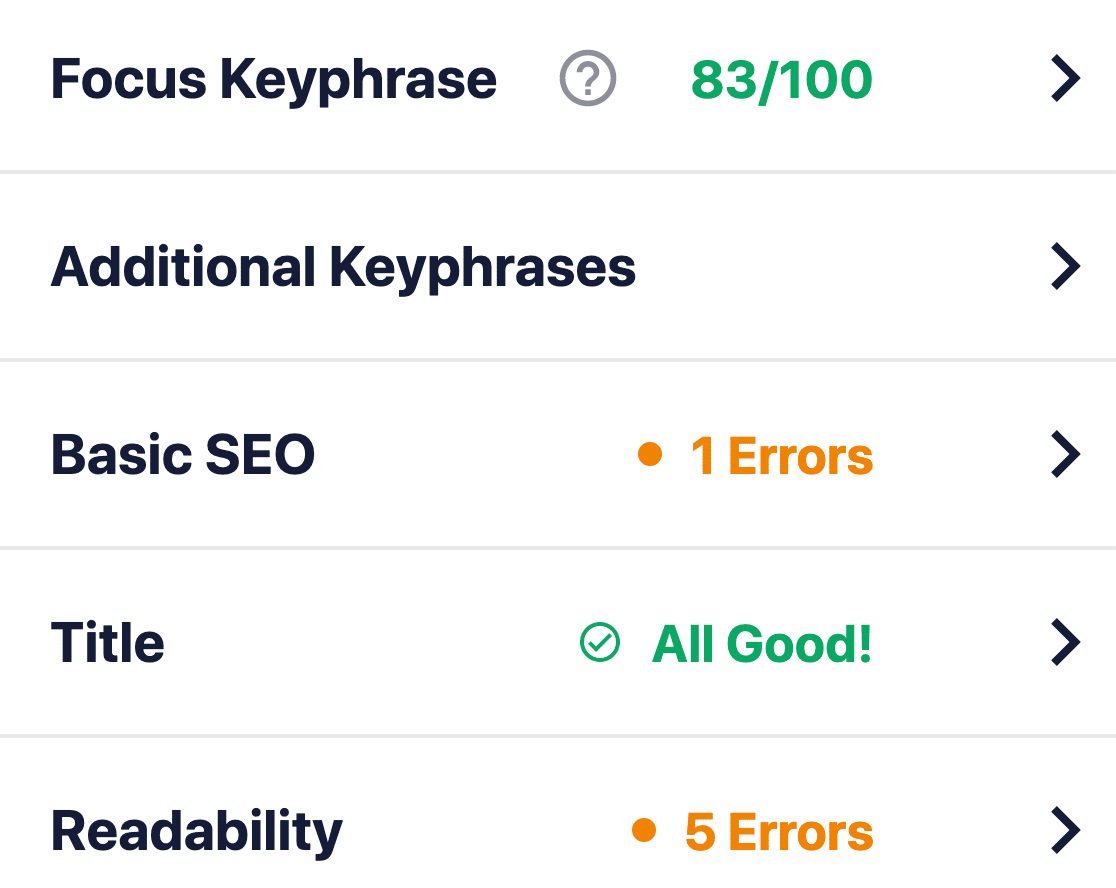 TruSEO is more sophisticated than Yoast; it takes many more factors into account to create a score.
If we expand the Basic SEO box, we can see suggestions to help us optimize our content further.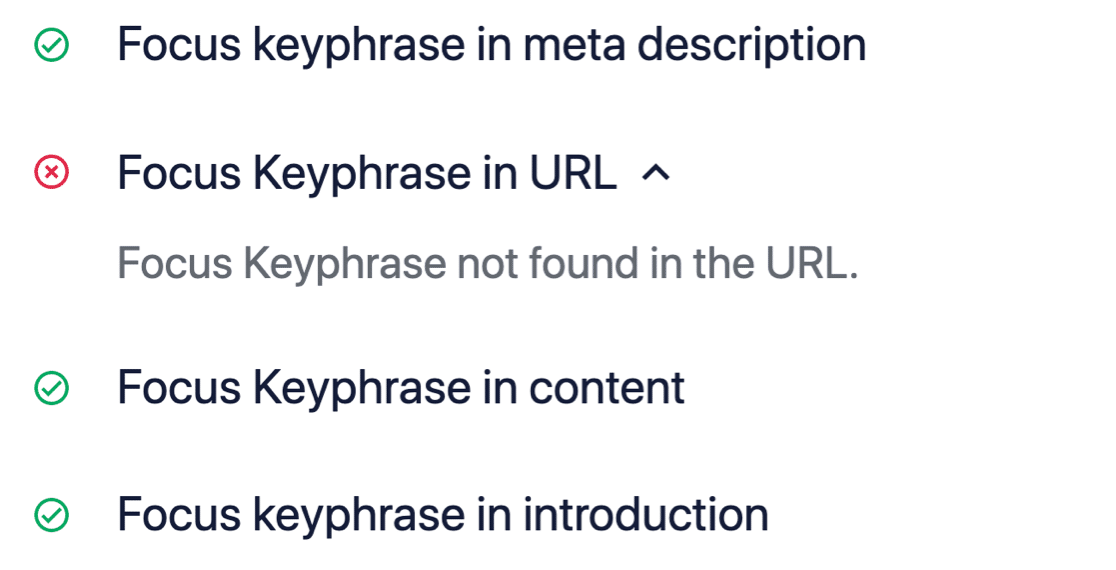 The really awesome thing about this layout is that it works perfectly with MonsterInsights.
So if you're already using the super helpful Headline Analyzer in the MonsterInsights plugin, you can access your All in One SEO data in the same place.
That gives you easy access to your headline score and a content score right at the top of the post window.

Conclusion: Is All in One SEO Worth It?
We were truly blown away by all of the awesome features in All in One SEO. It's without doubt the best SEO plugin for WordPress.
Many SEO plugins cover basic page optimization by scanning for keywords or making recommendations to improve readability. All in One SEO does a lot more.
It makes every aspect of WordPress SEO easy to set up, including:
Local SEO
eCommerce SEO
Different schema types
Social media
Post metadata
Robots.txt
Sitemaps
On-page optimization
And more.
The interface is clean and easy to use, and we found it easy to navigate around and find the settings we wanted to look at.
All you have to do is invest a little time configuring All in One SEO correctly. After that, your site will be fully optimized every time you create a new page or post. The hard work is already done!
And while you're creating content, the TruSEO feature gives you instant feedback on your on-page optimization, with actionable suggestions and a real-time score. This feature alone could massively improve your content and help you rank faster (and higher) in search results.
Ready to give it a try? You can download All in One SEO risk-free and get a full 14-day money back guarantee.

Create Your WordPress Form Now
Next, Drive Traffic With RafflePress & SeedProd
Looking for more plugins to drive traffic and sales?
Check out our RafflePress review to see how a giveaway could boost your email marketing list or social media following.
And if you want to try out the best landing page builder for WordPress, you'll love our SeedProd review. If you want to see how it looks vs Elementor, we'll show you how to quickly make a no-code landing page for any purpose.
Ready to build your form? Get started today with the easiest WordPress form builder plugin. WPForms Pro includes lots of free templates and offers a 14-day money-back guarantee. You can collect payments with Square, Stripe, PayPal, Authorize.net and do so much more.
If this article helped you out, please follow us on Facebook and Twitter for more free WordPress tutorials and guides.