Are you wondering how to improve the readability score in WordPress?
The more readable your content is, the easier it is for visitors to understand you and get value out of your blog. Readability plays an important role in building an audience, growing your blog, and getting more subscribers.
The good news is that with the right knowledge and tools, readability is easy to improve. And we've put together some time-tested tips to help you write readable content in WordPress.
What is a Readability Score in WordPress?
The readability score indicates how easy it is to read a piece of content. It affects the user experience, which in turn can have a positive impact on your site's SEO performance.
WordPress doesn't have an inbuilt readability score, but you can easily add it to your site using an SEO plugin.  We recommend using All In One SEO (AIOSEO) — a comprehensive WordPress SEO tool that includes a useful readability analysis feature.
Read on to learn everything you need to learn about improving your readability score in WordPress and how AIOSEO can help.
How to Improve Readability Score in WordPress
1. Install All in One SEO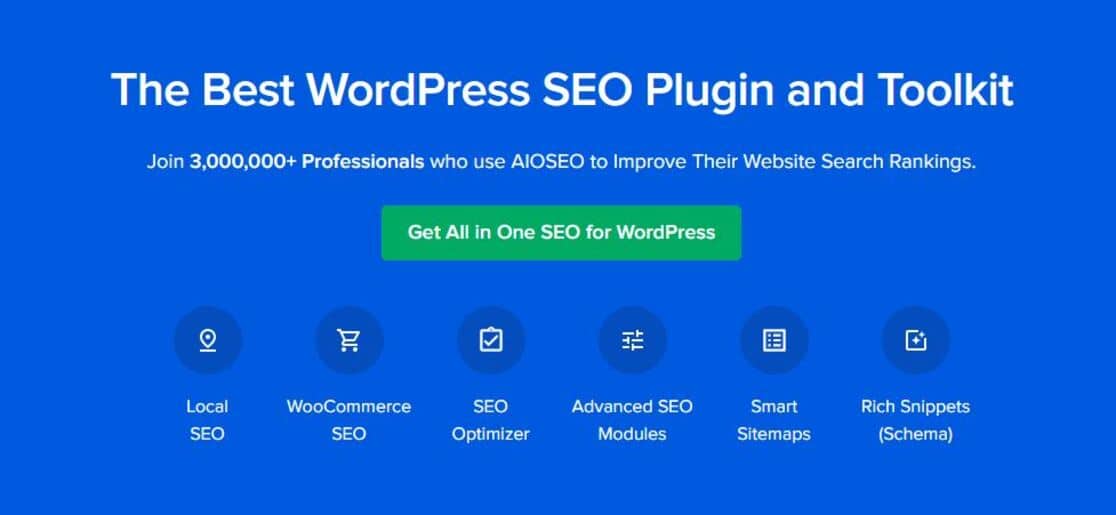 AIOSEO is a powerful SEO plugin that helps users create effectively optimized web pages and posts. One of the ways it does this is by helping you improve the readability of your content, which is what we'll focus on in this article.
We recommend that you use a paid AIOSEO license as it comes with a more powerful collection of SEO features, but you can also use the free version to analyze your readability score in WordPress.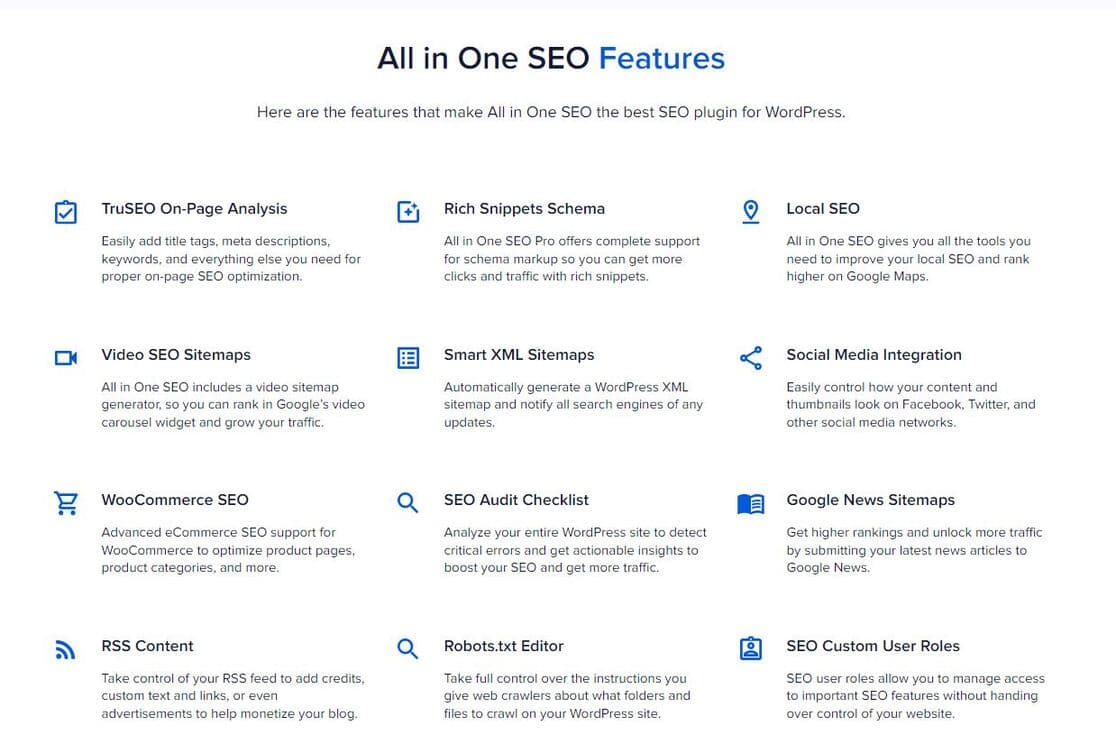 To get started, download the plugin from the AIOSEO website, then install and activate it on your WordPress website. Here's a guide to installing WordPress plugins if you need detailed instructions.
Once installed, simply trigger the setup wizard.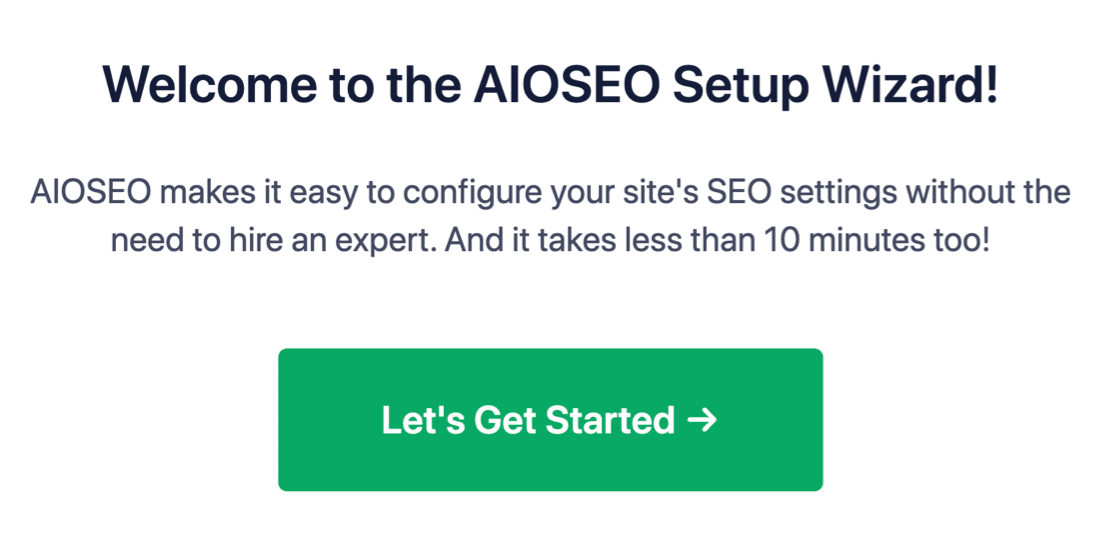 You'll be prompted to enter details such as your logo, social media profiles, business address and so on. If you'd like a detailed guide to setting things up, this guide to setting up AIOSEO correctly will walk you through every step of the process.
2. Access AIOSEO's Readability Analysis Tool
Once the plugin is installed and configured,  you'll see a new AIOSEO module when you're editing a post or page.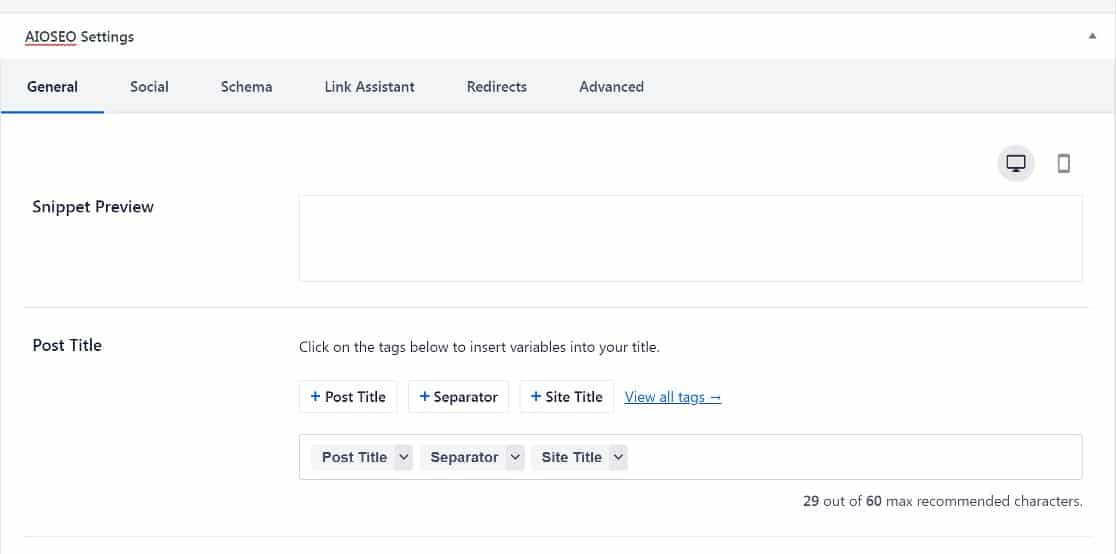 Open up a post or page you would like to optimize and scroll down till you see the section labeled Page Analysis, then click on Readability.

You'll see a checklist of items that are important for readability.
If you've optimized your post perfectly for readability, these items will be ticked green. Readability issues will be marked in red on the checklist.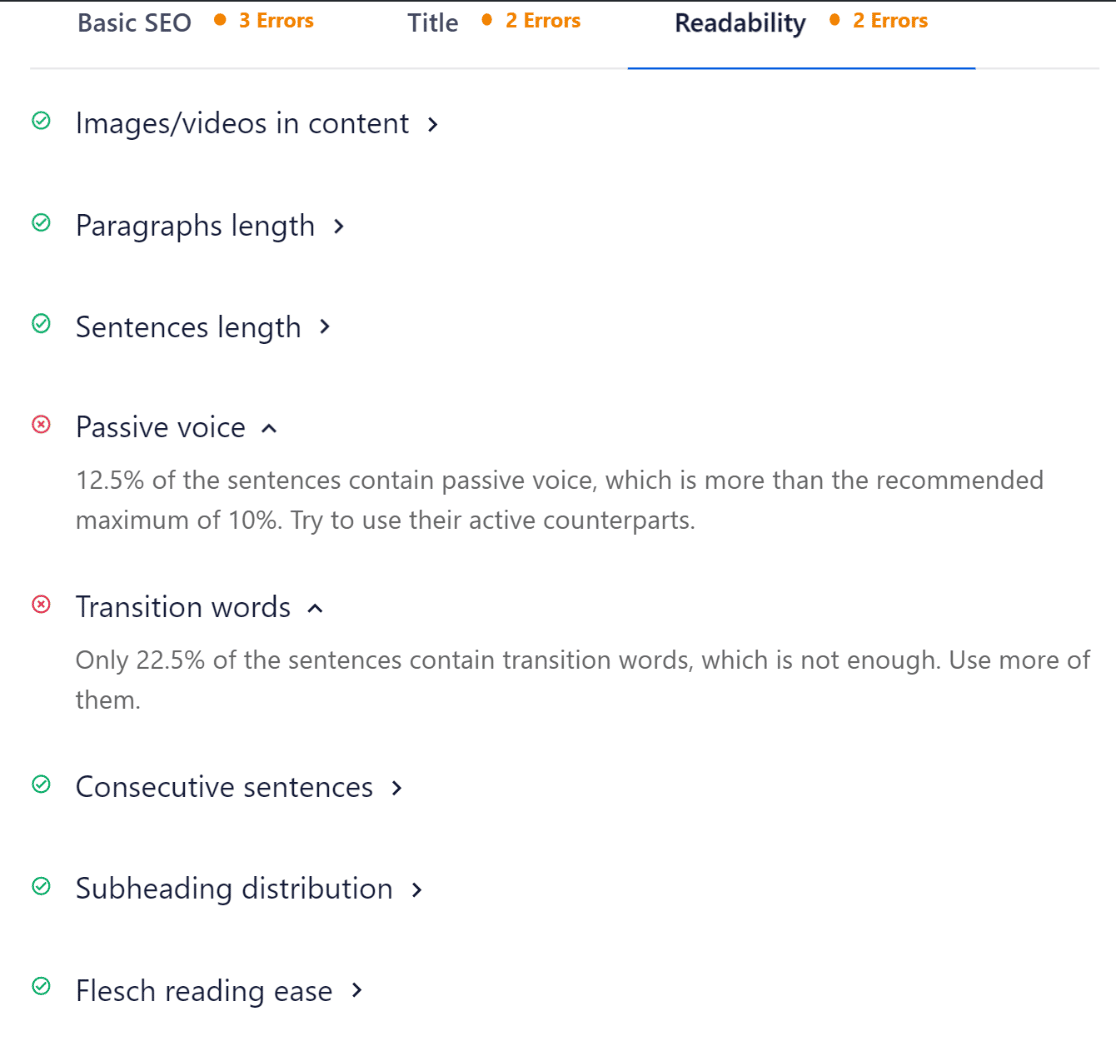 We'll get started, in the next step, by discussing how to organize your content using subheadings.
3. Organize Your Content With Subheadings
Whether you're writing content for a page or post, headings and subheadings will be a crucial part of your writing.
Headings and subheadings help search engines understand what your content is about. Additionally, organizing content into subheadings makes your content more scannable for readers so they can easily find the information they need.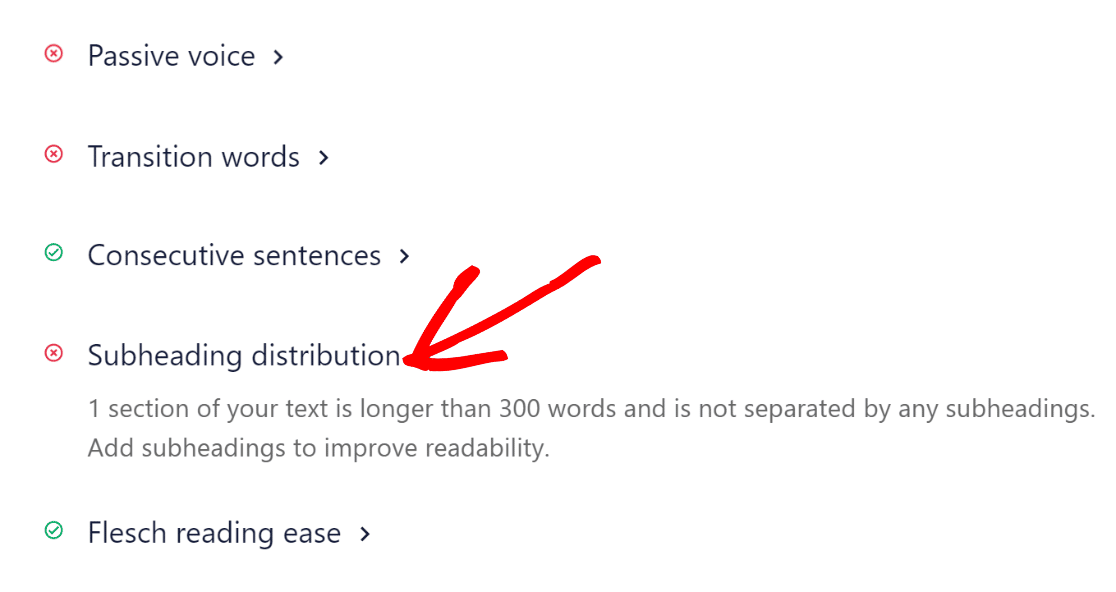 As a general rule, you should aim to keep each subheading under 300 words. If any of your subheadings exceed 300 words, AIOSEO will give you a readability error.
Here are a few additional heading structure guidelines that can help you format your content for readability:
H1 headings are typically reserved for the title of the post by default (WordPress will do this for you). You should never use them within the text.
H2 headings should be reserved for the major sections of your article.
H3 headings should be used to create any subheadings immediately below an H2 header.
H4 headings and below should be used sparingly. Though there is no hard and fast rule with this, if your writing requires H4 subheadings, that would be a good sign that it may be too complex. If you must use any H4 headings, though, they should only be used under an H3 heading.
4. Write Simply Enough For an 8th Grade Reader [Flesch Reading Ease]
Your readers are likely busy, and there's an abundance of content from your competitors. If you make your posts overly complex, you'll probably lose some readers.
So, along with being scannable, online writing needs to be easy to digest. AIOSEO measures this by a metric called the Flesch reading ease.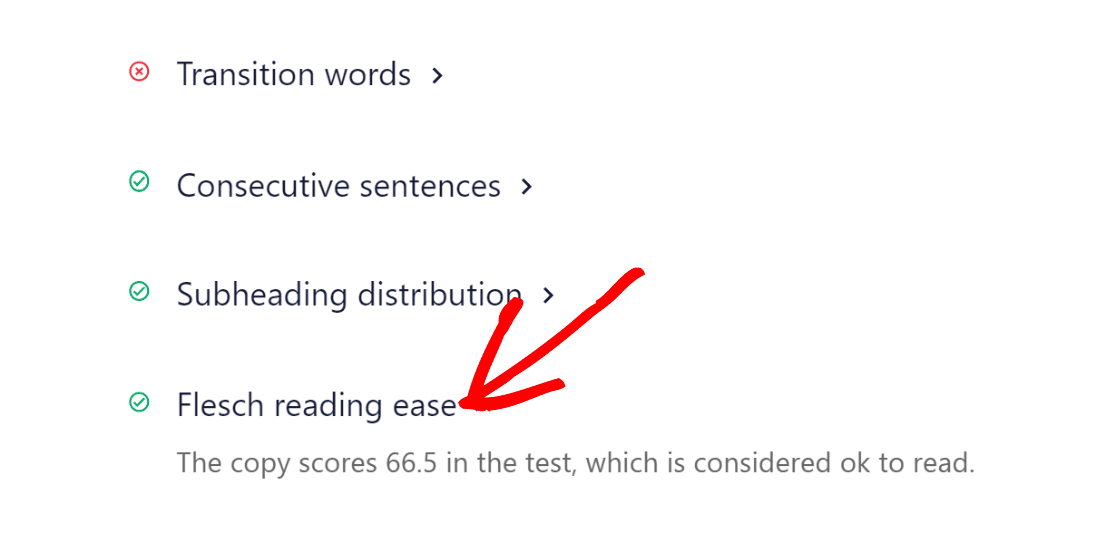 The general rule here is to write simply enough for an 8th grader to grasp your ideas. And if you achieve this, the Flesch reading ease should get to about 60 – 70, which is a fairly good score.
Here are a few more simple rules to guide you:
Write shorter sentences and paragraphs (we'll discuss this in more detail in the next step).
Express your ideas in the simplest words possible.
Avoid using technical words as much as you can.
Avoid unnecessary adverbs and adjectives.
Keeping up with these rules would be a great starting point, but there's a little more to it, and we'll cover most of it in the next few points.
We'll be discussing some additional ways of keeping your content scannable and easy to digest.
5. Optimize Sentence and Paragraph Length
We've talked about using headers to make your content scannable. Another way to do this is by using shorter sentences and paragraphs.
Shorter sentences and paragraphs also help to reduce the reader's perception of complexity.
It's best practice to limit your sentences to 20 words or less, and keep your paragraphs to a maximum of 3-4 lines.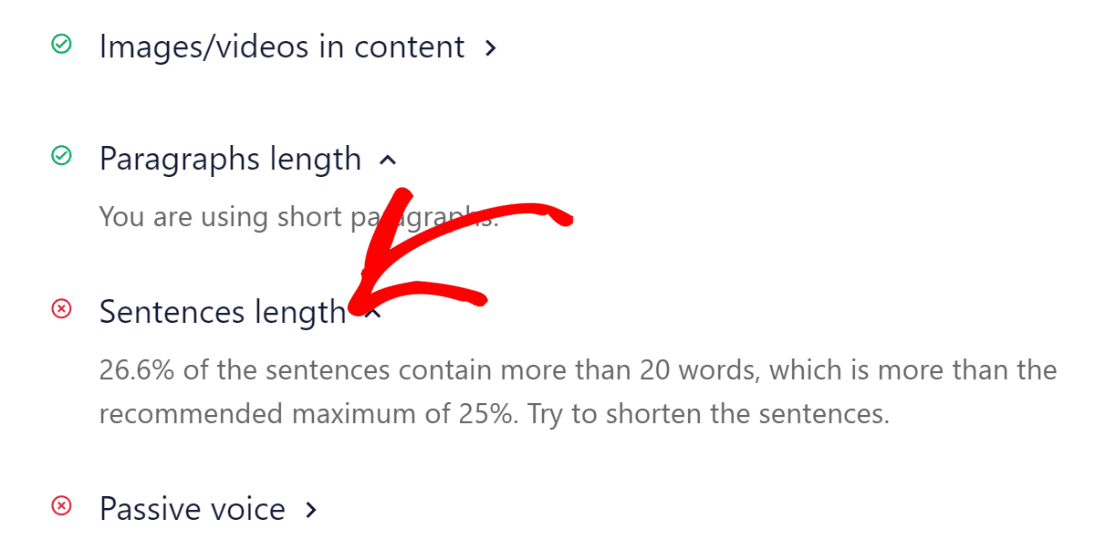 AIOSEO will give you a readability error if more than 25% of your sentences are over 20 words long. If that happens, see if you can shorten some of your sentences. Often, you can split one sentence into two and convey the same idea in a more readable way.
6. Use the Active Voice
In writing, the active voice is more engaging and helps to add clarity to ideas. This is why using a higher proportion of sentences written in the active voice is so important.
The best practice is to have no more than one sentence written in the passive voice for every nine written in the active voice.
In other words, keep the passive voice limited to no more than 10% of the text.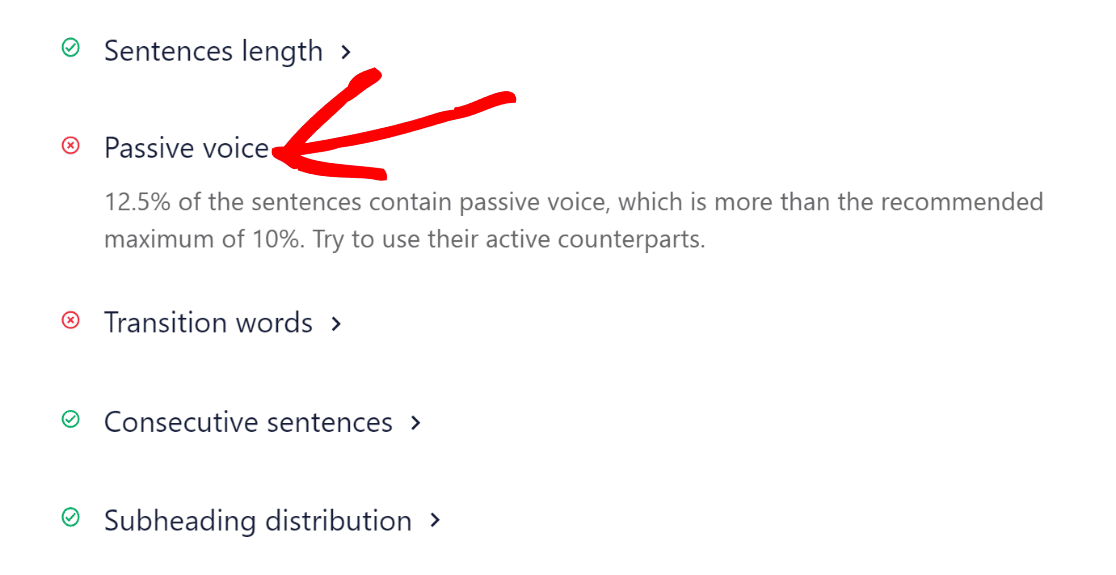 If you're not sure about the difference between the active and passive voices, here's a quick refresher:
In the active voice, the subject of a sentence plays an active role. In the passive voice, the reverse is true, and the subject of the sentence is presented passively. For example:
Sentence 1 (Active): John wrote the article.
Sentence 2 (Passive): The article was written by John.
7. Use Transition Words Abundantly
Transition words are words that are used to connect sentences and phrases,
These words are useful because they enable readers to see how ideas are connected as they move from one sentence to the next. Common transition words include words like "and", "because", "but", "therefore", and so on.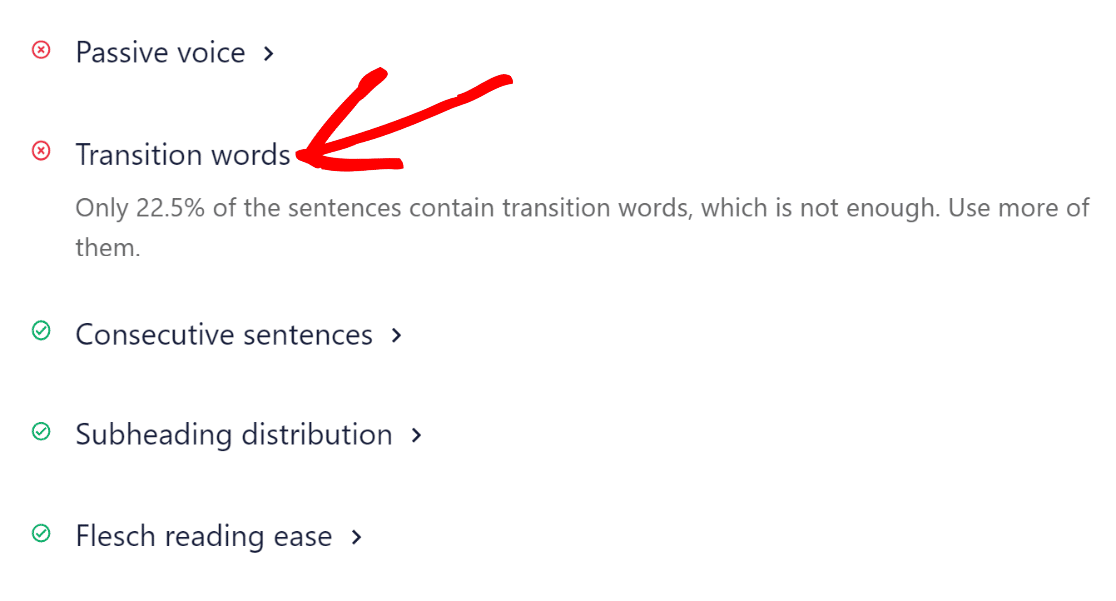 You don't have to use transition words for every sentence but it's a good idea to include transition words in about 1 in 3 sentences.
At this point, we've nearly covered all you need to know to make your writing easier to read.
The final tip is about giving the reader a break from reading by including useful images or videos within the text. Read on to learn how this works!
8. Add Images or Video To Break Up the Text
A great tactic to enhance the readability of your content would be to break up long walls of text with images, gifs, or videos that illustrate the point you're making.
Images are excellent elements for improving the user experience in many ways. They add more variety to your content and enable you to get technical ideas across more easily.
Plus, images give some much-needed break to your visitors' eyes as they scroll through your post.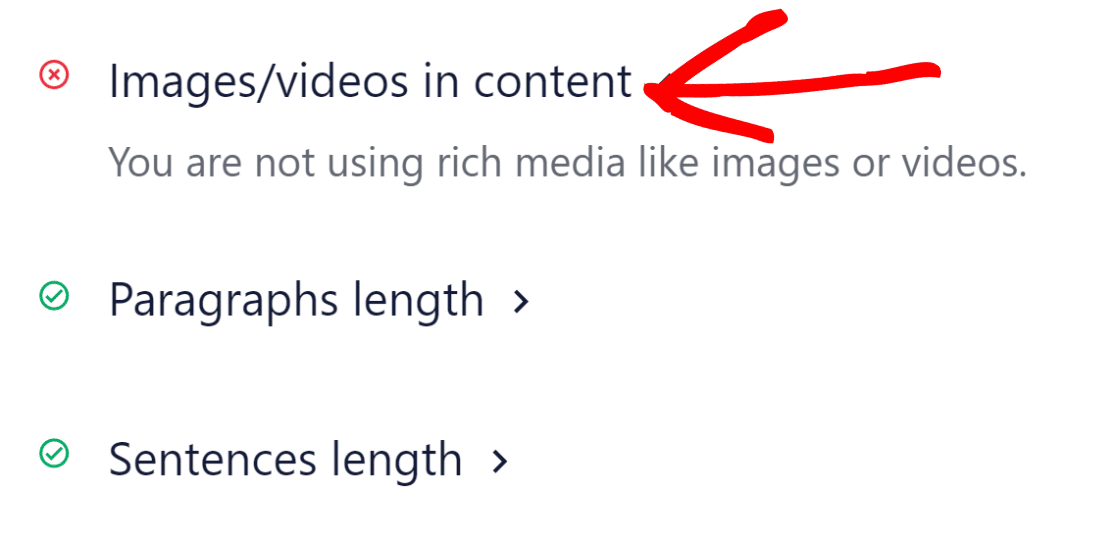 So make sure to include a reasonable amount of helpful images or other visual content in your blog posts and articles.
And that's how to improve readability in WordPress!
Next, Avoid These Common WordPress Mistakes
Not optimizing your website for SEO is a common WordPress mistake but it's not the only one. We've put together a list of common WordPress errors and how to avoid them. Take a look!
Ready to build your form? Get started today with the easiest WordPress form builder plugin. WPForms Pro includes lots of free templates and offers a 14-day money-back guarantee.
Create Your WordPress Form Now
If this article helped you out, please follow us on Facebook and Twitter for more free WordPress tutorials and guides.