Are you planning to host a giveaway and looking for giveaway landing page examples?
A dedicated landing page attracts more visitors, increases site traffic, and helps you build a powerful email list.
In this article, we have compiled some great giveaway landing page ideas to get you started.
Here's a table of contents if you'd like to jump ahead:
How Do I Create a Giveaway Landing Page?
There are many plugins available to create landing pages in WordPress. But, the most effective way to build flawlessly working giveaway landing pages is to use the RafflePress plugin.
It's the best contest and giveaway plugin for WordPress.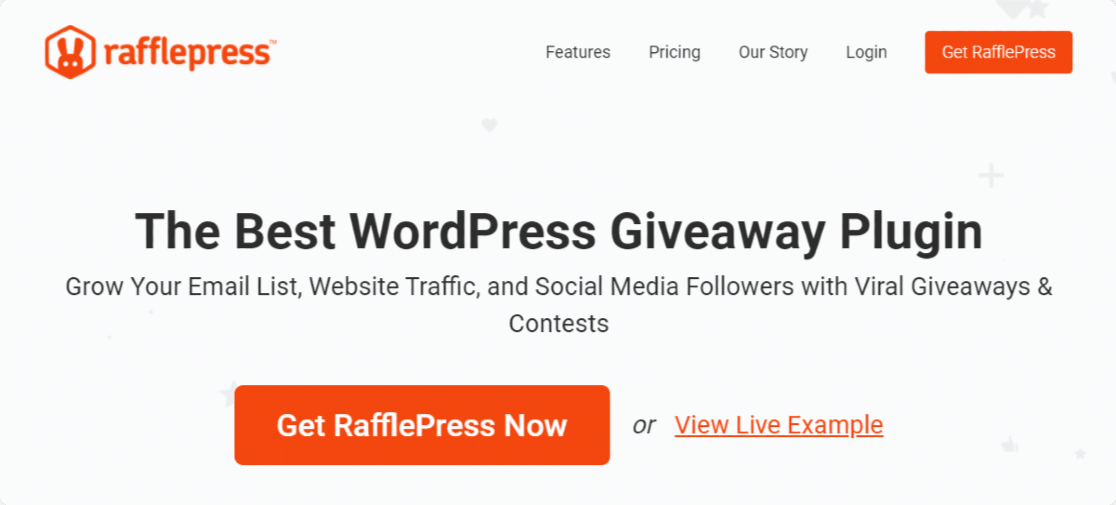 RafflePress comes with many amazing features that help you host successful online giveaways without touching a single line of code.
With the RafflePress plugin, you get:
Easy drag & drop giveaway builder
Viral giveaway templates
Social media integrations
Email marketing & CRM integrations
1-click entry + fraud protection
Tracking and reporting features
and more.
Want to learn more about the RafflePress plugin? Check out our detailed RafflePress review to know more about the features and functionalities of the plugin.
Giveaway Landing Page Examples to Inspire You
Now let's check out some cool examples of landing pages designs that you can steal to promote your giveaways and contests online.
1. Facebook Giveaway Landing Page Template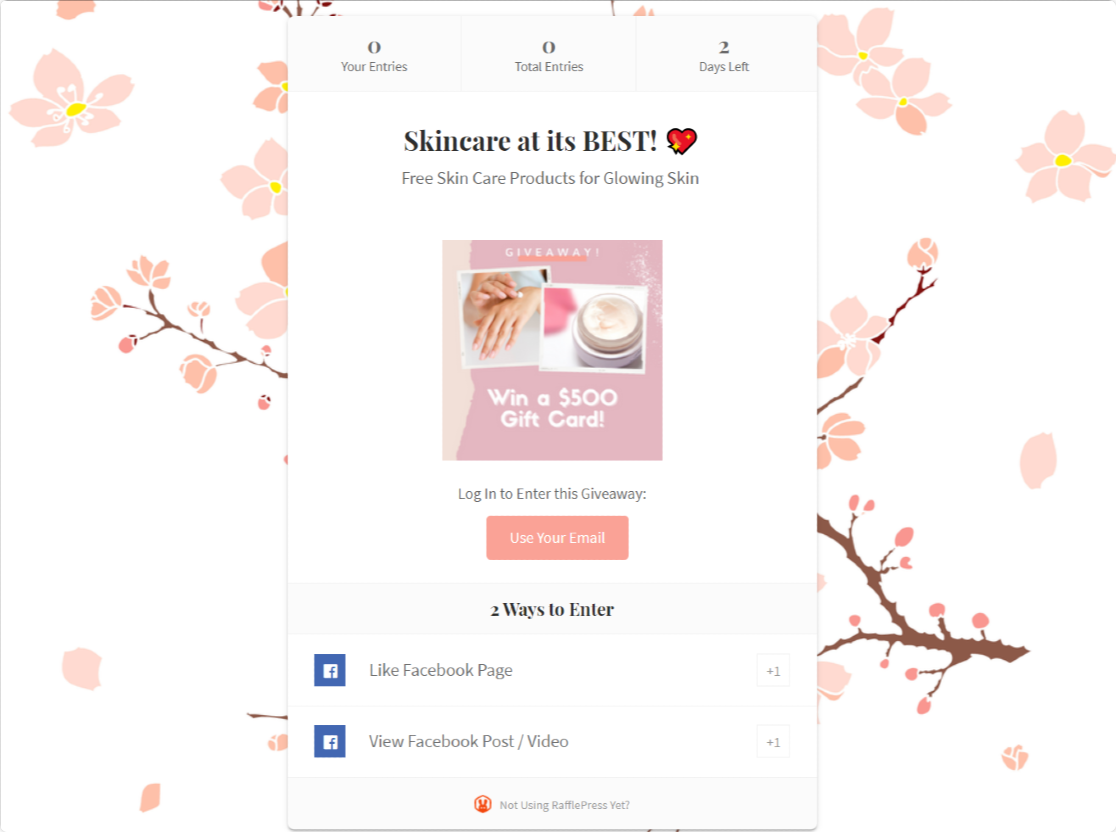 This landing page is specially created to increase your Facebook page engagement.
It comes with 2 entry options that your visitors need to complete in order to enter the contest. This helps you get more likes and views on your page/post.
Plus, the attractive headline and discount coupon image entice more people to take part in the giveaway.
The bright and beautiful background image gives this landing page a subtle look.
Want to get more inspiration? Check out our Facebook giveaway ideas to boost your online engagement.
2. Contest Entry Form Giveaway Landing Page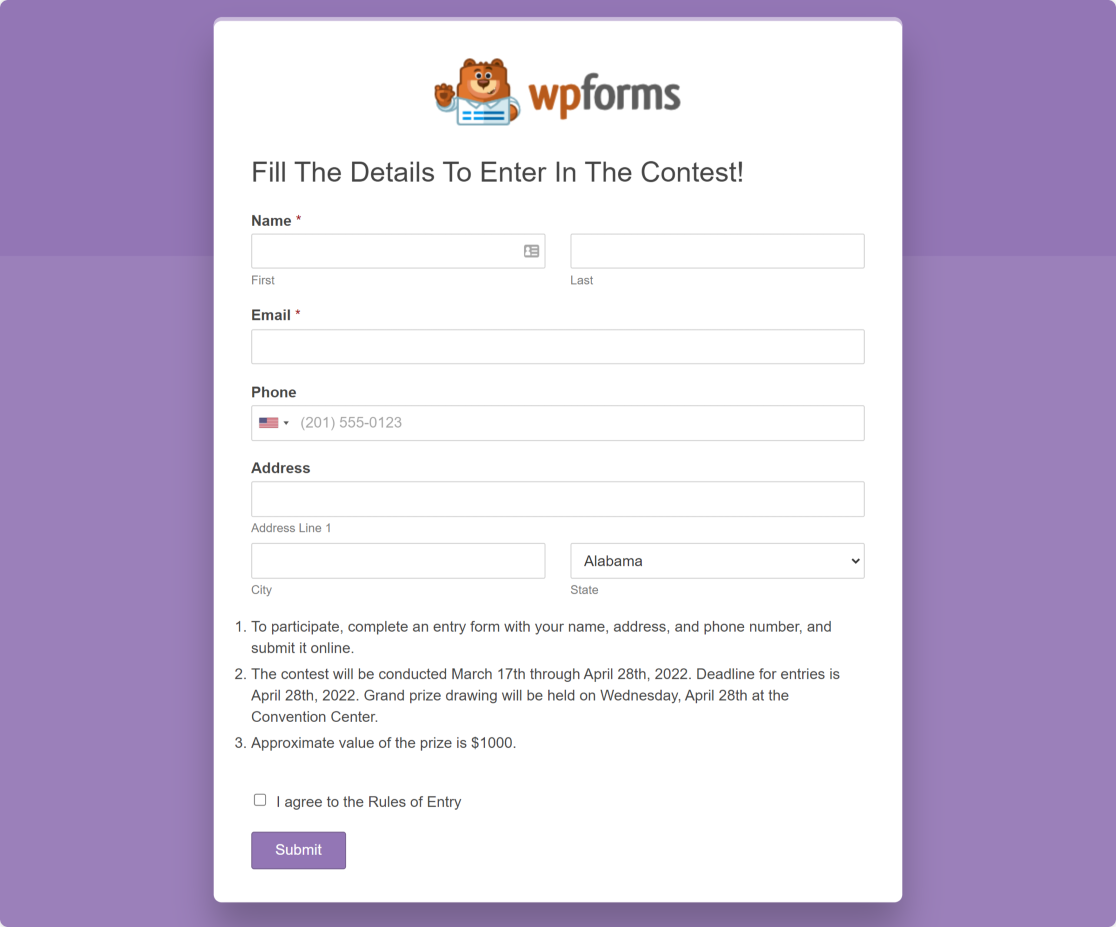 What's a better way than showcasing a contest entry form to your site visitors to take part in the contest?
Create Your Contest Entry Form Now
A landing page with a contest entry form helps you grow your email list and provides you with a flexible way to reach a wider audience.
The above giveaway landing page example includes a simple contest entry form and a distraction-free background.
You can display this landing page to your audience and get details such as mobile number and address for future reference.
Most importantly, it also includes a GDPR compliance field so you can capture your visitors' information worry-free.
Wonder how to create a landing with a contest entry form? Check out our article on how to create a dedicated form landing page in WordPress.
3. Instagram Giveaway Landing Page Template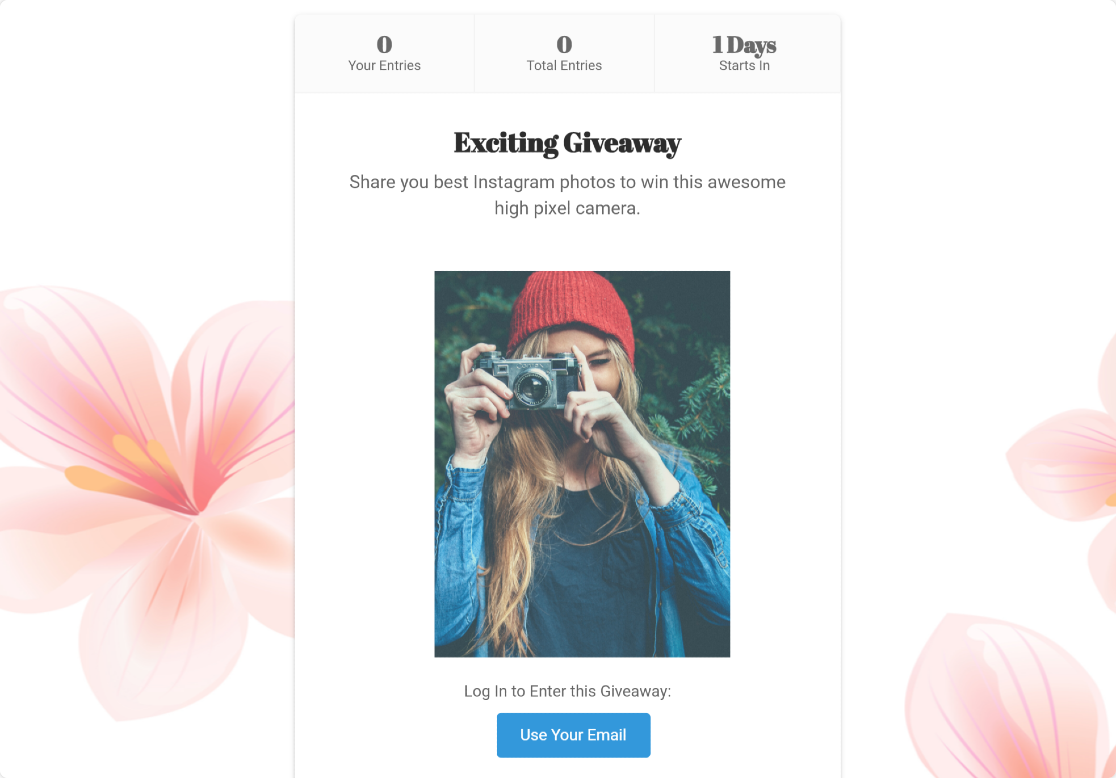 Instagram is one of the popular social media channels. And if you're planning to run an Instagram giveaway or a photo contest, then this landing page works wonders for you.
This landing page includes user-generated content actions that allow participants to submit their photographers and participate in the contest.
And the other 2 entry actions help get more followers for your brand's page on Instagram.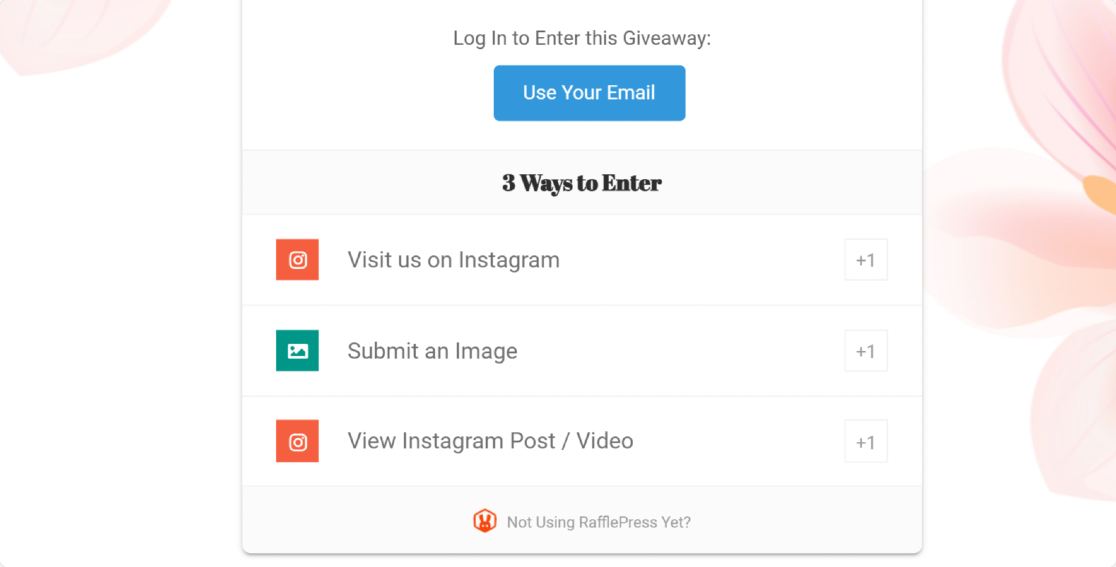 Looking for a simple way to showcase Instagram feed on your WordPress website? Check out this step-by-step guide to embed an Instagram feed on your WordPress site.
4. YouTube Giveaway Landing Page Example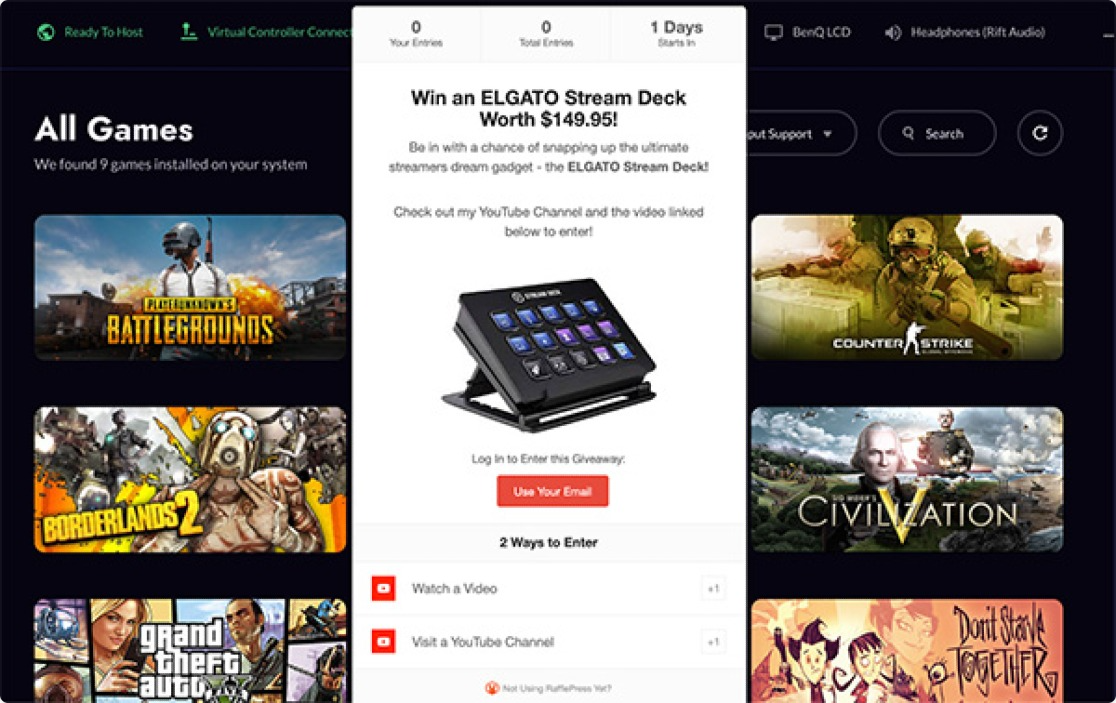 Getting subscribers on YouTube is a challenging task.
This giveaway landing page helps you promote your gaming channel and get more subscribers.
The loud and bright background image showcases your channel genre perfectly. And the eye-catching headline and prize image immediately attract the visitors' attention.
The giveaway entry options and CTA button complete the design of this landing page.
5. Vacations Giveaway Landing Page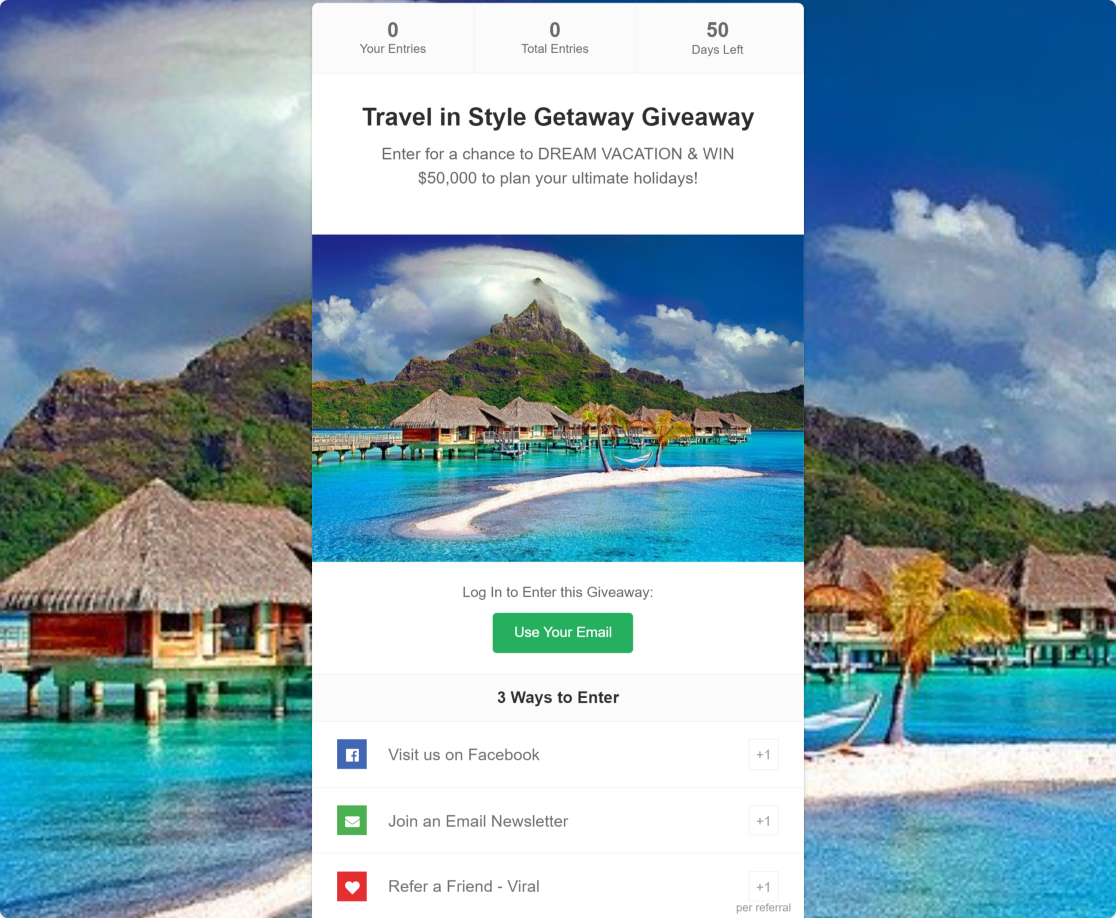 Who doesn't love vacations? Everyone, right?
This landing page is perfect if you plan to give your visitors a holiday package as a giveaway prize.
The landing page includes:
An eye-capturing holiday destination picture
A catchy headline
Viral refer-a-friend entry option
A perfect description of how to enter the contest.
6. Giveaway Landing Page to Promote Holiday Offer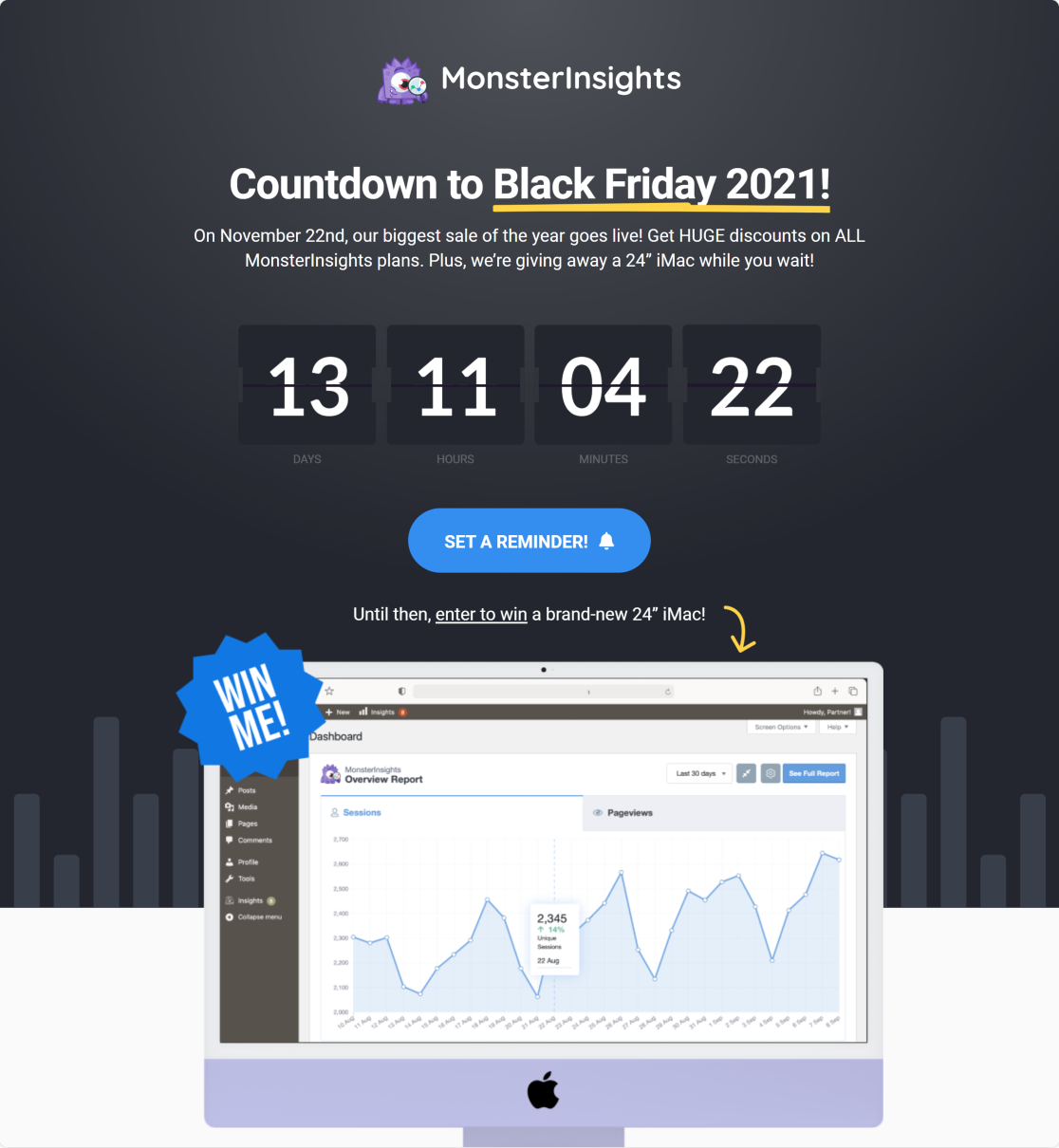 This landing page is the perfect example if you're running BFCM sales on your products.
The hero section of the landing page includes:
Appealing headline
Brief description about the giveaway
Countdown timer to create a sense of urgency
Bell icon
and the attractive image of the giveaway prize.
All these are the perfect elements to entice visitors to participate in the contest.
And when you click the CTA button, you'll see a simple RafflePress form with more information.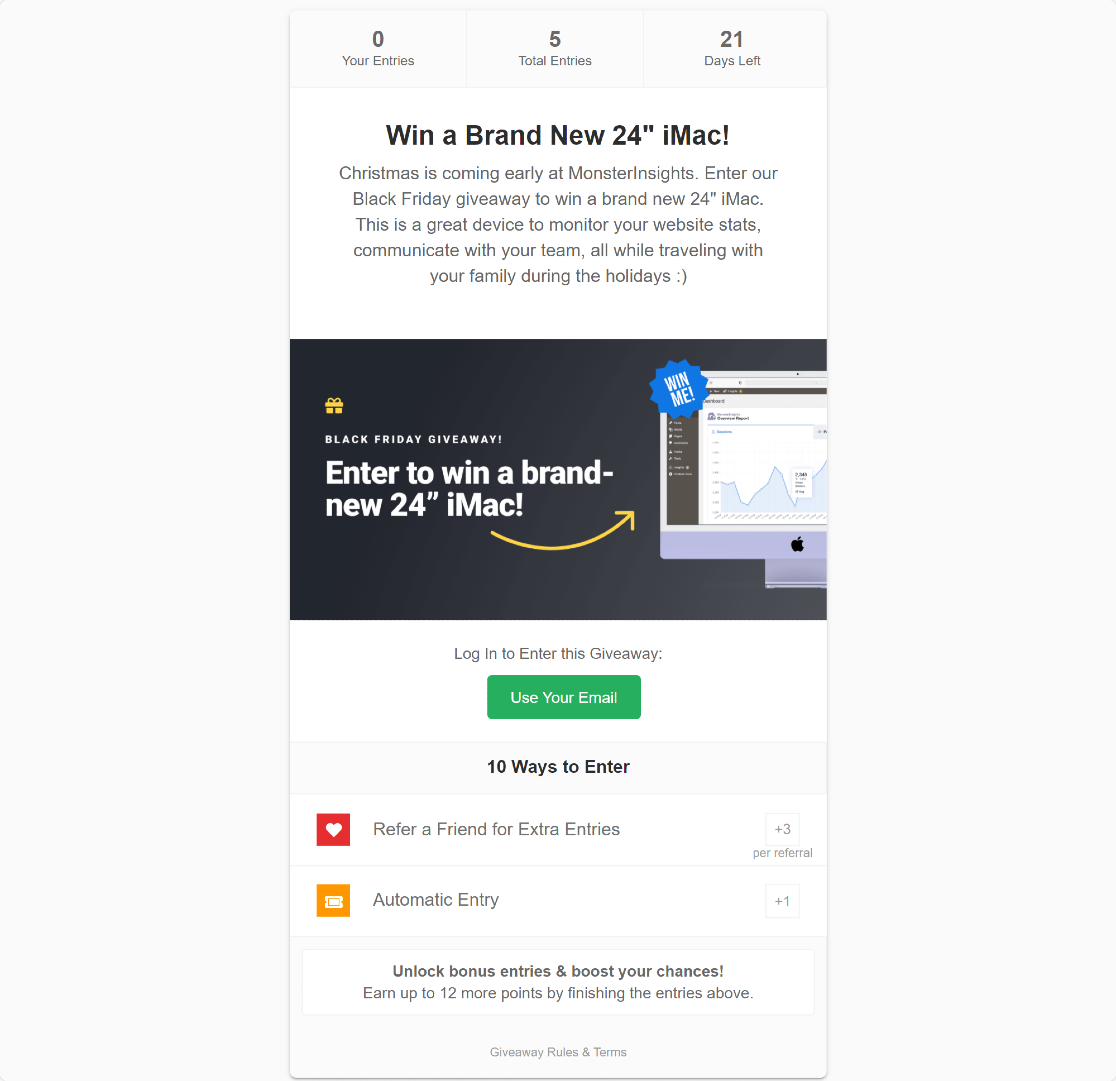 You'll get a total number of entries, which adds social proof, entry action options, an attractive image of the main prize, and a brief description of the contest.
Wondering for how long you should run a giveaway on your site to get the best sales? Check out the article on how long should a giveaway last for more details.
7. eBook Giveaway Landing Page Template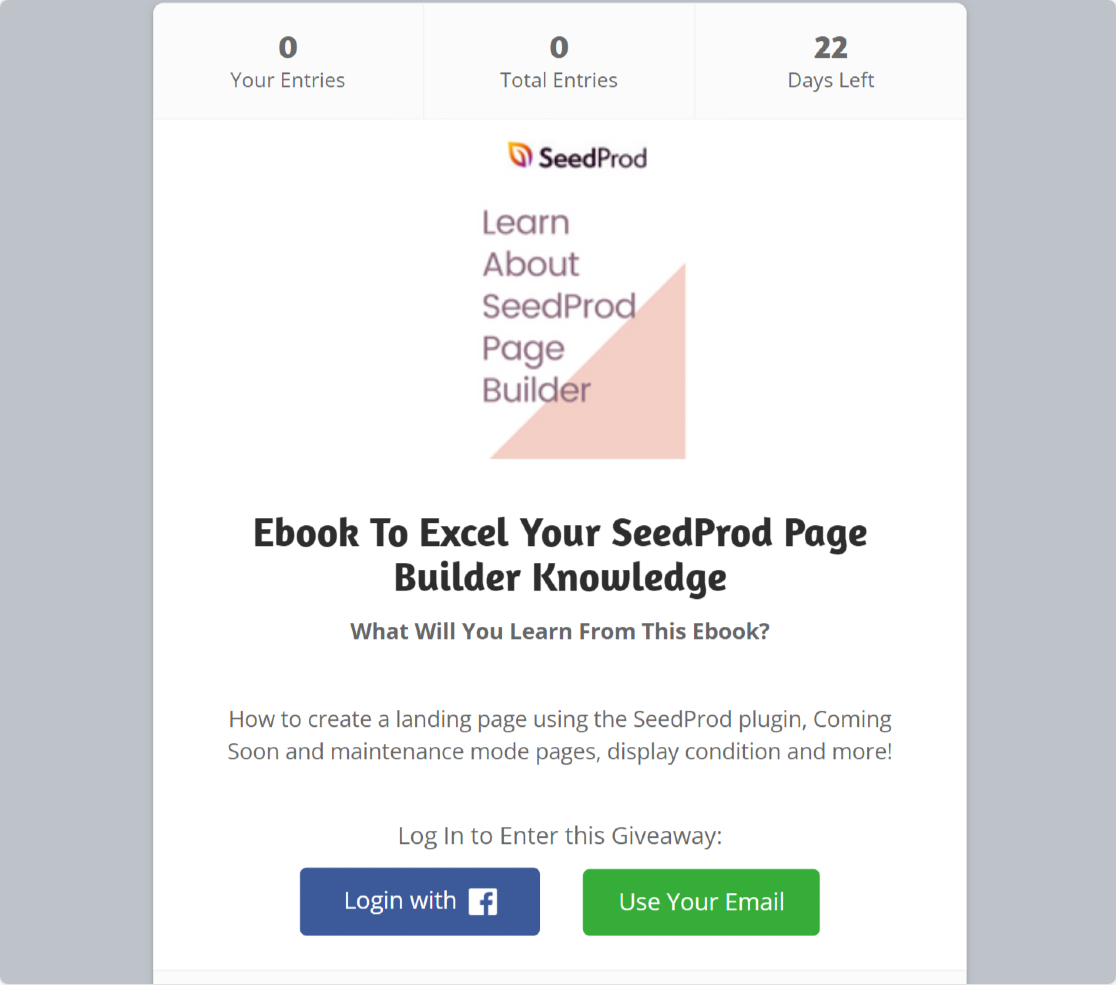 This landing page is created for promoting eBook giveaways.
If you're running an online agency or selling any online product, providing a detailed eBook related to your product functionalities is the best.
You can take inspiration from our eBook giveaway landing page. It includes an eBook image, a headline, and a description of what this eBook is about and how your visitors can enter the contest.
Plus, an entry action to build an email list for future reference.
That's is all about the eBook giveaway; similarly, you can run a book giveaway that too on its launch day. Check out the article to learn how to do a book giveaway and some awesome book launch ideas.
8. Product Launch Giveaway Landing Page Example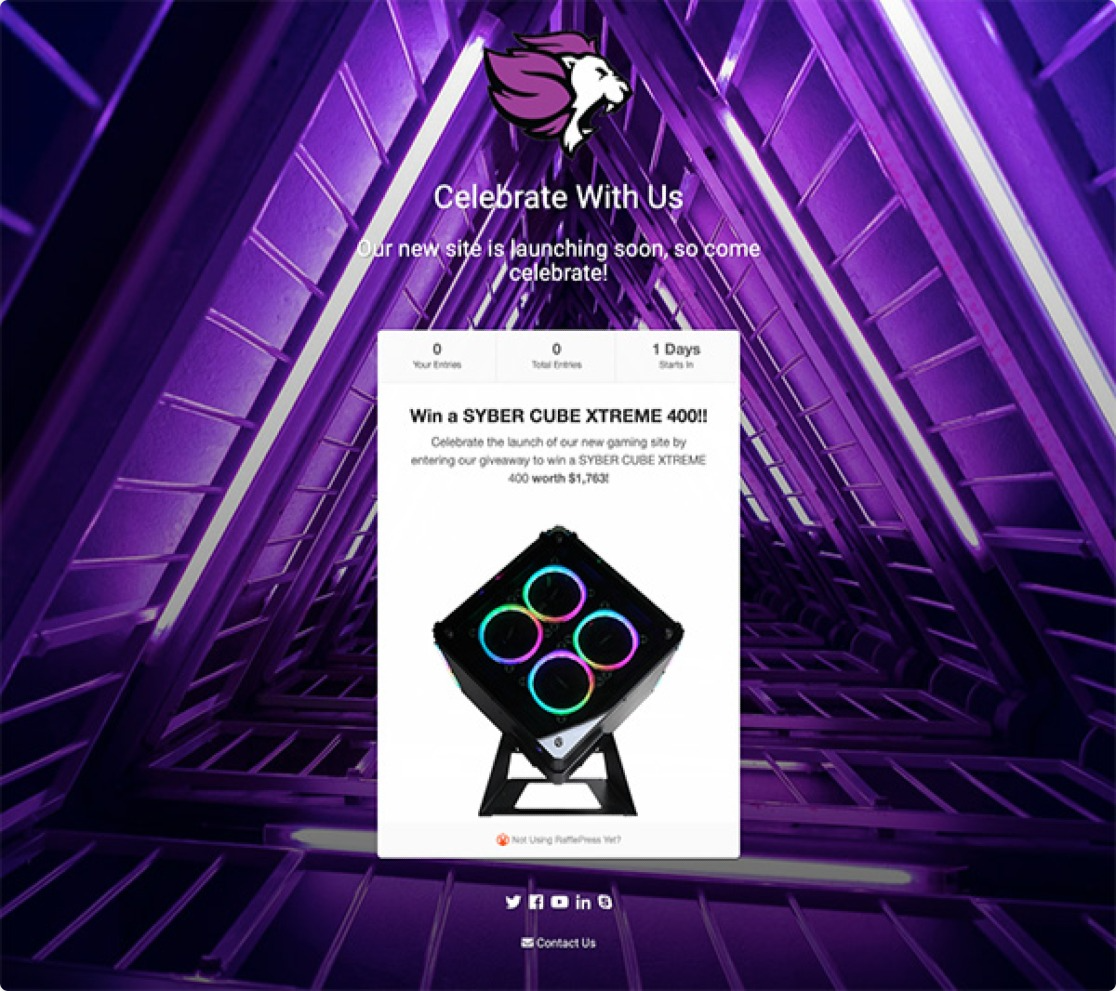 The best way to create a buzz before launching your product is by displaying and sharing more details via a landing page.
A product launch landing page helps you create curiosity and excitement among your visitors.
This landing page includes details about the product that is going to be launched soon.
Site visitors can get their hands on the product by participating in the contest and completing the entry actions.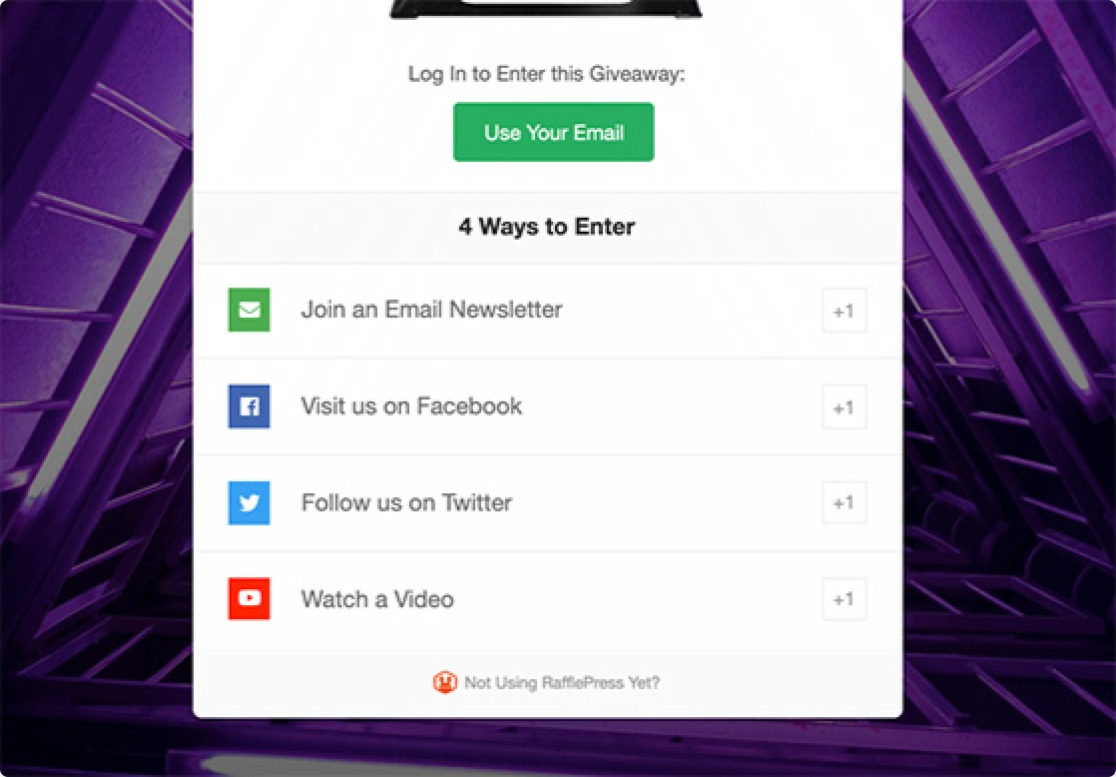 And you get details of your prospects such as email and names that you can use later for cross-marketing your products.
9. Twitch Giveaway Landing Page Example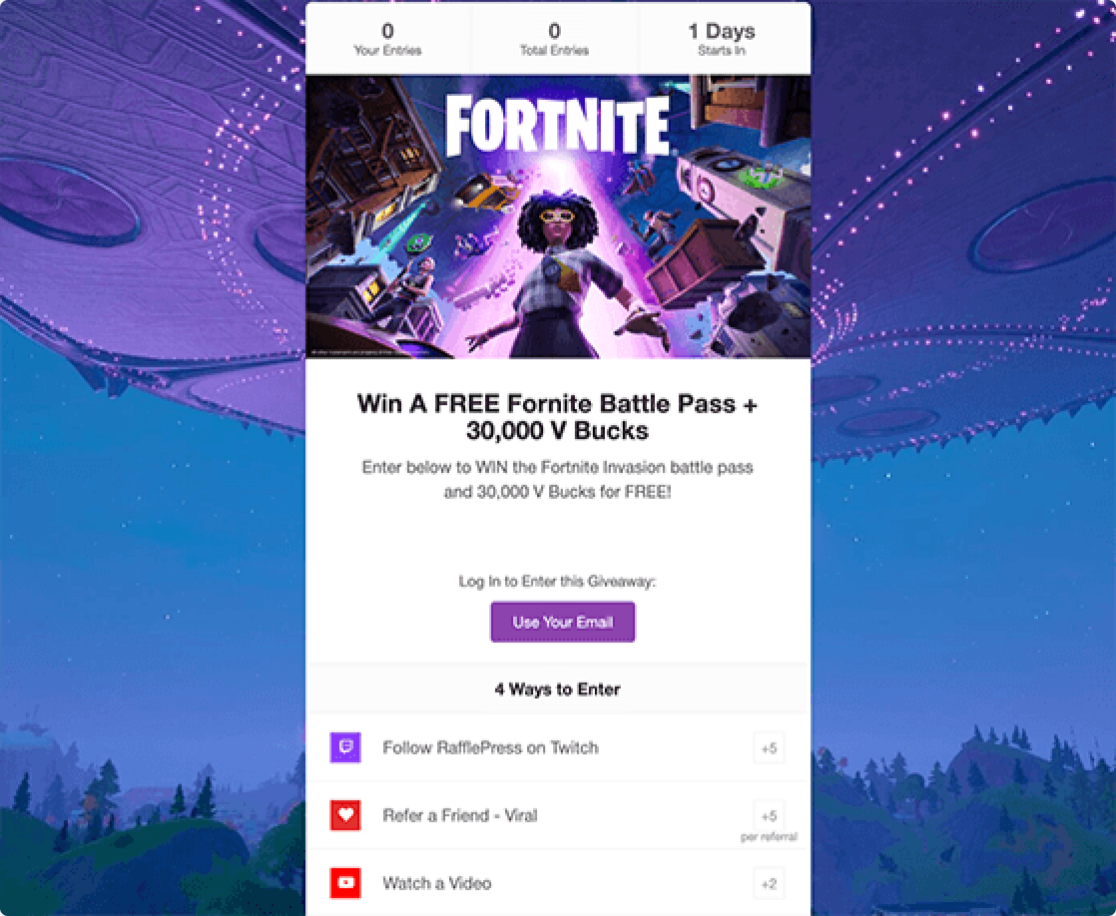 Planning to run a Twitch giveaway on your website? This giveaway landing page helps you get more followers for your Twitch channel.
It comes with powerful entry action options that your visitors need to complete to enter the contest.
The Twitch giveaway landing page includes an exciting giveaway picture and CTA button that entices more visitors to participate in the contest.
Also, the landing page includes multiple entry options through which users can enter your giveaway. They can entre by:
Following you on Twitch
Watching a video
Subscribing to your email newsletter
Submitting an image
And more!
Next Step: Host a Giveaway on Your WordPress Website
And there you've it! We hope these landing pages examples helped inspire you to create your own.
Next, if you're looking for a simple way to host a WordPress giveaway, then check out our detailed article on how to host a giveaway on your WordPress website to learn the complete process.
You can also look at thank you page examples to send your visitors once they fill out a form on your site.
Looking for a plugin to create online contact forms? Get started with the most powerful WordPress form builder plugin and start creating awesome online forms today!
And if you like this article, then please follow us on Facebook and Twitter for more free WordPress tutorials.