Want to see some Facebook giveaway ideas to drum up excitement for your business?
Hosting a giveaway on your social media is a brilliant way to skyrocket your small business's success online. You can explode your email list, drive more sales, get more website traffic, and more.
So in this post, we've rounded up some fantastic Facebook giveaway ideas out there to help you with your own online contest ideas.
How Do You Do a Giveaway on Facebook?
First things first, let's cover how to run a giveaway on Facebook.
It's important to follow Facebook's rules when it comes to contests and giveaways. They change often and you need to be up to speed on them, so it can be exhausting and difficult.
You don't want to get in hot water by asking people to "comment to win" or "like to win" and not following the rules. Keeping up with all of the requirements is quite taxing on a small business owner.
But it doesn't have to be hard or illegal.
Instead, don't run your contest on Facebook. Run it on your website and use Facebook to promote it.
You can do this by using the RafflePress plugin. This is the best way to do a giveaway on Facebook and make sure you're following the rules.
RafflePress is the best WordPress giveaway plugin in the world. You can have your giveaway running and promoted on Facebook in just a few clicks (without being a technical person at all!).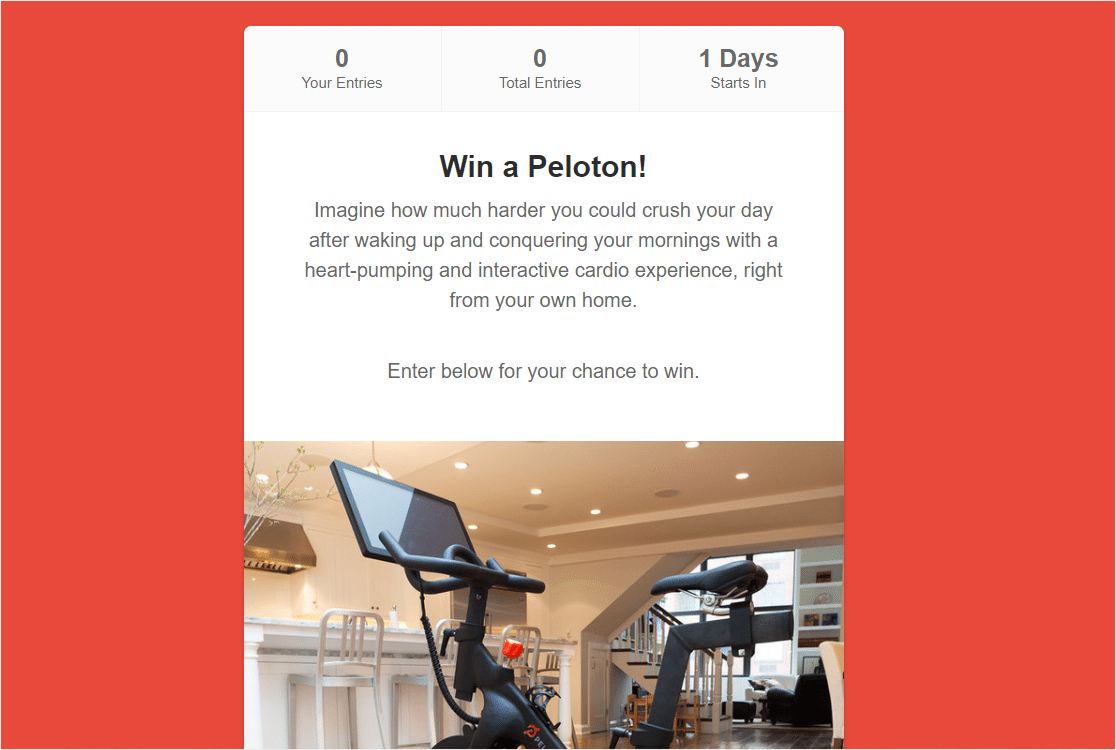 You can create a contest and give it its very own landing page (and feel confident that it falls under Facebook's rules).
Plus, give people many different ways to enter depending on what areas of your business you'd like to focus on.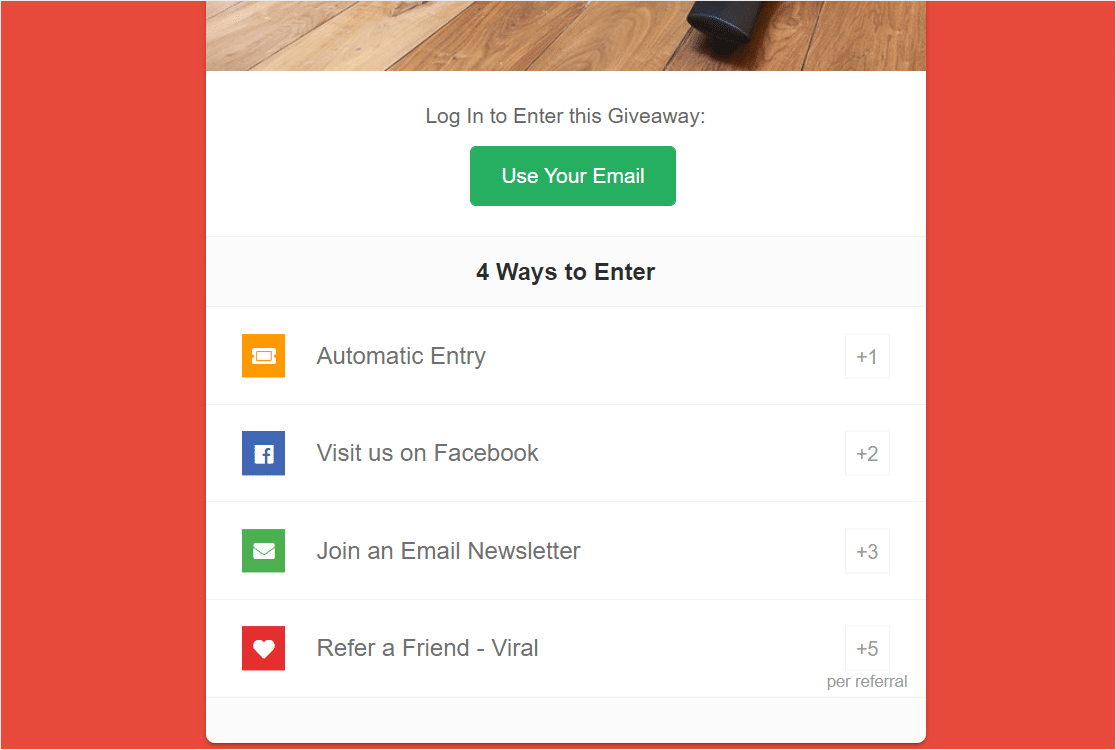 And what's so cool is that RafflePress includes everything needed to make your Facebook giveaway wildly successful and worth your time, like:
Facebook Like & Share options for entries
1-click entry options that comply with Facebook's rules
Random winner generator to keep things fair
Refer-a-friend entries to make your contest go viral on social media
Giveaway templates you can use without having to build your own
Distraction-free giveaway landing pages (like the one above) to get more entries
Email marketing integrations to grow your email list.
….and more.
So if you go this route using the RafflePress plugin, you can check out this tutorial to help you learn how to run a Facebook giveaway.
Ok, so now that you know exactly how to run a Facebook giveaway, let's check out the best Facebook giveaway ideas to help you create your own.
Best Facebook Giveaway Ideas + Examples
When creating a Facebook giveaway, make sure to offer a prize that people actually want.
Plus, use the tactics like the Facebook giveaway examples below to drive more entries.
1. Like and Share Facebook Contest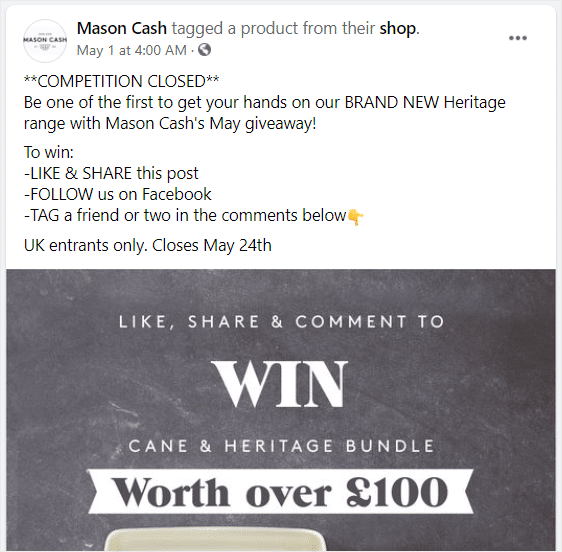 A really simple (but effective) Facebook giveaway idea is the Like and Share contest. Simply put, you ask people to like and share your post. This helps it show up on multiple timelines, so it will appear across the platform in various places.
Using RafflePress, you can give people extra entries by liking and sharing on Facebook easily.
If you're interested, it's easy to get started. Here are some instructions on how to run a like and share contest on Facebook (that actually complies with their rules).
2. Leave a Comment to Enter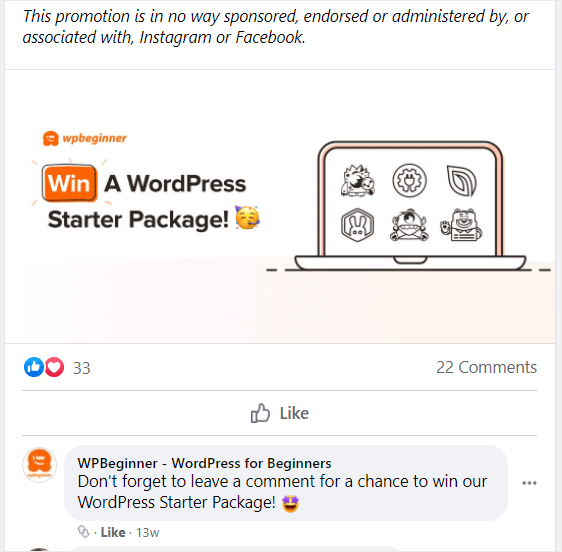 Another good Facebook giveaway idea is to have people leave a comment on a post. You can make it a requirement for people to enter.
Having people leave comments can really boost the post's popularity, too. Which can be a great way to get more followers.
To do this with RafflePress, you just use the Invent Your Own action under Add Action in the Actions area.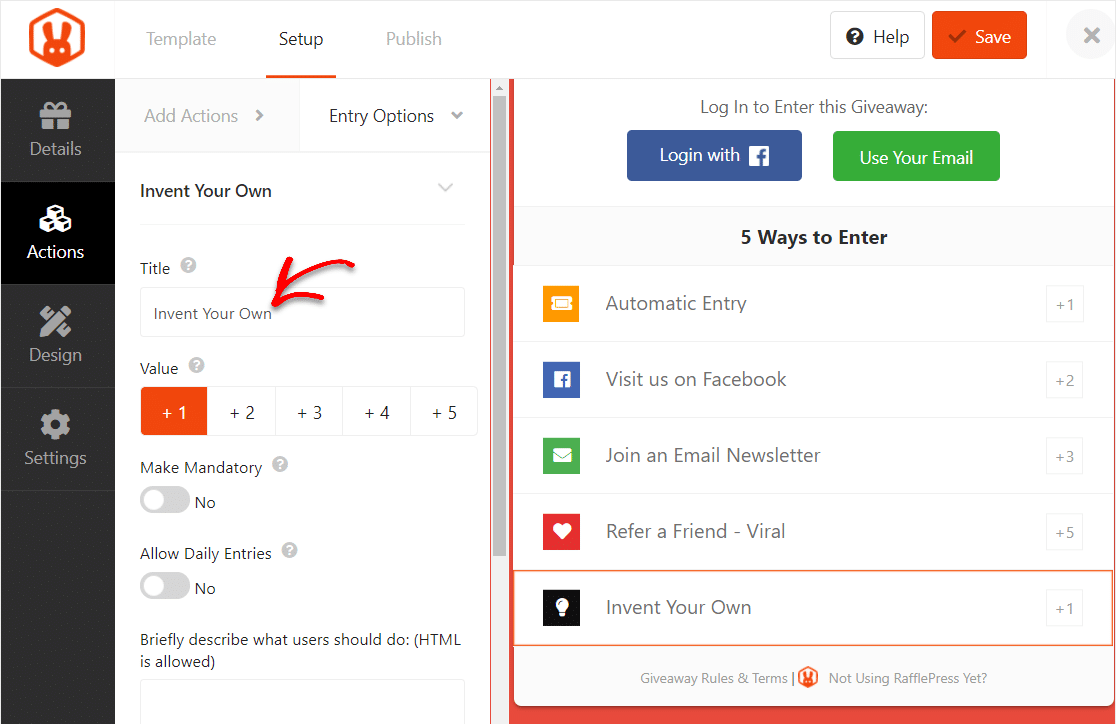 3. Facebook Selfie Contest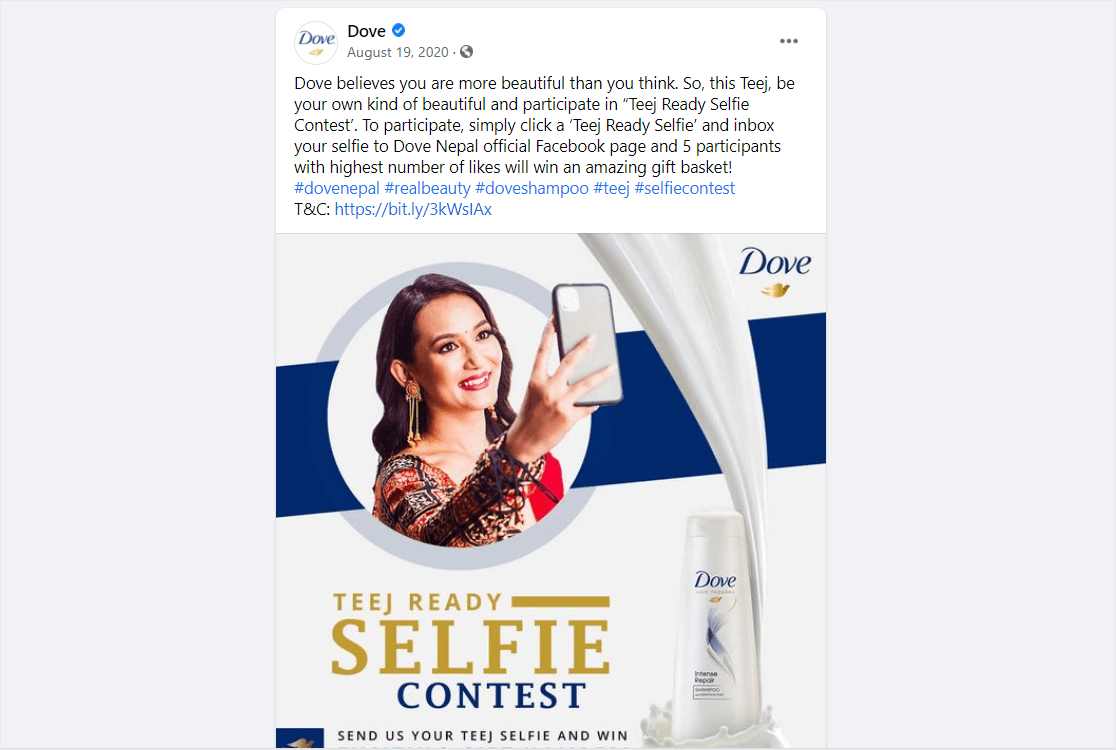 Selfie giveaways are a fantastic tool to stir up excitement for your brand. It really helps to 'humanize' your brand when people see pictures of other customers.
Selfie promotions help leads realize they're just like your customers, so they're more likely to follow you on Facebook (and purchase from you).
You can do this easily with the Submit a Photo action in RafflePress. Read how to run a selfie contest to learn more.
4. Join Email Newsletter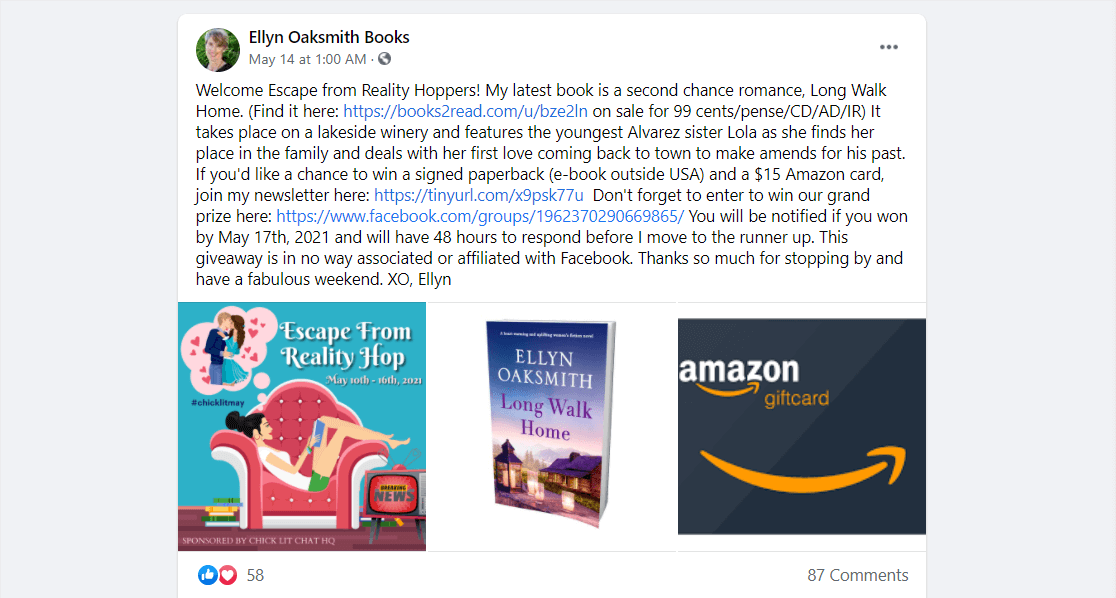 If you're doing a Facebook giveaway, you can use it to really grow your email list. Simply link to your newsletter form on a landing page or use RafflePress' Join a Newsletter action to ask people to sign up for your newsletter in exchange for a chance to win.
RafflePress will let you link directly to your email marketing provider of your choice, so people filling out your contest form will immediately be added to your email list.
On top of that, you can enable the Trigger on Signup option, so users are added to your list as soon as they log in to enter.
5. Caption Contest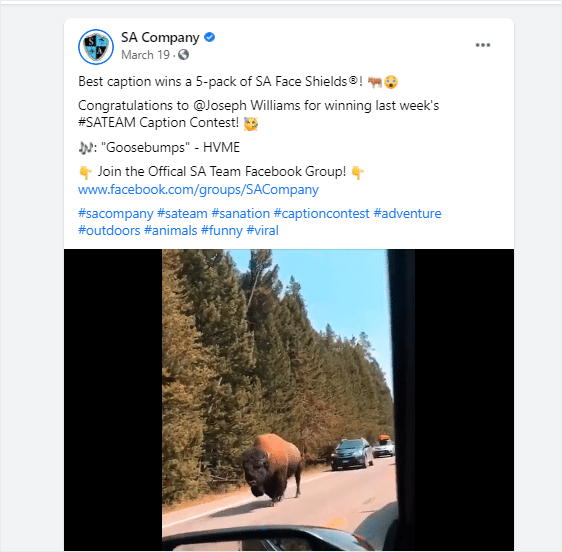 A photo caption contest is a really smart (and fun) type of Facebook giveaway.
It's super easy for people to enter and it's a great way to bring out the creative side of your leads, customers, and followers.
You can use RafflePress for this kind of Facebook contest in RafflePress with the Answer a Question action. Just ask, "What's your caption? " and they can enter theirs in the answer area.
6. Click to Win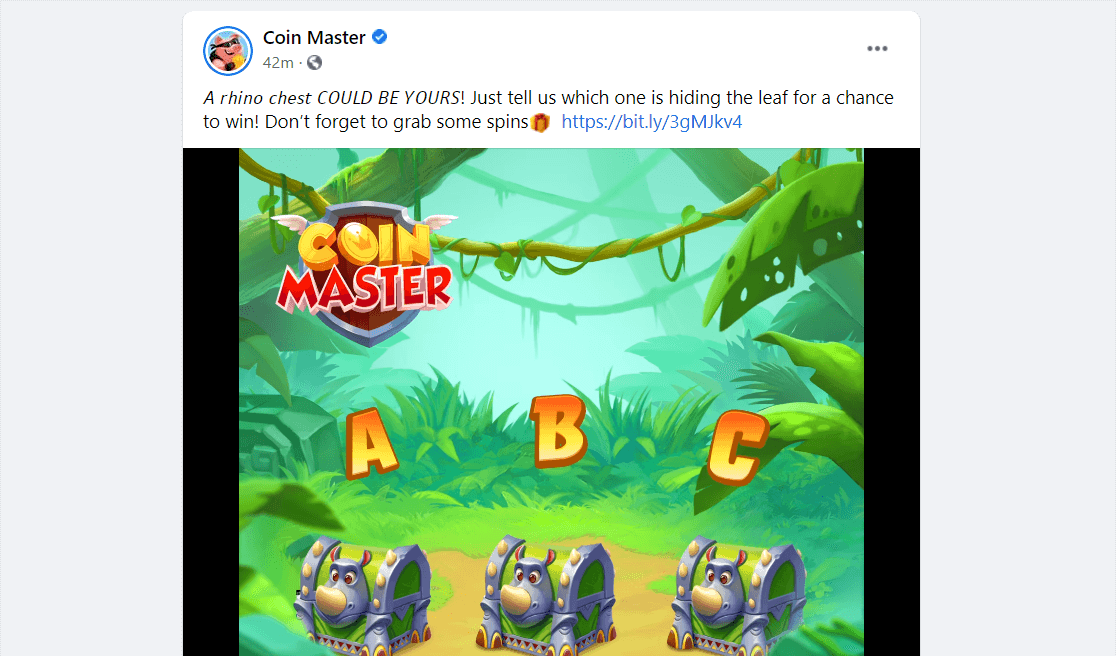 A click to win contest is by far one of the simplest Facebook giveaways. You just post a post on your Facebook feed and share a link to the contest form.
With RafflePress, you can set this up by choosing the actions Visit a Page or simply use the Automatic Entry action. The Automatic Entry will give someone an entry simply by visiting your RafflePress contest form.
7. Answer a Question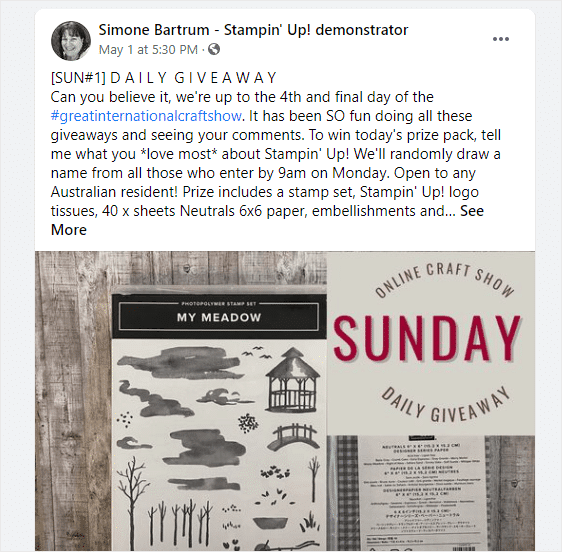 Do you want to know more about your customers? Would you like to have a little fun with your Facebook giveaway?
You can find who your most engaged followers are by asking questions. Plus, depending on the type of question you ask, you can learn about what people want to see more of from your business!
You can also use different types of poll questions to get even more details from people.
And to do this with RafflePress, just select the Answer a Question entry action.
8. Submit a Photo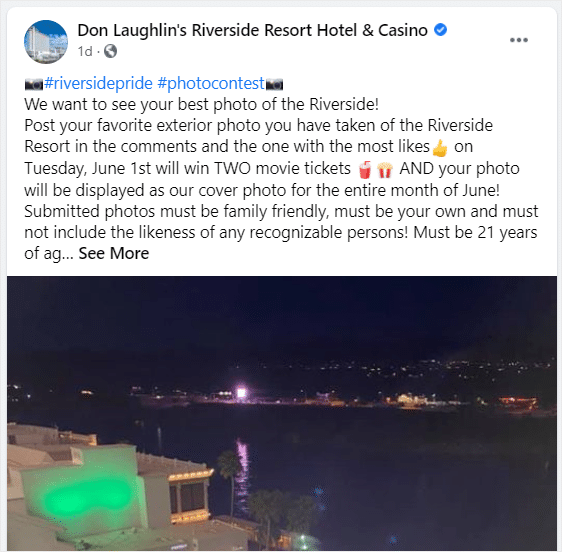 General photo contests as a Facebook giveaway idea is a great way to get some user-generated content (UGC). This helps you get more content to share without having to spend all day creating your own.
On top of that, photos are great social proof. This helps other people trust your brand more.
So definitely consider running a photo contest on Facebook like in this example. To do it, you just need to select the Submit an Image action.
This is way more organized than doing it directly in Facebook comments because you'll get the images all in one place through your website (and skip having to scroll through the comments on Facebook).
9. Submit a Video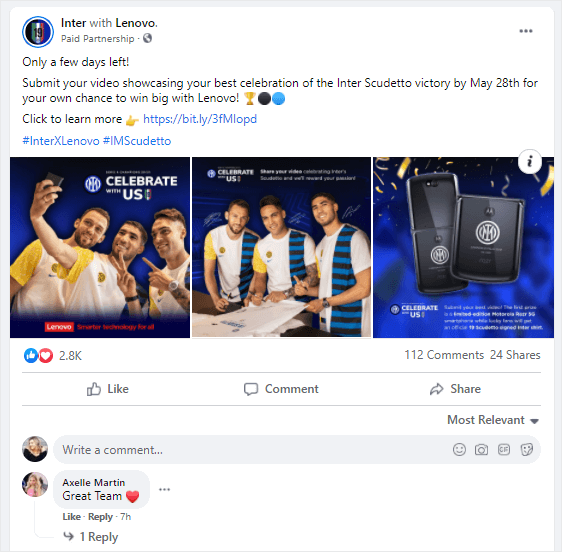 Here's another great Facebook giveaway example and idea that can get you some fresh user-generated content.
Maybe you're giving away a huge prize and expect a lot of work from the people entering the contest, ask them to film and submit a video of them using your product or service for an entry.
To do this kind of Facebook giveaway, ask users to publish their videos on their YouTube and share the link through the Invent Your Own action inside the RafflePress giveaway builder.
10. Voting Contest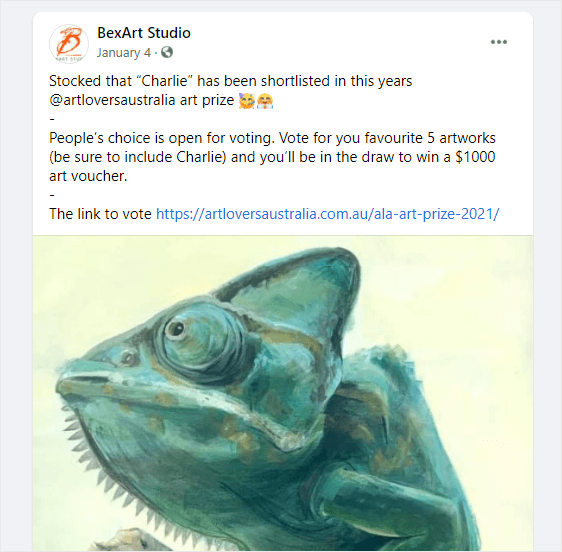 Another popular option on our list of Facebook giveaway ideas is a voting contest.
People really love sharing their opinion, so you can pick different ideas from them to vote from and get them engaged this way. And, it's a great way to expose your Facebook followers to new products.
You can use the survey form in WPForms or the Polls and Surveys action in RafflePress to host this kind of fun, voting Facebook giveaway
11. Tag Friends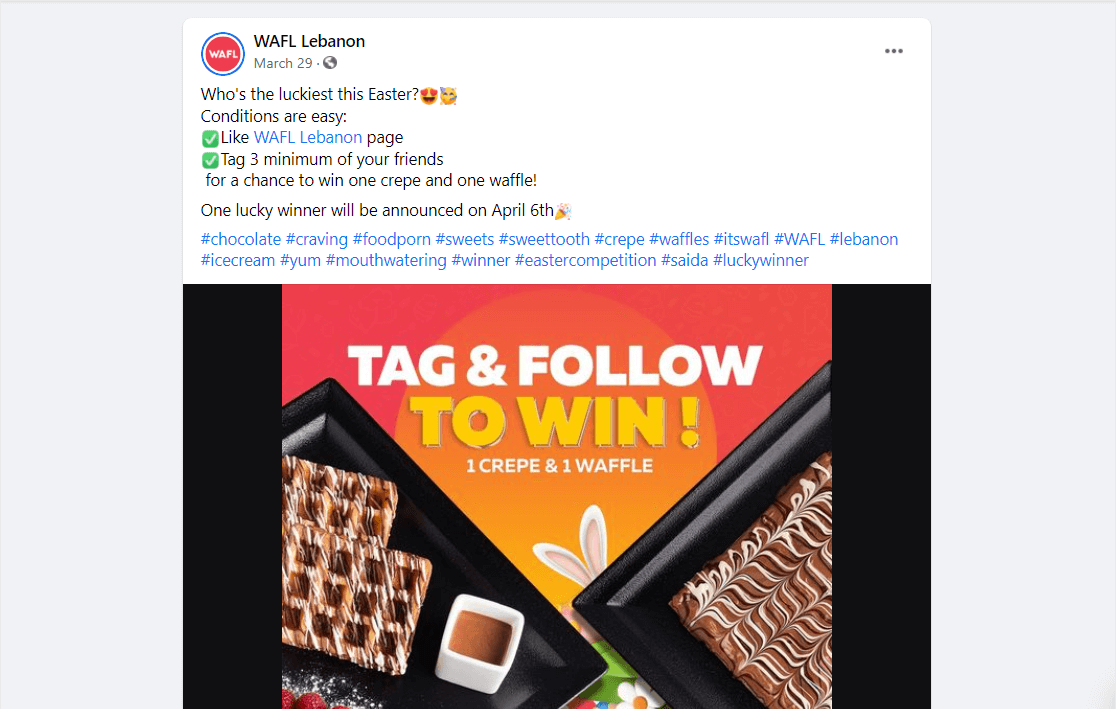 You've probably been tagged by friends inside a Facebook giveaway before. A tag to win contest a smart way to get your social media account (and giveaway) in front of more eyes.
It's easy to create this with RafflePress using the Answer a Question action. Just ask people to answer 'yes' if they've completed your Facebook giveaway post's request to tag their friends.
12. Join a Facebook Group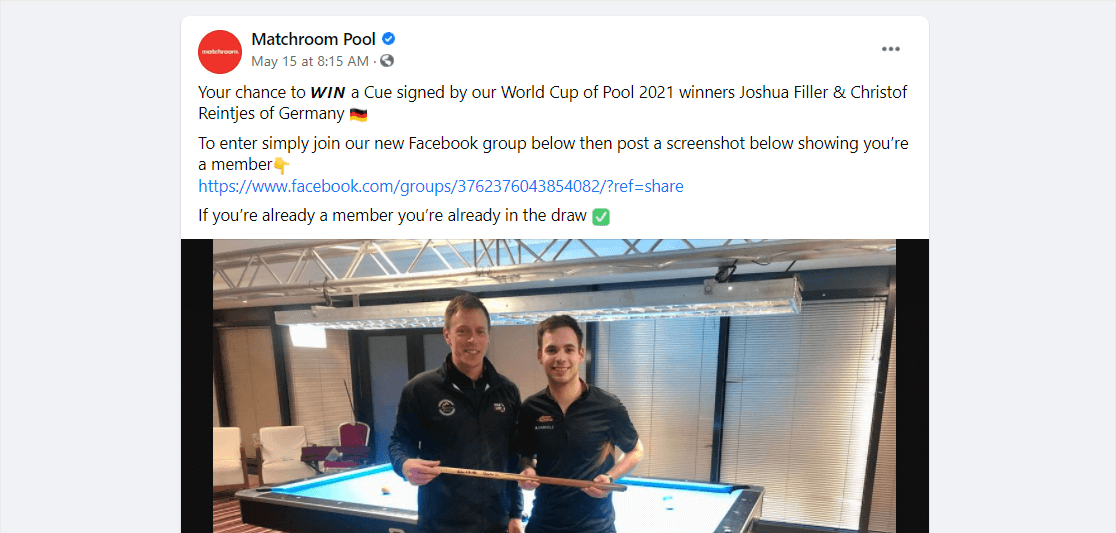 You can use your Facebook giveaway to help grow the number of members in your business's private Facebook group.
Facebook groups are becoming a more and more popular way to build an excited and engaged community for your business.
To do this in RafflePress, use the Visit a Facebook Page action in RafflePress, change the label to "Visit a Facebook Group", and enter your groups' URL.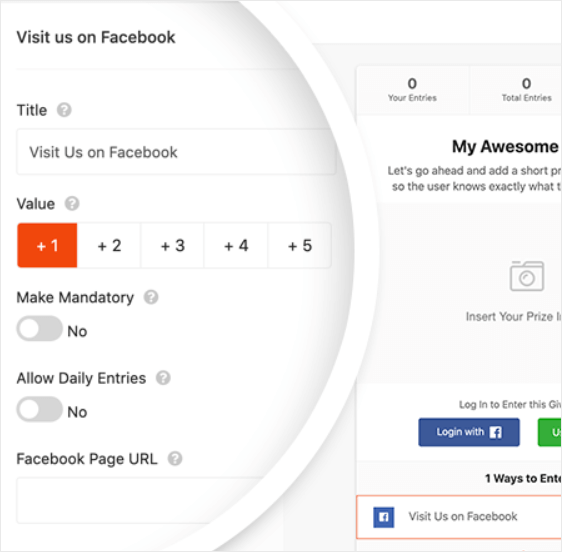 13. Refer a Friend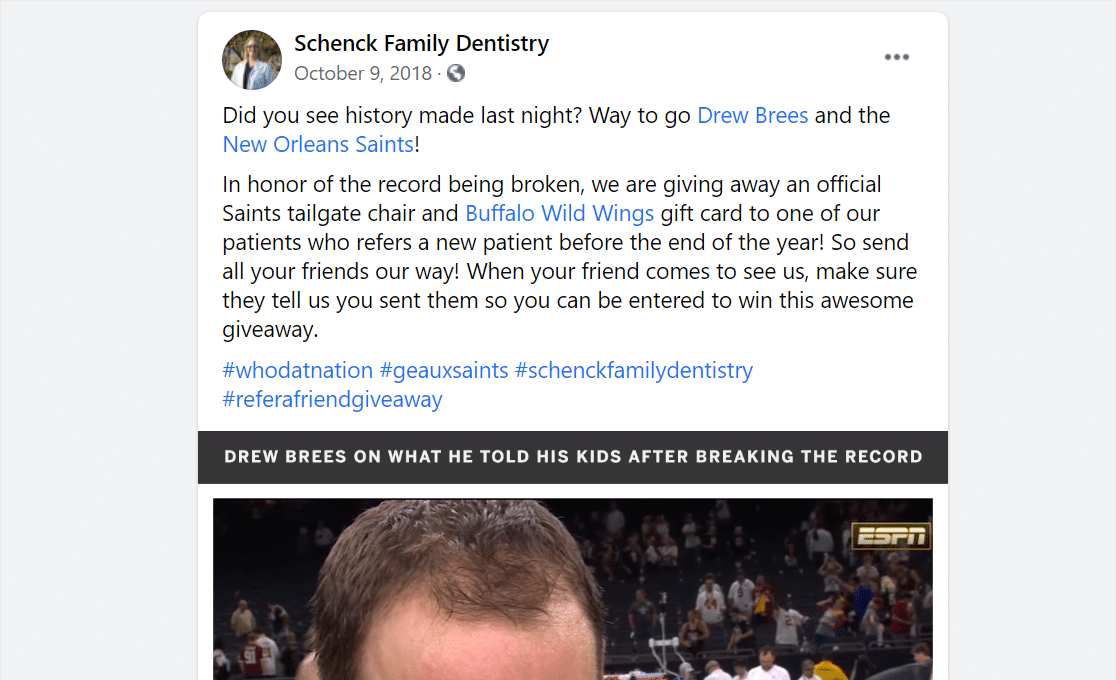 If you want to expose your small business to a ton of people, a great Facebook giveaway idea is a referral contest.
Simply ask users to share the giveaway with their friends for an entry.
Magically, you'll then see other people share it with their friends, and so on. This kind of contest is really exciting because it gives you the opportunity for your contest to go viral.
Use the Refer-a-Friend action in RafflePress to tap into this wildly exciting Facebook giveaway idea.
14. Name the Product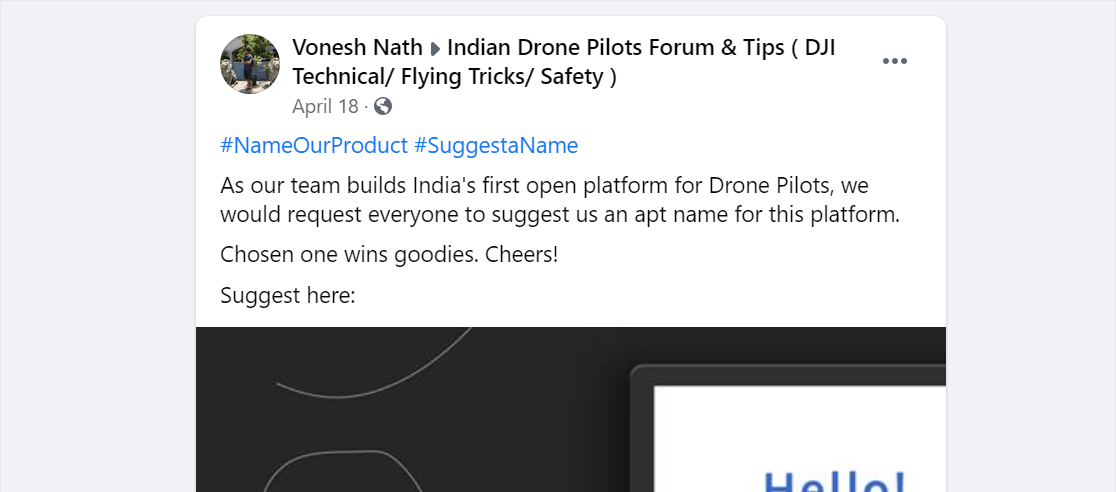 If you're still at the beginning of building your small business website, you might not even know the name of your product yet.
Check out this cool Facebook giveaway idea.
You can host a Facebook giveaway asking for help naming your product. You may come up with some really fun ideas this way.
This is great because you can give people contest entries for submitting their ideas using the Invent your Own action in RafflePress.
BONUS Facebook Idea: Use a Feed Widget
Here's a little bonus idea for your small business to use on your website with Facebook.
Another wildly popular way to drum up excitement and drive revenue for your brand is to put a spot on your WordPress website where your Facebook feed automatically shows up using the Smash Balloon plugin.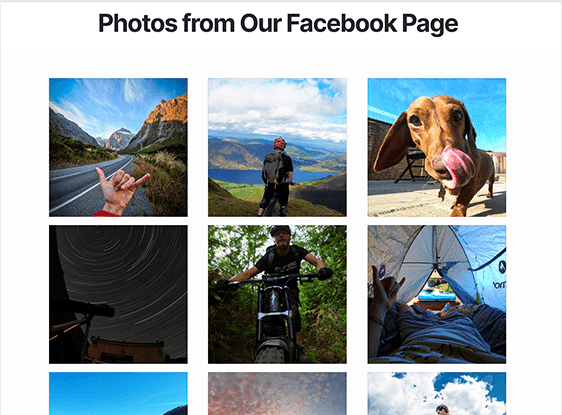 This helps get your Facebook giveaway idea in front of other people who are on your website and draws them to your social media.
To set this up, check out this guide to how to create a Facebook feed widget on WordPress.
So that just about does it. Hopefully, this list of great Facebook giveaway ideas and examples helped give you some motivation to create your own contests. You can create all of these Facebook giveaway ideas yourself using the RafflePress plugin.
And since they offer a 14-day money-back guarantee, you can try it out risk-free and ask for a refund if it doesn't meet your needs, no questions asked. So if you're ready to start growing your small business online through giveaways, you can get started with RafflePress today.
Next, Use Social Proof to Boost Conversions
Social proof is a powerful way of compelling site visitors to turn into subscribers. See our post on social proof examples for ideas on how you can use it to your advantage.
Also, make sure you've checked out our guide to the best WordPress hosting services.
Create Your WordPress Form Now
Ready to build your form? Get started today with the easiest WordPress form builder plugin. WPForms Pro includes lots of free templates and offers a 14-day money-back guarantee.
If this article helped you out, please follow us on Facebook and Twitter for more free WordPress tutorials and guides.