Are you trying to think of the best student survey questions to collect insightful feedback for your class?
Class surveys are great for determining the satisfaction level of your students and identifying areas of improvement for your learning environment.
However, it's important to include good survey questions for students so you can obtain the most relevant information about their overall experience.
For this post, we've put together a list of survey questions examples for students to ensure your survey is successful and show how to create one for your WordPress site.
Create Your Student Survey Form Now
How Do You Make Survey Questions for Students?
Online survey forms are ideal in a variety of different contexts including distance learning or traditional classrooms. For WordPress websites, the easiest way to prepare a student survey is by using the plugin WPForms.
This is because WPForms has over 600+ form templates including a whole category of education forms.
We'll be using WForms' class survey form template in this example, which has some great questions that allow students to participate in course evaluation.
Plus, we'll be adding a bunch of other questions to the form to gather comprehensive responses regarding different aspects of class and coursework.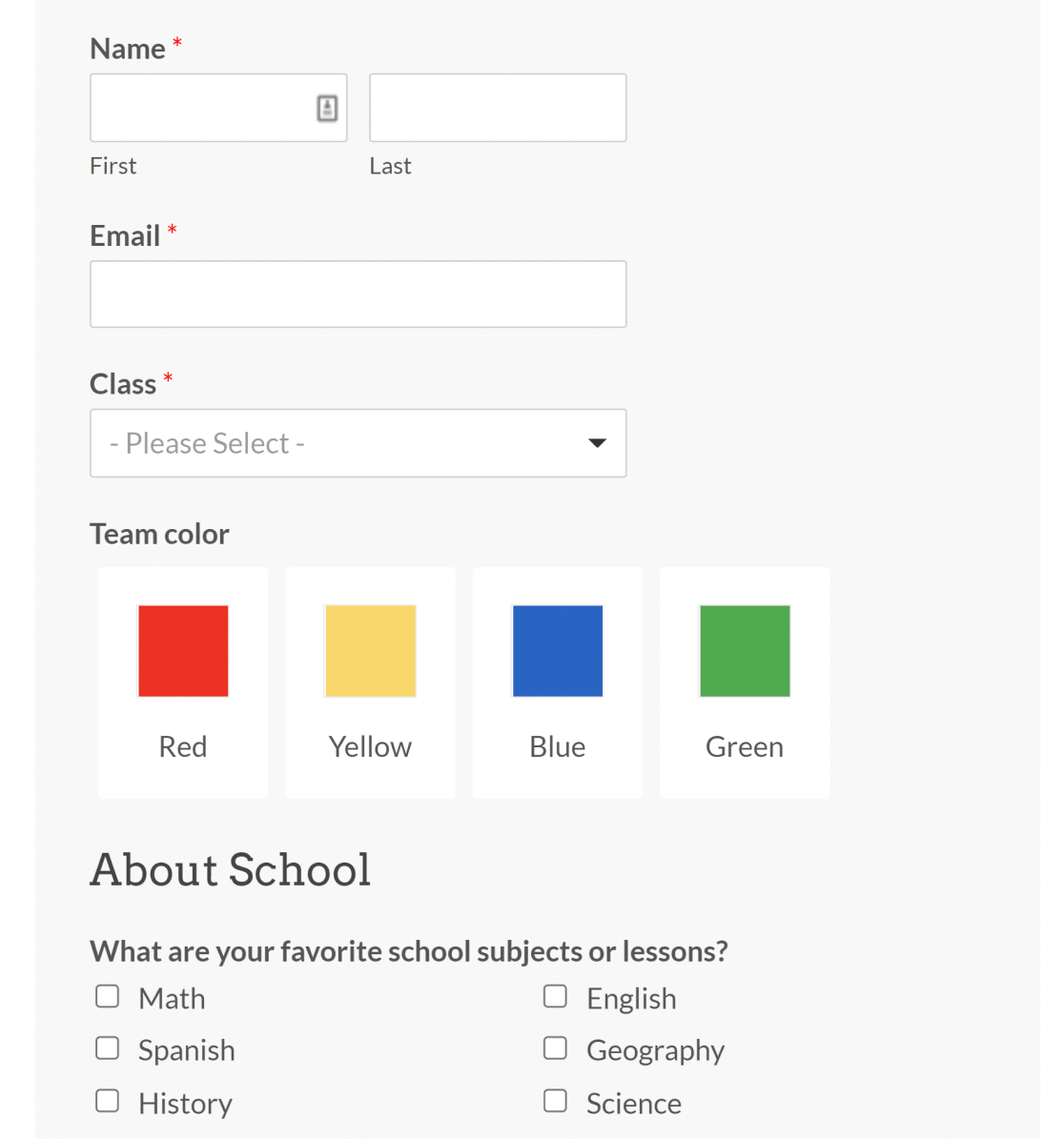 You can use this format to prepare different kinds of student surveys depending on your goals. For instance, you can create questionnaires that focus on student engagement and student perception.
Make sure you have a WPForms license and then install the WPForms plugin on your site. You'll also need the Surveys and Polls and Form Locker addons to create this student survey form.
Best Survey Question Examples for Students
A good online survey for students consists of a mix of close-ended and open-ended questions. The common aim of a student survey is to gather feedback about your educational institute and teaching methods.
The questions below focus on a number of different topics and issues in the context of schools. These questions are suitable for high school, middle school, or a university class survey.
Remember that writing a good summary of survey results is just as important as running the survey in the first place, so we have a few tips for you.
1. What Are Your Favorite/Least Favorite Subjects
Every student is different with their own unique interests. But as a teacher, it's important for you to be well aware of the academic interests of your students.
You can only prepare a good teaching strategy for your students if you understand where their interests truly lie and what subjects they enjoy in the syllabus.
WPForms' built-in class survey template includes this question. It is a close-ended question that has all the subjects listed as possible options for your students to choose from. You can see our guide on creating your first form for instructions on making a form and customizing it.

If you want to add more options or edit existing ones to this field, you can easily do it by going into Field Options. For more information about the Checkboxes field, see our doc on customizing the Checkboxes field in WPForms.
By default, WPForms' class survey template only inquires about your student's favorite subjects. But you can also easily add another question to identify their least favorite subjects, which can help provide a fuller understanding of your student's likes and dislikes.
The easiest way to add another field for least favorite subjects is to duplicate the pre-made favorite subject field. You can do that in WPforms by hovering your mouse over an existing field and pressing the duplicate icon.

This will add a new field right with the same name and options right below the original field. You can then simply click on the new field to open Field Options,  edit the field name, and type in an appropriate phrasing for the question as shown below.

2. Which Subjects Are You Struggling With?
Just as every student has different subject preferences, they also have different struggles when it comes to academics. Although good teachers can often tell which students are struggling in certain areas, it's always helpful to hear directly about a student's struggles.

Like before, you can simply duplicate one of the fields you used earlier and edit the field label to match this new survey question. This will save you from having to add all the subject options all over again.
3. How Accessible Is Your Teacher for Questions and Assistance?
One of the most critical survey questions for students is whether they're able to reach their teachers for any questions or help.

When your students feel comfortable asking questions, it helps foster a positive learning environment for everyone in the class. Many topics require repeated and sometimes alternative explanations before students can fully grasp a concept.
This is the kind of question that you should always include in your student satisfaction survey, as it allows you to gauge the comfort level of your students around your teaching staff.
4. How Comfortable Are You Seeking Assistance From Classmates?
Every school year poses different sets of challenges for young students. The struggles that they might have faced last year may no longer be a big concern today, which is why it's important to conduct surveys frequently as conditions change.
The teacher-student interaction is only a tiny part of a student's overall learning experience. Peers and classmates also play an important role in a student's learning and development.
The following is an example of a Likert scale type question.

But some students may have a harder time connecting with others, making learning even more challenging for them.
With this question, you can identify students that might have issues socializing and provide them with the help they need.
5. Is the School Providing Adequate Learning Resources?
A student survey is an excellent opportunity to find out how students actually feel about the learning resources you're providing. Are the majority of the students happy with it? Or is it the other way around?
You can only know your student's opinions for sure if you ask. Some constructive criticism and feedback can go a long way in improving your systems and methods throughout the school year.

But what does it really mean if a student responds "no" to this question? To pinpoint the reason why a student thinks the learning resources aren't adequate, you can ask a follow-up question. Ideally, this question should only appear in your student survey form when their response is "no".
Thankfully, WPForms lets you hide such questions for all students except those responding with a "no".
For example, you can add a Single Line Text field to ask for suggestions to improve your learning resources. Then, you can apply WPForms' Conditional Logic so that the follow-up question only shows for students that chose the "no" option in the preceding question.

If you want to learn more about Conditional Logic, see this guide on how to use Conditional Logic with WPForms.
6. Which Classroom Activities Do You Find the Most Enjoyable?
Classroom activities are highly effective in building greater interest and engagement for a subject. If you're a proactive teacher, you've probably tried different approaches to learning to keep your students more engaged.
But which classroom activities are your students enjoying the most? There's only one way to find out.

Hopefully, you'll be able to focus more on including those activities that your students are loving for better learning outcomes.
7. How Many Hours Do You Spend on Homework Each Day?
It's no secret that no one likes to do homework. Although some homework is necessary to reinforce learning, too much of it can take a toll on the students' health. Research suggests that more than two hours of homework a day can lead to stress and make for poor balance in life.
This is why it's very important for school administration to carefully consider their homework policies.
You can use WPForms' Slider Number field to allow respondents to quickly specify how much time they're spending on homework.

Or you can simply use a Multiple Choices questions.
Either way, it's critical to discover how busy your students are with homework each night. You might have to rethink the length or amount of homework assignments you're giving students to redress some balance.
8. What Are Your Proudest Achievements This Year?
Don't forget to ask your students about their achievements and what makes them proud. Letting your students express their thoughts on their own accomplishments helps you assess their self-image.
Plus, they'll appreciate you for letting them have a moment of spotlight focused entirely on their achievements in your survey.

This is the perfect type of student survey question to leave open-ended, allowing your students to freely speak their minds.
9. What Would You Like to Change About Class or the Lessons?
This is another open-ended question that can provide a lot of valuable insight into possible ways you can improve classes and lessons.
Sometimes, sourcing ideas for improvements from a group of people who are most likely to benefit from these is the best way to move forward.
10. What Do You Like Most/Least About School
The WPForms' class survey template includes two open-ended questions focusing on what students like the most and also the least about school. These are two of the broadest questions on this list, but they're not any less valuable than the ones listed above.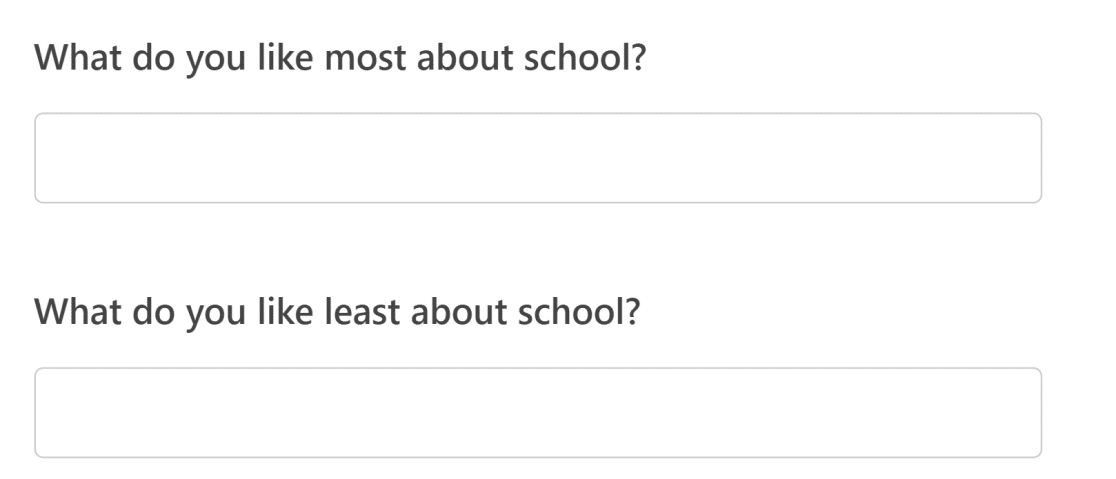 You might be surprised by how students respond to these questions. The responses can range all the way from the most trivial of complaints to small things your school does very well that students wholeheartedly appreciate.
11. After School Activities and Hobbies
Extra-curricular activities have a place of their own. But teachers aren't always aware of the hobbies and after-school interests of their students.
Learning about the non-academic passions of your students may help you connect with your class in a better way. It's one of those survey questions for students that they'll definitely enjoy responding to.
The class survey form template has a series of pre-written questions concerning your student's after-school activities.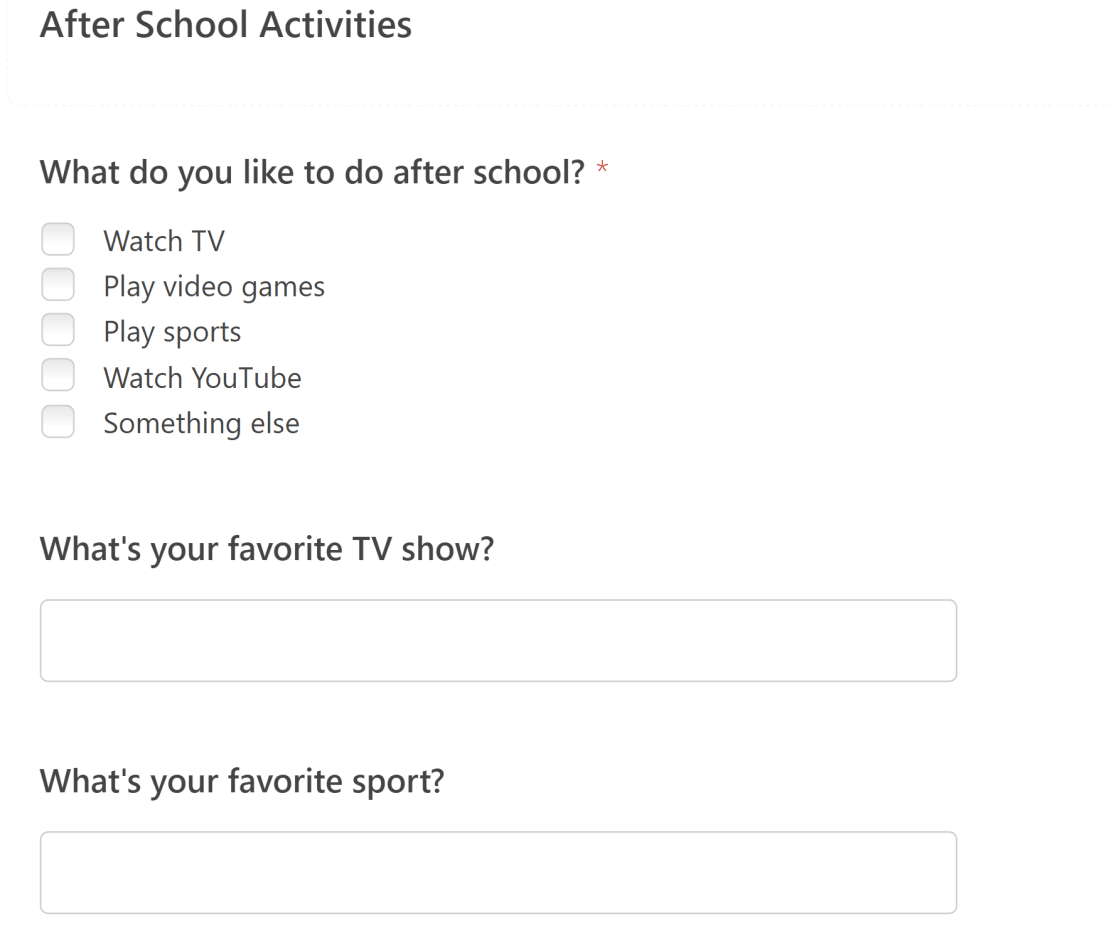 You can edit options in existing fields or add new fields entirely if you'd like to learn more about your students.
And there you have it! You now know what are the best student survey questions to ask and how WPForms lets you easily create a class survey form.
Next, Let Your Students Preview Forms Before Submitting
It's always a good idea to show a preview of the survey responses your students have entered before they're ready to submit. WPForms has an entry preview feature that lets users preview their entries before submission.
Also, it might be a good idea to add an NPS field to your student survey questionnaire.
Wondering if you should use a chatbot to conduct surveys instead? Check out our detailed guide on the benefits of forms vs chatbots.
If you want to add a search feature on your WordPress site, SearchWP is one of the best options available. See our SearchWP review for a detailed analysis of this plugin.
Create Your Student Survey Form Now
Ready to build your student survey form? Get started today with the easiest WordPress form builder plugin. WPForms Pro includes lots of free templates and offers a 14-day money-back guarantee.
If this article helped you out, please follow us on Facebook and Twitter for more free WordPress tutorials and guides.