Have you been looking for a search plugin to improve your WordPress site's website search? SearchWP is one such plugin that's been getting a lot of hype in the WordPress community lately.
But is it really the best search plugin?
In this SearchWP review, we'll break down the core features and functionalities of the plugin to test whether it's really the best.
Let's begin.
SearchWP Review: Is It the Best Search Plugin?
WordPress has a default search tool, but it's woefully limited and inaccurate. SearchWP eliminates these limitations and allows you to create a custom search engine for your WordPress site.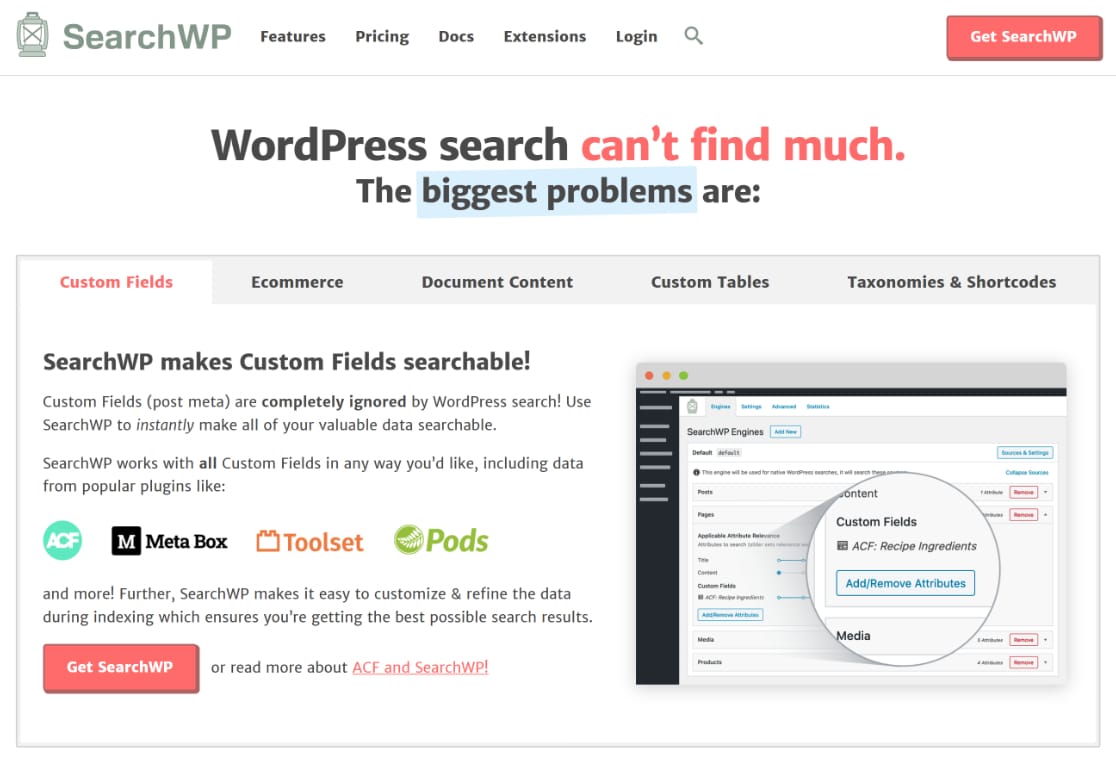 The best thing about this plugin is that it indexes your entire site content automatically, without requiring you to add any code. Plus, it makes literally every part of your website searchable. This includes your:
Posts
Pages
Categories, tags, and taxonomies
Media files
Documents (PDF .txt, .docx, .csv, etc.)
Product attributes
Shortcode-generated content
Tables
… and more
We'll now talk about all the core features offered by SearchWP and whether these work as well as we expect. You can click on the quick links below to jump directly to your desired review section:
First, let's set SearchWP up.
Setting Up SearchWP
Installing SearchWP on your WordPress site is very easy. You can install it just like any WordPress plugin. Once it's installed and activated, you'll get a notification asking you to review and save search engine settings before SearchWP can start building the index.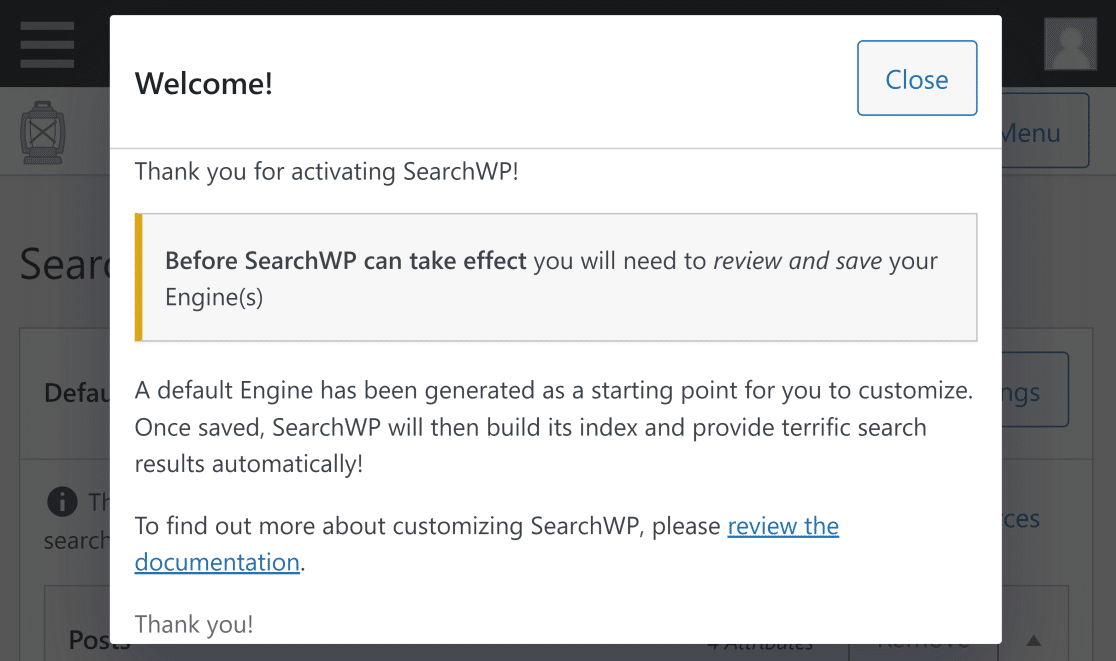 Upon closing this notification box, you'll see the Engines menu, where you can customize how you want SearchWP to provide search results to users. But before you do that, you should first activate your SearchWP license.
Click on the License tab and enter your license key (which you'll obtain after purchasing your SearchWP plan.). Then, click on the Activate button.

SearchWP is now ready to start indexing and taking your site's search functionalities to the next level.
SearchWP Features
SearchWP has an excellent set of features that allow you to customize your site's search engine and ensure the best user experience for your visitors.
Therefore, it's worthwhile to briefly discuss each of the main SearchWP features so you can see the available options and functionalities.
Search Engines
The search engine forms the core of SearchWP functionality. To access the search engine settings, click on Settings » SearchWP » Engines.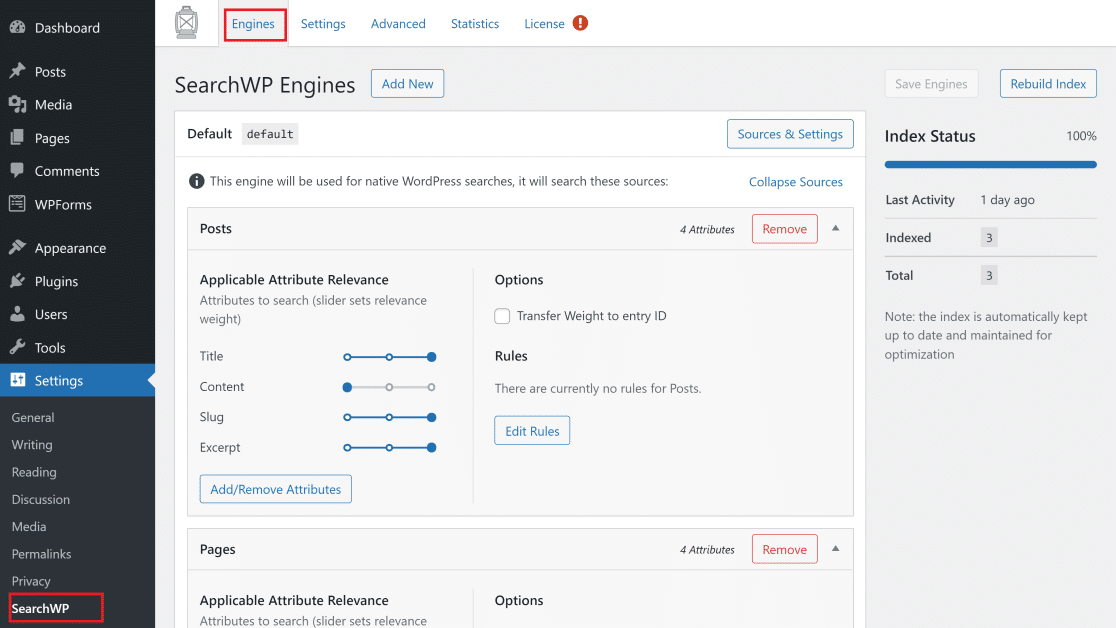 By default, when SearchWP is given a keyword by a user, it searches the following areas across all of the indexed posts and pages on your site:
Title
Content
Slug
Excerpt
For each of these search attributes, you can assign a relevance weight using a slider that goes from minimum to maximum.
For instance, if you want your post titles to have maximum priority when a user types in a query, all you have to do is set the slider all the way up.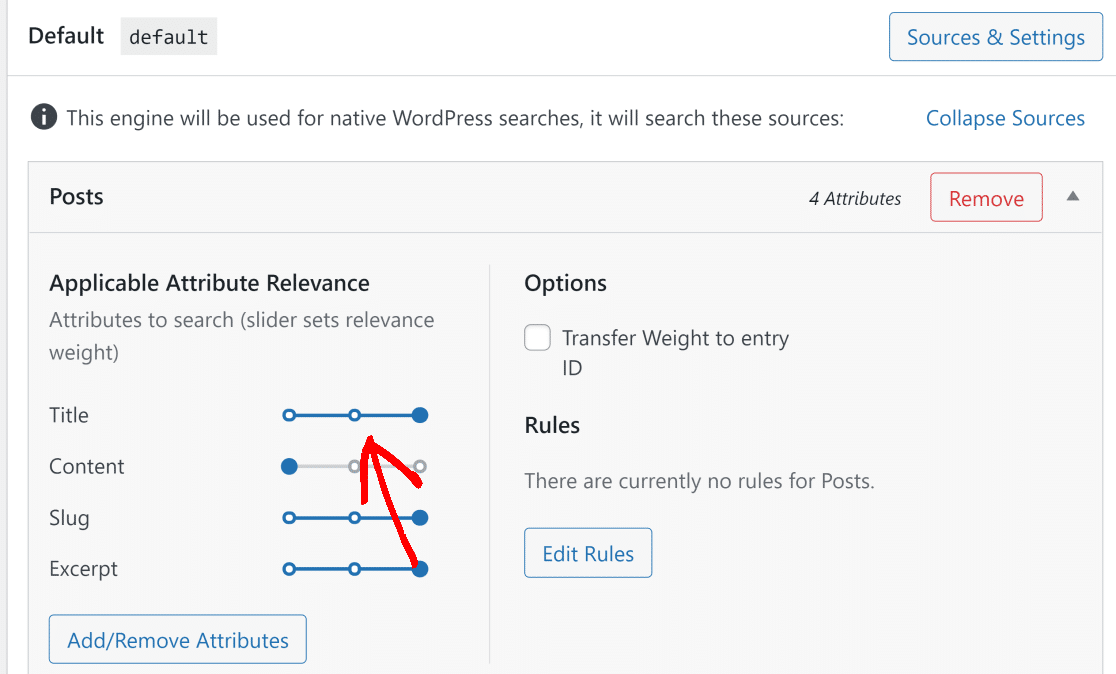 You can set these relevance attributes for different content types (posts, pages, media etc.) by simply clicking on their respective dropdowns.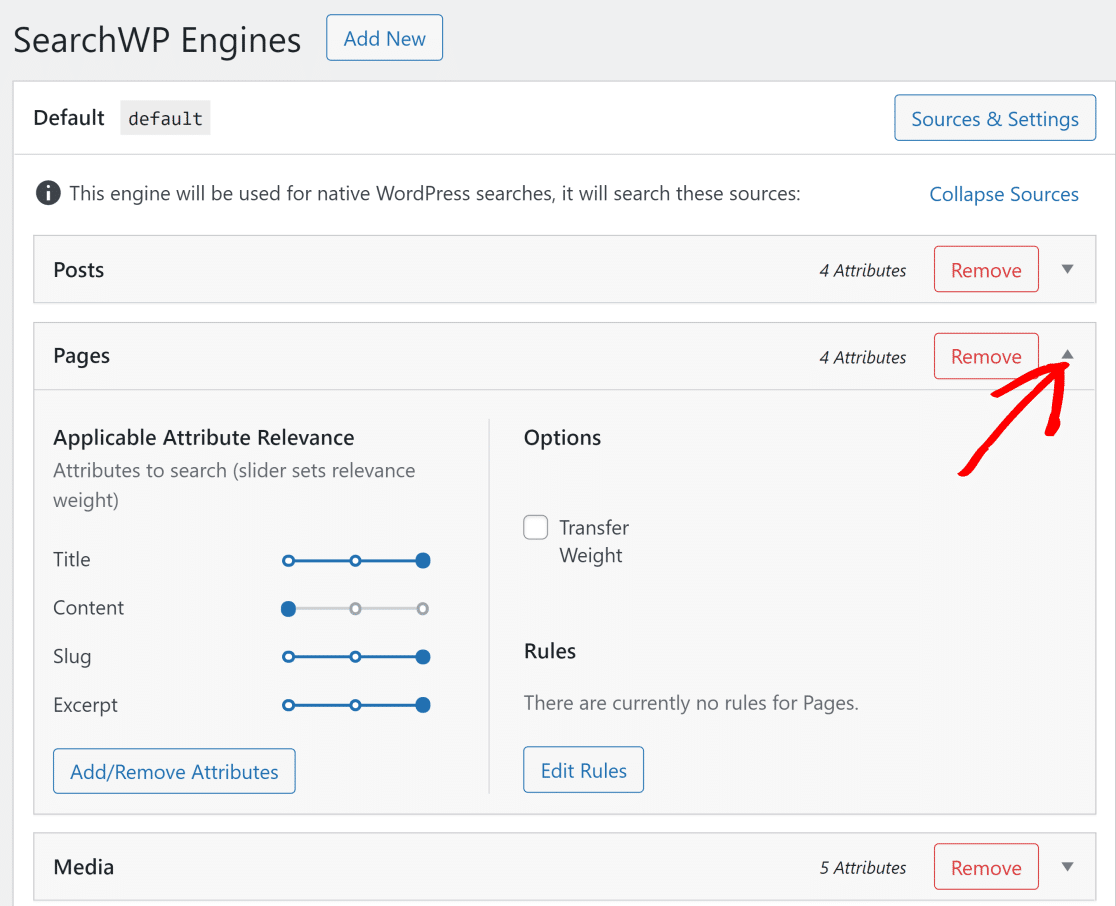 Normally, you'll get much more accurate results if you keep the Content relevance weight at a minimum. Since the same keywords often repeat across posts and pages, giving your full post contents a higher priority can compromise the accuracy of results.
SearchWP also lets you add or remove attributes by clicking the Add/Remove Attributes button. These attributes can be created using Custom Fields or Taxonomy.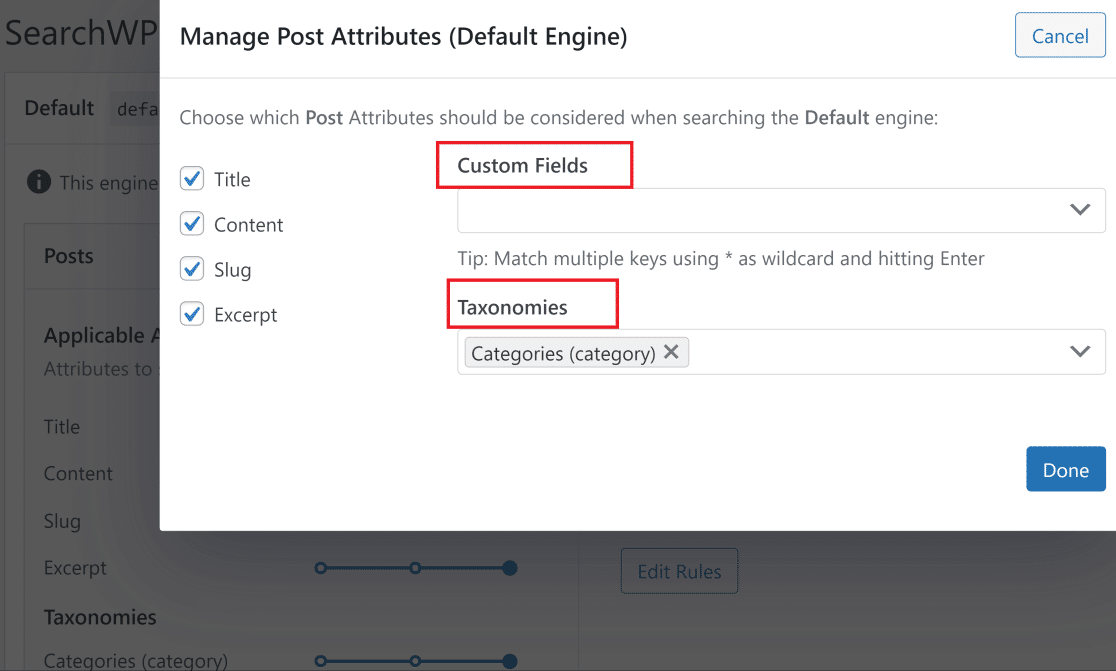 The Source & Settings menu allows you to select different indexable content types on your site that SearchWP will use as search sources.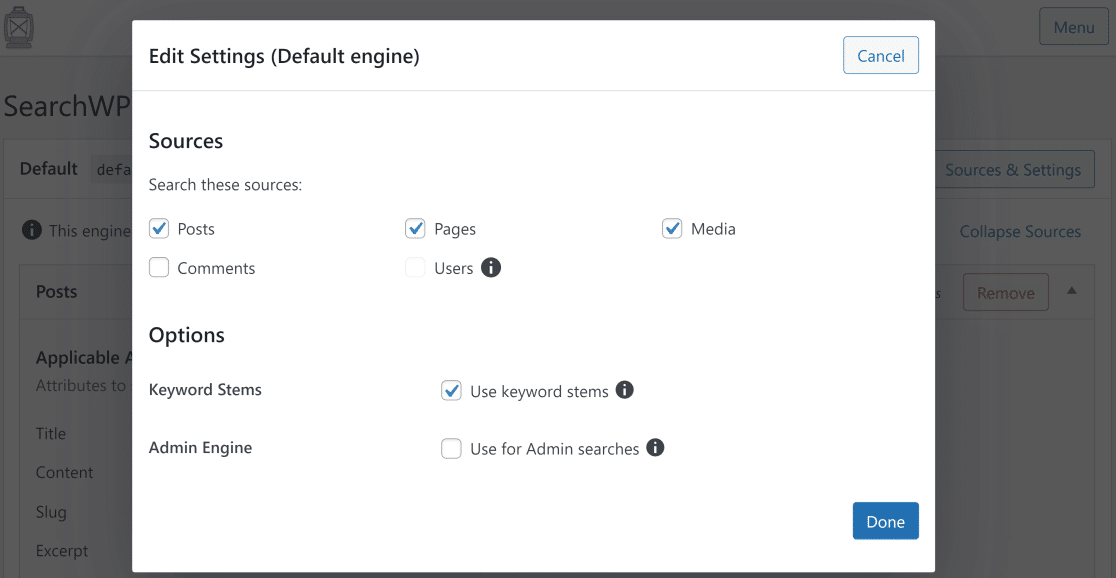 When you open Source & Settings, all the different content types available on your website will be displayed as checkboxes that you can select as search sources.
For instance, if you are an eCommerce website with product pages, SearchWP will display Products as one of the search source options, apart from the default types like pages, posts, and media.
This is what makes SearchWP so much more powerful because the default WordPress search tool can't index media, documents, and other types of content.
Plus, unlike the default WordPress search tool, SearchWP uses Keyword Stemming. This means that users don't need to type exact keywords to find the most relevant content.
Once you've configured your sources and adjusted the attribute relevance sliders of each source to your liking, you can press Save Engines. SearchWP will now build your index, allowing users to type in search queries to find relevant content on your site.

Search Rules
SearchWP's rule feature allows you to customize your search results even further. With this feature, you can use conditional logic to force SearchWP to only show search results by taxonomy, publish date, or post ID.

For example, if you've been running your website for a while, chances are your oldest posts aren't very relevant anymore. If so, you can use rules to include only those posts that are published after a certain date. Similarly, you can include or exclude posts by category.
SearchWP makes it really easy to add rules and make your users only see the search results they're most interested in.
Stopwords and Synonyms
SearchWP comes with a default list of stopwords. These are words that SearchWP ignores in order to improve relevancy of search results and process searches quicker.
Stopwords can be accessed within the Settings tab.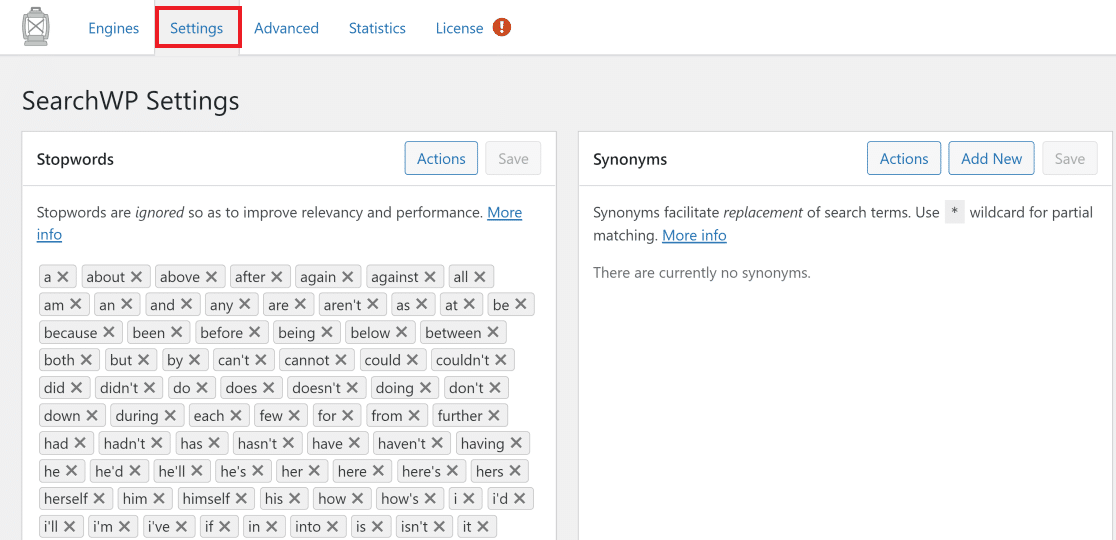 You can add more words to this list if you feel that some unimportant words are reducing the relevance of users' search results. But in most cases, SearchWP's default list of stopwords is all you'll need to maintain high search relevancy.
Another great SearchWP feature is Synonyms. You can add a list of synonyms to replace search terms your users are entering on your site.
For instance, if you have a topic that visitors want to read but they're typing in a different word for it, you can add a synonym to replace the searched words with the words that actually appear in your content.
This way, SearchWP will show your users the topic they're looking for, even if they've been searching for it using a different word.
These features really make SearchWP stand out when it comes to ensuring laser-focused search relevance on your site.
AJAXLive Search
SearchWP comes with AJAX live search, which provides instant search suggestions while you're tying in your query (similar to search engines like Google, YouTube, and Bing).
Live search makes it easier for searchers to find exactly what they're looking for, improving their search experience considerably.
Statistics
Another hugely powerful SearchWP feature is statistics. SearchWP maintains a record of all the searchers users have performed on your site over a period of time. It then displays which search queries have provided the best results on a graph.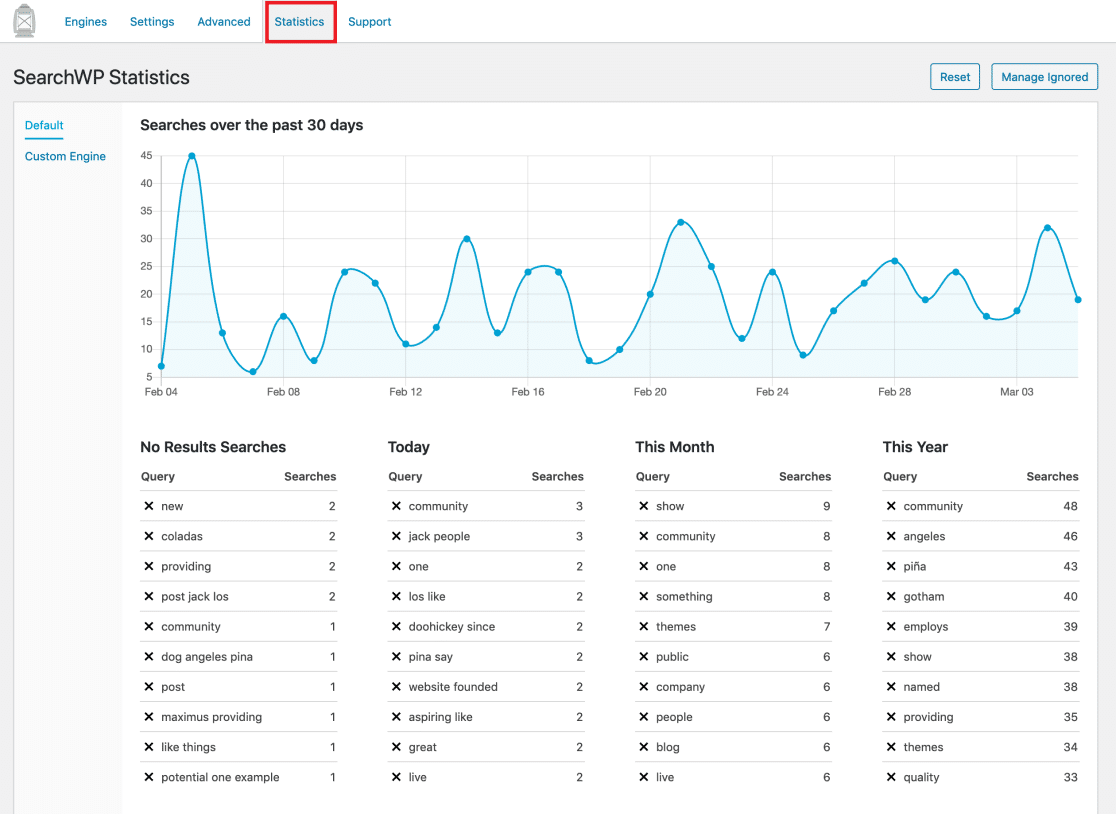 These statistics provide incredibly important data if you want to understand what users on your site are searching for. Using this data, you can also identify gaps in your content and take advantage of opportunities to improve your WordPress SEO.
Ease of Use
SearchWP is extremely simple to use and set up. For most websites, you'll hardly need to change the default settings, so it's essentially a plug-and-play plugin for WordPress.
The core functionality of SearchWP can be configured using simple sliders to set relevance priorities for your preferred search attributes. This makes for a very easy system that non-technical users can quickly get used to.
Overall, SearchWP is one of the most user-friendly search plugins for WordPress.
Support
SearchWP has excellent support with lots of tutorials and documentation on the SearchWP website.
These docs are neatly organized so you can easily find what you're looking for. In fact, SearchWP uses its own search plugin with a supplemental engine that allows you to search its entire documentation database.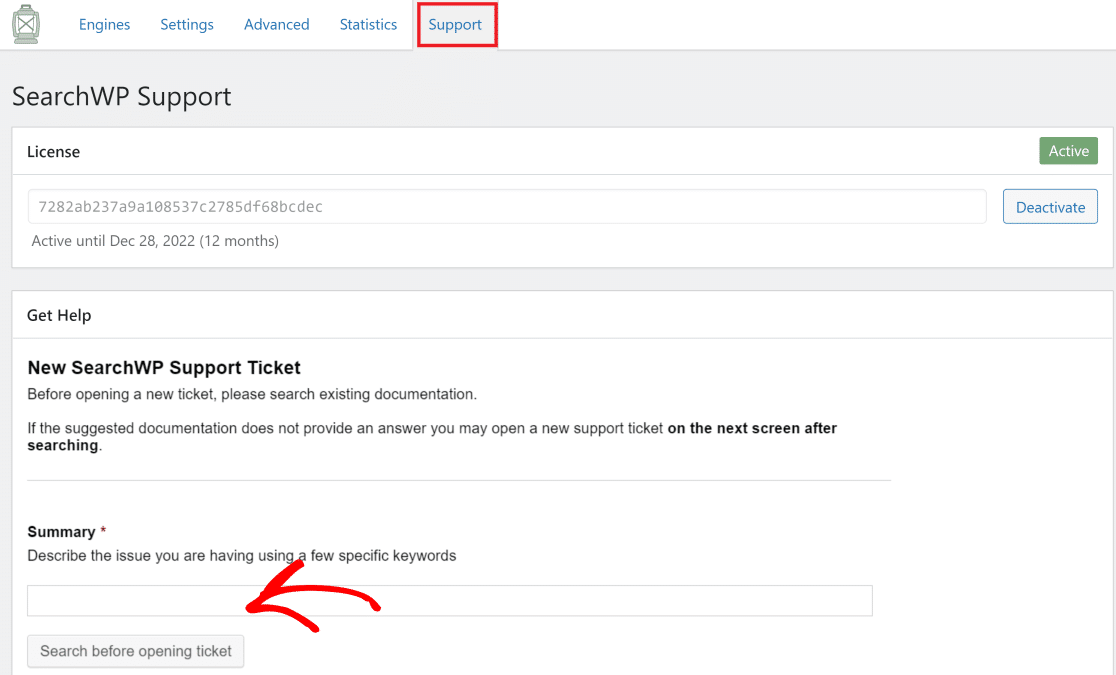 If you can't find the information you're looking for, you can open a support ticket directly from SearchWP's dashboard in your WordPress. This is a great touch and makes support very easy to reach.
SearchWP Plugin Extensions
Apart from the core functionalities built into SearchWP, there are also tons of plugin extensions that you can integrate with SearchWP.
These help you expand the capabilities of your search tool to the next level.
These include (but not limited to):
Boolean search
bbPress integration
WooCommerce integration
Related content
Metrics
… and a lot more.
With so many useful plugin extensions at your disposal, you'll never need to have to think about getting a different search plugin for WordPress.
Pricing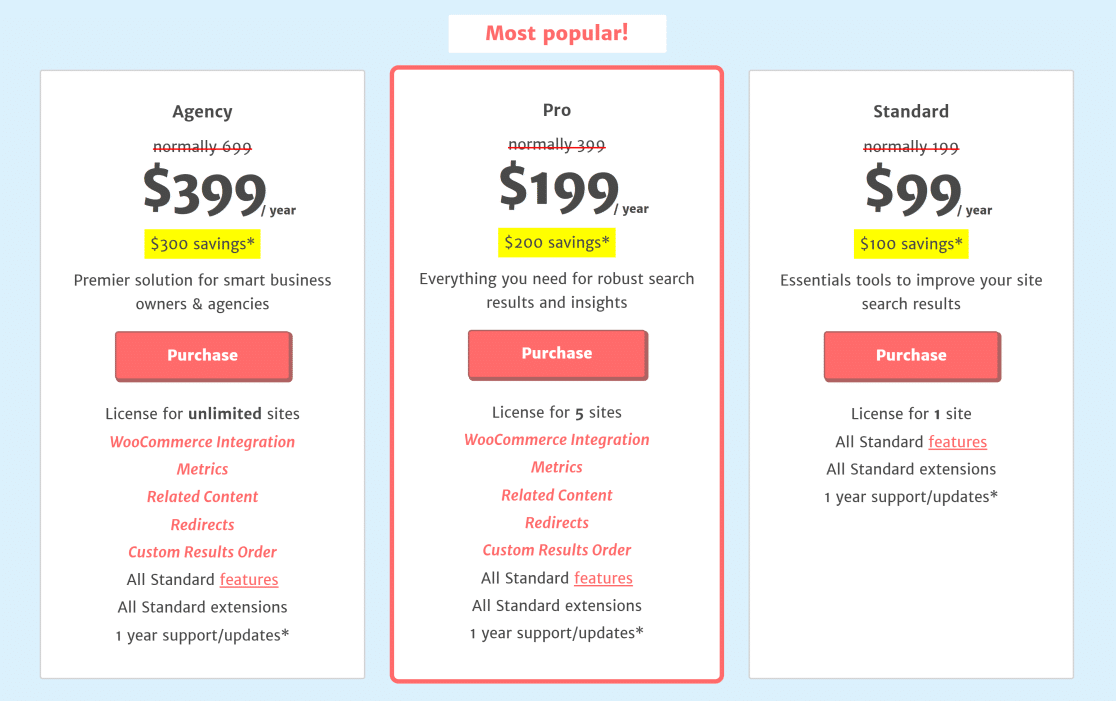 SearchWP offers three pricing plans. The Standard plan supports only 1 site and comes with all standard features and extensions.
The Pro plan provides a license for 5 sites and also includes many plugin extensions in addition to those available in the Standard plan.
The Agency plan supports unlimited sites and has everything included in the Pro plan.
At the time of this writing, SearchWP's pricing plans are as follows:
Standard: $199/year (1 site only)
Pro: $199/year (5 sites)
Agency: $399/year (unlimited sites)
All SearchWP plans are backed by a 14-day money-back guarantee. So, if you're unhappy with the plugin for any reason, you can claim your full refund within 14 days.
Conclusion: Is SearchWP the Best WordPress Search Plugin?
SearchWP is truly the best search plugin for WordPress that we've tested. It is easy to use, has amazing features, and functions efficiently for sites of all kinds.
SearchWP's core functionality outshines the default WordPress search feature and allows your visitors to easily find the content they're looking for. It can index almost all post types, products, and even documents.
Not only that, but SearchWP also has a great Statistics feature that you can use to learn more about your visitors' search behavior. And you get all of that functionality at affordable price points.
Next, Dominate Rankings & Get More Leads
Do you want to improve your Google rankings to get more organic traffic?
Check out our All in One SEO review to learn how this powerful plugin can transform your site's search performance.
You might also want to boost your lead collection capabilities. A giveaway campaign is one of the quickest ways you can do that. Read our RafflePress review to find out how you can collect more leads than ever before with this plugin.
Ready to build your form? Get started today with the easiest WordPress form builder plugin. WPForms Pro includes lots of free templates and offers a 14-day money-back guarantee.
If this article helped you out, please follow us on Facebook and Twitter for more free WordPress tutorials and guides.