Are you wondering what the best Zapier alternatives are?
Zapier is a powerful tool that helps to connect and automate the features of different apps and services. But while it's powerful, it isn't the right tool for every situation.
For a WordPress website, you might find it more convenient to use a tool that's native to WordPress and lets you control all automation from your site's backend. Zapier won't do this and is also quite costly in comparison to some alternatives.
The good news is that there are quite a few great alternatives to Zapier. We've covered 9 of the best ones in this article.
Can You Use Zapier for Free?
Yes, you can use Zapier for free, but with some limitations. Zapier offers a free entry-level plan that allows for a maximum of 100 tasks monthly.
This likely won't be enough if you're looking to set up automated processes to support a growing business. Zapier's mid-range Professional plan might be a more realistic option.
However, when compared with alternatives such as Uncanny Automator, Zapier's paid plans can be quite costly.
In the next section, we'll get into the top Zapier alternatives to consider. There's sure to be one that meets your needs best!
The Best Zapier Alternatives

Uncanny Automator is one of the best dedicated WordPress automation plugins. The plugin provides an easy-to-use, no-code platform for connecting multiple WordPress plugins and external services.
Uncanny Automator then automates the features of these apps and services through rules called recipes. There are over 100 integrations available for WordPress plugins, which can be used in thousands of different combinations to create an automation for pretty much any WordPress task you can think of.

Here are some examples of useful workflows you can automate with Uncanny Automator:
Enroll a user in a LearnDash or LifterLMS course when they submit a WPForms form.
Get Slack notifications when a user submits a form.
Add a new WordPress role for a user who makes a payment using WP Simple Pay.
Add visitor data to a Google Sheet when they submit an OptinMonster form.
Add a user to an ActiveCampaign mailing list when they donate with GiveWP.
As you can see, there are lots of creative and useful ways to use Uncanny Automator in WordPress.
Compared with Zapier, Uncanny Automator stands out in this area. While you can use Zapier with a WordPress website, Zapier doesn't integrate multiple WordPress plugins.
Another way Uncanny Automator stands out is by allowing your recipes to run with no limits. With Zapier, all the plans have a cap on the number of times a zap (Zapier's equivalent of Uncanny Automator recipes) is allowed to run.
On top of these features, Uncanny Automator also offers integrations with Zapier and other automation services.
Overall, Uncanny Automator is the best alternative to Zapier.
Uncanny Automator Pricing 
Uncanny Automator starts at $149 per year.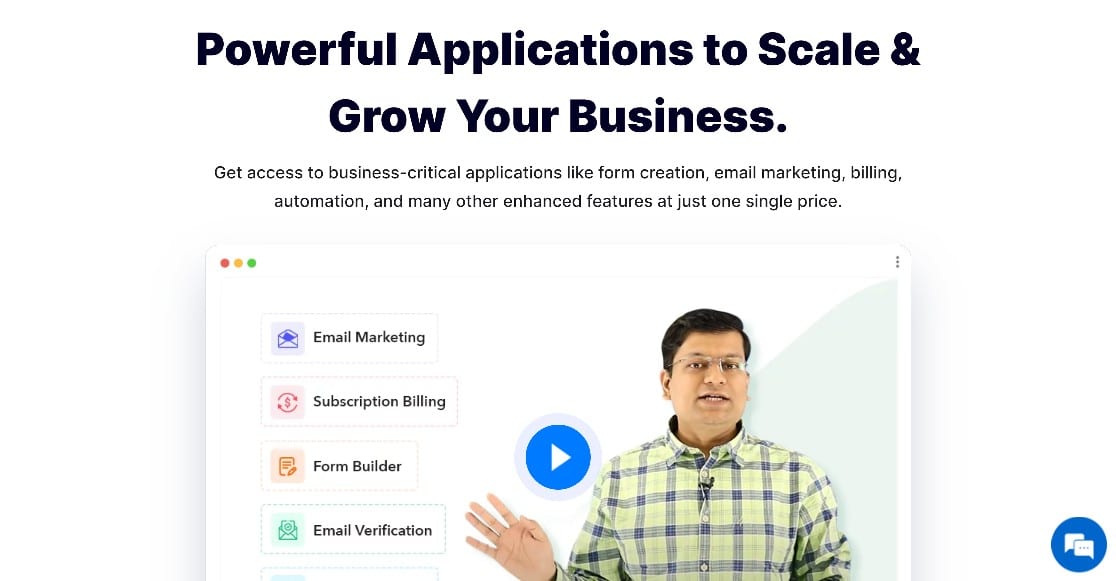 Pabbly is a sales and marketing platform with multiple applications. These include Pabbly Connect, a tool that supports integration and automation with hundreds of external apps.
You can use Pabbly on its own to manage basic business functions such as building contact forms and verifying leads, creating billing pages, and running email marketing campaigns.
Pabbly Connect allows you to push the leads you've collected from your forms, along with other sales data, to over 500 external services like Google sheets or a Customer Relationship Management (CRM) service.
Pabbly Pricing 
Pabbly starts at $25 per month.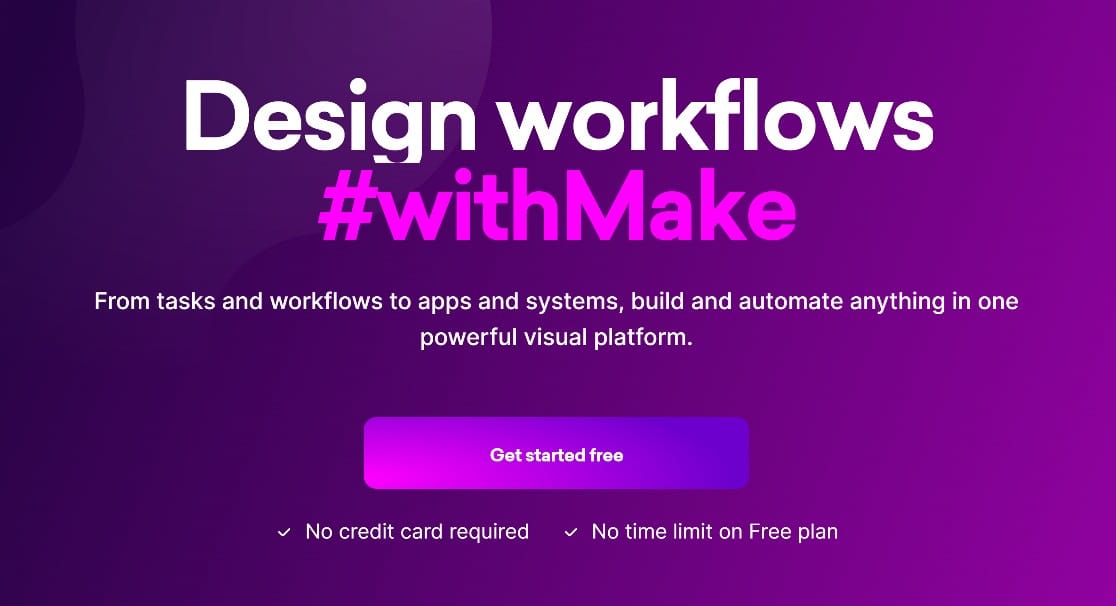 Make, formerly known as Integromat, is a business process automation app. It's one of the top alternatives to Zapier for businesses.
Make allows you to automate workflows between different areas of your business such as Sales, Marketing, Finance, HR, Operations/IT, and Support. This is done using rules called scenarios.
With Make, you can use predefined, shareable scenarios so you won't always have to start your work from scratch. And if you create any templates from scratch, you can then save them as templates.
Make integrates with over 1,000 apps and services. And if you can't find an integration for the app you'd like to use, you can use Make's no-code toolkit to connect to any app that has an API.
Make Pricing
You can get started with up to 1,000 ops per month, for free. Paid plans start at $9 per month when billed annually.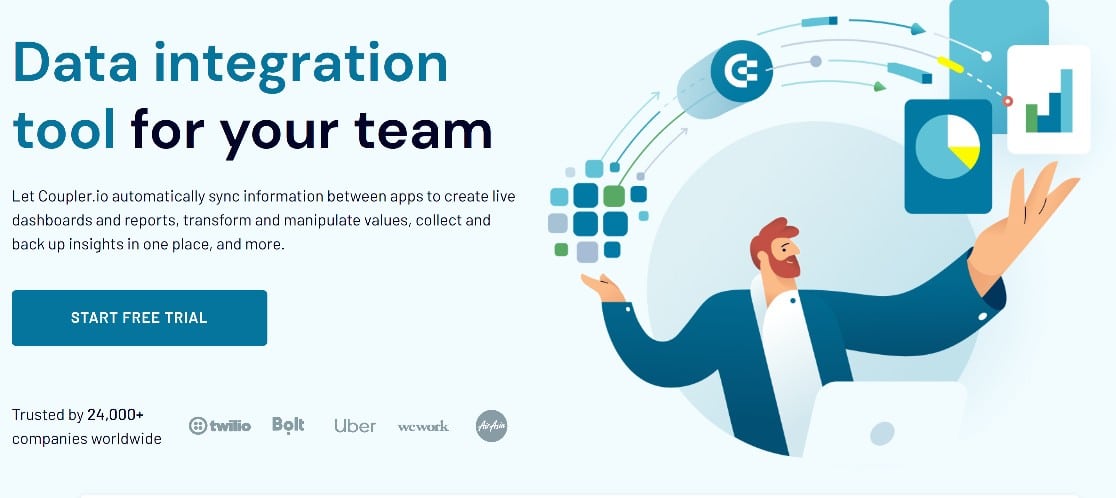 Coupler is an easy-to-use automation and data integration app that offers 76 integrations with 3 destination apps. These are Microsoft Excel, Google Sheets, and BigQuery. Additionally, Coupler allows for more apps to be connected using the JSON API.
While the app is easy to use, the limited number of destination apps means that you can do a lot more with Zapier than you can with Coupler.
But if your data integration needs revolve around Microsoft Excel, Google Sheets, or BigQuery, then Coupler may be a better alternative to Zapier as Coupler is more focused on data management.
Coupler Pricing
Coupler starts at $24 per month, billed annually. There's a 14-day free trial if you'd like to try things out before you begin.

Automate is a powerful tool that can automate repetitive tasks and create complex workflows by integrating multiple apps.
The app offers several prebuilt automation templates to help you get started quickly.  In addition to these, one of the standout features of Automate is its advanced controls.
These include things like conditional logic, time delays, data formatting, sentiment analysis, and so on, which allow you to create some really powerful workflows.
Automate offers 200+ integrations which are useful but fall short of the 3,000+ offered by Zapier. Nonetheless, it's a very good Zapier alternative especially if advanced capabilities like time delays and conditional logic are important for you.
Automate Pricing
Automate offers a free plan that allows up to 300 monthly actions.  Paid plans start at $9.99 per month.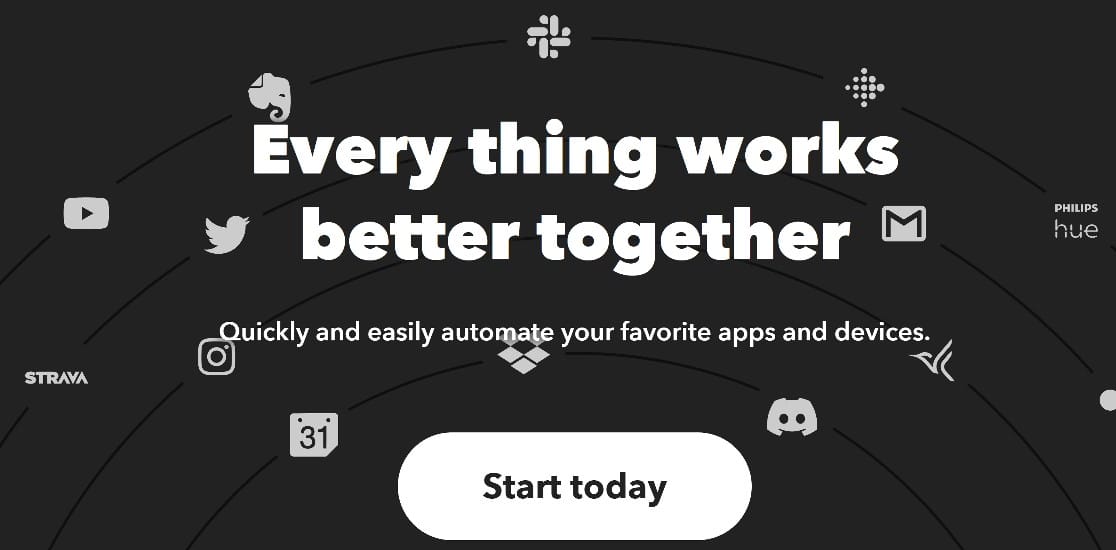 IFTTT (short for If This Then That) is a multi-purpose automation tool for connecting apps and devices. It can be used by anyone from individuals looking to automate personal tasks, to large corporations looking to automate business processes.
IFTTT offers integrations with over 700 sources, and with Webhooks, you can add even more. While Zapier offers many more integrations, this is still a good range for most small businesses to work with.
With IFTTT, you can start creating automations using one of the numerous prebuilt templates on offer.
IFTTT Pricing
IFTTT offers a free plan that is ideal for personal use. Paid, business-friendly plans start at €2.50 per month.

Workato is is a powerful Zapier alternative that comes with an easy-to-use platform for integrating useful apps, and automating tasks across various teams and functions in your business.
Workato uses rules called recipes to create these automations. These recipes are categorized by function including unique recipes for HR, sales, finance, and other important business functions.
Recipes can be based on smart triggers that , which may include features such as conditional triggers and in-sequence processing. Workato also has built-in duplication detection, which ensures that data integration between your apps doesn't lead to any duplicate entries.
Workato offers integrations with over 1000 apps, with 400,000+ prebuilt recipes. This means that there'll likely be ready-made solutions for most recipes you'll want to make with Workato.
Workato Pricing
Workato doesn't offer fixed pricing. Instead, you pay for the specific integrations and automations that you want in your plan.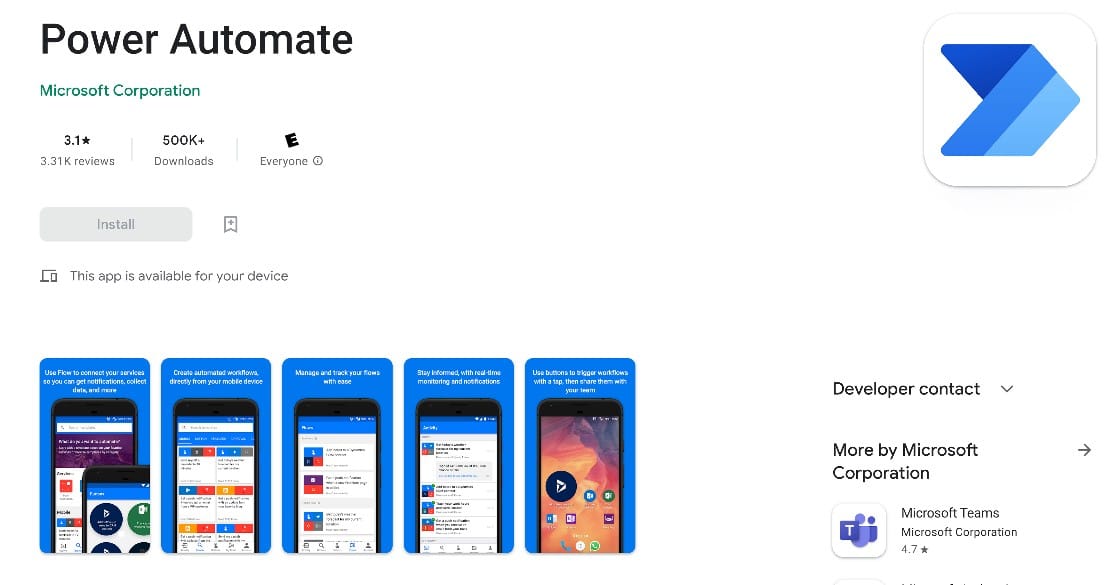 Microsoft Power Automate used to be known as Microsoft Flow. This is a drag and drop tool that allows you to build hundreds of connections to automate repetitive processes and tasks.
Power Automate offers integrations with over 600 apps, including all the apps in the Microsoft Suite. This includes popular apps like Teams, One Drive, and Office 365, making Power Automate a natural choice for teams that use Microsoft Suite.
Some other features that make Microsoft Power Automate an attractive alternative to Zapier include hundreds of prebuilt templates, artificial intelligence (AI), and robotics tools to enhance automation.
Microsoft Power Automate Pricing
Power Automate is built into Windows 10 and 11, and is free for personal desktop use. Paid plans for enterprise and business use start at $15 per user per month.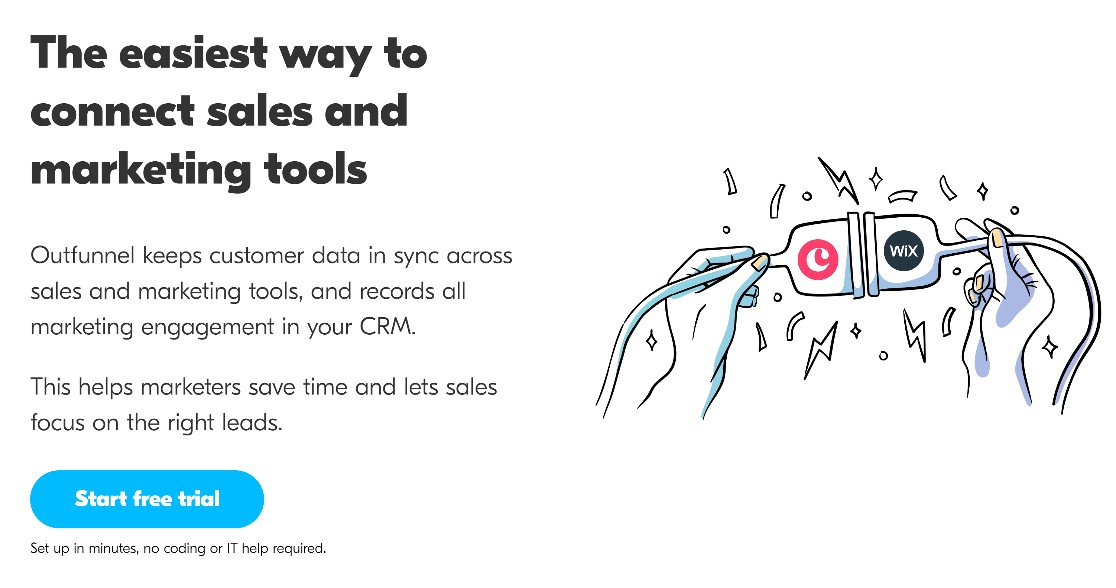 Outfunnel is an automation and integration tool specifically designed to connect sales and marketing tools.
With Outfunnel, you can create data connections to integrate data collected from your Customer Relationship Management (CRM) and sales tools with your marketing apps.
For example, you'll be able to sync data from tools marketing tools like MailChimp with the sales and CRM tools Outfunnel supports. The supported CRM tools include Salesforce, Hubspot, Pipedrive, Copper, and Airtable.
Outfunnel Pricing
Outfunnel starts at $6 per month billed annually. a 14-day free trial is available for all its plans.
And that's it for our list of the best Zapier alternatives!
Which is the Best Zapier Alternative?
As you'll have seen, there are lots of great options here. If you're running a WordPress website, Uncanny Automator should be your top choice.
Here are a few reasons why Uncanny Automator is the best Zapier alternative:
Uncanny Automator can connect your WordPress plugins and even automate behavior across two WordPress websites.
You'll have 1000 credits on the free plan and unlimited use on paid plans. This is better value for money than Zapier or any of its alternatives offers.
You don't have to choose between Uncanny Automator and Zapier. Uncanny Automator integrates with Zapier so you can use both if you need to!
And there you have it! You can now make an informed decision to pick the best Zapier alternative that suits your goals.
Next, Check Out The Best WordPress Automation Tools and Plugins
We've just taken a look at some of the best Zapier alternatives. But as we mentioned, Zapier isn't a dedicated WordPress tool.
Are you wondering what the best dedicated WordPress automation plugins are? We have you covered in our list of the best WordPress automation tools and plugins.
Create Your WordPress Form Now
Ready to build your form? Get started today with the easiest WordPress form builder plugin. WPForms Pro includes lots of free templates and offers a 14-day money-back guarantee.
If this article helped you out, please follow us on Facebook and Twitter for more free WordPress tutorials and guides.