Do you want to get the best WordPress calendar plugin for your site?
There are several different calendar plugin options available for WordPress. Some only provide basic event management and booking features, while others are more advanced.
In this article, we'll talk about the best calendar plugins for WordPress that you can add to your site today.
How to Choose the Best Calendar Plugin for WordPress
To choose the right calendar plugin for WordPress, it's important to take a look at their features, pricing, and ease of use.
The more powerful calendar plugins come with advanced features like ticketing and appointments, as well as third-party integrations with services like Google Calendar. These are good for event organizers with an active community.
Smaller websites have the option to use more basic plugins with only a single functionality – displaying important dates on your site's frontend. These plugins are suited for sites that don't want to be overwhelmed with lots of extra features they don't need.
We've tested some of the most popular WordPress calendar plugins so you can compare their features and make an informed decision.
Best WordPress Calendar Plugins
The following are our hand-picked best Calendar plugins for WordPress sites:
Let's consider each of these in a bit more detail.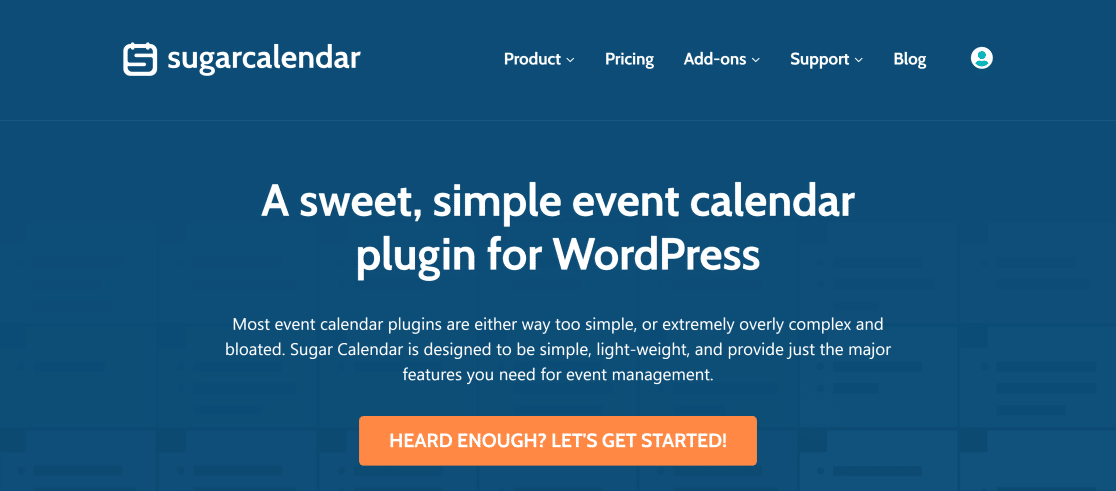 Sugar Calendar is the best calendar plugin for WordPress due to its simplicity and top-notch quality features. The plugin enables organizers to create unlimited events.
With Sugar Calendar, you get a complete range of event management functionalities, such as assigning start and end times for events and appointments, customizing date and time formats, configuring time zones for events, and more.
You can conveniently add or edit event listings from the backend calendar view. It's a quick and efficient way to manage your calendar and get a broad overview of your upcoming events in a single view.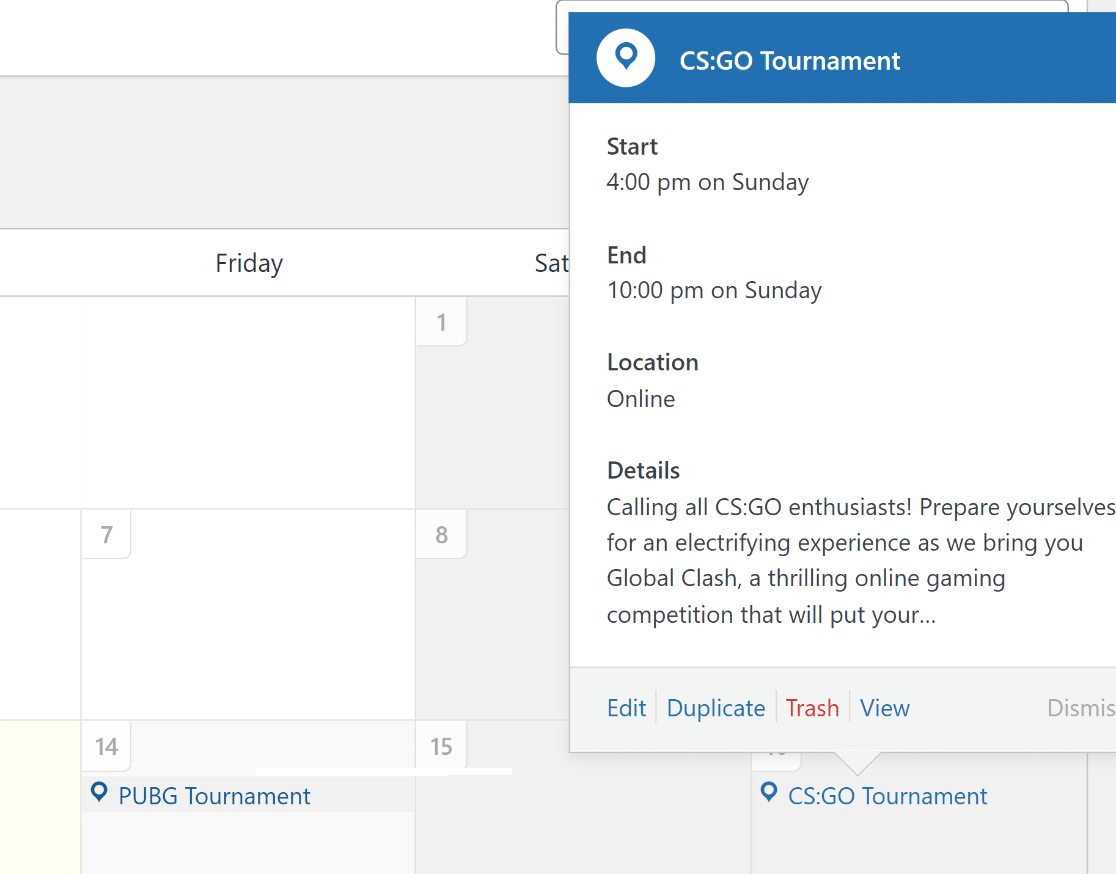 Besides, Sugar Calendar also provides advanced features like:
Features:
Simple, user-friendly event management interface right within the WordPress dashboard
Create recurring events over any period of time such as daily, weekly, monthly, or yearly, or host multi-day events with ease
Organize events into categories and display events for selected categories
Integrations with Google Calendar, iCal, Zapier, and form plugins like WPForms and Gravity Forms
Event ticketing functionality for selling event tickets easily
Easy embedding options with shortcodes and blocks for WordPress event calendar
And more.
Sugar Calendar's Event Ticketing addon allows you to manage ticket sales for your event and record the details of your attendees. Plus, it integrates with Stripe and WooCommerce to make the payment process for tickets super easy.
And if you'd like members of your site to create their own events in your calendars, you can do so using Sugar Calendar's Frontend Event Submissions addon. This addon worked exactly as intended during our testing, and the best part is that it integrates with several popular form builder plugins, including WPForms to enable event submissions.
So if you already have WPForms, you can take advantage of the event planner form template and integrate it with Sugar Calendar so users can easily submit their events on your calendar.
When you're ready to add an event calendar to your site, you have the flexibility to embed it in different locations on your site. For instance, you can add the calendar in a sidebar widget or in your WordPress posts and pages.
Overall, Sugar Calendar offers the perfect balance between ease of use and features for WordPress users.
Pricing: Sugar Calendar is a freemium plugin with paid plans starting from $49 per year.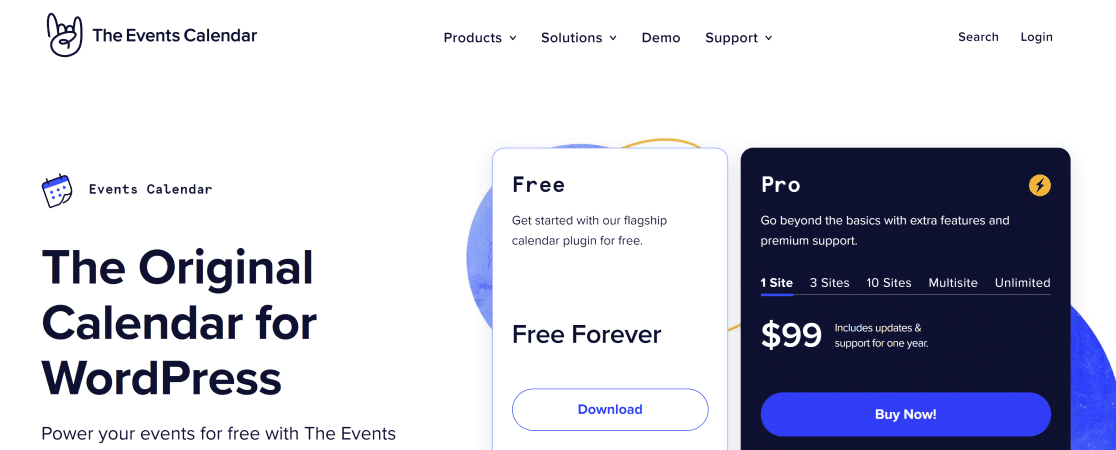 The Events Calendar is a popular event management and calendar plugin for WordPress. The plugin uses a very straightforward user interface that makes it very easy to manage your events from your WordPress dashboard.
One of the key features of The Events Calendar is that it provides different view options for the calendar, including a month view, list view, day view, and even a photo and map view of upcoming events. This gives you a lot of freedom to choose a calendar design that you like.
Like Sugar Calendar, The Events Calendar plugin also provides multiple addons that unlock additional functionalities like event ticketing, Google Maps integration for event locations, WooCommerce, and more.
You can sell event tickets and accept payments by integrating The Events Calendar with PayPal. We found it super easy to configure the PayPal integration and start taking money for ticket sales.
The Events Calendar also works with WPForms. It's very simple to integrate these two plugins and allow users to submit events in your calendar from your site's frontend.
Pricing: The Events Calendar's essential features are available for free. The premium plans start at $99 per year.

EventOn is an advanced calendar plugin for WordPress with a wide range of features. We were really impressed with its intuitive interface for designing and editing your events. When you publish events, they appear in the form of colorful cards that look amazing from the frontend.
EventOn also comes with helpful features like assigning a different color to different event categories, which is great for letting your visitors easily find the event they're looking for.
One of the best things we liked about EventOn is its appearance customization feature. You can design your events page to match your brand's theme using the easy visual customization tool. These customization options are highly effective for ensuring a great user experience.
In addition, you can include elements like images and Google Maps locations in your events. It's a great way to make it easy for people to locate and get directions for your event venues without any confusion.
Pricing: EventOn is a freemium plugin with pricing for premium features starting from $25.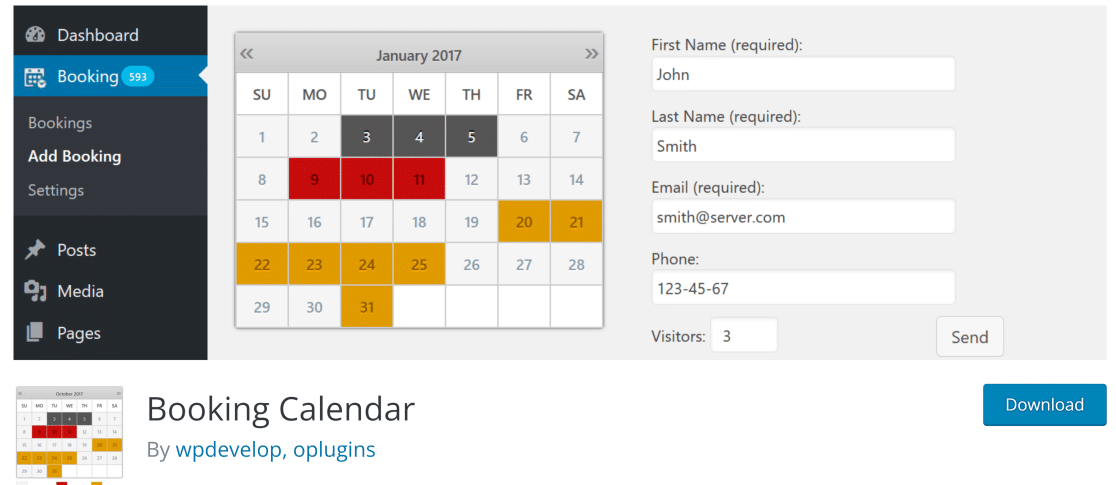 Booking Calendar is a lightweight but very useful plugin for WordPress that adds a simple booking system to your site for accommodations and custom events.
With Booking Calendar, you can embed a calendar on your site, enabling users to directly make an appointment with it. You can build a booking form for your events and accept online payments conveniently. Once a user has made a booking request, Booking Calendar provides you with their details, allowing you to approve or decline their request.
We really like that this plugin prevents double-booking, so when a timeslot is booked, it automatically becomes unavailable for others.
Besides, it supports popular payment gateways including Stripe, PayPal, Authorize.net and more.
Another simple but valuable Booking Calendar feature is that it displays the timeline for the whole year, month, or day. Users can check the timeline to see booking availability easily.
Pricing: Booking Calendar has a free version, with pro feature available in pro plans starting from $47.40 (one time cost).

All-in-One Events Calendar is a very capable calendar plugin for WordPress with several interesting features.
For instance, it gives you three different theme options to choose from for your frontend calendar display. Also, you can easily organize your events into categories and tags for easier management.
However, there are some limitations to All-in-One Events Calendar. For instance, you don't get event ticketing addons with All-in-One Events Calendar. In contrast, Sugar Calendar has the easiest ticket-selling system available as an addon.
Pricing: All-in-One Events Calendar provides both free and paid plans.

My Calendar is another feature-rich WordPress calendar plugin. It's a highly customizable plugin so you can control how you want your calendar to look on the frontend.
You can group events into categories, which allows you to edit settings and details for all events in a group at the same time. This is super helpful if you've got lots of different kinds of events on a busy calendar.
Unfortunately, customizing your calendar appearance isn't as straightforward as it is with other plugins on this list.
You'd need to have some CSS knowledge to change most design aspects of your calendar. This is one drawback of My Calendar which makes it less suitable for non-technical users.
Pricing: My Calendar is available for free but you get a lot more features in the Pro version starting from $59.00 per year.

EventsPlus provides WordPress users with decent event management capabilities. It allows you to create all kinds of events, including seminars, conferences, workshops, and concerts.
EventsPlus makes event registration and ticket selling very easy and has an easy-to-use WordPress-based interface.  Besides, EventPlus provides useful widgets like a countdown timer for ticket sales.
In addition, EventPlus allows you to monitor attendee records, payments, and you can even give users the option to choose their own seats for an event.
Pricing: EventPlus starts from $29.
What's the Best Calendar Plugin for WordPress Websites?
After carefully comparing the features of different plugins, it's clear that Sugar Calendar stands out as the best WordPress calendar plugin.
Sugar Calendar has the perfect balance between ease of use and features. It doesn't overwhelm you with a bunch of unimportant extras and provides just enough calendar features to enable optimal event management from your site.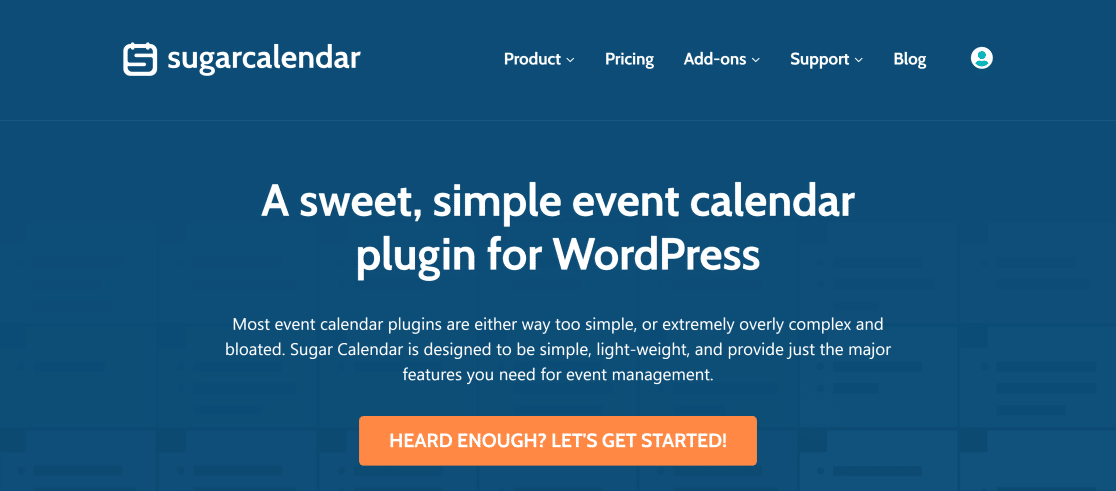 Besides, it supports more third-party integrations than most of its competitors, which helps you expand the range of functionality and automate your event management workflows.
So, if you're looking for one WordPress calendar plugin for all of your event management needs, Sugar Calendar is the way to go.
FAQs on Best Calendar Plugins for WordPress
If you've got more questions about using calendar plugins on your WordPress site, you may find the following commonly asked questions helpful:
Can You Book an Event Using WPForms?
Yes, you can enable your users to book an event listed in Google Calendar using WPForms. You'll need to create an automation using Zapier to set up this convenient workflow for your users. However, it's important to remember WPForms won't reserve a timeslot in your calendar exclusively for a single user, so it can't prevent double-booking.
Does Google Calendar Work With WordPress?
Yes, there are many ways to sync your Google Calendar with WordPress. The easiest way for beginners is to use calendar plugins like Sugar Calendar and The Events Plugin. These plugins offer native integrations with Google Calendar, allowing easy syncing between your WordPress site and Google Calendar.
Next,  Explore These Linktree Alternatives
If you have an Instagram page, it's always a good idea to provide a link to all of your other social media handles and sites from your bio. Linktree is a common solution to this, but there are some great Linktree alternatives if you're looking for greater functionality.
You might also want to see this article about student survey question examples if you want to create a survey for your class.
There are tons of other categories of WordPress plugins that can assist you with different aspects of your business. You may want to read following roundups to learn about other top-quality plugins:
Ready to build your form? Get started today with the easiest WordPress form builder plugin. WPForms Pro includes lots of free templates and offers a 14-day money-back guarantee.
If this article helped you out, please follow us on Facebook and Twitter for more free WordPress tutorials and guides.