Looking for a powerful form builder for your WordPress site? If so, you're probably comparing Elementor Forms vs. WPForms to see which is best for you.
Elementor is a website builder plugin with form-building capabilities.
WPForms is a powerful, user-friendly form builder that lets users build attractive forms in minutes.
In this post, we'll compare the 2 platforms to determine which is best for your WordPress website.
Create Your WordPress Form Now
Elementor Forms vs. WPForms – Quick Overview
Elementor Form has several limitations when compared to WPForms. With WPForms, you get hundreds of pre-built form templates, superior ease of use that lets you create multi-column forms using drag and drop controls, and a powerful suite of anti-spam filters. Elementor lacks all of these features.
Elementor Forms vs. WPForms: Which Is Best?
Now let's walk through the process of building a form with each of these plugins to help us compare them.
Elementor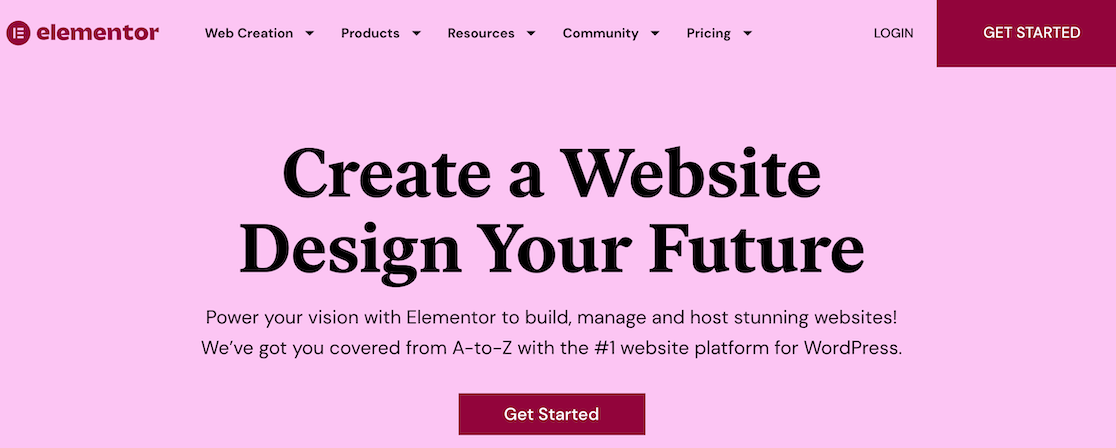 Elementor is a drag-and-drop website builder that lets users create beautiful websites without coding knowledge.
As a full website builder, it has many features and ways to improve its functionality. Among those:
Elementor Page Builder
Theme Builder
eCommerce capability
Landing Page Builder
Popup Builder
Workflow optimization
Form Builder
In this comparison, we'll look at the Elementor Form Builder.
Creating a Form
As a website builder, Elementor lets you drag and drop elements to place them. The first thing you'll notice is that the form builder itself is a widget. You drag and drop the widget onto the page.

Once you've added the form widget to the page, you can begin adding fields. By default, Elementor will give you a simple contact form. You can change, add, or remove fields as needed.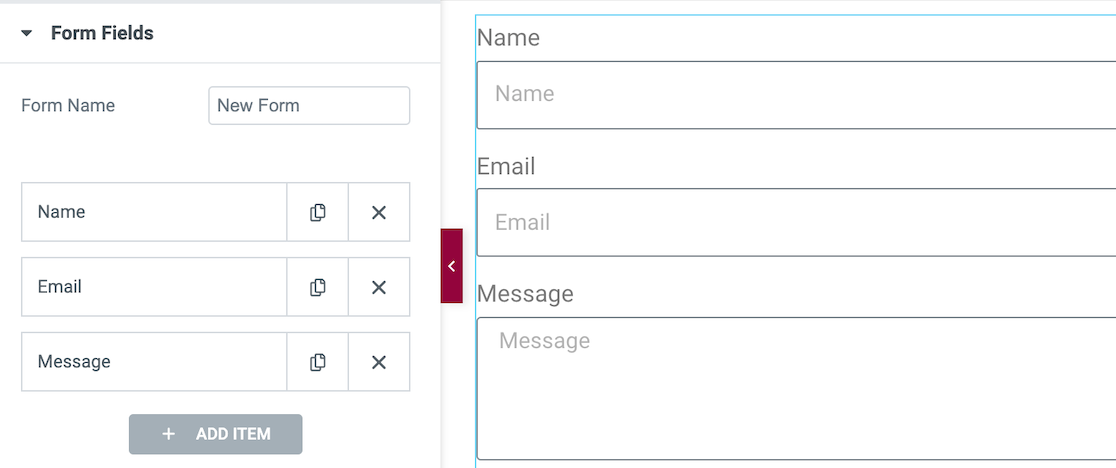 There are 20 form fields in total, allowing you to create standard forms you might need for your website.
We created a form using several of the most commonly used form fields. In the process, we found that all form fields and design elements come from the left sidebar. As you scroll through, you can make adjustments. As far as forms go, these options are the extent of styling.
Because you only click to add and don't drag and drop the form fields, we found it tricky to change the layout. As shown in our example form below, the right edges don't align.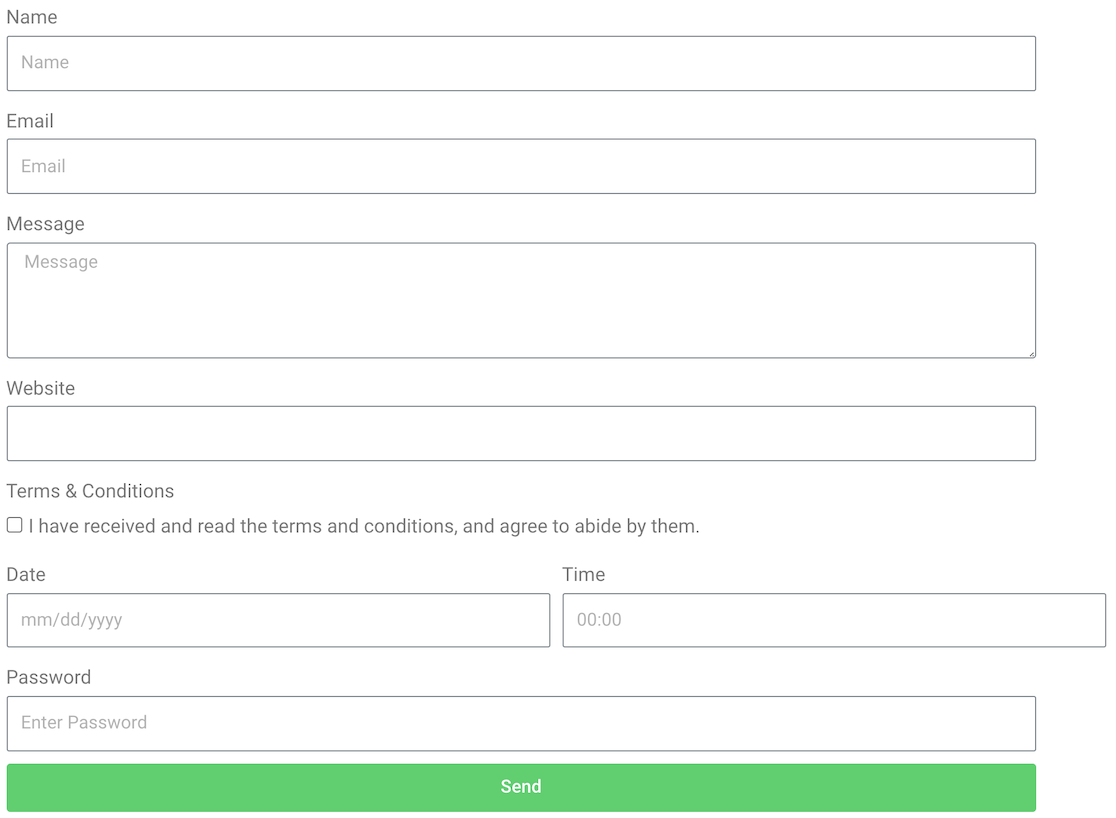 When you click to add a form field, it defaults to 100% of the total width. You can adjust that in the settings for each field to make the fields shorter. In our form example, we set all widths to 75%.
In order to get fields next to each other, as you see with the date and time fields, the only way we could see to do that was to decrease the size until both fields fit on one line.
But you can't enter a specific width. You have to choose from certain increments, so we couldn't make both of those field widths total up to 75% to match all of the other lines. So we have one line totaling 80%, with each field set at 40%.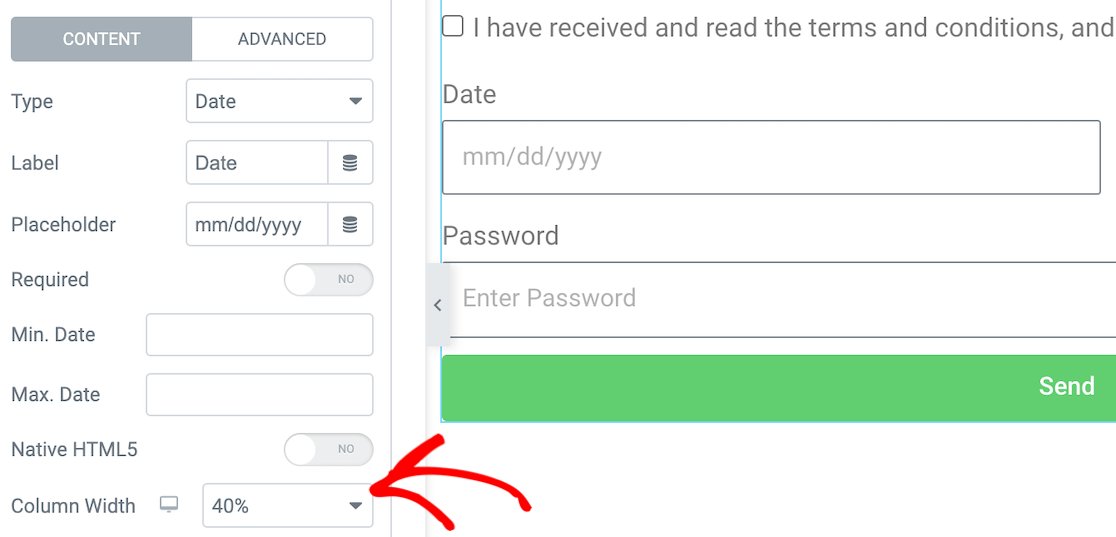 You could work around this by changing the width on the other lines. If you have a finite amount of space to work with, though, it might be difficult.
If you don't need any layout changes for your specifications, this won't be an issue.
Integrations and Addons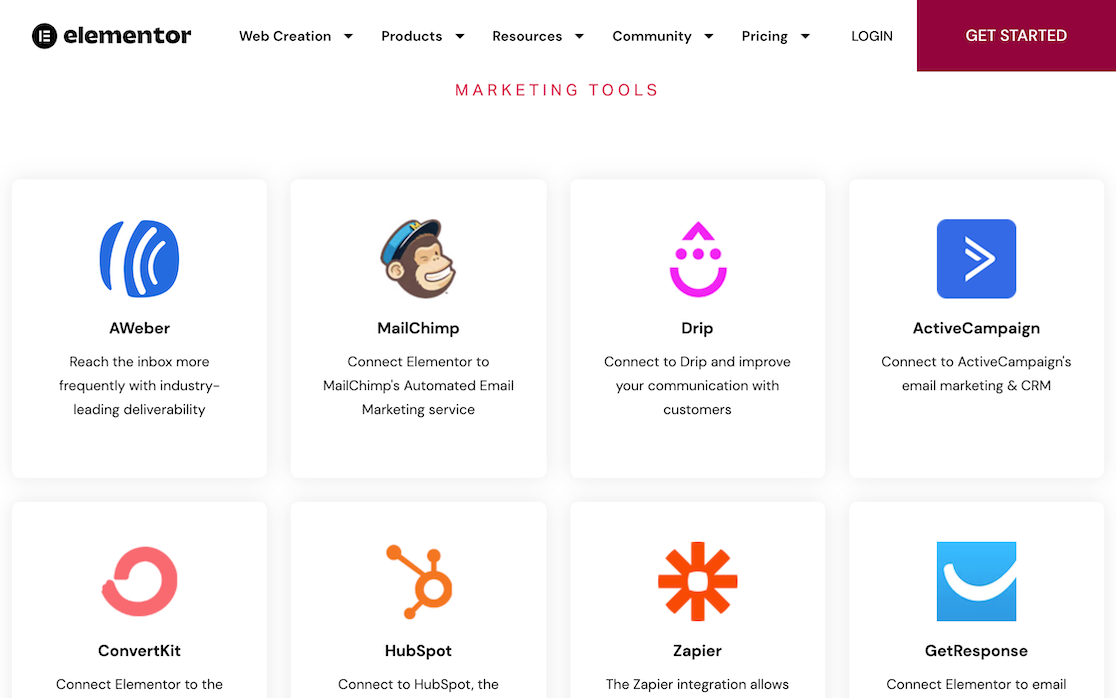 There are about 40 tools that integrate with Elementor. There are even more than that if you connect to Zapier. In addition, there are about 25 3rd-party addons available.
Submissions
Like the other form settings, you can control what happens with submissions from the settings in the left sidebar. The first one you'll encounter is Actions After Submit, which lets you choose the actions you want to happen when users submit the form.
This is where you can set it up to trigger emails, webhooks, or other actions based on your integrations.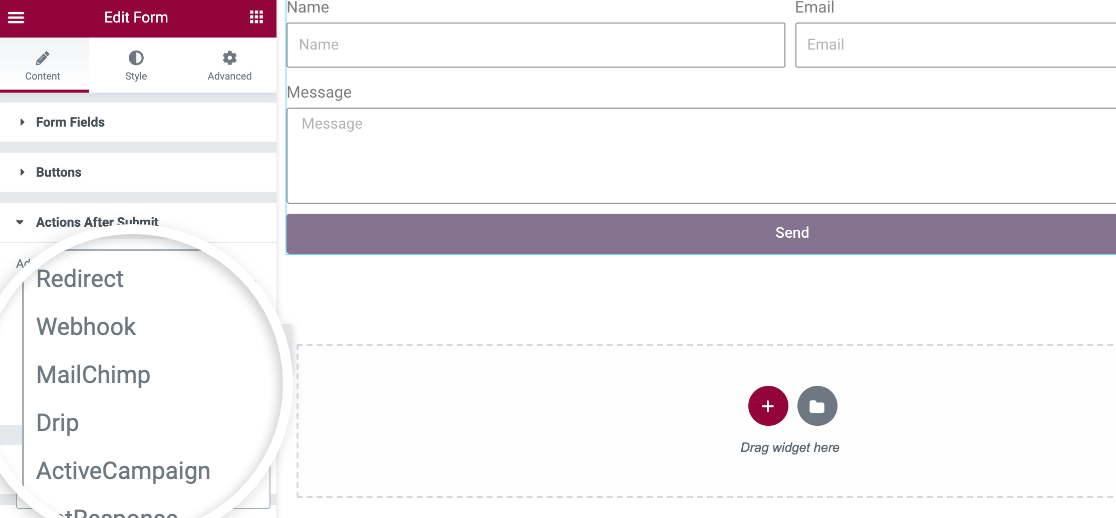 2 other settings are relevant here, and you'll see them right after the Actions After Submit dropdown.
The first is Collect Submissions. If you've adjusted your Elementor settings to say that you want to collect form submissions and store them in Elementor, that's what will display in this dropdown field.
After that is Email, which lets you trigger an email notification upon form submission.
Additional Features
Here are some additional features you'll find in Elementor Forms:
reCAPTCHA and Honeypot
Styling options to adjust spacing, color, and typography
Motion effects
Ability to change background colors to solids or gradients
Responsive behavior
Add custom CSS
Pricing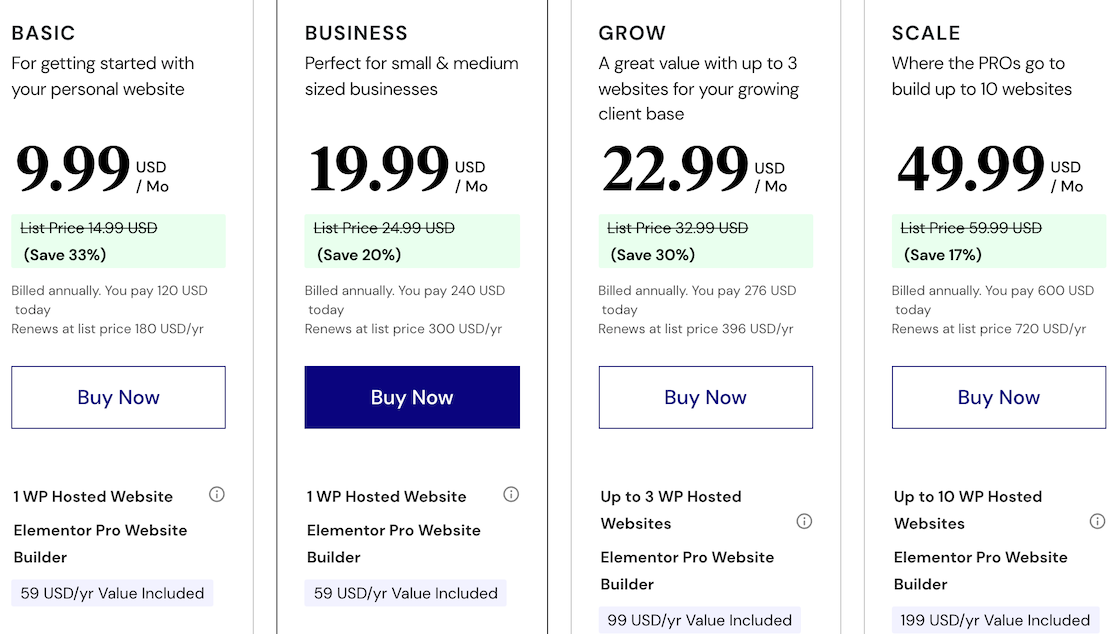 To access Elementor Forms, you must purchase a license for Elementor Pro Website Builder. Plans begin at $9.99 per month.
WPForms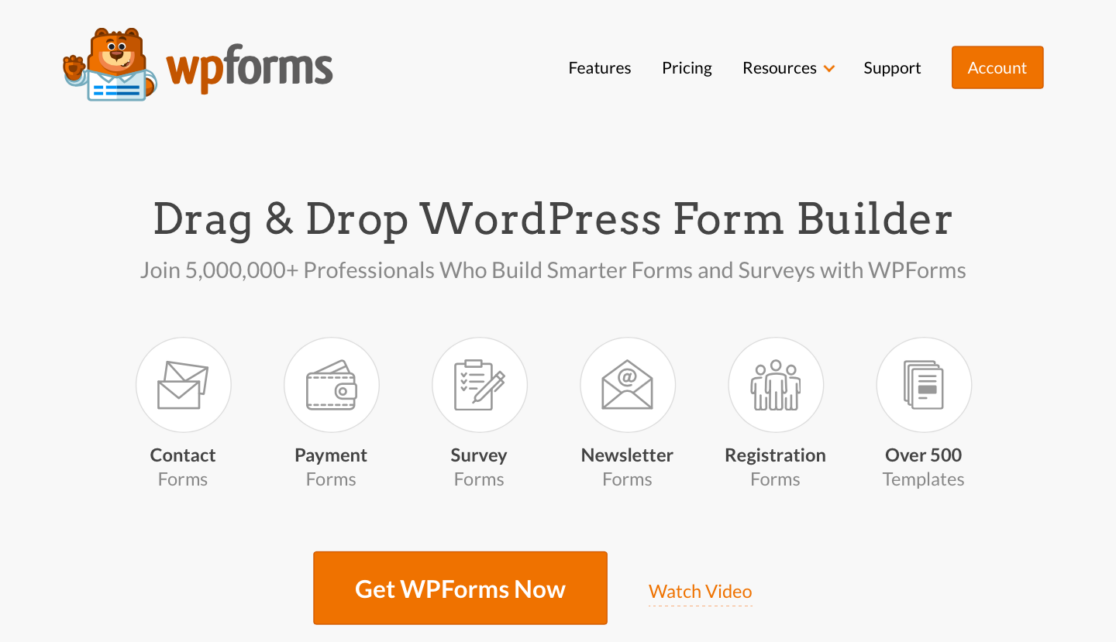 WPForms is a drag-and-drop form builder that lets you create various forms and surveys. It lets users easily and quickly create comprehensive, professional forms for their websites without any coding knowledge.
Unlike Elementor, WPForms is a standalone WordPress form plugin. You don't need to install anything extra to use it. It's easy enough for beginners but powerful enough for more advanced users.
Let's take a look and see how it compares to Elementor Forms.
Creating a Form
Creating a form in WPForms is a breeze. Choose the fields you want to include, then drag and drop them into the form builder. You can also easily adjust the layout with layout fields.
WPForms currently offers more than 600 form templates that you can use and customize to your liking. Whether you're customizing a template or creating your form from scratch, there are currently more than 35 form fields that you can choose to add to your form.
To get started, download and install WPForms, then open it in WordPress and click Add New.

On the next screen, you can select either a template or a blank form.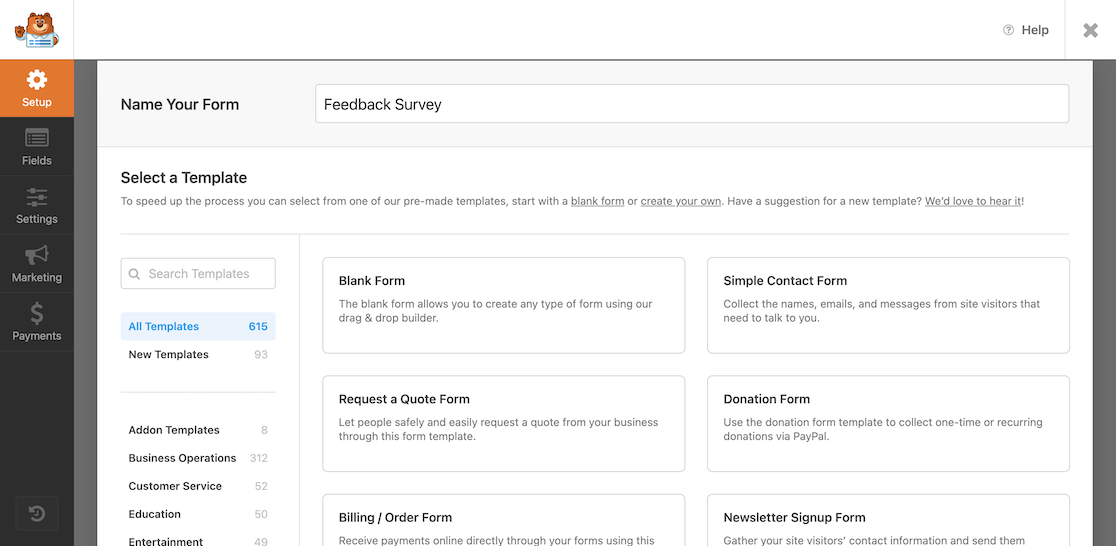 And once you do that, you can start dragging and dropping your way to the perfect form.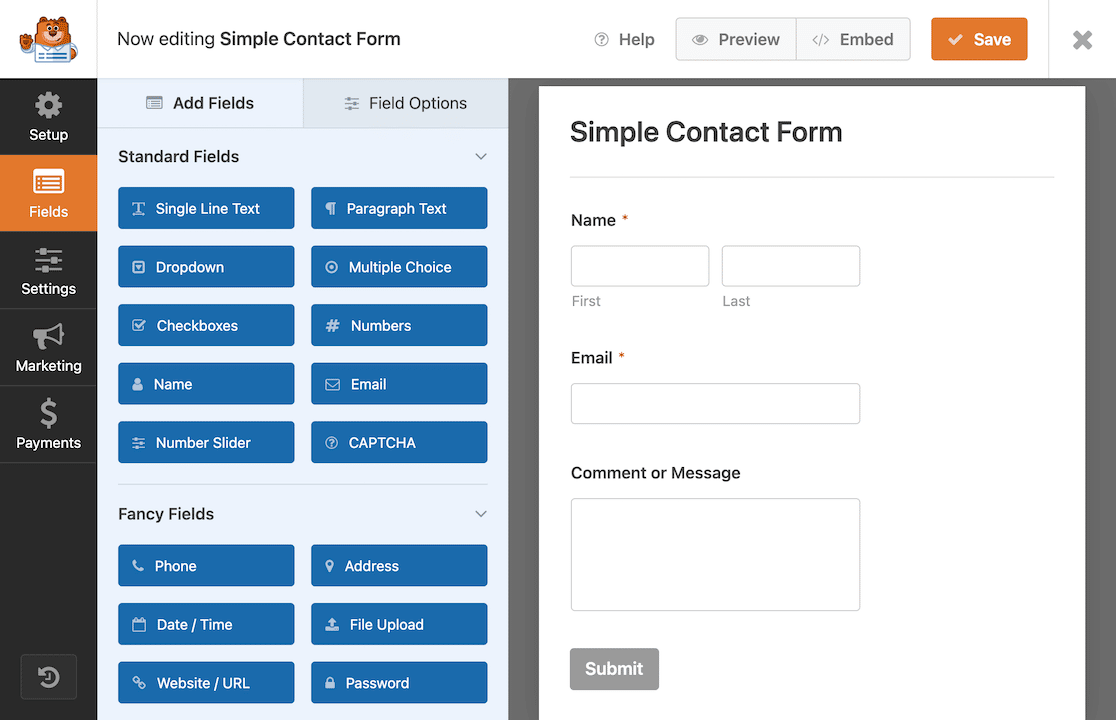 In Elementor, all of the adjustments were made from a sidebar. In WPForms, you can adjust settings in a few ways. Form field adjustments are done individually by field. An example of this is adding conditional logic.
You can change the form's overall settings by clicking on the settings button in the sidebar menu. This is also where you adjust the settings for submission behavior, spam protection, and addons.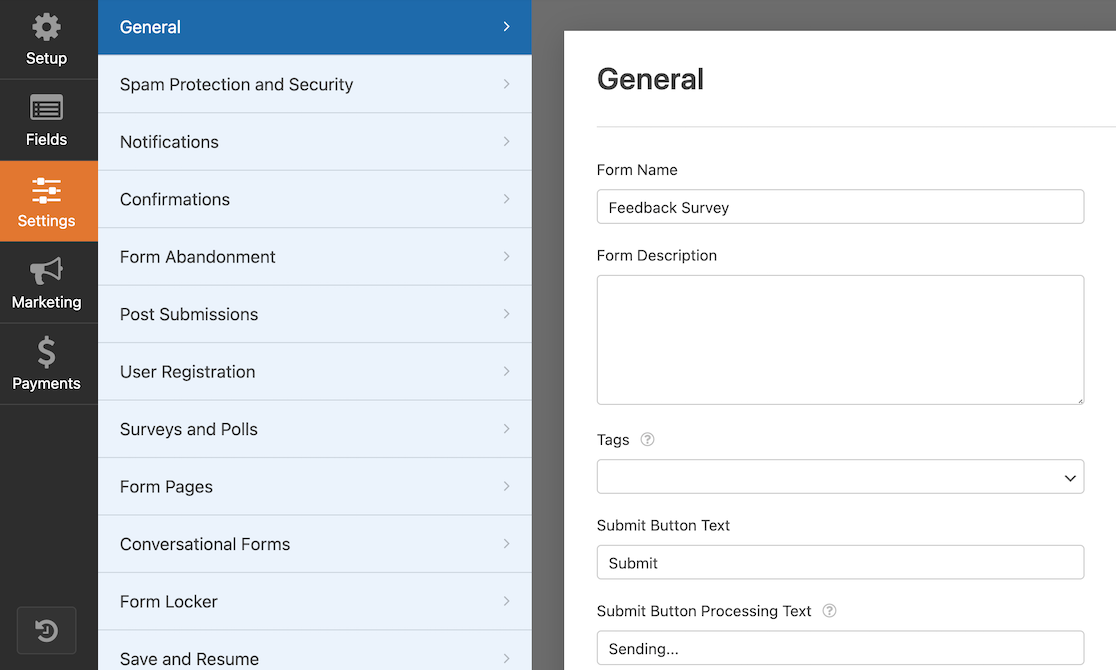 In that same sidebar menu, you can set up payment gateways to use the payments fields. This lets frontend users pay for goods or registration, for example.
Though we found it a bit time-consuming to configuring different layouts in Elementor, the process is quite easy in WPForms. All you need to do is select the Layouts field, then select the number and layout of columns. After that, you can drag and drop the fields as you like.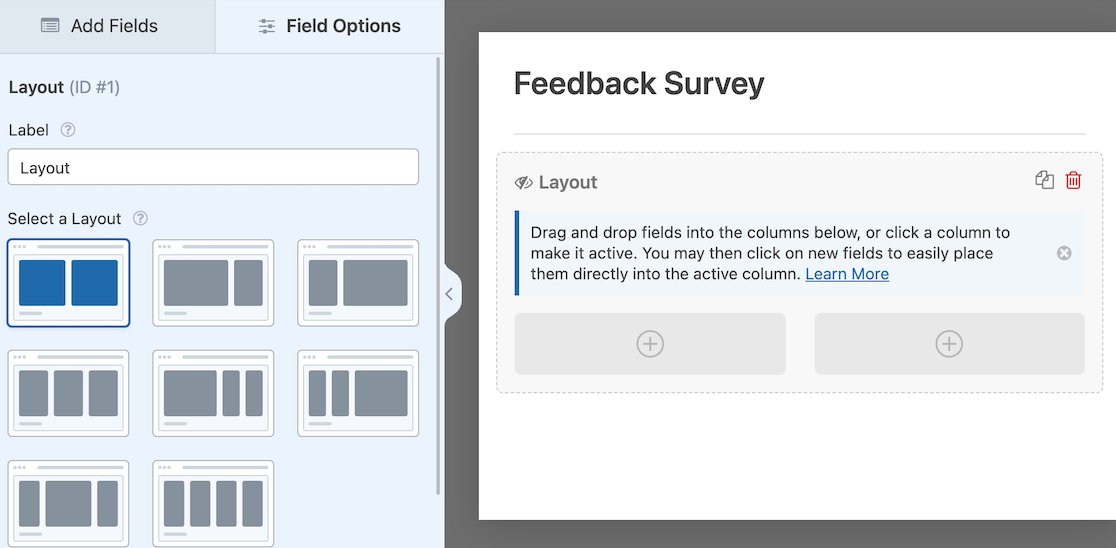 You can mix and match these to create attractive, dynamic forms.
Here's an example of a form we created using the Layouts field. The first line includes a single field with two entry containers for first and last name boxes. The second line is two columns. The third line is one single column again.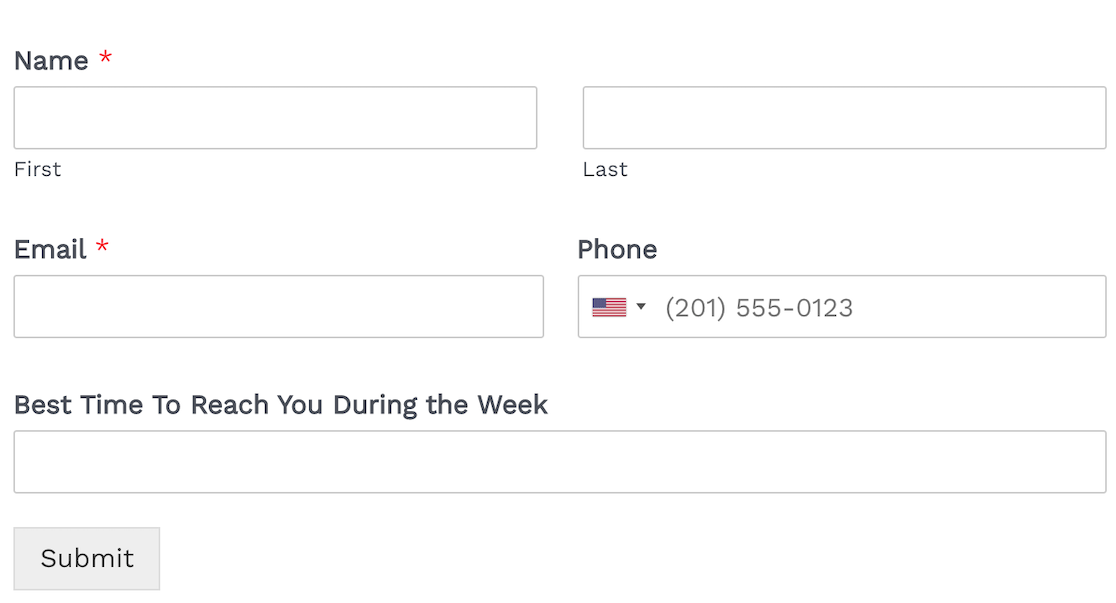 Layouts give a nice look to your form. With WPForms, everything is drag-and-drop, so you don't have to worry about calculating percentages for each field.
Integrations and Addons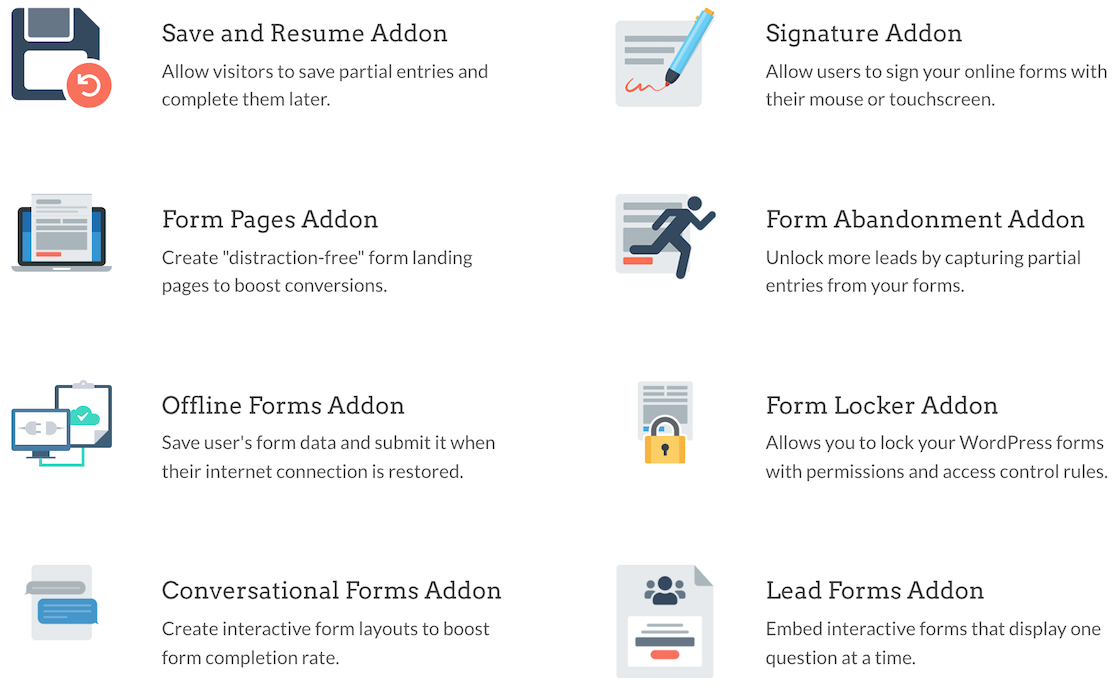 There are about 40 different addons for WPForms. It integrates with your favorite email service providers, CRMs, and payment gateways.
Interestingly, WPForms also integrates with Elementor. You just need both plugins enabled on your site, and this integration will be set up automatically.
Elementor offers a WPForms block that you can place on any part of your page. This allows you to simply select any individual form you've previously created with WPForms to embed it.
Using WPForms in Elementor opens up a whole new range of possibilities. For instance, you can even connect your forms in Elementor with Google Sheets to save form submissions in a spreadsheet.
The best part is that you also get WPForm's style customization options in Elementor. You can use these options to change the appearance of your form on the go using simple and point and click controls (no CSS required at all).
Plus, several available addons improve functionality by adding features like signatures, save and resume, and surveys and polls.
Integrations with Zapier and Uncanny Automator make it easier to connect your forms with even more of the tools that you love.
Submissions
With WPForms, 2 main settings determine what happens after a user submits your form. Those settings are notifications and confirmations. You can access both in the form settings.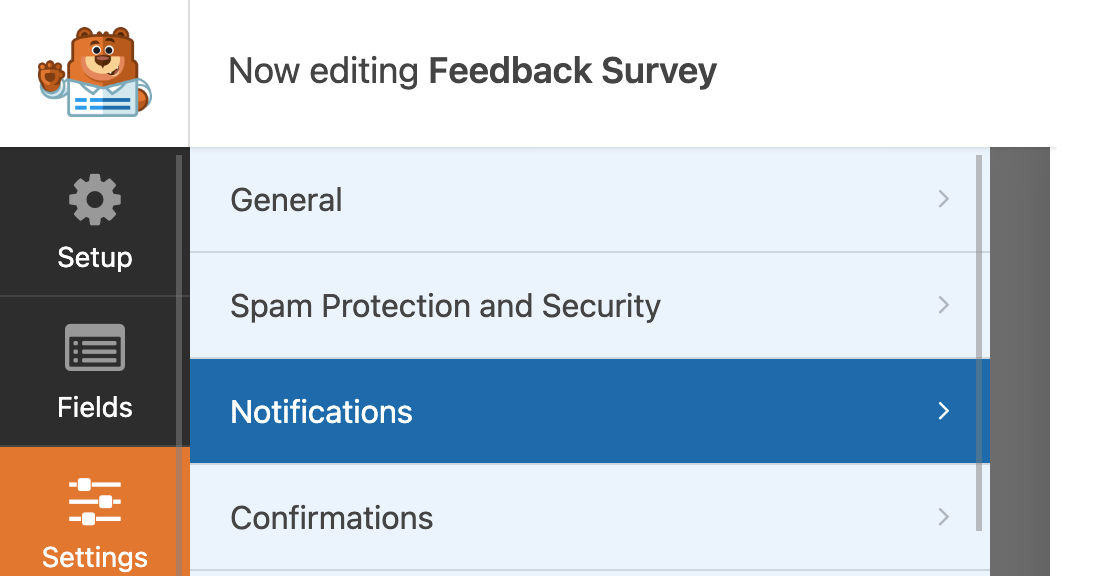 The notifications setting is where you go if you want to set it up to send an email notification when someone submits the form.
You can adjust it to determine which fields are included in the notification, who receives it, and whether or not any attachments are included. You can also apply conditional logic if you only want some notifications based on the specifications you set.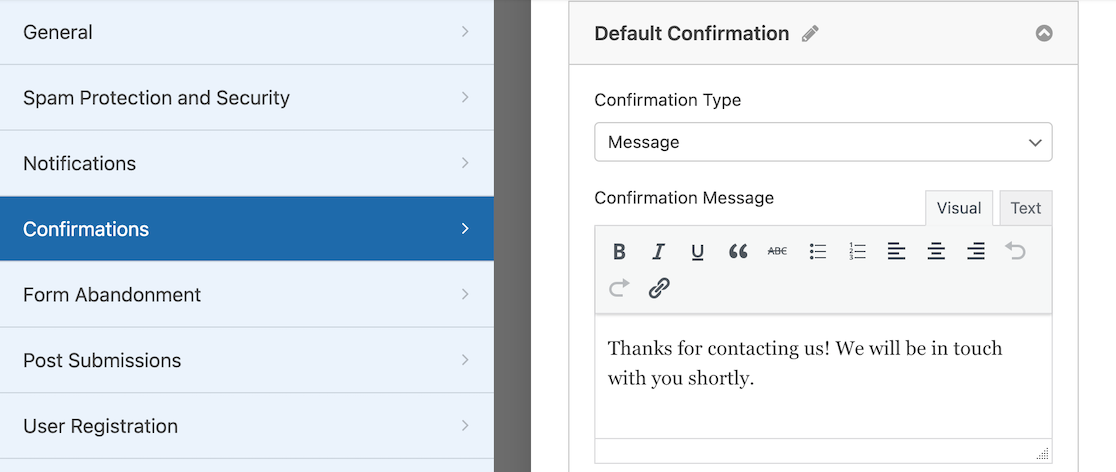 The confirmations settings let you set up a message to display after the user submits the form. In addition to displaying a message, you can also show a specific page or redirect to another URL.
Additional Features
Here are some additional features you'll find in WPForms
Ability to create multipage, conversational, and lead forms
Google reCAPTCHA, hCaptcha, Custom Captcha, and Cloudflare Turnstile
Integrates with PayPal, Square, Stripe, and Authorize.Net to collect payments
Surveys and Polls addon with advanced reporting, plus Net Promoter Score and Likert Scale form fields
Conditional logic
Accept signatures and file uploads
Works with Elementor
Pricing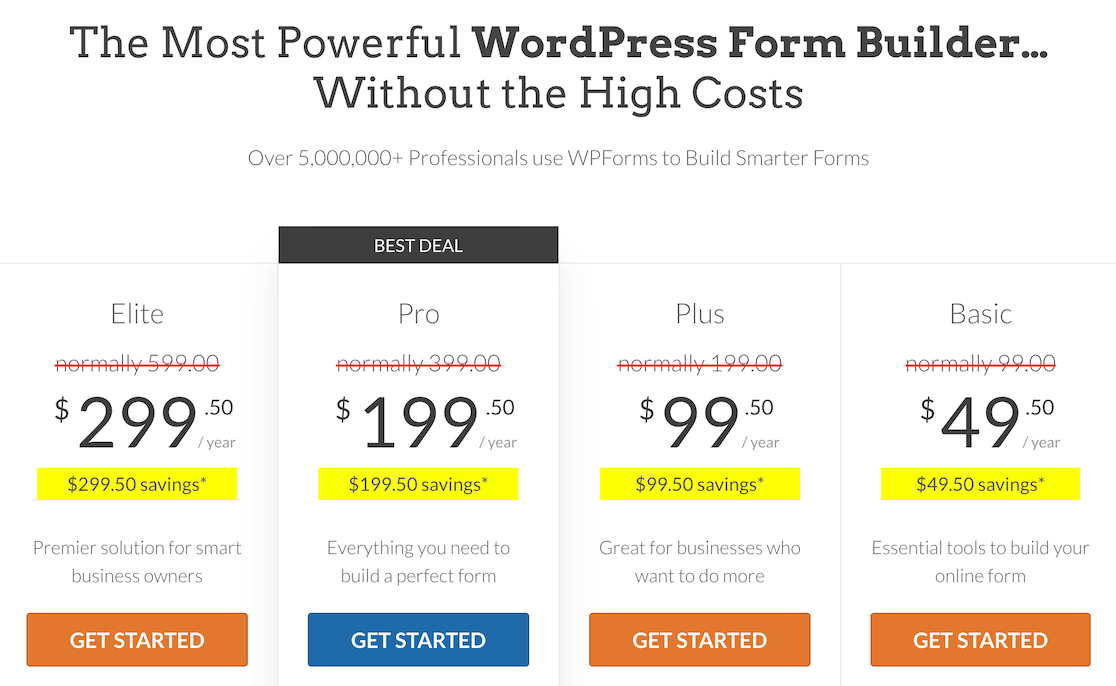 There is a free version of WPForms which offers an impressive range of advanced features including form style customizations, Stripe payments, an integration with Elementor, and more.
To access more advanced features and addons, you'll need a paid license. Premium plans begin at $49.50 per year.
Using WPForms With Elementor
As noted earlier in this article, there are quite a few differences between Elementor and WPForms. The biggest difference is that Elementor is a website builder with a form builder option, while WPForms is a robust form builder platform.
If you like the idea of using Elementor to design your site but want more powerful form features, you're in luck. You can use WPForms with Elementor.
As you're adding elements in Elementor's site builder, you'll notice that there's a WPForms icon.

If you drag it to your page, you'll get an option to select a form.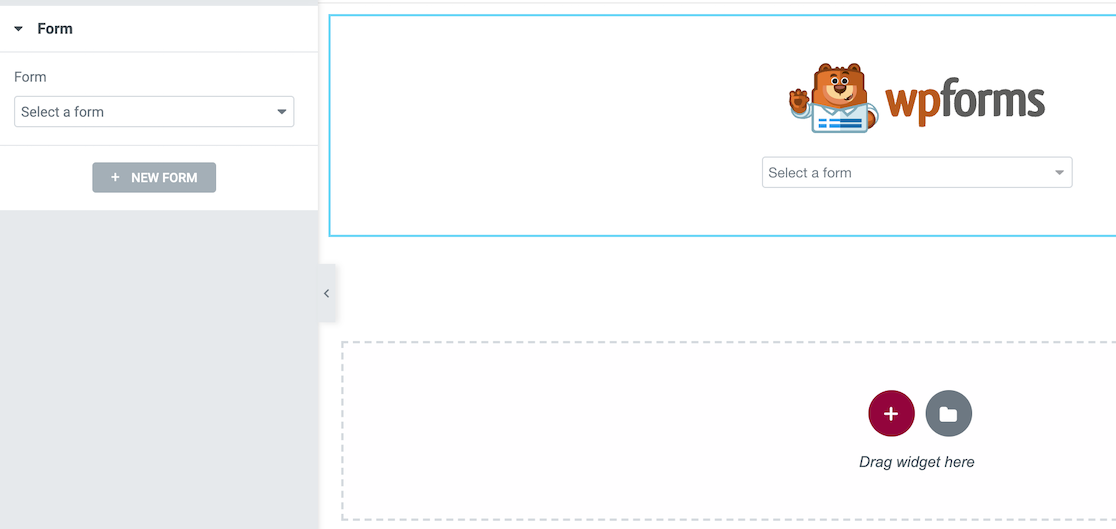 Once you select the form you want to use on your Elementor page, it will appear.

Remember that WPForms is not a form builder when used inside Elementor. It only imports forms that you've already created. This means you'll need to build the forms in WPForms before you can import them into Elementor.
This works with WPForms Lite, too. You can use the free version of Elementor with the free version of WPForms together. While the free versions of both tools are more limited, this is a major plus for those on a budget.
Elementor Forms or WPForms: Which Is Best?
Before we announce the winner, here are some of the main points we covered for consideration.
Elementor Forms
WPForms
Standalone Plugin?
No
(Requires Elementor Pro)
Yes
Pricing
Begins at $9.99/month
Begins at $49.50/year
Free Version?
Free version of Elementor Pro does not include Elementor Forms
Yes
Integrations
40 integrations + Zapier
40 integrations
+ Zapier & Uncanny Automator
Payment Gateways
Can connect Stripe to Elementor Pro to create a Stripe field
PayPal
Stripe
Square
Authorize.Net
Form Templates
0
600+
Spam Protection
reCAPTCHA
Honeypot
reCAPTCHA
hCaptcha
Custom Captcha
Cloudflare Turnstile
Conditional logic?
No
Yes
For building forms with lots of functionality and features, WPForms is best.
Although Elementor Pro is a fantastic tool for building websites, most people won't need a complete site builder just to build forms. To get a lot of the same functionality that WPForms has, you would need to download and install multiple 3rd-party plugins and addons.
WPForms is also a better option for those on a budget, such as individuals or small businesses.
Next, Learn How To Use Conditional Logic
Conditional logic makes for a good user experience by showing respondents only the questions that apply to them. Find out how to use conditional logic with WPForms to take your forms and surveys to the next level.
And if you want to try a more conversational approach to your forms and surveys, read about how to create surveys that show one question at a time.
Create Your WordPress Form Now
Ready to build your form? Get started today with the easiest WordPress form builder plugin. WPForms Pro includes lots of free templates and offers a 14-day money-back guarantee.
If this article helped you out, please follow us on Facebook and Twitter for more free WordPress tutorials and guides.