Are you looking for a Stripe plugin to accept payments on your WordPress website? If so, this WP Simple Pay review is for you.
WP Simple Pay is a plugin that offers dedicated functionalities for your site to enjoy better payment management.
Still, the question persists — is WP Simple Pay the right choice for you? In this post, we'll dive into its features, user-friendliness, pricing, and more to help you make a more informed decision!
What Is WP Simple Pay?
The WP Simple Pay plugin has one job — to make Stripe payments as seamless as possible on your WordPress site.
It effortlessly captures one-time payments, sets up recurring payment subscriptions, and allows you to create forms and payment pages in a few minutes.
What's more, WP Simple Pay doesn't tie you up in complicated eCommerce setups. It is a straightforward, no-fuss WordPress plugin that packs a punch.
Online businesses, freelancers, and agency owners can all find great use with the plugin as it allows them to accept debit or credit cards, ACH, Apple Pay, Google Pay, Afterpay, and other payment methods.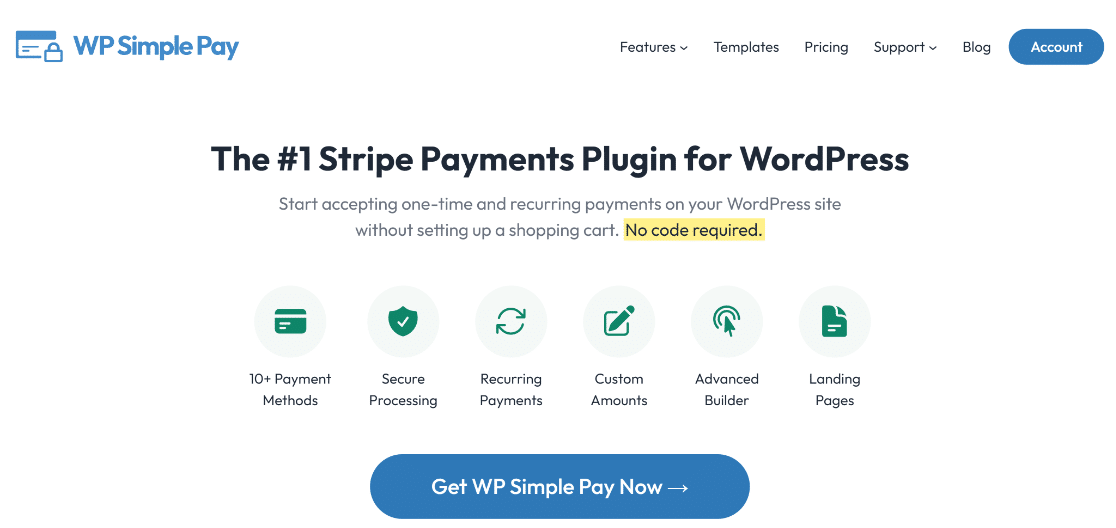 WP Simple Pay Review: Is It the Best Payment Plugin?
We put WP Simple Pay through our own testing and went over its most important functions. Keep reading to find out why we think you should get it.
Our Favorite Features of WP Simple Pay
Navigating through WP Simple Pay, it becomes quite apparent that the plugin boasts numerous impressive features.
From simply collecting payments to advanced page and form builders and powerful automation, there's a lot to love!
Here are some of our top favorite features:
Security and Simplicity in Payment Processing
Regardless of whether you're using the WP Simple Pay Lite or the paid version, you can enjoy seamless integration with Stripe.
And here's the best part — WP Simple Pay handles the storage and processing of payments through Stripe's PCI-compliant servers for maximum security.
All you have to do is connect your Stripe account to your WordPress site, and you'll be ready to accept payments safely and securely right away.
Once you install the plugin, you even have a helpful Setup Wizard to assist you through the process of connecting your Stripe account.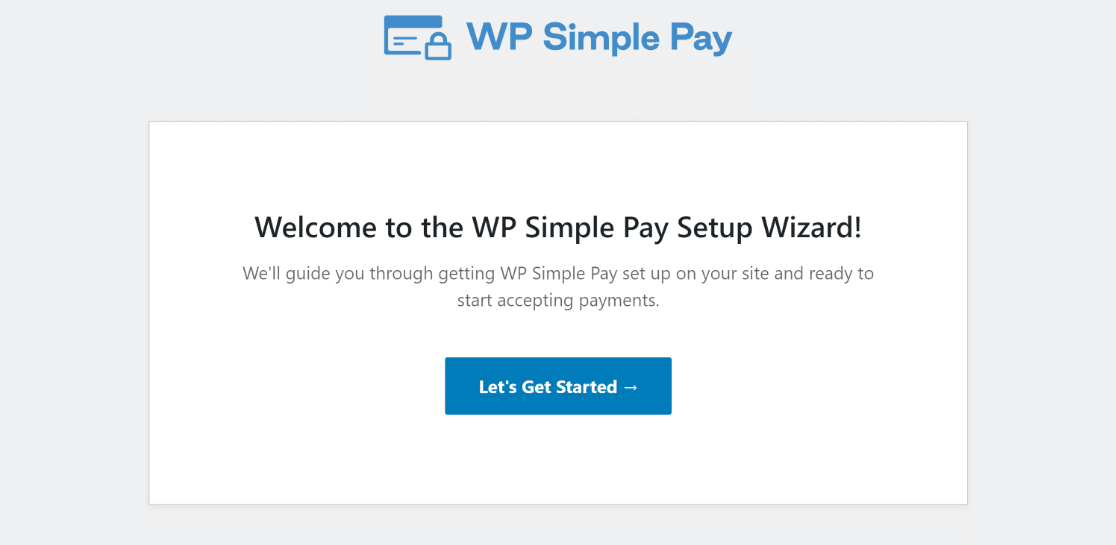 Versatility in Form Building and Payment Methods
The Stripe payments plugin also supports numerous payment methods, from debit/credit cards to US bank accounts, Klarna, Afterpay, SEPA, and more.
Both WP Simple Pay Pro and free versions come equipped with a form builder that you can use for creating payment forms.
Visitors can complete their transactions without being redirected to external payment pages, providing a seamless and streamlined checkout process.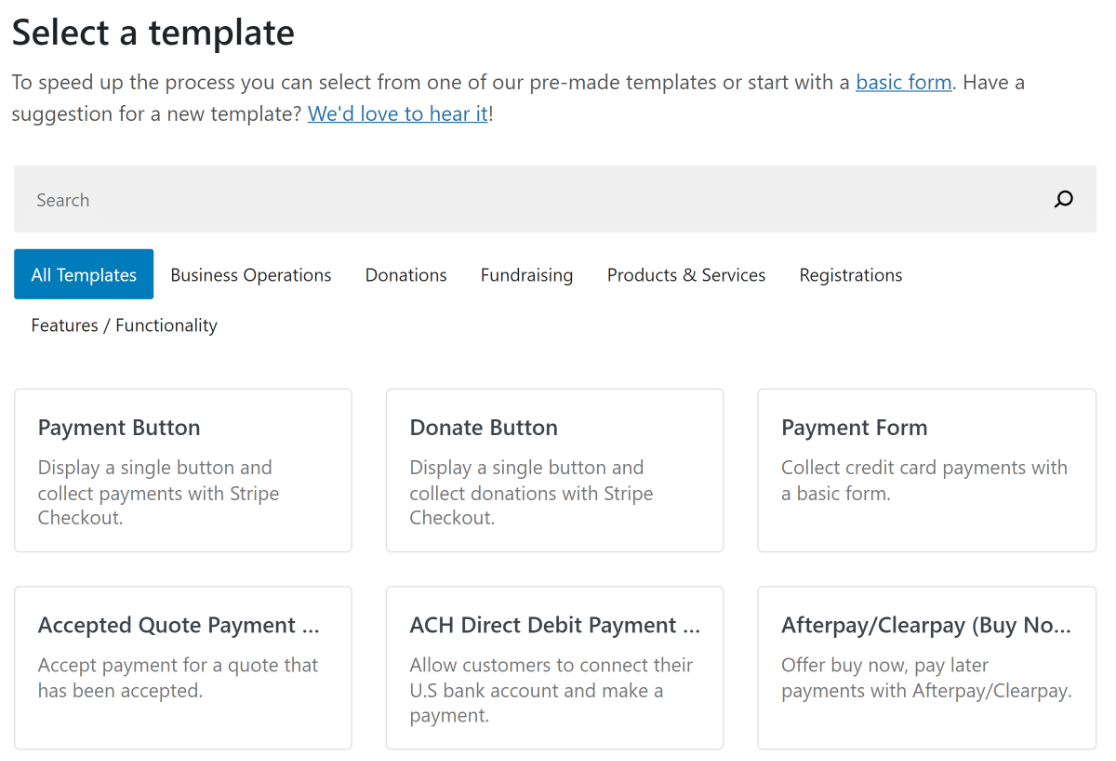 Excellent Installment and Subscription Payment Features
When it comes to offering subscription services, WP Simple Pay shines bright. You can use it to activate yearly, monthly, weekly, or daily subscriptions that automatically bill users.
The plugin also allows you to offer free trial periods before the first subscription payment is collected.
Need to offer installment plans? No problem! WP Simple Pay enables you to split payments, which you can collect at a frequency of your choice.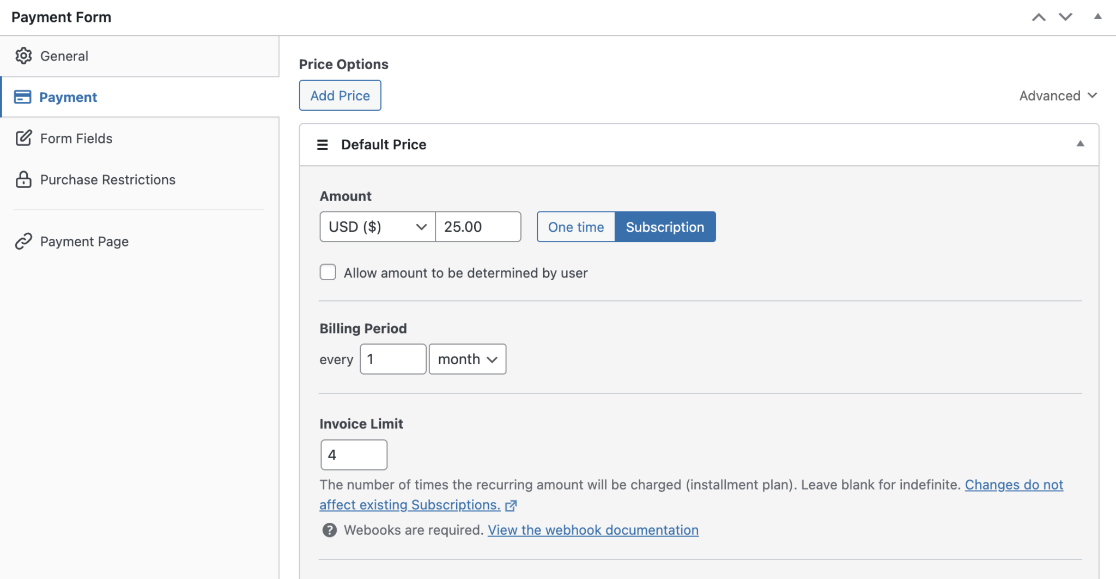 Flexibility for Custom Data and Donations
One of the best things about WP Simple Pay is its ability to collect custom data. You can add checkboxes, form fields, dropdowns, and more for requiring additional data with payments.
With WP Simple Pay, you even have the option to create donation forms with predefined amounts or allow users to enter custom donation amounts.
By offering predefined amounts, you can suggest donation tiers or popular amounts that donors might find convenient.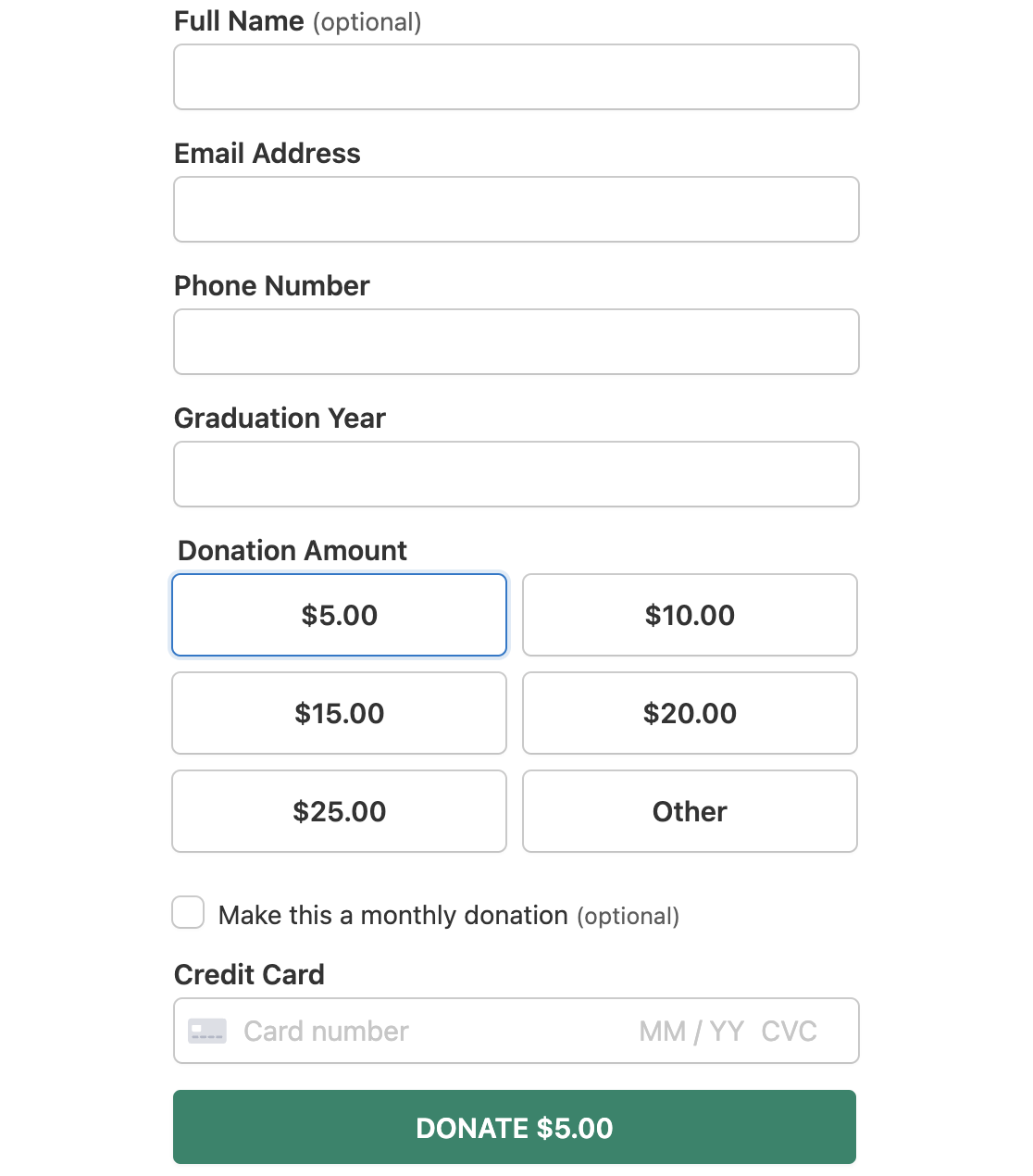 Tax Handling and Fee Management
WP Simple Pay is equipped to handle taxes and fees effectively. Automatically calculate tax amounts based on customer location.
This ensures that you remain compliant with tax regulations while streamlining the payment process.
You can even recover processing fees by asking users to pay the Stripe gateway processing fee. This allows you to collect the full net amount.
Moreover, WP Simple Pay allows you to add fixed tax rates to every payment, giving you full control over the tax amounts charged.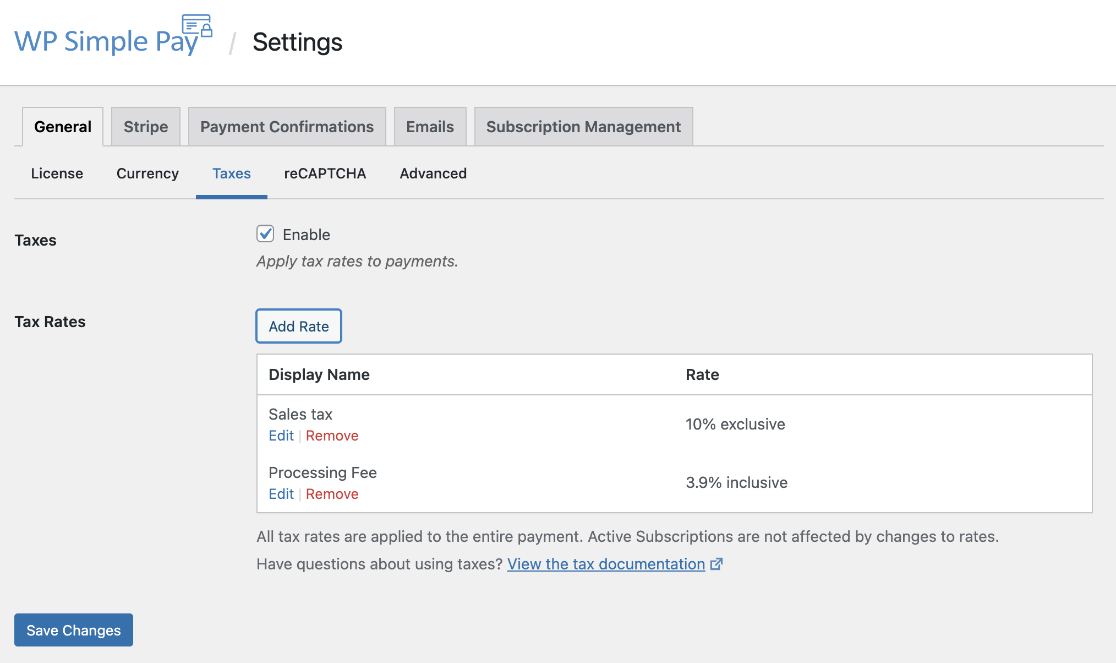 Powerful Automation and Landing Pages
Whether it's syncing customer data to your CRM, triggering email notifications, or updating spreadsheets, the possibilities with automation are vast.
WP Simple Pay also allows you to create dedicated, customizable, distraction-free payment pages without needing to add a new page in WordPress.
By leveraging the powerful automation and landing pages in WP Simple Pay, you can streamline your payment workflows, enhance customer interactions, and ultimately boost your revenue.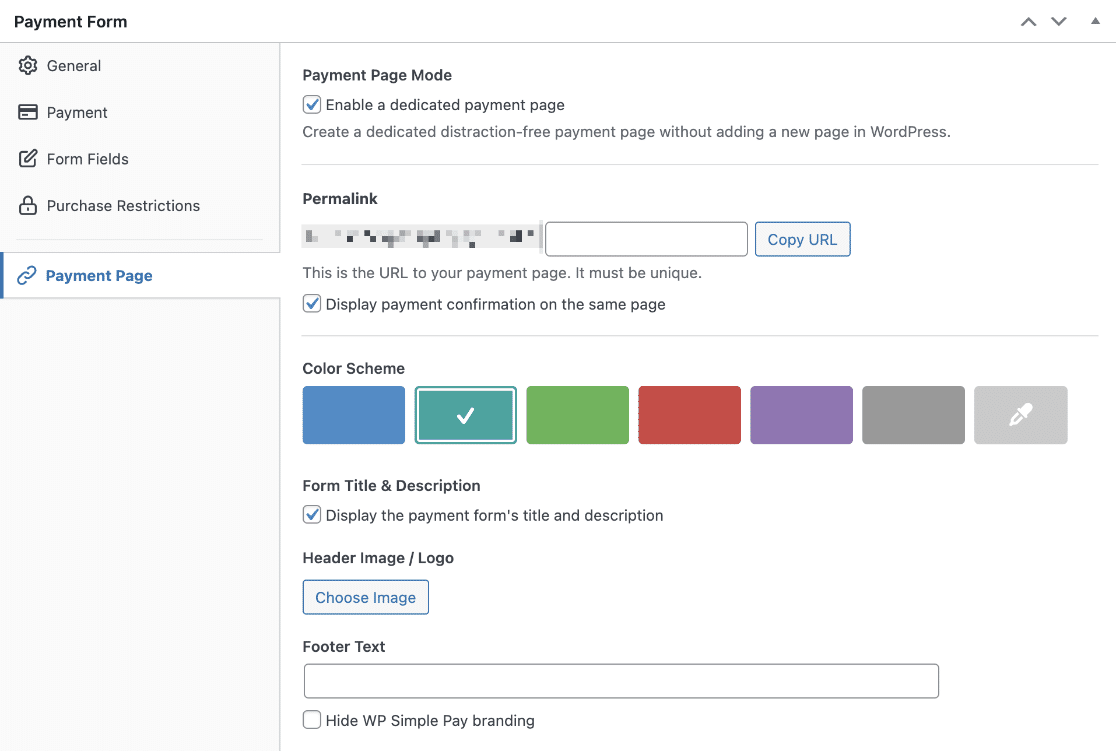 Now that we've talked about the features, let's explore the user experience of WP Simple Pay and how it simplifies your payment management tasks.
The Day-to-Day User Experience: WP Simple Pay in Action
From the moment you set up WP Simple Pay, you'll appreciate its user-friendly interface and intuitive design.
Whether you're an experienced or a beginner user, you'll find it easy to configure and customize your payment forms to suit your specific needs.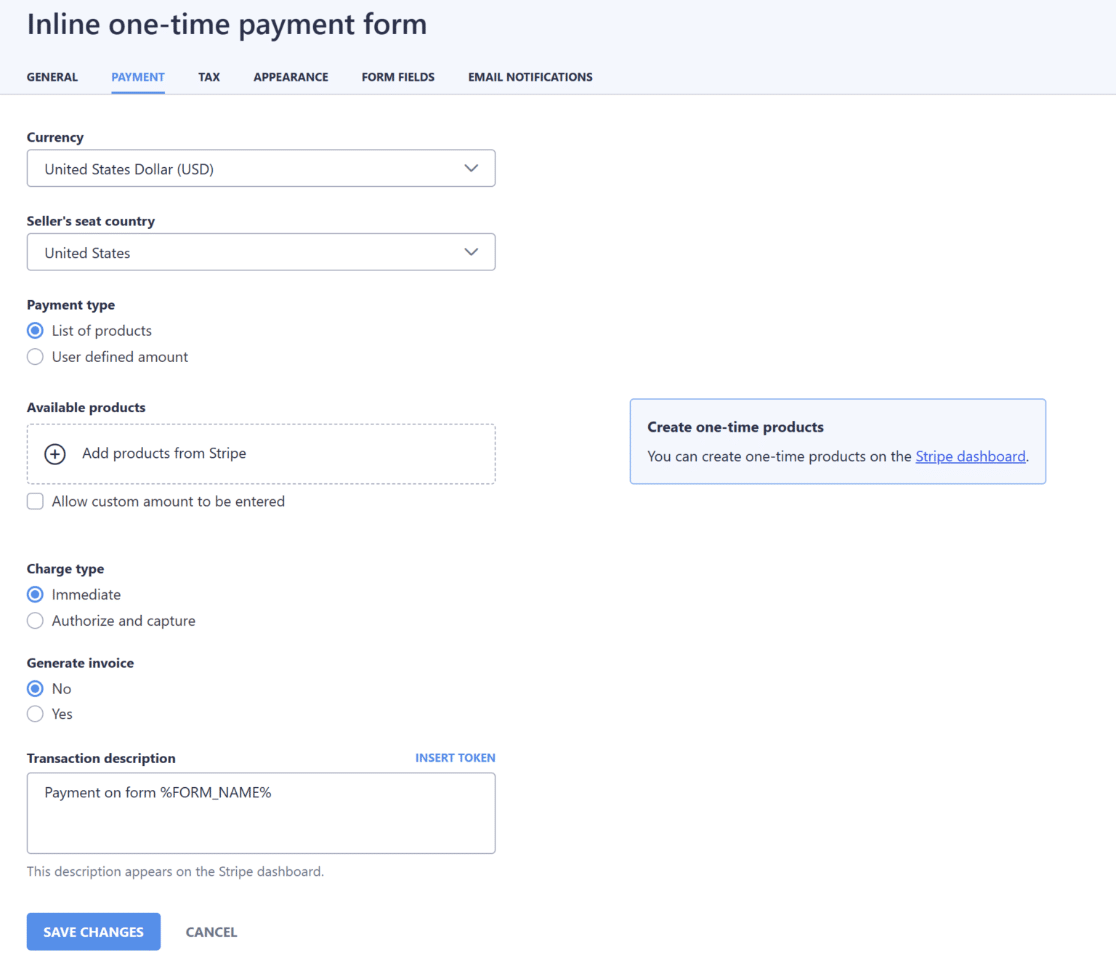 The seamless integration with Stripe ensures a smooth and secure transaction experience, offering peace of mind to both you and your customers.
Managing your payments and subscriptions with WP Simple Pay is also quite hassle-free, thanks to a payment dashboard.
You can easily view and track payment details, including transaction history and customer information, right within the plugin.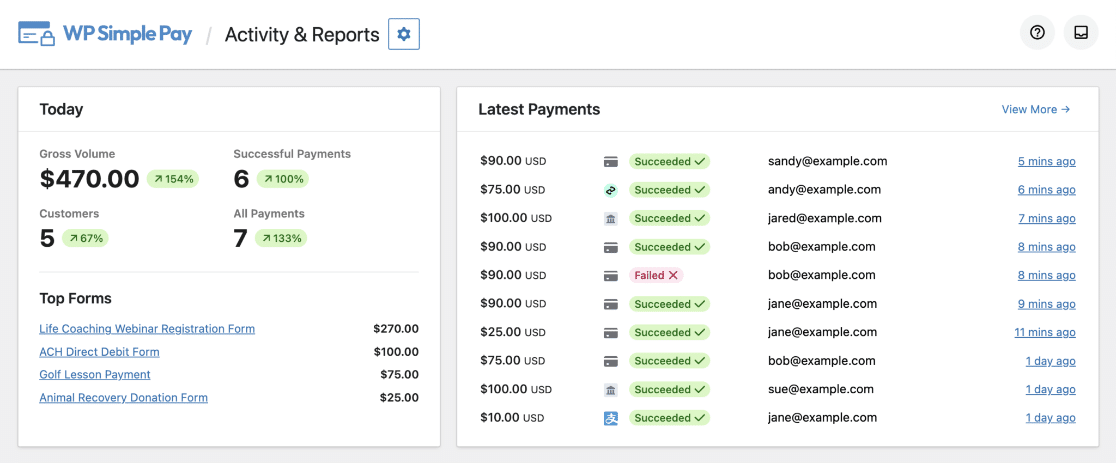 If you're handling one-time payments, subscriptions, or donations, WP Simple Pay provides a clear overview of your financial transactions.
Overall, the user-friendly interface, seamless payment experience, and robust tracking capabilities make it a reliable companion for your payment management.
WP Simple Pay Pricing: Is It Worth the Investment?
When considering any plugin or tool, it's crucial to evaluate its pricing structure and determine whether the investment aligns with your budget.
Let's take a closer look at the pricing tiers and assess whether WP Simple Pay is worth the investment.
You basically have four pricing plans: Personal, Plus, Professional, and Elite.
Personal Plan: While it may have some limitations compared to higher-tier plans, it offers great value for those starting out, priced at an affordable rate of $49.50/year.
Plus Plan: With additional features like recurring payments custom fields, discount codes, and email receipts, the Plus plan is a step up at a price of $99.50/year.
Professional Plan: Includes all the features from the lower-tier plans, plus powerful extras like advanced form styling, location-based calculations, individual inventory limits, and more at $199.50/year.
Elite Plan: Ideal for businesses running multiple websites that heavily rely on Stripe payments and need advanced customization options and dedicated support. It costs around $299.50/year.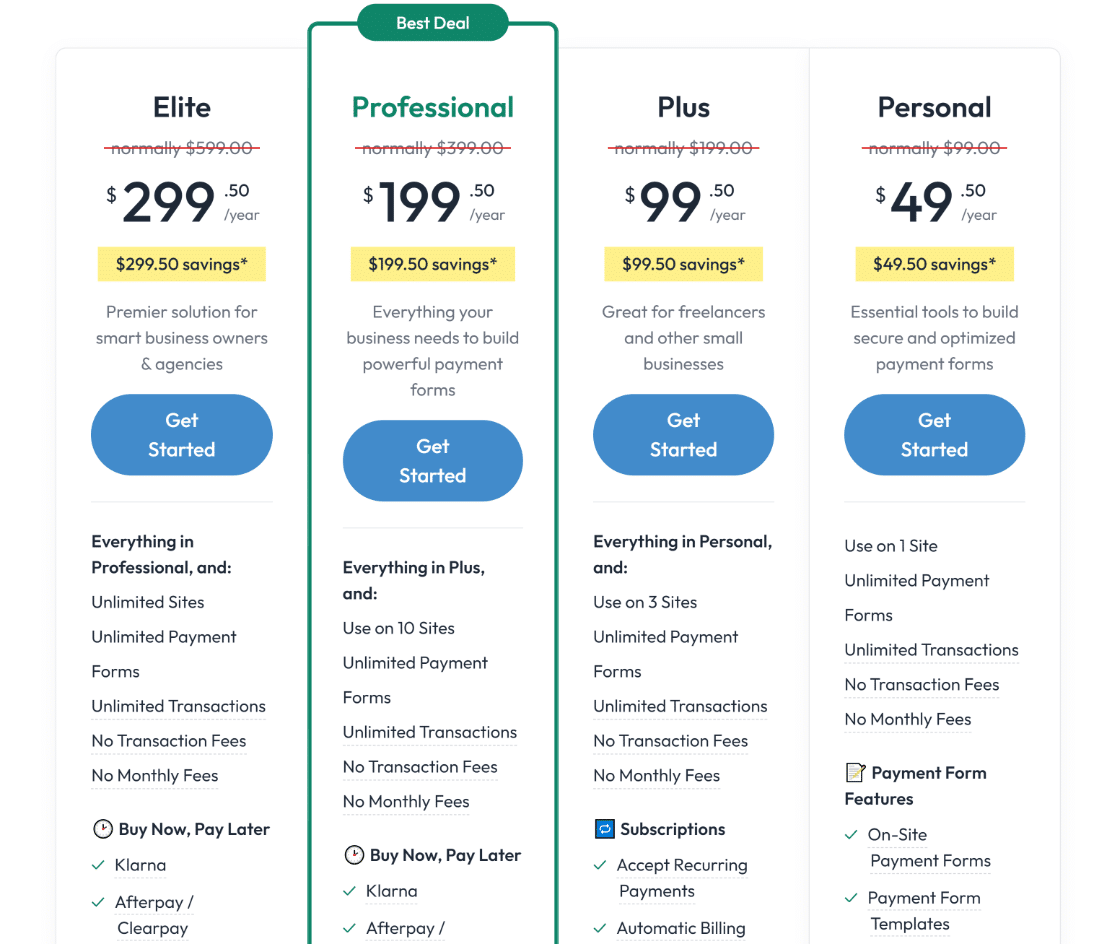 Our Final Verdict on WP Simple Pay
After a thorough exploration of WP Simple Pay and its range of features, user experience, and pricing, it's time for our final verdict!
WP Simple Pay truly lives up to its name by delivering a seamless and hassle-free experience for processing Stripe payments on your WordPress site.
It excels in its core functionality, offering a straightforward setup process that allows you to start accepting payments quickly.
Subscription and installment features add another layer of convenience. You can easily set up recurring payments, free trial periods, and installment plans.
The dedicated landing pages feature is another standout aspect of WP Simple Pay that increases the likelihood of conversions and a positive user experience.
As such, we confidently recommend WP Simple Pay to those seeking a reliable and efficient payment solution for their WordPress site.
Next, Learn How to Accept Payments on Your WordPress Websites
If you are looking for an alternative to WP Simple Pay for payments on your site, learn how to use WPForms with Stripe and unlock the potential for increased conversions and a seamless payment experience for your customers.
Looking for more ideas to accept payments without compromising the security and integrity of your customer's payment information? It might be a good opportunity for you to create a WordPress form that integrates with PayPal.
Create Your WordPress Form Now
Ready to build your payment form? Get started today with the easiest WordPress drag-and-drop form builder plugin. WPForms Pro includes lots of free templates and offers a 14-day money-back guarantee.
If this article helped you out, please follow us on Facebook and Twitter for more free WordPress tutorials and guides.