Are you considering incorporating conversational marketing in your online business?
Conversational marketing is a proven approach to building strong customer relationships and maximizing conversions.
And the best part? It's extremely easy to implement. You just need the right tools to create a satisfying conversational experience for your customers.
In this post, we'll talk about some of the most important benefits of conversational marketing.
Create Conversational Forms Now
What Is Conversational Marketing?
Conversational marketing offers personalized experiences to customers using interactive forms, chatbots, messaging apps, and other tools. It focuses on one-to-one interactions between an online business and its customers in a conversational manner to build relationships.
Using conversational marketing, you can build higher customer engagement and loyalty to your business. Ultimately, the goal is to boost conversions by maintaining high customer satisfaction levels and earning their trust.
Benefits of Conversational Marketing
Conversational marketing has many different facets. In this article, we'll mainly be focusing on online forms that are designed to be filled in a conversational manner for a better customer experience.
The easiest way to design conversational forms is by using the WPForms Pro plugin. We'll be using WPForms to show examples of conversational forms and discuss their benefits.
1. Improved User Engagement
Conversational marketing is all about engaging customers in direct and interactive communication.
Forms with conversational layouts engage users by showing only one or a few similar fields at a time. This mimics real-time conversations which flow naturally from one point to the next.
Consider the lead form example below created with WPForms. See how it's only displaying the name and email fields rather than squeezing the whole form on a single screen?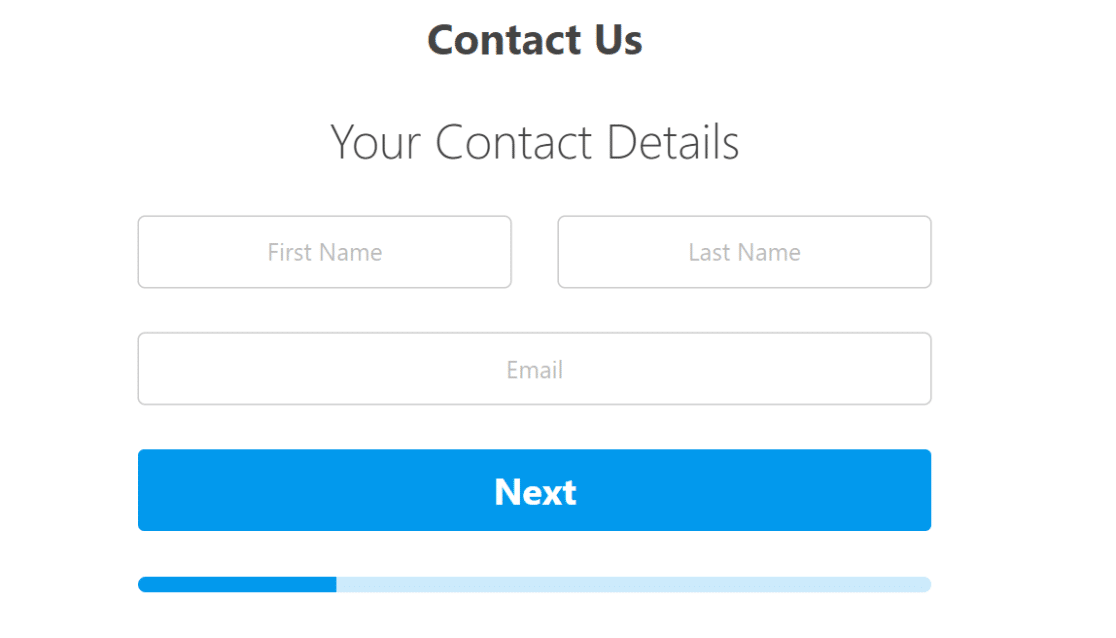 With conversational forms, you're able to grab the users' attention easily by leading them through your form one step at a time.
Plus, since related fields can be combined on one page, you can use a generic title instead of individual field labels to describe what's on a specific segment of your form.
This allows you to adopt a more conversational tone in page headings to make customers feel connected to your business – an excellent way to boost loyalty.
You can turn any standard forms into interactive conversational forms tailored for high conversions using the WPForms Lead Forms addon. These lead forms are embeddable on any location of your website (posts, pages, and widgets).
2. Less Intimidating Forms, Higher Completion Rates
One very important characteristic of conversational forms is that they can make even complex forms appear easy to fill out.
For example, survey forms can be quite intimidating. That's usually because they can have a bunch of questions with multiple response options appearing on the same screen.
But if you designed a survey form using WPForms' Lead Form Mode activated, you can eliminate user fatigue and get more people to finish.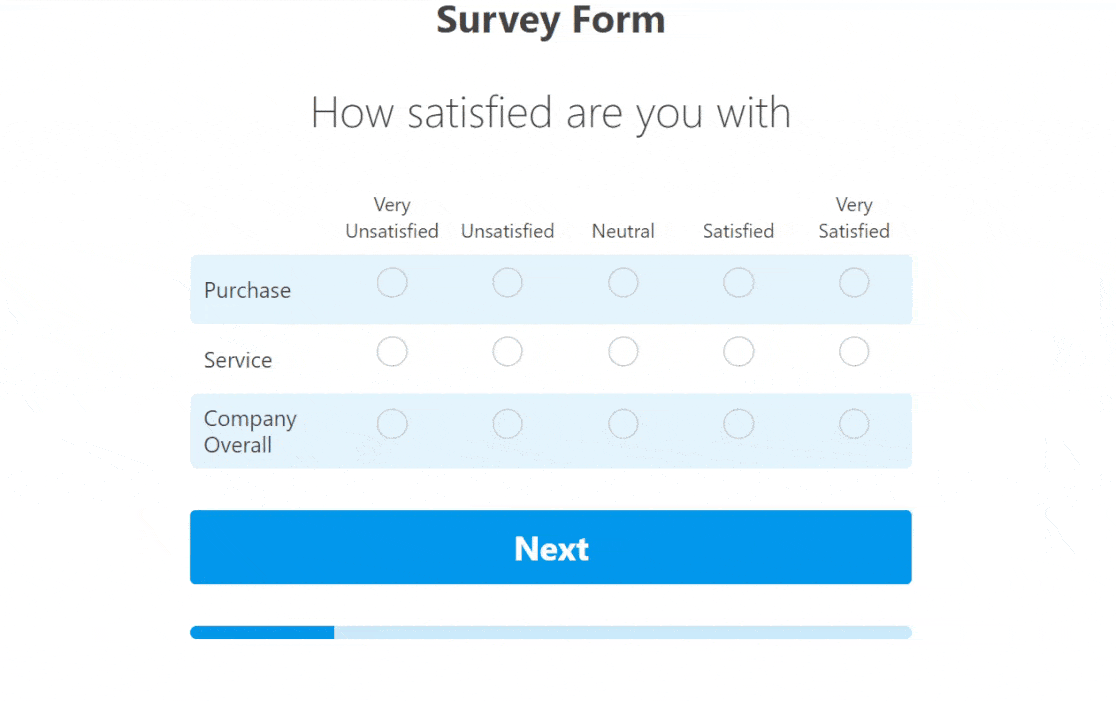 This neatly designed survey form displays just one survey question at a time – just like you'd expect from a real conversation. As a result, your customers never feel overwhelmed. Instead, they'll be encouraged to finish the survey.
A good conversational marketing strategy focuses on making the customer experience as frictionless as possible.
3. Fewer Distractions
Standard forms can easily lose a user's attention as they switch between an array of fields appearing on the same page.
Besides, these forms don't really stand out from the rest of the page, so it's easy to get distracted if your landing page has other elements too.
But the Lead Forms addon uses conversational marketing best practices to eliminate distractions:
It uses a prominent container to highlight the area around your form
It lets you use bold headings for each page of your form
It displays a progress bar to encourage form completion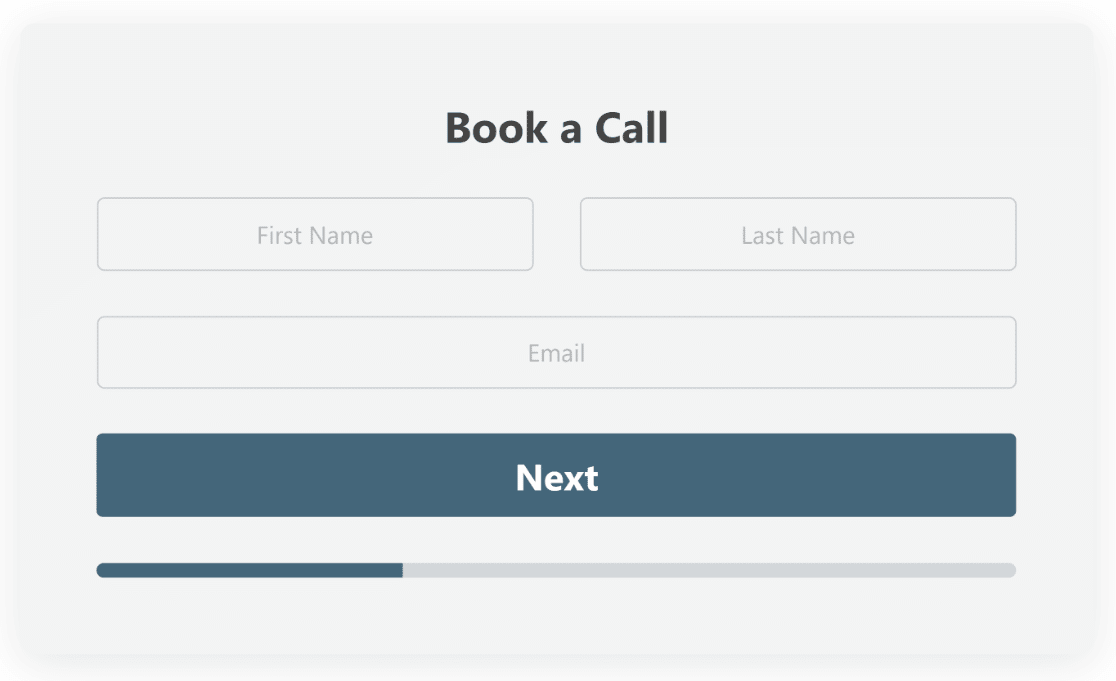 This neat and uncluttered form design is excellent at grabbing attention and keeping users focused.
Additionally, the progress bar gives a sense of accomplishment to users as they fill out the form and motivates them to complete it.
And if you want, you can also use the Conversational Forms addon to build distraction-free forms that open entirely in a separate window.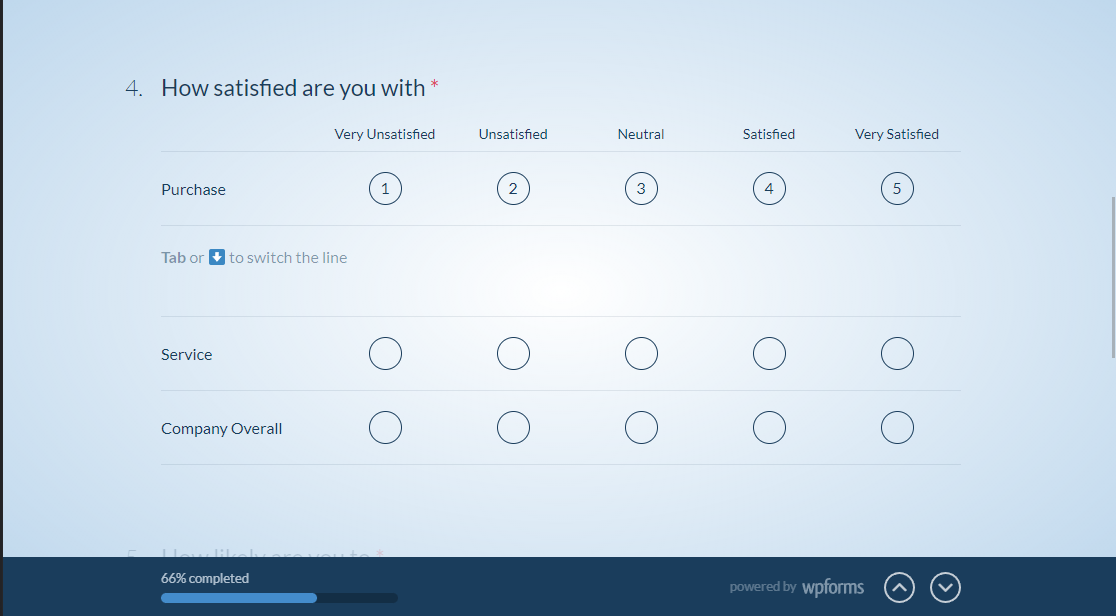 Forms built with the Conversational Forms addon can only appear on a dedicated page and are not embeddable in any other location. But the Lead Forms addon enables you to create embeddable forms and gives you custom styling options.
4. Capture More Data and Reduce Abandonment
Form abandonment is a major issue that every company faces. However, WPForms has several tools to combat abandonment.
The Form Abandonment addon lets you capture entries from partially filled forms. This means that you'll still be able to obtain useful data if users click away from your forms before submitting them.

However, a long and complex-looking form with a standard layout may drive users away as soon as they look at it. In these cases, you may be unable to capture even partial information from leads.
Using conversational forms is an effective solution to this because they only display one field at a time.
These forms are much more inviting, so there's a good chance that the majority of leads will fill in at least some information for you to capture, even if they abandon it later on.
5. Get More Accurate and Detailed Customer Data
Customers naturally feel more comfortable giving detailed accounts of their problems or queries when they feel connected to your business in a conversational interaction.
But if you're using a basic form with dozens of fields, people may not feel invested enough to be thorough and fill it out hastily.
This, of course, isn't ideal.
It'd be much more beneficial for you if people put thought behind their responses when filling out your form.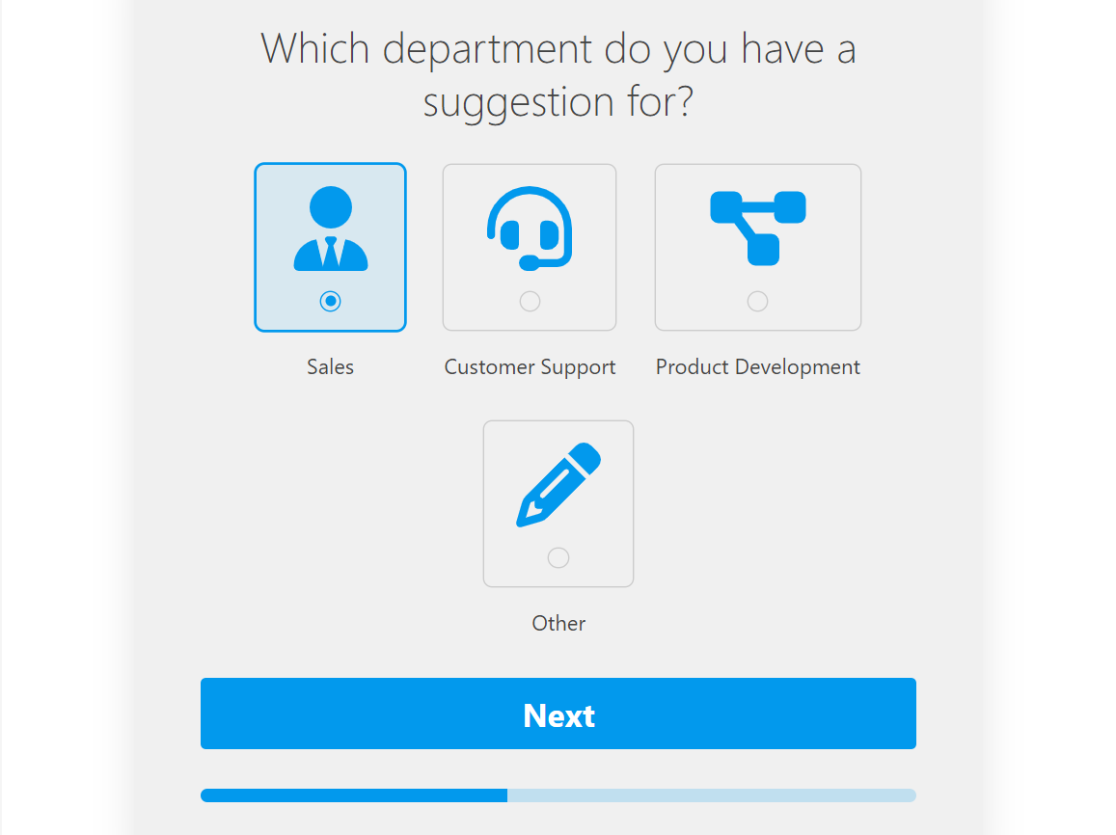 Conversational forms can greatly reduce user fatigue because they break up a larger form into smaller segments. This keeps users interested for a longer time as they're only focusing on a single question at a time.
You'd be surprised by the insights you may get from your qualified leads if you craft an enjoyable experience for them as they participate in your surveys.
For this reason, using conversational forms is an excellent strategy if you're looking for more detailed responses to your open-ended questions and better quality of leads.
6. Build Trust and Loyalty
One of the long-term benefits of conversational marketing is building customer loyalty.
If a website visitor previously enjoyed filling out one of your forms, they're more than likely to complete any other forms you may have in the future.
Personalized experiences are relatable at a human level for your potential customers. The better you can connect with them, the more people will start identifying your brand with positive sentiments.
And incorporating the design principles of conversational marketing is the best way to offer a memorable user experience, which is easy to do with WPForms.
7. Boost Sales and Conversions
Conversational marketing ultimately contributes to improving the revenue generation and conversion rates of your business.
With improved engagement, fewer distractions, and reduced abandonment rates, you can expect to see steady growth in your sales.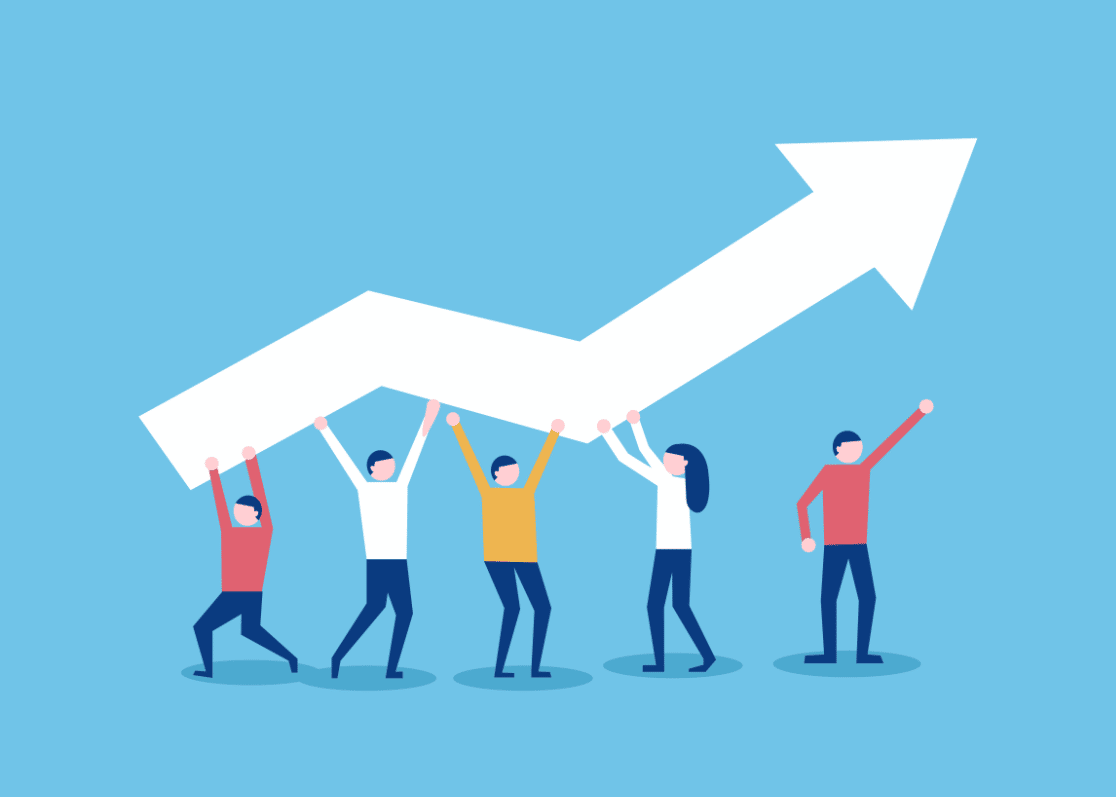 If your lead forms aren't converting as well as they should, it may be time to start building conversational forms using the Lead Forms or the Conversational Forms addons available in WPForms Pro.
The more delightful an experience you can create for users filling out the form, the larger the number of leads you can capture to spur your business growth.
And that's it! If you ever had any doubts, you should now have a fairly good idea of the benefits of conversational marketing that you can expect for your business.
Next, See How WPForms Compares to Other Brands
WPForms isn't the only contact form builder out there. If you'd like to see where it stands in the industry, check out our comparison of Ninja Forms vs Formidable Forms vs WPForms.
Also, you might want to check out our guide on editing your WordPress contact page.
Create Conversational Forms Now
Ready to build your form? Get started today with the easiest WordPress form builder plugin. WPForms Pro includes lots of free templates and offers a 14-day money-back guarantee.
If this article helped you out, please follow us on Facebook and Twitter for more free WordPress tutorials and guides.