How to Redirect Users after WordPress Form Submission
Last updated on Jan 24, 2018 by Shahzad Saeed
Do you want to redirect users to another page after they successfully submit a contact form? Perhaps you want to send them to a thank you page or a custom landing page? In this tutorial, we will show you how to redirect users after a WordPress form submission.
WordPress Form Redirection After Submission
After a user submits a form, it can be disorienting for them if they just sit on the same page with no indication that their message was received. You can use this opportunity to connect further with your interested visitors.
You can redirect your visitors to a:
Thank You Page – Send users submitting your contact form to a customized thank you page
Hidden Content – Place your lead magnet in a thank you page and make it accessible only to subscribers.
Schedule Appointments – If a user submits a request for quote form, you can prompt them to also visit your appointment scheduling system and book a time with you.
Anywhere – You can redirect users after WordPress form submit to any page on your site or anywhere online.
Here's how to redirect users after WordPress contact form submission.
Get WPForms and Install
The first thing you need to do is install and activate the WPForms plugin. Here's a step by step guide on how to install a WordPress plugin.
Once you have activated the plugin, let's go ahead and create a new contact form.  If you haven't created a form yet, see our step by step guide on how to create a simple contact form.
Redirect Users After WordPress Form Submit
After you have created your form, you are ready to redirect users to another page once they submit the form. You have two options: within your site or external link.
First option is sending the user to a specific page within your website. You can do this by going to Settings » Confirmation. On the right preview panel, select Confirmation Type and then Show Page. After this, select the Confirmation Page dropdown and choose which page you want to send the user to.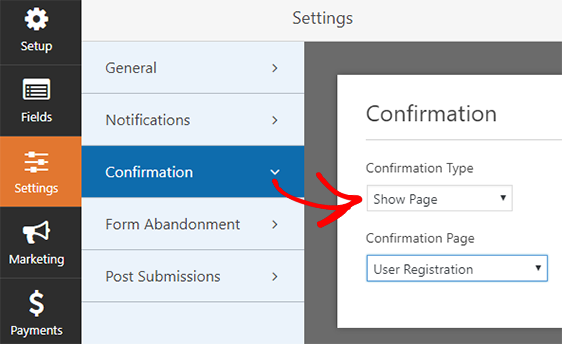 Alternatively, you can send form submission users to any web address you'd like.
While in the Settings » Confirmation area, select the Confirmation Type as Go to URL. Then paste the complete website address you'd like to send the user to.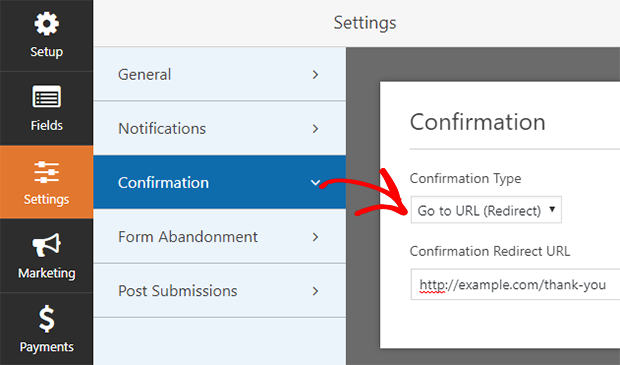 After you have configured where redirect users after a WordPress form submit, click Save.
Publishing a WordPress Form that Redirects Users
Finally it's time to publish your form. WPForms allow you to add your forms in various locations from your blog posts, pages, and your sidebar (widget-ready areas).
First let's take a look at the most common post / page embed option. Start by creating a new post or page in WordPress and then click on the Add Form button there.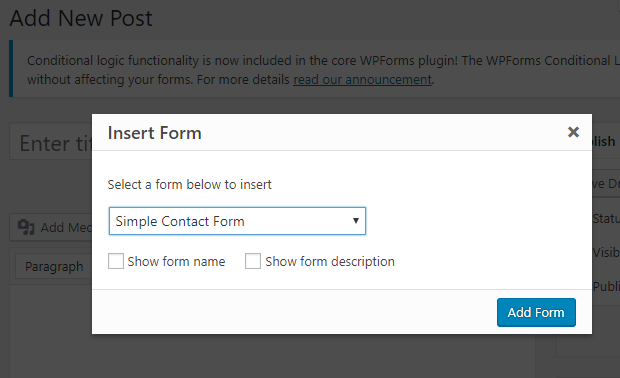 Next, you need to select your form in the modal popup and click Add Form.
After that simply publish your page and view it.
Below is an example of our form: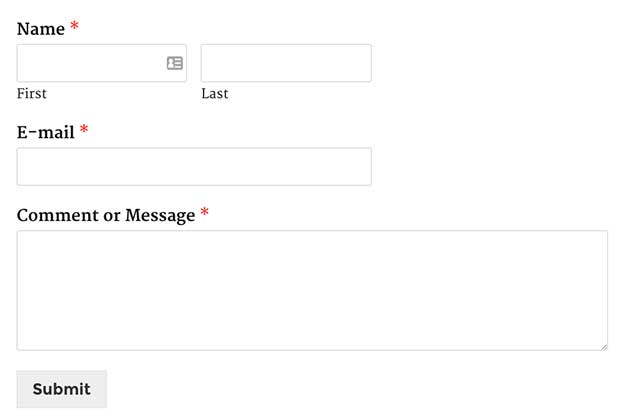 You can combine your forms with our email marketing addons like MailChimp, AWeber and GetResponse.
This allows you to automatically add all potential customers to your email marketing list. You can even add them into various marketing automation sequences from there to improve your conversions.
That's it.  Now you can redirect users to another page or URL when they submit a form on your website. We hope this article helped you redirect users after a WordPress form submit.  In addition, you might want to check out our guide on How to Create a File Upload Form in WordPress.
If you like this article, then please follow us on Facebook and Twitter for more free WordPress tutorials.