Want to make a WordPress event registration form?
A form is a great way to sell tickets to your event and skyrocket sales and attendance.
In this tutorial, we'll walk you through how to make an online event registration form in WordPress so you can harness the power of online event planning.
Create Your WordPress Event Registration Form Now
Why Do I Need an Event Registration Form in WordPress?
An event registration form on your WordPress site allows you to manage attendees and save their information right within your WordPress dashboard.
Besides, a good WordPress event registration plugin will let you accept payments for your event tickets from the same form that users will be using to sign up for your event.
In contrast, using social media and other platforms for event management can be restrictive. You can't freely promote your event or create a signup process that's completely to your liking.
Ideally, you should add the event management form on your WordPress site so that you can manage everything related to it from a single place. Plus, you can also use the Events Calendar to accept user-submitted events on your site.
Without further ado, let's go through the step-by-step process to create an online event registration form on your site.
How to Make a WordPress Event Registration Form Using Template
Here's a quick video guide that explains how you can make an online registration form using the WPForms plugin for WordPress:
If you'd rather follow written steps, please go through the tutorial below for creating an event registration form in WordPress:
Let's start by installing the plugin.
Step 1: Install WPForms
The first thing you'll need to do before you make an event and start selling tickets online is to install and activate the WPForms plugin.
WPForms is the best form builder for WordPress. It makes WordPress event registration extremely easy because it includes a drag and drop visual interface that allows you to create full-fledged forms without code.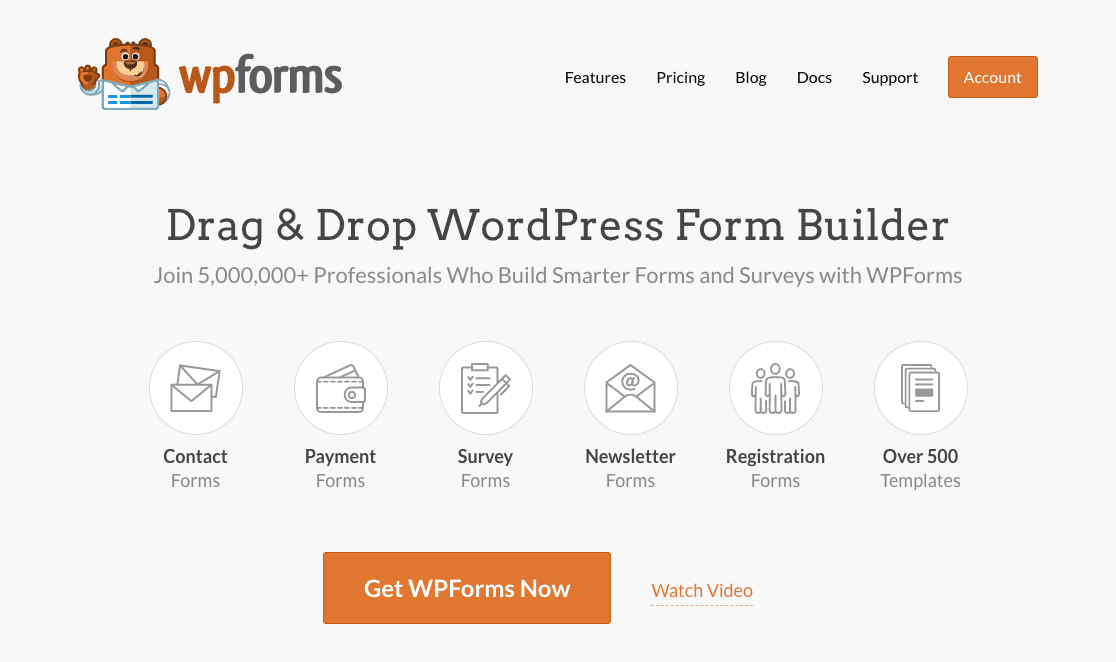 And WPForms has tons of functionality, so you can use it as a WordPress event registration form plugin to create all of your website forms as well as your event registration page (on any WordPress theme).
For more details on getting the plugin set up, see this step-by-step guide on how to install a WordPress plugin. You'll need to pick the Pro or Elite premium version if you want to take payments.
Step 2: Select WordPress Event Registration Form Template
Next, go to WPForms » Add New to create a new form.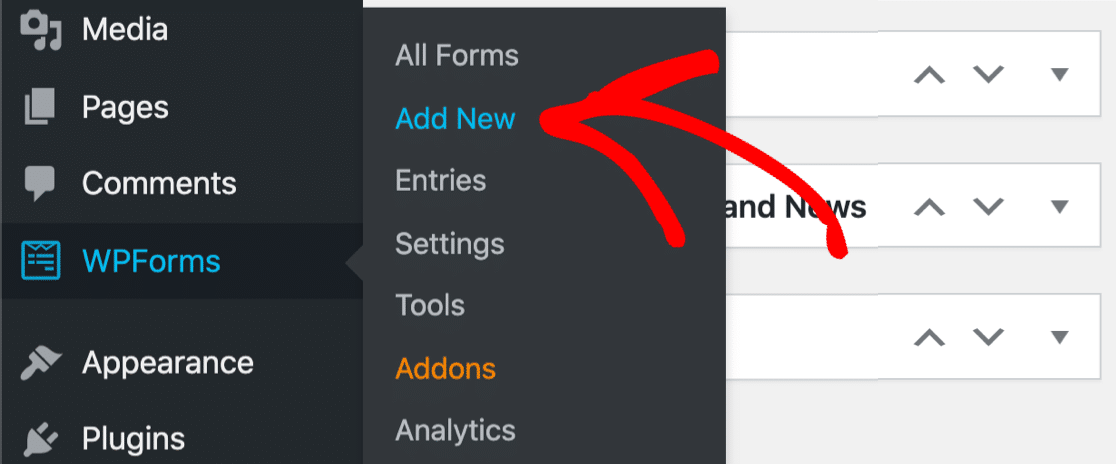 On the setup screen, name your form and scroll down to the templates section.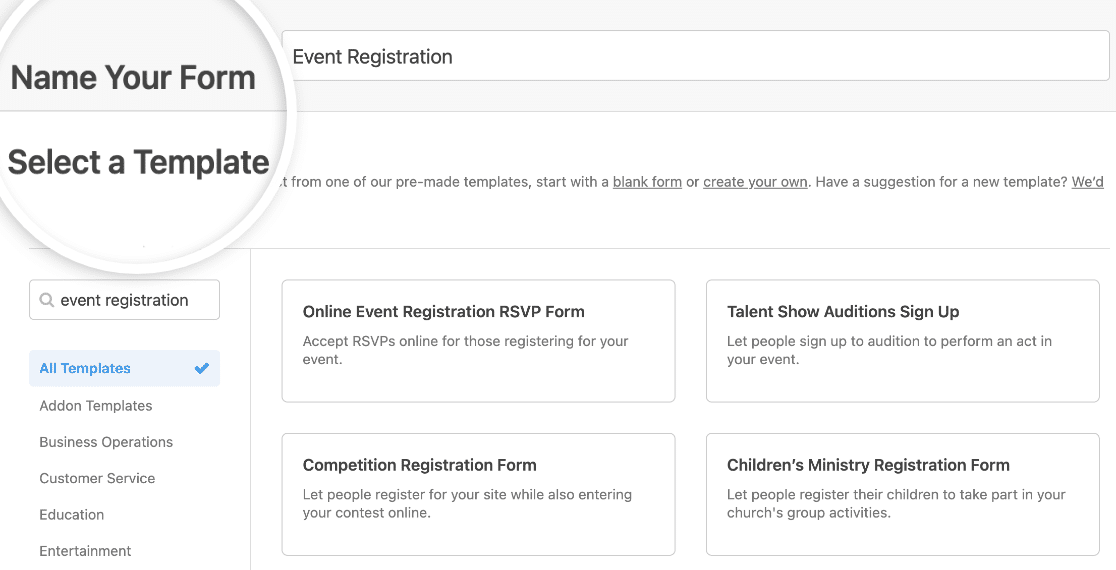 With WPForms, you'll be able to access pre-built online event registration form templates, as well as tons of other industry and niche-specific templates for creating customized forms for your site.
This saves you the time needed to manually add event registration form fields to a simple contact form.
Type "event registration" into the search bar and you'll see several options for all kinds of events. Click on Use Template to load one in the form builder.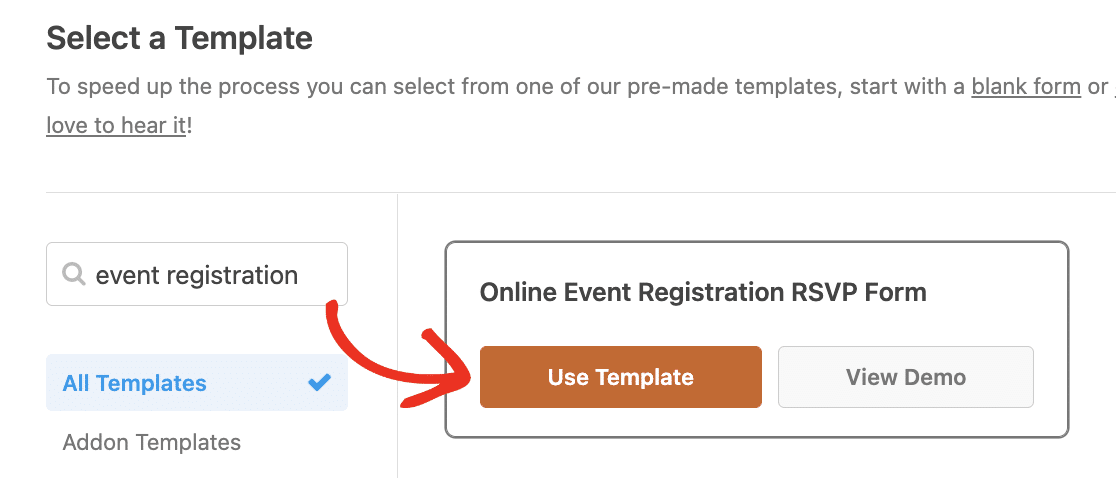 Now let's customize the form our visitors will see on the frontend.
Step 3: Customize Your Online Event Registration Form
You should now see the form builder screen. Many fields from the template will already be included in your form, but you can add, delete, or edit any as you like.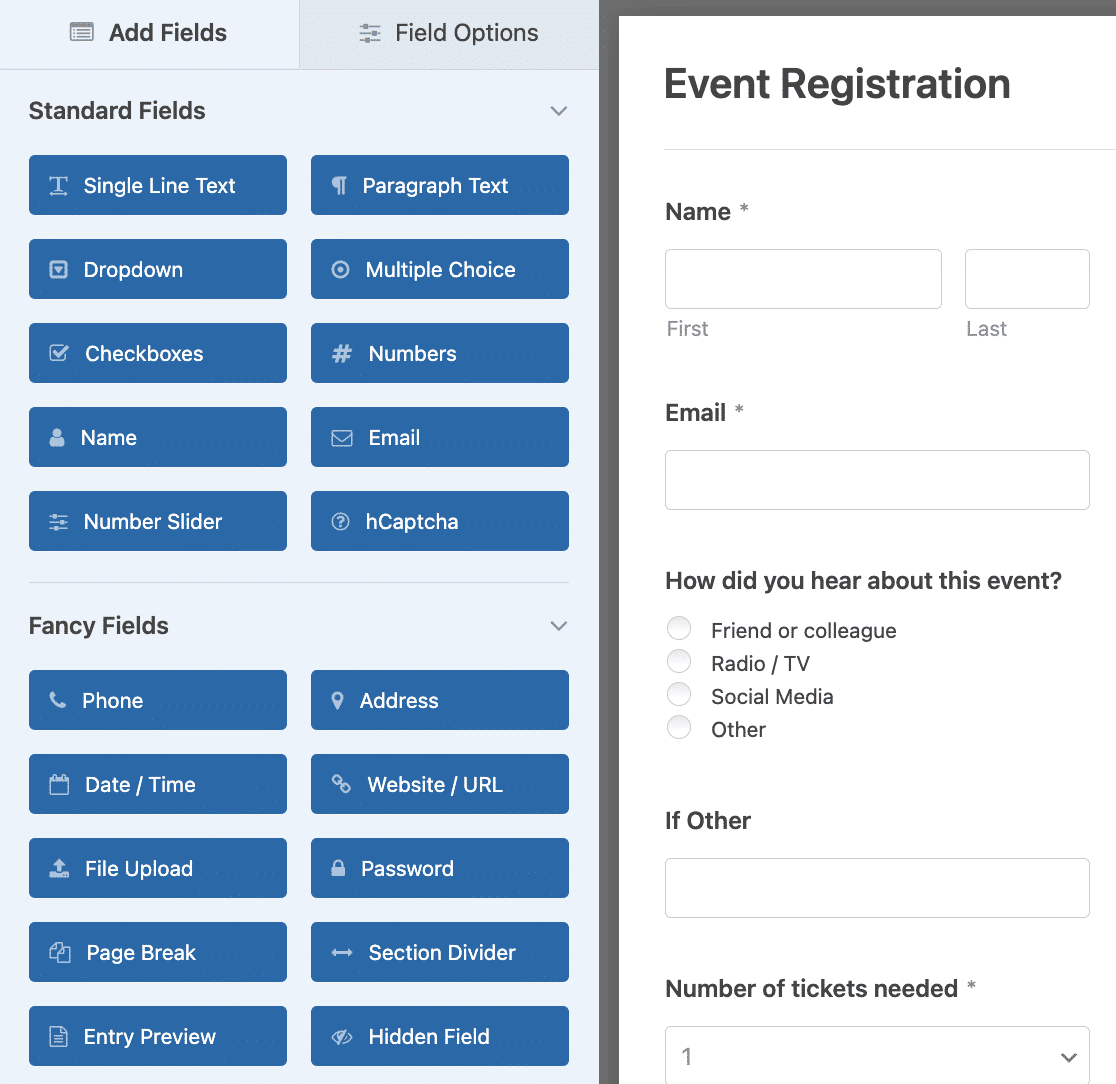 WPForms makes customizing forms easy to do. You'll see the following form fields on your online event registration form:
Name
Email
Multiple Choice (How did you head about this event?)
Single Line Text (If Other)
Dropdown (Number of tickets needed)
Date / Time
You can add additional form fields to your event registration form by dragging them from the left-hand panel to the right-hand panel. You can also customize the fields by clicking on them in the preview and changing the options that appear.
For instance, WPForms makes collecting payments from your site visitors on your forms easy to do. In fact, WPForms is so flexible, you can collect payments from users right from your forms or wait to collect payments at a later time.
You don't need to use an eCommerce plugin or make people go through checkout.
If you want to collect payments for your event from site visitors on your event registration form, you'll need to customize your dropdown menu form field.
To do this, delete the dropdown menu from your form in the right-hand panel of the form editor.

Then, scroll down to the Payment Fields and add a Dropdown Items form field to your form.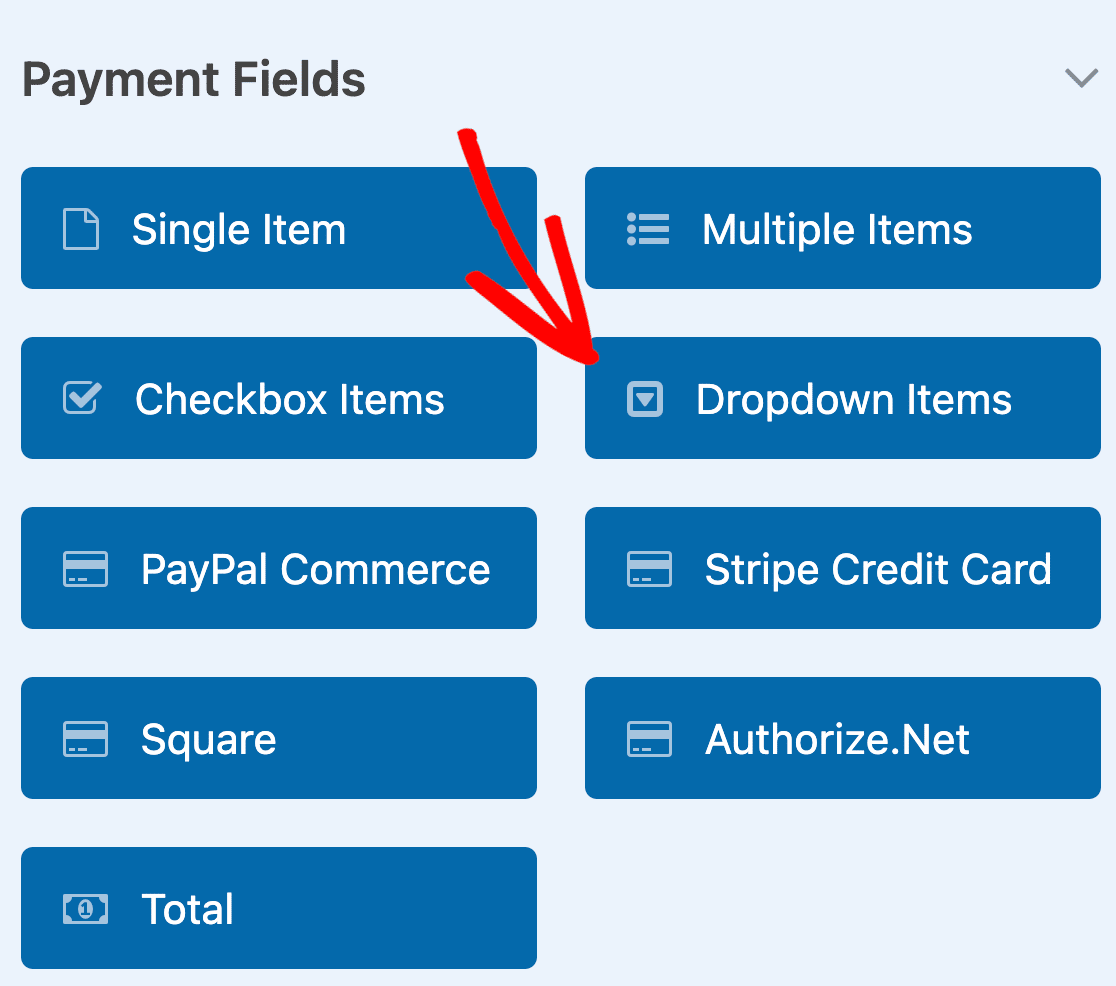 Customize the form field, making sure to add the event ticket amounts. If you want to let customers buy more than 3 tickets, simply click on the plus (+) to add another option.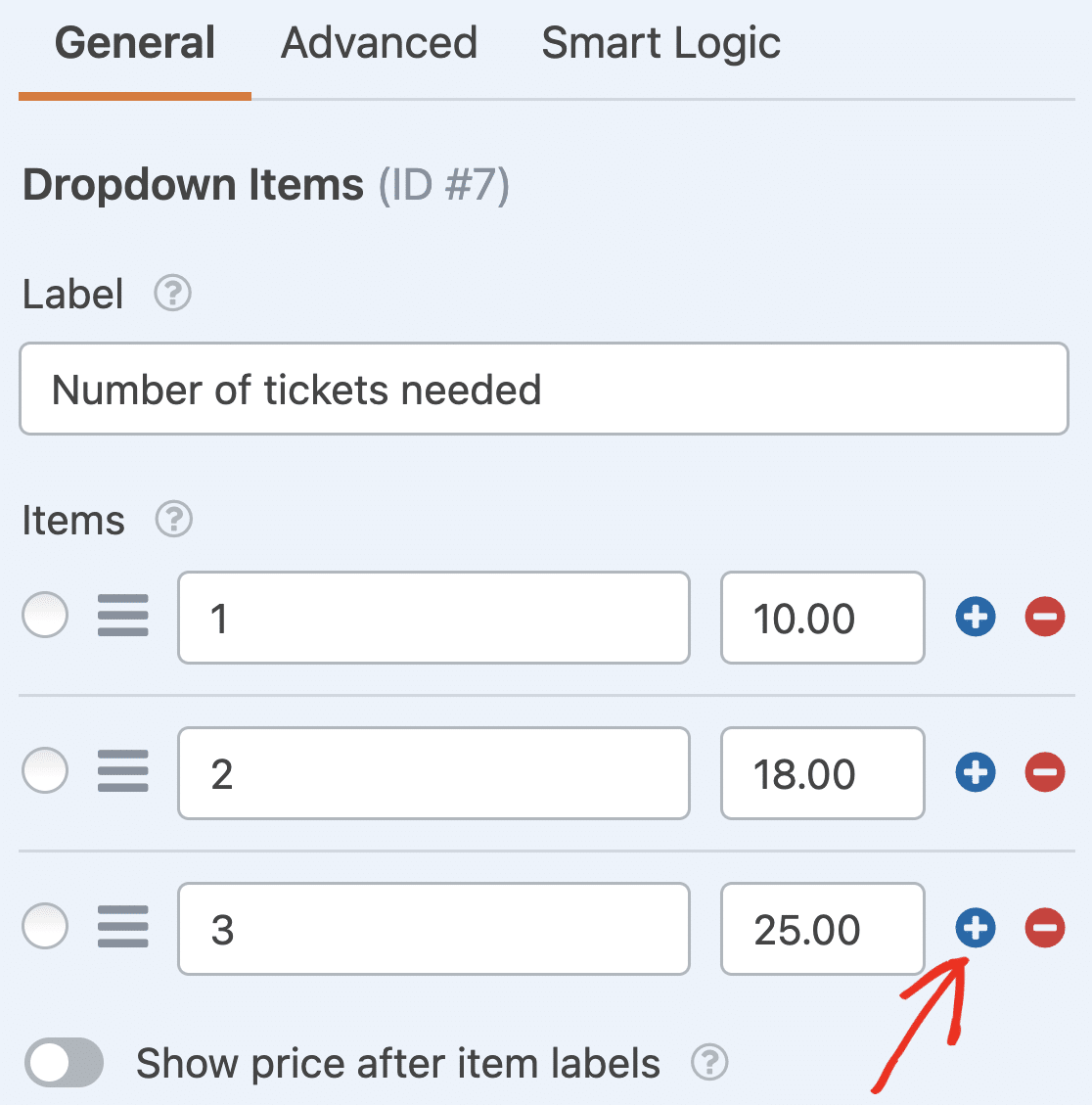 If you also add a Total field, whenever a site visitor registers for your event and chooses the number of tickets they want to purchase, they'll see their total.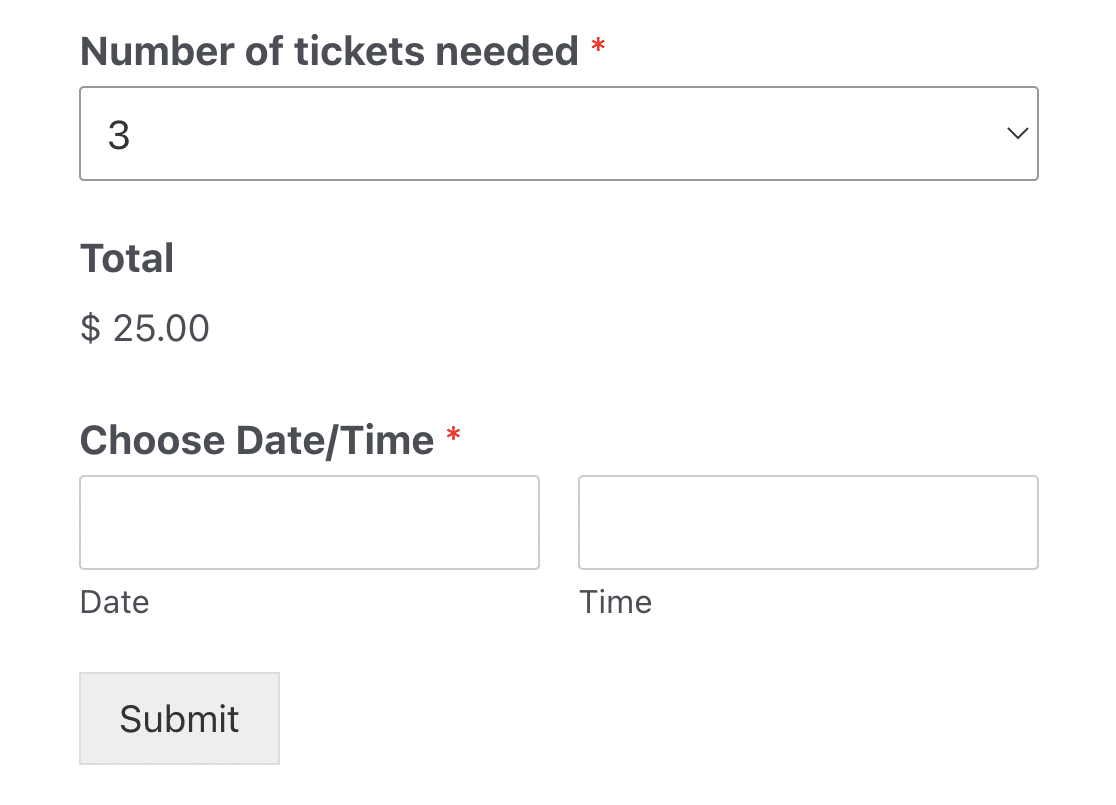 If you want to bill your attendees at a later date, simply keep the dropdown menu, let people choose the number of tickets they want to purchase and send them an invoice after registering for your event.
For help with invoicing your customers, be sure to check out our roundup of the most affordable invoicing software options available.
When you're done customizing your event registration form, click Save.
Step 4: Configure Event Registration Form Notifications
With notifications, you can instantly receive an email whenever a new person submits your event registration form.
If you want to change the address where you want to receive these notifications or edit any part of the email, you can do so from the Notifications option in the Settings tab.

If you use Smart Tags, you can also send a notification to the site visitor when they register for your event, letting them know you received their registration and ticket purchase and will be in contact shortly.
This assures people their event registration has gone through properly. For help with this step, check out our documentation on how to set up form notifications in WordPress.
Step 5: Set Up Your Event Registration Form Confirmations
Form confirmations are messages that display to site visitors once they submit an event registration form on your website. These confirmations give you an opportunity to guide your visitors on what they should expect next.
To edit your confirmations, click on the Confirmations tab in the form editor under Settings.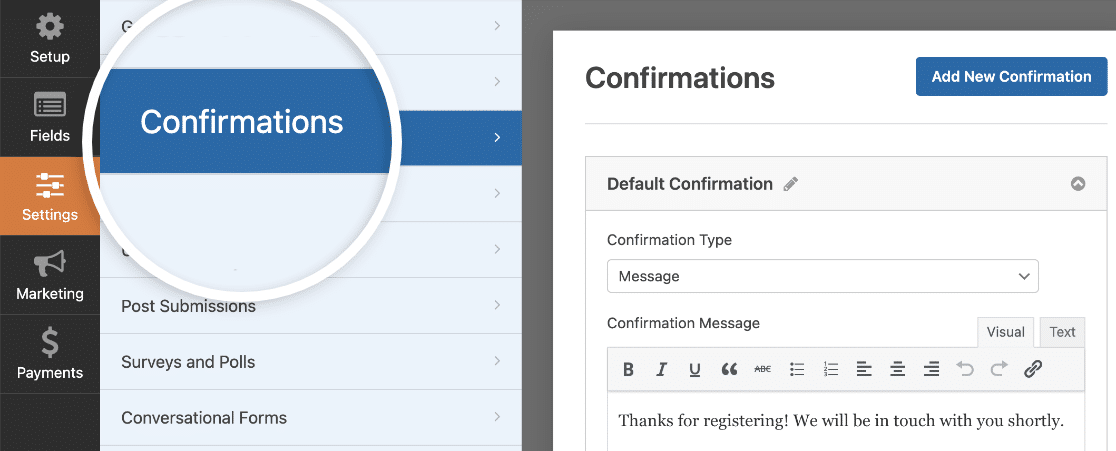 The default Confirmation Type is set to Message. You can edit the confirmation message and add more details about event here.  For instance, it might be a good idea to place a Google Maps link to the venue where your event is taking place.
When you've customized the confirmation message to your liking, click Save at the top of the form builder.
If you want to display different confirmations to registrants based on their behavior, be sure to read up on how to create conditional form confirmations.
This would be useful if you wanted to send site visitors who pre-paid for their tickets to a thank you page and display a confirmation message to those that hadn't paid yet informing them that you would be in touch with the next steps.
Step 6: Configure WordPress Event Registration Payment Settings (Optional)
If you're collecting payments from site visitors on your event registration form, you'll need to configure your form's payment settings so online payments process the right way.
You can skip this part if you're collecting an RSVP without payment.
WPForms integrates with PayPal, Authorize.Net, Square, and Stripe for accepting credit card payments.
To configure the payments settings on your event registration form, you'll first have to install and activate the right payment addon.
For easy step-by-step instructions, check out our tutorials on each addon:
Once you've done that, click the Payments tab in the form editor and select the integration you set up. In our example, we'll set up PayPal to process orders.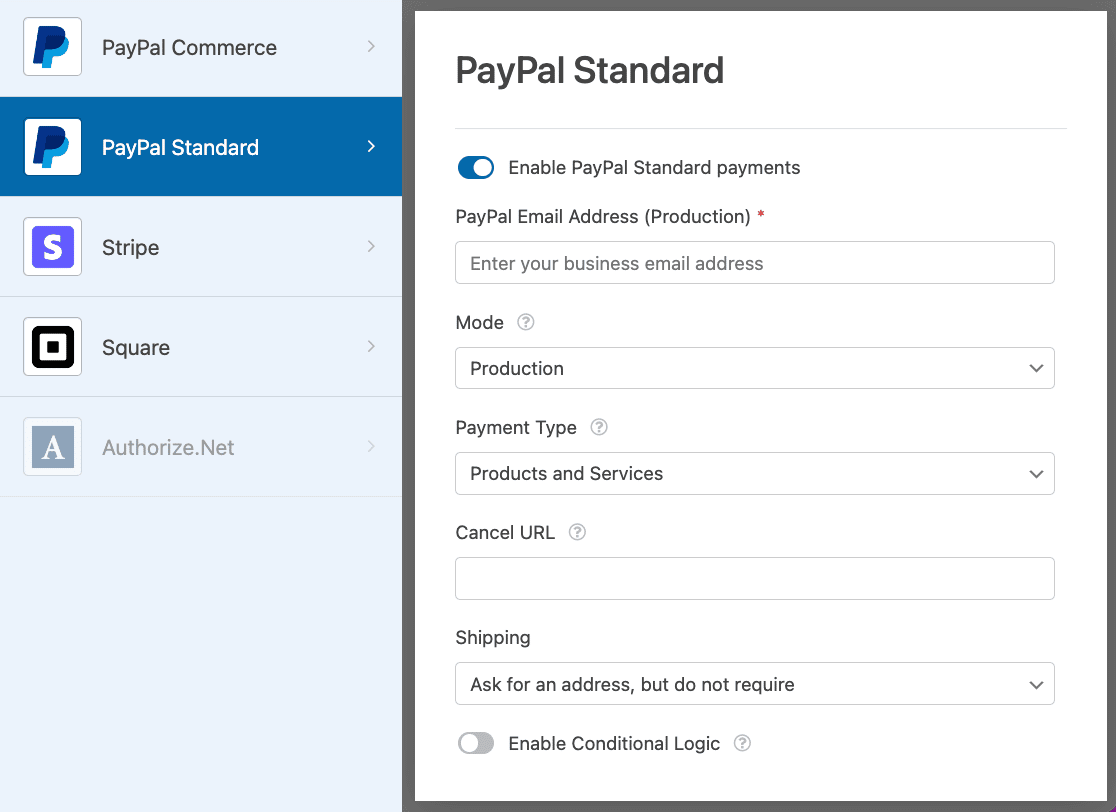 Here you'll need to enable PayPal Standard payments, enter your PayPal email address, select the Production mode, choose Products and Services, and adjust other settings as needed.
After you're done configuring the payment settings, click Save to store your changes.
Be sure to check out our tutorial on allowing customers to choose their payment method if you want to offer different payment options.
Now you're ready to add the WordPress event registration form with payment (or without it if you choose so) to your site.
Step 7: Add Event Registration Form to Your Site
After you've set up an event registration form, you need to add it to your WordPress site.
Unlike many event management plugins, WPForms lets you add your forms to many locations on your website, including your blog posts, pages, and even sidebar widgets. No shortcode is required in the block editor!
Let's take a look at the most common placement option: page/post embedding.
To begin, create a new page or post in WordPress, or go to the update settings on an existing one.
After that, click inside the first block (the blank area below your page title) and click on the plus (+) icon. Then select the WPForms block.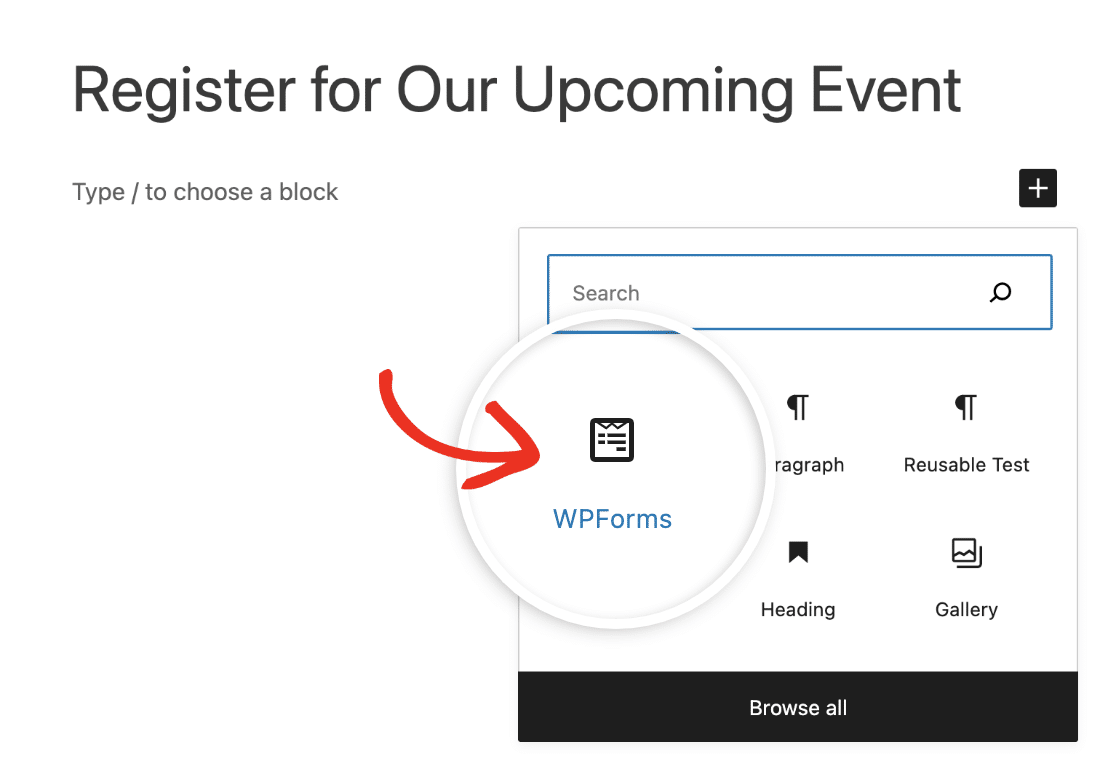 The handy WPForms widget will appear inside of your block. Click on the dropdown and select your Event Registration Form.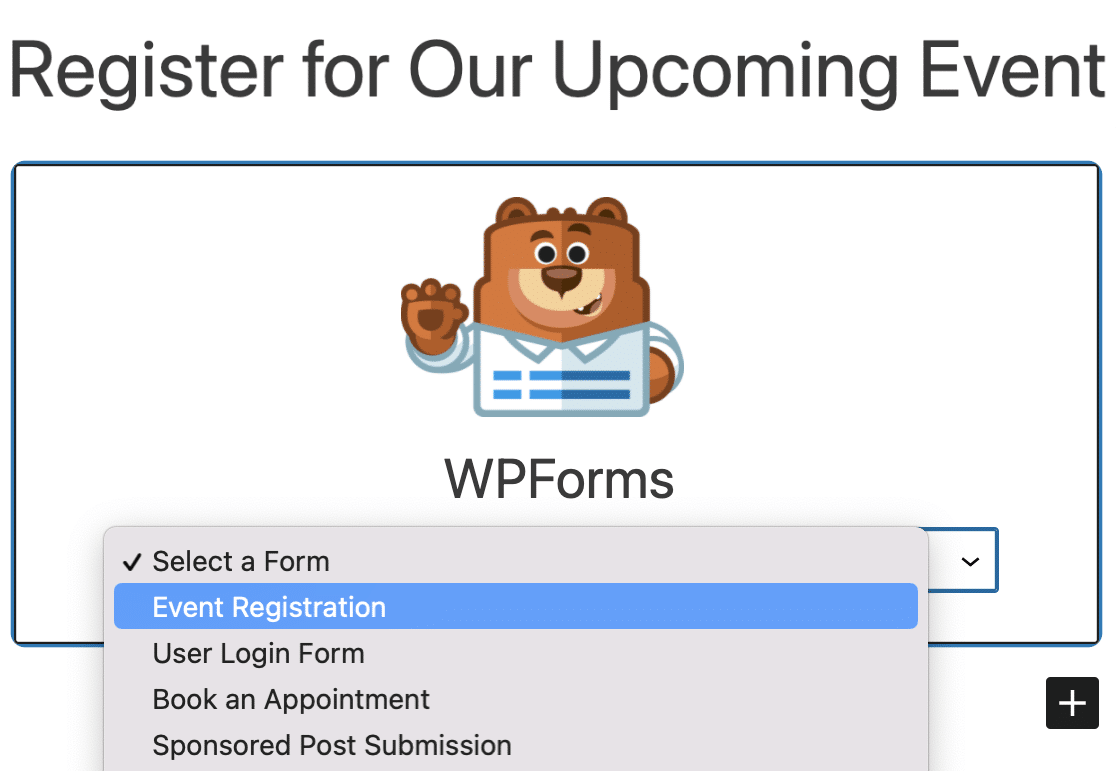 You'll want to add your event information to the page here. You might also want to optimize your event page for SEO to get the maximum traffic.
Then, publish or update your post or page so your online event registration and ticketing form will appear on your website.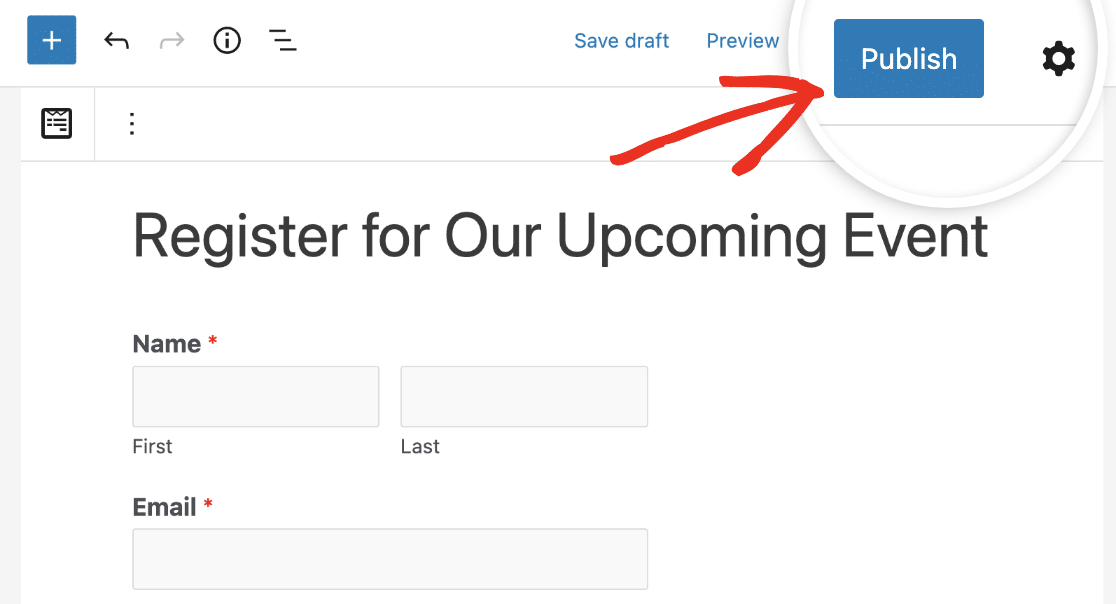 And there you have it! You now know how to create an online event registration form and now you can start selling tickets and promoting your events online. It's easy to do with WPForms as your WordPress event registration plugin.
Create Your WordPress Event Registration Form Now
FAQs on WordPress Event Registration
Here are some questions we frequently receive from visitors about event registration in WordPress:
What Should Be Included in Event Registration Form?
An event registration form should include fields for collecting contact information and allow visitors to request tickets/passes for the event. These fields are enabled by default if you use the WPForms event registration form template. Plus, you can customize any of these fields to match the specifications of your particular event.
Ultimately, the goal is to allow visitors to register easily for your event as effortlessly as possible.
How Do You Ask Someone to Register for an Event?
An event registration form is the best way to ask people to register for your event. However, it's important to promote your event registration form so the maximum number of people can learn about your event and register for it.
You can promote your event on your social media and also by sending email newsletters. Make sure to include a link to your event registration form in your emails and social media posts so that people can easily find your form and register through it.
How Do I Show Events in WordPress?
You can show upcoming events on your WordPress site by using The Events Calendar plugin. Apart from displaying events, this plugin can also integrate with WPForms and accept user submitted events from your WordPress frontend.
This is really useful if you're a community-centered site and want to invite people to add events to your site directly by using a form.
Next, Automatically Send Receipts to Your Attendees
If you'd like to automatically open and close registrations on a certain date, check out this guide to setting a form expiration date.
And be sure to check out our tutorial on how to automatically send a WordPress order form email receipt so you can give attendees that have pre-paid for your event proof that they paid.
So, what are you waiting for? Get started with the most powerful WordPress forms plugin today. The WPForms Pro version comes with a free event registration form template and offers a 14-day money-back guarantee.
And don't forget, if you like this article, then please follow us on Facebook and Twitter.