Are you wondering why more people aren't filling out the forms on your website?
Tracking form analytics can help you understand how people are interacting with your forms, so you can improve them to get even more conversions.
In this article, we'll show you what form analytics is, why it's important, and the best forms analytics tools to get you started.
What Is Form Analytics? A Simple Definition
Form analytics is the tracking and understanding of how your website visitors interact with your web forms. For example, you can track how many people see your form vs. actually fill it out, and where they're getting stuck along the way.
With that kind of data, you can figure out exactly how to improve your forms so you can get more leads and conversions.
Why is form tracking so important?
Well, when a website visitor fills out your form, they instantly become an important lead. That's because they're telling you they're ready and willing to move forward through your sales funnel. This is true for any type of web form, whether your visitors are requesting a quote, making a purchase, or just getting in contact with you for the first time.
Tracking your form analytics can also help you…
Reduce Form Abandonment: Most people who start filling out online forms never finish them (an average of 67%), so finding out what's causing that on your site can help you reduce form abandonment.
Grow Your Email List: When you take a peek into what's actually happening with your visitors' behavior on your forms, you can create segmented email lists based on different user behavior and up your email marketing game.
Identify New Opportunities: Understanding what your target audience is looking for can spark ideas to grow your business. For example, if you notice that people are abandoning your form when they get to a pricing or budget field, you may realize that they're looking for a lower-priced option, helping you to target a different market segment and expand your business.
Ready to get started with tracking your own forms?
Let's take a look at how it works.
What Can You Track With Form Analytics?
Form analytics is much more than just seeing how many people fill out your forms. Here's what else you can track:
Conversion Rates: How many people view your form, versus actually finishing and submitting it?
User Behavior: How do people navigate your forms from start to finish?
Form Abandonment: What percentage of people start filling out your form, but give up partway through? Where are they stopping?
Time Report: How long does it take people to fill out each field?
Most Corrected Fields: Are there any form fields where people edit their answers a lot before submitting?
Ignored Fields: Which areas of your form aren't getting filled out?
Now let's put everything we've learned into practice and take a look at best form analysis software out there!
The Best Form Analytics Tools
Tracking form analytics doesn't have to be complicated or require any code. The best form analytics tools are easy to set up and use.
Let's take a look…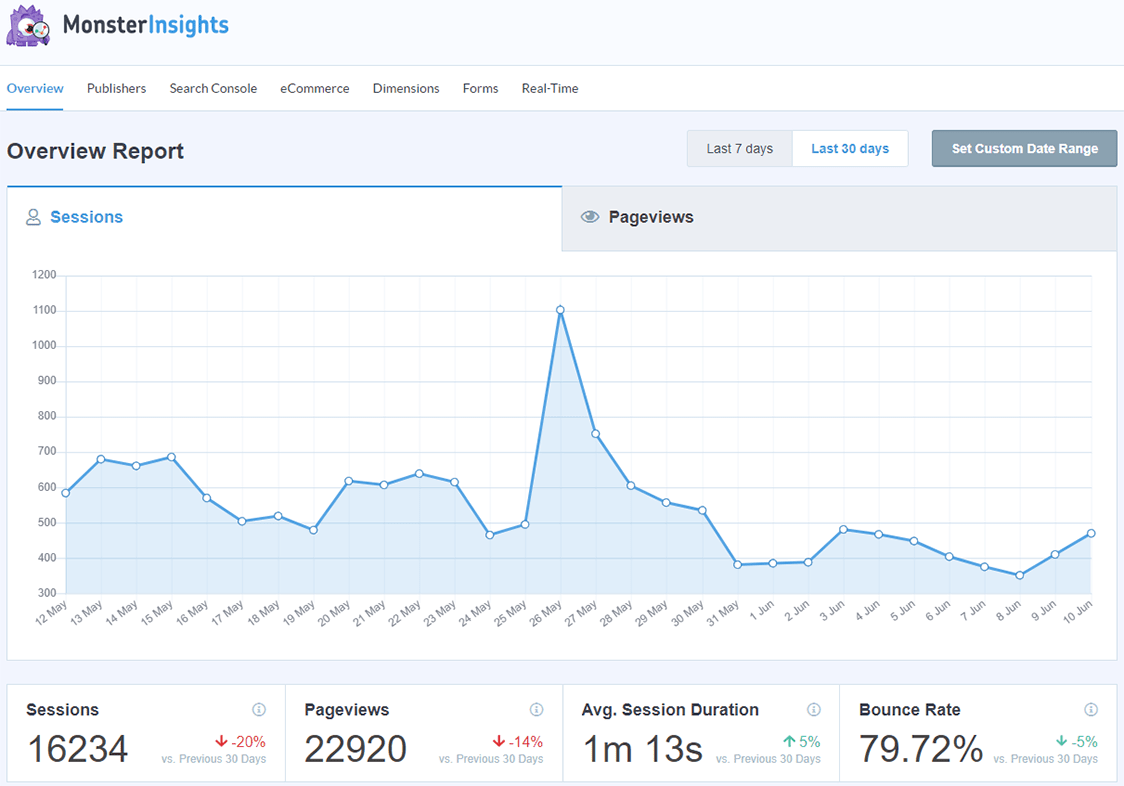 Before you can collect and analyze any form data, you need to make sure you're tracking your form submissions the right way.
With MonsterInsights, you can easily set up Google Analytics 4 form submission tracking without having to touch any code.
MonsterInsights is the most popular Google Analytics plugin for WordPress. After a quick and easy setup, MonsterInsights will automatically track your most popular blog posts, your highest-traffic keywords, where your visitors are clicking on your website, and so much more.
Best of all, with the MonsterInsights Forms addon, it will automatically track any form submission on your website. So you can easily track form submissions in Google Analytics.
After setup, you can easily see your form views (Impressions), conversions, and conversion rate. Simply filter the data in the report by selecting the last 7 days, the last 30 days, or a custom date range.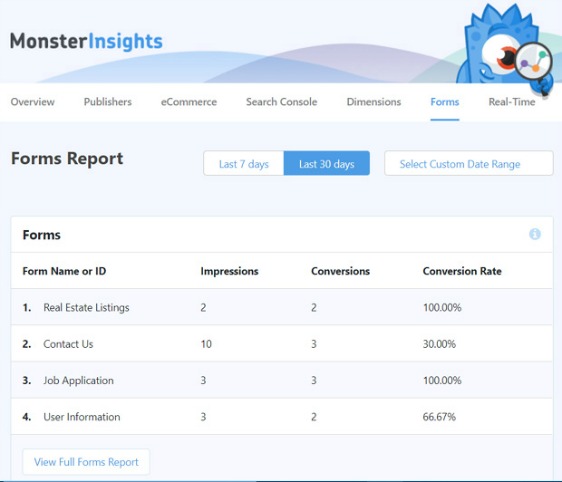 Click here to get started with MonsterInsights today!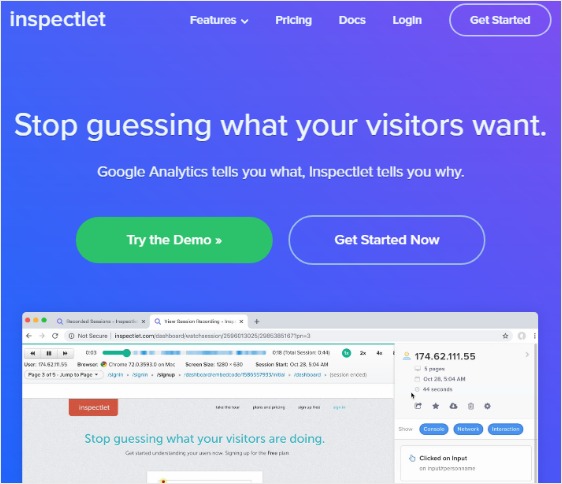 The analytics platform Inspectlet records videos of your visitors as they use your site, so you can see everything they do. This includes every mouse movement, scroll, click, and keypress.
So you can see exactly how visitors are not only using your forms, but your entire site as well. And they also have a heat map feature so you can see which area of your site is getting the most clicks.
Heat maps are a visualized representation of data in the form of a map or on top of a specific area. These cool-looking maps take individual data values and represent them as colors.
Cost: Plans with conversion funnel form analytics start at $79 per month for 250,000 page views.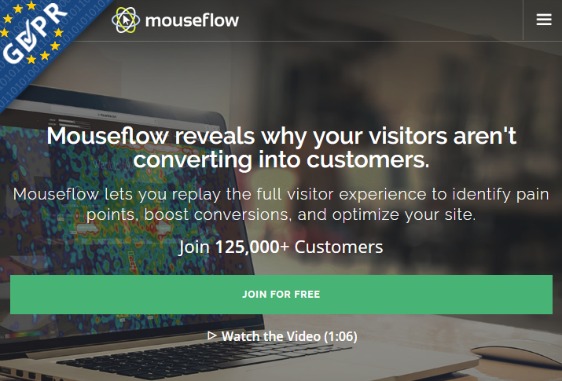 Mouseflow is also a session replay and heat map tool for your website that can help you simplify your form analytics.
It keeps track of how visitors interact with your web forms including form submissions, errors, refills, and empty entries, all in real-time. So it can help you find issues, making your site easier to use, and increase your form conversions.
Cost: Plans start at $29 per month for 10,000 page views. You can get started with a 14-day trial and no credit card. There's also a free version with limited functionality.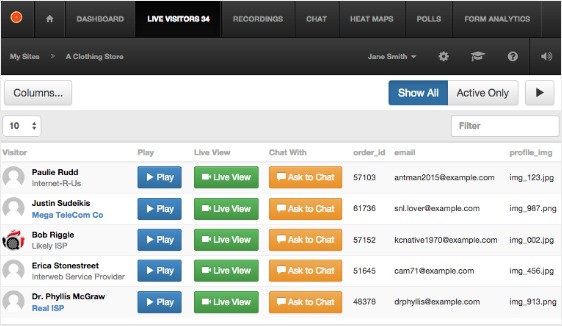 While not as robust as some of the other platforms, Lucky Orange comes with an affordable and straightforward form analytics dashboard. And it also has the ability to give you heat maps and screen recordings, just like the more sleek looking form analysis platforms on this list.
In addition, their form analytics include helpful reports on things such as abandonment, time to start, and repeated fields.
Cost: Plans start at $10 per month for 25,000 page views. They also offer a free trial.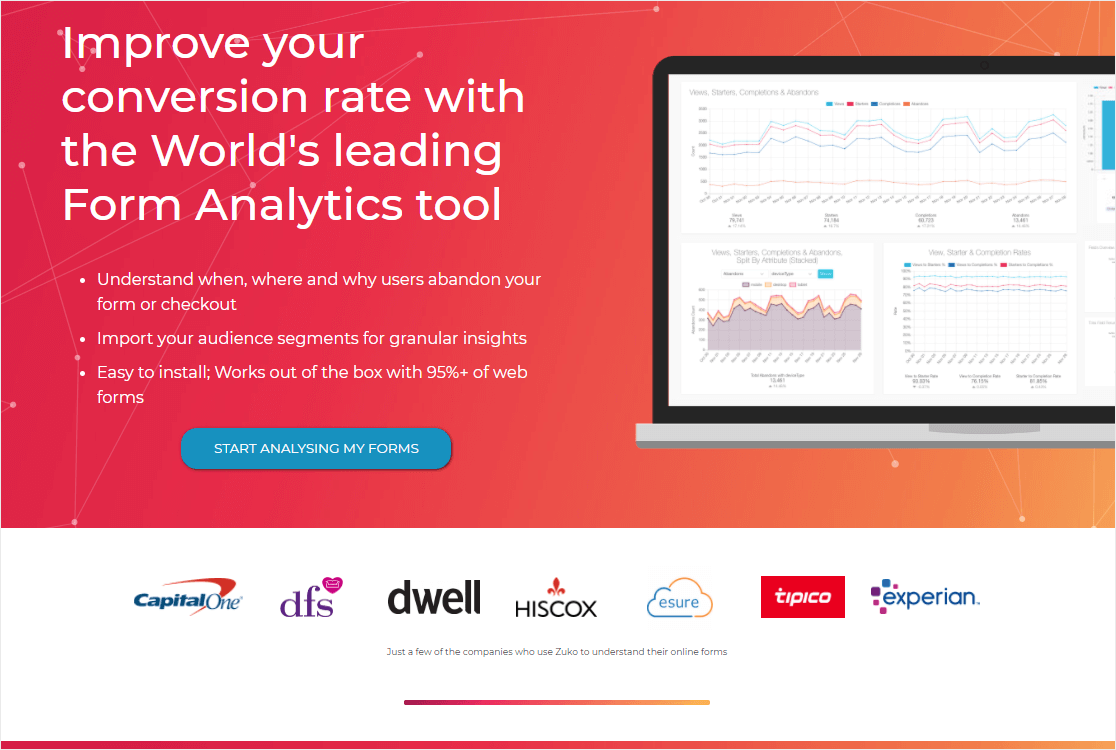 Zuko is a cloud-based analytics solution that helps you make your online checkouts and forms easier. We love that their mission is to help make it easier for people to fill out online forms.
This software focuses heavily on complex online forms and provides real-time and advanced visual reporting.
They also offer Zuko Academy to help you get a hang of how everything works, including form design and optimization.
Cost: Plans start at at $130 per month for up to 10,000 form sessions. They also offer a free trial.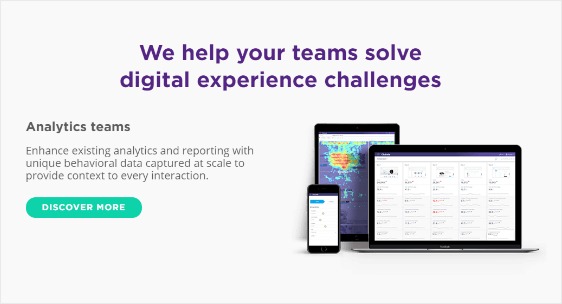 Clicktale does a great job of taking digital interactions on your site and showing you helpful insights with visualizations.
With their software, you can keep track of all of your visitors' behavior on your website. Clicktale uses session replays, heat maps, and data-rich visualizations.
It's a Software-As-A-Service (SaaS), cloud-based analytic system that lets you see your customer's experience on your website from their perspective. It can help you figure out what is and isn't working with your web forms, and even gives you info on what people do after they abandon your forms.
Cost: Plans start at $99 per month for up to 20,000 page views. They also offer a free limited plan.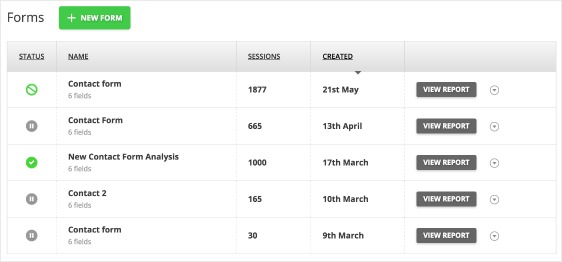 Hotjar is another form analytics tool that lets you see how your website visitors engage with your website through session recordings and heat maps. Also, they use words from surveys and feedback polls to give you even more data insights.
Hotjar offers a form report which tracks things like sessions, conversion rates, form abandonment, and interactions.
Cost: Plans start at $29 per month for 10,000 page views per day. They also offer a 15-day free trial.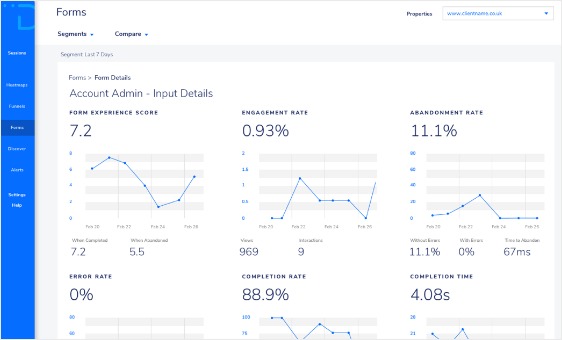 This software is a whole suite of analytic tools that help you see website visitor's digital behaviors. And you can use Decibel Insights's trademark Digital Experience Score to get clear visualization on your user's experience.
Decibel Insight helps optimize your form conversion by telling you things like which forms have the highest abandonment rates or the most user errors.
Cost: Pricing details are not published since they offer a quote-based plan. Our research shows you may be looking at around $400 per month.
Next, Use Facebook Pixel to Track Form Submissions
And there you go! You're now know how to track your form analytics and the best tools to use to do it.
If you haven't already installed a Facebook Pixel, now would be a great time to try it out. Facebook Pixels let you track all kinds of activity on your site, and you can even use your Facebook Pixel to track form submissions.
After you get your form tracking in place, check out these actionable tips to improve your contact form conversions.
Need a better tool to build forms for your WordPress site? Get started with WPForms today and experience the world's most powerful and easy to use WordPress forms plugin.
If you like this article, then please follow us on Facebook and Twitter for updates from our blog.