Documentation, Reference Materials and Tutorials for WPForms
How to Add a Net Promoter Score Field to WPForms
Would you like to quickly determine how your customers feel about your company? A Net Promoter Score uses a simple 0-10 scale to collect valuable insights about customer perception of your brand or company. In this tutorial, we'll show you how to set up a Net Promoter Score field in WPForms.
---
What is a Net Promoter Score?
A Net Promoter Score, or NPS, is a super easy way to find out how your customers, users, or even employees are feeling about your company. To get an Net Promoter Score, you'll generally ask just one question: "How likely are you to recommend our company to a friend or colleague?"
Users are then provided with a scale of numbers from 0-10, where 0 means that they're extremely unlikely to recommend your company and 10 means that they are extremely likely to recommend your company.
In WPForms, the Net Promoter Score from your forms will be automatically calculated — no need to run the math yourself. We'll discuss the meaning of NPS numbers, and how to view your Net Promoter Score field results, a little later in this doc.
Add a Net Promoter Score Field to Your Form
Before we get started, you'll need to install the Surveys and Polls addon.
Then, go ahead and create a new form or edit an existing form.
After opening the form builder, you can look under the Fancy Fields section to find the Net Promoter Score field. Simply click the field to add it to the form, or drag and drop it into your form's preview area.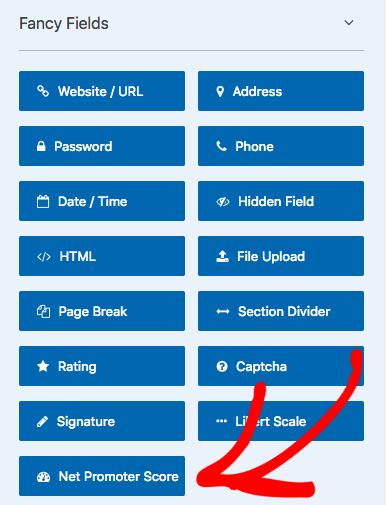 Once the field is added, you can click on it to open the Field Options panel. From here, you'll have options to rename the field, add a description, and require the field.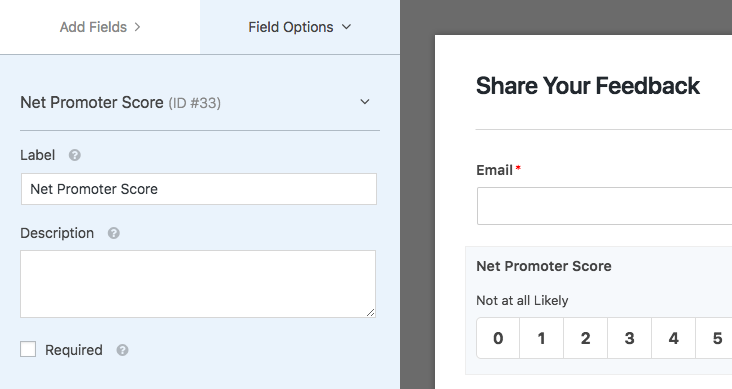 View and Interpret Net Promoter Score Results
Once your form is ready, you can embed it on your site and start collecting form submissions. The Surveys and Polls addon can generate lots of useful information for you, but for this tutorial we'll specifically focus on the Net Promoter Score results.
View Your Net Promoter Score
WPForms will calculate all of the values you need for NPS. To view your results, you'll need to go to WPForms » All Forms. From here, hover over the form name to display an extra menu, then click Survey Results.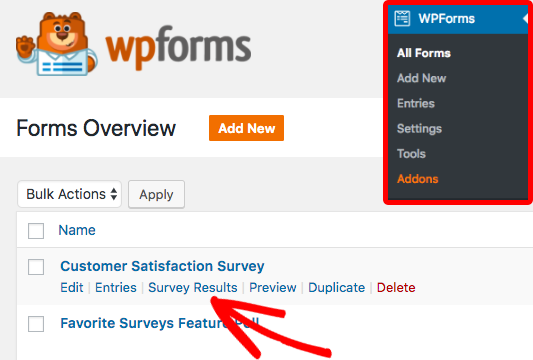 Once you're viewing the Survey Results page, you'll be able to easily view your NPS data in a graph as well as a table. You can also use the icons in the upper right of the Net Promoter Score field results to switch the graph type.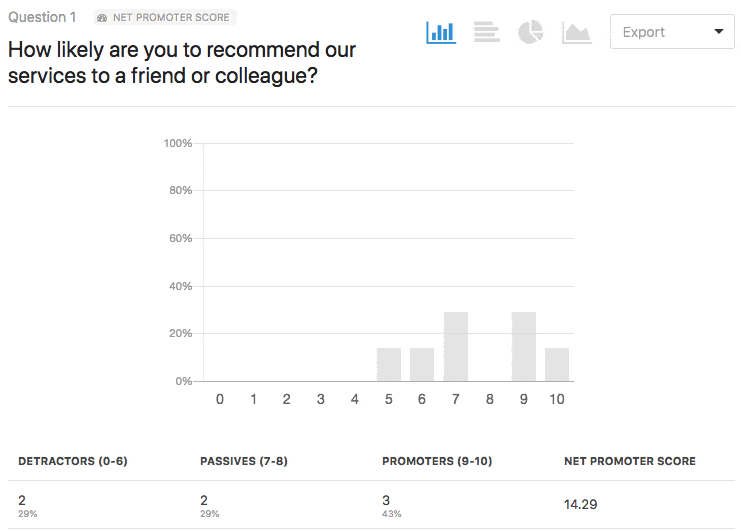 The table will display the percentage and total number of users who fall into each NPS category, as well as the overall Net Promoter Score based on these values.
Interpreting a Net Promoter Score
The simple 0-10 scoring system for NPS lets you get a quick read on customers. Here's how the NPS system groups customer scores:
Promoters (9-10): Enthusiastic and loyal. They will likely purchase from you again and, importantly, help promote your brand by recommending your services to others.
Passives (7-8): Satisfied or neutral (not particularly enthusiastic or loyal). They will likely not feel strongly enough about your services to promote them in either a positive or negative way.
Detractors (0-6): Unsatisfied and not loyal. They will likely not purchase from you again, and may share a negative view of your services with others.
To get a Net Promoter Score for your organization, you'd use the following formula:
% Promoters – % Detractors = Net Promoter Score
The resulting score can range from -100 to 100. A positive score means that you have more Promoters than Detractors, and so generally any positive score is considered good. In general, a score of 50 or higher is viewed as excellent and 70 or more is considered exceptional, though the standards can vary quite a bit between industries.
That's it! You can now easily survey customers to find out your Net Promoter Score.
Next, would you like to learn what else you can do with that survey report? Be sure to check out our tutorial on the Surveys and Polls addon for details on all of the powerful features this addon includes.