Do you want to compare SurveyMonkey vs Alchemer (SurveyGizmo) vs WPForms?
In this article, we'll dive into the detail of all 3 platforms so that you can easily compare them on:
Features
Ease of Use
Support
Price
All 3 survey tools have awesome features, but which one is going to give you the best ROI?
Create Your WordPress Survey Form Now
How Do You Create an Online Survey?
You can easily create an online survey using the WPForms plugin for WordPress.
WPForms is the best online form builder. It's used on more than 5 million websites.
The Pro version has a Surveys and Polls addon that gives you all the features you need to make surveys and visualize the results.
It also comes with 500+ templates that you can customize and duplicate.
After buying WPForms, you don't need to spend a lot of time setting up logins, or learning a whole new survey platform. All you need to do is install the Surveys and Polls addon in the WordPress dashboard.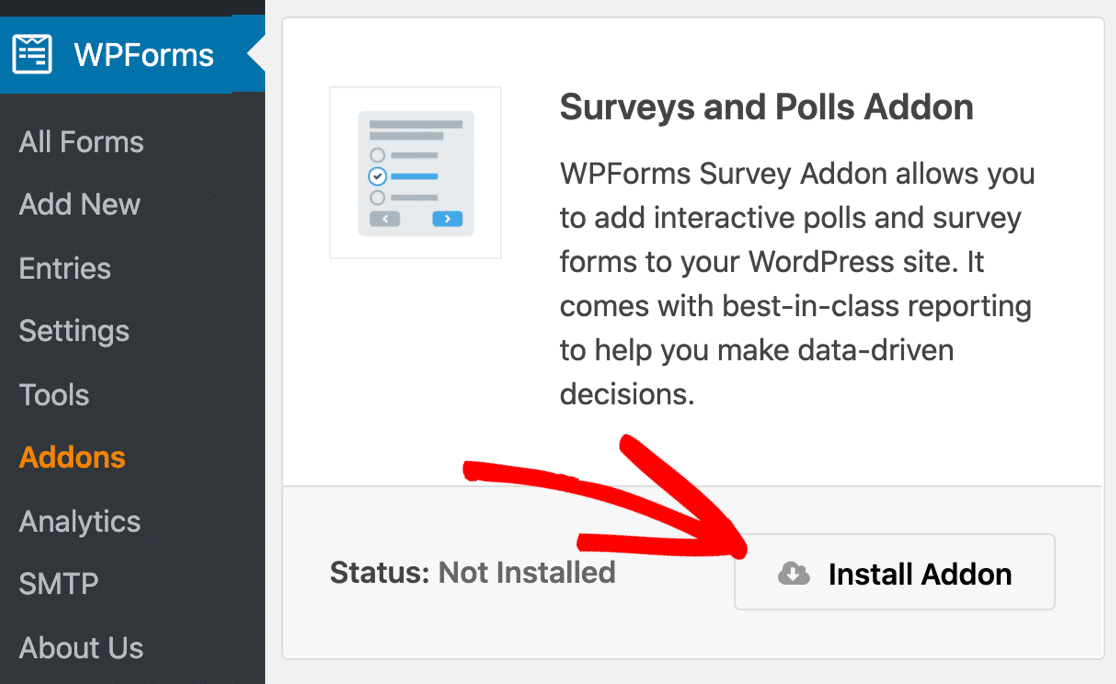 That's it. You can instantly start building surveys in WordPress.
Okay, so now we know the easiest way to make surveys, let's also see how it matches up with some alternatives.
COMPARED: SurveyMonkey vs  Alchemer (SurveyGizmo) vs WPForms
When we reviewed WPForms vs SurveyMonkey vs Qualtrics, we talked about how Qualtrics is aimed at universities and large corporations. But WPForms, SurveyMonkey, and Alchemer (formerly SurveyGizmo) are all aimed squarely at businesses.
We're going to look in detail at:
Here's a quick comparison chart before we dive in:
| | SurveyMonkey | WPForms Pro | Alchemer (SurveyGizmo) |
| --- | --- | --- | --- |
| Pricing | Free – $2,700 /yr | $399 /yr | $300 – $1,800 /yr |
| User seats included | 1 | Unlimited | 1 |
| Unlimited surveys | Yes | Yes | Yes |
| Unlimited questions | Yes | Yes | Yes |
| Unlimited responses | Selected plans | Yes | Yes |
| White label surveys | Selected plans | Yes | Selected plans |
| WordPress integration | – | Yes | – |
Let's move on to the comparison.
Features: SurveyMonkey vs Alchemer vs WPForms
When comparing online survey tools, it can be tempting to buy the one with the most features. But the more features you have, the longer it can take to start sending out real surveys, so you'll also want to factor in the learning curve for your team.
SurveyMonkey Features
SurveyMonkey is a market research platform. You can create surveys and analyze results in your browser. And you can also export the data to analyze it in other tools.
SurveyMonkey's typical customers are medium to large businesses. It lets you:
Use survey logic
Add pre-written or custom questions
Add a Salesforce integration
Create multilingual surveys
Export responses in different formats
Most of the work is done in the survey builder. You can see a question here on the right.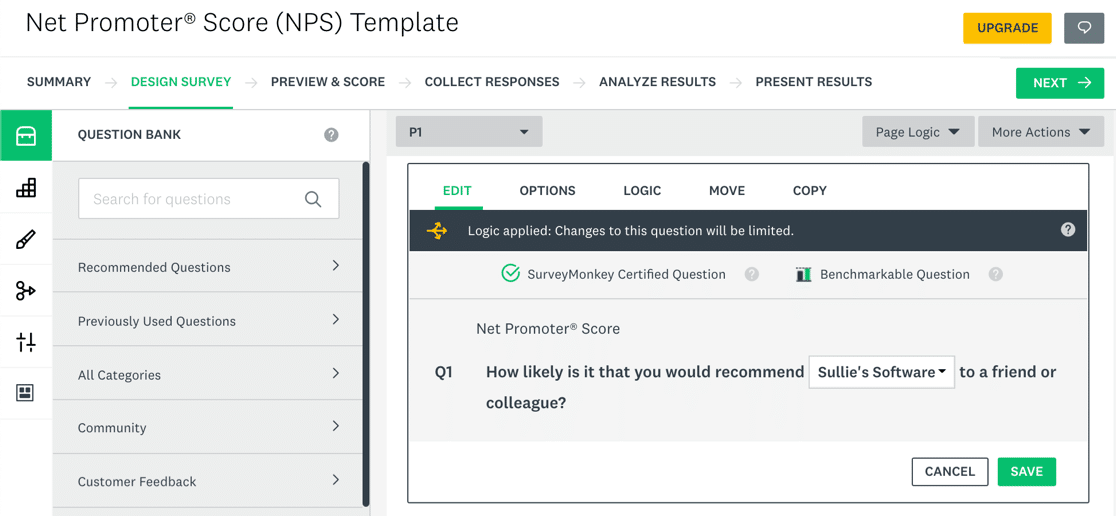 The Question Bank is on the left. This feature is heavily promoted within SurveyMonkey. It helps save time by providing generic questions that you can add quickly to any survey.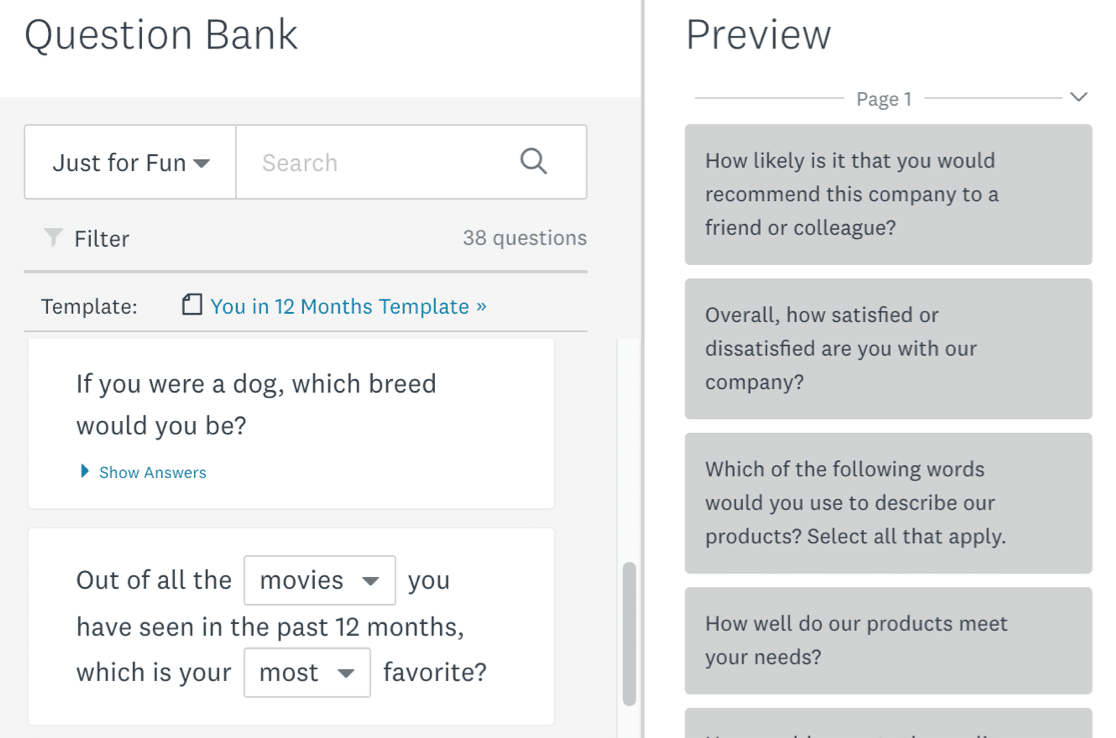 If you're surveying customers or employees on specific issues, the Question Bank might not have all of the presets you're looking for. These questions are designed for large, anonymous surveys that market researchers send out for clients.
Also, question customization options are limited. You can't change much of the wording.
In SurveyMonkey, each survey can have different logic rules to move people through the questions depending on previous answers. Setting up all of the options for a survey can be quite challenging because there are 6 types of logic to consider:
Page randomization
Question randomization
Page skip logic
Block randomization
Quotas
Custom variables
Again, all of these settings will appeal to market researchers who need to avoid bias on behalf of their clients. For many businesses, the sheer number of choices might be more of a hindrance than a help.
When it comes to design, SurveyMonkey has a basic theme selector. The free version lets you pick from a small list of presets. You can't tweak these presets or add a logo to any survey unless you upgrade.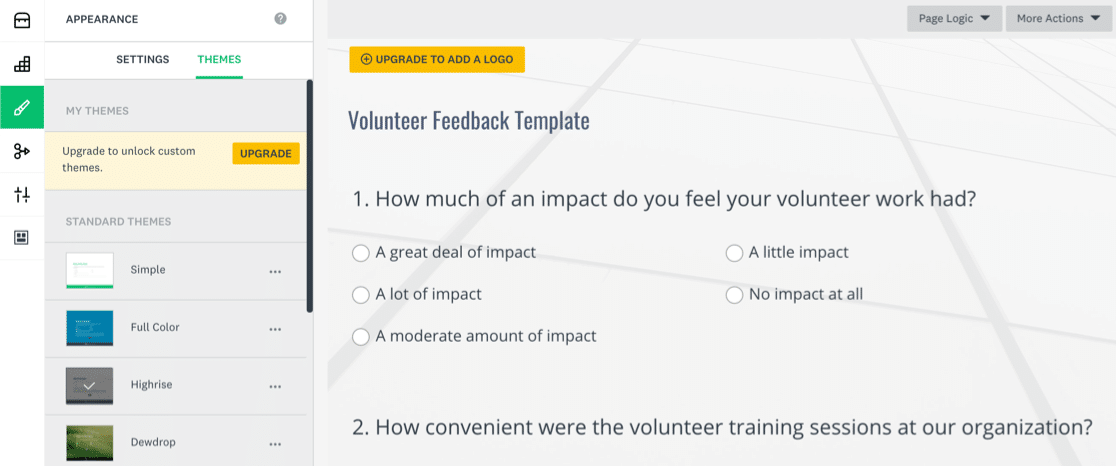 In this preset list, only 1 or 2 of the free templates had good contrast. The others had dark backgrounds or background images that made the text difficult to read.
Finally, SurveyMonkey also lets you buy respondents for your surveys. This service is upsold heavily, but most businesses will never need it. It would help if this option could be hidden so that other features were able to fill the screen space.
Alchemer (SurveyGizmo) Features
SurveyGizmo rebranded as Alchemer in September 2020. It says that it wanted to lose its "fun and whimsical" name. The new branding is more formal than the old SurveyGizmo branding.
That said, you'll still see the SurveyGizmo name on some help pages, and in various places in the survey builder.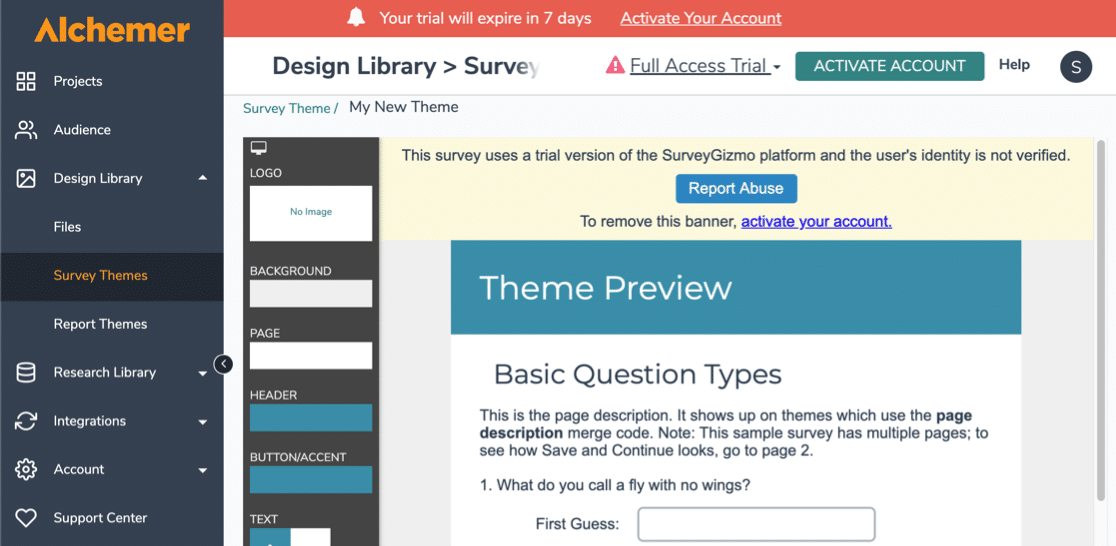 We trialed the Full Access plan, which is the most pricey. Some of the question types are basic survey questions you'll see in most tools, like checkboxes and star ratings.
Others, like the drag and drop ranking field, are designed to be fun and interactive. However, these fields might be a little frustrating if used too often on a business survey, so it's best to use them sparingly to add a little interest.
Here's how you'd set up a drag and drop ranking field in Alchemer. Notice how the settings are in a pop up window.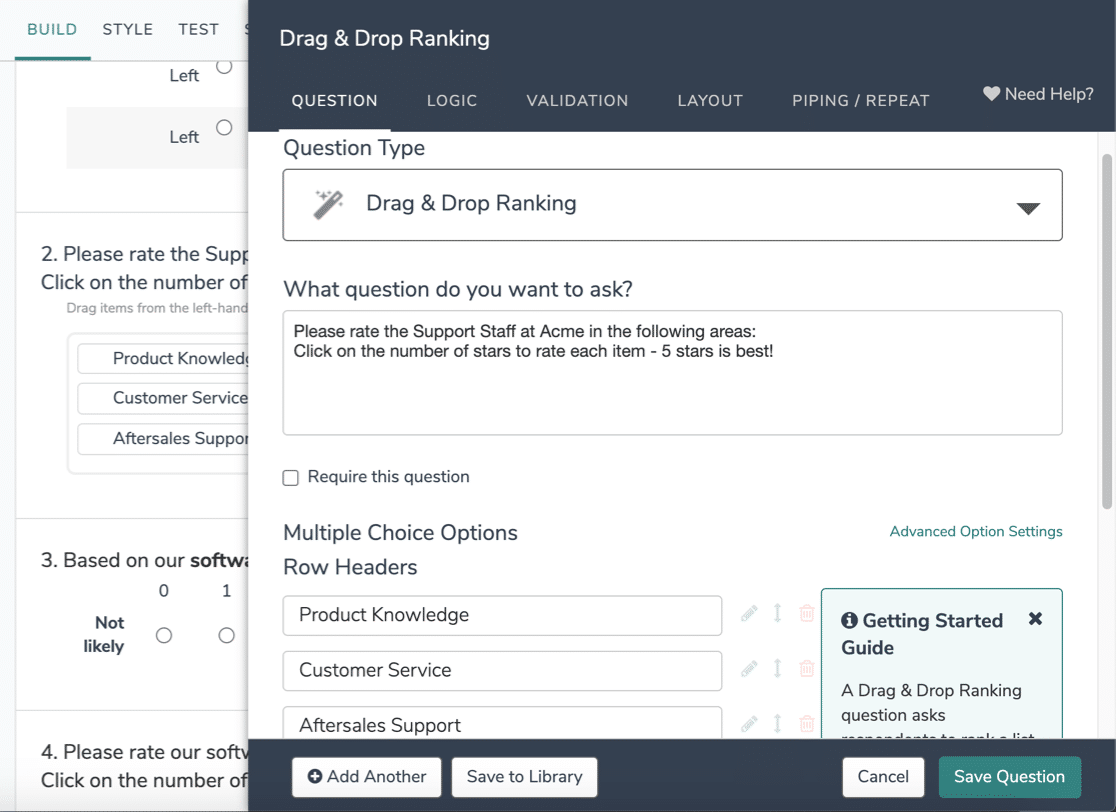 As you customize questions, you'll find the logic, layout, and validation options in tabs across the top.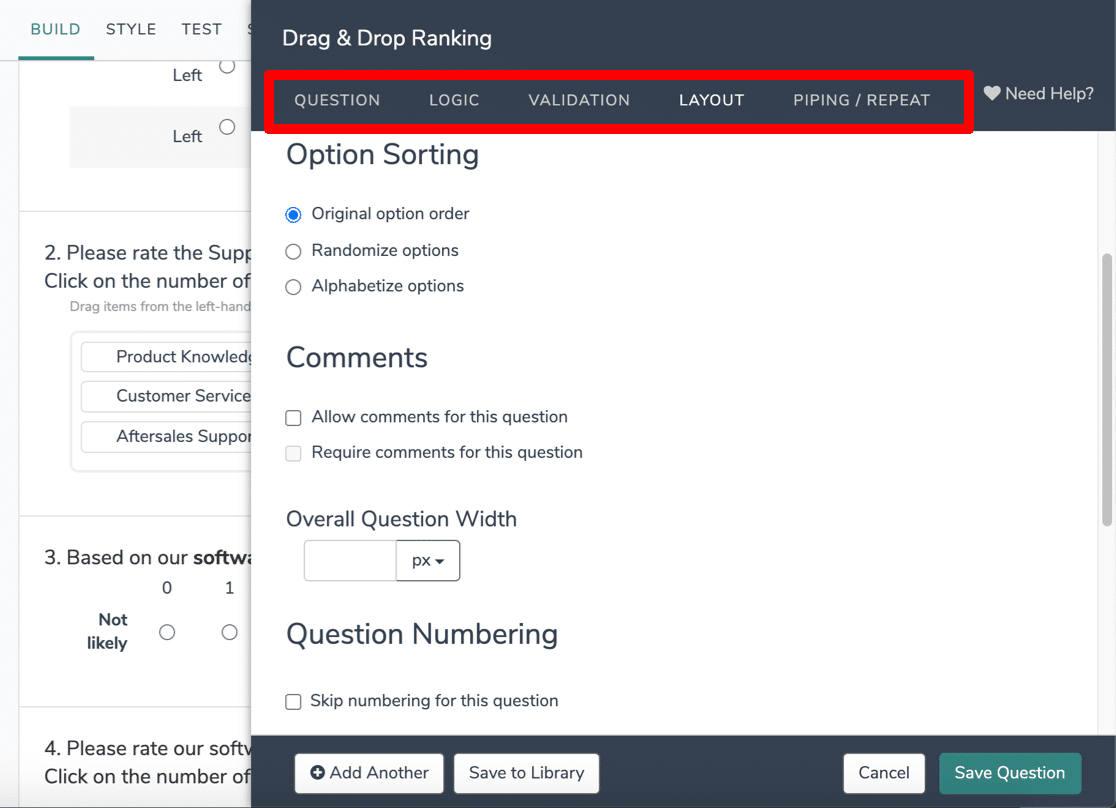 Compared to SurveyMonkey, this interface gives you more room, and the text is also a little easier to read.
You can also integrate Alchemer with 3rd party services and tools. For example, you can share surveys on social media. The free version doesn't have this feature, though.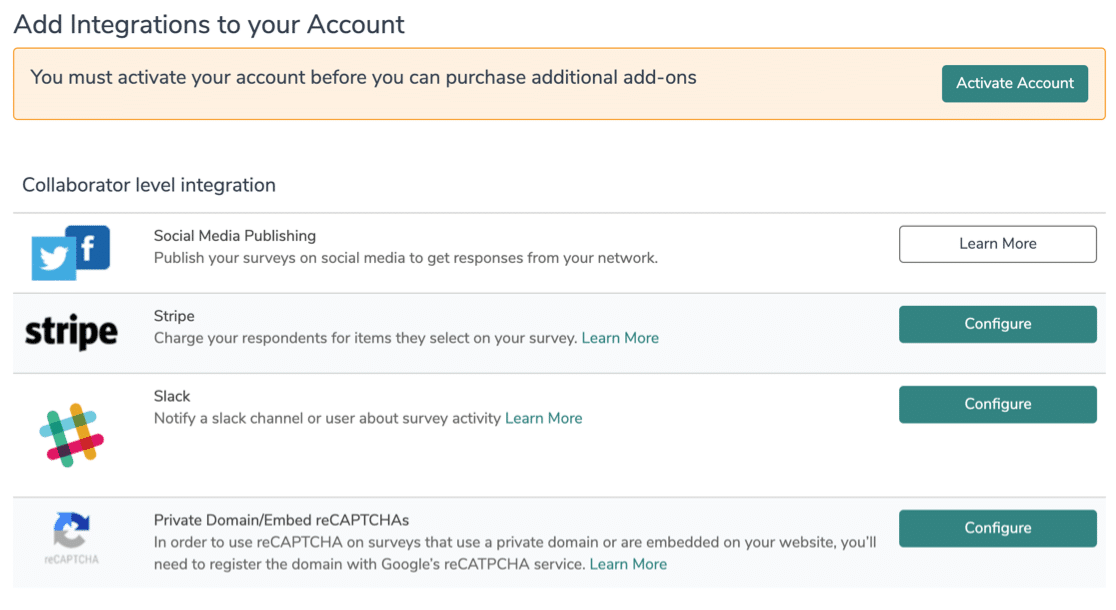 Alchemer also offers:
Reporting tools
Fatigue scoring
Custom scripting
Custom domains
Team roles
When comparing SurveyMonkey vs Alchemer, some users say that Alchemer's reporting tools are not as powerful as SurveyMonkey. Large companies might find Alchemer limiting in that respect. Alchemer also doesn't have a bank of questions that you can easily insert into your surveys, so there's less value for market researchers who want to save time.
WPForms Features
The Surveys and Polls addon is available with WPForms Pro or higher.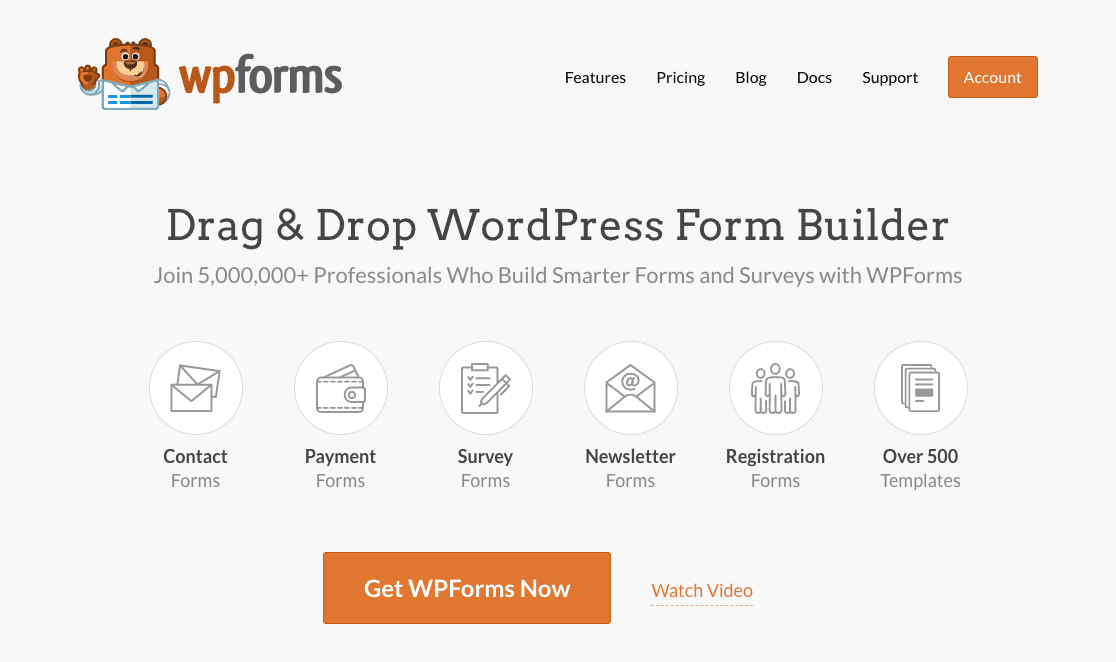 The Pro license gives you:
An easy-to-use drag and drop form builder
File upload fields
Payment fields
Pre-configured GDPR agreement fields
Survey and poll reporting tools
Entry storage in WordPress
Conditional logic
And more! There are many important differences in WPForms Lite vs Pro that could help you do a lot more with your forms.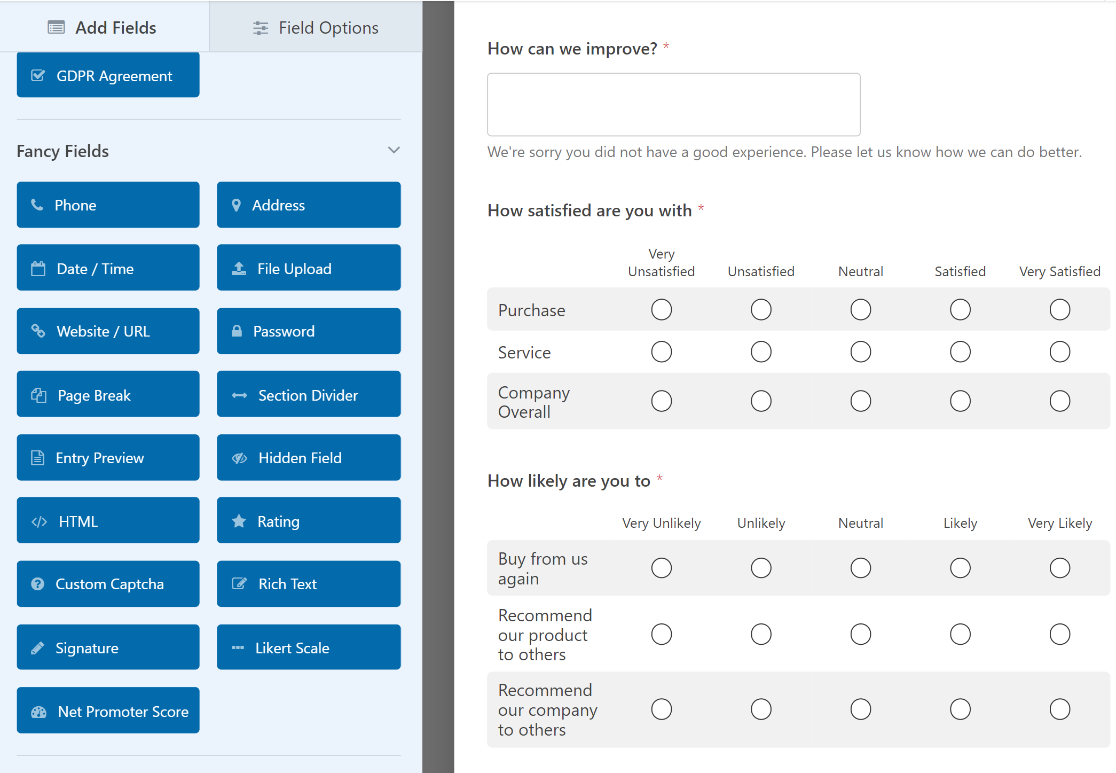 With any version of WPForms, you can easily drag different survey fields onto any form, including:
In the form settings, you'll find 2 simple settings for surveys and polls:
Enable Survey Reporting: When you turn this on, WPForms will automatically produce graphs and charts of your results. You can open these in the WordPress dashboard and export them in different ways. And you can turn on this setting for any survey at any time, even after it's closed.
Enable Poll Results: This is a neat feature that will display poll results to your respondents. When someone submits a poll, you can use this to show them a running total.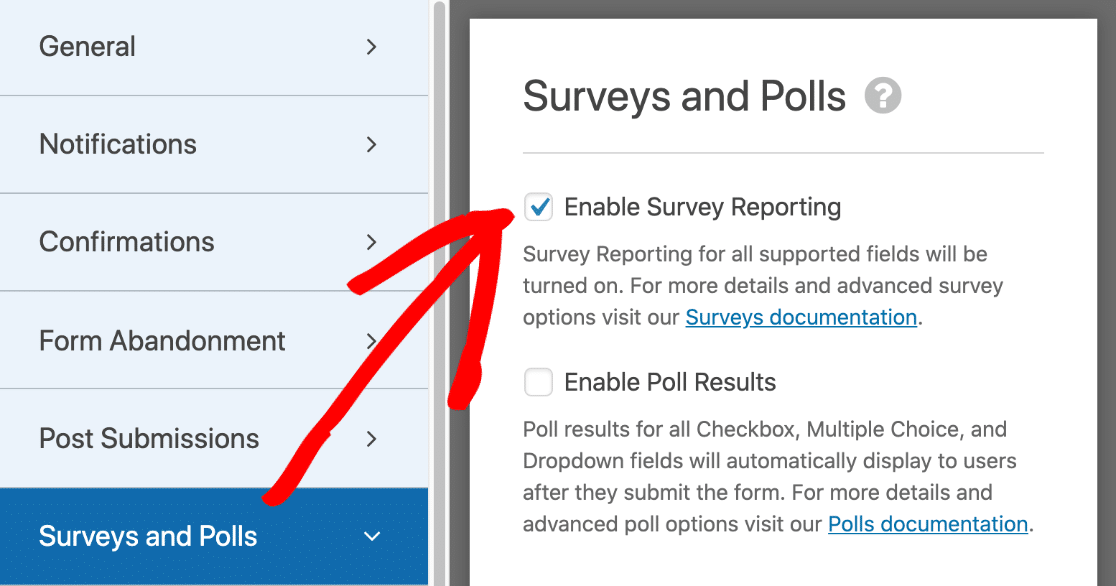 In WPForms, survey reporting is awesome and requires no coding. When you open your results in the dashboard, you'll see your charts all set up and ready to go.
Use the icons to quickly show the data in different formats, or switch the colors automatically until you find a combination you like.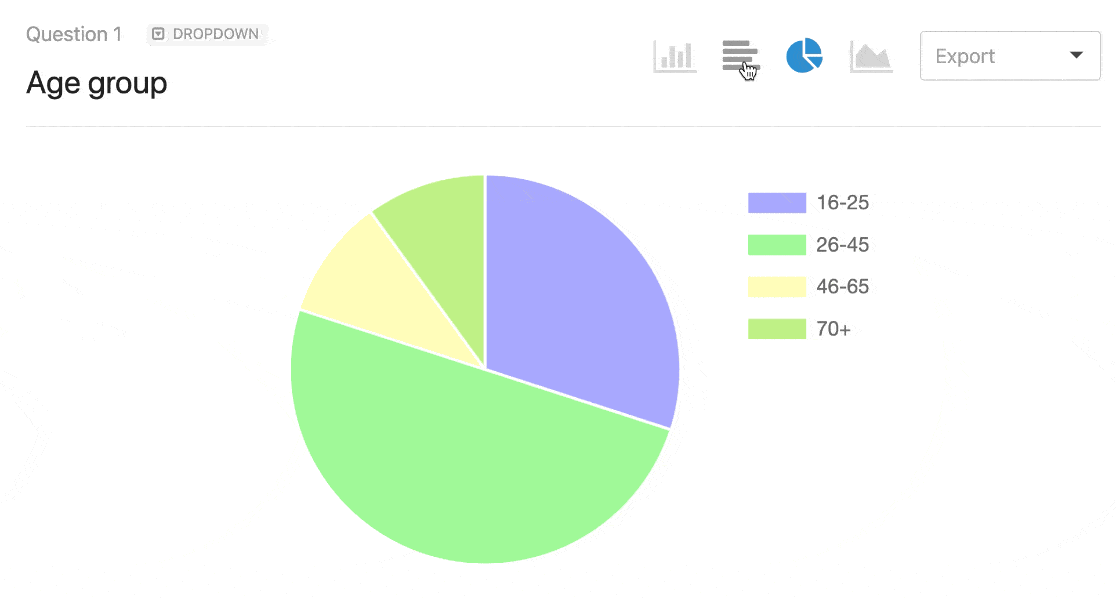 And then you can click the Export dropdown to export your favorite as an image, or print it to PDF.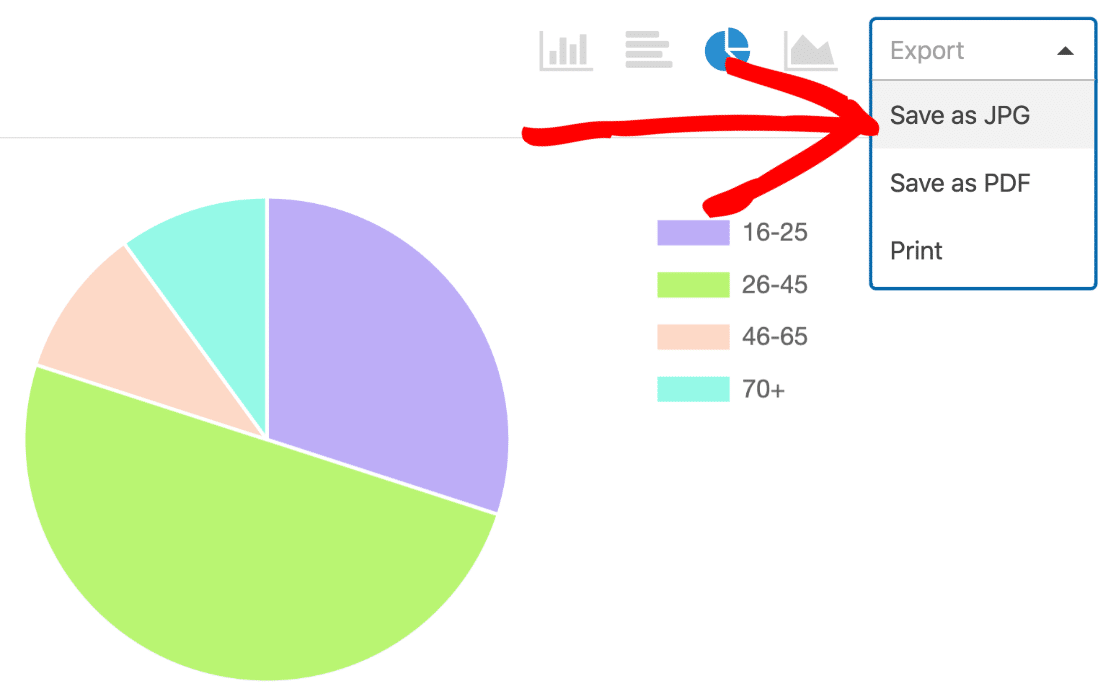 Because WPForms is smart, it'll pick special charts for special types of fields.
Here's what your Net Promoter Scores will look like. You don't need to edit any settings to get this view of your data.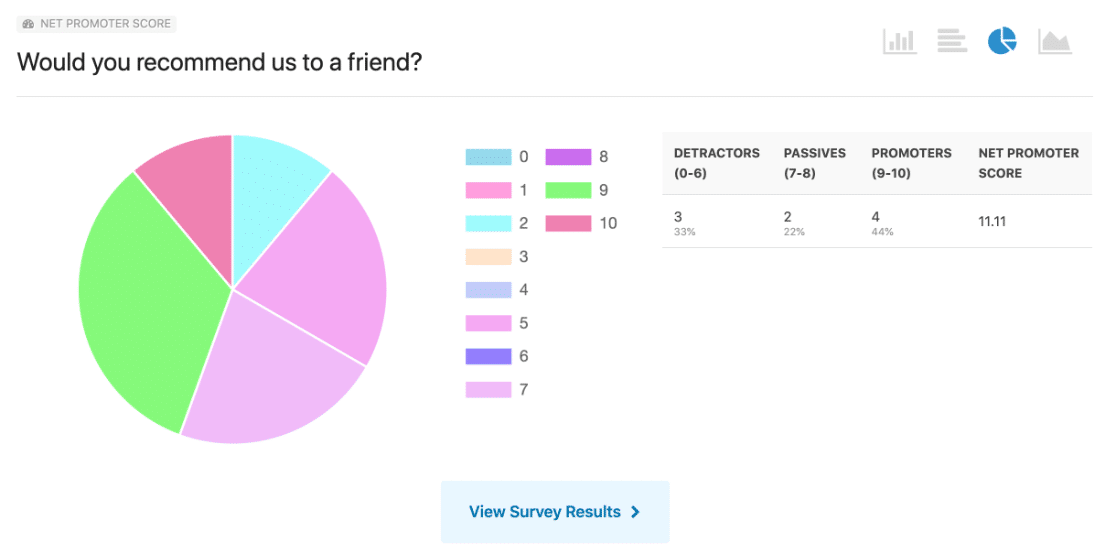 When it's time to drill down into the results, you'll love the easy entry management tools. Right in the WordPress dashboard, you can:
Sort and filter entries
See who read entries
Mark entries unread
Star entries
Delete entries
And more
And when you want to produce reports, you can generate a PDF in 1 click.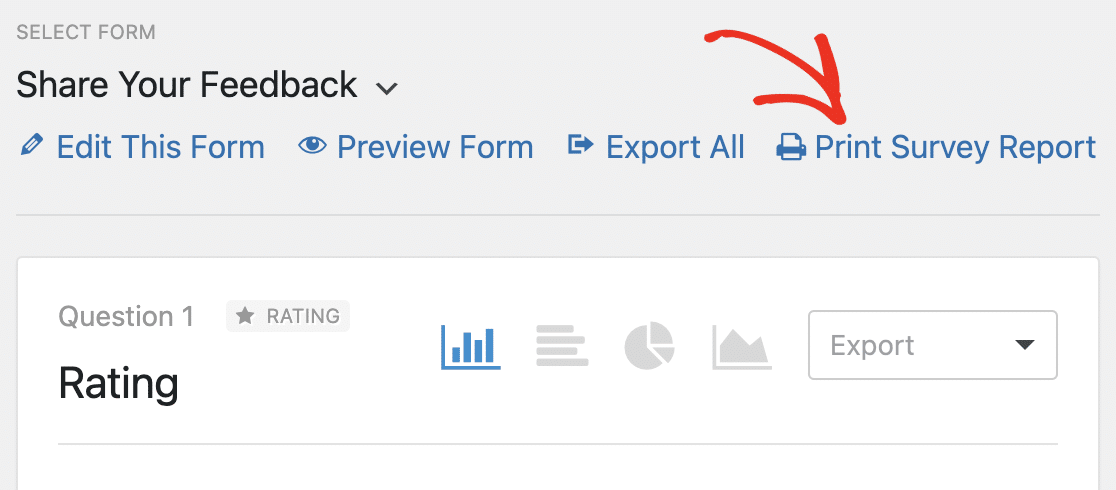 This versatility and ease of use makes WPForms Pro a great choice for all sorts of businesses.
Additionally, WPForms lets you control the capture of IP addresses and data in WordPress. It's one of the best GDPR plugins for WordPress because all of the data is stored on your web hosting server, so you can decide what to store and when to delete it.
Ease of Use: SurveyMonkey vs Alchemer vs WPForms
We've already looked at some features so you can see the interface in SurveyMonkey vs Alchemer vs WPForms. How easy is it to make a survey, customize the questions, or embed the form in WordPress?
SurveyMonkey Ease of Use
SurveyMonkey lets you build surveys using preset or custom questions. The interface is quite cluttered, and the text is also very small.
This image is a good example. Notice how the survey builder is pushed over to one side because the Question Bank takes up so much space on the left.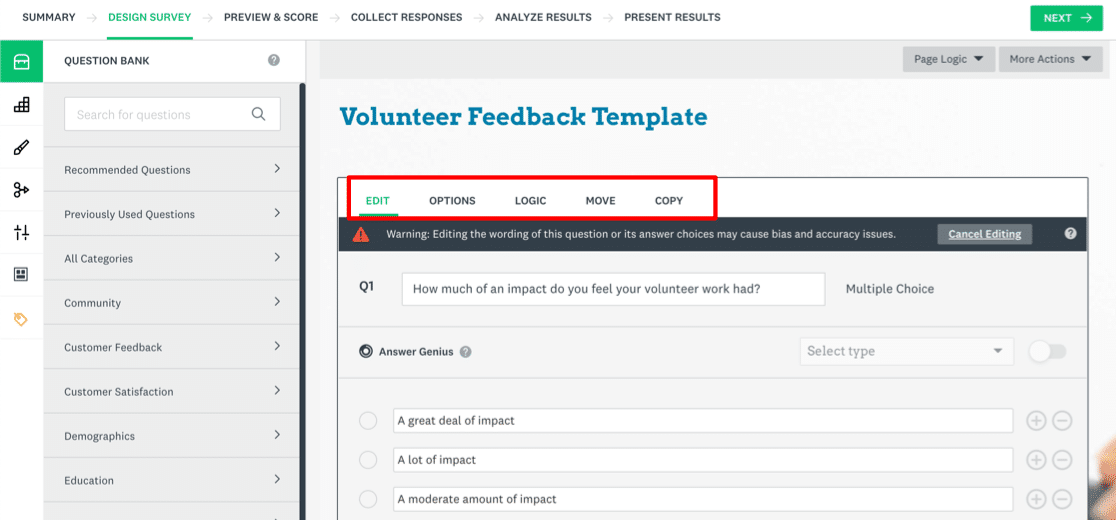 Did you notice the red square? The options for each question run left to right above the question, which is similar to the way Alchemer lays out its navigation tabs.
This is a closer view of the question editor. Even though we zoomed in, it still feels like the interface here could be larger.
The quirks continue on the main dashboard. For example, once you start a survey, there's no obvious way to edit it. There's definitely a learning curve here because it takes a while to figure out which option you need to click.
When you're ready to start distributing your survey, you can share it with a link. SurveyMonkey generates this for you. By default, it's a SurveyMonkey URL with a random string of characters at the end.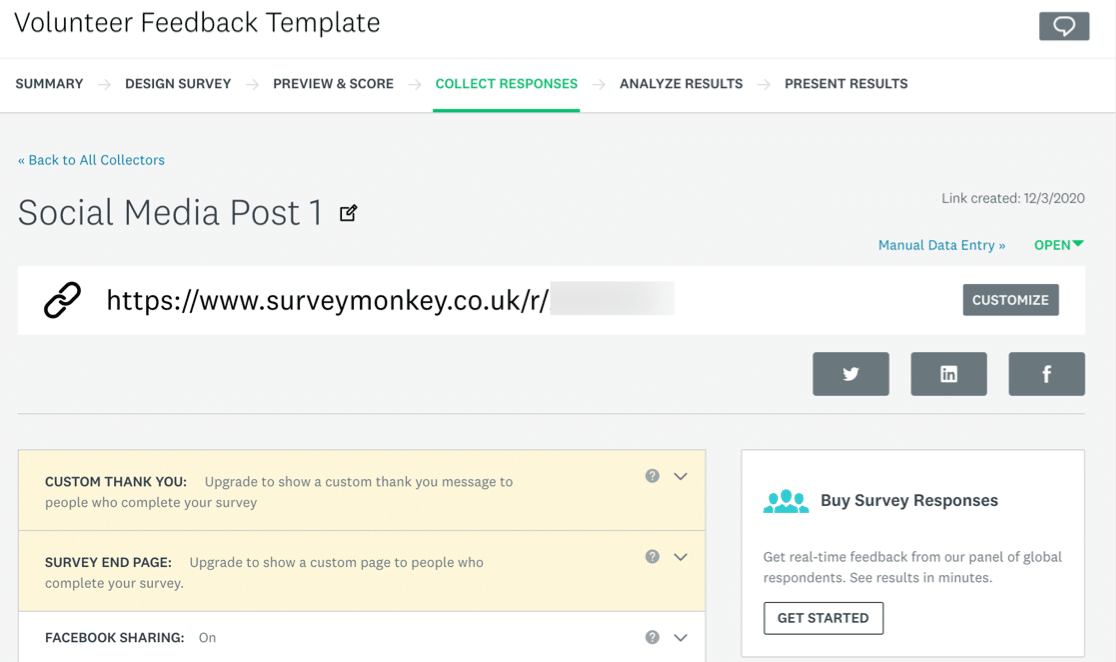 This doesn't look professional, so you'll probably want to use your own domain instead. The help link here doesn't explain how to do this. Instead, you'll have to figure out what plan you're on and then search the documentation for more details.
SurveyMonkey doesn't let you easily embed a survey in WordPress. You'll need to copy a large chunk of code and place it in a block using the block editor. This feature isn't available on the free plan, so we weren't able to try it out.
Alchemer (SurveyGizmo) Ease of Use
In Alchemer, we started out making a survey from a template. Then we added a Semantic Differential question.
When you click the question field to edit it, the options pop up over the top. And then clicking Advanced Options creates another popup.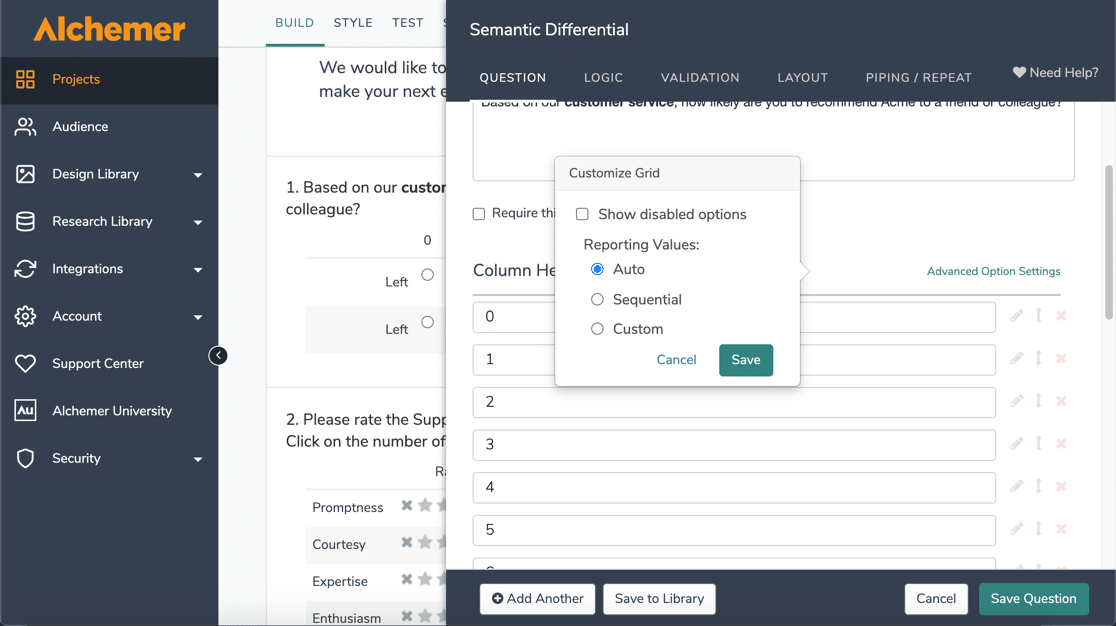 Then to edit each field option, another window pops up over the top of the first one.
So you wind up with multiple layers stacked over each other.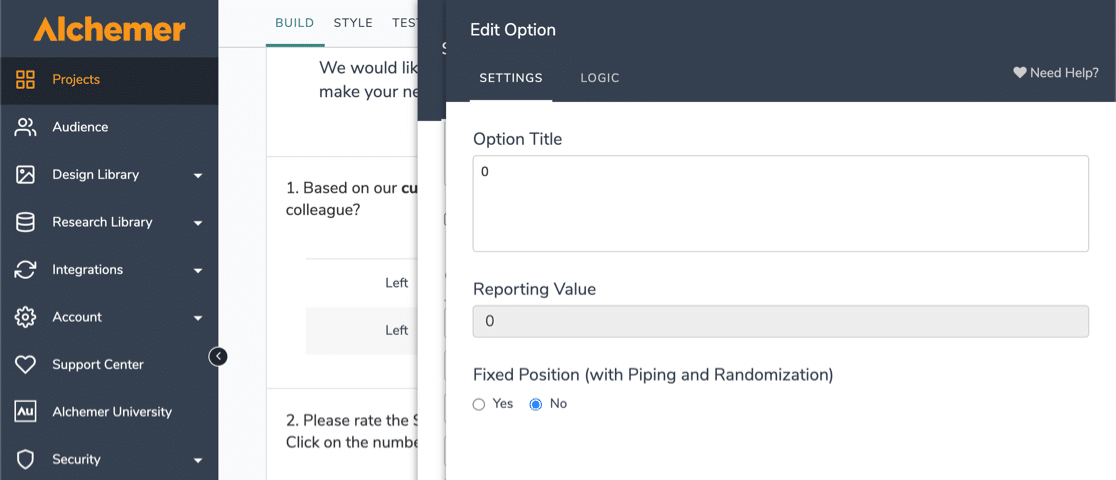 This works well once you get used to it, but it does add extra clicks. Keep in mind that a Semantic Differential field has 15 answer choices by default, so that's a lot of clicking around for 1 question.
Next, there's a survey theme customizer in Alchemer. This isn't a great user experience. There are no presets, so you have to specify every single setting here from scratch.
Compared to WPForms, the whole experience here is overwhelming. It'd work better if this opened up into a fullscreen window.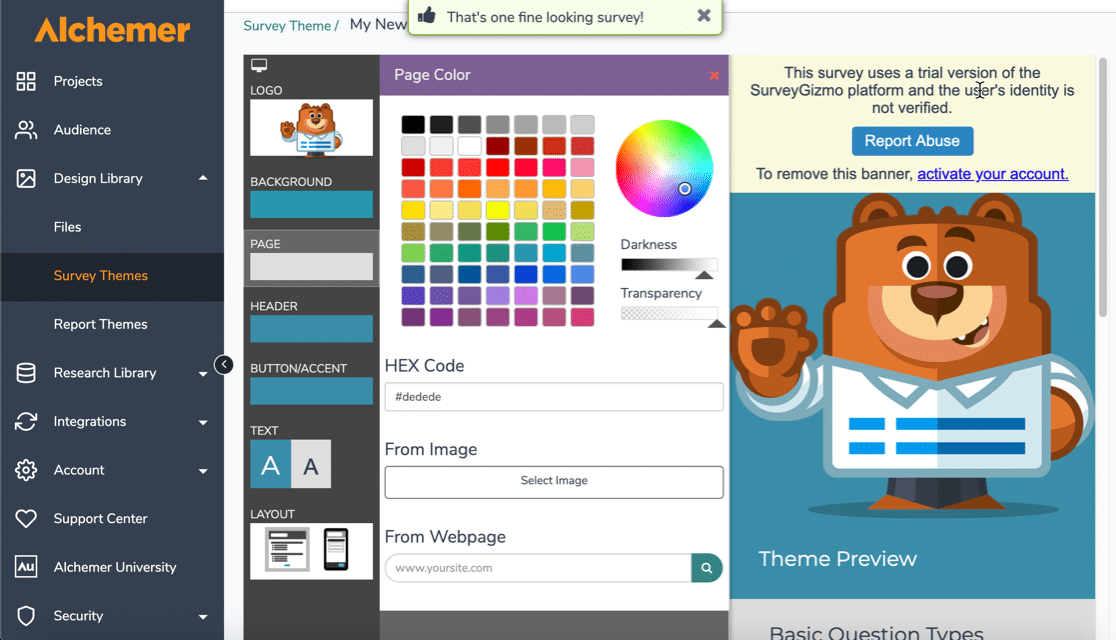 The research library lets you store questions and recycle them in multiple surveys. You can populate them with pre-set answers, like the days of the week. This works like the Bulk Add feature in WPForms.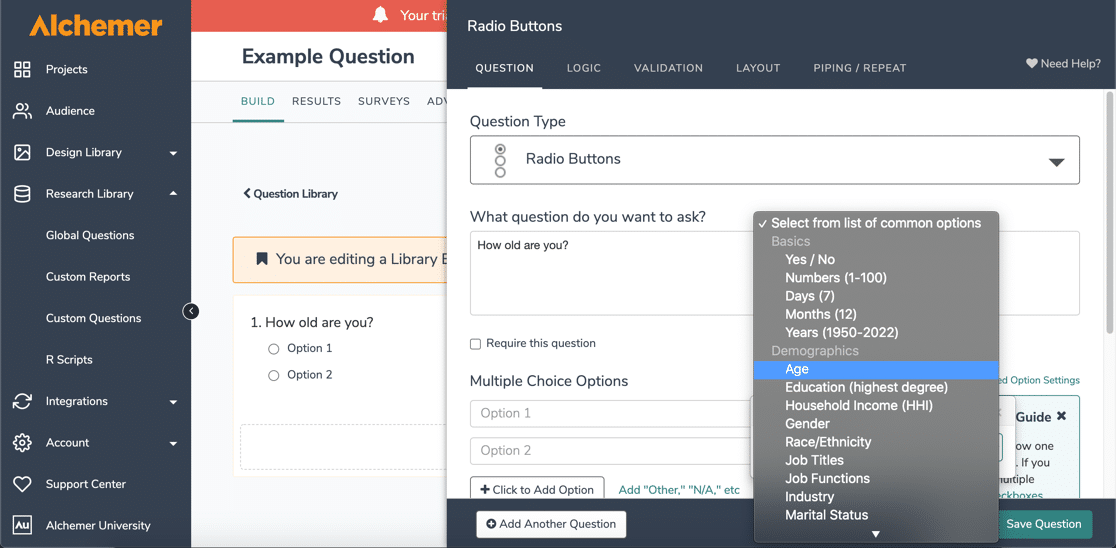 You can white label your surveys with Alchemer, but it's not a setting you can easily switch on and forget about. For example, if you want to use your own domain for emails, you'll need to change the settings in 3 different places.
Finally, we checked out the embed option. To put the survey on your WordPress website, you'll need to copy the code, just like SurveyMonkey.
There are 4 options:
JavaScript embed
Iframe embed
HTML
Popup window
You can use the tabs to choose the code you want.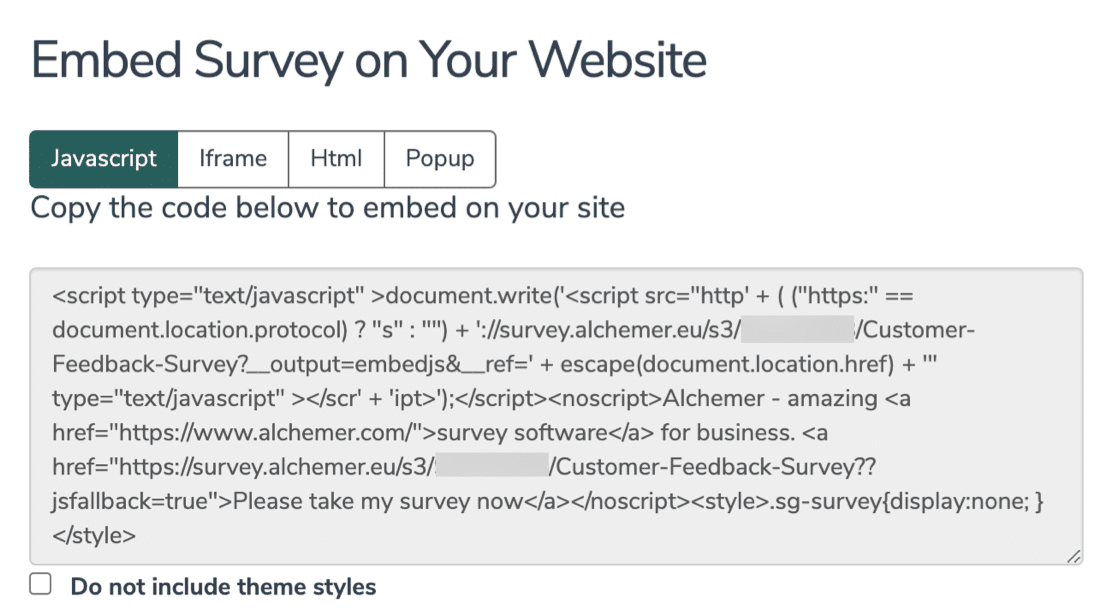 There's no other way to integrate Alchemer with WordPress. Compared to WPForms, this is a harder method that will likely require more styling.
WPForms Ease of Use
WPForms makes it easy to make forms. You can learn how the form builder works by taking the WPForms Challenge.
The Challenge is just for fun, but it's really awesome if you want to learn where the most important settings are in a few minutes.
For example, you can drag form fields from the panel on the left to the form preview pane on the right and your change is instantly shown in the preview.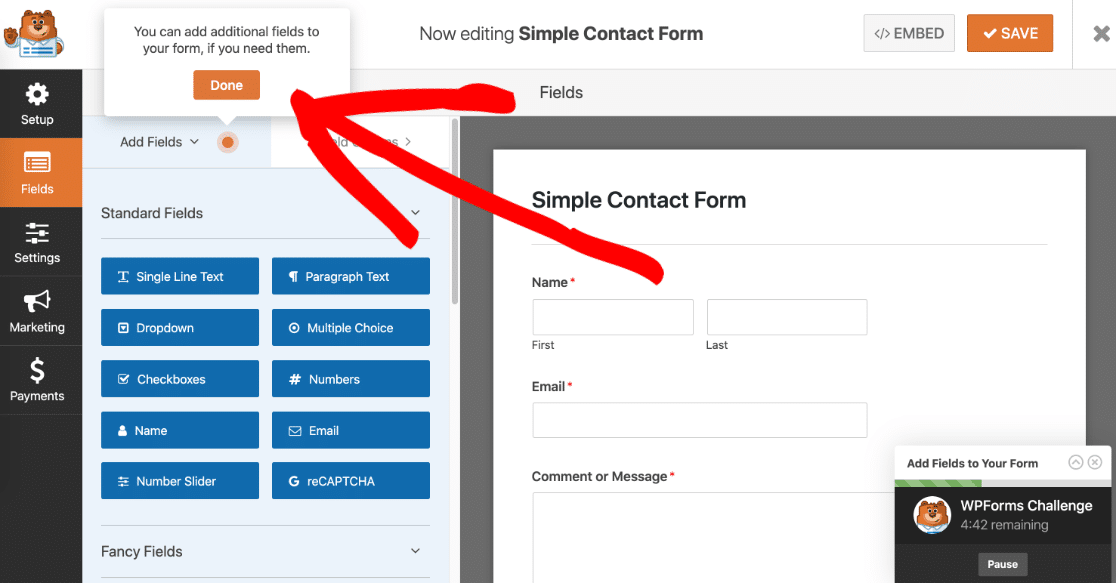 You can click on any field to change the name or settings without writing any code. It's also super easy to create multi-column forms without code.
And in the WPForms Challenge, the helpful tooltips quickly guide you through checking your form fields and notifications.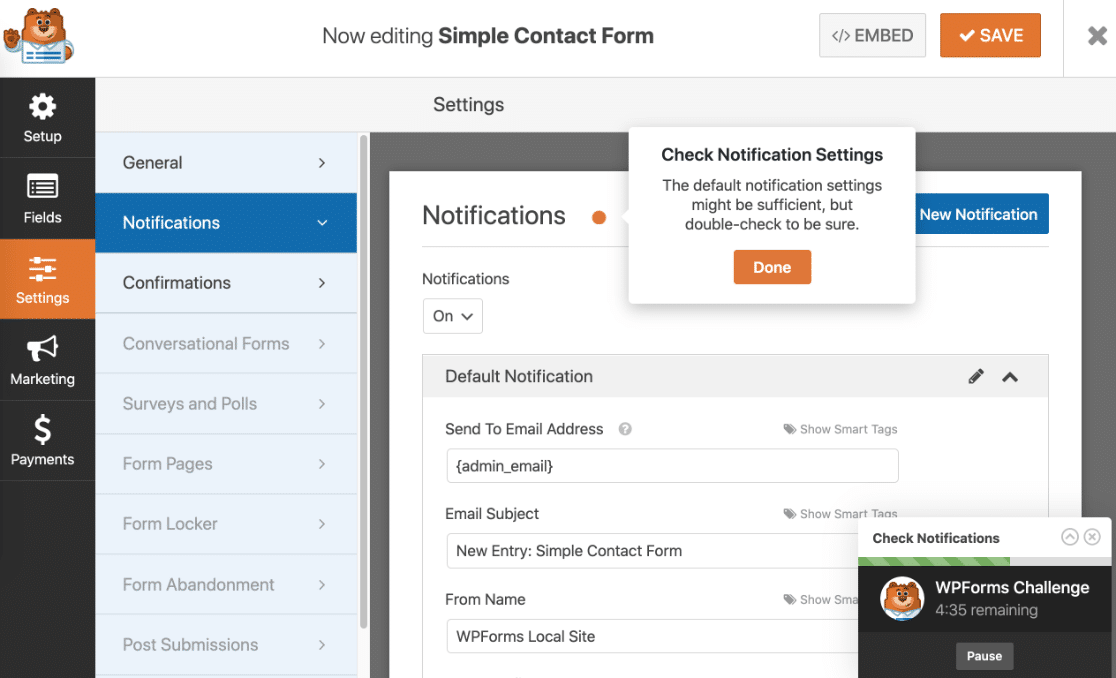 The WPForms Challenge takes less than 5 minutes to complete, and it's completely optional. But it's also a super helpful way to learn how everything works.
At the end of the WPForms Challenge, you'll be able to tweak the email notifications for your form.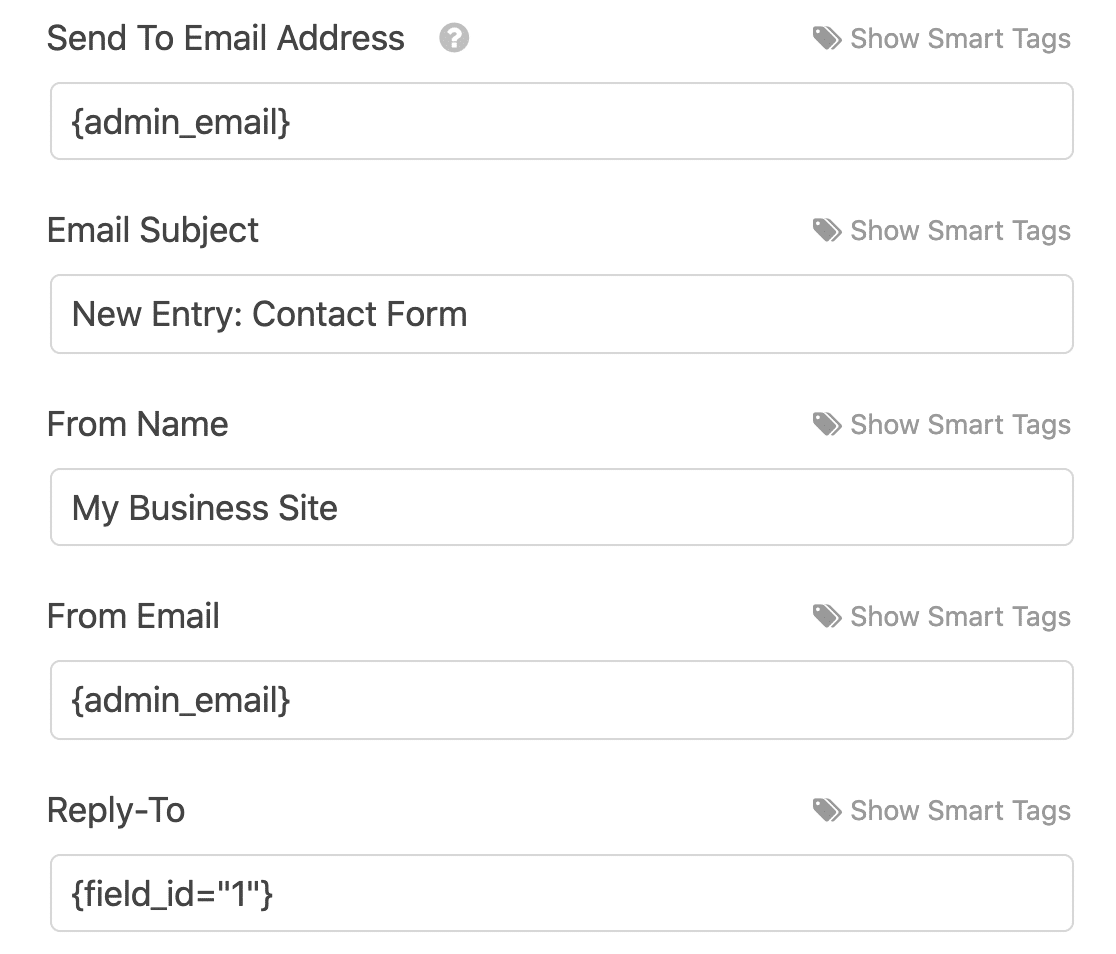 After you've completed the WPForms Challenge, you're ready to make forms on your own.
Creating a survey works in exactly the same way. You can add the survey fields you need by dragging them onto your form. Clicking once on the field lets you change the settings.
You can easily customize the survey fields by:
Changing the icon on your rating field
Customizing the question and answer choices on your Likert scale questions
And more.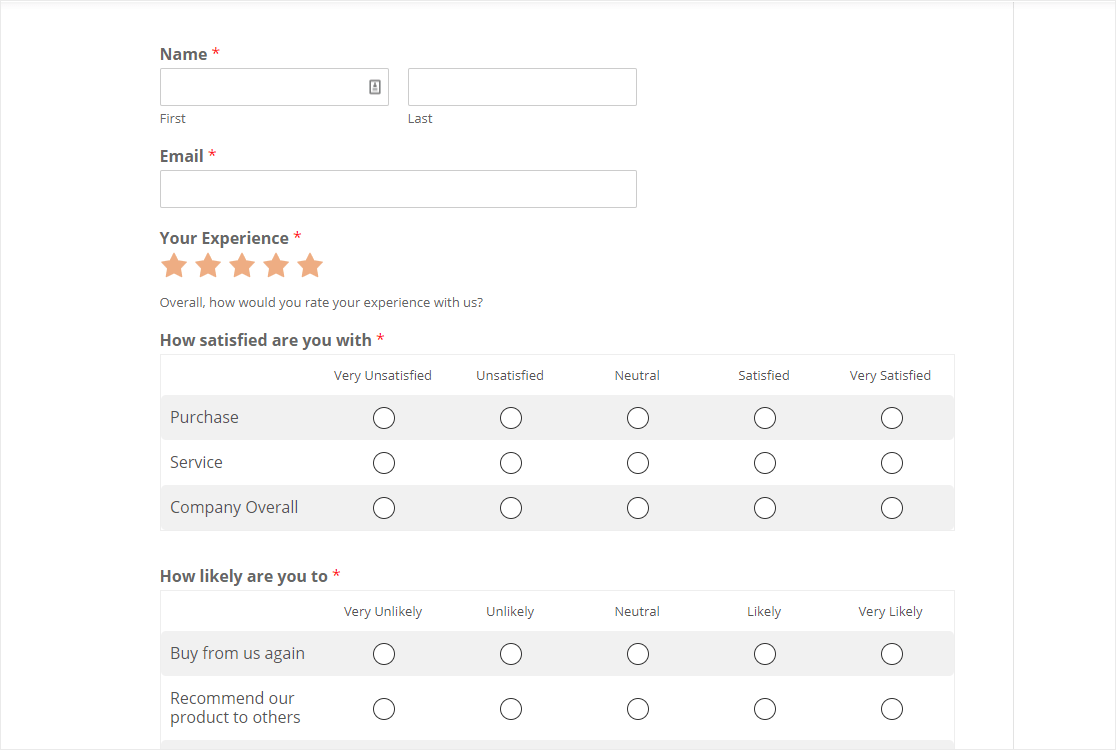 The awesome thing about WPForms is that you can easily combine addons to make the perfect survey. For example, you could:
Track the user's journey through your site before they took the survey
Automatically complete or detect your visitor's address
Easily activate the Form Abandonment addon to capture partial answers to your survey
Accept file uploads easily on a survey and store the files in your Media Library
As far as embedding goes, it couldn't be easier in WPForms. Just click the Embed button at the top of the form builder to get started.

This will let you add your survey to any new or existing page. WPForms also includes a handy Form Locator feature that lets you see all the pages on your site with forms on them. This makes it easy to keep track of where your surveys are published.
Support
If you hit a snag while making a survey, you'll want to get help quickly to solve the issue. Each survey tool has its own combination of documentation and personal help. Let's compare SurveyMonkey vs Alchemer vs WPForms.
SurveyMonkey Support
SurveyMonkey has a phone support service for paying customers. Users can also file a ticket. The support team is available to answer tickets Monday to Friday from 3 am to 8 pm, EST.
There's also full documentation in a knowledge base. We sometimes found that help was difficult to find on specific features. For example, if a feature is only available on certain plans, you have to click through 3 or 4 pages to find up to date plan descriptions, then try to find the relevant help doc for the feature after that.
When you look at SurveyMonkey's docs, you might notice that it's pretty light on screenshots. For example, the section on WordPress embedding is just a few steps, and it's too short to really help a non-technical person.
If you get stuck, it's worth checking the blog. Some features are explained in more detail there.
Alchemer Support
Phone support is available on the Professional or Full Access plans. Lines are open from 6 am to 6 pm MT, Monday to Friday. You can pay extra for 24/7 service.
Customers can also access:
Feature documentation
Rest API documentation
Scripting documentation
There are various places where you can add your own custom scripts in Alchemer, but you can't access support for this.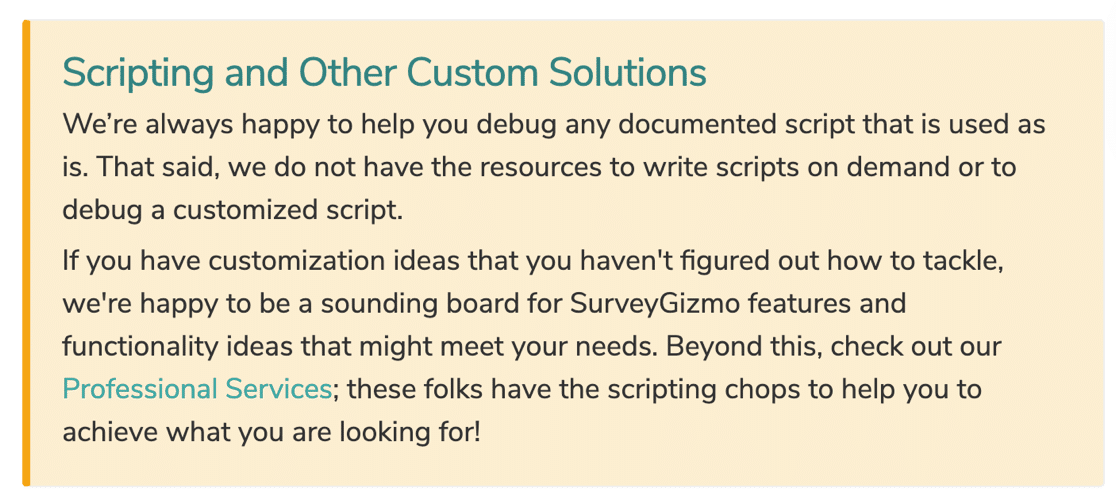 Alchemer email support is available on all paid plans. You need to go through a questionnaire to get to the support ticket form. Although email support is open 24/7, the wait time is still 1 working day.
WPForms Support
WPForms offers amazing customer service for the free and paid versions.
If you have a license, you can easily create a new ticket by logging in to your account at WPForms.com. You can use the same username and password that you created when you originally bought the plugin, and you don't have to step through any annoying questions to get to the support form.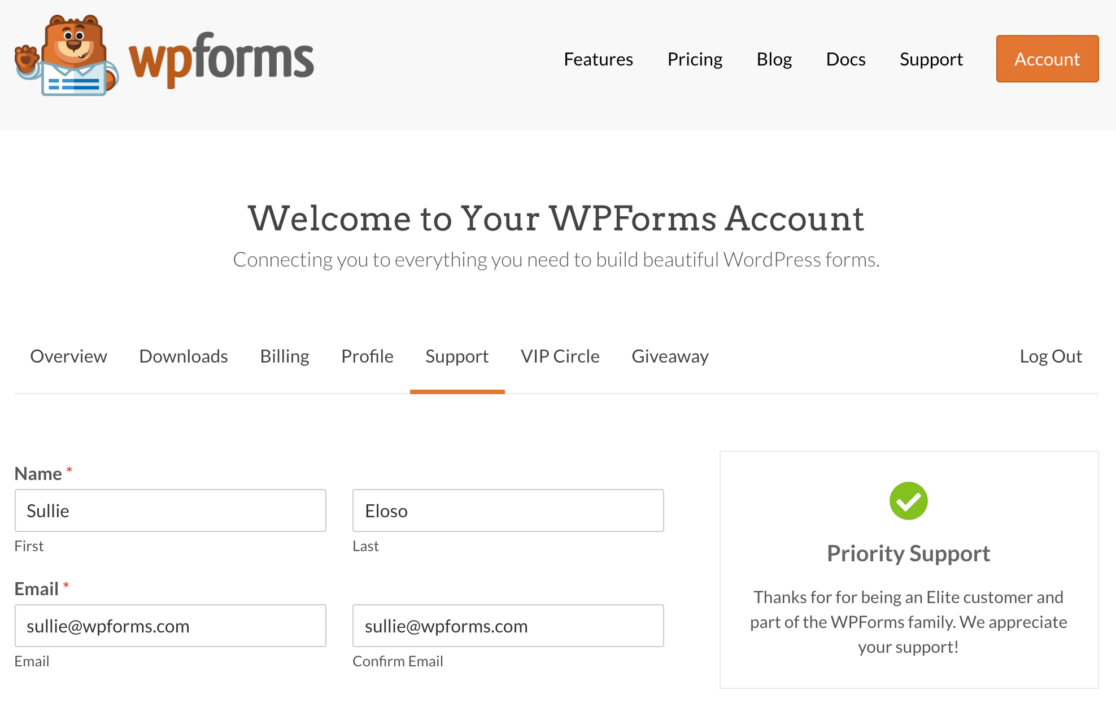 WPForms support tickets are answered Monday to Friday from 9 am to 5 pm, EST.
If you prefer to research and get answers yourself, WPForms has 3 online help resources:
VIP Circle: A private Facebook group that anyone can join to share tips and advice. You can get advice from the WPForms team or other customers to help you solve issues and improve your surveys.
WPForms documentation: Every feature in the free and paid version is documented in a knowledge base. It's easy to search and find answers right away.
WPForms developer documentation: These docs contain extra snippets and custom code that let you adapt and extend WPForms.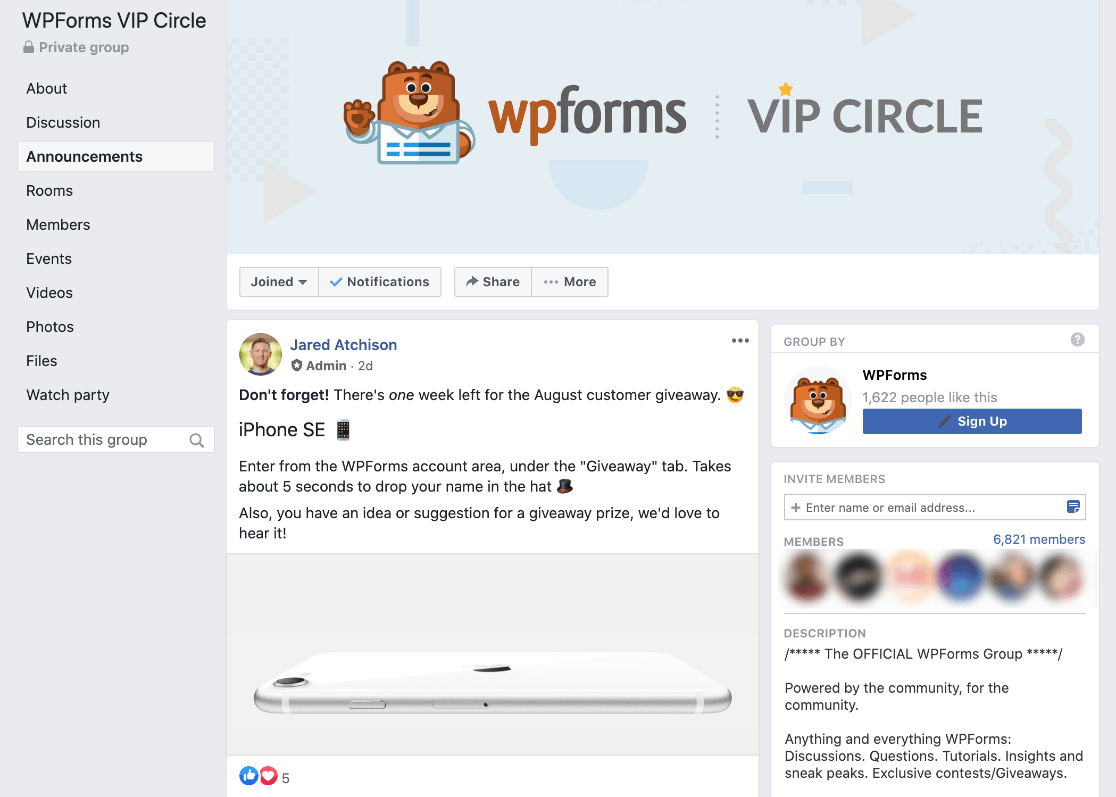 If you get stuck using the plugin, each page also has a help link at the top. This takes you right to the documentation for that feature.

Pricing
The last thing you'll want to compare is the pricing. This is where the size of your business really matters because SurveyMonkey vs Alchemer are both priced per seat. WPForms is the only one that gives you unlimited access.
SurveyMonkey Pricing
For teams, SurveyMonkey is the most expensive tool on our list. These plans are for the personal license, which is designed for 1 user seat.
You can see that the cheapest plan, Advantage Annual, costs more than Alchemer annually. But it has a limit of 5,000 responses each month.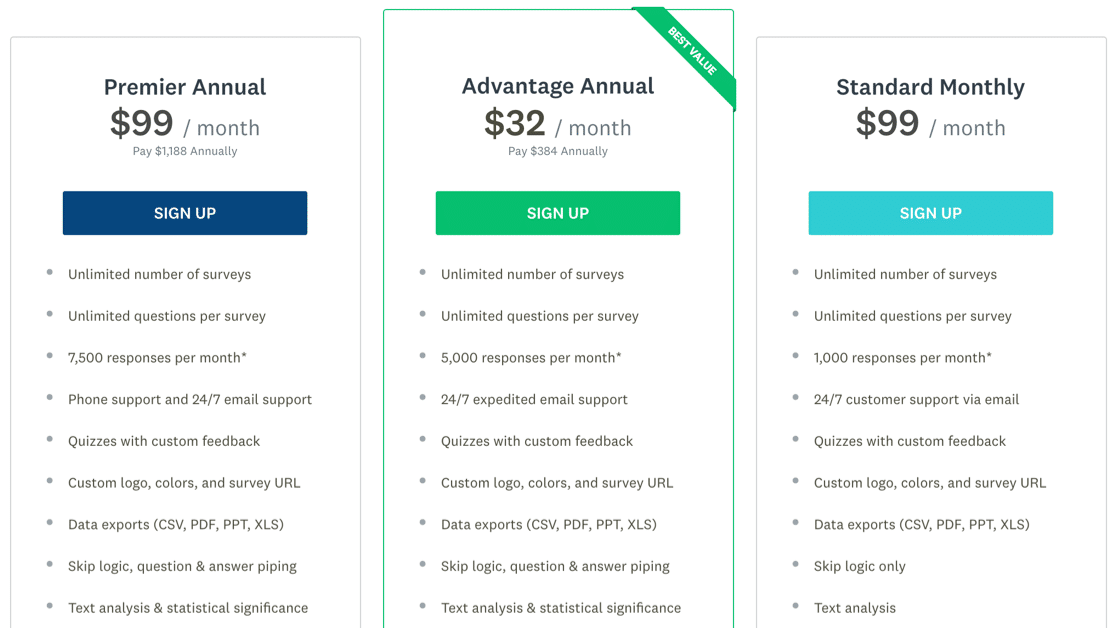 SurveyMonkey's Business plans are a little more generous. But the rates are for 1 seat, and you have to buy at least 3.
Finally, SurveyMonkey's the only tool on the list with a free plan. But you can only see 40 responses. If you get more, you have to pay to access them.
To give you a flavor, everything in orange here isn't included unless you pay: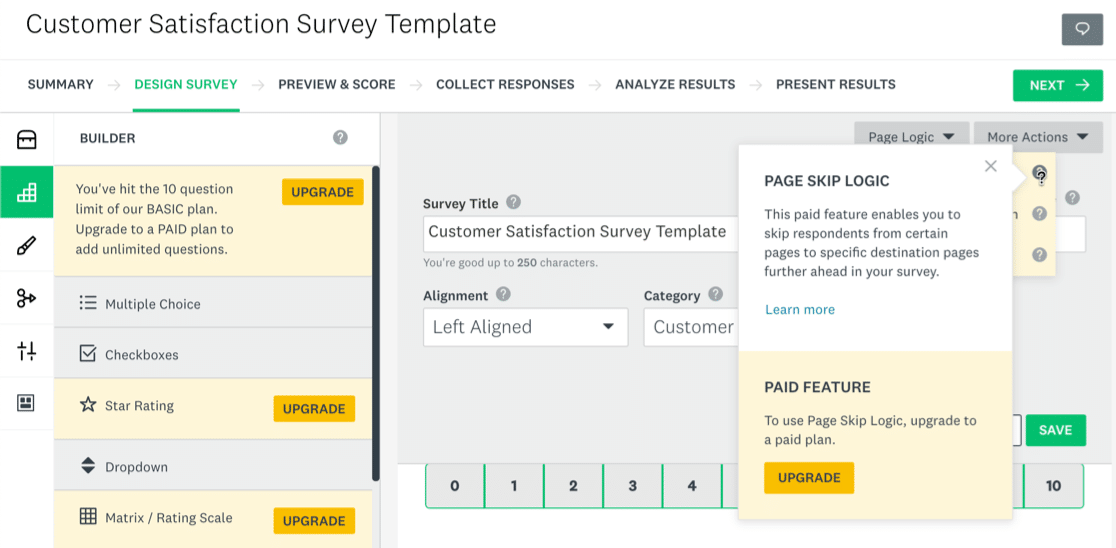 SurveyMonkey seems to be behind the curve on this. Instead of a free plan, a free trial of a paid plan would be a lot more helpful. As it is, you can't try out features before paying for them.
Alchemer Pricing
Each plan here is priced per user. So for 1 person, Alchemer is a little bit more expensive than SurveyMonkey on the basic plans if you pay monthly.
However, the biggest benefit of Alchemer vs SurveyMonkey is that you get unlimited responses on all plans. So if you can get by with 1 user seat, it's probably worth paying the extra.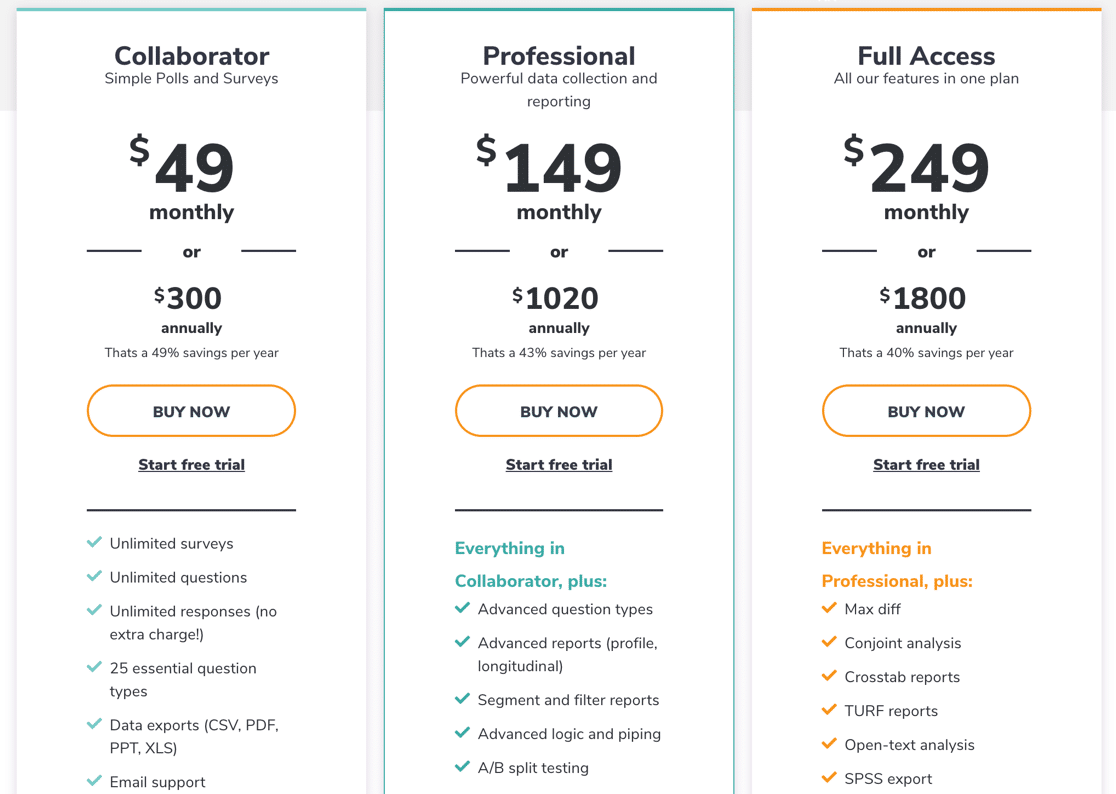 If you want to add more users, you need to contact sales. There's no price for this on the website.
Old SurveyGizmo offers are no longer live, but Alchemer has a 7-day trial that lets you use most features. You can't test out the integrations on the trial, but on the plus side, you don't need a credit card to give it a try.
WPForms Pricing
WPForms is the only online survey software on our list that has 1 flat-rate price.
To use the Surveys and Polls addon, you'll pay just $399/yr.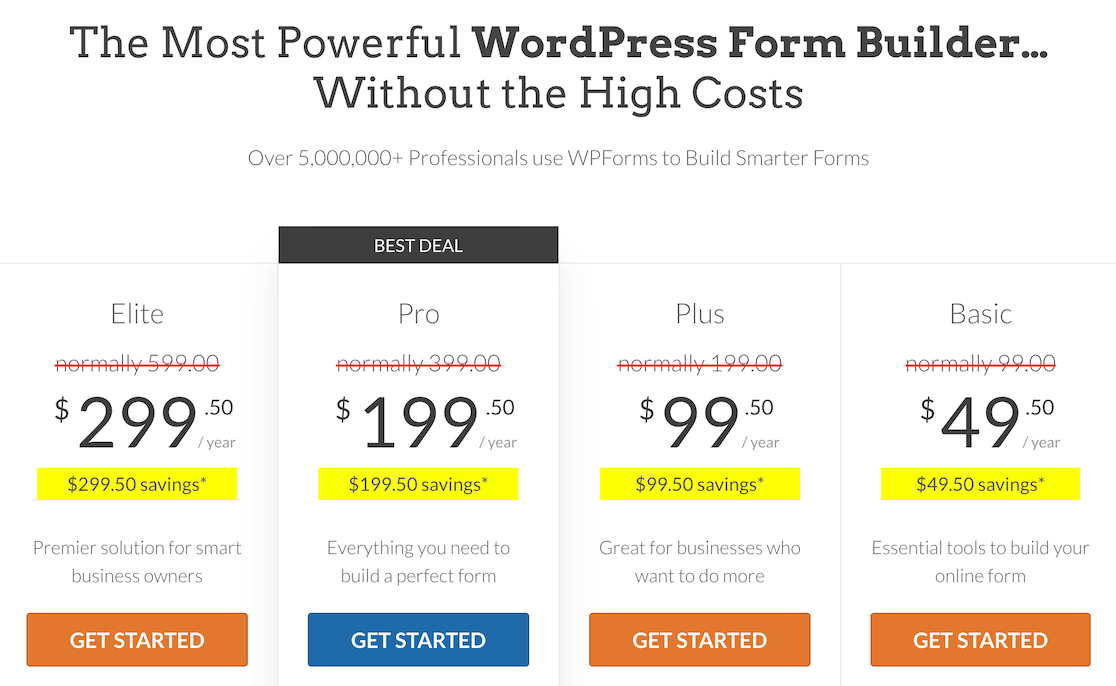 We took this screenshot during a sale. Click here to see if the special rate is still available!
So with WPForms, the price you pay gives you:
Unlimited users: Your employees and freelancers can log in to WordPress and manage or create surveys.
Unlimited surveys and responses: Create and duplicate as many surveys as you need, and even make your own survey templates.
Useful survey templates: Easily create customer satisfaction surveys, employee surveys, and questionnaires.
Of course, WPForms isn't just a survey tool. It's the only tool on our list that can also create forms for your website as well. That adds a ton of value.
With Pro, you can:
So when you add it all up, WPForms easily offers the best ROI when you compare it to SurveyMonkey vs Alchemer. You get tons of useful features to drive your business forward, but without the bloat, or obscure settings you'll never use.
Buy any WPForms license and try it out today at zero risk. If it doesn't work out, just reach out for a refund within 14 days. You can get your money back for any reason, or no reason at all.

SurveyMonkey vs Alchemer (SurveyGizmo) vs WPForms: Who Wins?
When you really dig down and look at the detail, it's clear that WPForms is the best survey tool for your small business.
You get all of the functionality you need to make professional surveys.
Anyone on your team can use it without training.
The cost is steady and predictable, so there's no limit to the customer feedback you can collect.
It's a flat annual fee, and you don't have to pay per user seat.
You get useful survey templates that are easy to customize.
It has the most help resources of all 3 tools we compared.
Additionally, WPForms is the only survey software that directly integrates with WordPress. So if you're already using WordPress for your website, you already know how to use WPForms too!
Create Your WordPress Survey Form Now
Next, Export Survey Data from WPForms
When you run a survey in WPForms, you might want to use the data you've collected in other tools. WPForms makes it easy to integrate 3rd party services or export your data.
Check out how to:
WPForms lets you work with your survey data in tons of different ways. These are just a few ideas that could help you save time.
Ready to build your form? Get started today with the easiest WordPress form builder plugin. WPForms Pro includes lots of free templates and offers a 14-day money-back guarantee.
If this article helped you out, please follow us on Facebook and Twitter for more free WordPress tutorials and guides.