Are you wondering how your customers feel about their shopping experiences with you?
By asking customers to share their feedback on a WordPress customer feedback form, you can continue to make their shopping experience outstanding and fix things they may not like.
In this tutorial, we'll show you how to add a customer feedback form to your WordPress site.
Requesting Feedback
Before creating a customer feedback form, it's a good idea to plan out what kind of questions you want to ask your customers so you can improve your business.
Here are some examples of customer feedback questions that you can use to create your form:
How likely are you to recommend this product/company to a friend?
What problem would you like to solve with our product/service?
What is the thing you love about our product/service/company?
If you were unhappy, what can we do to get you to come back?
How happy are you with us or our product/service?
What features could you not live without?
What features could you live without?
How likely are you to shop with us again?
How did you hear about us?
Why did you choose us?
What would you say to someone who asks you about us?
Keep in mind these are only example questions. You don't want to use all those questions at once and overwhelm your customers.
In fact, the fewer form fields you have, the higher your form conversions will be. So, be sure to choose only a few important questions to ask at a time. You can always survey your customers at a later date with different questions.
Now, let's take a look at how to add a customer feedback form to your WordPress site using WPForms.
How to Make a WordPress Customer Feedback Form
Follow these steps to easily build your customer feedback form in WordPress.
Step 1: Create a Customer Feedback Form
The first thing you'll need to do is install and activate the WPForms plugin. For more details, see this step-by-step guide on how to install a plugin in WordPress.
Next, you'll need to create a WordPress form. The great thing about WPForms is that it comes with 1,200+ WordPress form templates. And, it just so happens that you can create a customer feedback form using a few different WPForms templates.
Let's take a look at the best templates for this type of form.
Suggestion Form
If you're looking for people to provide you with suggestions, this is the template for you. To start, it comes with the basic Name and Email form fields for getting people's information. You can even add a newsletter checkbox to your form so you can add email addresses to your email list to boost your email marketing efforts.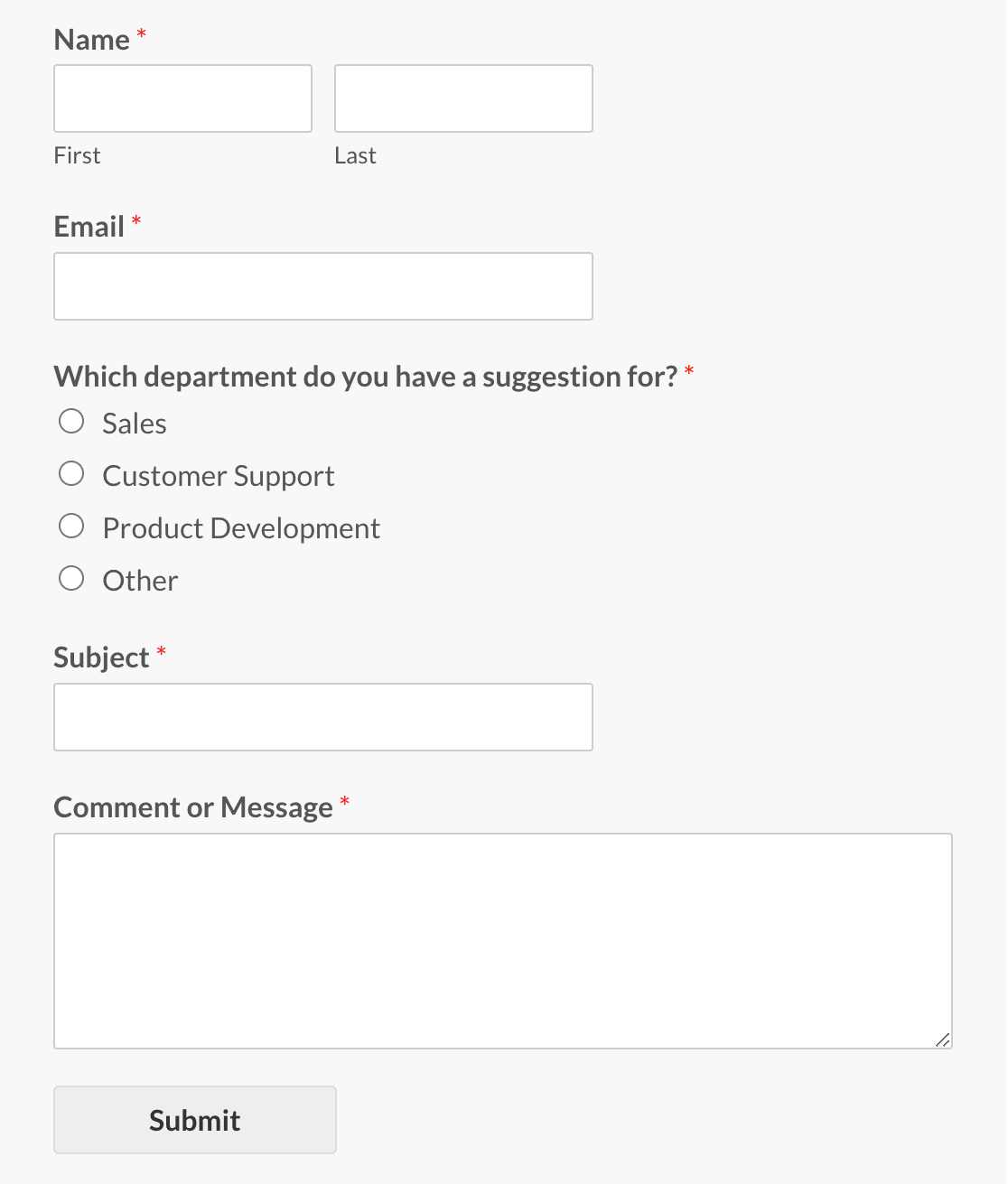 It also comes with a Multiple Choice form field if you want people to choose a specific category or department, a Single Line Text field so people can assign a subject to their suggestion, and then the Paragraph Text field so people can let you know what their suggestion is.
Poll Form
The Poll Form template is perfect for asking customers one single question that will help you improve or build your business. It comes with a customizable Multiple Choice field and an Email field.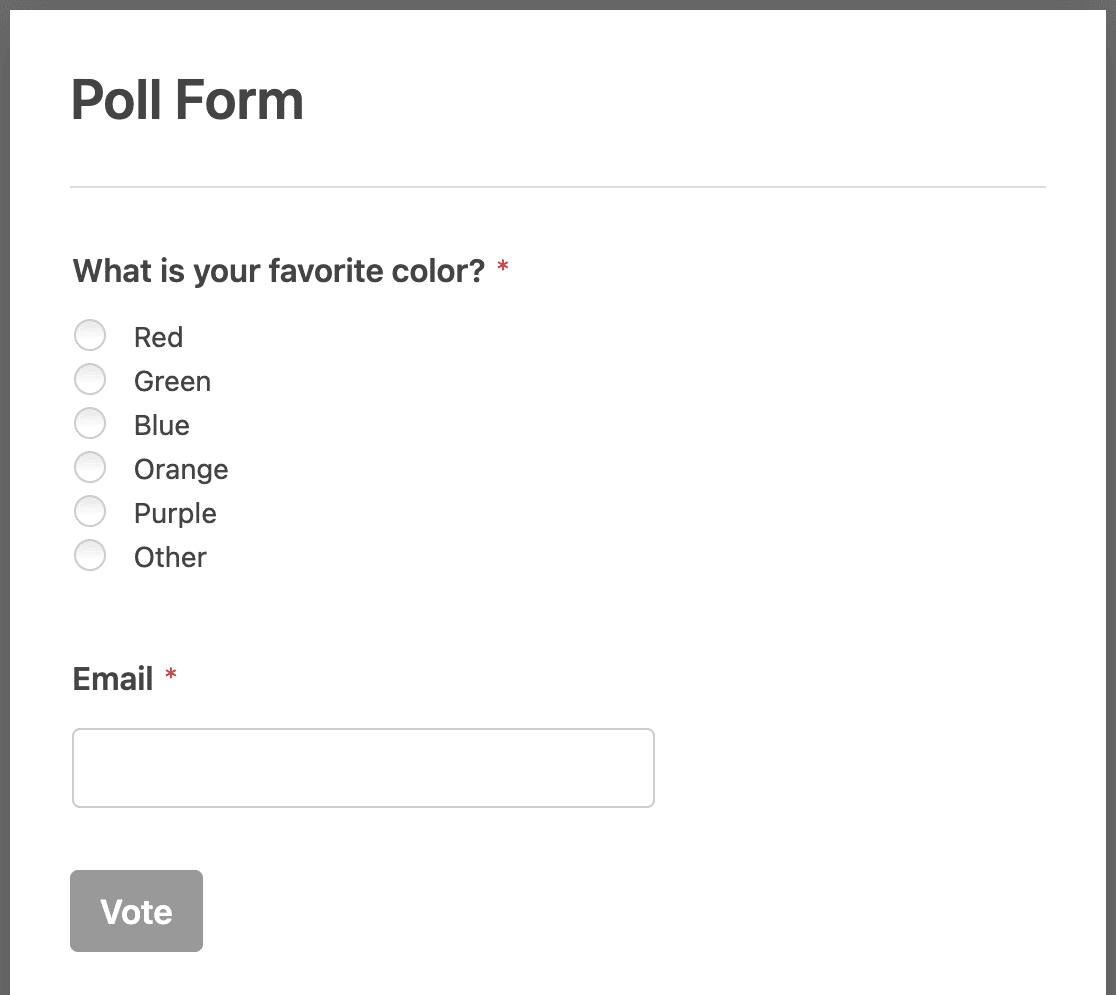 For example, you might provide a list of potential products to start selling in your online shop and ask people which one they would most like to see hit the shelves.
Or, you might ask people what colors they prefer, how many times a month they buy from your company, or how they heard about your business. Check here for some good poll questions to ask for better customer feedback.
Survey Form
The survey form is part of the Surveys and Polls addon and is great for getting more in-depth information from your customers.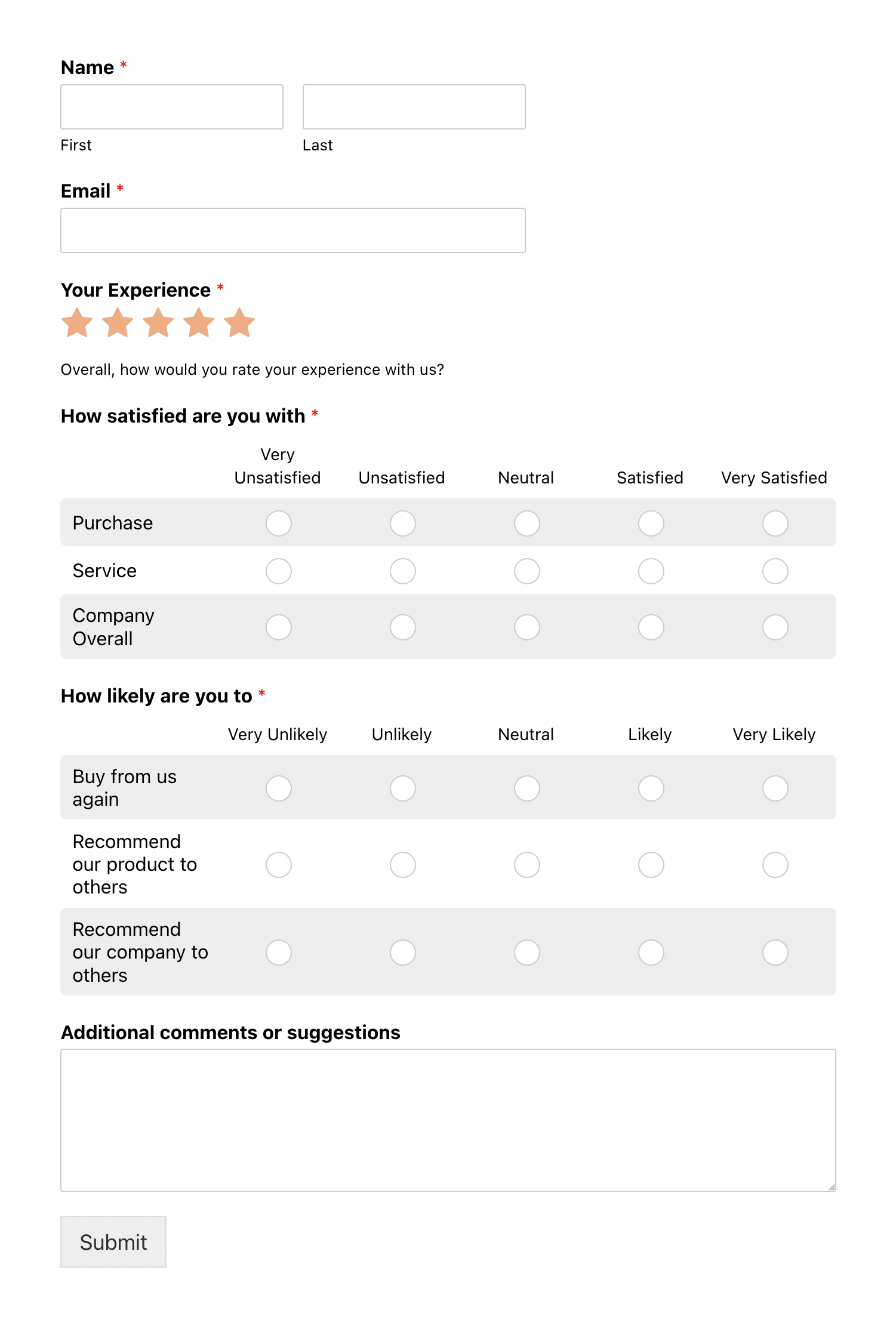 The preset template comes with form fields such as the Rating field and Paragraph Text field. You can hide these fields using conditional logic so that they only appear if someone rates your company below a certain threshold.
It also comes with the Likert Scale form field for gauging people's satisfaction with your company, products, services, customer service, and more. If you'd like some tips for Likert scale questions, check out this article on questionnaire examples and templates.
These are the most generalized feedback form templates in WPForms. However, there are tons of more specific options, too, including:
Multi-Step Office Survey Form
Home Buyer Feedback Form
Neighborhood Feedback Form
Exit Interview Form
Step 2: Customize Your Feedback Form
Once you select the customer feedback form that meets your needs, you can customize it. In fact, that's the beauty of WPForms.
Not only is WPForms the most beginner-friendly and easy-to-use WordPress form builder around, but it's also simple to customize. Any of the form fields that are available that you want to add to your customer feedback form can be added by dragging them from the left-hand side in the form builder to the right-hand side preview panel.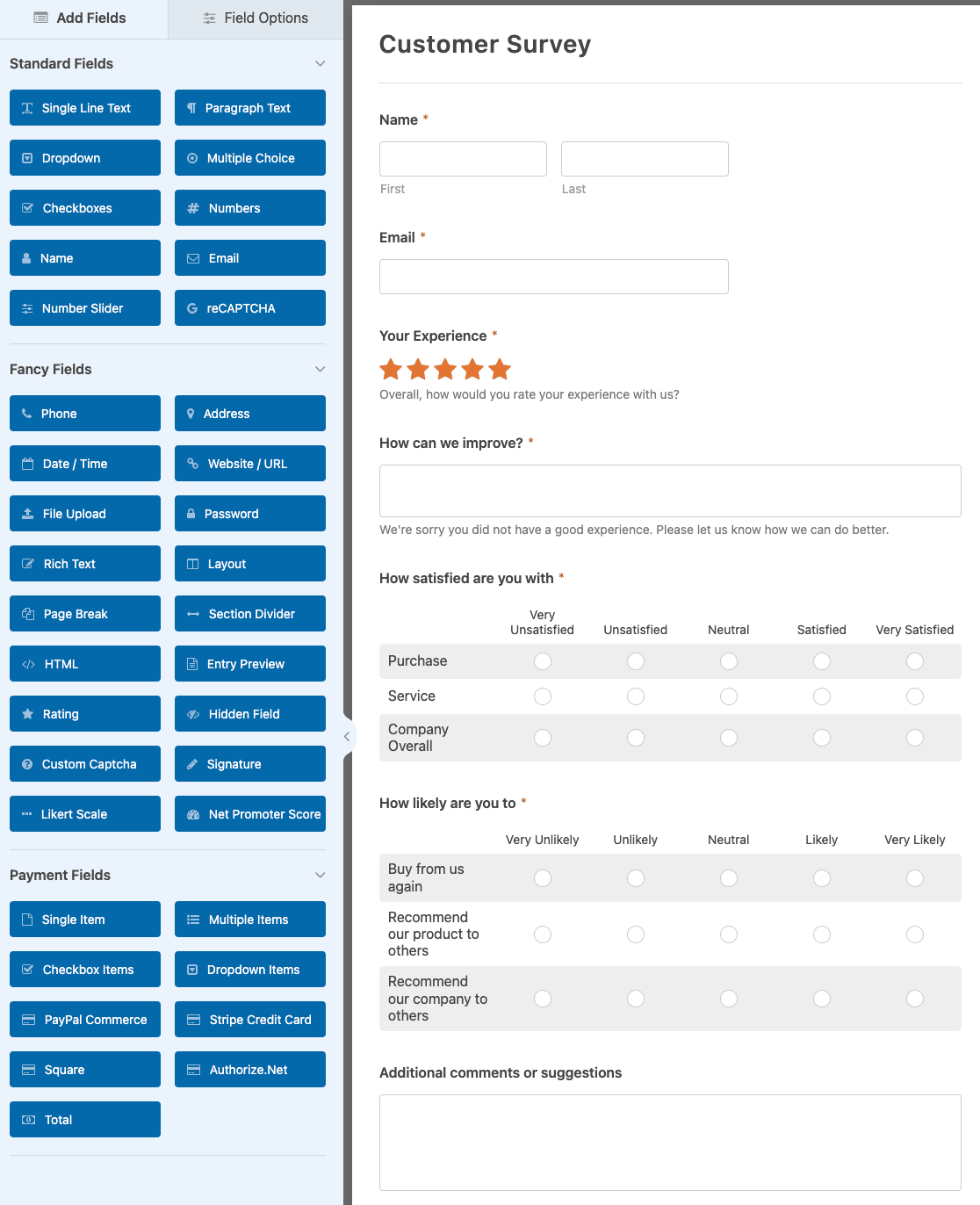 For example, you could add a Net Promoter Score field to ask, "How likely are you to recommend our brand to a friend?"

Remember, you can add any number of form fields such as the Rating, Likert Scale, or even Net Promoter Score. Or you can customize standard fields to ask similar questions and get feedback from your customers. It's really up to you how you want to structure your form.
You can also use smart conditional logic to ask follow-up questions based on the feedback customers give you.
For instance, if someone chooses a Net Promoter Score of 8 or above, a field will appear asking the customer what they love best about your products or services, and what made their buying experience enjoyable. If someone chooses a score below 8, a field asking the customer what you can do to improve will appear.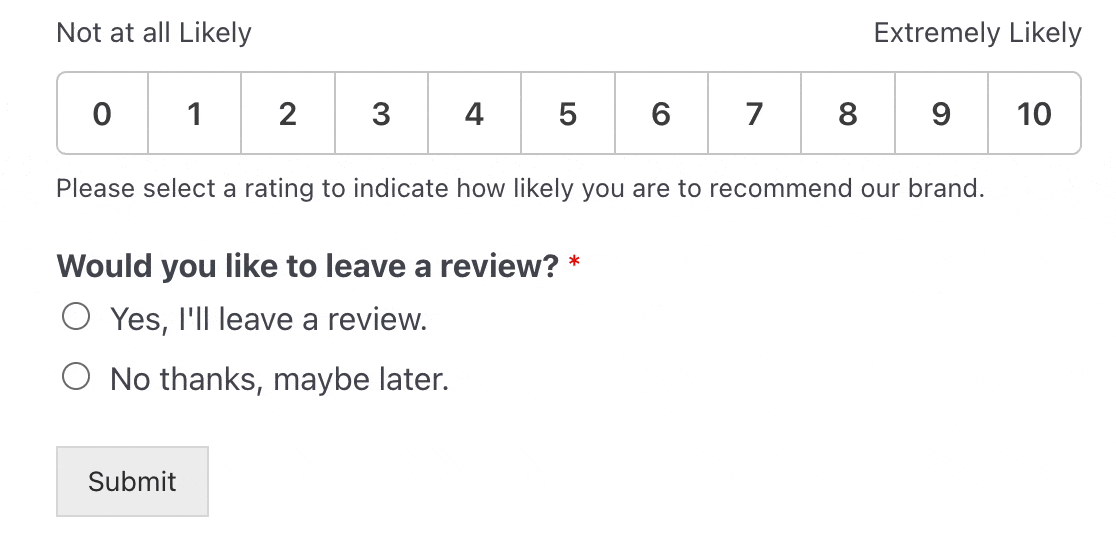 In the end, using smart logic makes the forms shorter while giving the customers a chance to provide clear answers without feeling overwhelmed.
You can even add an emoji rating scale to your form to make it more fun for your customers to fill out the form.
Step 3: Configure Your Feedback Form's Settings
Before you add your customer feedback form to your WordPress site, you should configure its settings. You'll find these by clicking on the Settings tab on the left side of the form builder.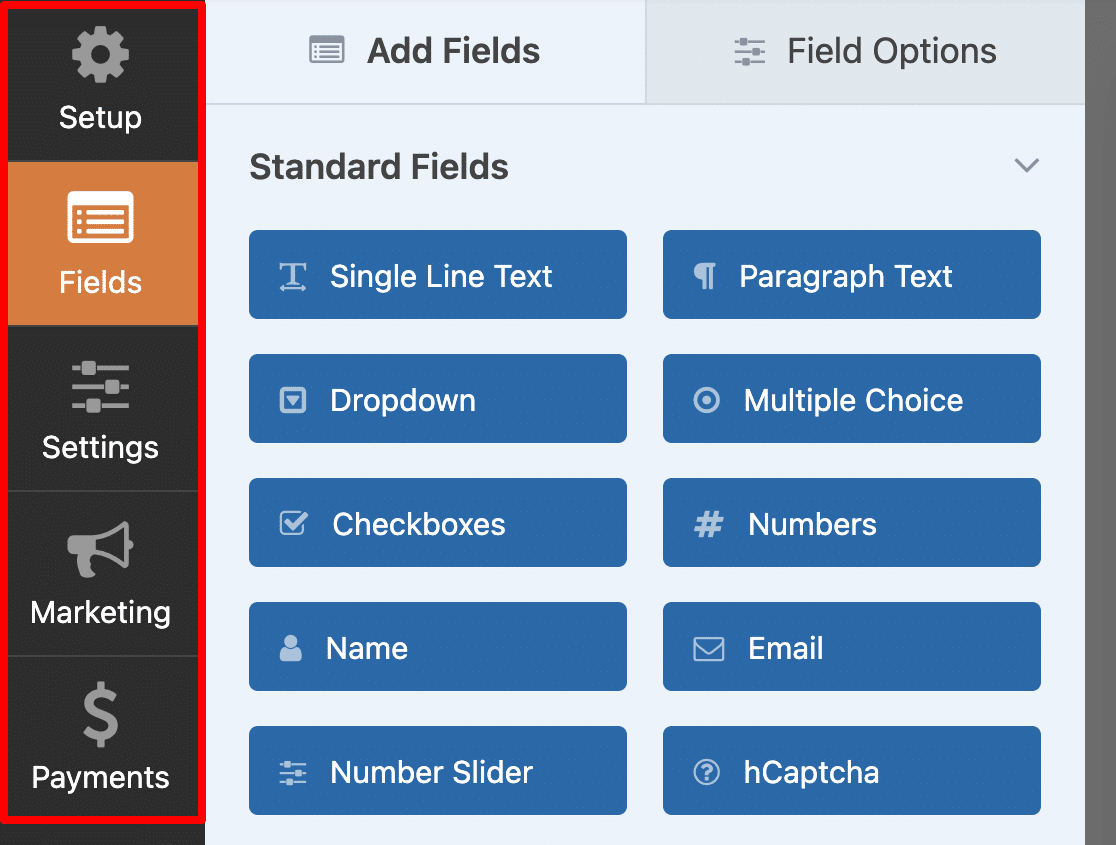 There are many settings to configure on a WordPress form:
General Settings: Here you can change things like your form's name, description, and submit button copy. You can also enable additional spam-prevention features to keep your website secure from unwanted form submissions.
Form Confirmations: Form confirmations are messages that display to site visitors once they submit a customer feedback form on your website. WPForms has three confirmation types to choose from: Message, Show Page, and Redirect. You can choose one or a combination.
Form Notifications: Notifications are a great way to send an email whenever a feedback form is submitted on your website. You can set up a notification that's sent to your business email address once a form is submitted on your site. You can also send one to the site visitor who submitted the form and anyone else who needs to be notified of form submissions.
If you've added a subscribe checkbox to your contact form, you'll also need to integrate it with your preferred email marketing provider.
WPForms offers the following email service provider integrations with the Pro license level:
Step 4: Add Your Customer Feedback Form to Your Site
Asking for feedback will help you provide the best customer service to your site visitors. And while asking people for feedback is important for growing your business, you don't want to be too pushy.
WPForms lets you add forms to many places on your WordPress website, including posts, pages, and widget areas.
However, another way you can ask for feedback is by adding a popup form to your site that visitors see after making a purchase. Check out our post on the best WordPress popup plugins to find the right one for you.
We recommend OptinMonster, so we've made a tutorial on how to create a popup form in WordPress using that tool.
You can also create a feedback form page. Or you can add your form to a widget area, such as in the footer or sidebar of your website, so lots of people see the form but aren't overwhelmed by it.
WPForms makes it really easy to add your form to a page on your WordPress site. Just click on the Embed button at the top of the form builder.

Then choose if you want to add your form to a page that already exists or if you want to create a new page.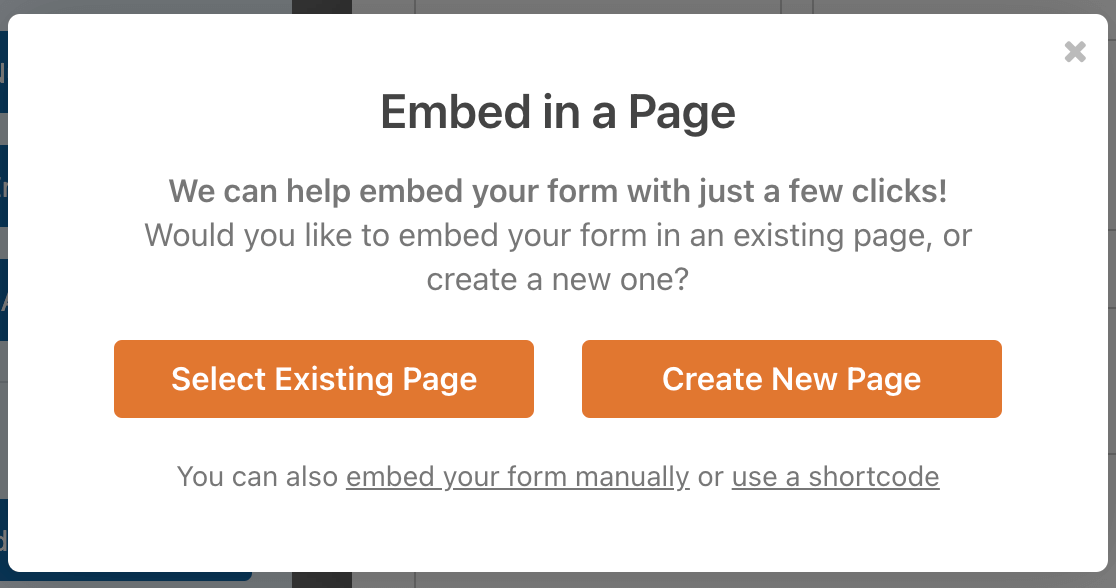 Then all you need to do is publish or update the page and your form will be ready to go.
After that, it's easy to link to your feedback form in purchase order confirmations, email newsletters, or even from social media so people who have recently interacted with your business can leave feedback.
Remember these tips to help you get more feedback suggestions:
Keep the form short or even break it into multiple parts.
Create a logical flow to questions.
Ensure your form is user-friendly on mobile devices.
Offer incentives for feedback, like special discounts.
Another method you could use to create a customer feedback popup form on your website is to use a plugin called UserFeedback. It gives you an easy way to ask unlimited questions and receive unlimited responses to help determine what your customers really want. It's small and compact, so you can choose where to add it on your site.
UserFeedback gives you access to more than 20 templates to help you create exactly what you want. Plus, it integrates with more than 100 of your favorite tools.
It doesn't have all the functionality and additional features that WPForms has, so you're limited to feedback questions only, but if that's all you need it to do, it's a solid plugin option.
Pricing for UserFeedback starts at $49.50/year.
Next, Start Your Own Referral Program
And there you have it! You now know how to add a customer feedback form to your WordPress site so you can know exactly how people feel about your company, products, services, and more.
You could also think about using a refer-a-friend form to get more leads from the customers who give positive ratings.
Do you want to sell digital products on your WordPress site? You might also want to check out our guide on the simplest way to sell digital products.
So, what are you waiting for? Get started with the most powerful WordPress forms plugin today. WPForms Pro comes with multiple free survey templates.
And don't forget, if you like this article, then please follow us on Facebook and Twitter.