Are you considering SurveyMonkey vs Qualtrics vs WPForms? All 3 of these tools have great features for running business surveys. But if you choose the wrong tool, you might find it too difficult to use.
In this article, we'll put these 3 different survey tools head to head. We're going to compare functionality and pricing so you can easily see which survey software is right for your business.
Create Your WordPress Survey Now
What Are the Pros and Cons of Qualtrics?
Qualtrics is an advanced research platform aimed at universities and large corporations. It has complex analytics tools for large research projects.
Although its power is a definite pro, all of the features can make it very difficult to use. Many organizations set aside a training budget and might even have a developer to take take care of survey customization.
For businesses, the main con of Qualtrics is the cost. Qualtrics doesn't publish its pricing. But in our research, we found that it costs thousands of dollars a year.
In this article, we're going to look at Qualtrics along with 2 affordable alternatives: SurveyMonkey vs Qualtrics vs WPForms.
Let's move on and see which one is best.
SurveyMonkey vs Qualtrics vs WPForms
We'll look at these 3 tools in detail to see which is best for your business or nonprofit. First up, let's explore the features that you'll find in each one.
Features: SurveyMonkey vs Qualtrics vs WPForms
Any online survey software lets you create surveys and polls. But the features in some tools are complicated.
It's best to avoid paying for features you don't need, mainly because they can make the software much harder to use.
WPForms Features
WPForms is the best form builder plugin for WordPress. It lets you create any kind of form for your website without writing any code.
The Pro version of WPForms comes with the surveys and polls addon. It lets you run different types of surveys and easily visualize the results.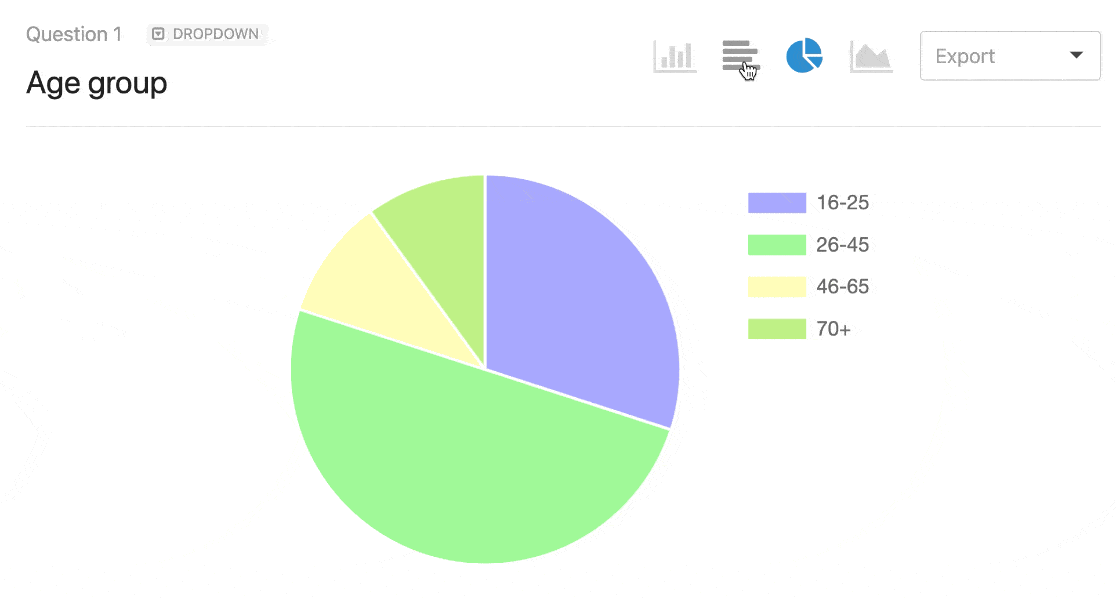 It's super easy to make a survey form and display it anywhere on your website.
With the WPForms surveys and polls addon, you can:
Make surveys from templates. WPForms comes with 500+ form templates that are super easy to customize. You can duplicate surveys and make your own templates.
Make contact forms and newsletter signup forms. WPForms is super versatile, so you can use it for any kind of form you can think of.
Use conditional logic. Show and hide survey questions based on previous responses.
Take payments. Easily accept payments with Authorize.Net, PayPal, Square, and Stripe.
Let visitors upload files. Add a file upload field, then store the uploads in your Media Library, Google Drive, or Dropbox.
Export and work with survey data. Send answers automatically to Google Sheets, print survey responses as PDFs, or export form data to Microsoft Excel in a CSV.
Integrate your CRM with your WordPress surveys. Send responses directly to CRMs like Zoho CRM, Insightly, and Salesforce.
Easily create research workflows. Use a survey response to trigger a todo workflow in a Toggl project.
Find published forms on your site. Check your surveys' locations so you know where you've embedded them.
Manage your surveys from your WordPress dashboard. WPForms includes advanced form management features, like tracking revisions and letting you restore deleted forms from the trash folder.
And more.
You can immediately see why WPForms is worth it for so many businesses. The form builder is super powerful, and the surveys and polls addon makes it easy to make customer satisfaction surveys, cancelation surveys, and more.
About WPForms Surveys and Polls
When you buy WPForms Pro, you get all of the standard form fields, plus some extra 'fancy' fields for surveys, ratings, and polls.
This makes survey creation super easy.
For example, you can add a Net Promoter Score by dragging it onto your form. And using the display logic, you can control which customers get to see that field.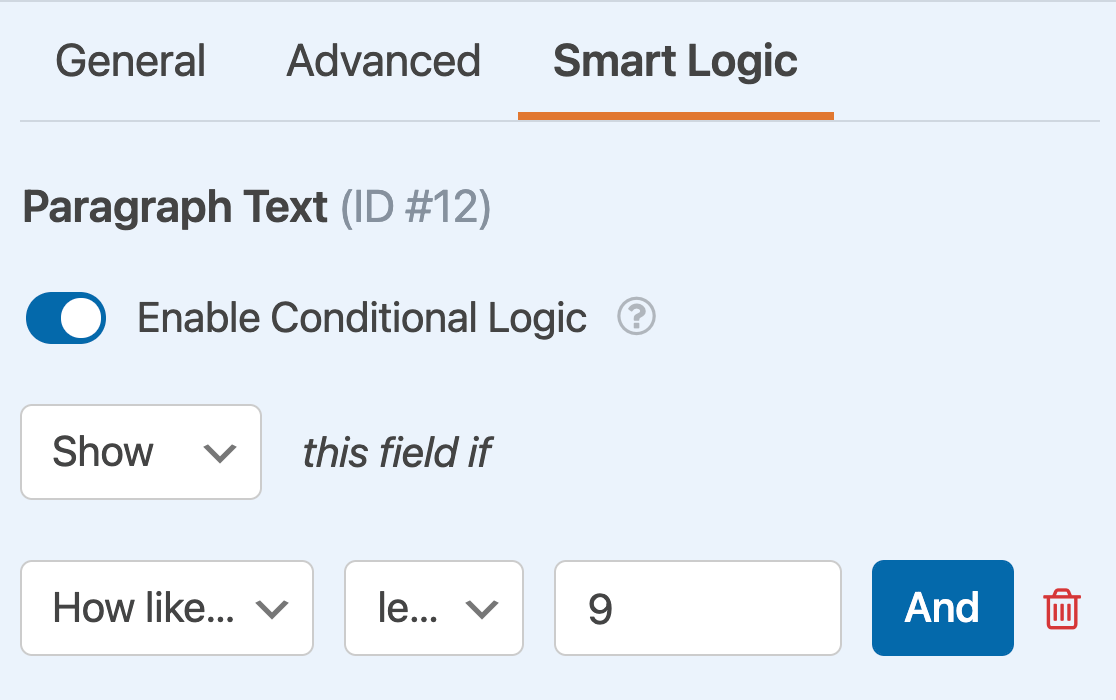 This lets you easily get accurate customer feedback by showing visitors relevant questions.
You can also enable survey reporting for any form on your site. This works even if your survey is already closed.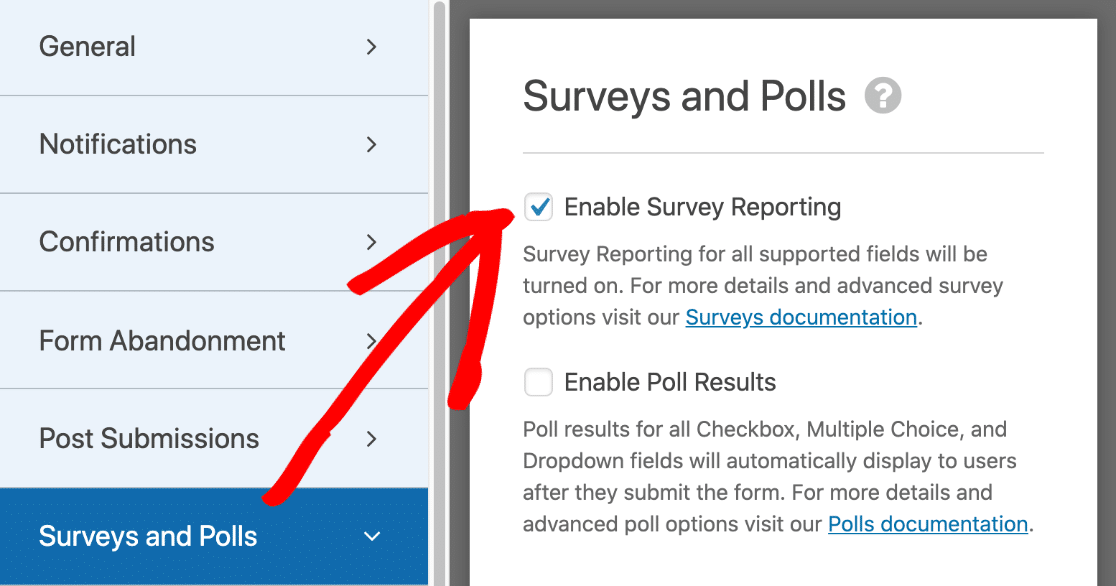 And it's easy to export results as a PDF, or download individual images from the results.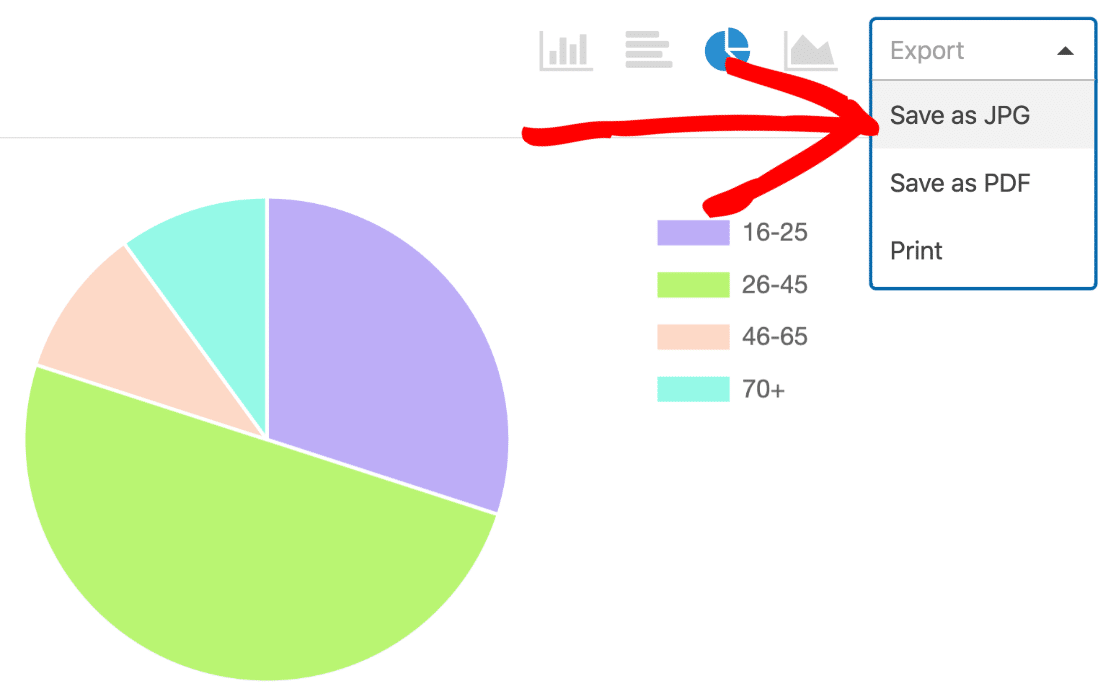 With the WPForms surveys and polls addon, you can:
Create unlimited surveys
Add unlimited questions
Get unlimited responses
Use advanced survey fields, like Likert scales and Net Promoter Scores
Quickly add bulk answer choices to questions
Embed surveys in distraction-free landing pages
Add a GDPR agreement to your surveys
Save survey results in WordPress
Automatically generate survey charts
Generate customizable PDF survey reports
Automatically close your survey using a form expiry date
Set a maximum number of responses for a survey.
Here's another neat feature. You can easily publish any survey in WordPress.
That means you can use all of the social media sharing plugins you already have in WordPress, and you don't need to learn a whole new way of working.
When you get responses, they'll be right there in the WordPress dashboard. It couldn't be easier to analyze them at a glance.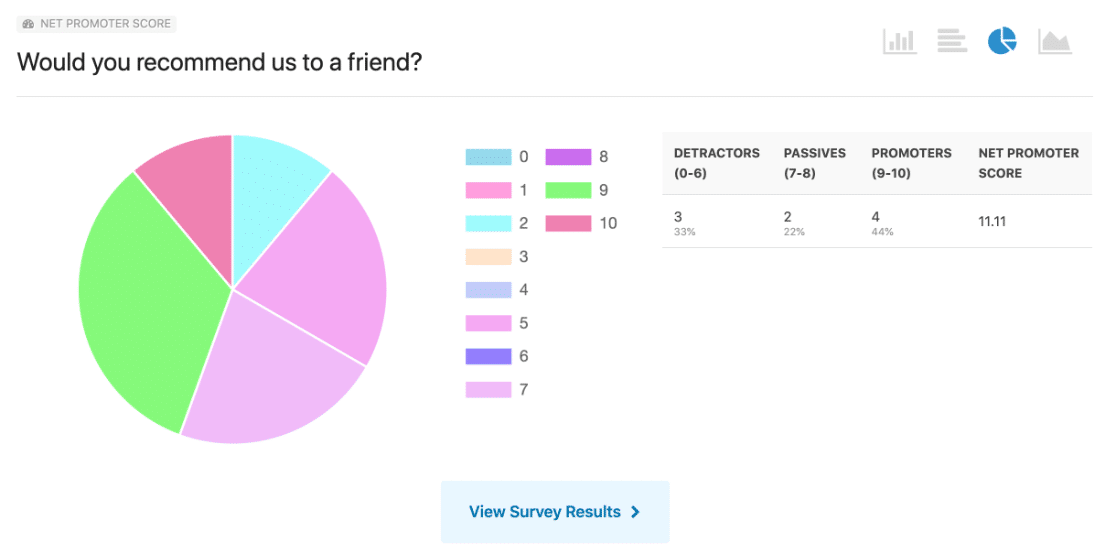 And different question types have different layouts. WPForms automatically uses the right layout so you get the best view of your data.
Using these beautiful charts, you can create professional survey reports as well.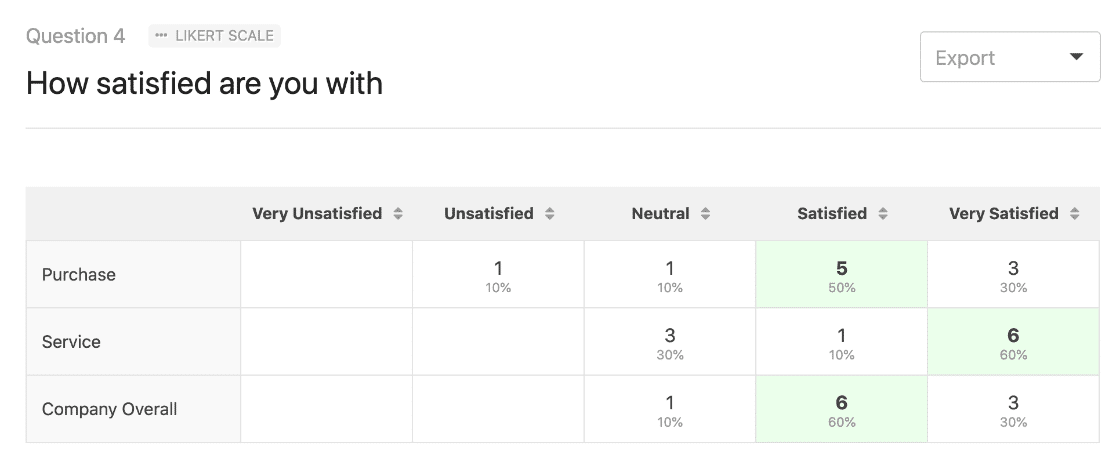 When you look at SurveyMonkey vs Qualtrics vs WPForms, it's clear that WPForms is the most intuitive. If you have a WordPress site and you want to add survey features, it's a no-brainer.
SurveyMonkey Features
SurveyMonkey is a web-based survey builder. It's geared towards market researchers.
SurveyMonkey is not as advanced as Qualtrics. It doesn't have the same workflows or analysis tools. On the plus side, you can learn how to use it without attending a training course.
You can start from scratch or use one of the templates: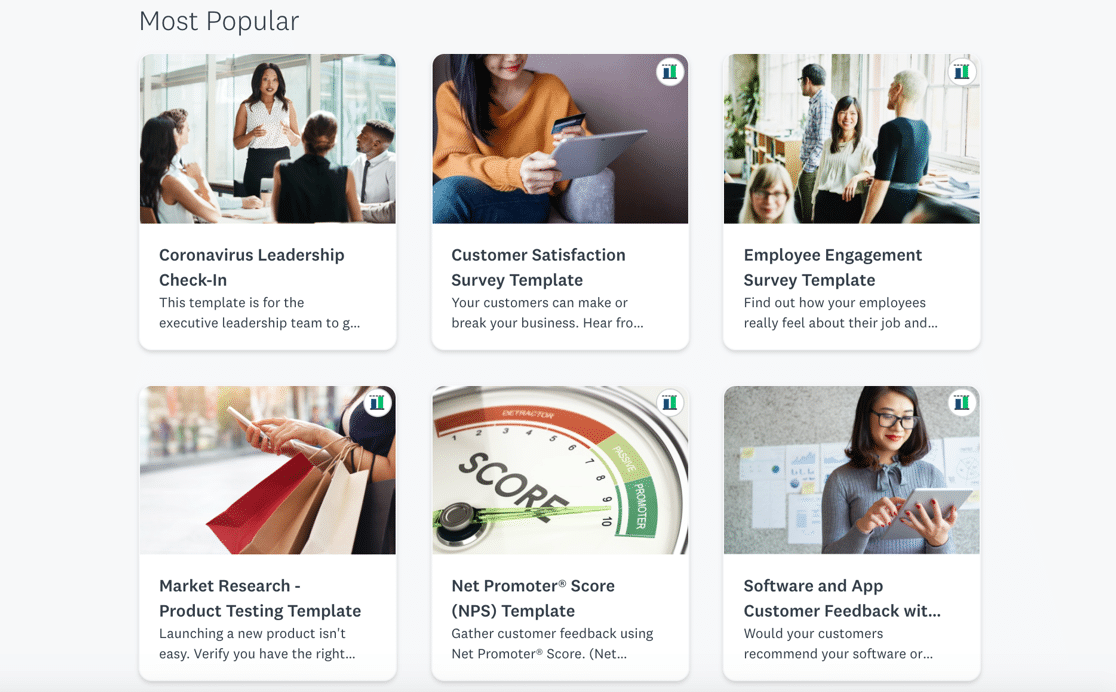 And then customize your questions in the builder.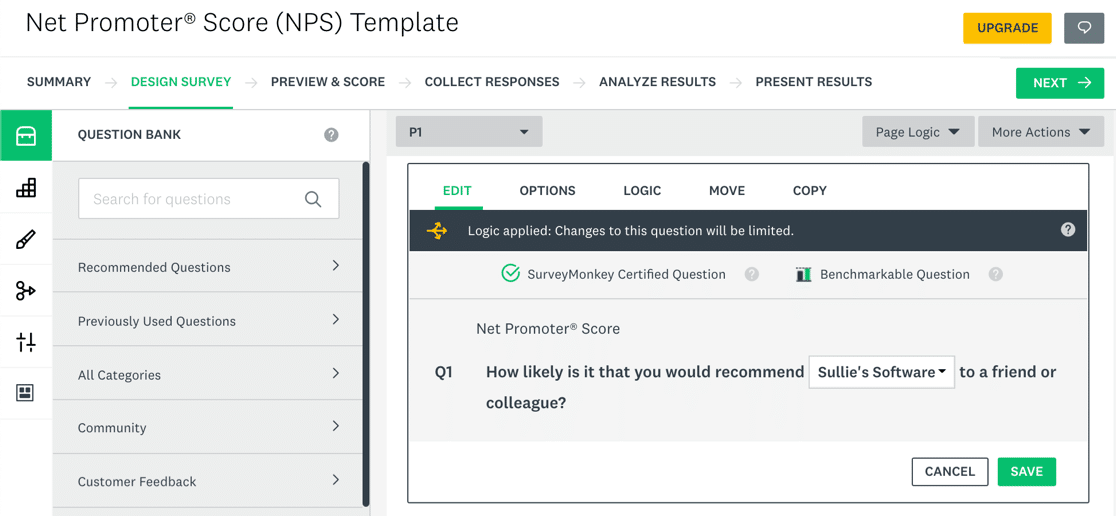 The Question Bank has some preset questions that you can use in your surveys to speed things up. You can adjust the wording slightly using the dropdowns.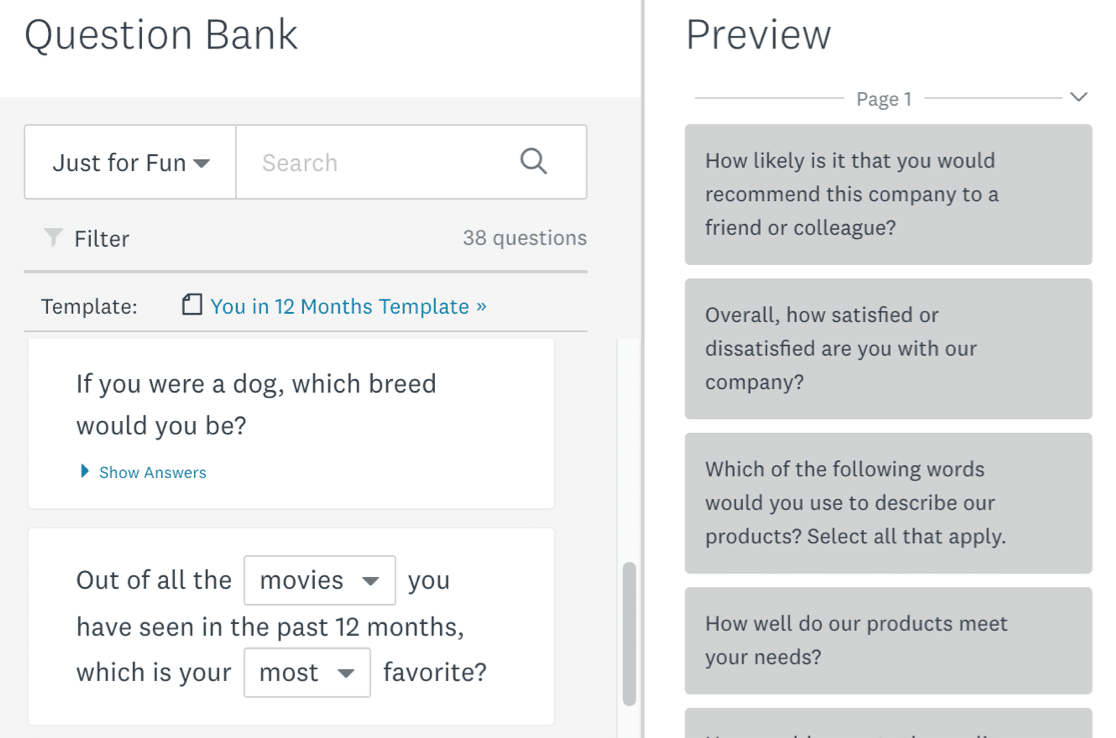 With SurveyMonkey, you can:
Export surveys to SPSS
Add a Salesforce integration
Set up answer piping
Take payments
Accept file uploads
Create multilingual surveys
Create white label surveys
The major downside of SurveyMonkey is that it's a self-contained platform. So it doesn't easily integrate with WordPress in the same way that WPForms does.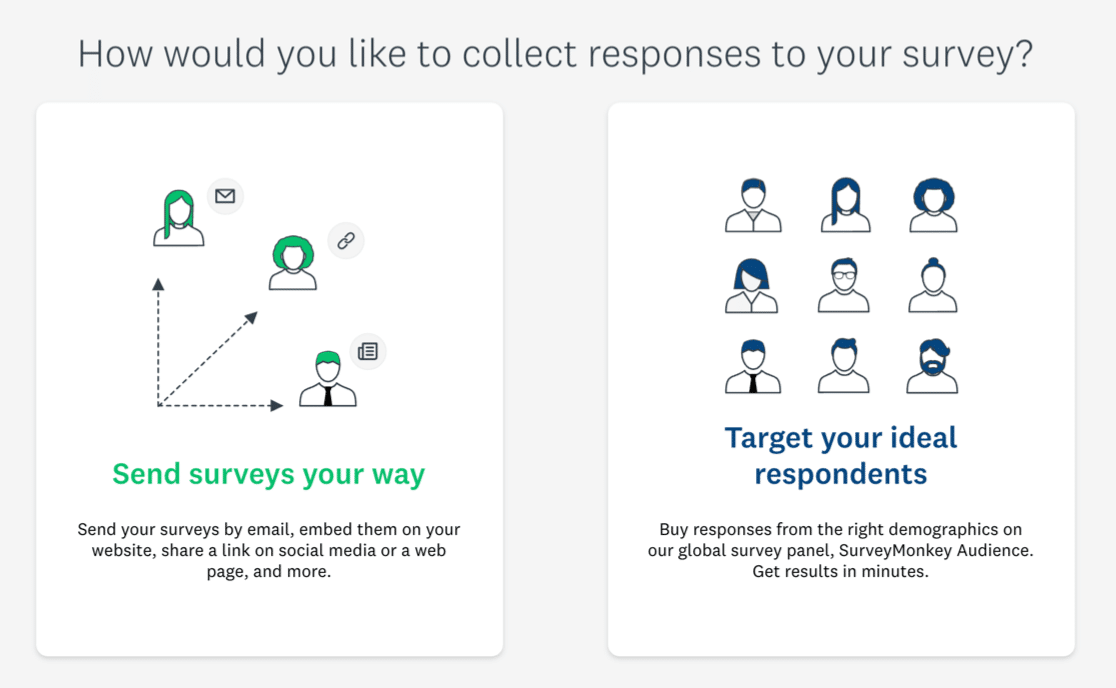 If you want to embed a survey, you'll need to copy and paste the code into an HTML block on your WordPress site.
It's also important to mention that SurveyMonkey isn't a form builder. So you can't use it to create any other type of form for your site.
Qualtrics Features
Qualtrics is a very powerful survey platform. It's designed for large businesses and universities that collect massive amounts of data.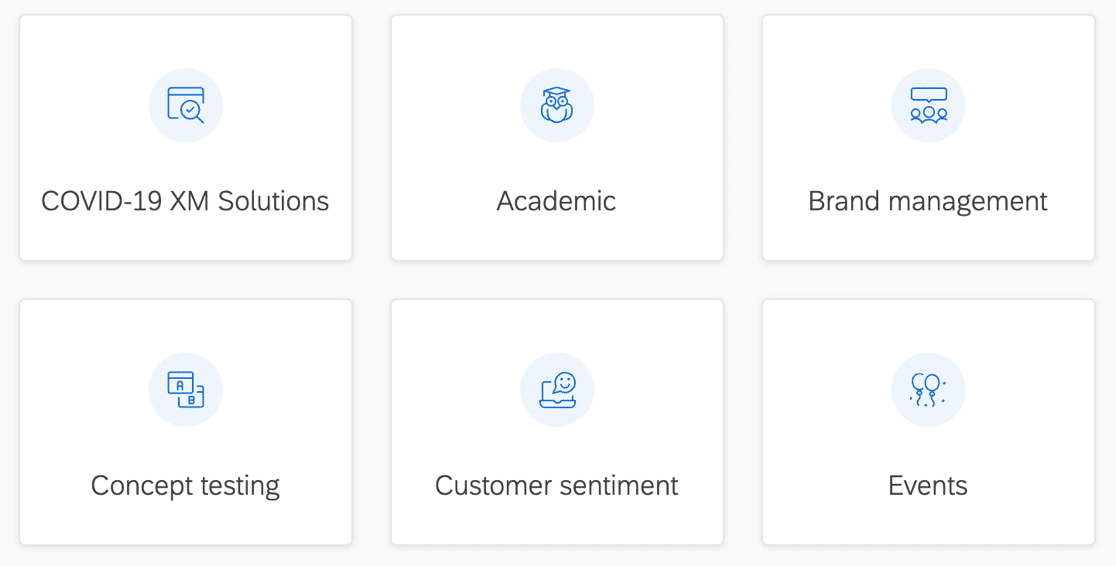 The survey tools within Qualtrics are grouped under the CoreXM product. If you read older reviews of Qualtrics, you'll notice that this used to be called Qualtrics Research Core.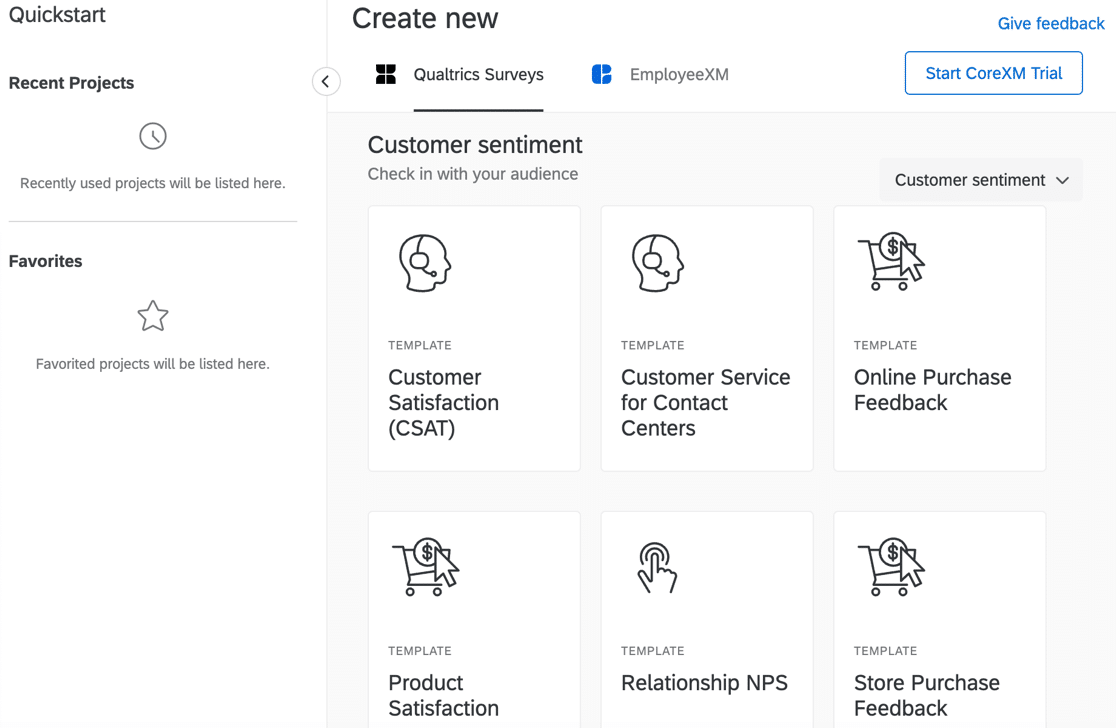 The question builder looks similar to SurveyMonkey but with the options on the right hand side.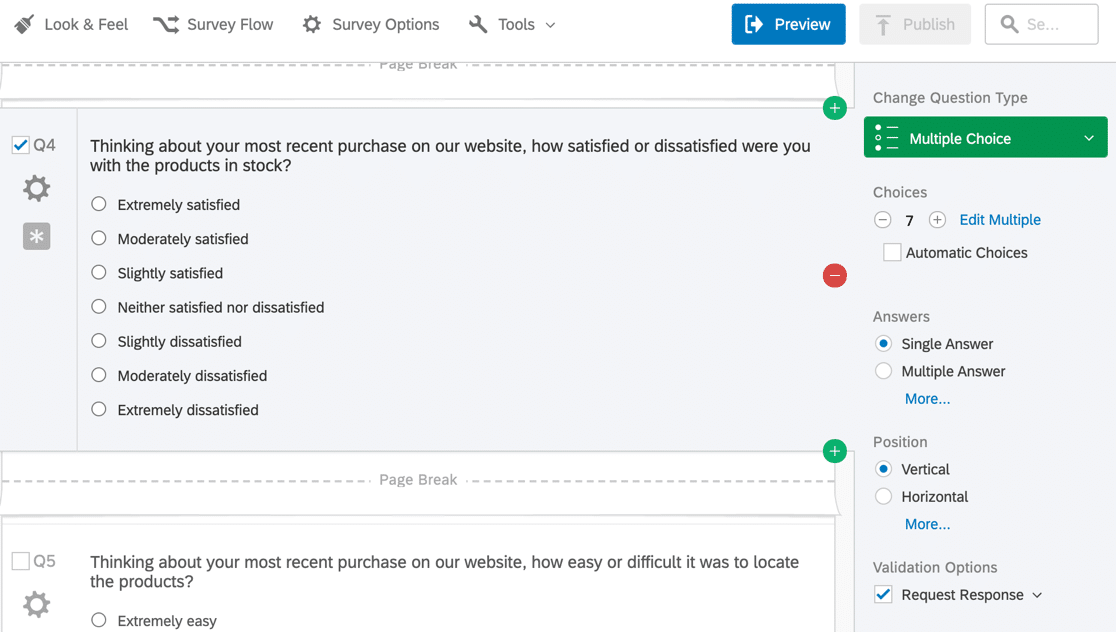 You can use different types of survey logic to move respondents through surveys in different ways.
This question has 8 possible conditions, so you can create very complicated flows.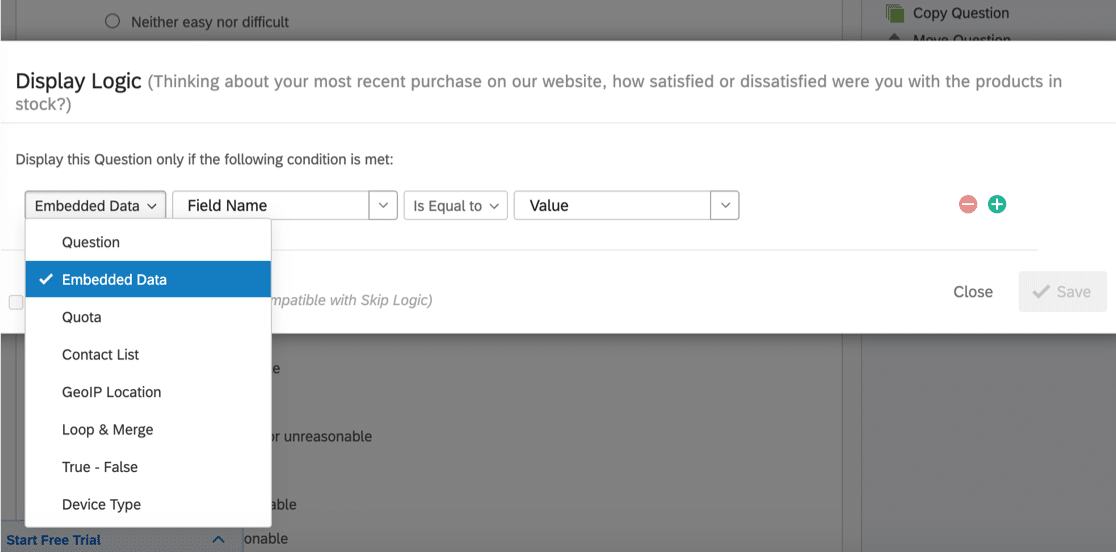 The Tools menu lets you control things like question recoding and scoring. Most of the tools here are for enterprise-grade customers.
You can see why so many organizations pay for Qualtrics training before users can start sending surveys out.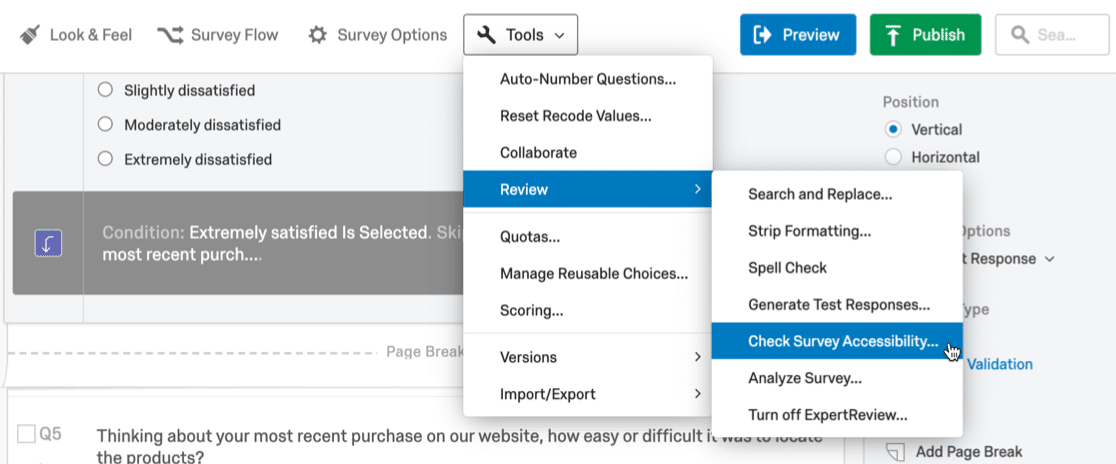 With Qualtrics, you can also:
Create very complicated projects
Share data to CRMs with automated actions
Share and export data
Use the Qualtrics API to work with your responses.
For some organizations, all of these tools will be absolutely essential. For business and nonprofit surveys and polls, Qualtrics is likely not going to give a good return on investment.
SurveyMonkey vs Qualtrics vs WPForms Ease of Use
If you're considering these 3 survey tools for a business or nonprofit, it's important that you buy something user-friendly. Let's look at the learning curve next.
WPForms Ease of Use
WPForms is built inside WordPress, the best blogging platform on the planet. If your users already use WordPress, adding survey and poll tools right in the dashboard is going to be a no-brainer for you.
Adding a survey is as easy as adding a form.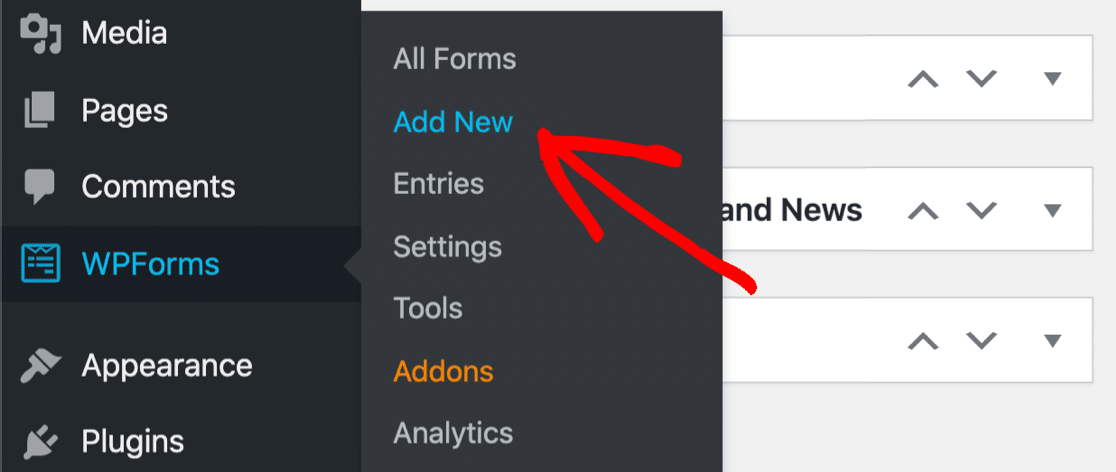 In WPForms, you can build any type of survey or poll using an easy drag and drop interface. The form builder opens up in a fullscreen window, so you have plenty of space to see your survey as you make it.
For usability, it couldn't be simpler. No training required!
On the left-hand side, all of the survey questions appear in one panel. On the right, you can see a live preview of your form.
And you can click on any field to easily customize the questions and answers.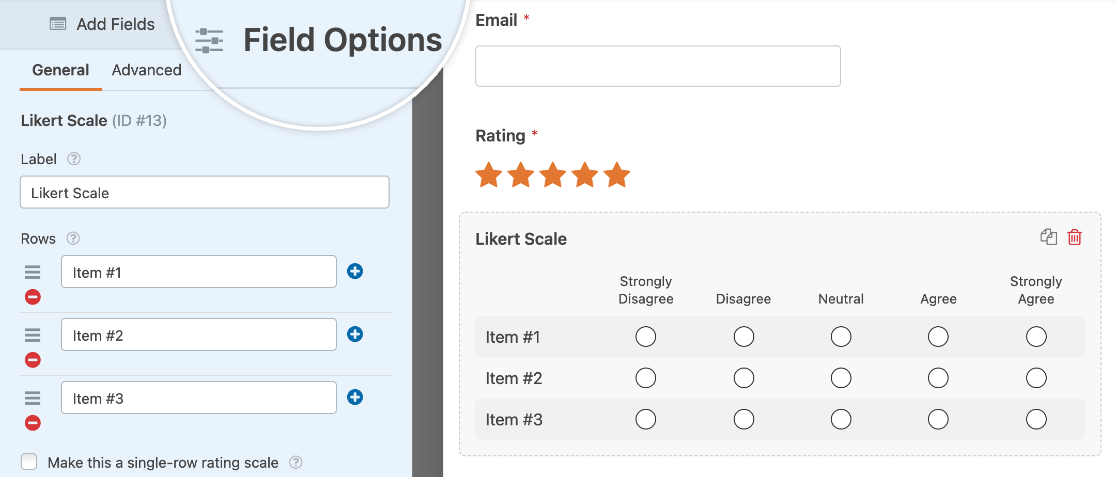 When your survey is done, you can analyze the results inside WordPress.
This makes it easy for any authorized WordPress user to jump in and manage survey responses.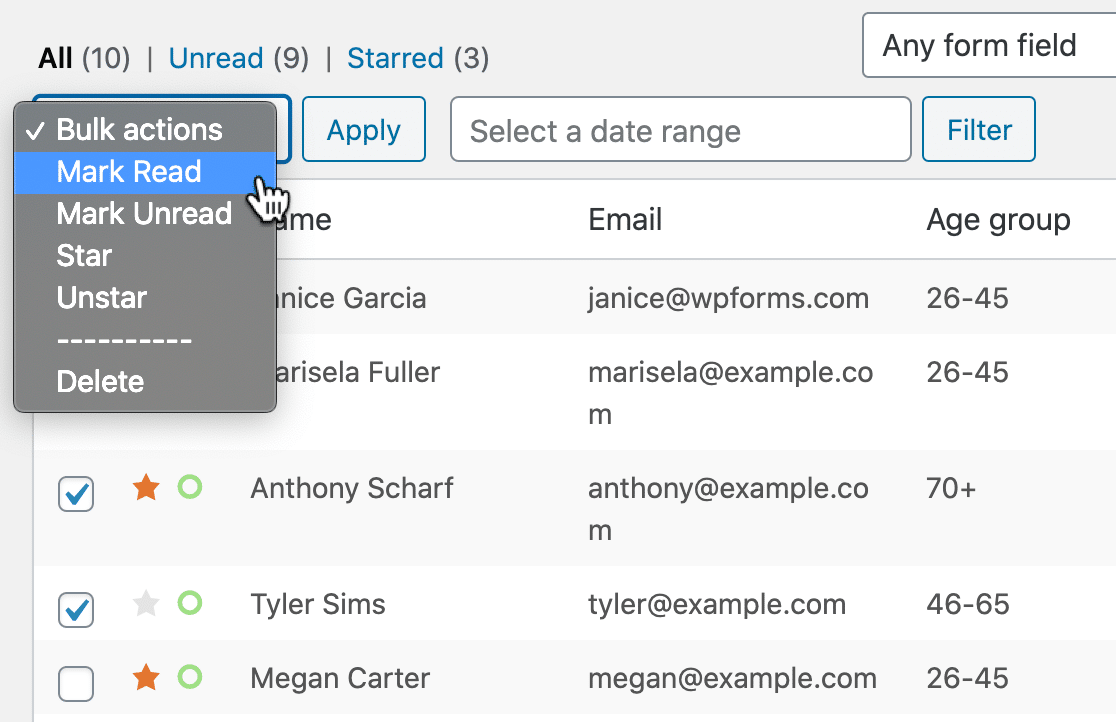 As you can see, WPForms makes it easy for anyone in your organization to publish a survey and send it out right away.
SurveyMonkey Ease of Use
When you look at the user interface in SurveyMonkey vs Qualtrics, there are some definite similarities in the way the survey builders work.
Most of the time, you'll be working in the question builder in SurveyMonkey. It loads up in a central panel.
Some questions can be quickly customized so you can quickly change the wording.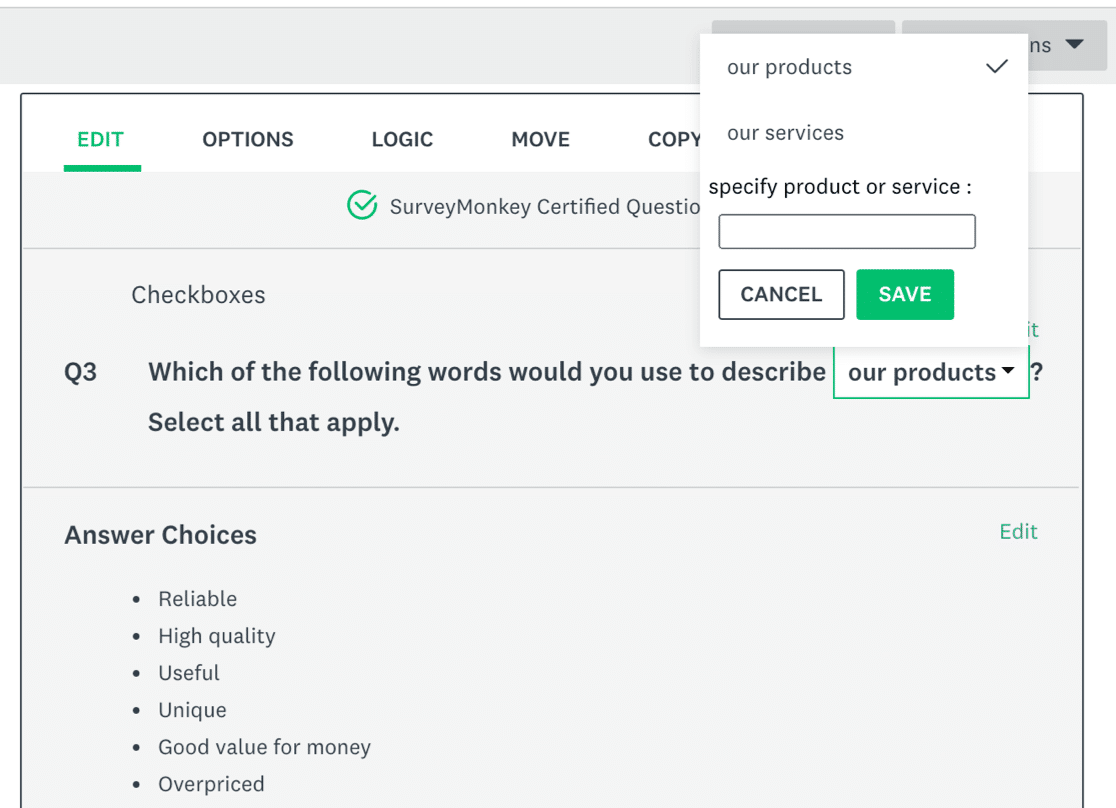 All over SurveyMonkey, you'll see upsells for the Audience service where you can pay SurveyMonkey to send out your surveys for you. If you're conducting market research, you'll need a large audience, so this will make it easier to run your surveys. But many businesses wouldn't need that feature.
Finally, SurveyMonkey also has a system that checks your survey for mistakes. We ran one of its templates through its checking tool and it found some issues with the default wording.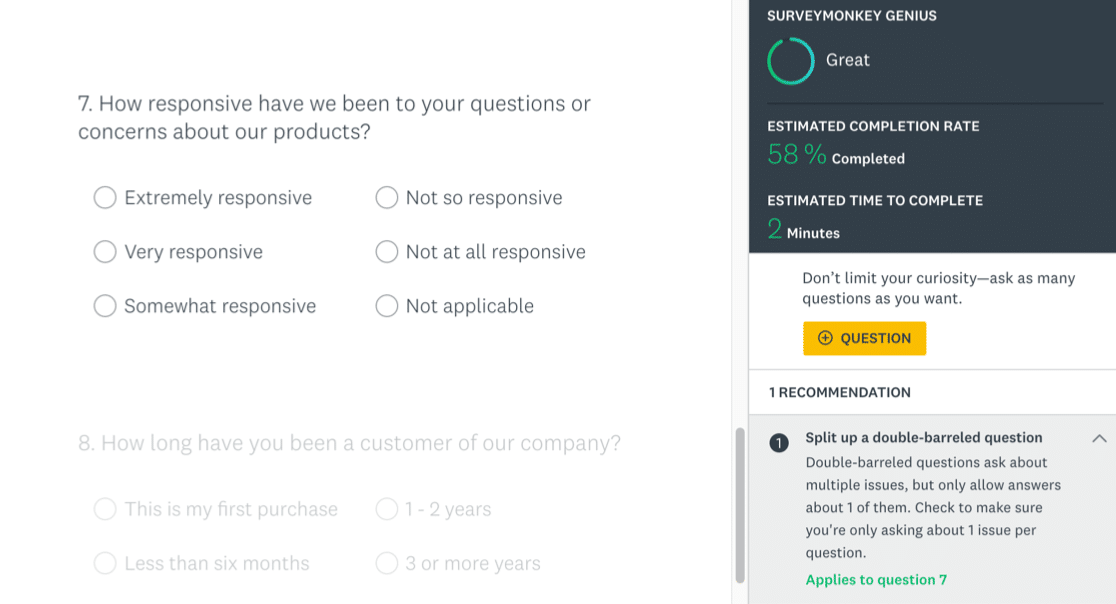 If you know your way around market research tools, you'll find SurveyMonkey easy to navigate. But the user interface can feel cluttered. Small businesses and nonprofits will probably find this online survey tool a little overwhelming.
Qualtrics Ease of Use
Our of SurveyMonkey vs Qualtrics vs WPForms, Qualtrics is definitely the most difficult to learn.
The question builder itself is clean and spacious, despite bursting with different options and menus. But you'll need a developer to customize some of the question types, and it's quite easy to go down a rabbit hole when there are tons of options.
For example, the screenshot below shows a small section of the options for a single project. This is really nicely laid out, but you'll want to learn what everything does before you send out your first live survey.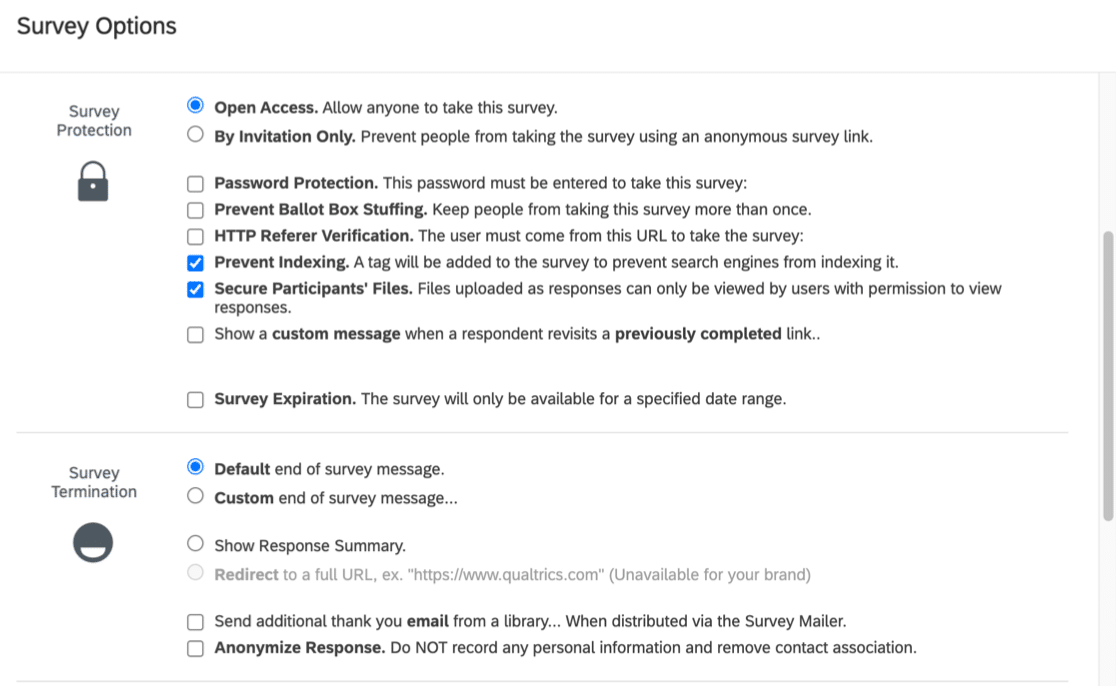 You can also build flows in Qualtrics, which is a way to connect different surveys together into one large project. Again, this is quite specialized, and most new users would need help to figure out all of these options.

There are also some themes for surveys. We were surprised to see that they don't look that great. The theme we picked here has poor contrast and would be difficult for some people to read.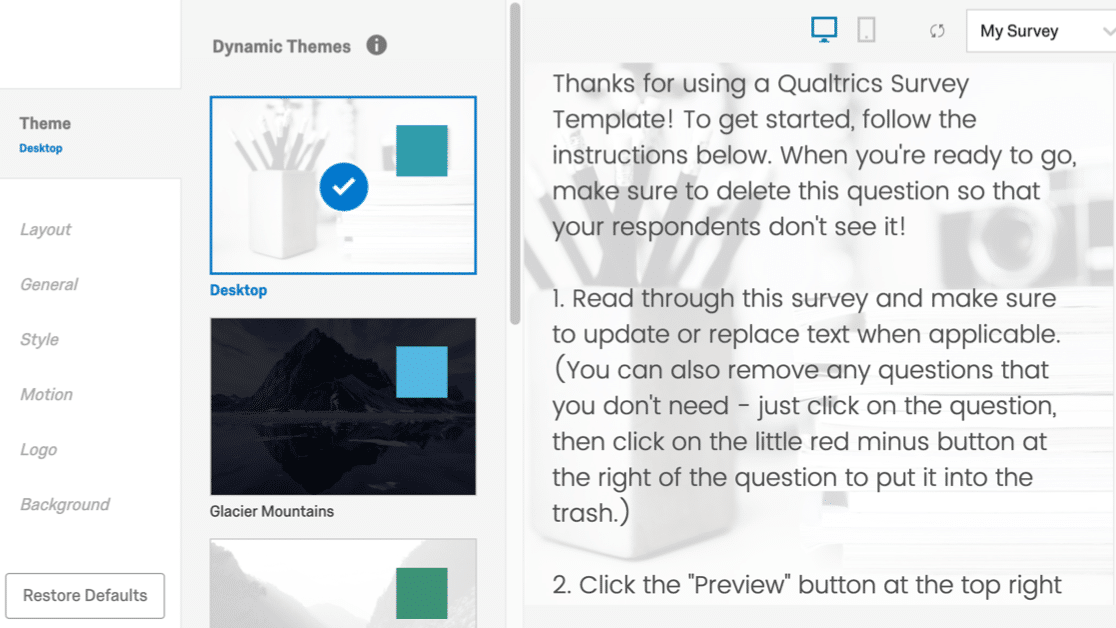 The basic settings for themes can be changed, but you'll need a developer if you want to do more advanced theme customization.
Some areas of the tool are a little easier to use, such as the sharing options. But again, there's no WordPress integration, so publishing surveys on your website is going to take longer than it does with WPForms.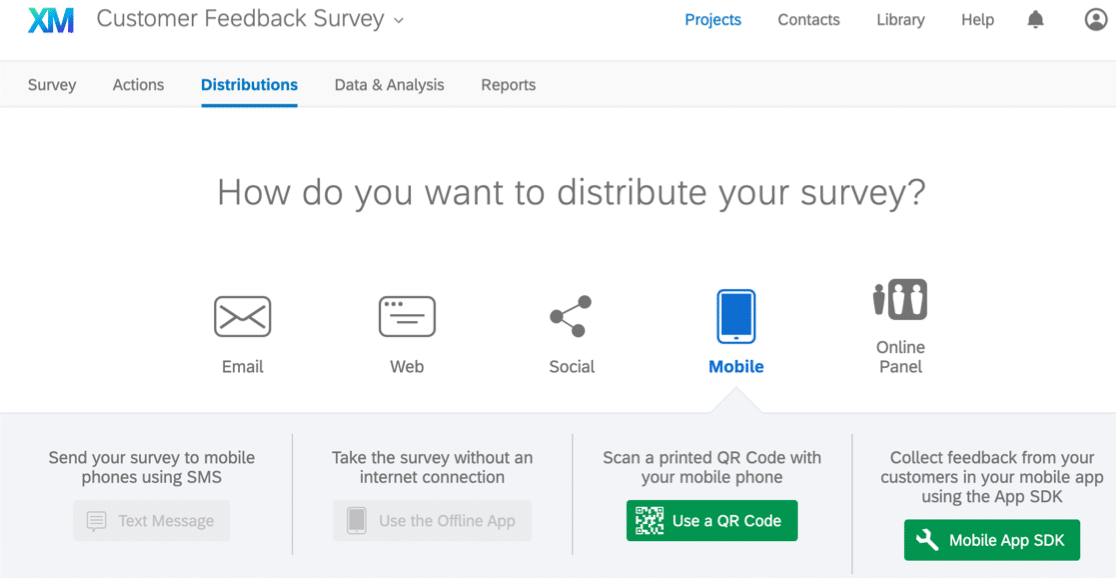 The bottom line is that Qualtrics is massive, and that puts it in a special category of enterprise research tools. With this platform, you can't expect to sign up and send out a survey the same day.
Support: SurveyMonkey vs Qualtrics vs WPForms
All of these tools come with customer support and online help resources. Let's look at exactly what's included.
WPForms Support
Users of any paid version of WPForms can access personal support via a ticket system. The support team is available to help between 9 am and 5 pm PST, Monday to Friday.
To access support, you'll just need to log in with the same details you used to buy the plugin. It's easy to file a ticket from there.
There are also 3 online help resources:
Users of the free version, WPForms Lite, can access support on the official WordPress plugin forums.
SurveyMonkey Support
SurveyMonkey users are initially directed to a knowledge base explaining the different features and settings in the software.
It's possible to file a ticket to get help, although you'll need to step through a questionnaire before you can access the form. Support teams are available from 3 am to 8 pm EST.
Phone support is available on some paid plans.
Qualtrics Support
Qualtrics CoreXM support is available via phone, live chat, and email. The team is available Monday through Friday, 5 am to 5 pm MDT.
There's also a public community forum on the Qualtrics site.
Qualtrics has a knowledge base that covers the survey tools, API, and more. However, the support team doesn't help with custom code. Given that a lot of customization requires developer support, that could be an issue for some business users.
Pricing: SurveyMonkey vs Qualtrics vs WPForms
Finally, let's look at pricing for SurveyMonkey vs Qualtrics vs WPForms to see which one offers the most value.
WPForms Pricing
There's a free version of WPForms that you can use to make unlimited forms for your WordPress site. It's free forever – no catch!
To use the surveys and polls addon, you'll need the Pro license or higher.
The Pro license is priced from $399/year and includes:
All survey fields
All survey reporting features
Unlimited users, surveys, and responses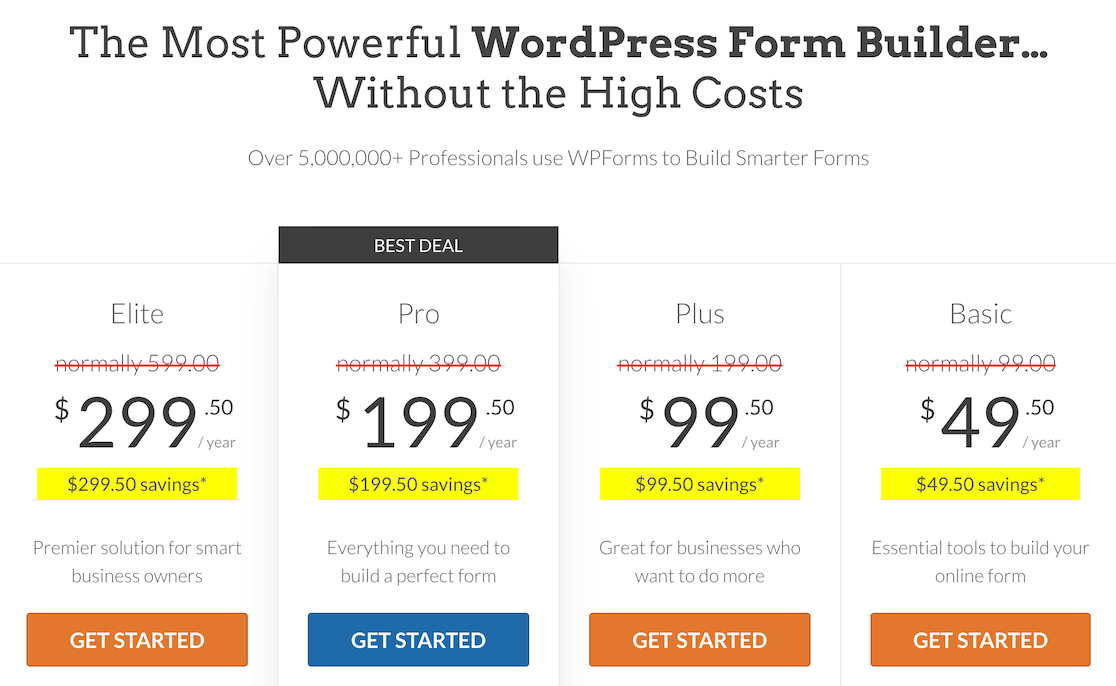 We took this screenshot during a sale event. Find out if this deal is still available!
In addition to the survey and poll features, the Pro version of WPForms also includes:
So for 1 annual fee, you get a full survey tool and a professional WordPress form builder for your business.
SurveyMonkey Pricing
SurveyMonkey has different prices for business and personal users. The personal plans are all based on 1 user seat.
The cheapest plan here is around the same price as WPForms Pro, but it's a lot more limited. For example, you can only get 5,000 responses a month, while WPForms lets you get unlimited responses.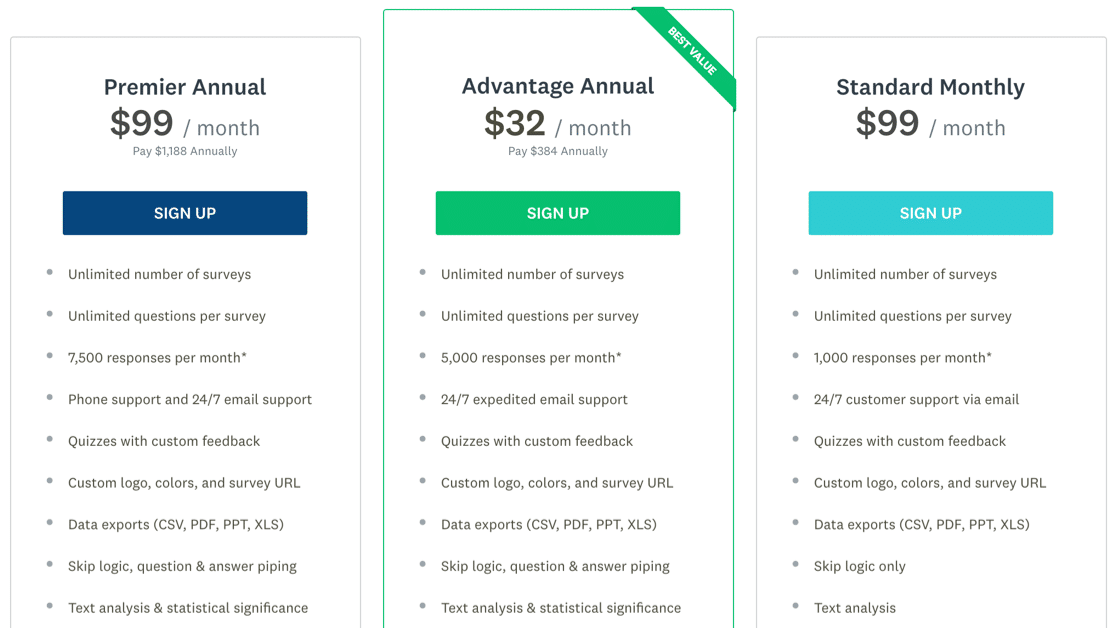 SurveyMonkey Business plans look cheaper if you compare the headline rate. But keep in mind that the advertised price is for 1 user. Most businesses will need to buy licenses for several users, so the cost quickly adds up across a whole team.
Finally, SurveyMonkey has a free plan. This screenshot gives you an idea of the limitations.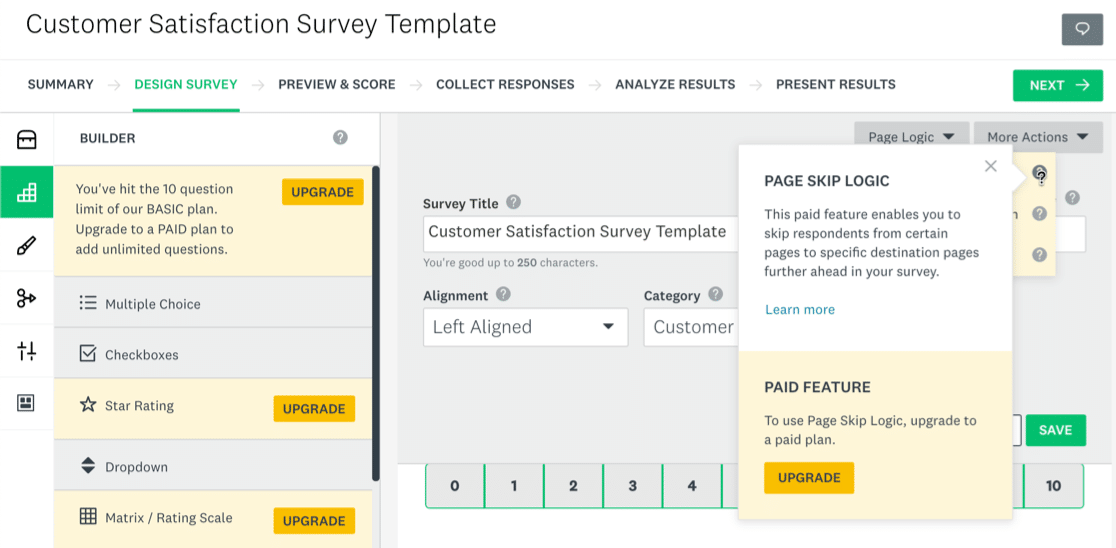 All of the areas marked in orange are paid features. So the free plan is really more of a trial. It only allows you to view 40 responses to a survey, though. So if you get more than that, you'll have to pay to access them.
Qualtrics Pricing
Qualtrics doesn't publish its pricing, but our research suggests that you can expect to spend hundreds of dollars per month on the most basic license.
Getting unlimited resources and question types will increase the cost even further.
For testing, Qualtrics has a free plan. This is only useful for trial purposes because you can only run 1 survey with a maximum of 100 responses. That's fine for trying out the features, but few businesses will be able to use this for real surveys.
Which Is the Best Survey Solution?
Considering all of the comparisons, we think WPForms is the best tool for businesses and nonprofits that want to run surveys and polls.
That's because:
WPForms has powerful survey features and great reporting tools.
Building surveys is easy using drag and drop fields.
The support team is awesome, and there are tons of online resources.
The Pro plan is easily more affordable than SurveyMonkey vs Qualtrics.
There are no limits on usage, and you don't have to keep adding licenses as your team grows.
All survey fields are included in 1 plan – you don't need to keep funding the cost of additional upgrades.
It's the only survey tool fully integrated with WordPress, which means publishing and sharing surveys couldn't be easier.
At WPForms, we've worked hard to make a survey tool that's powerful, easy, and fast. You can buy it today and try it out with zero risk.
And if it doesn't work for you, you can get a refund for any reason – or no reason at all.

Create Your WordPress Survey Now
Next, Learn to Write a Survey Summary
Are you ready to build your survey with WPForms? You'll want to learn how to show off the findings and results.
We've produced a great guide to writing a summary of survey results. It shows you the easy way to present your results using the charts in WPForms.
Ready to build your form? Get started today with the easiest WordPress form builder plugin. WPForms Pro includes lots of free templates and offers a 14-day money-back guarantee.
If this article helped you out, please follow us on Facebook and Twitter for more free WordPress tutorials and guides.