Are you looking for easy ways to create forms online? In this article, we'll compare SurveyMonkey vs Google Forms vs WPForms so you can decide which one is best for your website. To save you time, we've analyzed their features, ease of use, support, and pricing.
But before we start, let's look at what form builders actually do.
What Is a Form Builder?
A form builder is an online tool that lets you create customized forms for your visitors to fill out.
You can create your forms using a drag and drop builder to add form fields, text, and images.
Many form builders allow you to add fields for things like:
Text and numbers
Dropdowns
Checkboxes
File uploads
Anti-spam checks
Credit card payments.
Some form builders are designed for very specific tasks, like creating polls and different types of surveys. Others can be used to create all kinds of forms, like website contact forms, or collecting electronic signatures for online contracts in WordPress.
That's why it's important to understand the features you get with each form builder.
SurveyMonkey vs Google Forms vs WPForms
We already know that SurveyMonkey, Google Forms, and WPForms are 3 of the most popular online form builders. But which one has the features you need?
To save time, here's a quick overview:
| Form Builder Tool | Rating | WordPress Plugin | Price |
| --- | --- | --- | --- |
| WPForms | Best form builder for WordPress | Yes | $399 / yr |
| Google Forms | Basic form builder | No | $72/ yr |
| SurveyMonkey | Survey and poll platform | No | $384 / yr |
All of these form builders have free plans too.
Features: SurveyMonkey vs Google Forms vs WPForms
Let's zoom in on the features of these form builders and see what the differences are.
SurveyMonkey Features
SurveyMonkey is designed to build surveys and polls. When you compare SurveyMonkey vs Qualtrics, SurveyMonkey has more market research features, but fewer reporting tools.
SurveyMonkey can help you to reach the right people and export data from your surveys in different formats.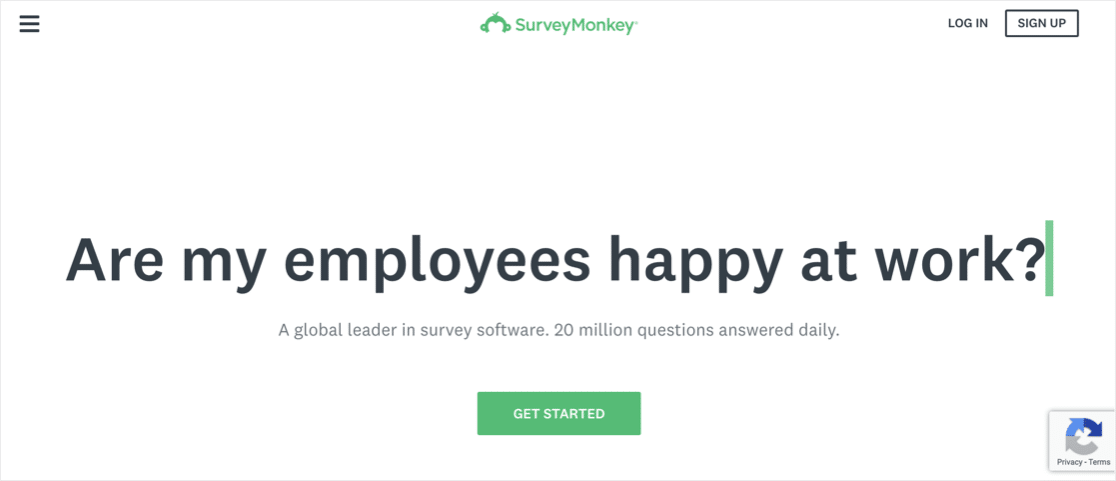 You can use the logic feature to hide questions based on previous responses. You can also stop people from taking your survey if they aren't part of the target audience. Paid plans let you take payments and add your own logo.
It's important to remember that SurveyMonkey is designed for market research. If you need to create contact forms or newsletter subscription forms, this isn't the right tool for you.
Features
Templates and themes
Question and page skip logic
Audience purchase tools
Team collaboration
Analytics and reports
Google Forms Features
Google Forms lets you create forms using a drag and drop builder in your browser. You can change the color scheme and font and add images to your form.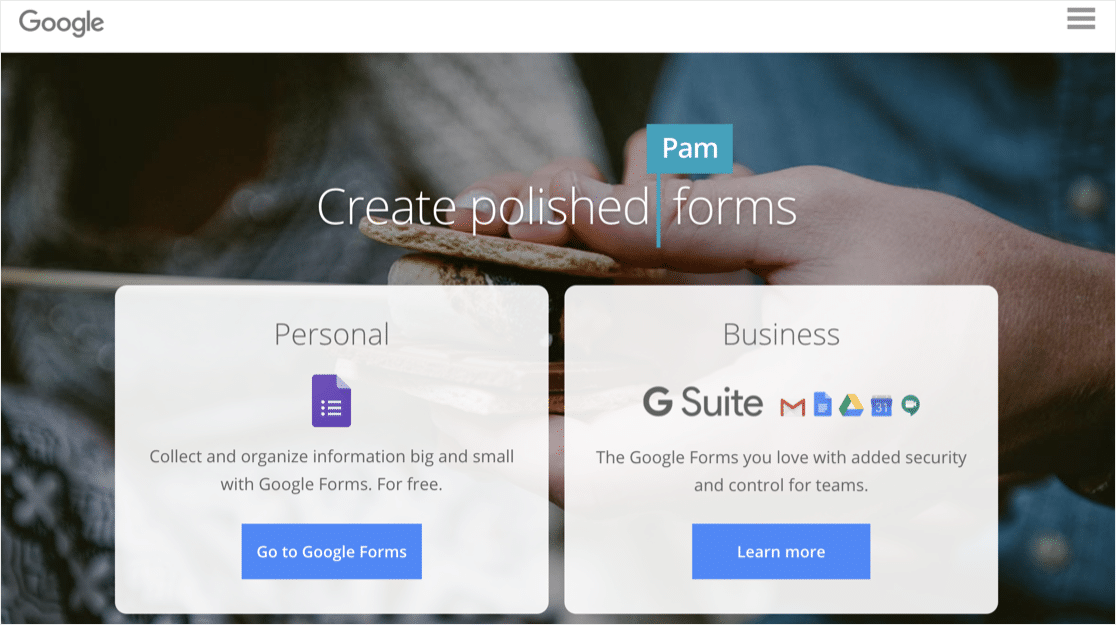 You can also split your form into pages. If you need to hide questions based on your visitor's answers, you can use skip logic to skip past pages so that they don't see them.
When your form is complete, you can share it with visitors using the link, or embed your Google Form on your WordPress website. You can view the responses in the Google Forms interface or in a Google Sheet.
Features
Basic themes
Page skip logic
Email reminders
Form confirmations
Offline editing
Google Sheets integration
WPForms Features
WPForms is a WordPress form builder plugin that makes it fun and easy to create forms for your website.
And you can get an unlimited free trial of WPForms Lite.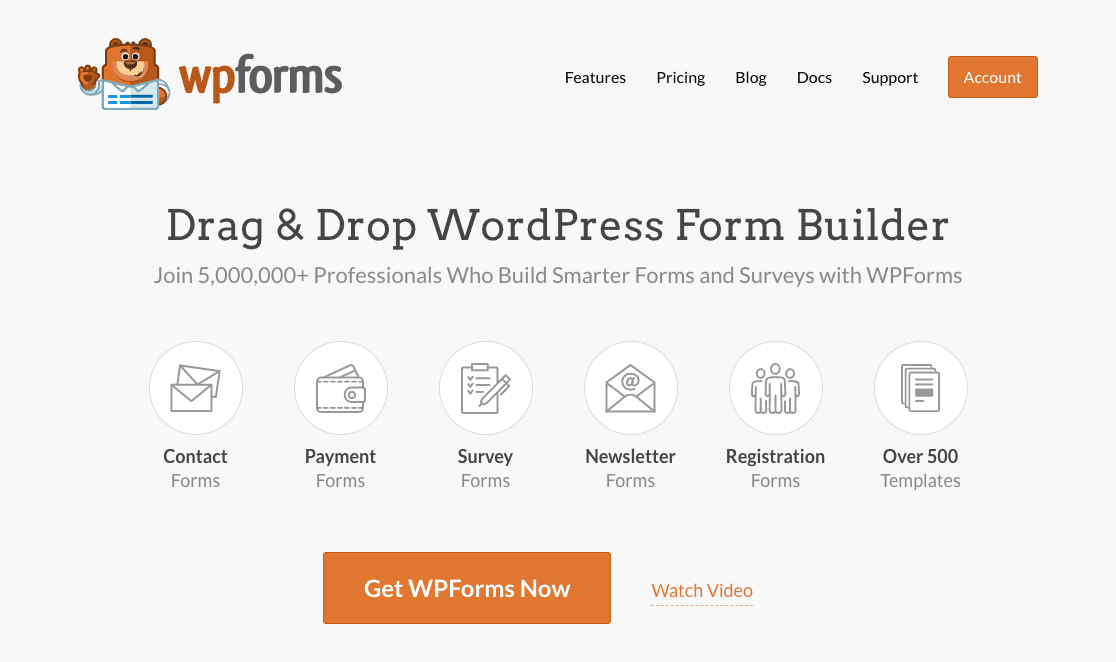 Just make sure to turn on the Lite Connect feature to save your form entries so you can unlock them once you upgrade to Pro.
With WPForms, you can create any type of form for WordPress. And you can use the templates to get a form live in just a few minutes. Every form you create is customizable. You can use the drag and drop builder to add, remove, and rename the fields.
WPForms lets you use conditional logic to show or hide fields instantly. You can also split forms into pages so they are easier to fill out.
There's an offline mode so that users can fill out the form if they aren't connected to the internet, and features to protect against spam. You can lock any form with a password to control who can access it.
Don't forget! WPForms is the only form builder on our list that integrates directly with WordPress. The forms that you create can be displayed on any post or page using a shortcode or widget, and you can also create an Elementor contact form easily.
So if you only work in WordPress, WPForms is worth it.
Features:
Drag and drop builder
Customizable templates
Notifications
Confirmations
Great DocuSign alternative with digital signature tools
WordPress Media Library integration
Built-in entry management
Advanced form management
Payment addons for Stripe, Square, and PayPal
Anti-spam fields
Save form submissions to services like Podio, Google Drive, and Dropbox
Ease of Use for SurveyMonkey vs Google Forms vs WPForms
No matter what kind of forms you create, you need a tool that is easy for you and your visitors to use. Let's see how easy it is to use these tools.
SurveyMonkey Ease of Use
SurveyMonkey lets you choose from survey templates and customize them, or copy a survey you used before. You can build using the drag and drop builder to create your own questions.
SurveyMonkey also has a Question Bank with pre-written questions that will help you to avoid bias in your surveys. If you need help writing your own questions, check out our article on questionnaire templates and examples.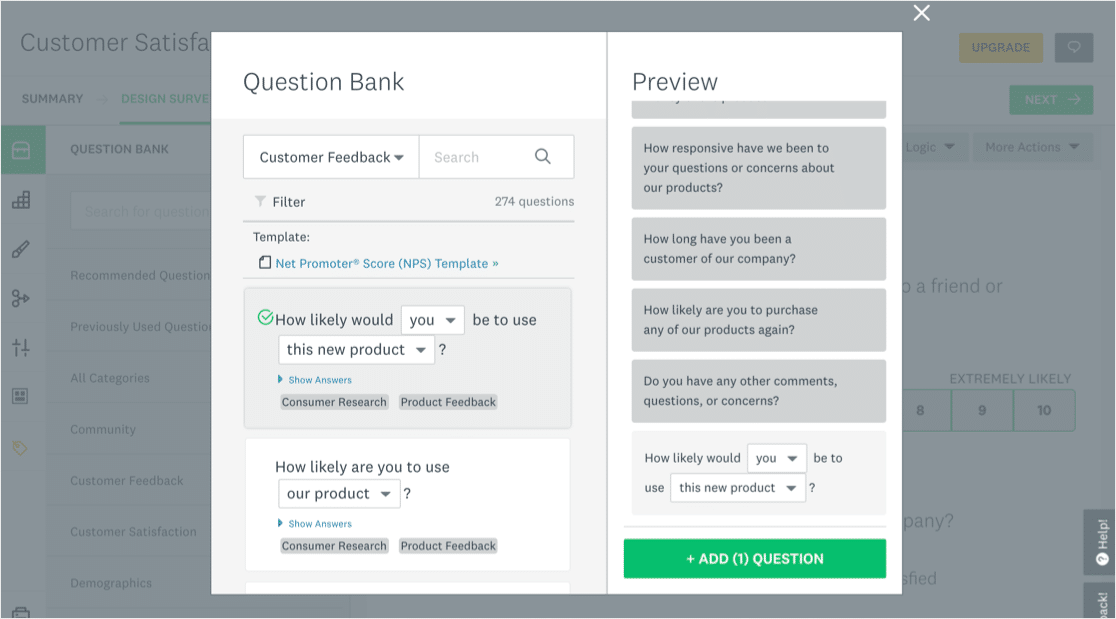 If you have the free plan, SurveyMonkey will remind you to upgrade if you add too many questions.
Google Forms Ease of Use
Google Forms has a drag and drop interface that makes it easy to build forms in your browser. The interface takes a little getting used to, so you will probably spend a while figuring out where all of the features are.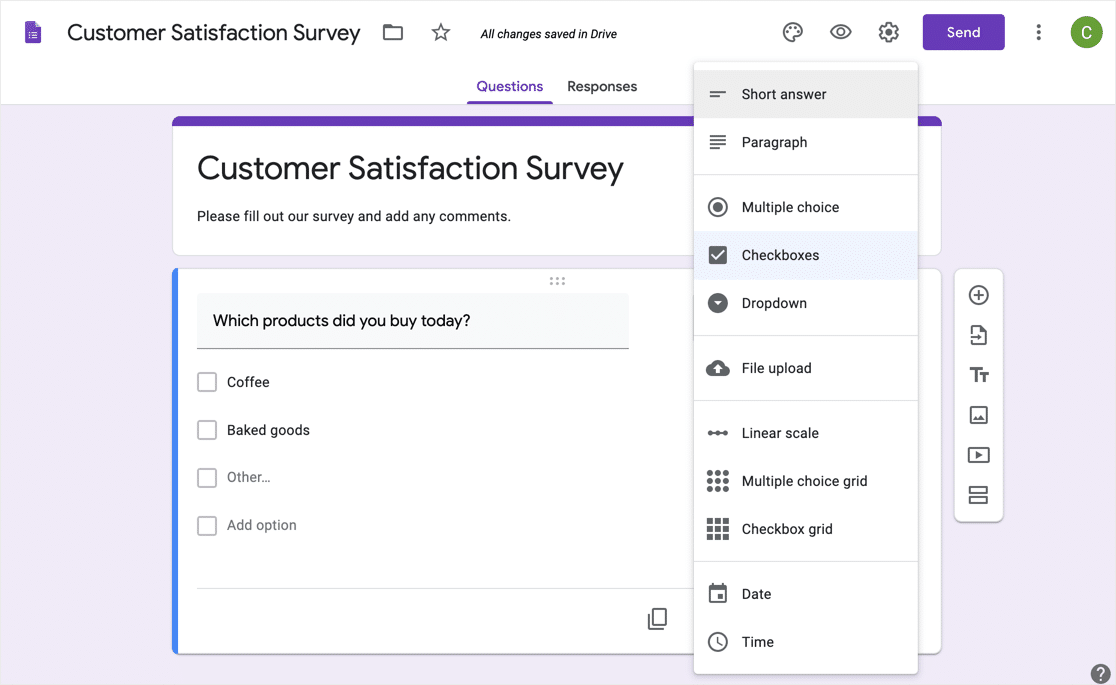 We like how you can switch from one type of field to another without losing the answer choices. You can also import questions from another Google Form if you want to duplicate a form. And your team can all log on and work on a form in real-time.
You can't take payments or electronic signatures through your forms. And while your visitors can upload files through your Google Form, they will need to log in with a Google account first.
WPForms Ease of Use
Creating a form in WPForms is super easy. Grab a copy of the plugin and install it on your site to get started. If you need help, read this article on how to install a plugin in WordPress.
How to Create a Form in WPForms
Adding a form to your website takes just a few minutes. You'll just need to pick a template, customize the fields, and add the form to your website using a widget.
This guide shows you how to create your first form in WPForms.
You don't need to pay for WPForms to create your first form. All of these features are available for free:
Templates for contact forms and newsletter subscriptions
Text and number fields
Number sliders
Dropdowns and checkboxes
reCAPTCHA, Cloudflare Turnstile, or hCaptcha to stop spam.
We made this form with the free version, WPForms Lite. If you'd like to learn how to make forms like this, check out these tips on creating a newsletter signup form in WordPress.

The free version also lets you customize the form notification email you'll receive when someone fills out your form. Plus, if you turn on the Lite Connect feature you'll be able to unlock your entries when you upgrade to Pro.
If you pay for WPForms, you get extra templates to make it easy to create any type of form. And you can store form responses and files in WordPress with the paid version. That makes it easy to review all of your form entries in one place.
How to Add WPForms to WordPress
You can add your form to your WordPress site in 3 places:
On a page
In a post
In the sidebar
The WordPress block editor lets you add a form to a post or page without pasting any code. Just select the WPForms block.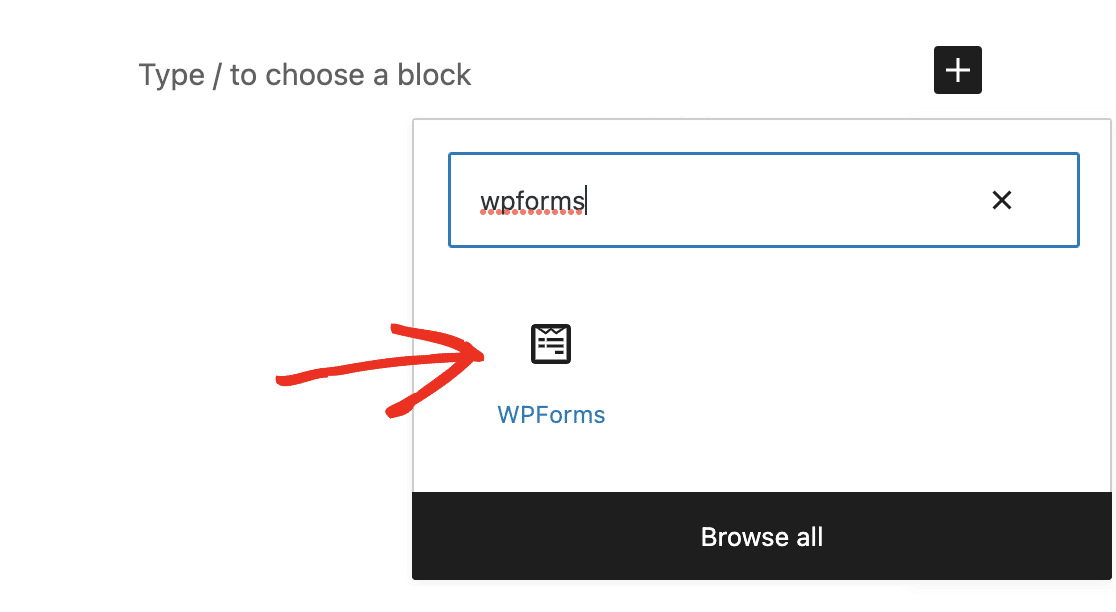 Then pick the form you want to add using the dropdown in the block. When you're done, click Publish or Update.

That's it! Your form is live and ready to use.
Support: SurveyMonkey vs Google Forms vs WPForms
It's important to have access to great support if you have a question about your form builder.
Let's compare the technical support you get at SurveyMonkey vs Google Forms vs WPForms.
Support: SurveyMonkey
SurveyMonkey has a very nice knowledge base on its website that explains all of its field types and features. It also has a number of video overviews that explain how different features work.
All SurveyMonkey users can access 24/7 email support. If you have a paid account, you get expedited email support.
For phone support, you'll need to pay for the Premier Annual, Team Premier, or Enterprise plan.
Support: Google Forms
Google Forms support is very limited.
Google offers basic documentation for Forms on its support website. This will teach you how to use the features in the form builder.
You can also seek help from other users on the Google Doc Editors Community.
If you're a Google Workspace Administrator, you can access phone, email, and chat support when you're logged into the Google Workspace Admin area. But the regular users within your company can't access this help, so it isn't very useful.
Support: WPForms
You can contact the WPForms support team online to get help with your forms or addons. Just fill out the support ticket form with some details.
The support team aims to answer all tickets within 24 hours. If you buy the Pro or Elite license, you'll get priority support.
The WPForms blog has tons of free tutorials on the features and addons in WPForms. There's also a WPForms documentation site covering all of the features and fields in the WPForms plugin, and a separate developer documentation site for advanced users.
Pricing for SurveyMonkey vs Google Forms vs WPForms
All of the form builders we looked at have free and paid plans.
SurveyMonkey Pricing
The free SurveyMonkey plan is very limited. You can create surveys with up to 10 'elements' – questions, images, or text – and collect up to 40 responses per survey.
On the free plan, you can't customize notifications, use logic, or brand your forms.
You will need to pay for a SurveyMonkey plan to unlock features like:
Unlimited surveys
Unlimited questions
File uploads
Logos and themes
Data exports
Team collaboration
SurveyMonkey has 6 different paid plans. Advantage Annual is for one user and costs $384/ year. It unlocks the most useful features and lets you send unlimited surveys. You can collect up to 5,000 responses a month on this plan.
If you need to collaborate in a team, you will need to pay for the Team Advantage plan or higher. Team Advantage costs $900/ year for 3 users. Extra users cost $25/ month on top.
Google Forms Pricing
Google Forms is available free to Google users, or as part of a paid Google Workspace subscription. Google Workspace pricing starts at $6/ month for each user.
The Google Forms free plan is almost identical to the paid plan. You can create unlimited surveys, collect unlimited responses, and use all available fields.
The paid version of Google Forms lets you restrict a form to your own Google Workspace organization. You can also whitelist other Google Workspace domains to use your forms.
Keep in mind that whitelisting is a global setting. Once you have whitelisted a domain, users of that domain can access all of the forms you create if they have the link.
WPForms Pricing
WPForms Lite is the free version of the WPForms plugin. It lets you create and publish forms on your WordPress website using a simple drag and drop builder and comes with some templates to get you started.
You can use all of the basic form fields in the free version.
Pricing for WPForms starts at $99/ year and scales up. Each plan level unlocks more features.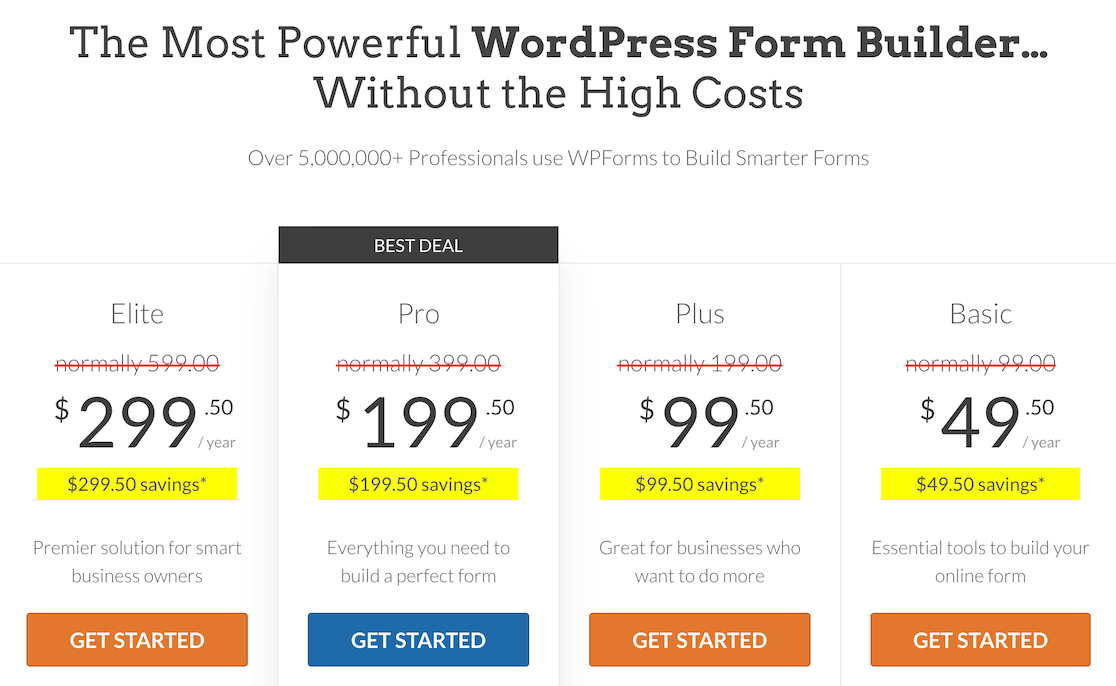 For example, if you'd like a plan that allows you to create surveys and polls, use offline forms, or take PayPal payments, you'll need the WPForms Pro plan.
WPForms Pro has a similar price to SurveyMonkey's cheapest paid plan. But keep in mind that you can also use it for other types of forms on your website, so it's great value for money.
All of the paid WPForms plans come with a 14-day money-back guarantee. If you buy it and realize that it's not the right choice, you can get a refund with no questions asked.

Which Is the Best? SurveyMonkey vs Google Forms vs WPForms
We've looked at SurveyMonkey, Google Forms, and WPForms in detail.
Which one should you choose for your website?
Our pick is WPForms!
WPForms is the most versatile form builder for hobby or business use. The free version, WPForms Lite, comes with everything you need to build forms for your website and protect them from spam.
The paid licenses add useful features, integrations, templates, and addons that will let you do more with your forms.
For example, you can password protect your forms and connect them to services like
Mailchimp
Constant Contact
GetResponse
Stripe
Square
PayPal
It's the only form builder on our list that doesn't charge per user. And if you've also read this review of WPForms vs Google Forms vs JotForm, you'll know that many form builders impose these limits. Not WPForms!
Finally, WPForms is the only service we've talked about that directly integrates with WordPress. So you won't need to touch a single line of code to embed your forms on your website.
Next, Poll Your Website's Users
Ready to build your first online form? Get started today with the easiest WordPress form builder plugin. WPForms Pro offers a 14-day money-back guarantee.
And if you're just starting out creating surveys and polls, here's a step-by-step guide on how to add a poll form to WordPress.
If this article helped you out, please follow us on Facebook and Twitter for more free WordPress tutorials and guides.