Want to learn how to create a poll form in WordPress? Engaging your site visitors by adding a poll to your WordPress site is a great way to gain instant feedback into your site visitors' opinions so you can offer them more of what they want and grow your business as a result.
In this article, we'll show you how easy it is to create a poll form in WordPress using WPForms, one of the easiest survey and poll plugins around.
What's the Difference Between a Poll and Survey?
You might be asking yourself what the difference is between a poll and survey. And you'd be right to ask that because they seem the same.
But there is a difference:
Poll. A poll is used to ask site visitors one quick and simple, multiple choice question. People choose from the answers you provide. You can restrict visitors to pick one answer, or you can allow multiple answers.
Survey. Surveys are more in-depth than online polls and ask many questions across a wider range of topics. Many times they use a Likert scale to gauge the level of people's opinions. Surveys are best used to find out about people's experiences.
So, now that you know what a poll is, let's find out how to set up a poll in WordPress using one of the best WordPress plugins available.
How to Add a Poll Form to WordPress
Here's a table of contents of this tutorial:
Follow these easy instructions to get a poll up and running on your WordPress site.
Step 1: Create a New WordPress Form
The first thing you'll need to do is install and activate the WPForms plugin. For more details, follow this step by step guide on how to install a plugin in WordPress.
Next, you'll need to install and activate the Surveys and Polls addon so you can access the poll maker. To do this, go to WPForms » Addon and find the one labeled Surveys and Polls Addon.
Click Install Addon and then Activate.

Now you'll need to create a new form.
To create a poll specific form, go to WPForms » Add New and select the Poll Form template.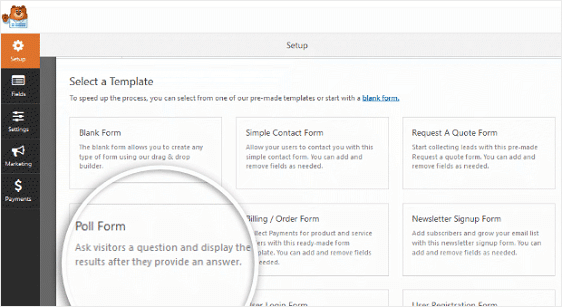 From the Form Editor, you can edit the poll question you want to ask your site visitors.
To do this, click on the form question on the right hand panel and see your editing options appear on the left hand side.
Here you can change the question and the choices your site visitors can choose from. In our example, we're going to ask people what their favorite dessert is.
And to make things more exciting for your WordPress poll form, we're going to add image choices to complement the answers people can choose from.
For help with this step, check out our helpful guide on adding image choices to WordPress forms.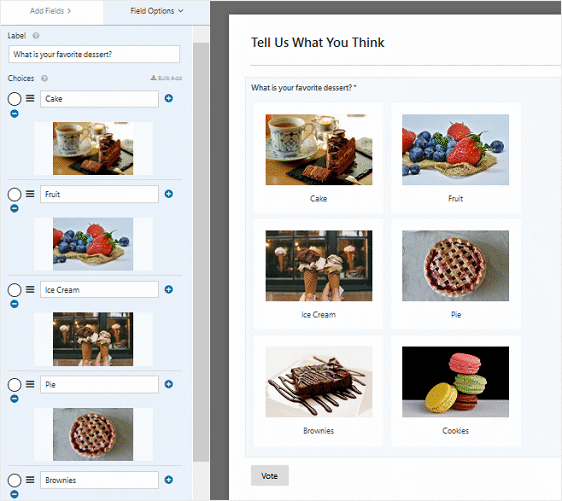 If you want, you can stop there and embed your form onto your website. But we're going to check out some other need things you can do to customize your form.
Step 2: Advanced Poll Form Customization
If you scroll down to the bottom of the Form Editor, on the left hand side, you'll see some more ways to customize your poll form.

The first thing you can do for your poll form is select the checkbox labeled Randomize Choices. This is for those times you want your poll's answers to randomly appear to site visitors to reduce order bias.
You can also change the image choice style, if you added image choices to your poll, to Modern, Classic, or None.
Lastly, you can change the format of your poll to be one of the following:
Inline
One Column
Two Columns
Three Columns
When all of this is done, you can now enable poll results and embed the poll form onto your website.
Let's see how to do this.
Step 3: Enable Poll Results in WordPress
To display poll results to your WordPress site visitors after they've filled out your poll form, go to Settings » Surveys and Polls and select the checkbox labeled Enable Poll Results.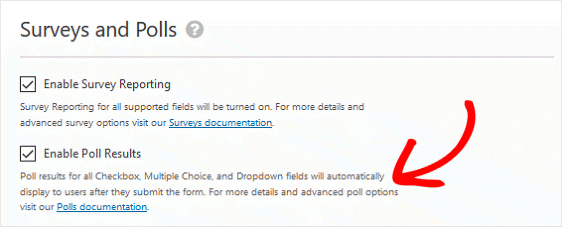 Next, go to Settings » Confirmation to create a custom message for site visitors to see once they've submitted your poll form. For more details, check out our guide on confirmation messages.
For our example, we're going to display a simple message. But you can customize it however you want.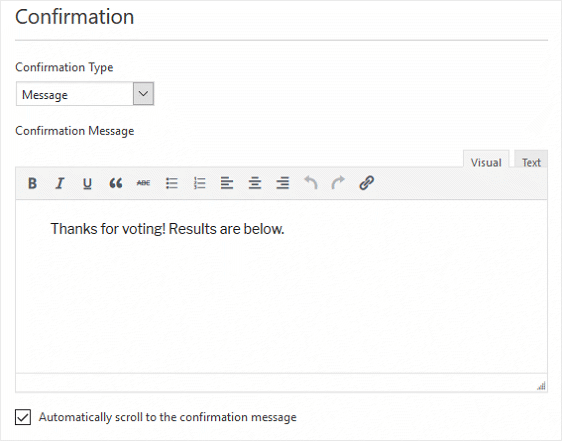 Click Save when you're done.
To get an idea of what it'll look like when people submit your poll form, check out our example.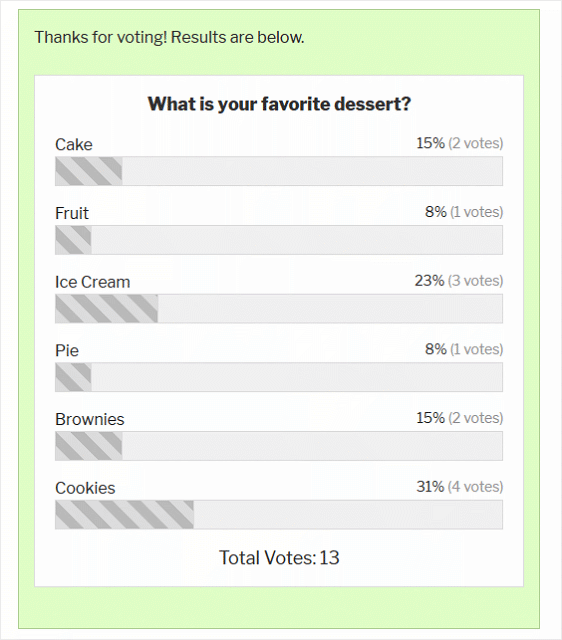 Your form is now ready to be added to your WordPress form. For help with this step, check out this tutorial on displaying your WordPress forms.
Final Thoughts
And there you have it! You now know how to add a poll form to WordPress.
If you're looking for another way to find out how users feel about the hard hitting questions you have to ask, check out how to add user ratings to your WordPress forms. And to top it off, be sure to brush up on your SEO skills so you can drive more people to your site and boost conversions.
So what are you waiting for? Start using the most powerful WordPress form plugin today. WPForms Pro comes with a free poll creator and offers a 14-day money-back guarantee.
And don't forget, if you like this article, then please follow us on Facebook and Twitter.