Looking for the best age verification plugin for WordPress?
Age verification plugins help you set age restrictions and limit the access of your website content to a particular age group.
In this article, we've hand-picked the best WordPress age verification plugins so that you can easily set up an age gate in WordPress!
Here's what we'll cover.
Let's start with the best plugin to restrict access to your site's forms.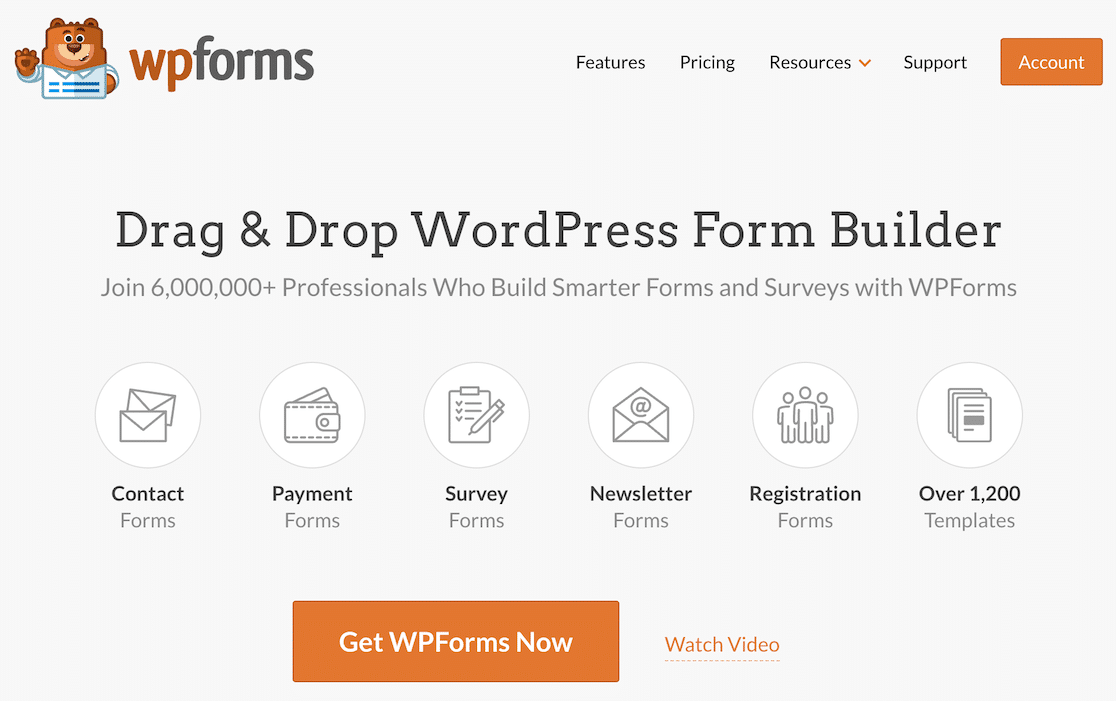 WPForms is the best form builder plugin for WordPress. You can create different types of online forms with its easy drag-and-drop interface.
And the Pro version of WPForms includes our powerful Form Locker addon.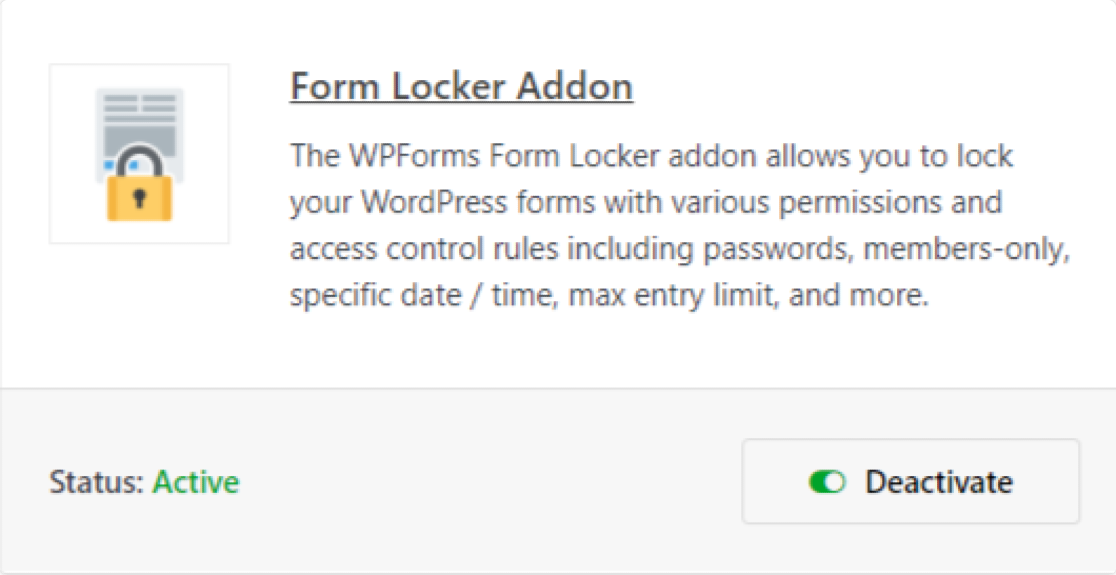 With the Form Locker addon, you can create a form and only allow it to be filled by a certain age group.
Users will be required to enter their birthdates to prove their age before accessing the form on your site.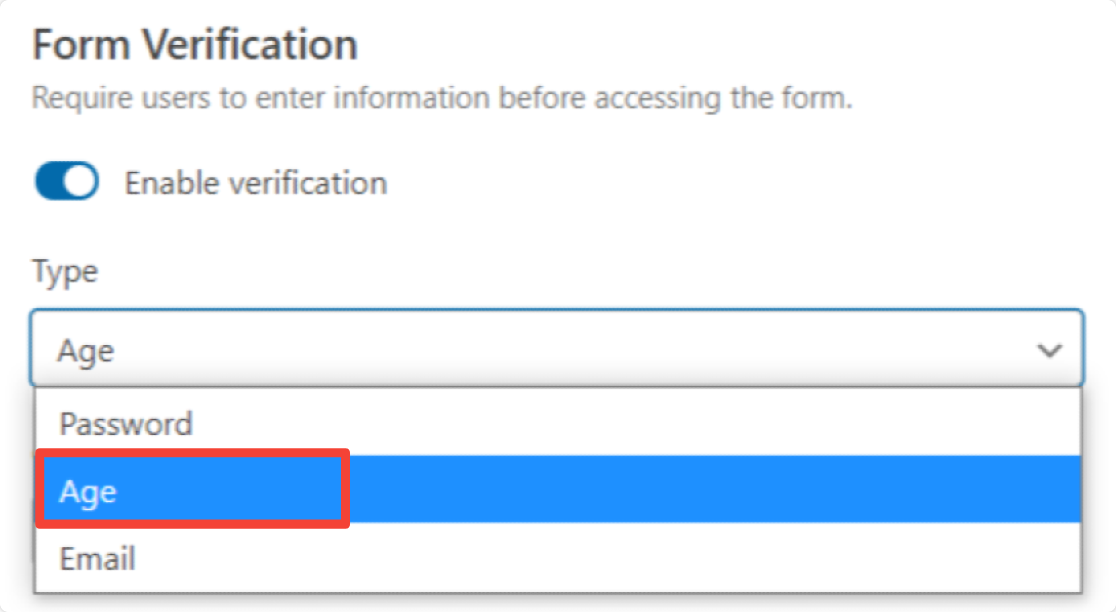 You have full control over the minimum or maximum age and the message that appears to explain the age restriction.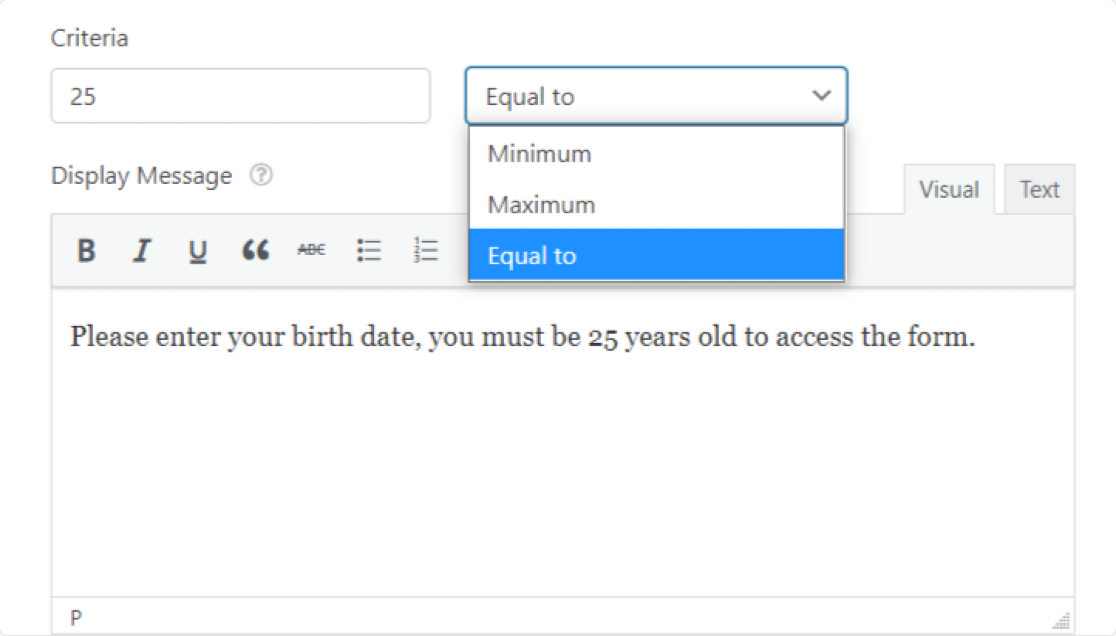 These features come in handy when you only want a specific age range of people filling out your forms. For example:
You're conducting an online survey and only wanted to allow people of a certain age group to participate in the survey.
You're organizing a late-night music concert, and only want people above 18 to register for the contest.
Maybe you require an age-restricted form for your pet store.
You have a college application form and want to open it up to students of a particular age group.
Create Your Age Verification Form Now
Features:
Easy and user-friendly
Interactive drag-and-drop builder
Put age verification feature to any online WordPress forms without embedding any HTML code
Create powerful surveys and set a minimum age limit to take part in the surveys
Set multiple age criteria to be fulfilled to view the form
Display customized messages to form users
Provides easy form embedding options
And more!
Price: WPForms Pro costs $199.50/year.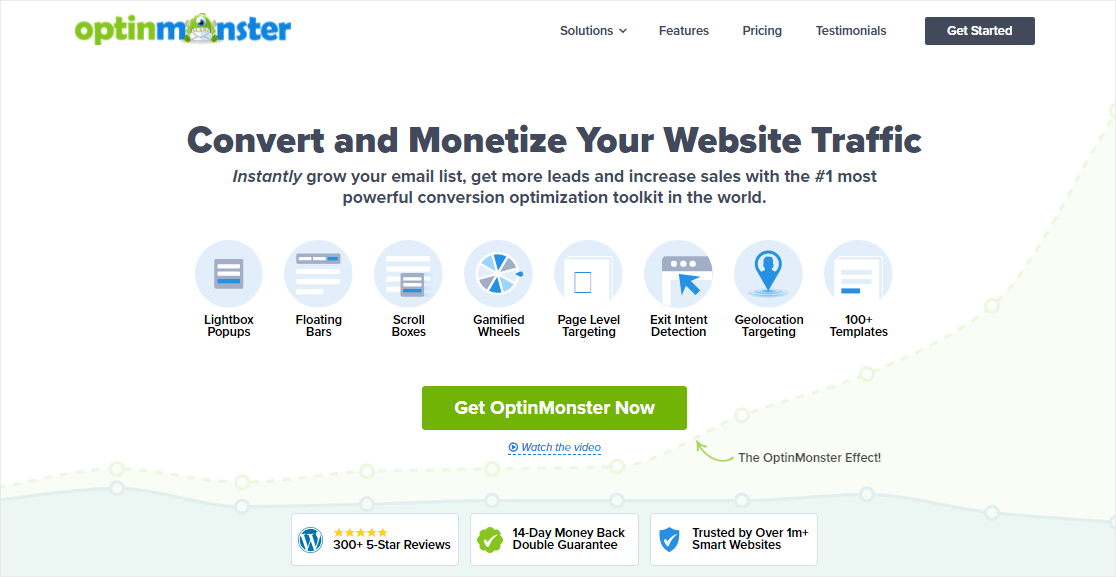 OptinMonster is the best lead generation plugin for WordPress. It lets you create stunning campaigns, including an age verification popup without writing code.
With OptinMonster, you can add age verification to your WordPress websites in just a few steps. You can create a simple age verification popup with Yes/No options or display a verification popup asking users to input their birthdates.
It's super easy to create floating bars, fullscreen welcome mats, and popups for different events or campaigns.
Features:
Helps you increase site conversions by displaying attractive campaigns
Allows you to create age verification or full-screen campaigns
Comes with 50 pre-made templates
Multiple options to build customized age verification popups
Includes a feature to make age verification compulsory
Display conditions to show age verification popup to every user
And more!
Price: Optinmonster Plus costs $19/month.
Wanted to know more about the OptinMonster plugin? Check out our detailed OptinMonster review for more details.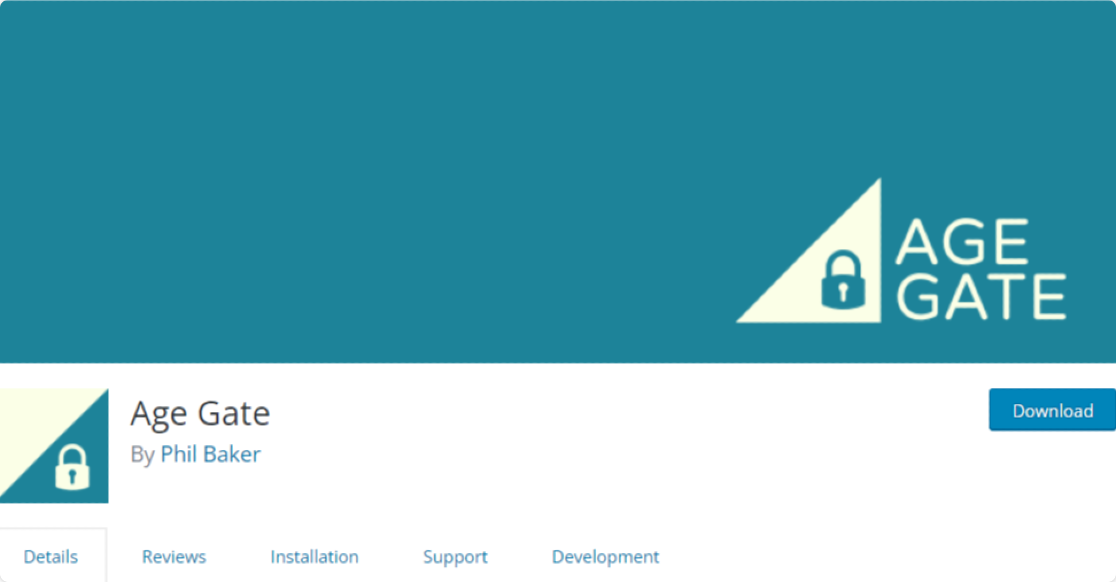 Age Gate is the free age verification plugin for WordPress. It's simple and comes with a user-friendly interface.
You can restrict your site content by putting your own criteria. It gives you the option to age-gate your entire site or just specific content.
For verification, the Age Gate plugin provides multiple options. You can ask your users to enter their age, display drop-down boxes, or simple Yes/No buttons.
Age Gate excludes the bots and crawlers from age checks automatically too.
Features:
Age verification restriction on all or selected content
Provides multiple options for age verification
'Varied Age' feature to set different minimum age requirements
Styling options to customize the age verification screen
Comes with a non-caching version
Compatible with multilingual plugins WPML, Polylang, and WP Multilang.
Price: Free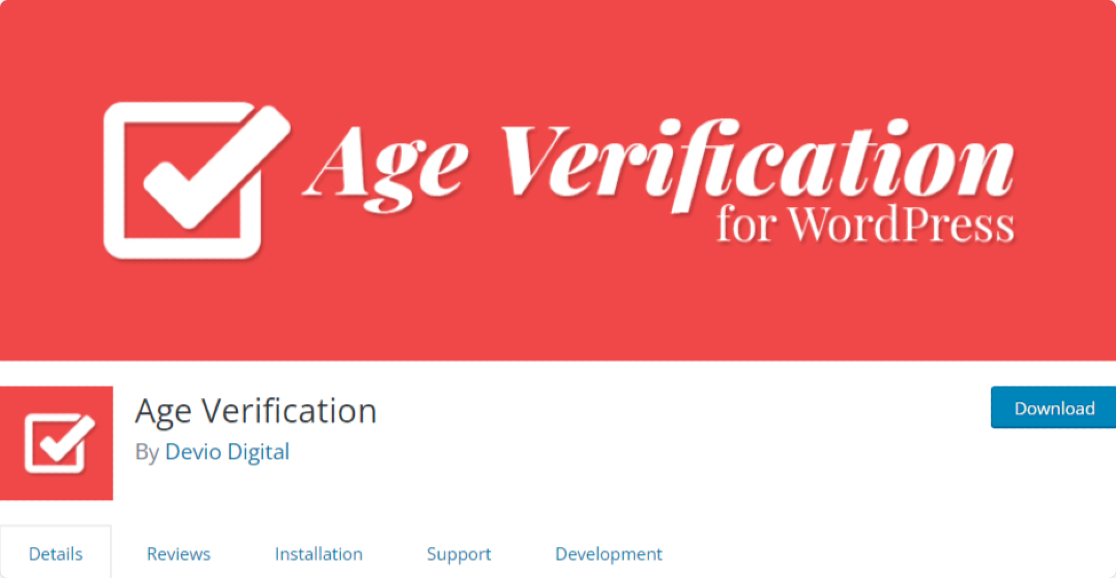 Age Verification is a free WordPress plugin to add a customized pop-up window to your website. You can display an age verification pop-up, and your visitors need to confirm their age to view your site content.
Age Verification is a free plugin, and that's why it's limited in features; however, it's a good option if you're looking for a budget-friendly pop-up plugin.
Features:
Display customized age verification pop-up window
Multiple customization options that let you alter background image, logo image, title text, message text, yes/no button text for pop-up
You can set the number of days to save cookies
Customize the success and failure messages
And more!
Price: Free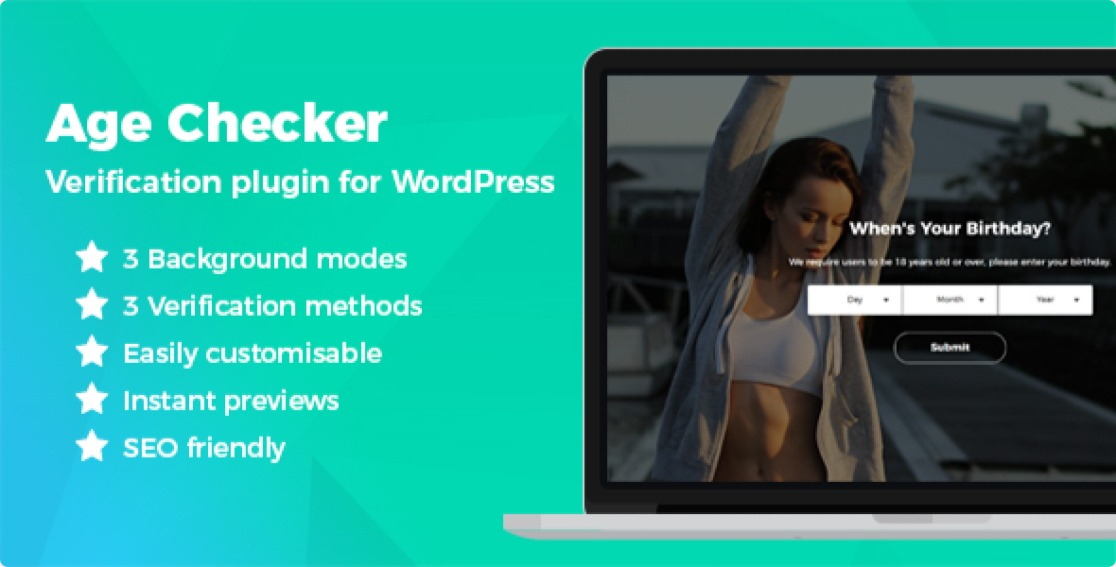 Age Checker is a premium plugin for WordPress websites. It includes 3 age verification options: birthday, simple checkbox, and enter verification method.
Also, it offers plenty of customization and styling options that let you customize the verification screen as per your website needs.
For the verification screen background, you can get 3 options to choose from. You can either display a solid color, add a background image or upload a background video.
Features:
3 background modes
3 verification options
Gives the flexibility to restrict entire site content or individual pages/posts.
Allows you to upload your brand logo on the verification form
Redirect users to another page if they're underage
Live preview of the verification screen
Responsive and SEO-friendly.
Price: Age Checker costs $18/year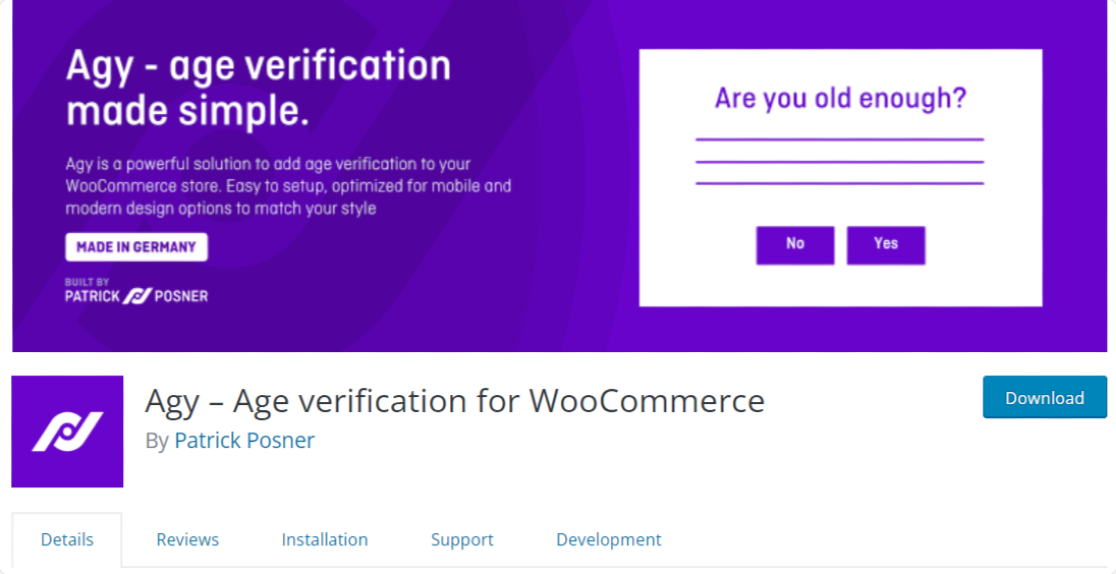 Agy is the age verification plugin for WooCommerce. If you're selling products that require legal age to purchase, Agy might be the helpful plugin option for you.
It lets you set up age verification for your WooCommerce store and provides multiple customization and features to create a powerful age verification system.
Agy includes 3 different verification modes and also comes with a feature that lets users blacklist or whitelist specific products.
Features:
Responsive and easy to set up
Design settings to create responsive and modern age-gate
3 different verification modes: Yes/No, date picker, and simple slider
Option to add additional checkboxes to registration or checkout pages
Compatible with WPML or Polylang plugins
Flexibility to exclude any posts, pages, or products from the Age gate.
Price: Agy costs $49.99/year.
And there you've it! This is our list of the best WordPress plugins to verify the age of your visitors.
Why Should I Add Age Verification to My WordPress Site?
Adding age verification is useful if you have content that's specifically geared toward a certain age group.  It's also good if you have content that's sensitive in nature or if you sell items that require buyers to be of a certain age.
You can easily put an age restriction on your site content using any of the age-verification plugins we discussed here.
Create Your Age Verification Form Now
Next, Password Protect Your WordPress Site
We hope this article helps you choose the best age verification plugin for your WordPress websites.
After setting up age verification, you might also be interested in checking how lock your content with a password. Check out our detailed article on how to password protect your WordPress site for more details!
Wondering what gated content is? Read our blog post about gated content and its examples to know more.
And don't forget, if you like this article, then please follow us on Facebook and Twitter.