Do you want to audit form links on your site?
Linking to your forms is important because it allows visitors to discover your forms from different areas of your site.
But do your form pages have enough links? Only an audit can reveal the answer.
In this post, we'll show you the easy way to audit form links on your WordPress site.
Why Audit Form Links?
Forms are all about making it easier for your site visitors to contact you and provide information. But it's not always enough to simply create a form and add it to one of your pages.
In order for a visitor to use one of your forms, they must first be able to easily navigate to the form and discover it on your site.
This is where good form placement and form links are so massively helpful. By including forms within areas of your site that are likely to draw user attention, you maximize submissions.
In addition, adding links pointing to your forms from different areas of your site means that visitors will be able to navigate to your forms more easily.
To make sure that every form page on your site has a sufficient amount of links and is placed where you want it to be placed, it's important to audit form links from time to time.
First, we'll show you how to find which pages currently have an active form on your WordPress site. Next, we'll explain how you can find linking opportunities to your WordPress forms and ensure that customers easily find your forms when they need to.
How to Audit Links to Your WordPress Forms
There are two ways to audit links to your WordPress forms, so we'll look at them both.
If you'd rather follow written steps than watch the video above, jump into the tutorial below.
Let's begin.
1. Locating Forms On Your Site
To audit your forms, you're first going to need full data for where your forms are located on your site.
If you've got lots of pages and many different forms on your site, it can be difficult to remember where all the forms actually are.
Thankfully, it's really easy to see which pages are using your forms. You just need to use WPForm's form locator feature to do this.
WPForms scans your entire site to find all areas where you may have added a form. This includes:
Posts
Pages
Custom post types
Sidebars
Footers.
And other widgets.
We'll now see how you can use the form locator as part of your form testing and audit process.
Installing WPForms
Form locator is a feature built-into WPForms. So if you don't already have WPForms on your site, go ahead and install it. If you don't know how, see this guide on installing WPForms for instructions.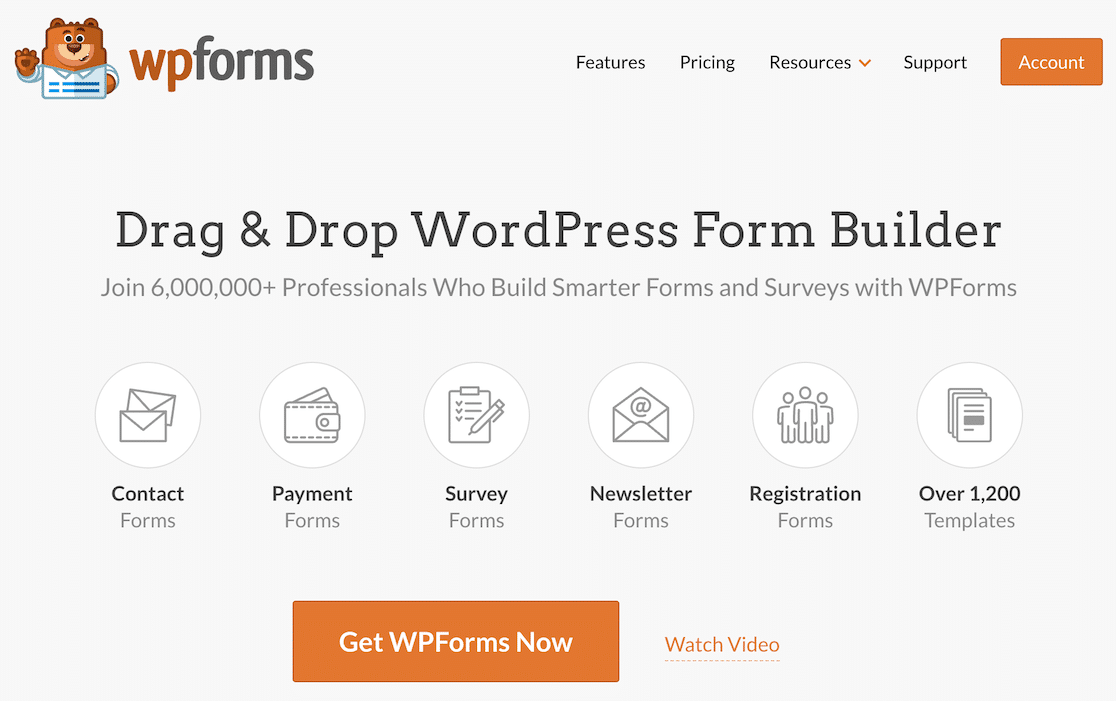 Once the installation has finished and you've added a few forms to your WordPress site, you can see the form locator feature in full force.
Viewing Form Locations
From your WordPress dashboard, go to WPForms » All Forms.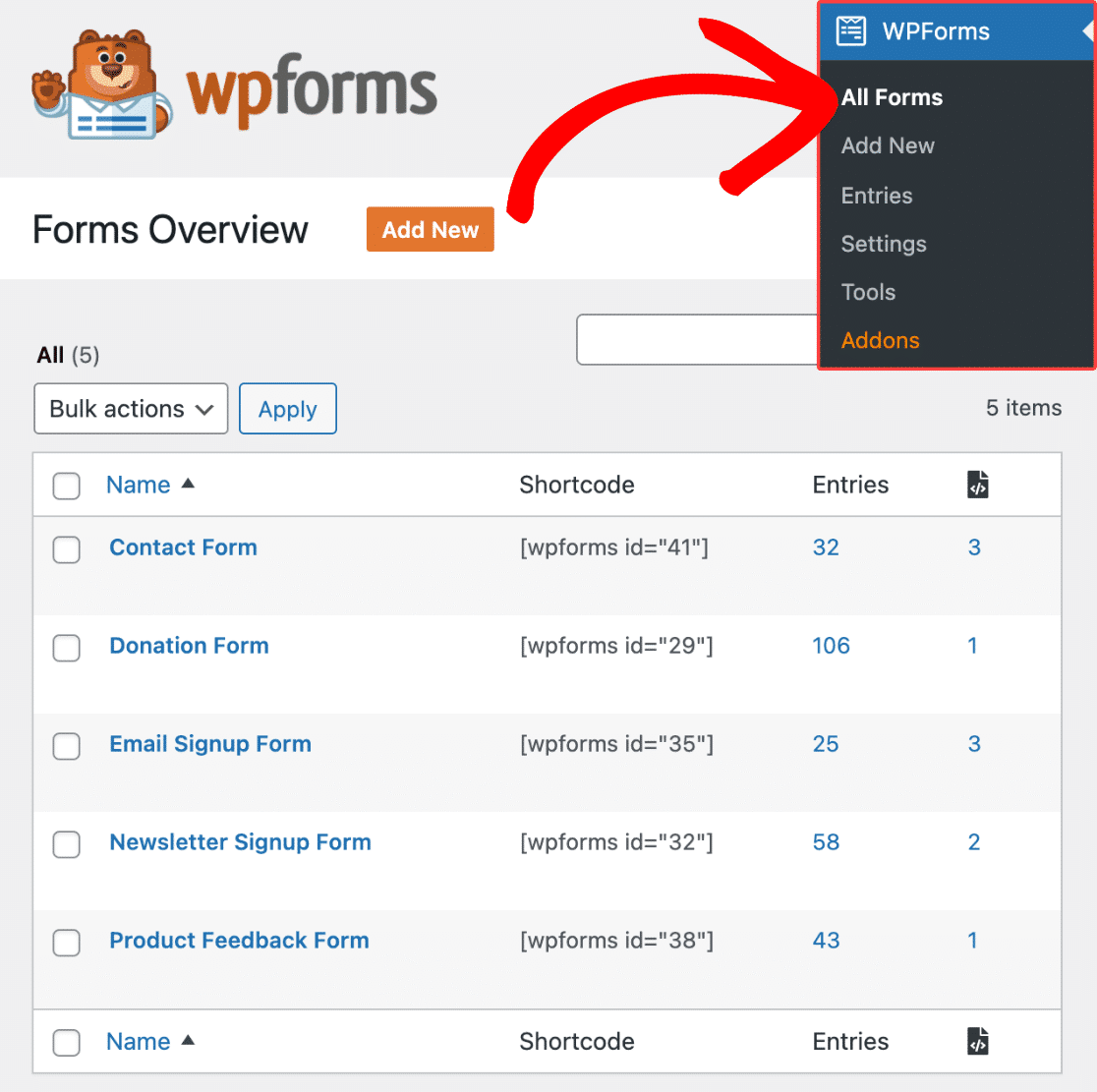 The Forms Overview page displays different types of details under table columns including form locations. But this may not yet be visible.
To add the form locations column to your Forms Overview page, click on Screen Options on the top.

Now make sure the Locations option is checkmarked and click on Apply.

This will now add the form locations column on the far right of the table. The numbers under this column represent how many different locations a form is appearing on.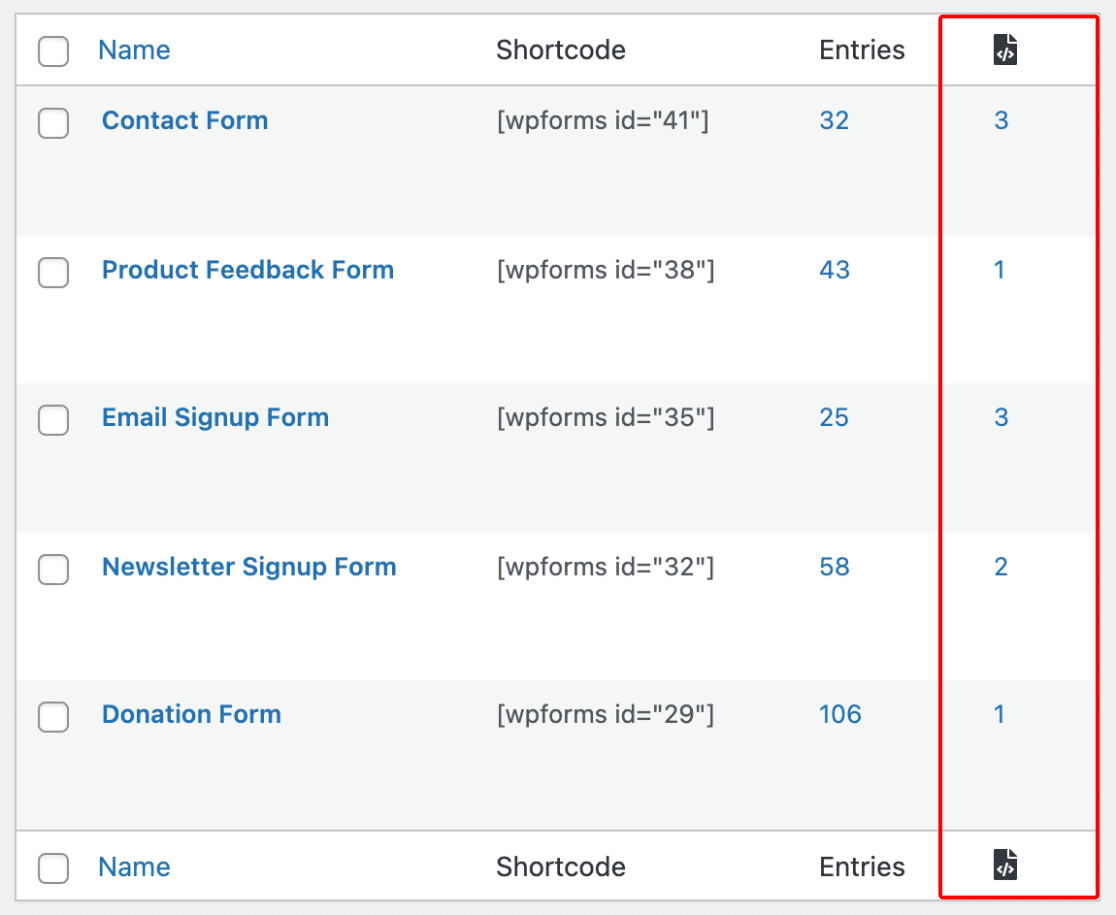 The form locations data is incredibly valuable for your audit. For example, what if you created a form but forgot to embed it on a page?
You can simply look for the form on the Forms Overview page and if the corresponding form locations column reads "0", it means that the form is currently not active anywhere on your site.
That's not all. To run a thorough audit and find all the pages with forms on your site, you should be able to see these locations exactly.
Thankfully, forms locator provides a great level of detail and shows you the specific pages, sidebars, and footers that are currently using your form.
Checking Specific Form Locations
To check where a form is located, simply click on the number underneath the column for the form whose specific locations you want to see.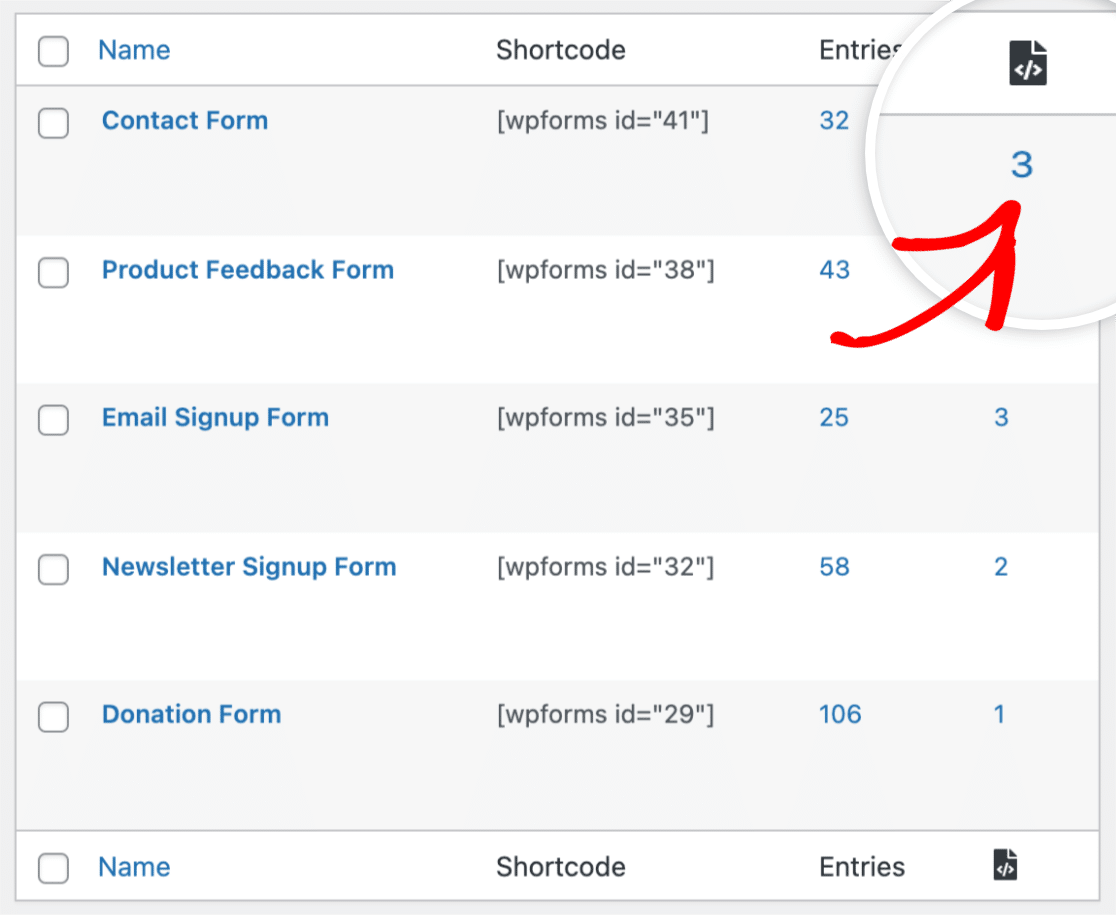 You can also achieve the same result by hovering your cursor over a form name and then clicking on the Locations option when it appears.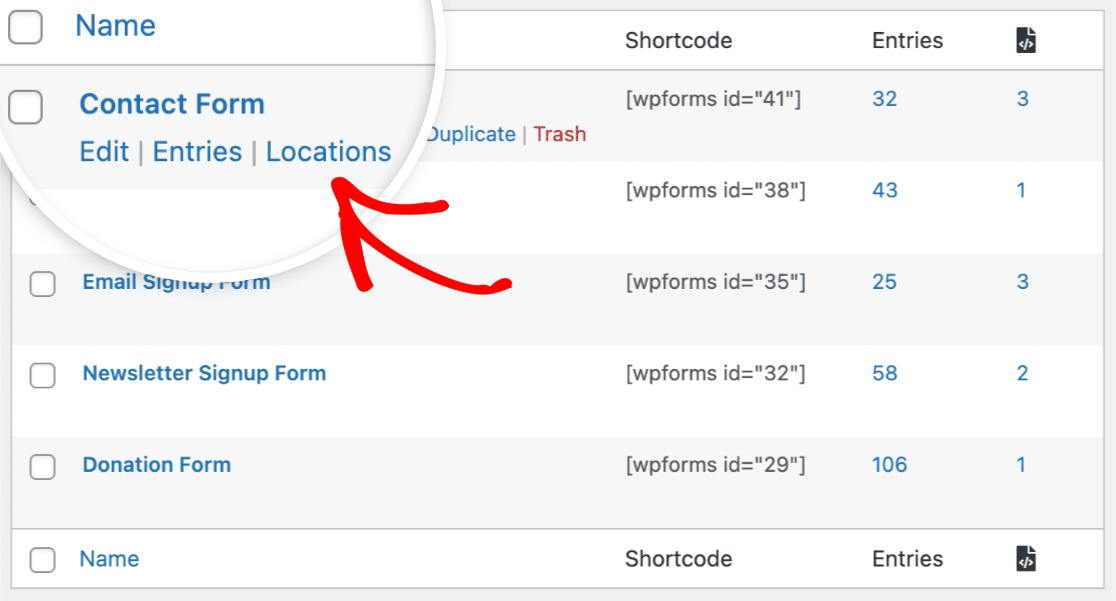 Whichever approach you take, WPForms will now display a list of all the locations where that form is currently located.

At a glance, you can now audit your forms to check if the right pages are linking to the form. You might find new opportunities for adding a form to pages that currently don't have it and where it may make marketing sense to include one.
Using the form locator during your audit, you can also find where the form you've been receiving entries from is located on your site.
These are just some of the ways the form link audit can help you improve your form placement to maximize discoverability and conversions.
2. Checking Links to Forms
In the previous step, we focused on discovering where forms are located on your site.
This can be one of your main aims when auditing links to forms because it allows you to confirm that the right forms are embedded within the right areas on your site.
But there's another aspect to auditing form links – making sure that your form pages have enough links.
For example, if you're running a contest and want the maximum amount of people to find the contest signup form, you may want to include more links to it from your blog posts and other pages.
Let's now see how you can audit links to your forms.
Installing AIOSEO
To audit links to forms, we're going to use a WordPress SEO plugin called AIOSEO. With AIOSEO, you get an advanced tool for building links on your site – Link Assistant.
So, the first thing you need to do is to install AIOSEO Pro on your site.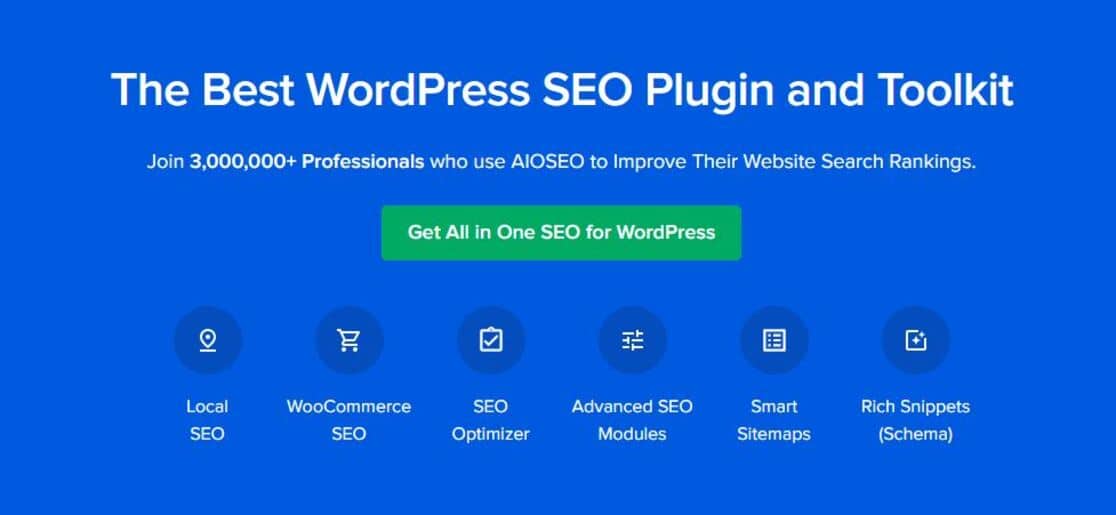 After you've installed AIOSEO, we're going to make use of the Link Assistant tool to check existing links to all of our form pages and identify linking opportunities.
You can also check out our AIOSEO review to learn about all the many SEO capabilities it can offer for your WordPress site.
Using Link Assistant
You can access the Link Assistant tool by navigating to All in One SEO » Link Assistant from your WordPress backend area.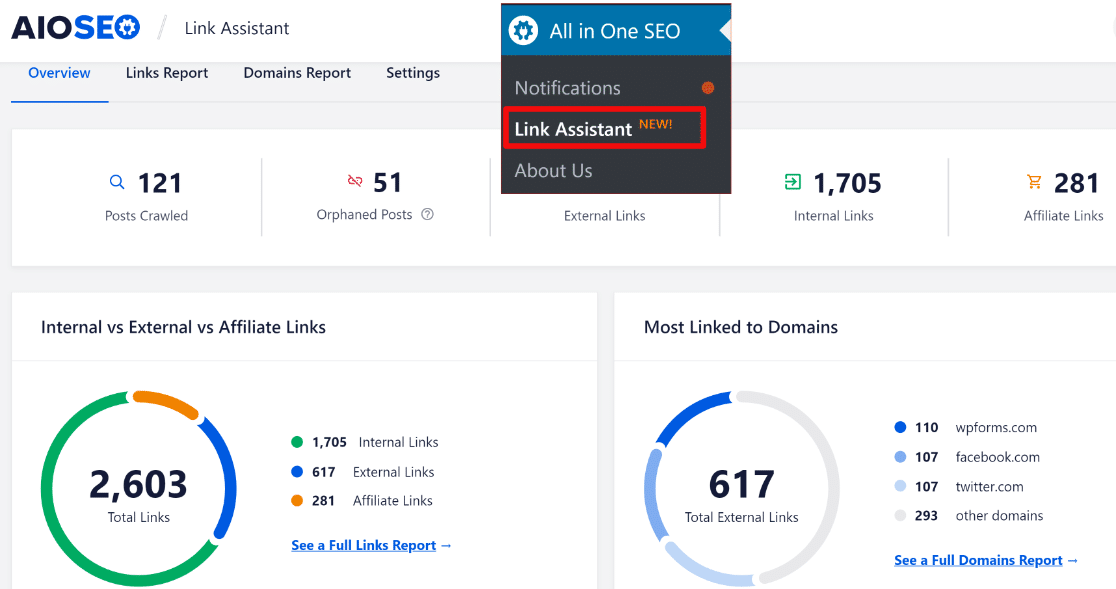 This page provides a lot of detail. You can see total internal, external, and affiliate links on your site at a glance.
There are many ways you can audit links to your forms with Link Assistant. One way is to click on the See a Full Links Report link.

This will lead you to a new page where you can see how many links you've built for each page or post on your site, including form pages.

Using the Link Assistant, you can perform a comprehensive link audit and review which form pages have a healthy number of links and which might need more of your attention.
Identifying Orphaned Form Pages
Link Assistant also lets you quickly identify form pages that have no links at all and which you might probably want to focus more heavily on.
Without any links, users might simply not be aware that a form they might be interested in even exists on your website.
To see form pages receiving 0 internal links, click on the Orphaned Posts link.

You should now be able to see a list of all orphaned posts and pages on your site.

Remember that the Link Assistant shows you all pages on your site, not just those with forms.
To easily find the exact form page you want to see the linking details of, you can perform a search using the search bar on the top-right. Entering a generic term like "form" can help you find all form pages (if their titles have the word "form" in them).
And that's it! We hope this post gave you some useful ideas for how to audit links to your WordPress forms.
Next, Incorporate CRM Best Practices
Make the most of CRM tools using these CRM best practices. If you pay attention to a few important details in your CRM workflows, you significantly improve your ability to wow your customers.
If you're concerned about high form abandonment on your site, you might want to address that. One of the best ways is by making a form with a progress bar.
Create Your WordPress Form Now
Ready to build your form? Get started today with the easiest WordPress form builder plugin. WPForms Pro includes lots of free templates and offers a 14-day money-back guarantee.
If this article helped you out, please follow us on Facebook and Twitter for more free WordPress tutorials and guides.