Asking yourself what questions should I ask in a feedback form?
Sending a survey to customers and getting their feedback is vital to learning where opportunities for growth are within your website and small business.
So in this post, we've listed some ideas of fantastic feedback form questions you can ask on your customer surveys.
Here's a table of contents if you'd like to skip ahead:
Create Your Customer Feedback Survey Form Now
Why Ask Feedback Form Questions
The biggest brands know that asking customer feedback questions helps grow your business. Here's why:
Knowing how an employee feels about the customer experience may uncover some great opportunities for improvement.
Open-ended survey questions (where people need to write in their own answers) can help you improve customer retention by getting extra details about things like customer service or your product or service.
Satisfied customers might be more likely to tell friends and colleagues (potential customers) about your business, and your feedback form helps remind them of their great experience.
Want to see these points in action? Check out some of our favorite examples of customer surveys.
Of course, that's just the tip of the iceberg with why you'd want to ask customers for their feedback. So let's jump right in and get an idea of what kinds of questions to actually ask them.
Feedback Form Questions to Ask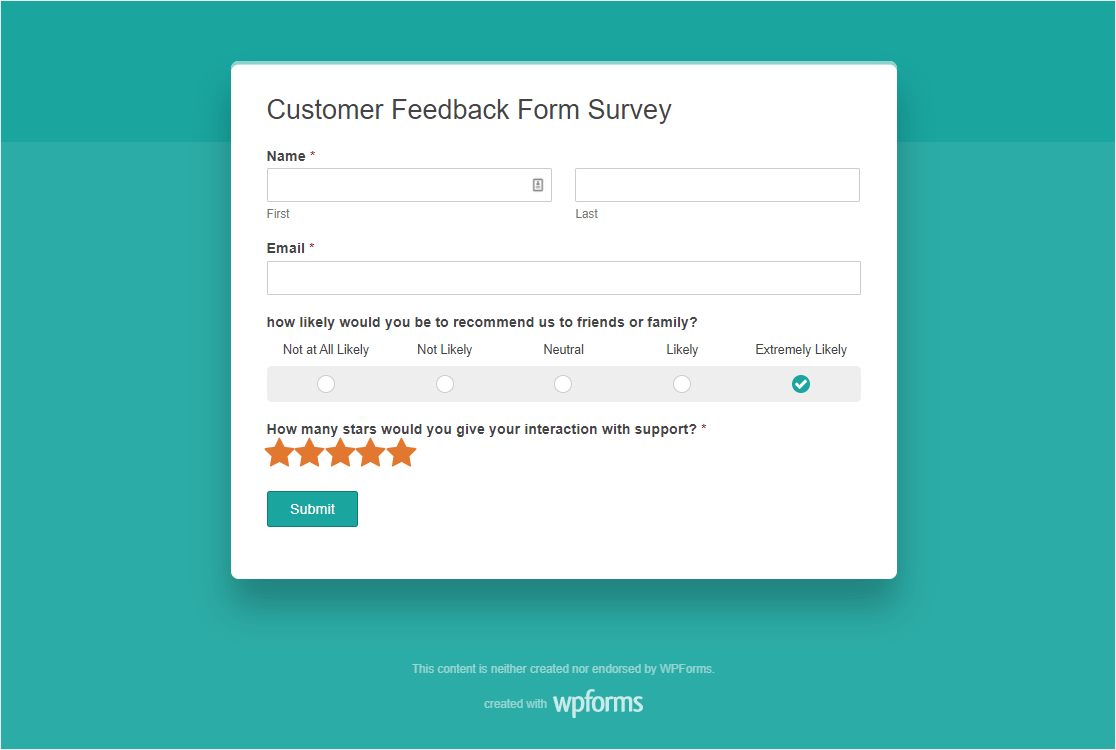 Below are some ideas of great feedback form questions to ask on your customer surveys.
Must-Ask Feedback Form Questions
You'll want to consider asking these general questions to get a healthy overview of the customer's experience.
1. How did you hear about us?
2. How long have you known about us?
3. Would you change anything about your experience with us?
4. What do you enjoy most about our brand?
5. How likely would you be to recommend us to friends or family? (You can build a Likert Scale in WordPress for this.)
6. Have you used a competitor of ours?
7. How do we compare to our competitors?
8. Do you have any additional comments for us?
Website Feedback Form Questions
Besides just general feedback form questions, you'll want to find out what people think about your website. Making sure it's easy to navigate is extra important, and you may even uncover some other issues or blockers that leads are running into and causing them not to become customers.
9. How was your experience navigating our website?
10. Was it easy to find our website?
11. Would you change anything about our website?
12. Did you see a place to join our email newsletter? (Tip: Feel free to link to your newsletter signup on your survey as well.)
13. What were you looking for on our site?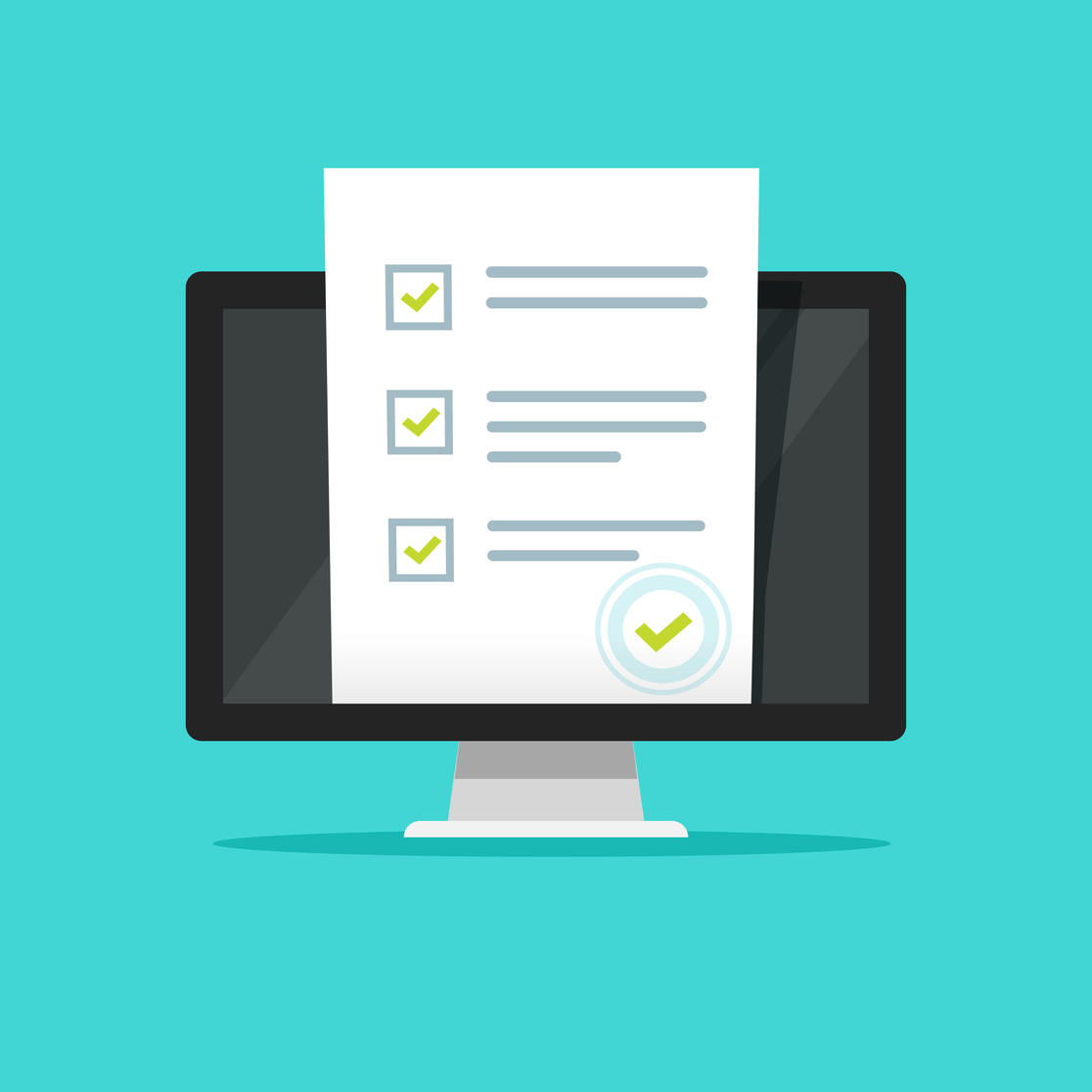 Demographic Feedback Form Questions
It's always a good idea to collect details about who your customers are. This helps you develop products more focused on who is interested in them and what they really want and will be looking to buy more of. Try out some of these demographic feedback form questions on your customer surveys.
14. What's your name?
15. How old are you?
16. What's your marital status?
17. Where do you live?
18. What's your annual household income?
19. What industry do you work in?
20 . What's your job title?
21. What's your highest level of education?
22. If you had to pick one word you'd use to describe yourself, what would it be? (Great for creating word clouds.)
Customer Service Feedback Form Questions
Using conditional logic, you can ask if someone interacted with your customer service team. If they say yes, you can make more questions appear regarding that experience, so you can really dig in and find out how the team is doing overall or even how a specific team member is doing.
23. Did you interact with someone from support?
24. How many stars would you give your interaction with your support rep? (You can use an NPS survey for this one.)
25. Were your expectations met, unmet, or exceeded with this interaction?
26. Was the support representative friendly?
27. Did we solve your problem in one interaction?
28. How long did you have to wait on hold? (This applies even if you're using live chat software for support.)
29. How could we have gone above and beyond?
Product Improvement Feedback Form Questions
It's extremely important to ask people what they think about what you're selling. After all, they're the ones using your stuff. This way, you can learn what to work on and how to make things better so you're always improving your products and services.
30. Have you used our product or service before?
31. How often do you use this product or service?
32. What products or services would you like to see from us in the future?
33. Do you feel our product or service is priced fairly?
34. How are you planning to use the product or service?
35. How has this product or service impacted your life?
36. Did you buy this product or service as a gift for someone else or for yourself?
37. Which features do you not use?
38. What are your favorite features?
39. Would you change anything about this product or service?
Purchase Experience Feedback Questions
Paying attention and continually improving the path (or funnel) your leads take to turn into customers is a great way to make more money online. So here are some questions to help you put yourself in the customer's shoes and see the purchase experience through their eyes.
40. Have you purchased from our website before?
41. If so, was the experience better, worse, or the same as last time?
42. Were you able to find exactly what you were looking for?
43. What one word describes the purchase experience?
44. What convinced you to buy our product or service?
45. What questions did you have about the product or service before purchasing or now?
46. Did anything nearly stop you from buying the product or service?
47. Did you feel like the checkout process went smoothly?
48. Did our order form offer the type of payment service provider you wanted to use?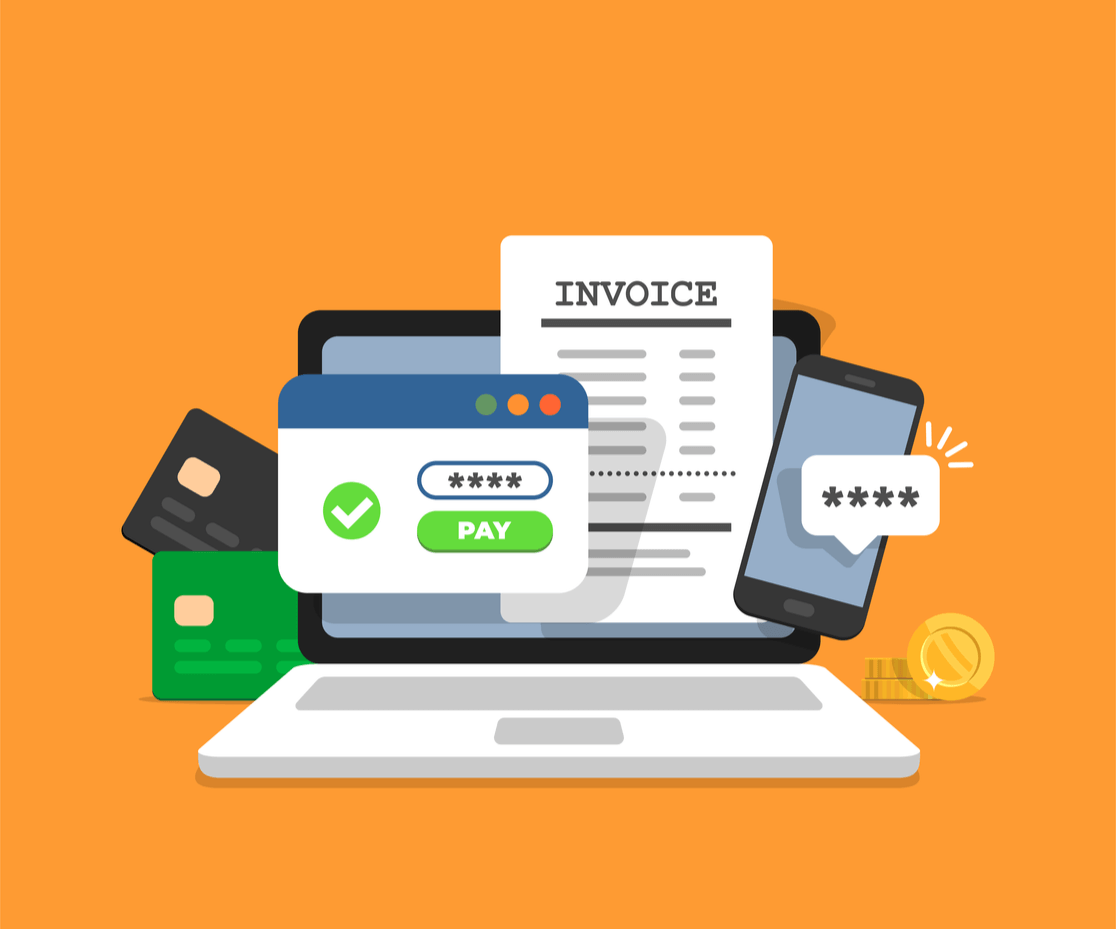 Follow-up Feedback Form Questions
Not only is it a good idea to capture email addresses from surveys in order to grow your email list, but it's also a good idea to offer to follow up with people down the road. This can help re-engage customers with your brand and create loyalty.
49. After we add new features, can we let you know?
50. Are you willing to take this survey again down the road?
51. Could we contact you for more details on your experience with us?
52. Would you be willing to help us try out new features before they're released?
So, you now know what kinds of feedback form questions to ask customers, but you might still be asking yourself how do I create a feedback form?
Well, let's look at exactly how it's done next.
How Do I Create a Feedback Form?
These days, it's super simple to make a feedback form. You can do this using one of the free survey templates that are included with WPForms Pro.
There are a few you can play around with, but we'd recommend starting with an NPS Survey template (Net Promoter Score) then editing it to make it match your small business's needs exactly.
And after you start collecting responses to your survey, you can see the results in your reporting dashboard. This is the place you'll go to export data if you'd like to present the survey findings in your own report.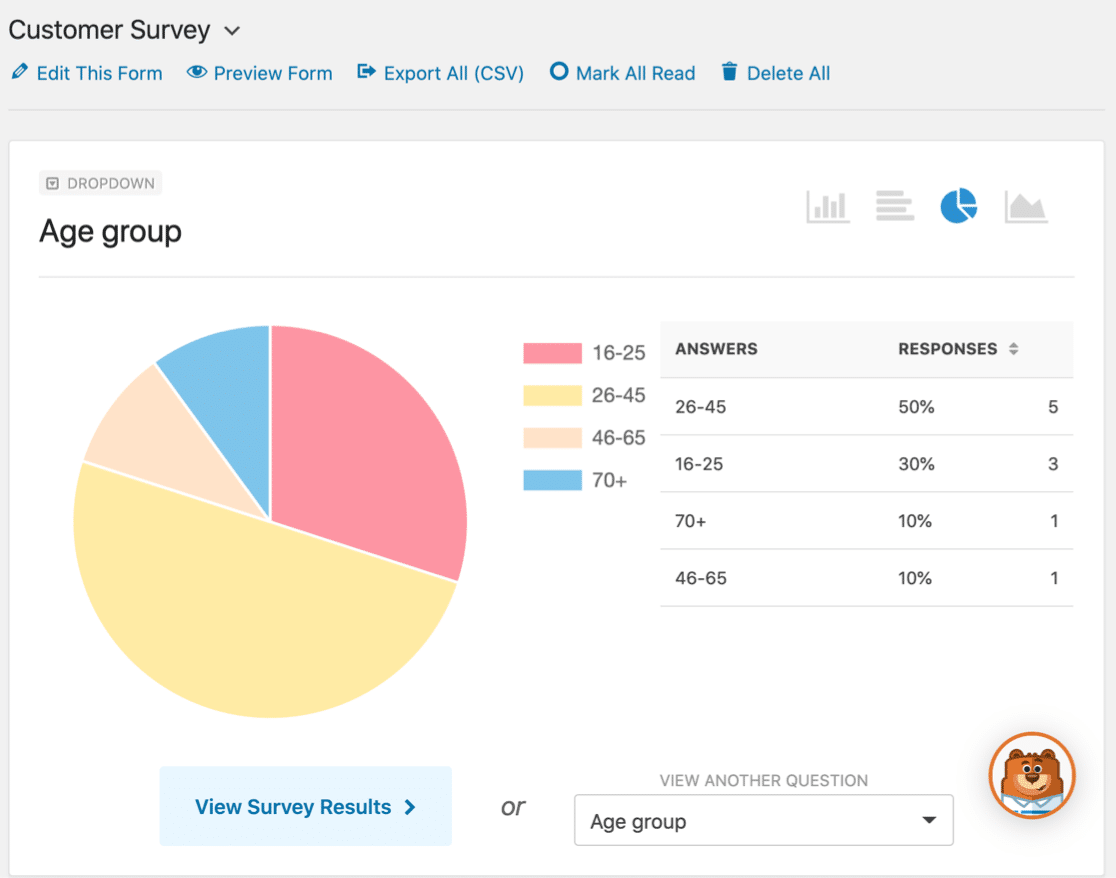 WPForms Pro is an incredibly powerful tool, and the Surveys and Polls addon is just one of the many features that make it so popular for WordPress website owners.
Not only do you get access to surveys, polls, and templates, but WPForms Pro comes with some other really effective small business tools for your website's forms like:
Order Forms: Take payment over your forms in multiple ways using the popular payment service providers Stripe, Square, or PayPal.
Secure Forms: Protect your customer survey forms with different anti-spam options including custom captcha, hCaptcha, or Google reCAPTCHA v2 and v3.
User Registration: Let people register on your website.
Email Marketing Integrations: Set up your customer feedback survey to automatically send contacts over to your email lists in Constant Contact, Brevo (formerly Sendinblue), Mailchimp, and more.
Conversational Forms: Use an interactive-style form that people love to fill out, so you can get higher response rates.
Landing Pages: Get more customers (and leads!) to finish your forms and surveys by creating distraction-free pages to put your forms on.
Unlimited Forms: Create as many forms as your website needs – really!
And a TON more.
Create Your Customer Feedback Survey Form Now
Next Steps With Customer Surveys
And that's it! Our list of the best feedback form questions to ask on your customer surveys. We hope this helped you get some ideas for your own forms.
And before you jump into making your customer satisfaction survey forms, you should check out our post on the top complaints customers have about online surveys.
So what are you waiting for? Get started with the best WordPress form and survey builder today.
And if you enjoyed this list, please follow us on our social media accounts on Twitter and Facebook for more.