Are you looking for the best Google Workspace plugins for your WordPress website?
Google Workspace offers a robust set of tools that can help businesses of all sizes improve their productivity. These include popular apps like Google Sheets, Google Drive, Google Calendar, Gmail, and many more.
Naturally, if you have a WordPress website and a Google Workspace subscription, you might wonder if you can automate processes between WordPress and your apps.
For this post, we tested many plugins that integrate with Google Workspace and put together a list of Google Workspace plugins for WordPress that can simplify your workflow with powerful automations.
How Do I Add Google Workspace to WordPress?
There's no way to integrate the whole of Google Workspace into WordPress directly. But you can integrate individual apps from Google Workspace with a WordPress website using plugins that support those apps.
These plugins allow you automate different functions by connecting your WordPress site with Google apps. 
Best Google Workspace Plugins for WordPress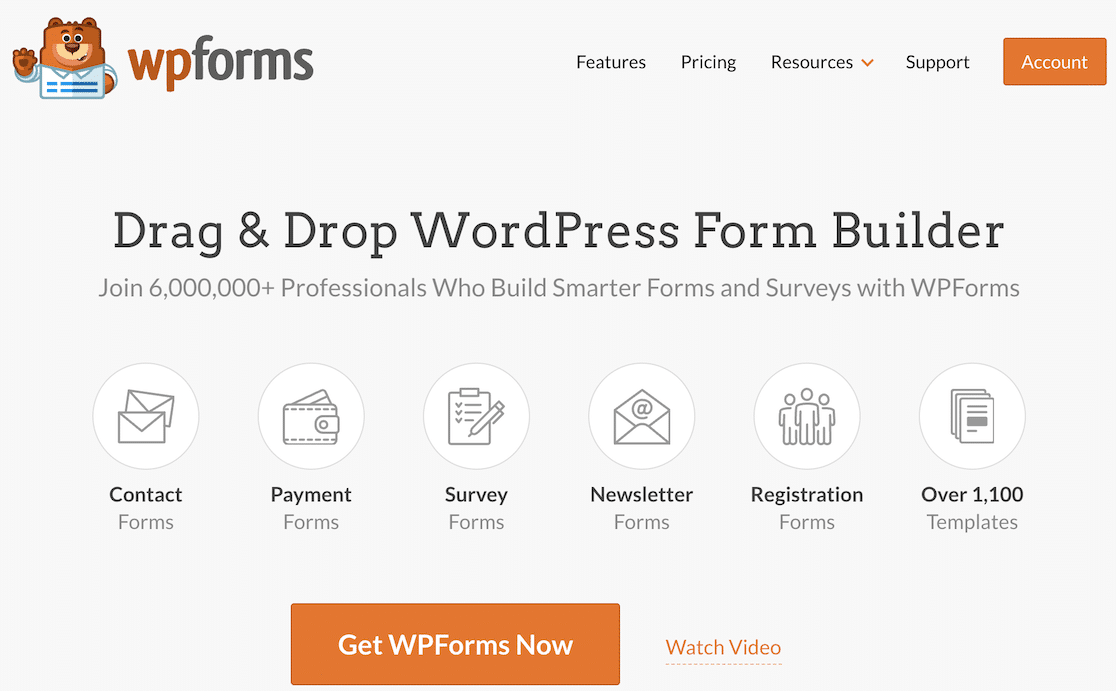 WPForms is the top WordPress form plugin for Google Workspace. It features an easy drag-and-drop builder and natively supports Google Sheets integration. 
With 1,200+ form templates, 30+ form fields, and tons of useful features, WPForms offers a lot more flexibility than Google Forms, including the ability to calculate form items and create calculators. 
The WPForms Google Sheets integration allows you to automatically save form entries from WPForms to Google Sheets, where you can quickly process data and collaborate with team members.
In the past, this integration was only possible by building an automation recipe using Uncanny Automator. But with the Google Sheets addon, this process becomes extremely simple and gives you more control over how your form data should be organized in a spreadsheet!
To get started, you'll need a WPForms Pro or Elite license, and then you'll need to activate the Google Sheets integration.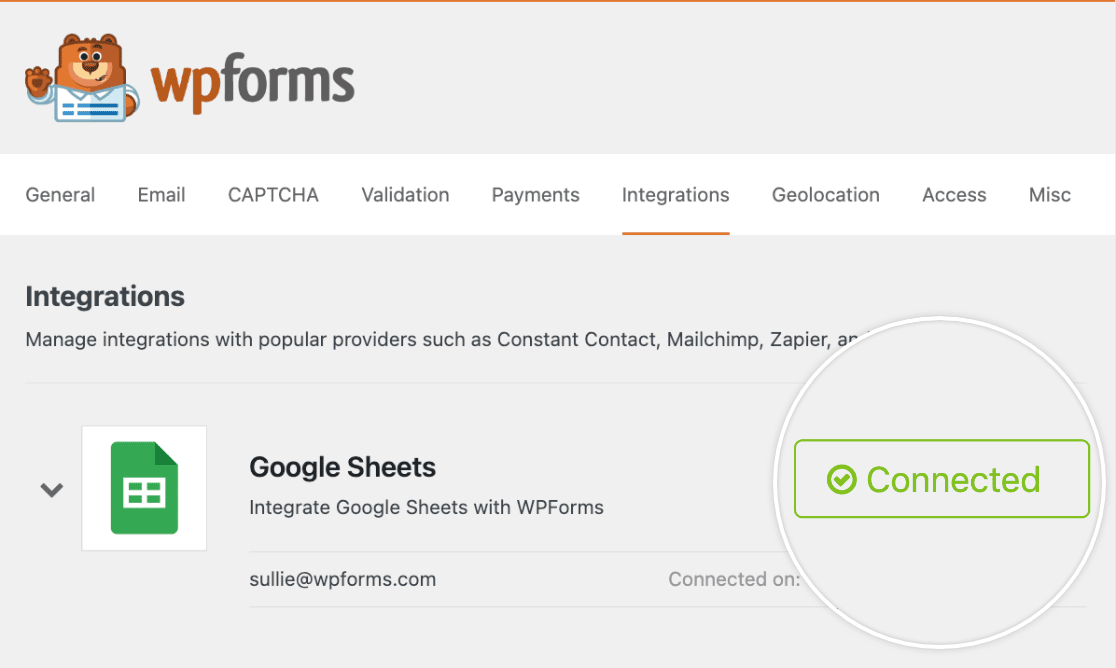 After the integration is complete, WPForms lets you control various things like:
Map WPForms form fields to spreadsheet columns
Select which form entries to send to a spreadsheet using conditional logic
Create a new spreadsheet right from within the form builder settings
The WPForms Google Sheets addon is an excellent way to boost productivity and save some time!
If you must have only one WordPress plugin to connect with your Google Workspace account, WPForms is our top recommendation.
WPForms Pricing: To access the Google Sheets addon, you'll need a WPForms Pro license or higher, starting at $199.50 annually.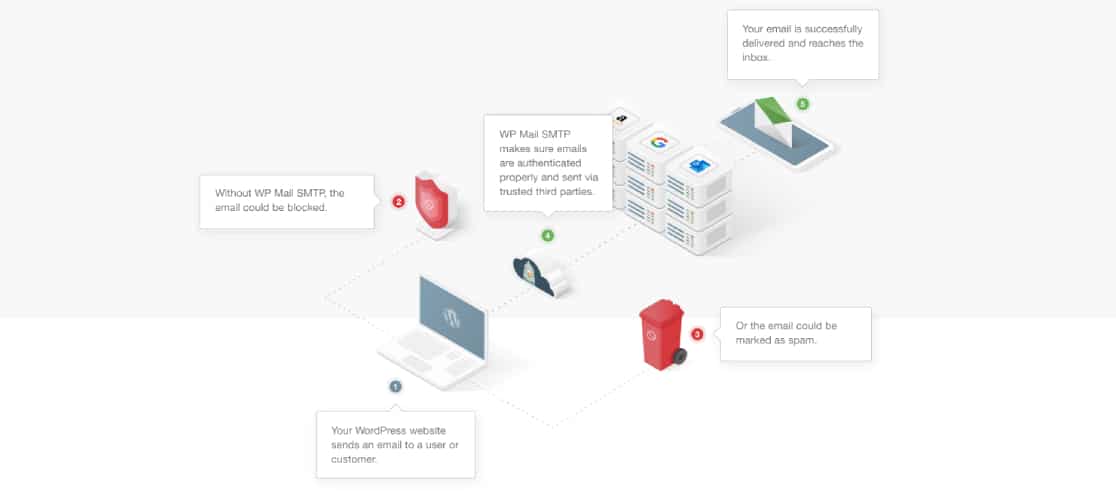 WP Mail SMTP is the best SMTP solution for WordPress that connects your site with Gmail servers and supports many other mailers.
You'll most likely be sending emails to customers, prospects, affiliates, and so on. Unfortunately, email delivery is a tricky thing with WordPress. That's why you need an SMTP plugin like WP Mail SMTP to help ensure that your emails get delivered.
WP Mail SMTP works by providing authentication details for your domain and then passing your emails through a third-party mailer like Gmail.
If you have a Google Workspace account, you might consider using Google's API to ensure your emails are authenticated and delivered without issues. 
But that's not all. You can use Uncanny Automator to create some really useful automation recipes triggered by WP Mail SMTP. While testing the plugin, we used an automation to track email open and click rates in a Google spreadsheet.

These extra features make WP Mail SMTP a valuable tool for any business.
WP Mail SMTP Pricing: WP Mail SMTP starts at $49 per year.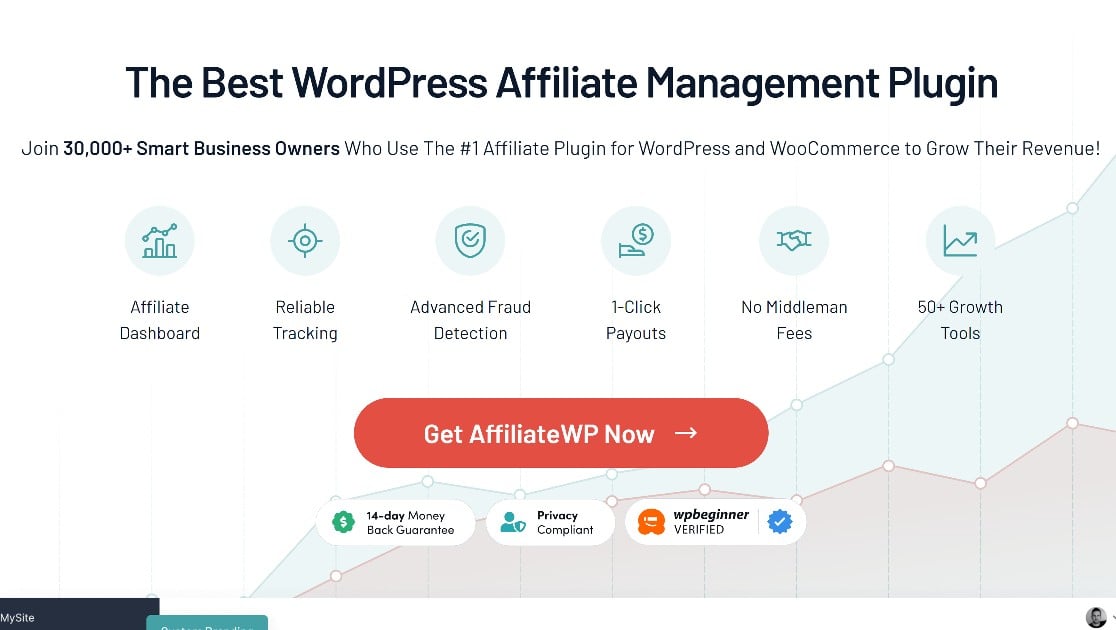 Are you building an affiliate program in WordPress? AffiliateWP is the top affiliate plugin for WordPress websites that connects seamlessly with Google apps.
With AffiliateWP, you'll have full control over the structure of your affiliate program, with a great deal of room for creativity. For instance, you'll be able to create tiered affiliate rates, pay-per-lead affiliate programs, per-affiliate rates, and so on.
While it's easy to manage affiliates from the AffiliateWP dashboard within the WordPress admin area, you might want to use the extra data storage and analysis tools offered by Google Sheets. This is possible using the combination of AffiliateWP, Uncanny Automator, and Google Sheets.
You can set this integration up in just a few minutes, and all you'll need to do is use the preset actions and triggers available in Uncanny Automator to create or update a row in Google Sheets when certain events are triggered in AffiliateWP. 
You'll also love the fact that you can do the reverse and initiate actions like creating a referral for a specific affiliate in AffiliateWP based on a trigger in Google Sheets. For more details, check out this guide to integrating AffiliateWP with Google Sheets.
AffiliateWP Pricing: AffiliateWP starts at $149.50 per year.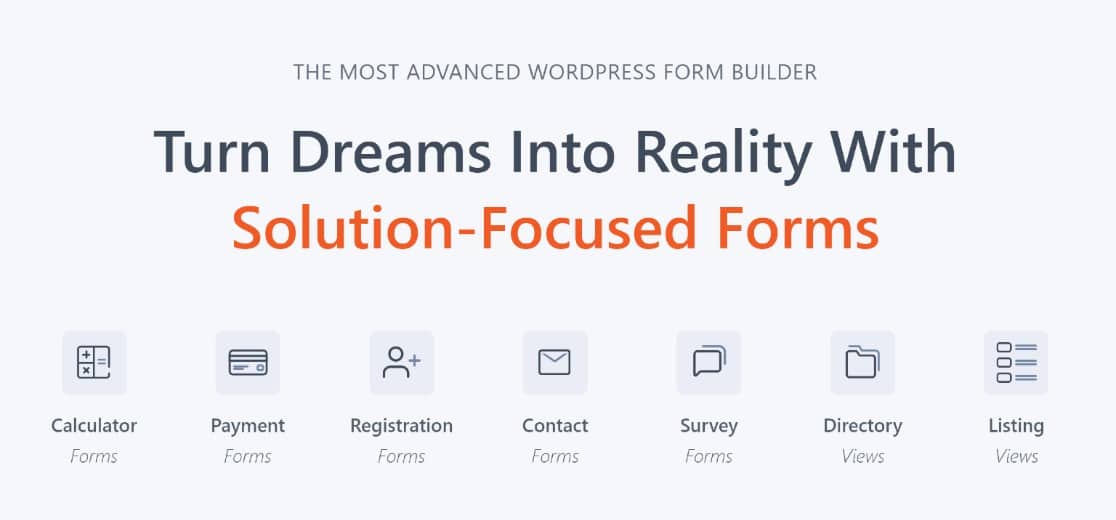 Formidable Forms is one of the top alternatives to WPForms. 
Like WPForms, it is capable of complex solutions such as in-form calculations, for instance.
And also similarly to WPForms, Formidable Forms offers a useful native Google Sheets integration. It's really easy to get started with this integration. First, you'll need to create a new Google Sheets spreadsheet and integrate it with Formidable Forms.
You can then map the columns in your spreadsheet to various form fields as needed, and these columns will pull the corresponding data from your forms each time a user makes a submission. Form data can be sent to your spreadsheet by default or manually.
During our testing, Formidable Forms worked as expected, and using it was pretty straightforward.
However, some of its complex fields can make it slightly less beginner-friendly for users, especially if you do not need functions like calculations in a form. This is where WPForms offers superior simplicity.
Formidable Forms Pricing: To use the Google Sheets integration, you'll need the Formidable Forms Business license which starts at $199.50 per year.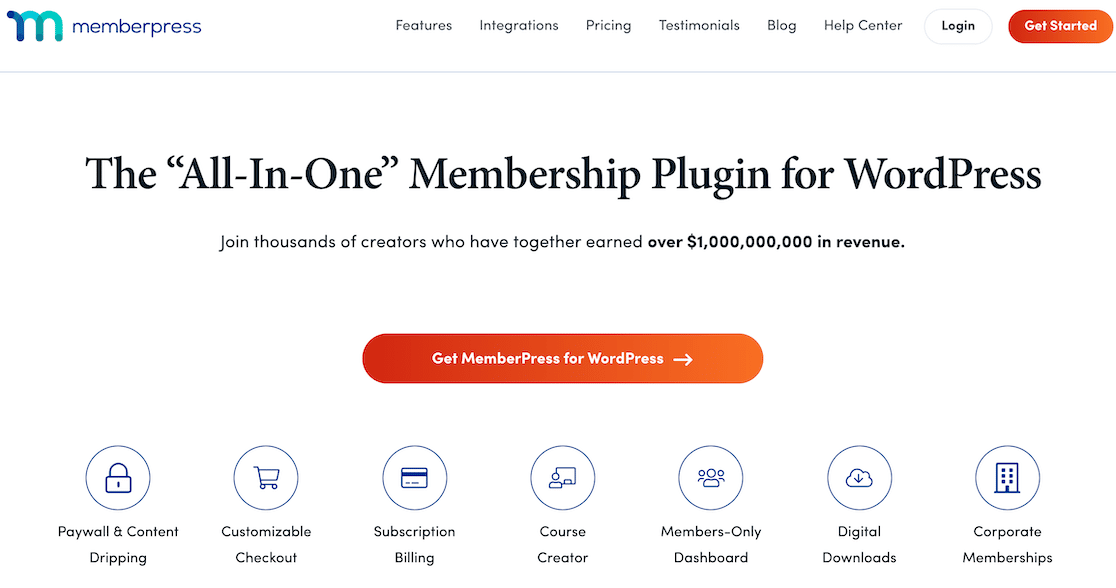 If you're building an online course website, forum, or any membership website, MemberPress is the best WordPress plugin to use. 
This plugin allows you to create powerful rules to create and manage membership categories, access levels, online courses, hidden WordPress content, custom post types, and so much more.
If you have a Google Workspace subscription, you'll be delighted to learn that you can integrate MemberPress and Google Workspace using Zapier. Zapier works similarly to Uncanny Automator, and you can set up rules, called Zaps, to create triggers and actions.
The great thing about the MemberPress + Google Drive connection is that it allows for two-way data exchange so that you can trigger actions in MemberPress or Google Drive based on an event in either.
MemberPress Pricing: MemberPress starts at $179.50 for its Basic plan.
Alternative: MemberMouse.

Uncanny Automator is the leading WordPress plugin for integrating WordPress sites and plugins, and external apps. If you're looking for ways to increase productivity while working in WordPress, we'd strongly recommend that you use Uncanny Automator!
Uncanny Automator allows you to set up recipes that tell your website, plugins, and external services how to interact with each other. Recipes are made up of initial events, called Triggers, and corresponding events, called Actions. 
Uncanny Automator can set up thousands of recipes with many destination services, including Google Sheets, Gmail, Google Drive, and so on. 
The best thing about Uncanny Automator is that it is free to download from the WordPress plugin directory! However, you'll get just 1,000 connections with the free plugin.
Uncanny Automator Pricing:  Paid Uncanny Automator licenses start at $149 per year.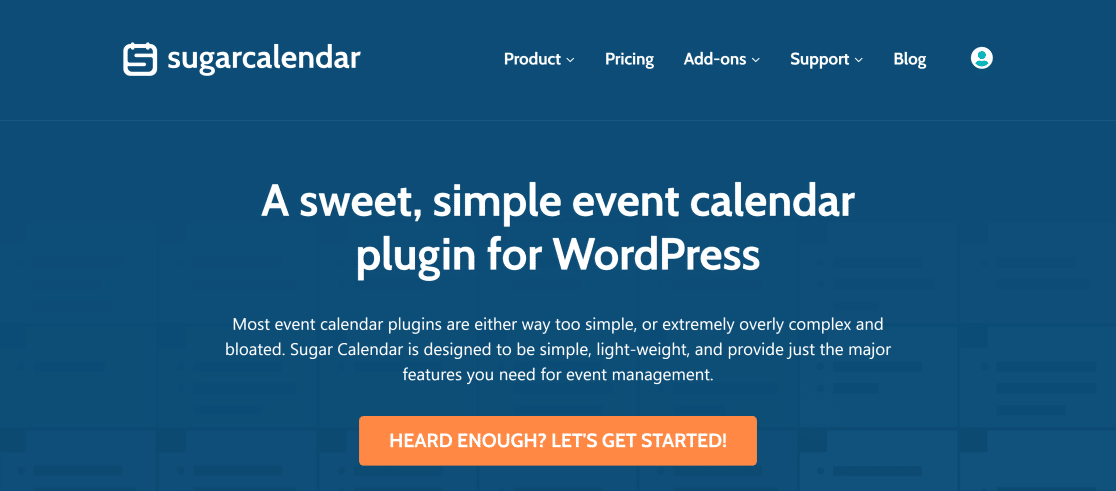 Sugar Calendar is the best event management plugin for WordPress websites. 
Want to provide an easy way for users to book appointments or sign up for events? Sugar Calendar offers easy ways to do this, with lots of helpful features.
For example, you can create recurring events, specify times zones for specific events, use custom formatting and translation, and so on.
You'll also be able to integrate Sugar Calendar with Google Docs, using Sugar Calendar's Calendar Feeds addon.
The Calendar Feeds addon translates WordPress event data into a form that is usable by other calendar apps, including Google Calendar.
This allows you to sync event data between your website and Google Calendar seamlessly. We found the whole process very quick and straightforward, so you should have no problems connecting your WordPress events with Google calendar.
Sugar Calendar Pricing: You'll need the Calendar Feeds addon, which is available for free with the Professional license that stats at $199 per year.
And there you have it! We've shown you 7 WordPress plugins that provide some useful and innovative ways of integrating your WordPress website with a Google Workspace account. Now, it's time to try them out!
Next, Try These Top Zapier Alternatives
Zapier is one of the top tools for optimizing digital workflows. But it's not the best tool for every situation. Some other tools, like Uncanny Automator, offer better solutions for WordPress sites, and there are other options to consider too. Here's our list of the top alternatives to Zapier for productivity. 
You may also enjoy reading our guide to tracking email opens in Google Sheets.
Create Your WordPress Form Now
Ready to build your web form? Get started today with the easiest WordPress form builder plugin. WPForms Pro includes lots of free templates and offers a 14-day money-back guarantee.
If this article helped you out, please follow us on Facebook and Twitter for more free WordPress tutorials and guides.