Are you looking for ways to go paperless?
If you're a small business owner, you're likely collecting information from customers by having them fill out various types of paperwork.
But dealing with hardcopy paperwork can be messy and disorganized, the gathered information might be inaccurate, and the whole process can become time-consuming. It doesn't have to be that way, though.
In this post, we'll share a few important tips on how to go paperless and make your business more efficient.
Why Should My Small Business Go Paperless?
Going paperless isn't just good for your business, but it's also a sustainable practice that colleagues and customers alike can get behind.
Transitioning paperwork and filing to a digital process saves time, stress, and money for both you and your customers. And with digital forms like those created with WPForms, you can be sure that information is accurately gathered and safely stored.
Plus, WPForms offers hundreds of ready-made templates to easily replace your paper forms, and all of your forms are securely saved in one spot.
With WPForms, going paperless with your small business is now simpler than ever.
How to Go Paperless in 7 Steps
1. Use Online Forms & Surveys
Using forms for your business is a great way to retrieve information both externally and internally. And WPForms makes it incredibly easy to create and share your forms electronically.
Plus, did you know that you can even run online surveys? The process of collecting survey responses online is especially convenient and efficient and allows you to avoid working with survey data manually.
To go paperless, consider using the easy-to-use form builder from WPForms to create the forms you use for your business. You have the option to build your own digital paperwork from scratch with the use of a blank form, or you can use one of 500+ ready-made form templates to make your job even easier.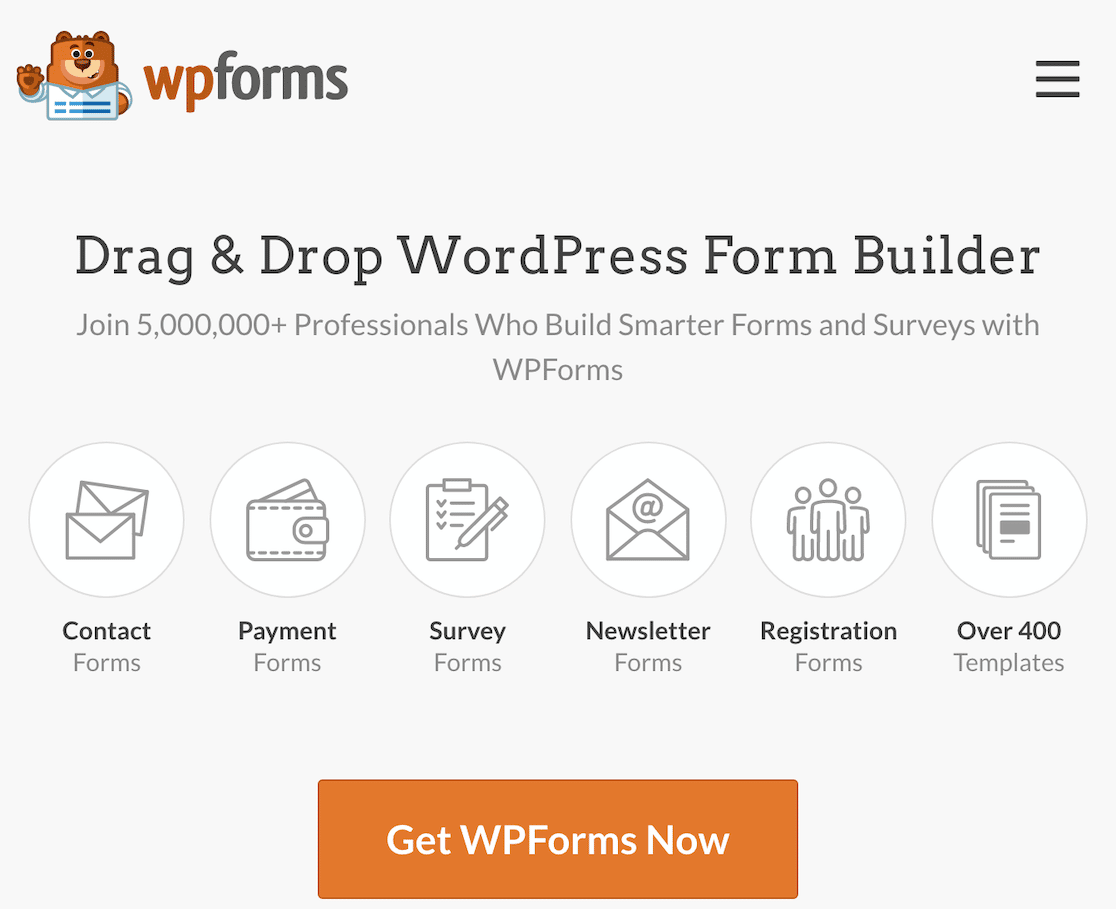 WPForms offers customizable forms and template selections for virtually every small business need you may have.
But first, you'll need to install and activate the WPForms plugin. You can get the plugin here at WPForms, or you can add it as a plugin from your WordPress dashboard.
2. Utilize Templates for Business Documents & Forms
When going paperless with your business, you're streamlining a lot of operations by taking them online. One way to make things even more efficient for your business is by using pre-made templates for the forms you use.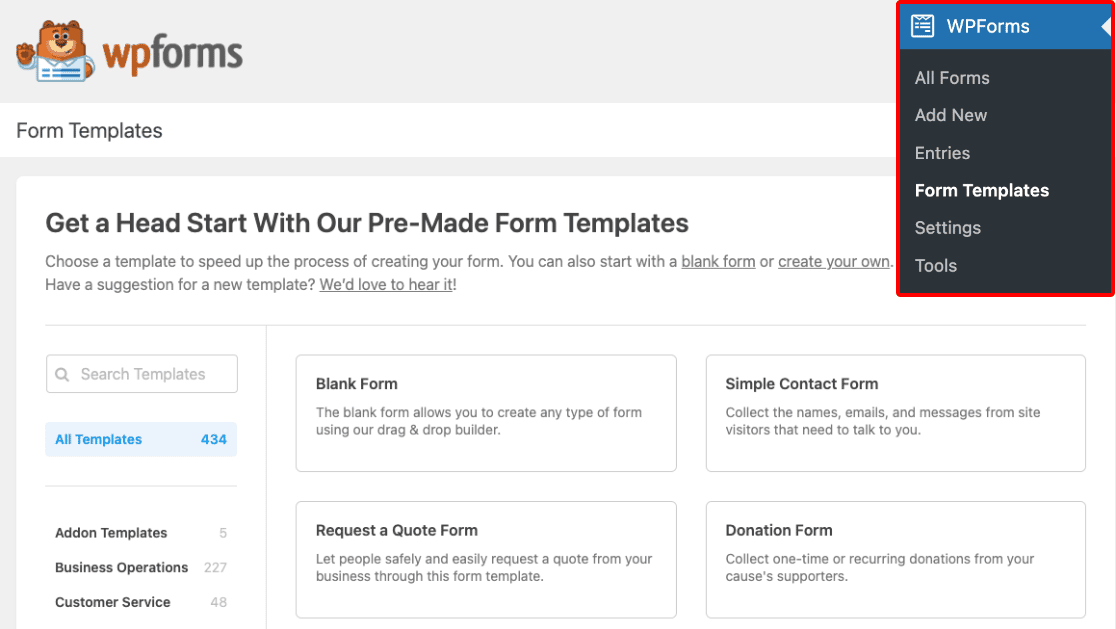 WPForms has a rich form template library to help you quickly and easily create new forms, with all the informational fields you'd need already included.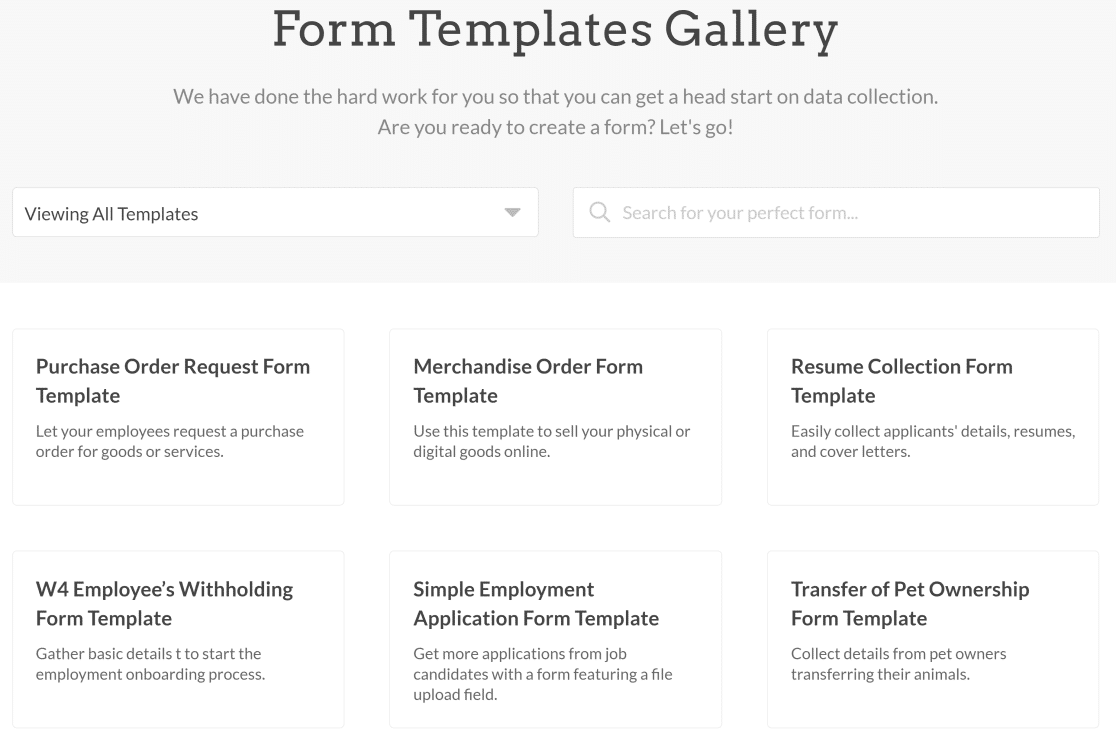 These form templates greatly speed up the form-building process, allowing you to save valuable time that you'd be spending needlessly with manual forms and paperwork.
3. Store Form Entries Electronically
One of the greatest conveniences that digital forms offer is the ability to collect responses and save form entries electronically.
With WPForms Pro, you can store form entries directly in WordPress, so you don't have to worry about sorting and filing paperwork.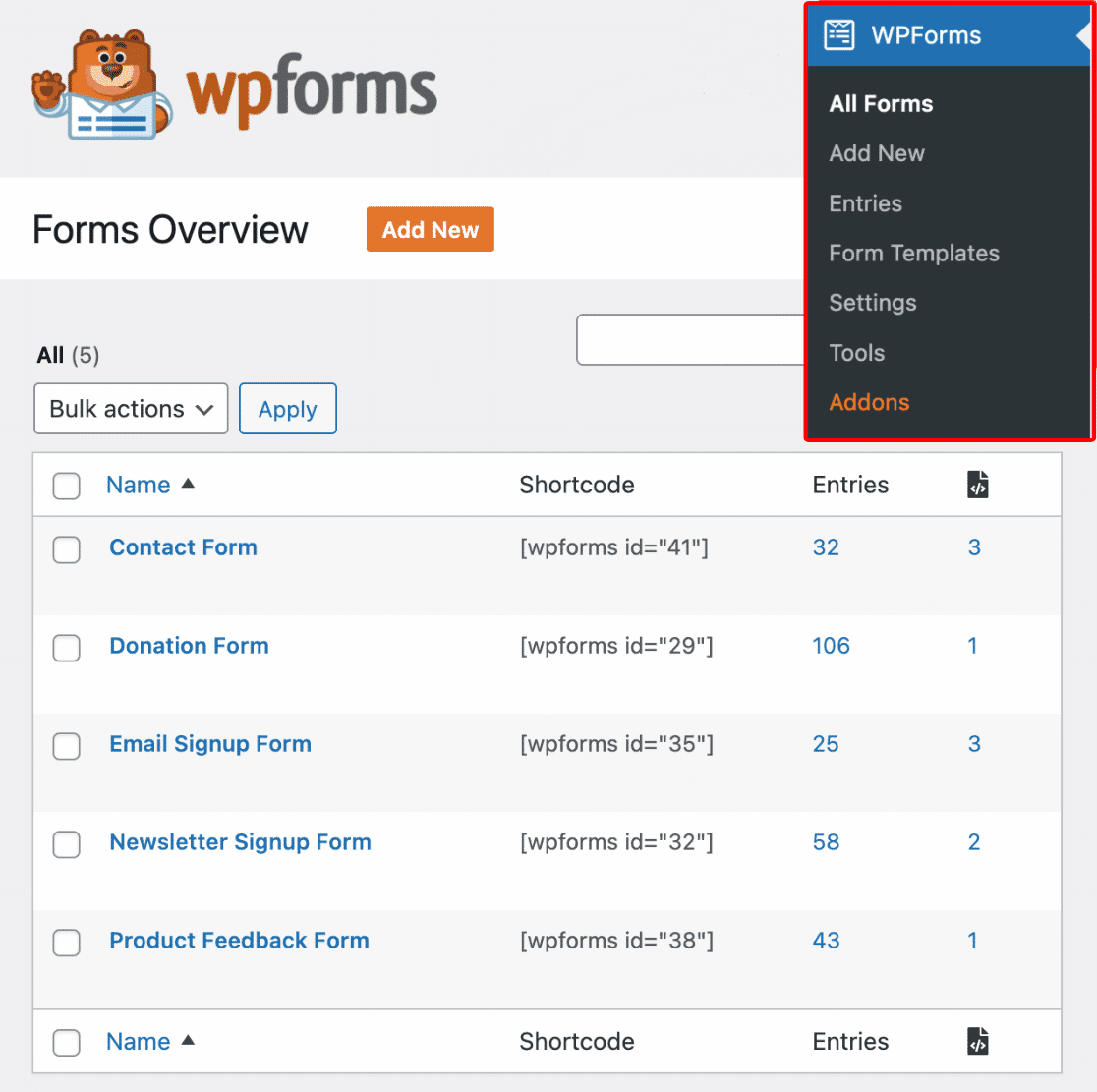 With physical forms, it can be incredibly time-consuming to see and manage entries. But going paperless with WPForms gives you superior flexibility, allowing you to save forms on your site or event in a spreadsheet.
4.

Send Order Confirmations and Receipt Notifications Online
Since you're utilizing electronic forms to collect data from the people who interact with your business, you'll also need to electronically notify your users that their information has been submitted.
WPForms offers a useful notifications feature that immediately sends a message to a user's email address confirming that their form has been submitted.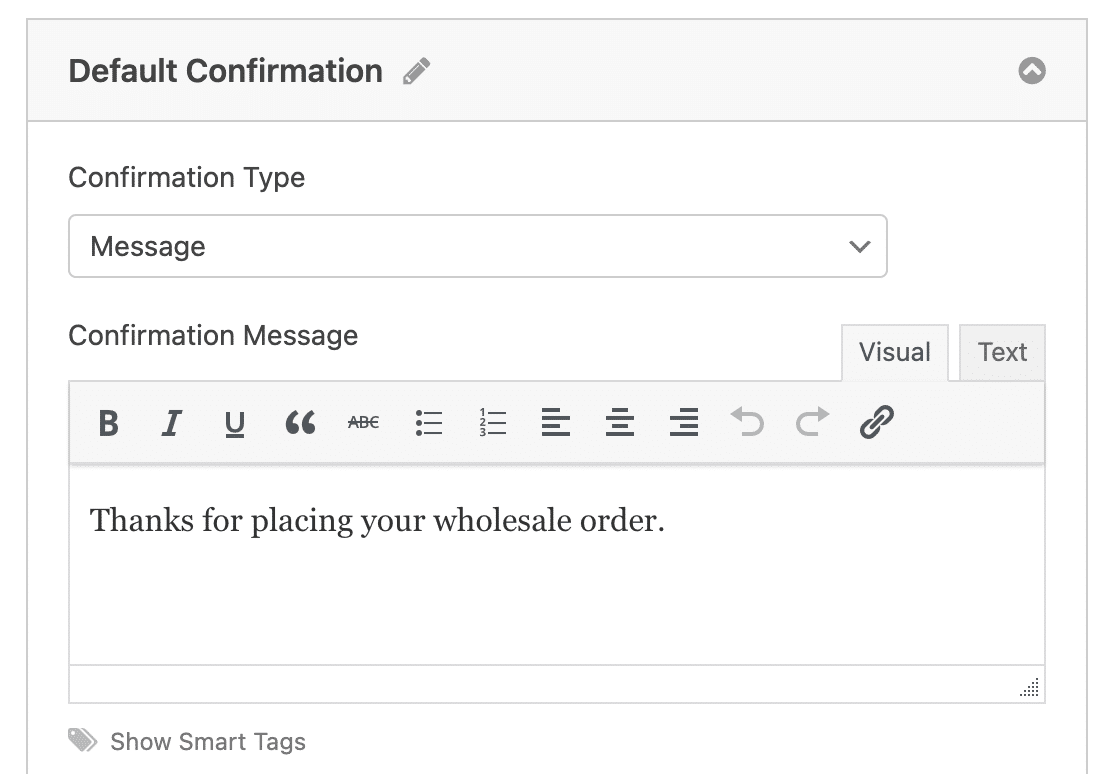 This feature is great for notifying users of order confirmations, sending out receipts, and much more.
The actual content of the email can be fully customized, too, so you can be sure that your customers are receiving the exact notification that you need them to get. 
5. Collect Signatures Digitally
Another specific element you may need to consider when taking your small business paperless is how you'll collect personal signatures on digital forms.
 WPForms allows you to do just that with the helpful Signature Addon.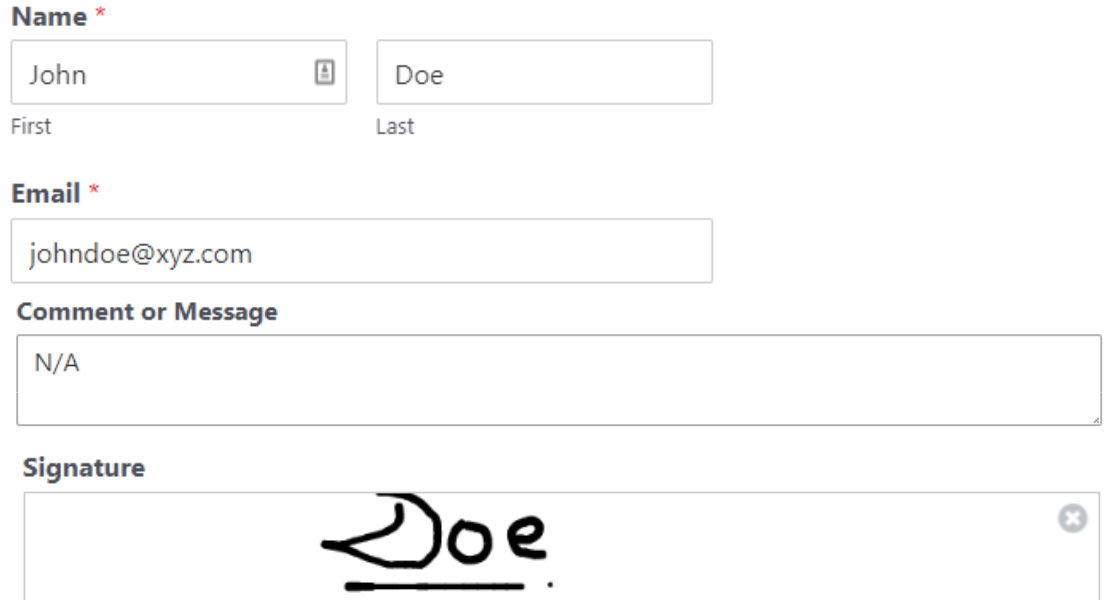 By adding the option for a digital signature on your online forms, you've eliminated the need for both you and your customers to deal with extra paperwork to include a signature. The Signature Addon makes collecting contracts, agreements, payments, and more a breeze for small business owners.
For a full tutorial, check out how to add an electronic signature to a form.
6. Use Integrations and Advanced WPForms Features
When making your small business paperless, consider the many other useful addons available with WPForms.
With WPForms addons, you're able to customize your digital forms even further, with extra integrations like Stripe, PayPal, Google Sheets, and get advanced functionalities with the Form Abandonment, Save and Resume, and User Journey Tracking addons.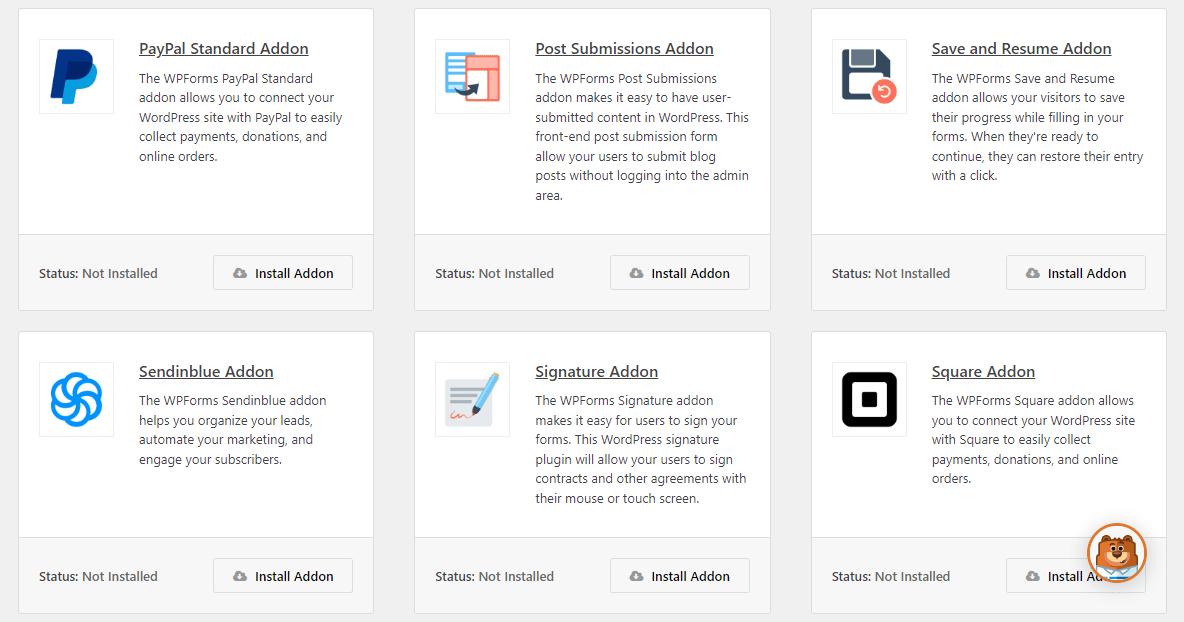 The Stripe and PayPal Addons are great for taking your small business paperless, as they allow you to collect payments, donations, and online orders directly on your site's forms.
Additionally, the Form Abandonment Addon is a helpful tool for helping you turn interested leads into loyal customers.  And for small businesses that utilize Google products for many of their paperless needs, the Google sheets Addon is a useful addition for customized forms.
With all of your important documents created and stored electronically, your small business should share these documents and internal communication electronically, too. Luckily, these days it's pretty easy to share and communicate online.
Documents are conveniently shared among colleagues on the Google Drive, and many business use Google for other communication, as well. For employee meetings, consider ditching paper memos and printed meeting agendas, and share a company-wide Google Document instead. Google Slides and PowerPoint are also very useful programs for taking your meetings online.
You might also encourage employees to share notes in digital formats, and utilize online meeting and messaging apps. A variety of meeting programs exists to choose from, like Google Meet, Zoom, and Microsoft Teams. Additionally, more and more small businesses are turning to apps like Slack for direct messaging between coworkers.
Next, See This Form Testing Checklist
With all of the digital products available now, including those offered by WPForms, it's simpler than ever to take your business and your forms paperless.
And while we pride ourselves in the simplicity of our customizable forms and easy-to-use form builder at WPForms, we've put together a list of pro tips to help you prevent any errors or data losses with your online forms. Take a look at our complete checklist for testing out your forms.
Ready to build your form? Get started today with the easiest WordPress form builder plugin. WPForms Pro includes lots of free templates and offers a 14-day money-back guarantee.