Documentation, Reference Materials and Tutorials for WPForms
How to Install and Use Custom Captcha Addon in WPForms
WPForms Custom Captcha addon makes it easy for you to add custom questions or math CAPTCHA to your WordPress forms. In this article, we will show you how to install and use the Custom Captcha addon for WPForms.
Based on the license you purchase, you will have access to specific addons that will help you extend the functionality of WPForms. If you do not have access to the Custom Captcha addon for WPForms, then please see our guide on how to upgrade your WPForms license.
We are assuming, that you have already installed WPForms on your WordPress site.
Go ahead and install / activate the Custom Captcha addon on your site. For more details, see our step by step guide on how to install addons in WPForms.
Adding Custom Captcha Fields
Once you activate the Custom Captcha addon, a new Fancy filed called "Captcha" will be added to the Form Builder.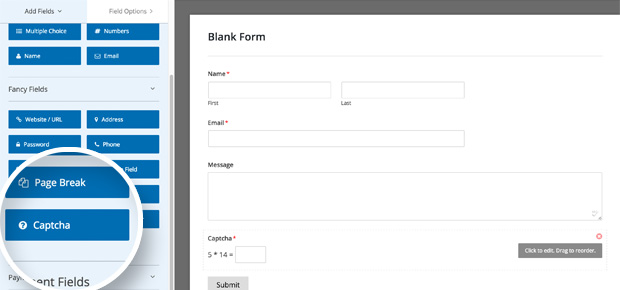 Simply drag & drop this field in your form.
By default, it will show random Math questions. However when you click to edit the Captcha form field, it will allow you to choose between the Math option or the Custom Questions option.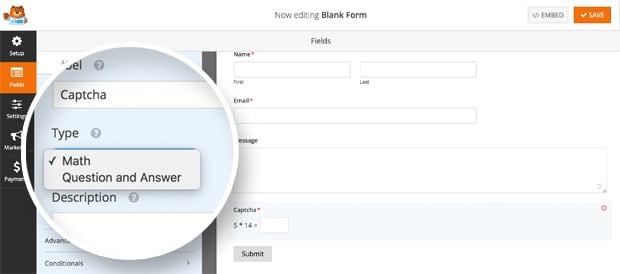 Once you're done configuring the Captcha field, simply save your form.
Users must answer your Captcha question correctly in order for the form to submit.
You can also add Google's ReCAPTCHA in WPForms to fight spam if you don't want to use the Custom Captcha addon.
Changelog
1.1.1 (2018-03-19)
Fixed: JS file not loading on frontend, causing error.
1.1.0 (2018-03-15)
Changed: Refactored addon and improved code.
Fixed: Zero (0) math equation answers not being allowed.
1.0.3 (2017-06-15)
Fixed: Issue with QA PHP validation
1.0.2 (2017-06-15)
Fixed: Missing input class causing equation validation issues
1.0.1 (2017-06-13)
Changed: Updated captcha field to new field class format
1.0.0 (2016-08-03)