Want your WooCommerce store to sell even more? A smart way to optimize your online shop is to utilize the conversion tracking in Google Analytics 4.
It's a mouthful to configure, but once you've set up the conversion tracking events, it gives you some fantastic stats about your store.
So, in this tutorial, we'll take you through each step of how to set up WooCommerce Google Analytics eCommerce tracking (easily, we promise).
Why Enable WooCommerce Conversion Tracking?
Google Analytics gives you insight into what's happening with your WooCommerce store on your website.
Accessing conversion reports lets you better understand the behavior of the shoppers and customers who visit your store.
And the more you know about how people shop on your site (like what they like, how much they spend, where they go, etc.), the more you can improve it.
Here's what the report looks like once you set up Google Analytics for your WooCommerce store:
Pretty cool, right? This report will contain a ton of useful stuff in it like:
1. Key Performance Indicators (KPIs)
We all want more sales and revenue from our online stores. But how do we get there?
If you want to keep track of the success of your WooCommerce store, it's a good idea to track your KPIs.
Some people like to set KPI goals and then monitor their site's performance to make sure it's living up to these goals.
If you've got some areas that aren't hitting your goals, once you learn about them, you can add tweaks to improve them.
Some of the eCommerce KPIs you can track with Google Analytics include:
eCommerce Conversion Rate
Average Order Value
Shopping Cart Abandonment
Cost Per Acquisition
…and a ton more.
2. Shopping Behavior
Curious about what your shoppers are up to?
When you set up WooCommerce Google Analytics eCommerce tracking, you can get a ton of data about your customer's shopping habits.
This report lets you learn things like:
How many people leave the page and negatively affect your shopping cart abandonment rate.
Most popular products in your store.
How often people put things in carts.
Where people go inside your WooCommerce store.
And shopping insights are really important to growing your online store.
3. Checkout Behavior
You'll also get details about your customer's behavior as they check out. This report gives you the ability to see:
Billing and shipping details
Reviews
Payments
Where did they come from
…and more.
The checkout process is such an essential step to your eCommerce store's success, so you want to make sure you're paying close attention to it.
4. Product Performance
You can get detailed insights about every one of your products' performance.
You can even add category and brand properties to your Analytics profile that are relevant to your small business. This way, you can also easily track their performance.
5. Sales Performance
Do you know what specific things are happening with the sales performance of your website? If you do, you can make more money online.
For instance, let's say you just discovered that you make most of your sales over the weekends.
You could then simply target weekend shoppers with your sales strategy (like weekend flash sales or sending weekend emails.)
Once you get all set up with conversion tracking, you can see your WooCommerce store's:
Total Revenue
Taxes
Shipping Details
Refund Amounts
When Sales Happen
Knowing how sales are going is critical to growing a successful online shop with WooCommerce.
How to Set Up WooCommerce Google Analytics eCommerce Tracking
Here's exactly how to start tracking all that awesome website data from your online store in WordPress.
Step 1: Install the WooCommerce Plugin
For this tutorial, you'll need an active online shop that uses WooCommerce. Creating a WooCommerce store is easy if you haven't done that yet.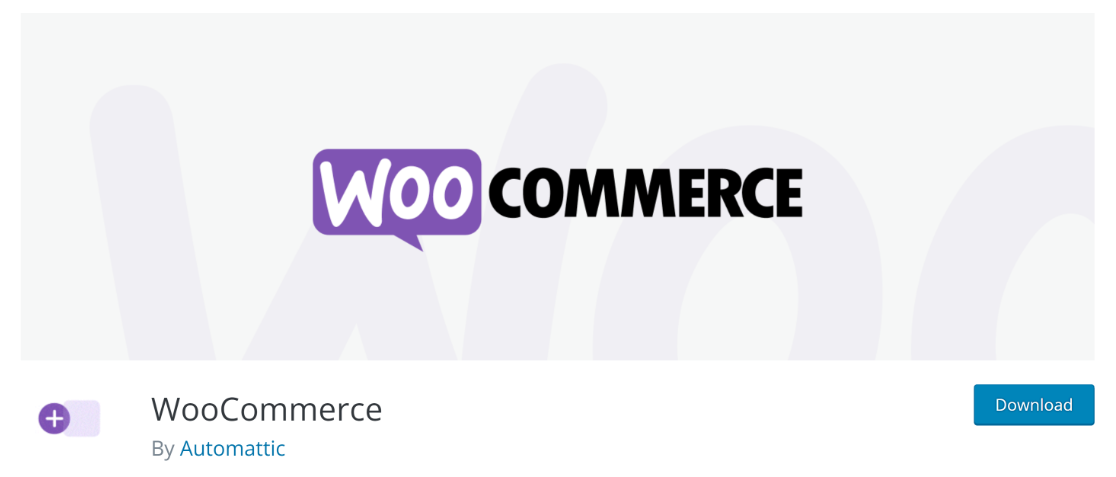 Step 2: Install and Activate MonsterInsights
The easiest way to get started with WooCommorce conversion tracking in Google Analytics is to download and install the MonsterInsights plugin.
This popular plugin has an easy-to-use wizard that walks you through adding Google Analytics to your website and your WooCommerce store.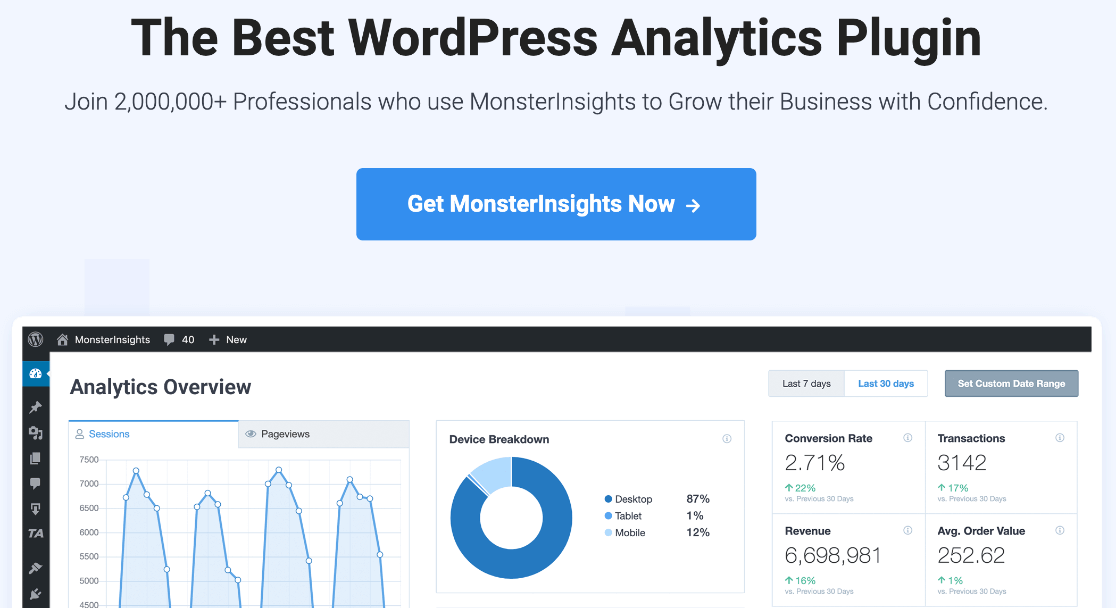 And some of the best, really detailed data and reports for your eCommerce shop will come from the eCommerce addon.
To install MonsterInsights, click on the blue button on the right in your MonsterInsights account area to download the .zip file.

After that, upload the plugin on your website, install it, and activate MonsterInsights to set it up on your website.

If you get stuck on this step, head over to our sibling website's tutorial on installing a WordPress plugin.
Step 3: Connect Google Analytics to MonsterInsights
MonsterInsights adds Google Analytics' tracking code to your website without manually injecting it into the scary-looking parts of your website's backend.
No code is required here! That's why it's such a well-loved plugin. So, select the account you'd like to sign in with on Google Analytics.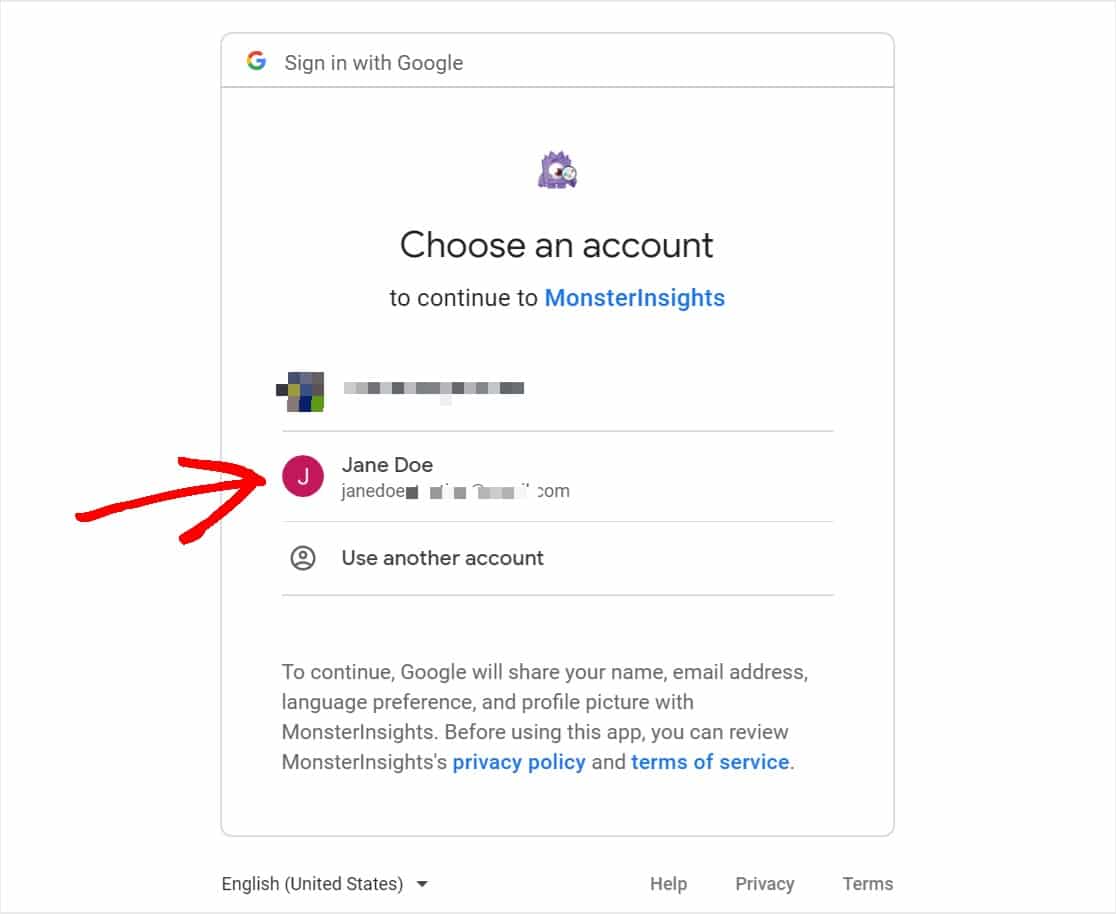 Next up, give MonsterInsights Google Analytics permissions (so it can do its thing) by clicking the blue Allow button.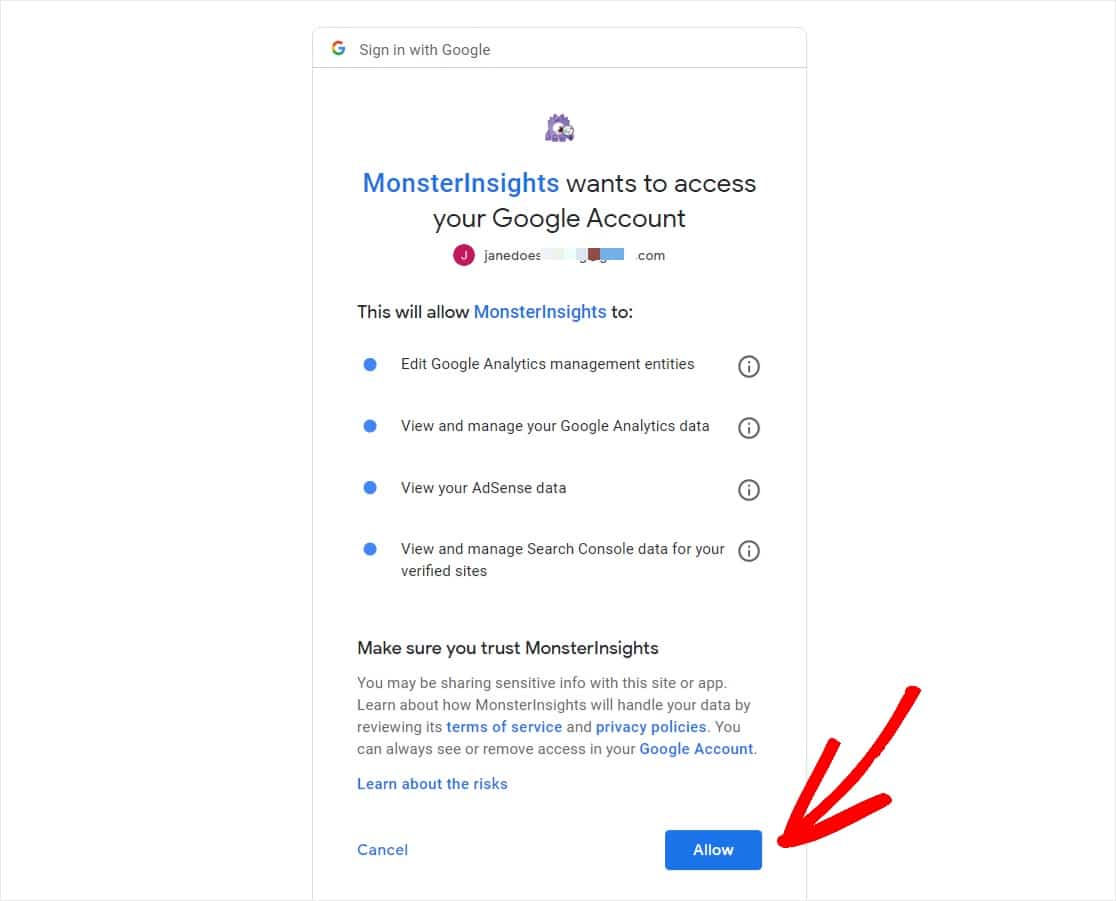 Great job! Next, we need to get that cool MonsterInsights eCommerce addon we told you about activated.
Step 4: Install the eCommerce Addon
Now that MonsterInsights is connected to your Google Analytics account, the next step is to install the eCommerce addon.
Now, from within your WordPress dashboard, go to Insights and then click on Addons from the list of options.
Once the addon page loads, scroll down until you find eCommerce, and then click the blue Install button right underneath.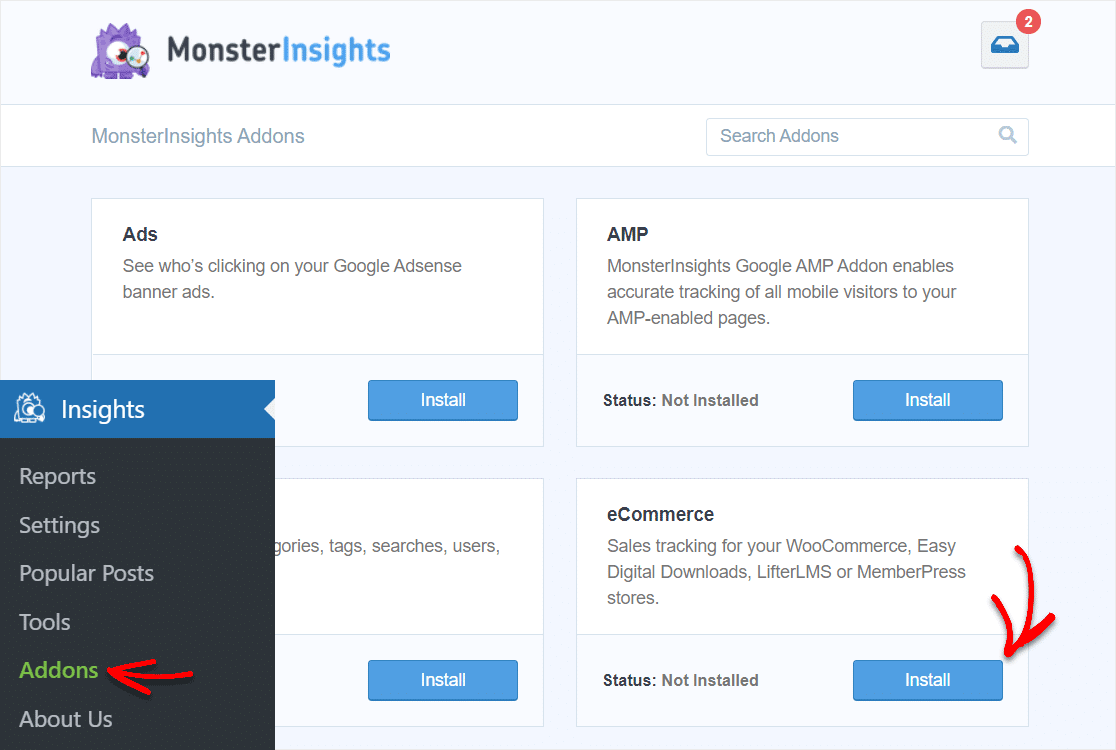 Fantastic, the MonsterInsights eCommerce addon should now be active. Now, it's time to install the User Journey addon.
Step 4: Install the User Journey Addon (Optional)
We advise anyone utilizing the eCommerce addon also to install the user journey addon to see trends in shopping and user behavior.
You can also check how many recent sales you've had, and which campaigns are producing the most revenue with this handy addon.
To find the addon go to Insights » Addons in your WordPress dashboard and click Install underneath User Journey.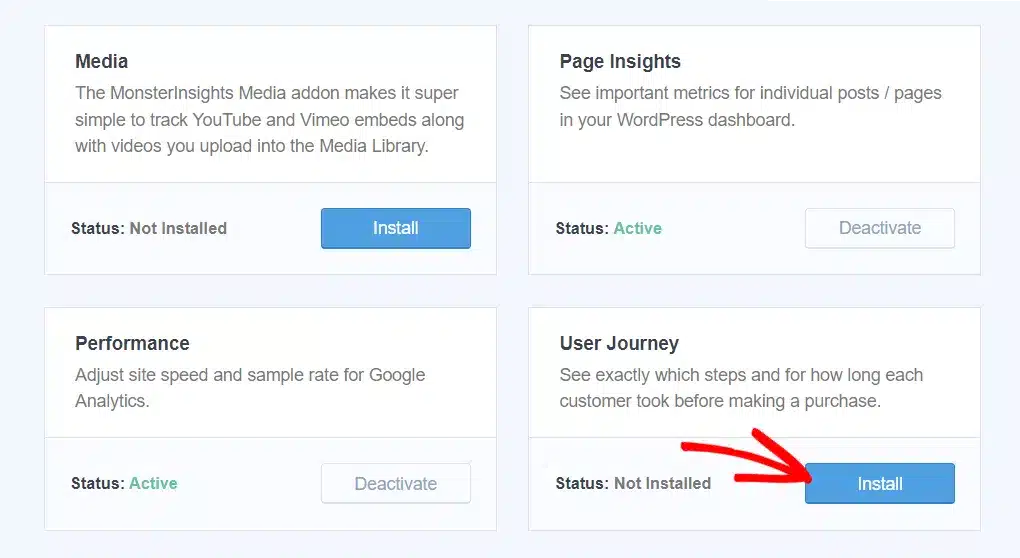 Step 5: Find WooCommerce Conversion Tracking Reports in WordPress
With the Google Analytics and MonsterInsights tracking integration ready, you can now view your eCommerce reports.
To get an overview of your WooCommerce conversion tracking data head to WordPress and click on Insights » Reports » eCommerce in MonsterInsights.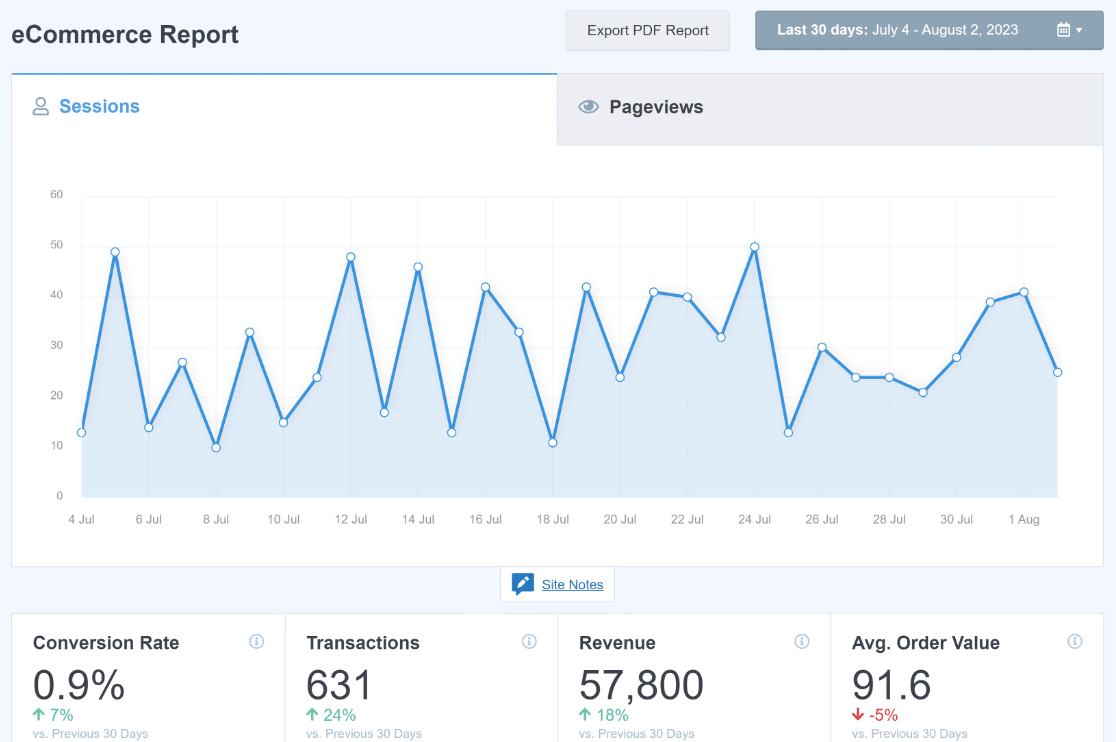 If you go to eCommerce» Funnel, you'll also find other important details about your shoppers' behavior.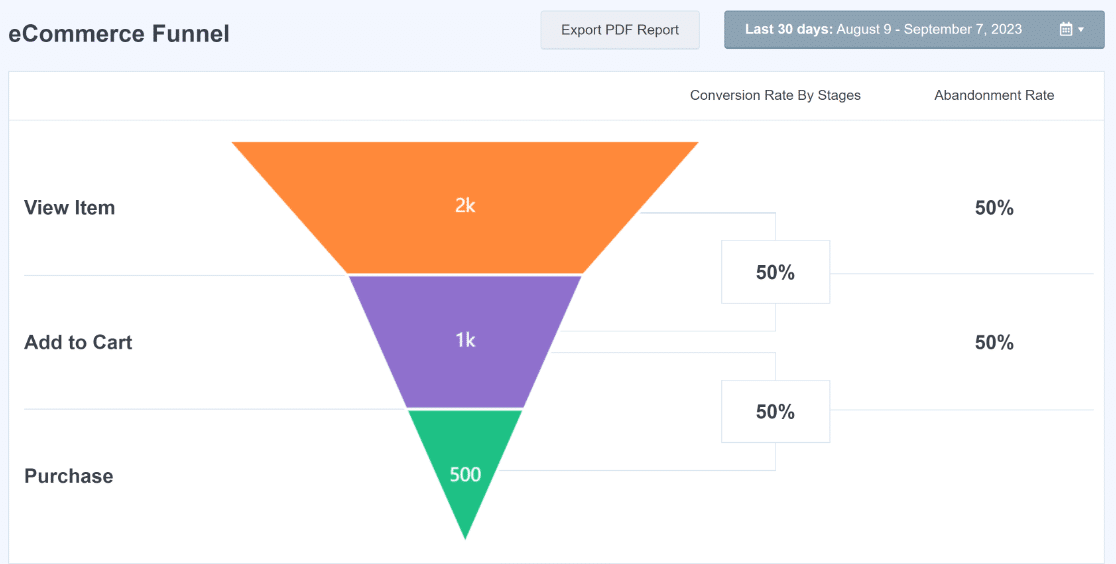 This provides a great overview of the health of your online shop. And it's all right in your WordPress dashboard.
Step 6: WooCommerce Conversion Tracking Reports in GA4 (Optional)
Want an overview of all your WooCommerce store's behavior in GA4? You can view your eCommerce tracking data in the Conversions tab.
Just go to Reports » Engagement » Conversions inside your Google Analytics dashboard to access the complete report.
That's it. You've done it, congrats. WooCommerce Google Analytics eCommerce tracking is now active on your website.
We wish you the best of luck with your online shop and are super excited you can now track its performance!
Get Started: WooCommerce Google Analytics eCommerce
There you go. You now know how to set up WooCommerce Google Analytics eCommerce tracking and how MonsterInsights can help grow your business.
MonsterInsights offers pricing plans for all different types of small business budgets. So what are you waiting for? Get started with MonsterInsights today!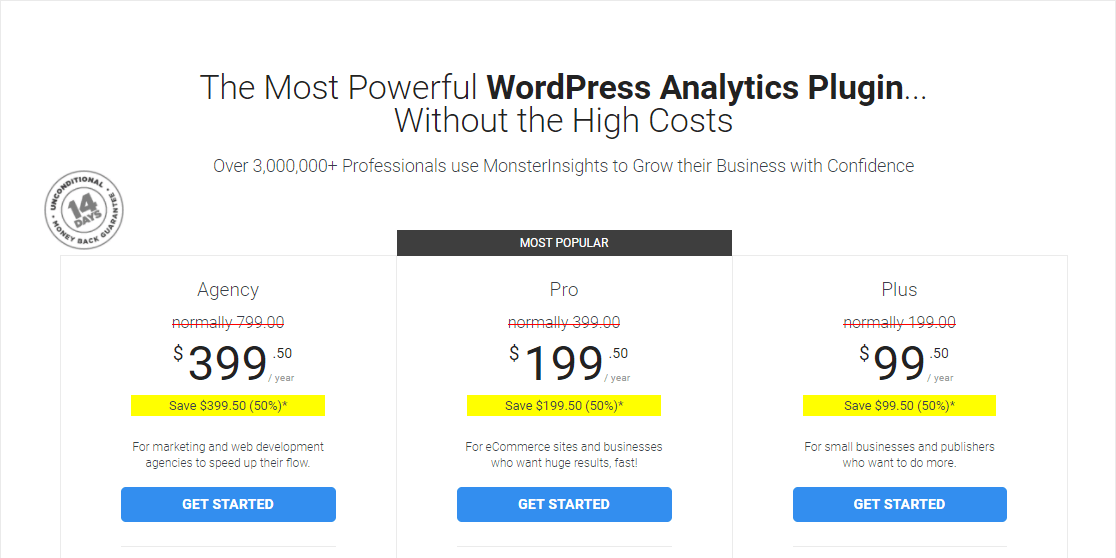 If it doesn't work out with the plugin, simply let them know, and you get a full refund with their 14-day money-back guarantee.
Next, Check These Guides for WooCommerce and Performance Tracking
So there you have it. You now know how to successfully set up Google Analytics for WooCommerce with the MonsterInsights plugin.
You may also be interested in our post on how to track form submissions on Google Analytics in WordPress.
If you wish to improve the appearance of your online shop, check out our article on the top WooCommerce themes for your online store.
On your WooCommerce checkout form, do you use a promo code field? WPForms enables you to monitor the effectiveness with the coupon code field.
Want to improve your online store and increase sales? Check out this tutorial on building WooCommerce wholesale order forms.
Create Your WordPress Form Now
Ready to build your form? Get started today with the easiest WordPress form builder plugin. WPForms Pro includes lots of free templates and offers a 14-day money-back guarantee.
If this article helped you out, please follow us on Facebook and Twitter for more free WordPress tutorials and guides.