Would you like to export your forms from your current site and import them to another? The Import and Export tools in WPForms give you the ability to migrate your forms to a different site so that you don't need to recreate them from scratch.
This article will show you how to use the Form Import and Export features in WPForms.
---
Before you jump in, make sure you have WPForms installed and activated on your site.
Exporting Forms
To access the Export tool, go to WPForms » Tools. Once you're there, select the Export tab.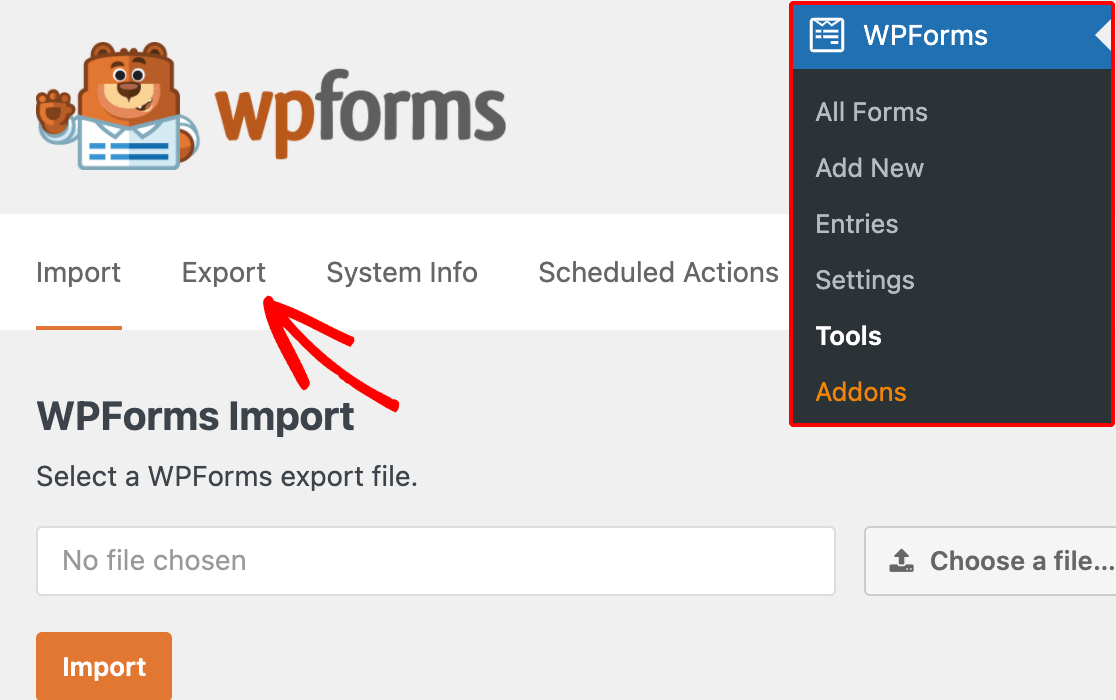 Once in the Export tab, scroll down to the Form Export section and click on the Select form(s) dropdown. You will then see a list of the forms on your site that are available for export.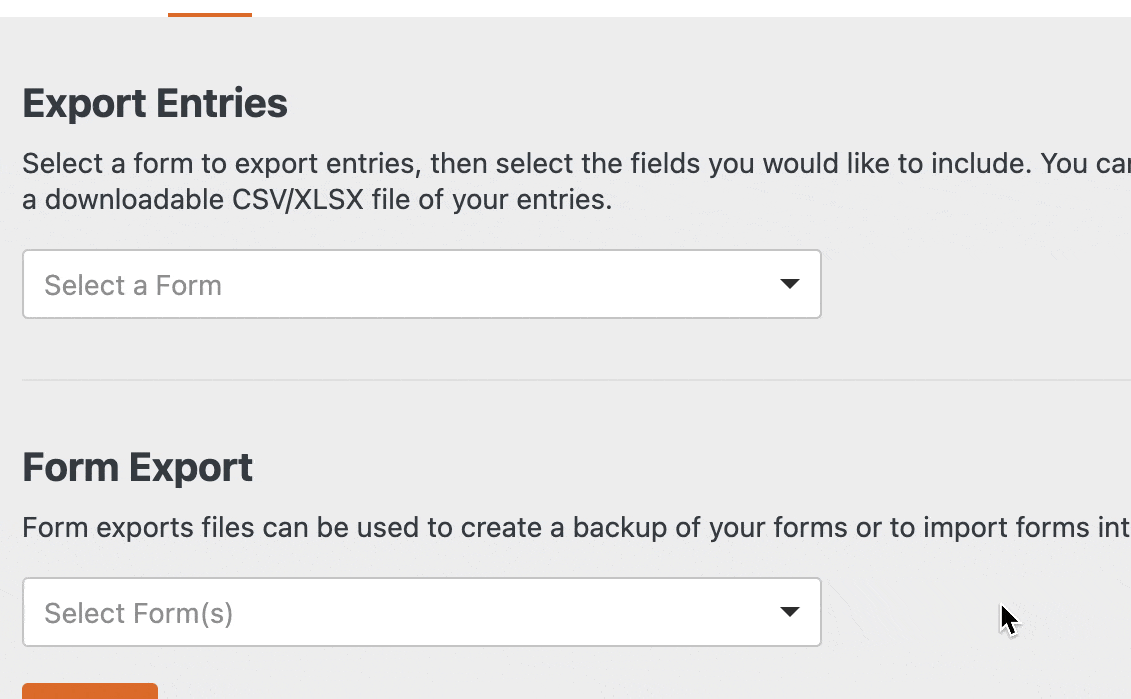 Choose the one(s) you wish to export, then click the Export button.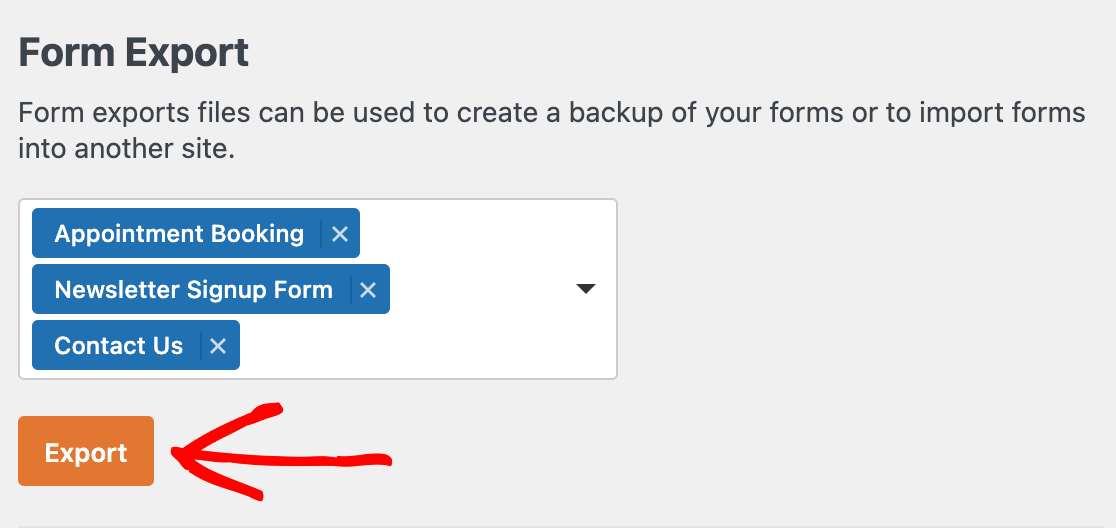 Your form(s) will then be compiled into a file and downloaded to your computer.
Importing Forms
To import a form, go to WPForms » Tools and click on the Import tab. Then click the Choose a file button to select the file from your computer that includes the form(s) you want to import.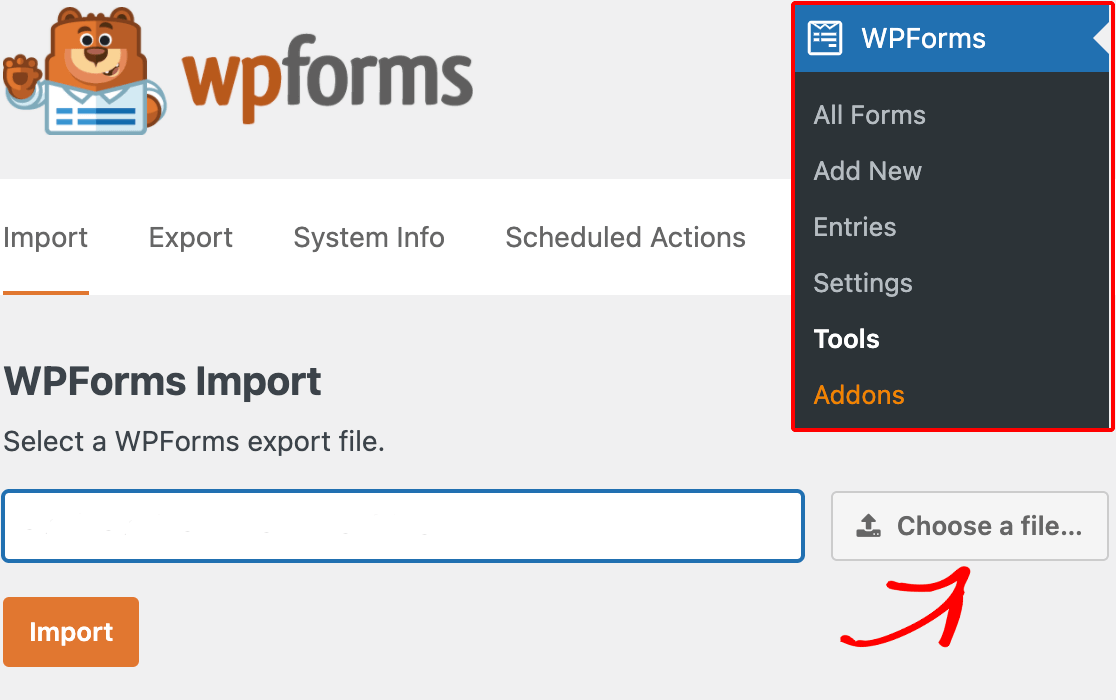 Once you've chosen a file, click the Import button.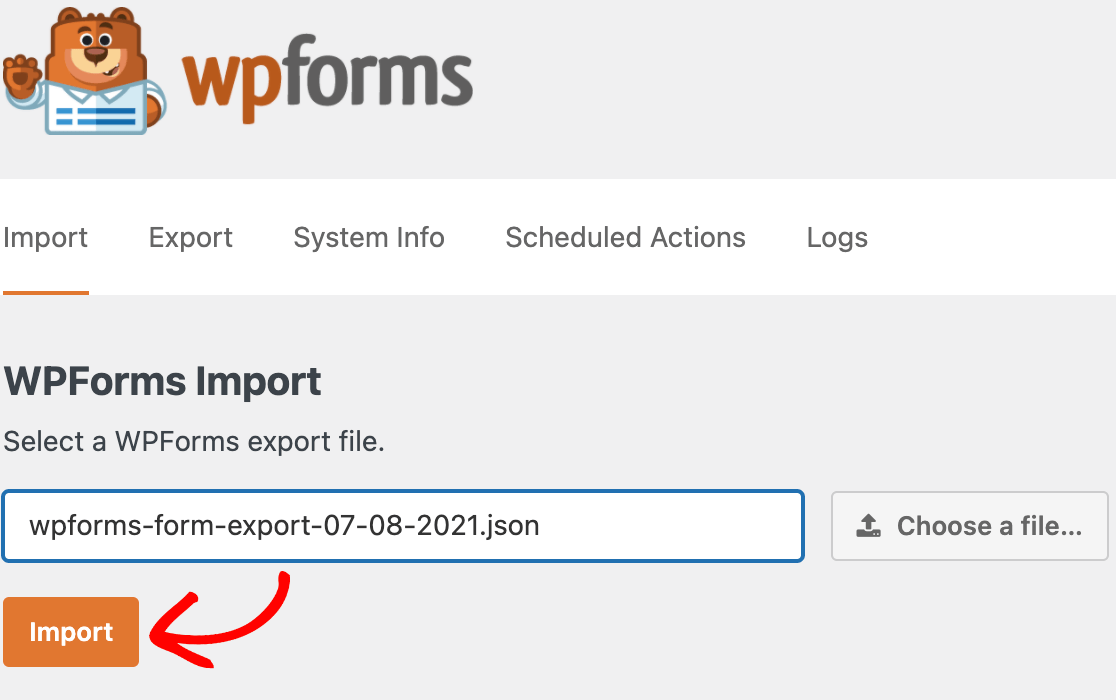 When you've successfully imported the form, a notice will appear and provide a link to the Forms Overview page where you can see your imported forms.

If you'd like to edit your imported form, just click on its title to open the form builder.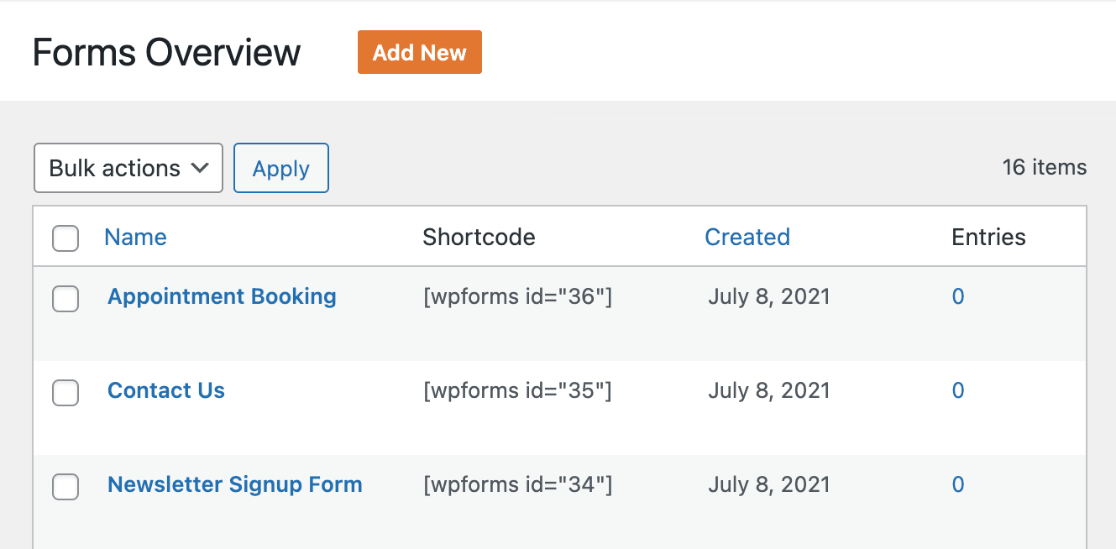 Importing Forms from Other Plugins
WPForms enables you to easily migrate your forms from other form builder plugins. For details on how to import forms you built with another plugin, check out the tutorials listed below:
Frequently Asked Questions
Here are some of the top questions we get from users about importing and exporting forms.
Why do I see a message that says "Unfortunately, the field is not available and will be ignored on the front end"?
This message displays when a form field is not currently available in WPForms on the website you're importing your form to.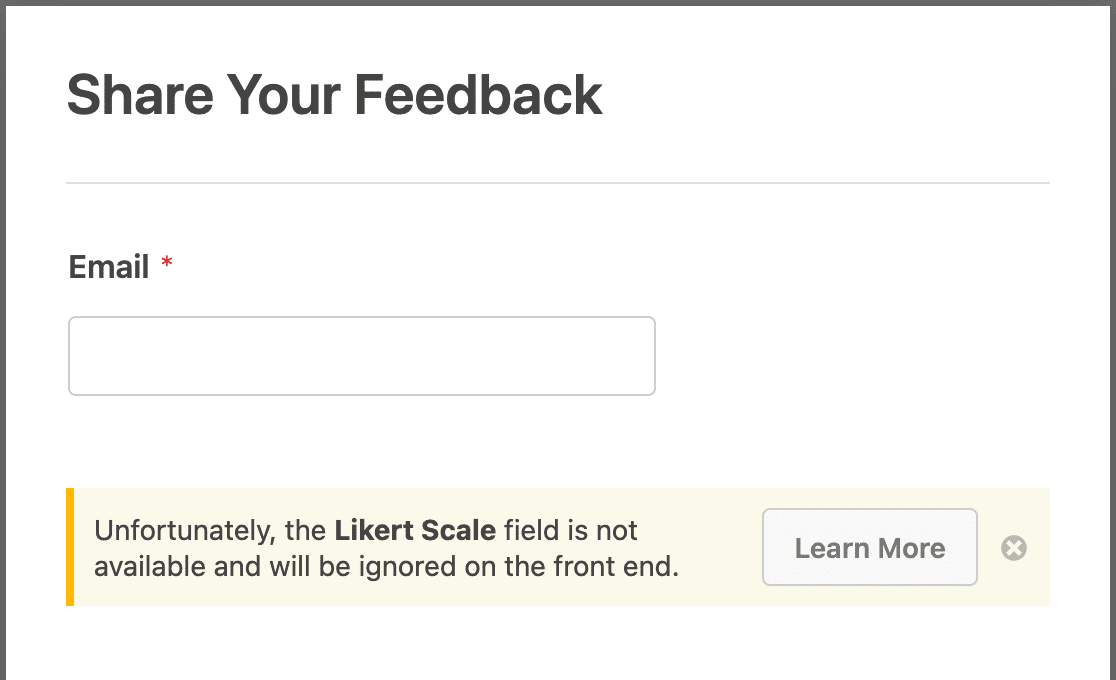 The most common reason you might see this message is that the WPForms addon that includes the field is not installed and activated on the site you've imported your form into.
For example, if you import a form that is using the Likert Scale field, you need the Surveys and Polls addon to be installed and activated on the site you're adding it to. If this addon is not available, then the field will not be able to load and this message will be displayed.
Fancy Fields are available with all paid licenses. If you downgrade from a paid license to WPForms Lite, you will see this message if your form contains a fancy field.
To resolve the issue, please make sure you have a paid WPForms license and the paid version of WPForms installed, along with all the applicable addons your forms need. If you have further questions, please contact our support team and we will happily assist you.
Why do I see a message that says "You can't import forms because you don't have unfiltered HTML permissions" when I try to import a form?
This message displays when a WordPress user role doesn't have the 'unfiltered_html' capability in WordPress.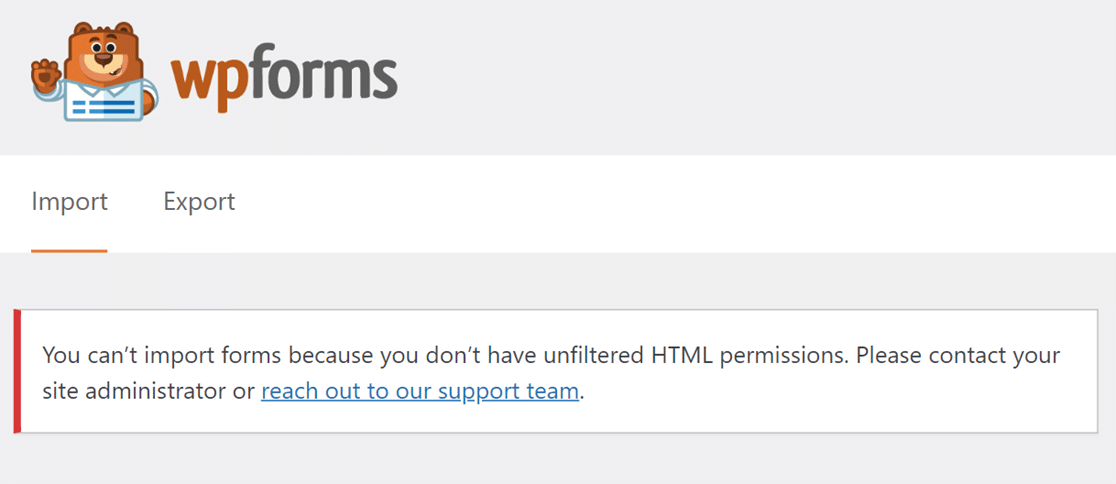 By default, only users with an administrator role have this capability for security purposes. Without this capability, you won't be able to import any forms and will see this message. For more details on 'unfiltered_html' capability, check out the section about it in WordPress's guide on Roles and Capabilities.  
That's it!  Now you can move forms between sites using the import and export tools in WPForms.
Next, would you also like to create custom form templates so that you never have to start a form from scratch again? To learn more, check out our tutorial on creating custom form templates.